xVrieslandsia Inca Chief
Click thumbnails for full size, scaled to a new window.
---
xVrieslandsia Inca Chief
Bigeneric of Vr. Platystachys (Ruby Select?) x Till. deppeana by John Arden.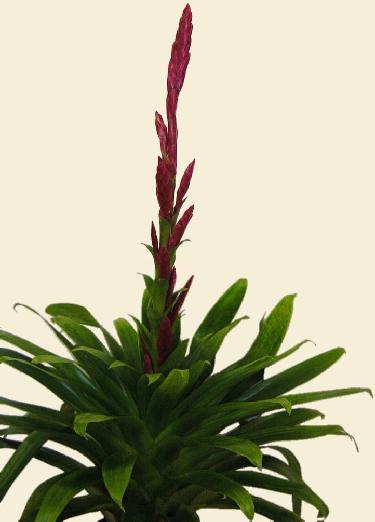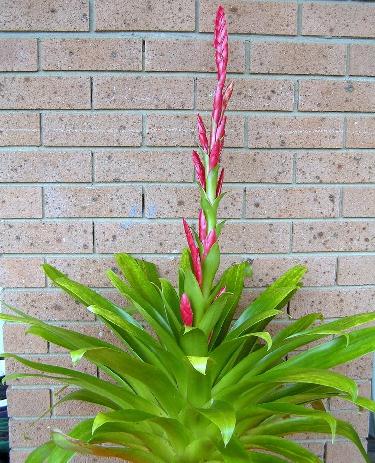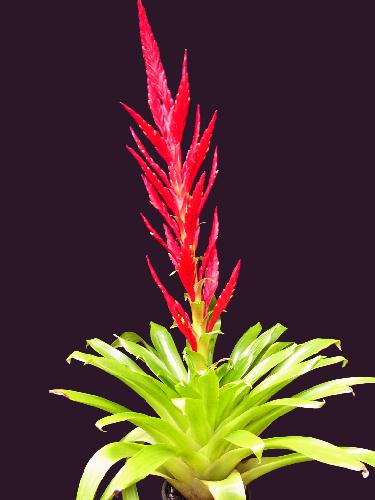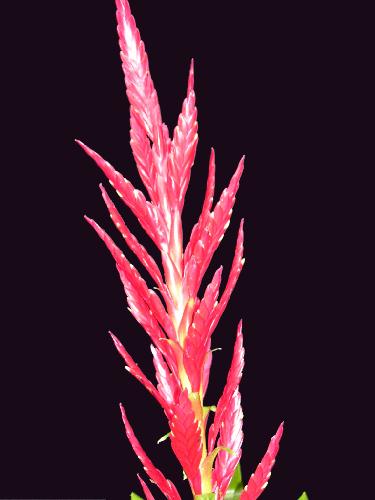 | | |
| --- | --- |
| Photo Ken Woods 06/10 at Central Coast Society. | Ross Little 07/10 at Central Coast Society. |
From Ken Woods to The Tillandsia discussion group...
"Vr.platynema* (Rubra x Elect) x T. deppeana
The plant belongs to Jon Townsend which he obtained from John Buchanan, who did the cross.
It was on display at last month's Central Coast Bromeliad Society Meeting.
Perhaps Ross knows more about it and if there are many about.
Ken"

Reply from Ross Little...
"Hello Ken
That plant is the same or close enough to a John Arden hybrid, Vrieslandsia Inca Chief = Vr. platystachia x T. deppeana.
The plants we have are labeled Vr. platystachia* Ruby Select x Till. deppeana.
There is some variation in our plants eg number of paddles & colour, some have paddles from around the base of the spike with one tall central spike (photo in Growing Bromeliads, third edition, page 79 lower R/H corner), others have a multi paddled spike such as John Townsend's with approx. 12 paddles, after much discussion Derek & I decided the name should remain as per Inca Chief to save confusion.
I will post a photo of my plant after. I have quite a few Ken, but not letting any more go until we sort out the colours & paddles, wouldn't like to sell you the one in the book when it's the Inca Chief type you are after (photo of my plant to come, 25 paddles).
Ross"
2nd email from Ross Little... "Here are the photos of our Vrieslandsia Inca Chief, this plant flowered to 1.40 mtr tall, I think I prefer this one rather than the plant in the book Growing Bromeliads, I suggest to Derek that we call that particular plant VrL. Inca Chiefs Spear but it was decided to leave as Inca Chief.

*Ed. Note these references are mis-spellings of the hybrid Vr. "Platystachys".
---
Updated 29/08/10
---