Tillandsia zecheri
Click thumbnails for full size, scaled to a new window.
---
Tillandsia zecheri
Species, Argentina.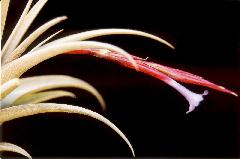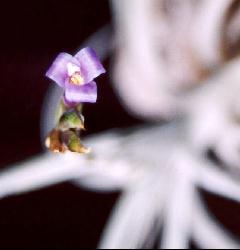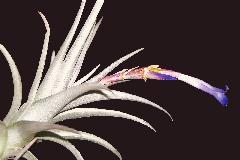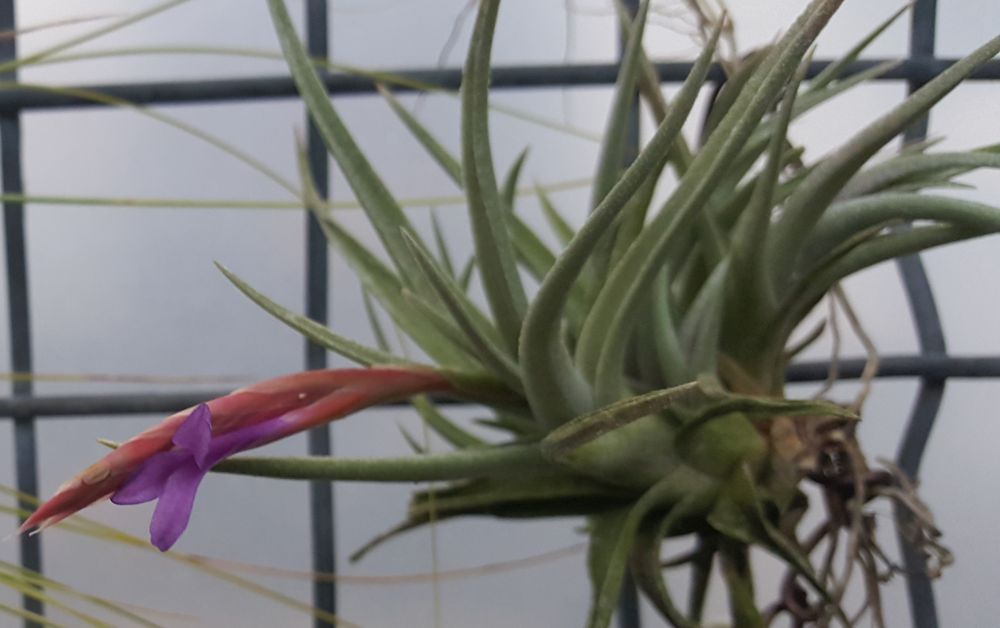 | | |
| --- | --- |
| Ken Woods. | Chris Larson 05/18 ex. Europe |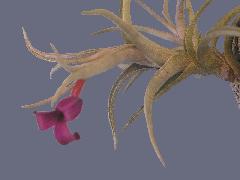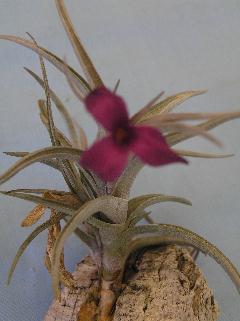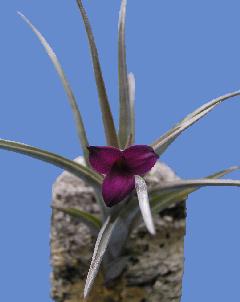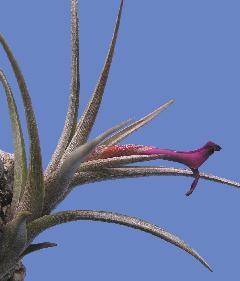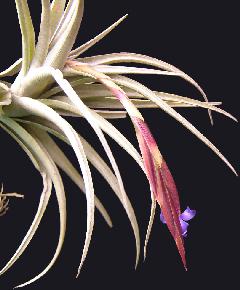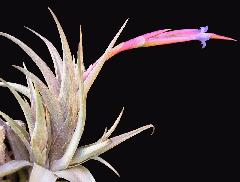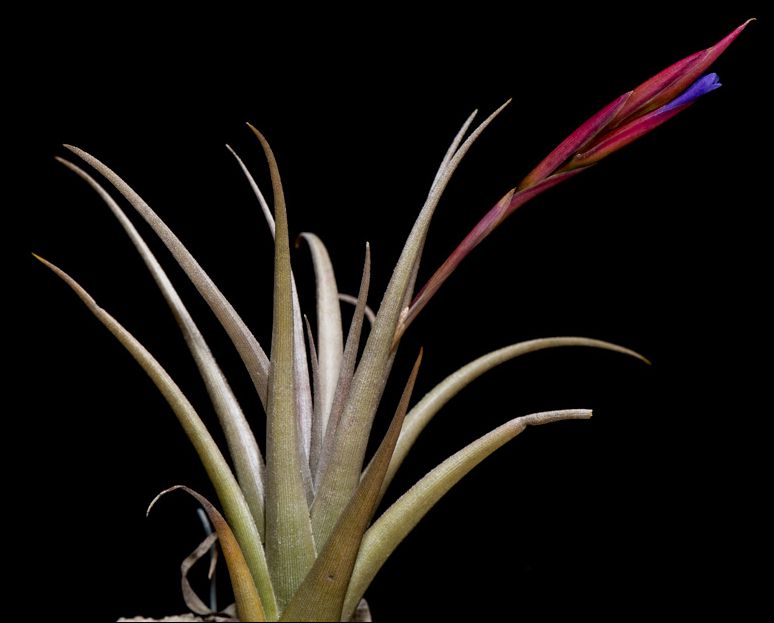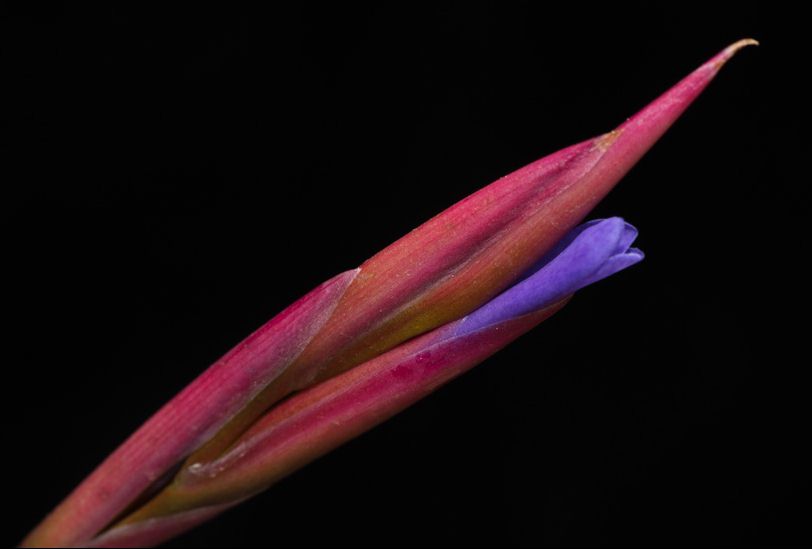 | | |
| --- | --- |
| Ken Woods 06/09 | George Nieuwenhoven 09/15 |

George Nieuwenhoven ... "I have had this plant for 8 years and it has finally flowered, the A 30 refers to collection data, Chris may still have details. It is obvious judging by this plant one has to be patient with some plants but in this case it was worth the wait."
---
Tillandsia zecheri forma brealitoensis
(Perfumed).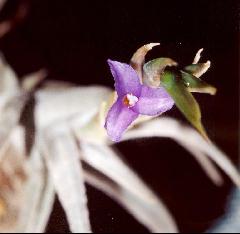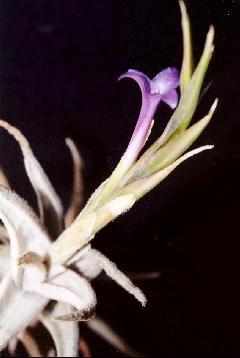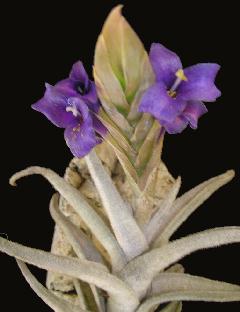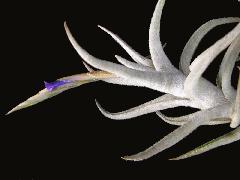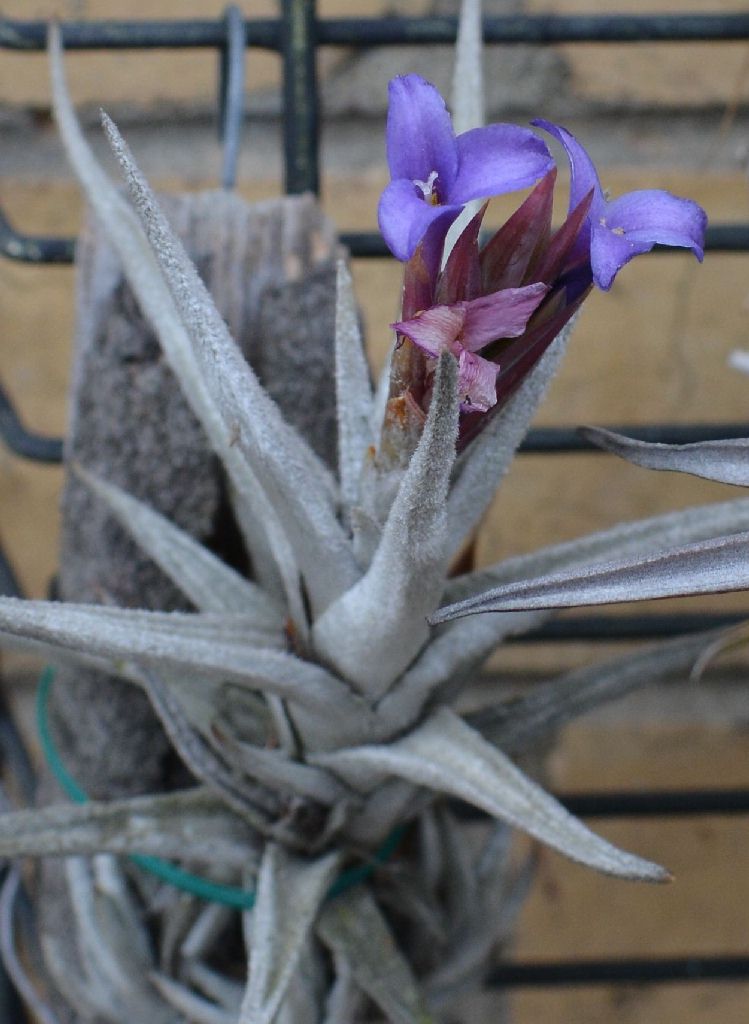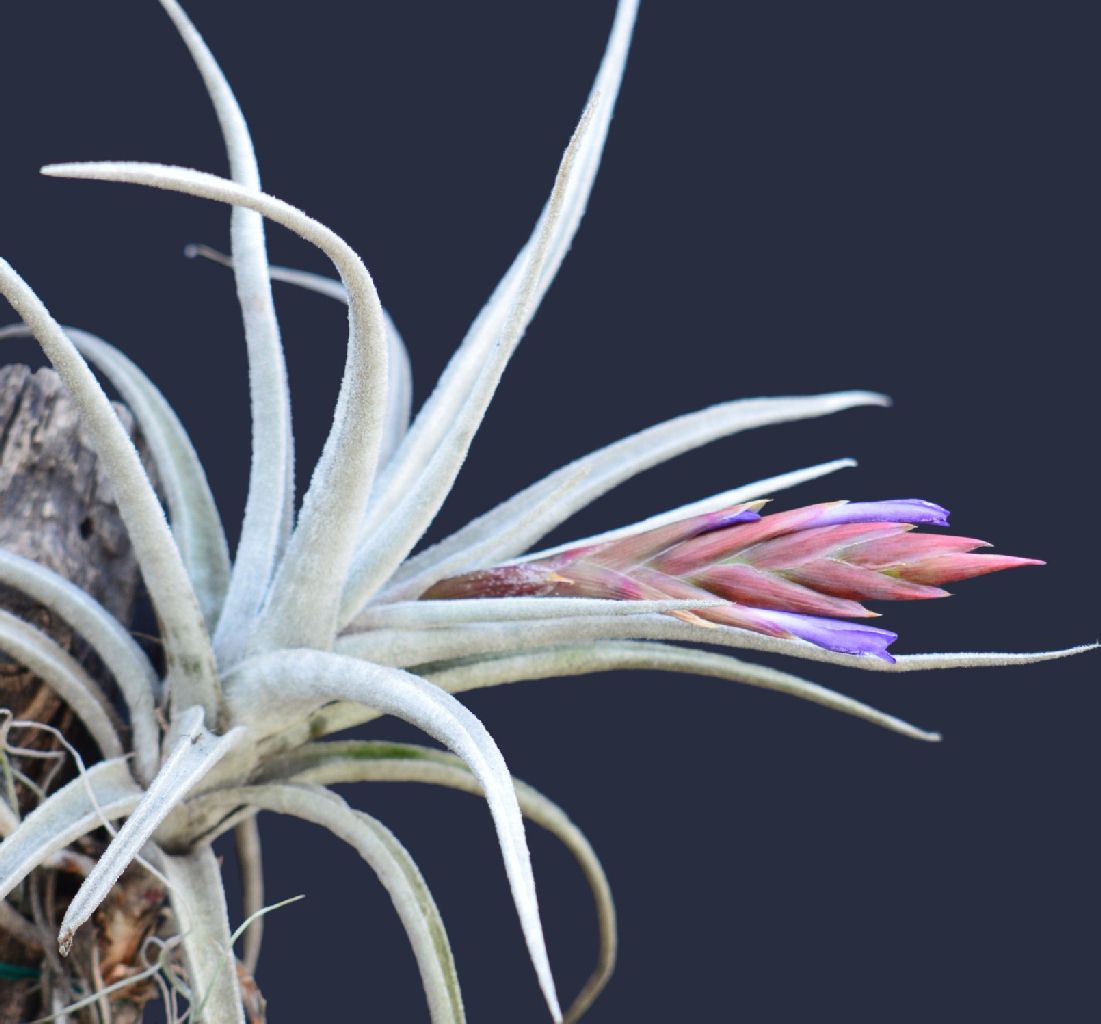 Chris Larson 12/16
brealitoensis

Chris Larson 12/16
zecheri
Chris Larson ... "a couple of plants from my Argentinian travels around 18 to 20 years ago – oh for the good old days.
The T.zecheri var brealitoensis was from 98 – just on the outskirts of the town of Brealito. Silver plants glinting in the sun with red cliffs. Andrew Thompson remarked how I could sit in the back seat looking uninspired, then, upon sighting a tillandsia I could scale a cliff to get to the tillandsias – I was much younger then. I remember edging out along the ledge to get these beauties. This one has been grown by Len Summers. It is fragrant – unlike the other forms of T.zecheri.
The other is also from 98. I lost the reference tag – so I'm not sure where it is from. Nice fuzzy form though. (an insect has been at the petals – but they are fairly tubular)."
---
Tillandsia zecheri var. cafayatensis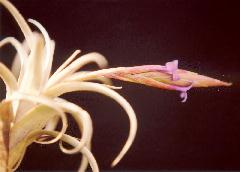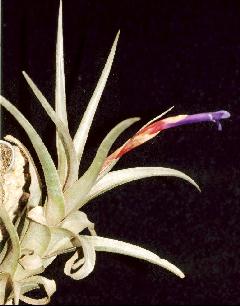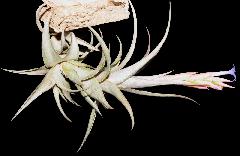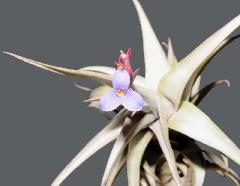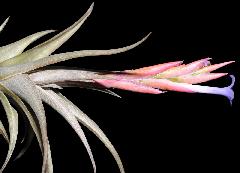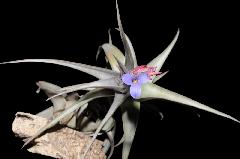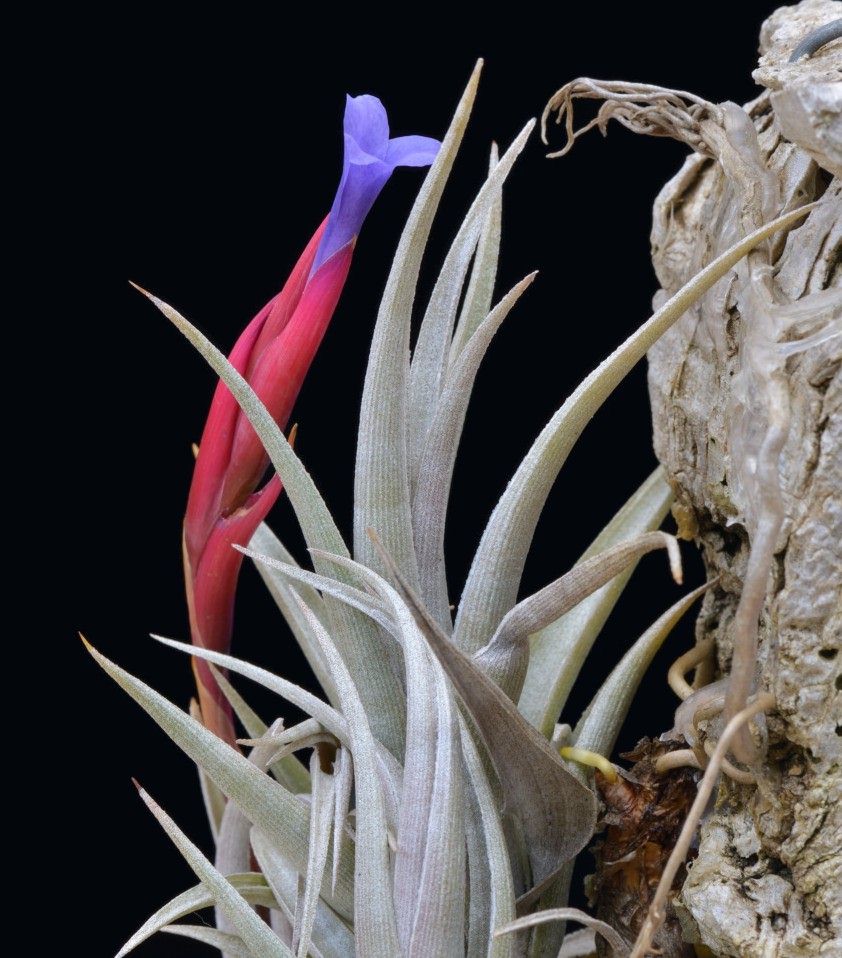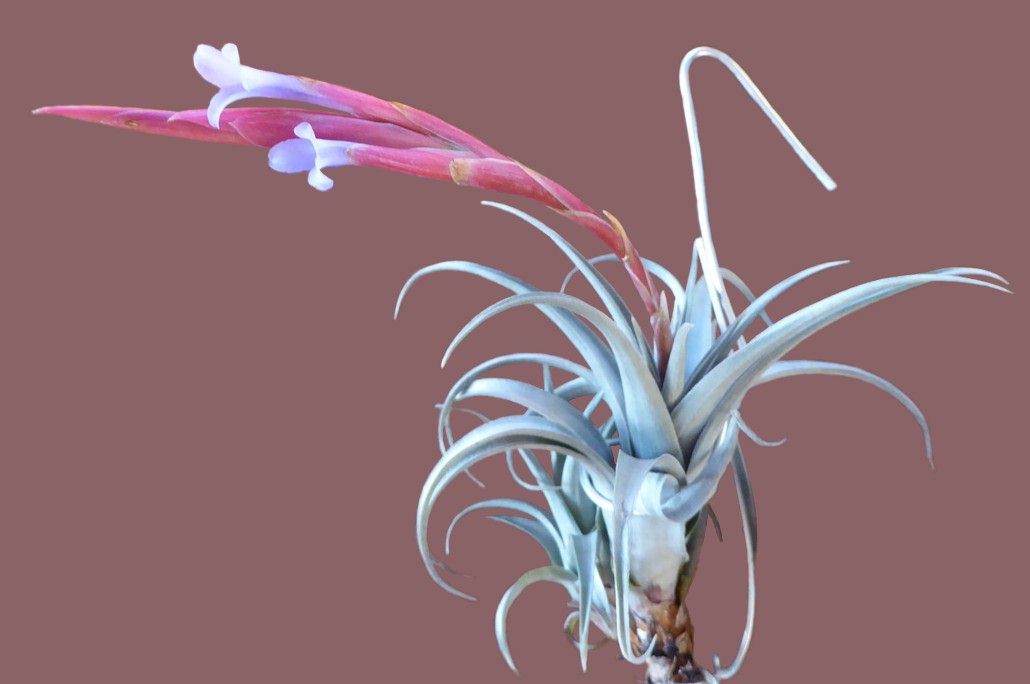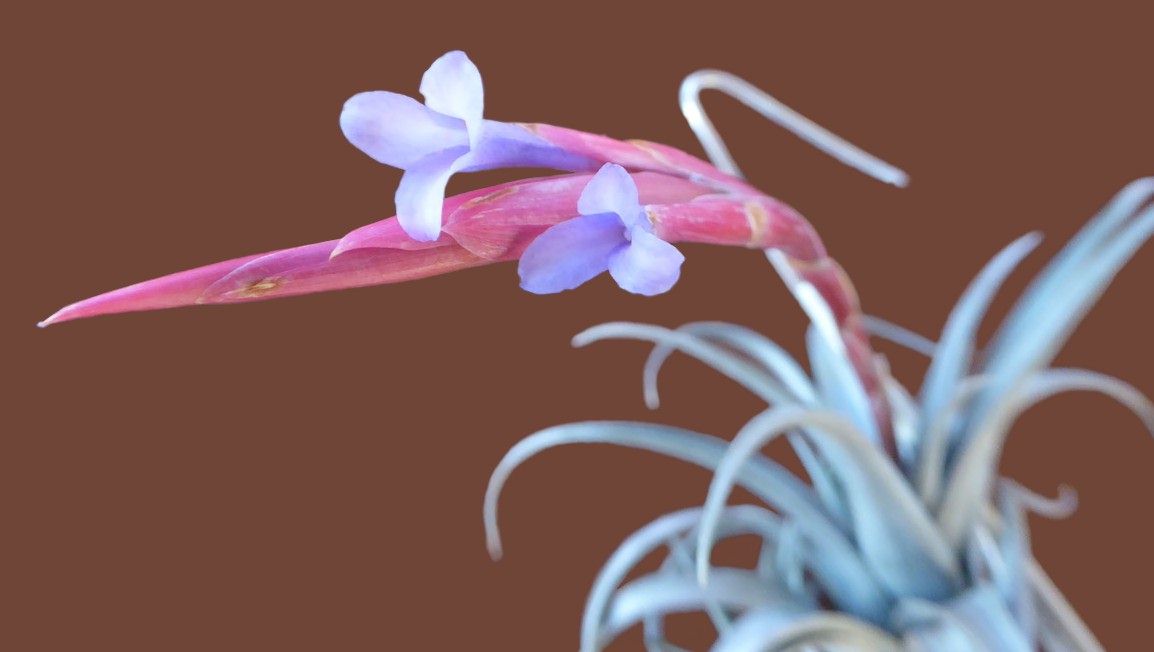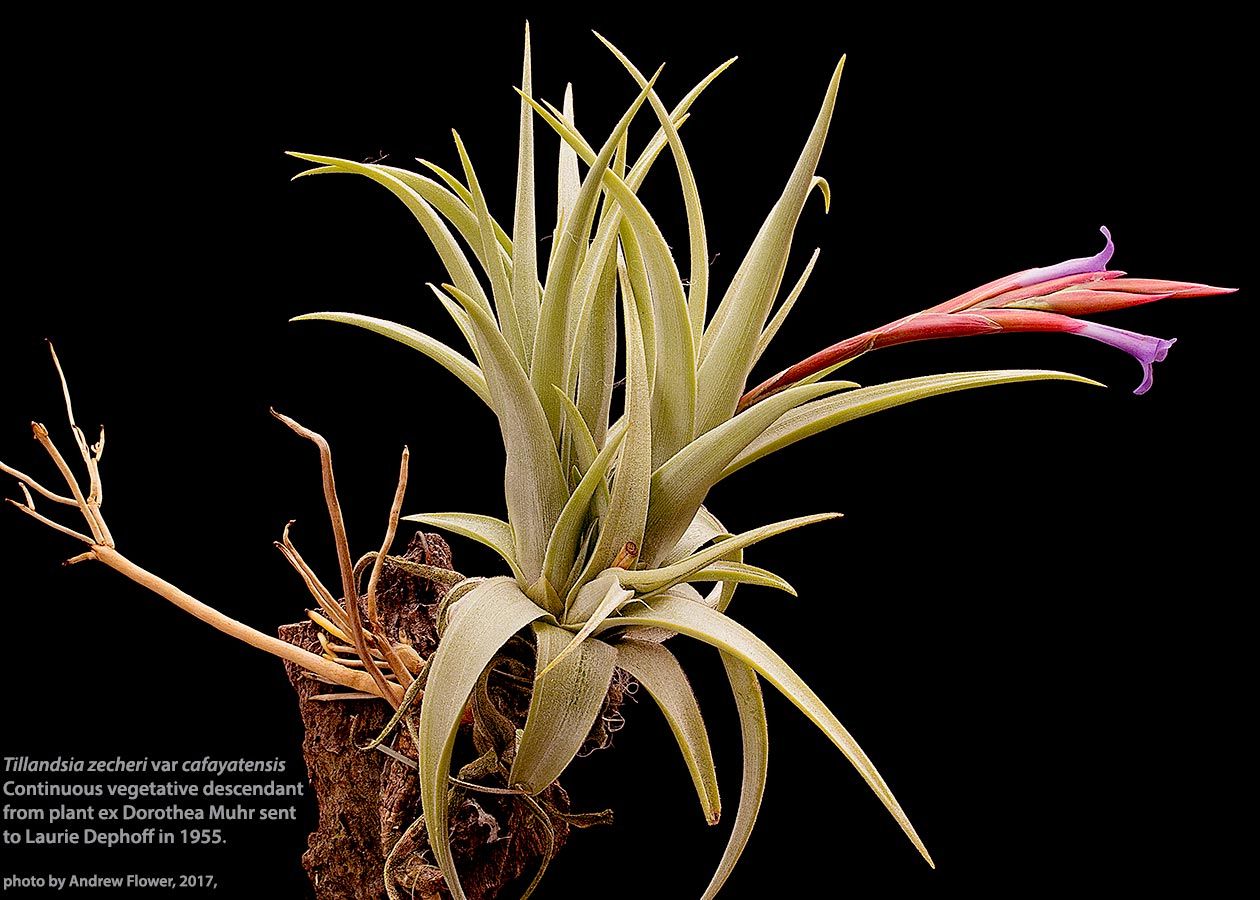 | | | |
| --- | --- | --- |
| George Nieuwenhoven 10/16 | Bruce Dunstan 03/18 | Andrew Flower 03/18 Note* |
---
*Note - Andrew Flower. "attached pic is of a direct vegetative descendant of one of Dorothea Muir's collections that she sent to Laurie Dephoff in 1955 - probably from the population that came to be named "Tillandsia muhrii" by Rauh in 1986, later changed to T. zecheri var cafayatensis"
---
Tillandsia zecheri .W Till var. zecheri (Die Bromelie 1-2/1983, pp. 6-7, figure 8). See JBS 1994 p107-116

Plant short caulescent;
Leaves erect, sometimes slightly secund;
Leaf sheath indistinct, nerved, lepidote;
Leaf blade narrowly triangular, 13-17 cm long, firm, slightly succulent, obtuse, with involute margins forming a channel on the adaxial surface, densely cinereous lepidote; scales with elongated wings especially at the leaf base.
Scape short, 2-7 cm long, straight or slightly recurved, completely covered by the scape bracts;
Scape bracts lower ones sub foliaceous and grayish, the upper ones lanceolate acute, 30-40 mm long.
Inflorescence simple, complanate, recurved, to 14 cm long, to 3 cm wide, with (3) 4-6 (8) flowers.
Rachis slightly flexuous, laterally compressed, green, glabrous.
Flowers subsessile, 2-3 mm stipitate. not fragrant
Floral bracts reddish, more or less densely imbricate but partially exposing the rachis after anthesis, glabrous, ecarinate, nerved, obtuse, (18) 30-35 (48) mm long, exceeding the sepals.
Sepals oblong-lanceolate, acuminate, equally free, posteriorly carinate, 18-26 mm long, green.
Petals obtuse, lingulate, 37-40 mm long, dark purple-violet.
Stamens about equaling the petal claw at anthesis,
Filaments - slightly plicate in the middle.
Stigma - simple, erect with three lobes (Type I). Stamen and stigma included.
Capsule cylindric, 22 mm long.
Type. H. & L. Hromadnik 7162 (WU). Salta, Valles Calchaquies, Angastaco, Piedra Pintada. 1900 m elev. August 1981.

Additional material examined.
Hromadnik 7163 (WU). Salta, Angastaco, Piedra Pintada. 1900 m elev., 1981. (Cultivated, w. Till 938).
Palaci 1141 (MNCS). Salta, Angastaco, Piedra Pintada, km. 1110, on banks of the Calchaqui River. 1900 m elev., January 6, 1990.
Palaci & Brown 1176 (MCNS, RM). Salta, Finca La Angostura, road from Molinos to Angastaco, km. 1150, July 1990.

The Tillandsia zecheri Complex and a New Infraspecific Taxa from Northwestern Argentina By Carlos A. Palaci and Gregory K. Brown in J. Brom. Soc. 44(3): 107-116. 1994

Tillandsia zecheri is an interesting, saxicolous plant originally discovered by Dr. W Till in1983 on the banks of the Calchaqui River in the province of Salta, Argentina.
The Calchaqui River drains an extensive, semi-arid region of northwestern Argentina. This river, together with the Rio de Santa Maria and the Rio de las Conchas forms a series of interconnected valleys known as the "Calchaqui valleys" (figure 5). These valleys were occupied by important Indian cultures in the past (Marquez Miranda, 1983) and today represent an important resource for agriculture and tourism.
Also found in the Calchaqui valleys is Tillandsia muhrii. That species was described by Werner Rauh in 1986, who cited the province of Jujuy, locality uncertain, as the type locality. Our field experience indicates, however, that T. muhrii is unlikely to be present in Jujuy, but rather that it is restricted, and probably endemic, to the Calchaqui valleys.
Tillandsia muhrii was named in honor of Dorothea Muhr, a plant collector from Buenos Aires. The name was identified recently as an illegitimate homonym because of its close resemblance with T. muhriae Weber (Till, 1989). As a consequence, this taxon has been left without a legitimate name.
During our field trips into Argentina in December 1989-January 1990 and July-August 1990, we collected samples of both Tillandsia zecheri and T. muhrii. We investigated freshly preserved floral material as well as herbarium specimens in order to determine the systematic position of the latter.
A careful comparison of the original descriptions indicates that the most significant difference between TiIlandsia zecheri and T. muhrii is in their sepals, which were described as "posteriorly carinate" in T. zecheri but "posteriorly ecarinate" in T. muhrii. A close examination of the type specimen of T. muhrii (i.e. D. Muhr T8A) shows somewhat ecarinate sepals. This specimen, however, represents a very immature inflorescence with poorly developed flowers. Another specimen from the same type collection (i.e. D. Muhr T8F), with a well-developed inflorescence, exhibits posteriorly carinate sepals. All of the other specimens of T. muhrii that we have examined so far also have carinate sepals (figure 6).
Another difference between the two taxa is supposed to be the size of the floral bracts and petals. The floral bracts of Tillandsia muhrii were described as being 25 mm long, whereas those of T. zecheri were described as ranging from 18 to 48 mm long. Thus, the length of the floral bracts of T. muhrii falls within the range of variation described for T. zecheri. The petals of T. zecheri range between 37 and 40 mm in length whereas those of T. muhrii were described as being 33 mm long. Our samples of T. muhrii exhibit petals ranging between 28 and 40 mm in length. We observed that these characters tend to vary, within certain limits, among different plants and even within different flowers of a single inflorescence. The color of the petals of both taxa ranges from purple-red to purple-blue passing through different intensities of blue and violet. The flowers of all the plants we have seen in the field are not fragrant.
According to their descriptions, Tillandsia zecheri and T. muhrii differ in their leaf shapes and indumentum. The leaves of T. zecheri are channeled and pruinose lepidote, whereas those of T. muhrii are flat with somewhat appressed scales. The pruinose appearance of T. zecheri is caused mainly by the largely extended wings of the scales (figure 7). However, populations with leaf indumentum and shape characteristics intermediate between T. zecheri and T. muhrii are known (figures 6 and 7). Trichome variability within tillandsioid species is well documented e.g. T. xiphioides Ker-Gawler (Smith & Downs, 1977) and T. utriculata (Gardner, 1983, p. 64. Thus, leaf indumentum and shape characters are not sufficient in distinguishing T. zecheri from T. muhrii.

We conclude on the bases of the similarities of the floral characters, the geo¬graphical proximity of the populations, and the plasticity of vegetative features, that there is not enough evidence to support separate species status for T. muhrii. Further support for this conclusion is the presence of intermediate populations that we have collected in the same region (figure 10; Ehlers pers. comm.) Since T. muhrii has been recognized as an illegitimate homonym of T. muhriae Weber, and in order to prevent further confusion with these names, we have decided to establish a new variety (i.e. var. cafayatensis) with a name referring to the typical locality where this taxon is distributed.
In addition, we have collected a specimen from one population in which the leaves are shorter (i.e. (4) 5 (7) cm long) and more rigid than in the typical variety, with a pungent apex and a coarser, strongly pruinose indumentum. The inflorescence is also shorter with only three to four flowers (figure 11). These plants were found close to Brealito and a similar population was detected near Cachi, both above 2500 m elevation. These populations represent, in our opinion, a dwarf form with characteristics that seem to have been fixed through time as an adaptation to extremely dry and stressful conditions at higher elevations in the Andes. The plants are distinct enough to be considered a different form from the typical variety.
W. Till (1983) considered Tillandsia zecheri to be related to T. lorentziana Grisebach and to T. cardenasii L.B. Smith. We have observed, however, that T. lorentziana differs from T. zecheri in its usually compound inflorescence and its smaller flowers with white petals T. cardenasii has very distinct floral bracts and a completely disjunct distribution area in southern Bolivia. As judged by the floral characteristics, other putative relatives to T. zecheri are T. friesii Mez and T. argentina C.H. Wright. The high diversification of habitats and the geographical isolation in distant, narrow valleys may have promoted the evolution of the Andean section of subgenus Anoplophytum in the eastern slopes of the Andes (Palaci, 1991; Till, 1983). Phylogenetic relationships, however, seem to be obscured by rapid evolution and incomplete divergence within this group.

The Tillandsia zecheri complex is restricted and probably endemic to the Calchaqui valleys of Salta, Argentina. Its populations are frequently small and probably fragile because of their restricted habitat on rocky outcrops, which are subjected to frequent erosion by intense rains and river flooding during the summer months. We recommend that collections of these plants be restricted to scientific research, or that careful collection of seeds from ripening fruits be considered.

Tillandsia zecheri W. Till var. zecheri fa. brealitoensis Palaci & G. Brown JBS 1994 p115

A forma typica, foliis rigidioribus et brevioribus (5-7 cm), inflorescentia breviore et pauciflora differt.

Plant dwarf, smaller than the typical form,
Leaves short, (4) 5 (7) cm long, more rigid, sometimes with a pungent apex, channeled, coarsely pruinose lepidote.
Inflorescence short, 7-9 cm long, with 3-4 flowers; Fragrant (! C Larson AUS 2002)
Corolla dark purple-blue.
Type: Palaci & Brown 1172 (RM); isotype (MCNS). Argentina, Salta, Brealito, on the way to the school. On reddish, rocky walls; 2500 m elev. July 27, 1990.

Additional material examined:
Helmut & L. Hromadnik 7154 (WU). Salta, Valles Calchaquies, Brealito, 2350 m elev. Aug. 1981.
0. Irrnstorfer s.n. (WU). Salta, Valles Calchaquies, Payogasta, Feb. 1981 (Cultivated, W. Till 714).

Tillandsia zecheri W. Till var. cafayatensis Palaci & G. Brown JBS 1994 p113-114

Synonym: Tillandsia muhrii Rauh.

A varietate typica foliis tenuioribus et applanatioribus, indumento appresse lepidoto, et inflorescentia graciliore differt; sed plantis intermediis cum ea juncta est.

Leaves 10-12 cm long, less succulent than in the typical variety, flat, appressed lepidote with somewhat symmetrical scales.
Inflorescence somewhat slender and narrower (to 2 cm wide), typically with (4) 6 (8) flowers.
Flowers not fragrant, purple-violet.
Type. Palaci 534 (MCNS); isotype (RM). Argentina, Salta, Dpto. de Guachipas, Garganta del Diablo, 15 mm elev. April 4, 1986.

Additional material examined:
Cabrera & Marchioni 13080 US). Salta, Dpto. Guachipas: Quebrada de las Conchas, Santa Rosa. March 14, 1958.
D. Muhr T8A = B.G.H. 31839 (HElD), "genauer Fundort unbekkant, Prov. Jujuy." May 1973.
D. Muhr T8F = G.B.H. 31835 (US).
Hromadnik 7169 (WU). Salta, Quebrada de Cafayate, Santa Rosa, 1800 m elev., 1981.

Material intermediate between var. zecheri and var. cafayatensis
E. Markus s.n. "Auf erodierten Fels. Cafayate, near Alemania, km 25." (Cultivated, W. Till 951 ).
Helmut & Hromadnik 7167 (WU). Salta, Quebrada de Cafayate, km. 20, 1500 m, Aug. 1981.
Palaci, Marmol & Nunez 1147 (MCNS, RM) Salta, Cafayate, km 20. Jan. 1990.
Palaci & Brown 1178 (MCNS, RM) Salta, Cafayate, km 31, July 1990.

Tillandsia muhrii Rauh , Die Bromelie 2: 1-2. 1986 treated by Palaci (1991)as T.'cafayatensis'
Planta breviter caulescens, florens usque ad 15 cm alta; caulis rosula brevior, crassis radicibus et ramosissimis; rosula erecta, usque ad 20 cm alta et 9 cm lata. Vaginae indistincte, usque ad 1,5cm longae et 1,5 cm latae, subalbae, utrimque dense apresso-lepidotae. Lamina usque ad 7 cm longa et 1,3 cm lata, plana, anguste triangula, acuminata neque vero longe attenuata, utrimque densissime lepidota; lepides non omnio appressae neque vero centro brunneo divaricantes. Inflorescentia simplex (an semper?) arcuate incurva, usque ad 9 cm longa. Scapus 4 cm longus, erecte curvatus, omnio circumdatus bracteis scapi, quarum basales sunt subfoliatae et canae, quarum superiores sunt vaginiformes et scapum omnio amplectuntur. Bracteae scapi mediae sordide-rubrae, gla¬brae, valde nervatae, membranaceo acumine et mature desiccante; bracteae scapi superiores paulatim transeuntes in bracteas florigeras. Inflorescentia complanata, 4 cm longa et 0,6 cm lata, plus minusve 5 flores gerens; bracteae florigerae erecte oblongo-lanceolatae, 2,5 cm longae, acuminatae, 6 mm latae, carmineae, glabrae, valde nervatae, ecarinatae, multo longiores quam sepala et ea ampletentes. Rhachis spicae flexuosa, a latere applanata, viridis, glabra. Flores subsessiles usque ad 3,5 cm longi. Sepala oblongo-lanceolata, acuminata, posteriora ecarinata, subrubra, ad basim viridia, glabra, desiccata, valde ecarinata. Petala erecta, usque ad 33 mm longa et 3 cm lata, apicibus divaricantibus et luculente caeruleo-rubro-violaceis. Stamina et stylus profunde inclusa; filamenta vix plicata.

Holotypus: Dorothea MUHR T 8a = B.G.H, 31 839 (Mai 1973), in herb.inst.syst.bot. heidelb. (HEID).
Habitat et distrlbutio: Prov. Juju, loco incerto, Argentinia.

Plant - Short caulescent, flowering to 15cm high. Stem shorter than rosette, with very robust and abundantly branched roots. Rosette upright to 20cm high and 9cm wide. All leaves spreading, the younger ones erect.
Leaf sheath - Indistinct, to 1.5cm long, 1.2cm wide, whitish both sides, dense appressed lepidote.
Leaf blade - To 7cm long, 1.3cm wide, flat, thin, 3 angled towards the tip but not long attenuate, both sides very thick white lepidote; scales spreading with brownish centre.
Inflorescence - Simple (? always), bent, to 9cm long.
Scape - 4cm long, erect to bent, totally covered by scape bracts whose base is subfoliate, the middle sheath enveloping the whole scape, grey lepidote.
Scape bracts - the middle ones dirty red, naked, strongly veined, with membranous soon drying tips. The upper scape bracts gradually flow over to the flowers.
Spike - Complanate, 4cm long, 0.6cm wide, ca 5 flowered.
Floral bracts - Erect, long lancelike, 2.5cm long, acuminate, 6mm wide, carmine-red, naked, strongly veined, ecarinate, much longer than the sepals and almost enclosing them.
Rhachis - Flexible, flattened on the side, green, naked.
Flower - Almost sessile, to 3.5cm long.
Sepal - Long lancelike, acuminate, the posterior ones ecarinate, reddish, the bottom green, naked, with strong nerves when dry.
Petal - Erect to 33mm long, 3mm wide, with spreading blunt tips, bright red blue/violet.
Stamens - and style lobes enclosed. Filament weakly plicate.
Type - Holotype: Dorothea Muhr T. 8a = BGH 31 839 (May 1973) HEID
HABITAT - From Province of Jujuy, Argentina: without exact locality.

Differs from T. lorentziana as follows :
Plant much smaller, flowering to about 20cm high
Leaves not long attenuate
Upper scape bracts glabrous
Inflorescens simple (?always)
Floral bracts widely exceeding the sepals
Petals light blue violet and the tip bent over compared to T. lorentziana where they are white and erect
---
Updated 16/09/18
---