Tillandsia zacualpanensis
Click thumbnails for full size, scaled to a new window.
---
Tillandsia zacualpanensis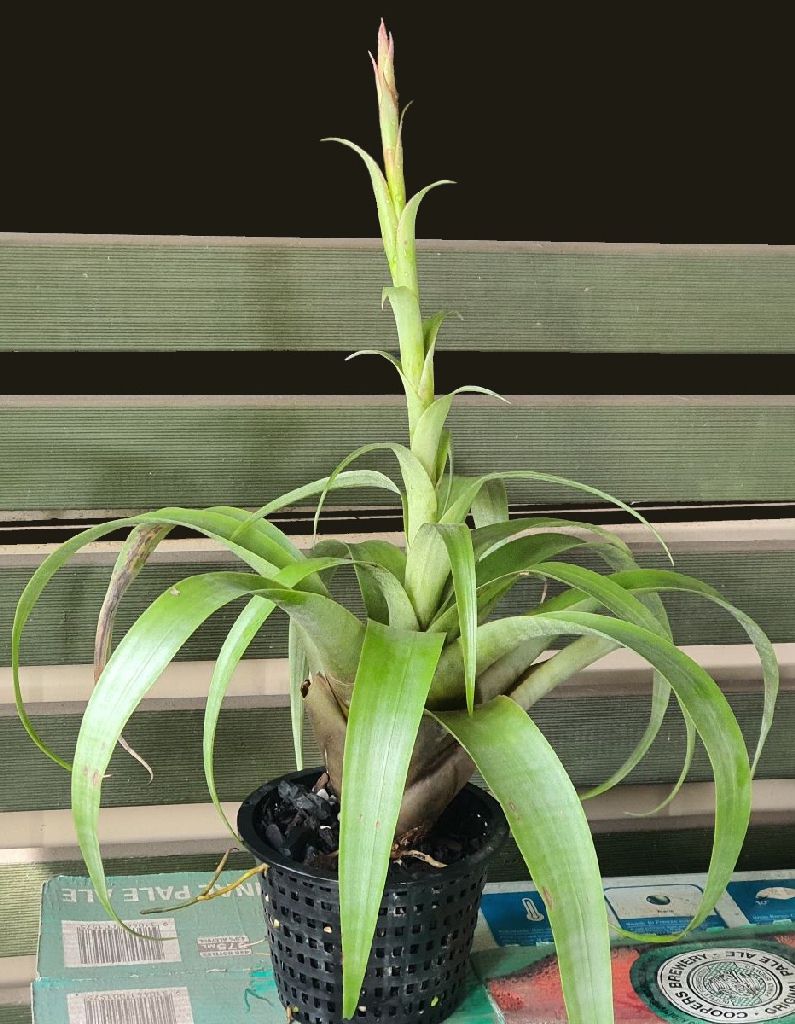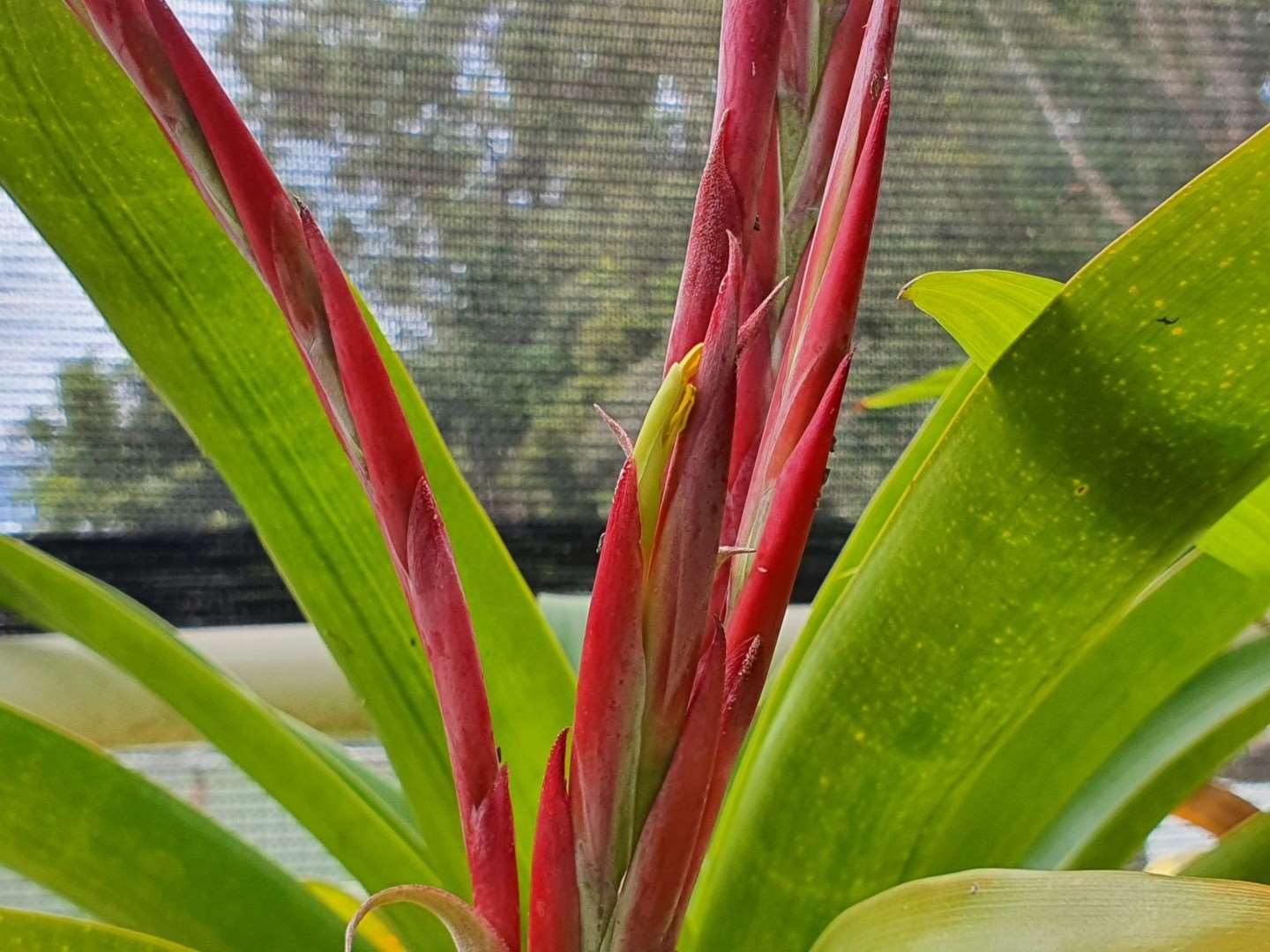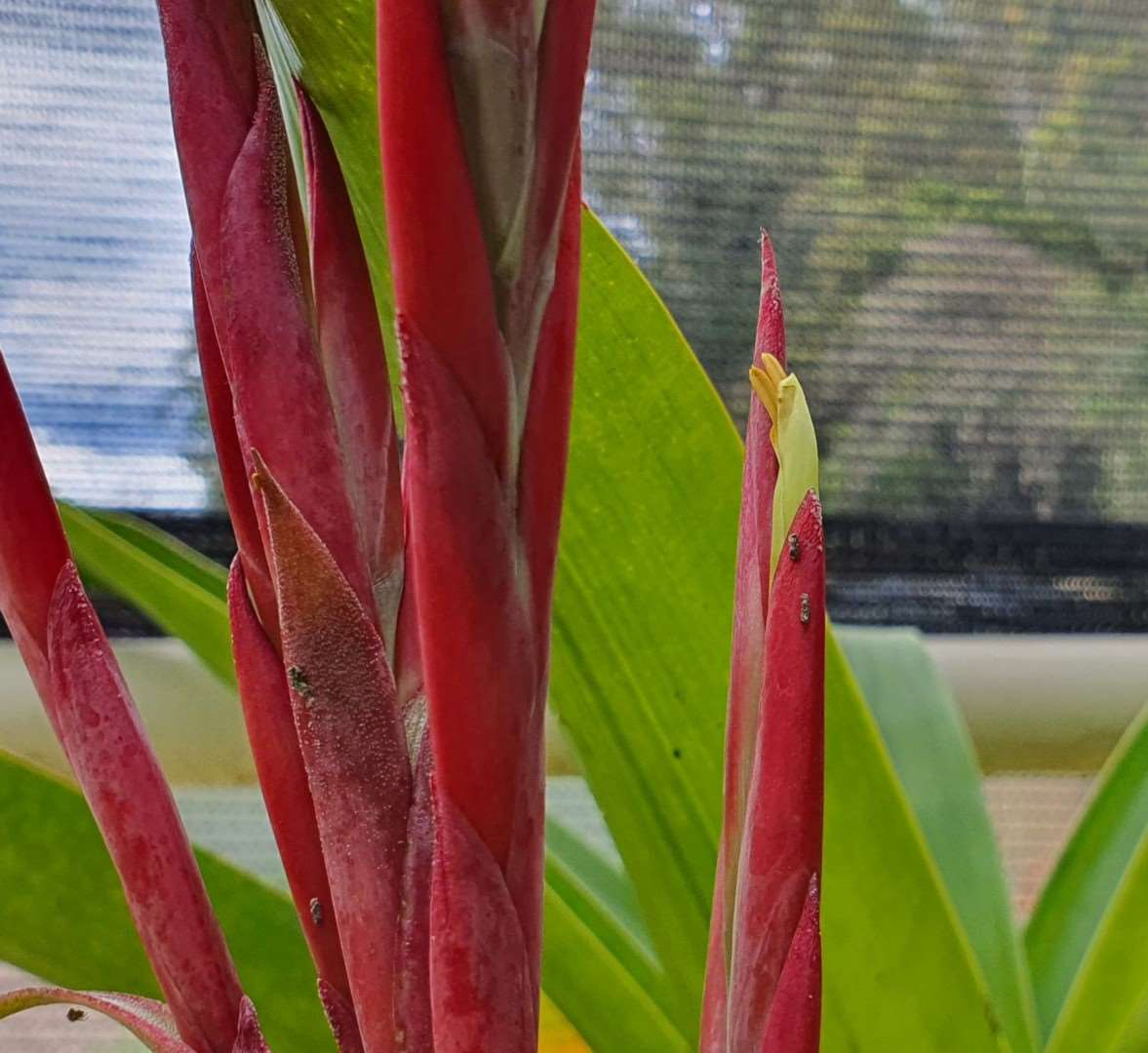 | | |
| --- | --- |
| Mark Supple 03/20 | Mark Supple 11/20 |
Mark Supple 03/20 ... "I have T. zacualpanensis coming into spike now, got this from Steve Molnar around 2016 and the label is Peter Tristram's writing. This is not a big plant compared to another one I have which is starting to get huge. Plant behaving badly and there will be another 4 paddles at least coming off of it, I have taken 16 pups from this plant so now hopefully it will produce viable seed so someone else can grow it."
Peter Tristram ... "I guess it was putting lots of energy into pup production, maybe from stress. They can sure vary in size on blooming, though none of mine have bloomed as small as yours. I'd say it's the easiest of the Mexican silver leafed cliff hangers to grow that I have and the best pupping."
Mark Supple 10/20 ... "My T. zacualpanensis is finally in flower, I have taken around 12 pups from this plant and let's see if I get any seed out of it."
Chris Larson ... "Great to see this in flower Mark. It is one of my faves. I flowered one around 10 years ago - no adv pups, no post floral pups, the seed didn't work.
It took me a few years to get a tiny adv pup (after much seeking), which I am nuturing & propagating - & they are finally putting on size. But the first is still a couple of years off & this time it is not going to be 10 or more years to get another flower."
Peter Tristram ... "Can we swap a yellow flowering form for a purple flowering one?"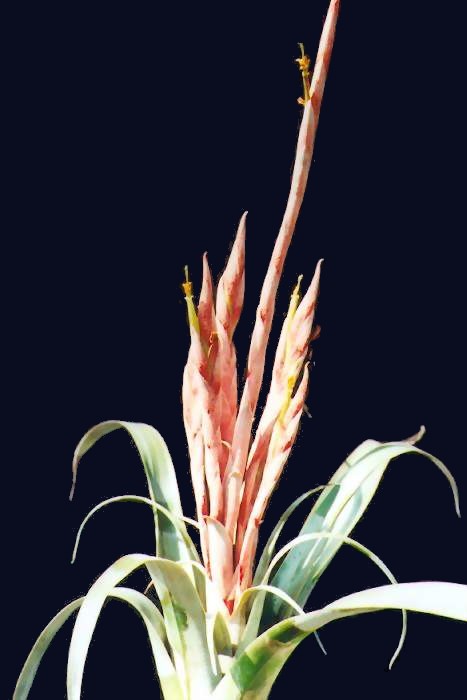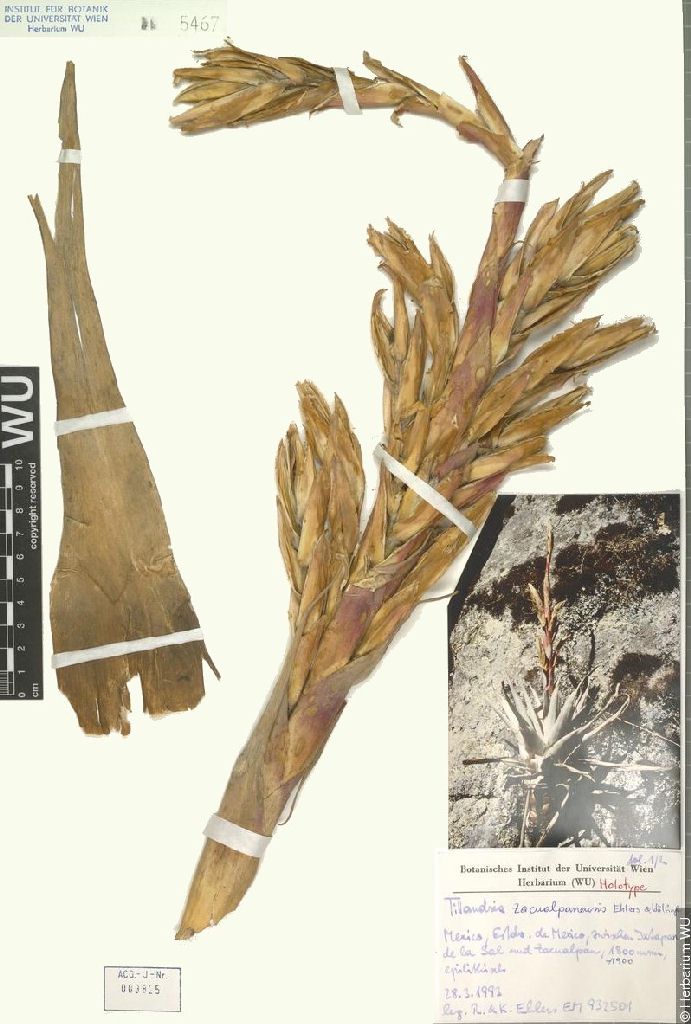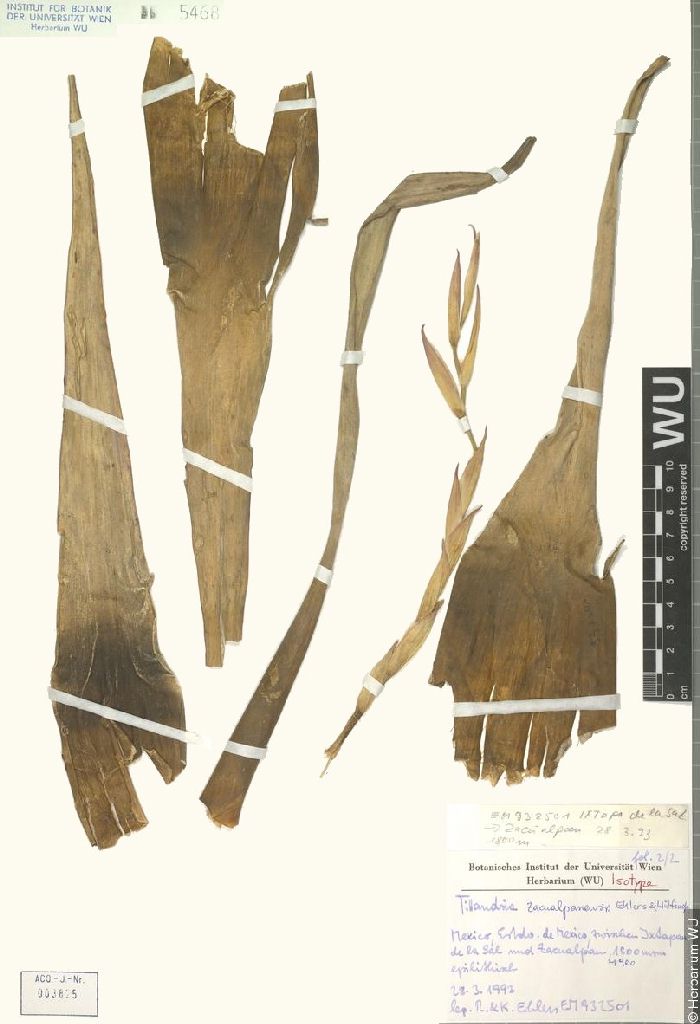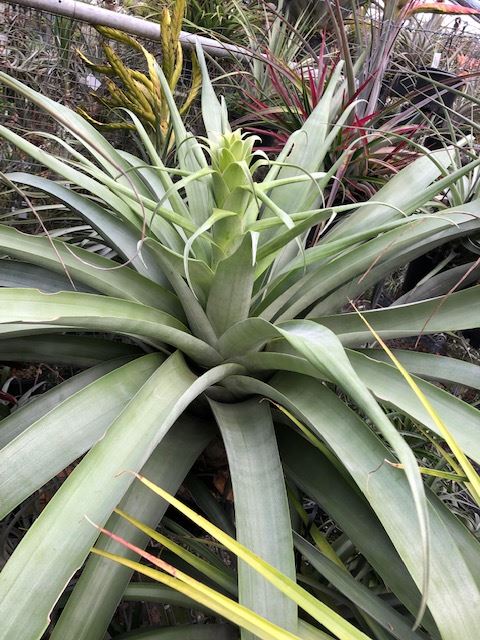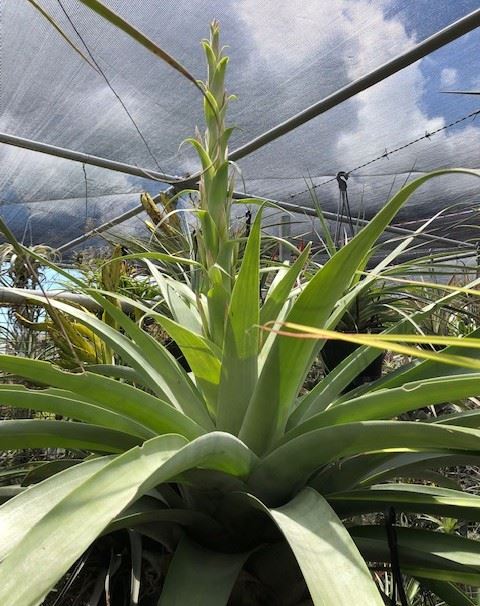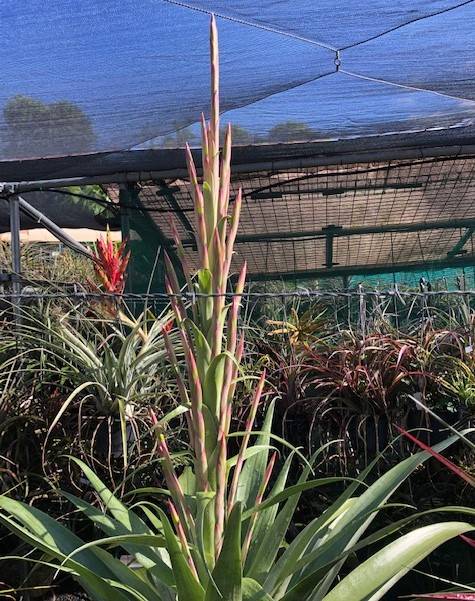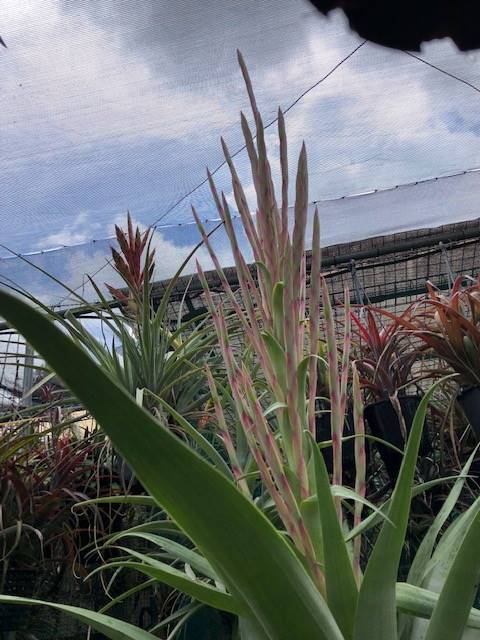 | | | | |
| --- | --- | --- | --- |
| John Olsen 11/21 | John Olsen 12/21 | John Olsen 01/22 still climbing | John Olsen 02/22 |
---
Tillandsia zacualpanensis Ehlers and Wuelfinghoff, Die Brom. 1: 12-15. 2005.
A T. thyrsigera E. Morren ex Baker rosula erecta minus patentia, foliis griseis, vaginis foliorum angustioribus, laminis foliorum longioribus angustioribusque longioriter acuminatis, bracteis scapi lepidotis, angustioribus, bracteis primariis angustioribus, lepidotis, spicis longioriter stipitatis, floribus paucioribus compositis, internodiis longioribus et bracteis florigeris apicem versus griseolepidotis differt.
Plant growing on rocks, stemless, however with stocky stolons with strong roots in the rocks, many baby offsets at the base, flowering 50 – 100cm high, 25 – 40cm wide, making an erect, a little open, rosette with few (10 – 20) leaves.
Leaf to 30 – 50cm long, subligulate, leathery, thick fleshy, with asymmetric distinct keel, dark green, looking grey green because of the dense grey scales.
Leaf sheath 8 – 13cm long, 6 – 8cm wide, oval, convex, inside dark brown, dense, fine, brown lepidote, outside light brown and fine grey brown lepidote.
Leaf blade a little distinct from the sheath, 3.5 –6cm wide above the sheath, 20 – 45cm long, subligulate, narrow triangular acuminate, both sides dense fine grey appressed scales, outside nerved.
Scape much shorter than the rosette, ca 5 – 10cm long, thick and stocky, hidden in the rosette, covered with a few leaflike, long acuminate, imbricate scape bracts.
Inflorescence compound, erect, 40 –70cm long, 10 – 15cm wide, long thryrsiform, bipinnate, 8 – 16 spikes, becoming erect, straight, spreading at an angle of 20 - 30Ί, after flowering the tops of the spikes bent outwards like a fan, internodes 2 – 3cm.
Primary bracts similar to the upper scape bracts, dense grey lepidote, the oval sheaths mostly shorter than the sterile portion of the spike and enclosing this, the blades of the lower ones to 7cm long, narrow triangular acuminate, erect or a little bent over, the upper ones short tipped.
Spike 5 – 30cm long, 15mm (postfloral to 25mm) wide, complanate, the sterile bracts 8 – 12 mm wide, are pressed against and cover the oval stem of the spike, half as long to much longer than the fertile top portion, which is lancelike (or narrow elliptic postfloral), acuminate, with 2 – 9 sessile, scentless flowers. The nearly flexuous, 4 sided, glabrous rhachis is not visible at anthesis (but is visible postfloral) Flower bracts 3.5 – 4.8cm long, mostly exceed the sepals, 2 – 3 times as long as the internodes, 1.2 to 1.7 (-2)cm wide, triangular elliptic, acuminate, more or less distinctly keeled, (particularly the sterile bracts are often sharply keeled, when the top fertile ones seem indistinctly keeled), leathery, inside nerved, the top half densely lepidote, outside red, glabrous, sometimes scattered trichomes at the tip (stronger in the sterile ones at the base)
Sepals 3 – 4.2cm long, 8 – 10mm wide, narrow elliptic acuminate, thin leathery, light green, glabrous, subfree (1 – 2mm joined), the posterior ones with a thickened keel at the base.
Petals 4.5 – 5cm long, 6 – 7mm wide, narrowing at the base to 3 – 4mm, ligulate, tubular, erect, the tip a very little bent outwards, the corolla forming a throat, violet or yellow green, base whitish green.
Stamens exceed the flower, Filament 4 – 4.5cm long, in 2 unequally long series, the top portion 1mm wide, oval, violet or yellow green, narrowing below and becoming yellow green, Anthers 3.5 – 4.5mm long when dry (fresh 6 – 7mm), 1mm wide, linear, joined 1/3 to Ό from the base, versatile, ochre, Pollen egg yellow, Style 4.6 – 5cm long, exceeds the filament by 1cm, upper third violet or yellow, becoming yellow green, Stigma as wide as the style, Lobes wholely erect, violet or emerald green. Type I B&G
Ovary 7mm high, 3mm wide at base, conical, light green.
Type locality Mexico, Estado de Mexico, between Ixtapa de la Sal ans Zacualpan, on rocks, 1800 – 1900m alt, leg K&R Ehlers 28 March 1993, EM932501, Holotype WU
Paratype from same locality, leg. Rudolf Wuelfinghoff, 92-382. Flowered in coll. Ehlers Mar-May 1993
This species is known for its thyrsoid inflorescence in the group around T. thyrsigera. Because of its leathery, subligulate leaves, the plant seems best linked with T. thyrsigera E. MORREN ex BAKER. The plants from the group around T. parryi BAKER have thin leathery, triangular, caudate-attenuate leaf blades.
Examined material T. thyrsigera E. MORREN ex BAKER:
EM 902606, March 1990, State of Mexico, Valle de Bravo, Godines.
EM 932703, 30. 3. 93, State of Mexico, Almoloya.
The plant differs from T. thyrsigera E. MORREN ex BAKER by:
Plant a more upright, less spreading rosette, leaves gray lepidote, sheaths narrow,
Leaf blades longer, narrow, long acuminate.
Scape bracts lepidote, narrow,
Primary bracts narrow, lepidote.
Spikes with many long, narrow, with more sterile bracts on the stem, from fewer flowers, whose internodes are much longer,
Floral bracts adaxially in the upper half gray lepidote, not brown lepidote.
The Type plant, that flowered in our collection in 1993, had violet petals. Also a plant, that we had received from Rudolf Wulfinghoff, flowered violet in Spring 1993.
In May 1996 a plant came into flower and I was more than surprised to find it had greenish yellow petals.
We were quite sure that only one species of Rock-Tillandsia grew at the type locality near Zacualpan. How could it be that once the plant flowered violet and once green?
Prehistory:
It is very astonishing that after so long a delay, the plant is now finally described. It has been long known that the problem lies in the different petal colour. Already in Richter's "Brome liaceen: Zimmerpflanzen von heute und morgen", is a photo of Rudolf Wulfmghoff portrayed on page 336, which shows T. zacualpanensis at the type locality. The caption says: Tillandsia is even growing on rocks: T. tricolor in Mexico. The plant had already been collected in 1970 by Wulfinghoff on the route between Ixtapan de la Sal and Zacualpan, was not yet recognized only known at that time as "new".
Also Dr. Jurg Rutschmann from Basel told Klaus and me of this beautiful plant and showed us photos, he also gave us a slide of a plant on a rock near Zacualpan, which he had taken in 1989. He thought it is was T. thyrsigera, but the plant looked different to the plants that we had collected in the Valle de Bravo and doubtless had been identified as T. thyrsigera. In 1992 Rudolf Wulfinghoff gave us a plant which had been mentioned in Richter's book. All this made us curious, so we decided to look for the plant ourselves at the location.
On our trip to Mexico in March 1993 we finally came to this area. Already we were at the end of our trip; at day 25. We drive from Ixtapan de la Sal in the direction of Zacualpan. We are happy that we find the rock without difficulties: I have noted in the trip-diary: "16.00 hrs, 34 °C in the shade, 27% humidity, at the car 1806 m s. m., find species Wulfinghoff, however dreadful thorn bushes"!
As it is we come back from the rocks in the evening. In Zacualpan, there is a nice hotel, but it is market-day and there are no vacant rooms. But while we were eating in the charming small restaurant at the High street we asked where we could stay overnight, the Senora offered us a room in her home. It was a gigantic room with a large bed and many, many dolls of all sizes and hideous. But we are glad that we have a roof over our heads. Unfortunately there is another big shock, I had not tightly closed the bottle of disinfectant for Klaus' foot; it was a black-violet tincture – and had run everywhere in our clothes- indelible colour! We pay 60 Pesos for the room and 35 pesos for the simple breakfast without eggs, that is approximately double that in Ixtapan in a high class hotel. But she says kindly: "somos pobres pero muy carinosas", (we are poor but very affectionate), as she collects the money, so that my protest remains unsaid.
Another reason why we wanted to drive around Zacualpan was to find a plant that we had never seen in any collection or botanical garden:
Tillandsia roseospicata MATUDA. This plant was described by Matuda 1975 in the Mexican Cactaceas. The plant is similar to T. bourgaei BAKER but differs from this by the large, pink spikes covered with white scales. The type location is stated as: on oaks at the Cerro de Tres Coronas, Zacualpan, state Mexico, 2000 m. We knew that Lotte and Helmut Hromadnik had already vainly looked for this plant, but we wanted to try again for ourselves.
On the next day, after our expensive breaklfast, we got going to the Cerro Tres Coronas. We find at 2000-2400m many T. violacea, T. prodigiosa, T. langlasseana, T. dugesii, T. aff. makoyana, Catopsis and many orchids and a plant T. aff. bourgaei. Where is T. roseospicata MATUDA ? Actually, I see no difference. When at home, I decide after looking at the inflorescences I have taken for herbarium specimens, that it must be part of the very variable T. bourgaei.
---
Updated 11/04/22
---