Tillandsia xerographica
Click thumbnails for full size, scaled to a new window.
---
Tillandsia xerographica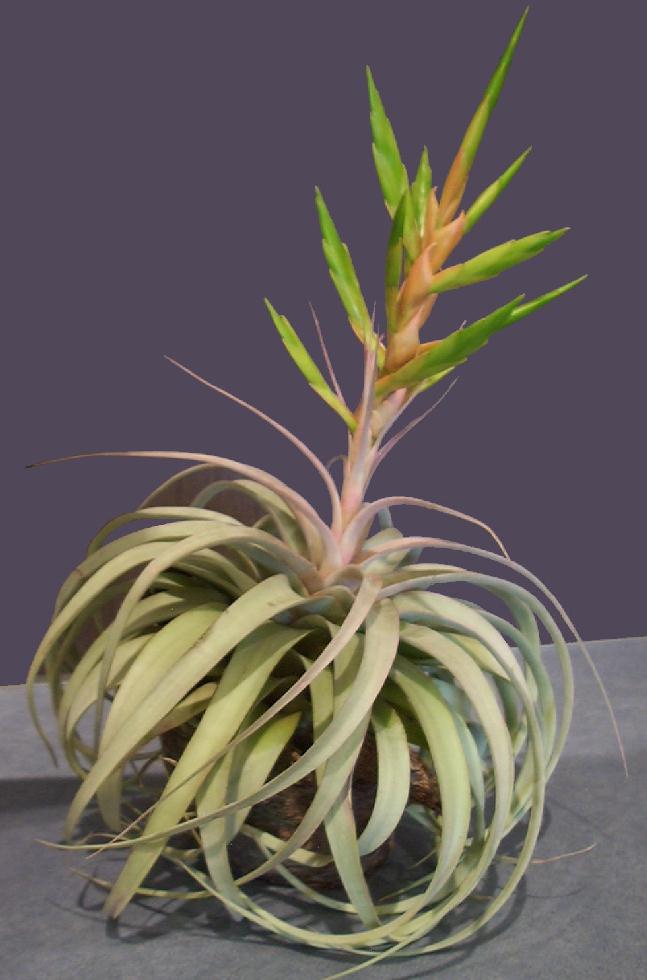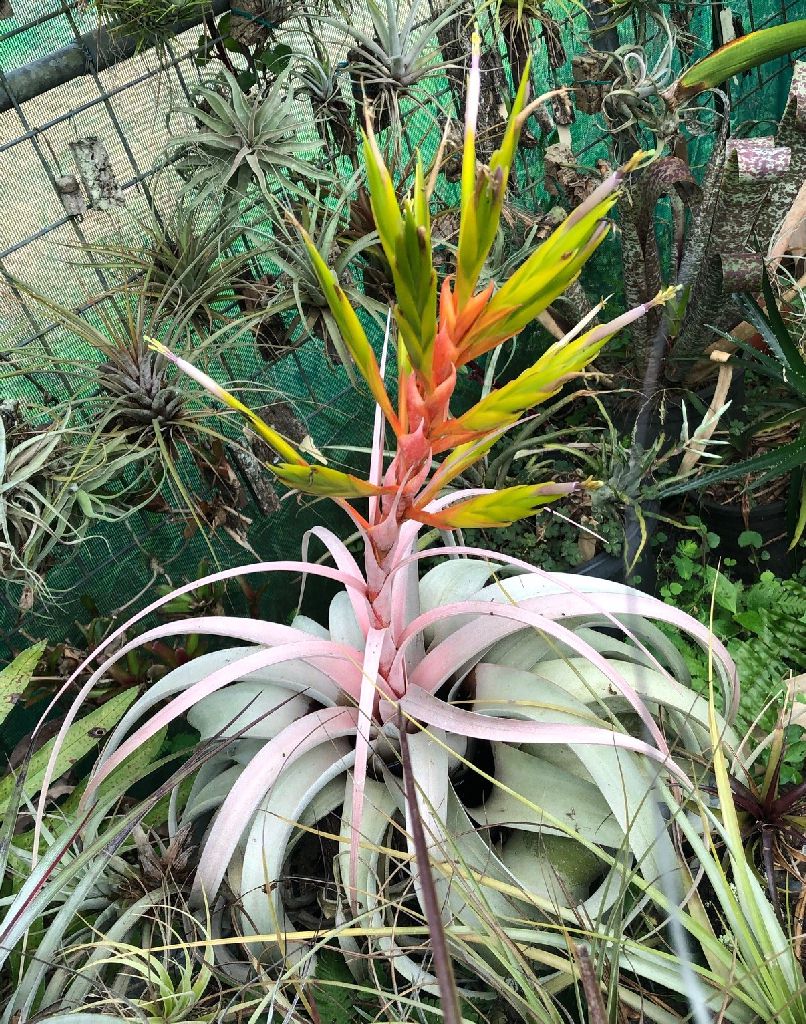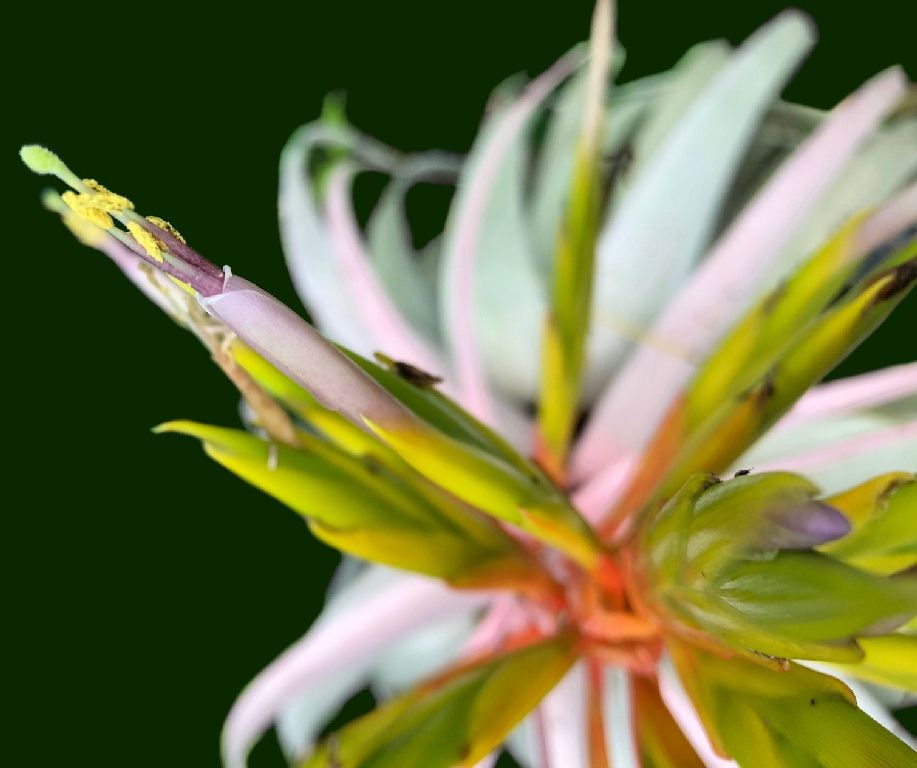 | | |
| --- | --- |
| Ian Hook 02/06, Jan Townsend plant | Cameron Kettle 11/18 |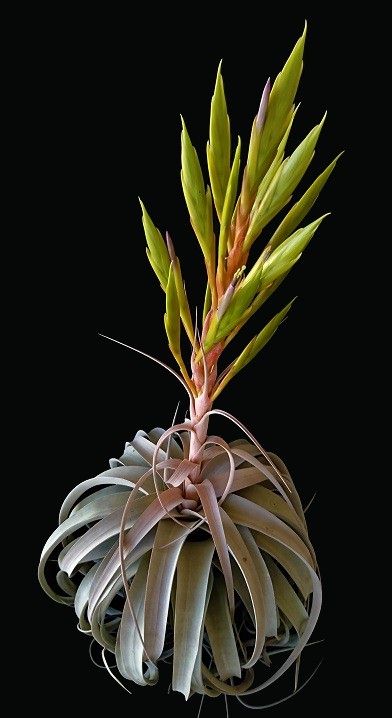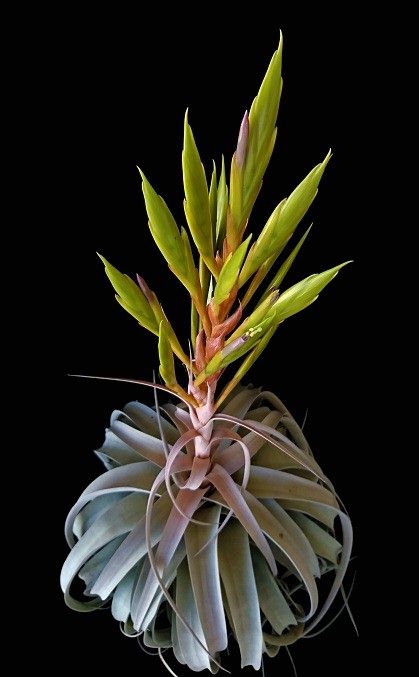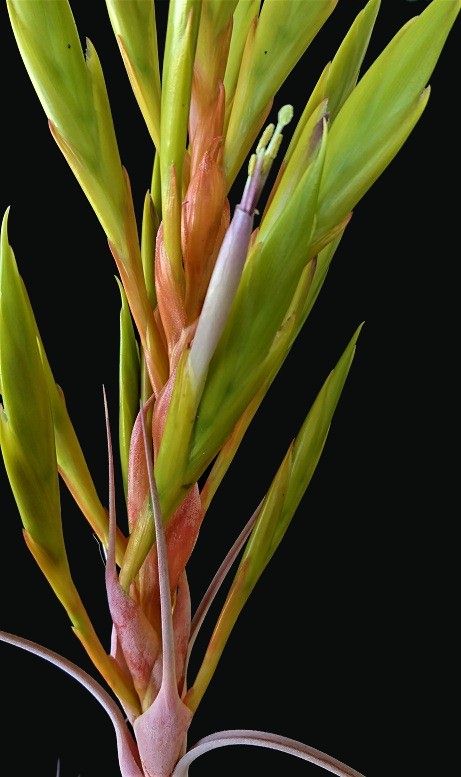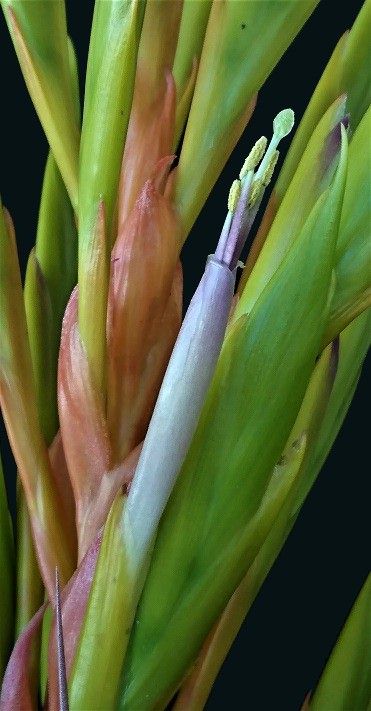 Steve Molnar ... "The first flower has finally emerged and opened from my T. xerographica and there are a few more not far behind it. Beautiful looking plant that has held it's shape nicely."

NOTE: Please refer also to T. tomasellii page on this site. T. tomasellii has been moved to within T. xerographica
NOTE: Please refer also to T. kruseana page on this site. T. kruseana has been moved to within T. xerographica

Bruce Dunstan 03/22 as T. xerographica 'Townsville'

Bruce Dunstan ... "First flowering of a plant from Bob Hudson that I got as T. xerographica 'Townsville'. It is much taller and longer branches than my other T. xerographica. Just wondered if anyone thinks it may have some affinity to what was T. tomassellii. I have kept it in the greenhouse as it didn't enjoy winter previously."
Bob Hudson ... "G'Day Bruce. I do not know if I have the plant now as I have lost a couple of tags, but if a spike appears I will know it."

Barry Langridge 12/22 "in Oaxaca"

Barry Langridge ... "We shifted to the coast today and found these not too far from the type location of what was Tillandsia tomasellii. It reminds me of a plant Bruce Dunstan recently posted (from Bob?).
I wasn't expecting to see these, let alone in flower, as I imagine they are quite rare in nature."

---

Tillandsia xerographica ROWH 1953, By Bernd Vollmer Translated by G. Rudolph from Die Bromelie 1/95
For a long time I have been cultivating T. xerographica on our farm in El Salvado. Over the years I have collected these plants from Mexico, Guatemala and some locations in El Salvado. When you compare these plants you can distinguish four different types. There is the T. kruseana MATUDA from Guerrero in Mexico, T. tomasellii DE LUCA from Oaxaca, in-the-trade-available T. xerographica ROWH from the Pacific coast of Guatemala and last, the plants from the location near Los Cobanos in El Salvador. When you see the plants together you could think they are different types. Surprisingly the plants from the type habitat do not have the floral bracts of those sold in the trade, although these plants grow more compact and at flowering time have fire red floral bracts. Before flowering, these bracts have a light pink tone.
I think that the long civil war and the controls and military patrols in El Salvador and Guatemala kept the collectors away from the habitats. Even today the collecting of these plants is difficult as all grow on private land. Rohweder gives the type habitat as Los Cobanos in Dept. Sonsonate. This might not be right, by old maps it should be Canton Los Cobanos. The village of Los Cobanos consists of a few fishing huts and a restaurant widely known for its oysters and shellfish. In Rohweder's time, Los Cobanos was a well liked beach resort with a beach protected by a reef. Today there are few tourists because some resorts have been built further west. The habitat is approximately 3 km west of Los Cobanos on an unsealed road. In a pasture of a large hacienda grow many Crescentias so that Rohweder's description of the hillsides could be right. Nearly all hills are covered with all types of epiphytes. As Crescentias lose their leaves during the dry season all plants grow in full sun . Nearly all epiphytes flower around Christmas, amongst them T. xerographica, T. brachycaulos, T. schiedeana, Laelia rubescens, Epidendrum alatum and Werckleocereus glaber. Even so temperatures of 40 deg. are not rare and because of the closeness of the coast the air is always damp. On some hills grow some T. caput medusae as well as its hybrids; clearly recognisable as crosses of T. schiedeana and T. caput medusae. T. makoyana which should like these areas is missing.
Most trees grow about 50 m from the road. To get to the plants you first have to climb a fence of barbed wire and then beware of wild bulls. The most danger comes from very bity Aztec - ants which defend these plants. Apart from that there are armed Vaqueros on the pastures who will prevent you from trespassing. As the owners live 100 km away in El Salvador you can't get permission and so it seems the habitat is well protected. Another location in Canton Los Cobanos is in a ravine about 2 km further east. It is public land but you can only reach it through a creek. The Tillandsia vegetation is the same, but T. makoyana can be found here as well. All epiphytes are forced to grow here lithophytically because most trees here are the very thorny Bactris - palms. Very noticeable are the enormous plants of Oncidium carthagense. As T. xerographica grows here on rocks and there are masses of Bromelia wercklei (now hemisphaerica), Rohweder could not have known about it. This T. xerographica compares vegatively with the type, although the red colouring is not as intensive. Also in Canton Los Cobanos, is another location. This one is well protected from unwanted guests as well. You can get to these plants in two ways, one is through a Lagoon overgrown with dense Mangrove forest or swim in from the Pacific. Also here the way in is well protected by a very thorny Opuntia. The Opuntia has on the same plant yellow as well as red flowers and is continuously sprayed with seawater. The plant is hard to keep in culture unless it is watered with salt water now and then like you do with Cocos nucifera. After you overcome all obstacles there are trees covered with the Guatemala type T. xerographica. Here direct on the coast grow all the Tillandsias, Oncidium ampliatum, Diacrium bicornutum, especially large bulbous Laelia rubescens and a Hylocereus spec. Also this location could not have been known to Rohweder because one of the plants is Bromelia pinguin. Apart from these three locations in Los Cobanos with masses of T. xerographica there are isolated plants along the road from Los Cobanos to Acajutla and after that along the CA 2 past Metalio, Gara Sucio and the border town of La Hachadura. In the Guatemala border town of Pedro Alvarado, there used to be masses, but there are hardly any plants left.
All known locations of T. xerographica are no more than 2 km from the coast. I was therefore surprised to find it near the town of Nahuizalco, 20 km from the Pacific at 900 m, on some ancient trees in the middle of a coffee plantation. Here the plants are safe as well because it is impossible to climb them. Here as well are T. fasciculata, T. schiedeana, Cattleya aurantiaca, Cattleya skinneri, Epidendrum stamfordianum, Epidendrum difforme and Epiphyllum strictum.

To close you could say that T. xerographica even though it comes from the hot coastal zones it is not hard to grow in more temperate climates. The only disappointment is in the colour of the floral bracts, because the light in the European winter is less intensive. Even in the tropics, plants growing in the shade are less colourful.

T. xerographica is only endangered in Mexico and Guatemala. In El Salvador the plant has a good chance to survive even though some locations have been destroyed. You can say that the war in El Salvador has given this beautiful plant a good chance to survive. Also this plant is not sold in the markets, even though it flowers at Christmas time when the most traded plants are the different forms of T. guatemalensis, T. ponderosa, T. yunckeri and T. candelifera. T. candelifera is far more endangered than T. xerographica.

Tillandsia xerographica in Guatemala. By L. Hromradnik in Die Brom. 2: 57-60. 2005
Translated by George Rudolph
It is known that T. xerographica is one of seven Tillandsia species, which are included in appendix 2 of the Washington Protection Agreement, now known as CITES, because this plant after decades of intensive collection for sale is in danger in the wild.
In 1996 from Guatemala alone officially 190 tons of tillandsias were exported and Holland, the worlds greatest importer of plants, followed by the USA and Japan as the greatest buyers of plants from Guatemala. In the years 1999-2003 some large importations of 100,000s of T. xerographica, which were supposed to be propagated, but a large portion were discovered to be plants collected in the wild and were confiscated.
In 2003 because of this, the EU. placed an import ban on this plant as trade in this plant would endanger the plant in the wild. A Dutch commission was formed to explore the status of T. xerographica in nature in Guatemala and see if further export of this plant collected in the wild was possible without endangering the species. It was also necessary to decide how government inspectors would determine the difference between wild and cultivated plants before export.
The scientific Director of the Botanic Institute of the University of Vienna asked for an Austrian "Bromeliad Expert" with a detailed knowledge of growing and cultivating tillandsias and I was approved. Two Dutch experts, Dr. Chris Schuerman, CITES representative, and Dr. Eric Gouda Custodian of the Botanic Gardens of the University of Utrecht, also took part in the weeklong study tour, which partly solved the language problem between the only Spanish speaking and the only English speaking participants!.
It was no holiday, relaxation or exploration trip of the usual kind. Even before leaving for Guatemala, an exact time-table with many deadlines was set; meetings with nursery owners and exporters; talks with members of the ministries; with the Nature-Protection CONAP and the botanical members of the University. In Guatemala we spent one day in the countryside with long trips for information with visits to different T. xerographica nurseries.
In Guatemala there are 22 known Tillandsia nurseries, of which 7 are registered as producers of T. xerographica. The plant stock must be controlled by inspectors every 4 months. Only registered nurseries with the ability of propagation, to maintain the balanced amount of parent stock without the use of plants from the wild, receive an export license.
In addition are a few non-registered and therefore illegal nurseries which have no export-license but probably sell plants to exporters.
In past years different methods have been detected in exporting illegally wild collected T. xerographica in large numbers, hidden in exports of ordinary green plants. After three of these instances up to now, the nurseries were shut down. The plants were not confiscated and the nurseries could start up again under a different name. It is hoped that our visit will change this.
The fines compared to the number of exported plants is ridiculous. In 1999 a consignment of 100,000 T. xerographica collected in the wild was confiscated and the seller was fined US$ 250. If you take the wholesale price of $1.50-2.00 the consignment was worth $150,000-$200,000. Even the highest fine of US$2,500 would not be a deterrent.
The 6 of us who inspected nurseries for T. xerographica showed a stock plant count of very different numbers and origin. While some have been registered for 15-20 years and believable because there was no plant increase with plants from the wild. We found one registered in 1989 which had bought plants from the wild in 1995, as well as 2000 plants from other nurseries. This explains the discrepancy between numbers of pathetic looking so called cultivated stock plants and the large number of beautiful young plants, where most had been taken from the wild.
In the nurseries we found different methods of cultivating and multiplying T. xerographica which even in its habitat only flowers at the age of 20 or more years, produces 1-3 offsets, of which the first is the largest and about 1 year after flowering is taken off and then supposed to replace the stock plant. More offsets come later, grow slower and need 2-3 years for export size. The circle from flowering stock plant to the next flowering takes three years. With this method of multiplying for continuing export is hard to believe and is so time consuming. The black sheep amongst the nurseries would rather throw the stock plants away after the removal of the offsets and replace them by buying new plants.
Uwe Feldhoff tried many years ago with chemicals to increase the number of offsets and so increase the number of plants. Meanwhile by using his knowledge and using his tried "formula" in other nurseries the number of plants available has reached an unbelievable scale.
First the stock plant is prevented from flowering (which is not wanted) through the use of hormones which when stopped, produce many offsets which are removed relatively early. With optimum shade, watering, fertilizing and the use of fungicide and pesticide every one of the 3,000-60,000 stock plants bring 3 more generations of offsets (reportedly 8-10) which grow in 1.5-3 years to masses of perfect, almost clone-like, plants suitable for export. 20-30% are held back to increase the stock. The productivity increases through this method by 300% but even by this method a steady number of 17 stock plants is necessary to export 1 plant every month.
In comparison the effort to propagate T. xerographica from seed has only been tried in the last few years. No young plants larger than 10cm and older than 5 years could be seen. The largest business was only registered in 1999. They have 3 hectares of shade houses (will be increased to 28 ha) and a 1.5 square km forest in original habitat of T. xerographica. The owner took from the supposed 500,000 T. xerographica (by our account that number is greatly exaggerated) 67,000 plants as stock plants to his nursery where by 2003 the number had increased to 120,000. The grounds are protected by armed guards against thieves. So far no export. The owner intends to export 150,000 in 2005, 500,000 in 2006 and in 2008 1,000,000 plants at 50 cents each "so everybody can afford them". The owner has a construction firm and runs the nursery, which also has 100,000 T. harrisii, as a hobby.
As doubtful as the number of mother plants is, the method he uses is successful, a cross between natural growing and the use of chemicals. The plants are shaded, watered and fertilized like the other method but allowed to flower. In the shade houses humming birds buzz about and pollinate the flowers and on the older plants are seedlings which are removed and laid on nets.
Certainly there are many more T. xerographica in the nurseries than in the wild.
The only known habitat of T. xerographica with certainty, is in a dry area in the valley of Rio Motagua at the foot of Sierra de las Minas. There is also the small village San Agustin Acasaguastlan with a lovely pilgrim church and a little park with ancient Breadfruit Tree, Ceiba peltandra, the national Tree of Guatemala on which is found the greatest number of T. xerographica in Guatemala. 80-100 large plants and many more young plants as well as many other tillandsias. The population of the village has, through petitioning, hopefully stopped the cutting down of this tree.
We were recommended to visit a side valley of Monte Spinoso. There is supposed to be a beautiful stand of T. xerographica better than anywhere else. We tried a count at a height of 600m on a stretch of 8km with a visibility of 30-50m we saw 16-30 examples, that is number of plants per square km between 32-125.
Also a count by the University of Guatemala of T. xerographica for the original growing area in the last 2 years resulted in 7 down to 1 plant per square km. So you would say T. xerographica in Guatemala in nature is nearly extinct.
Experts like Uwe Feldhoff with years of experience realize without measures like re-seeding in the wild, the possibility of survival is not very good. Pressure on the rest of the plants at $1-2 per collected plant, through illegal trade is too great.
Apart from T. xerographica statements made by the Nature Protection Board suggest many more tillandsias are nearly extinct in nature through mass collecting. Like T. harrisii, T. streptophylla, T. pruinosa, T. filifolia, T. deflexa, T. magnusiana and T. matudae. Indeed some are mass-produced for the trade but they came from the wild and are still taken from nature as a visit to a now closed nursery showed. There were 100,000s tillandsias undoubtedly collected in the wild, like T. streptophylla, T. fuchsii var. gracilis, T. seleriana as well as T. xerographica. They were stored under terrible conditions and were rotting.
As result of the report by Dr. Chris Schuermann the import ban of the EU has been lifted, however a new export quota has been given by the investigative team after considered judgement even including the non-registered nurseries.
Finally the author would like to point out that the remarks and data are not a guess but backed by the Guatemalan CITES, the Nature Protection Advisor of Guatemala, the botanists, and some of the responsible nursery men who are concerned about the continued survival of these species in nature.
Lieselotte Hromadnik
Hauptsrasse 37a
A-3420 Kritzendorf

---
Tillandsia xerographica Rohweder, Senckenbergiana 34: 113,figs. 8-11, pl. 1,fig. 2. 1953.
Tillandsia kruseana Matuda, Cact. & Sucul. Mex. 19: 24, fig. 15. 1974.
Tillandsia tomasellii DeLuca, Sabato and Balduzzi, Brittonia 31:4, Figs. 1 and 2,1979.
Tillandsia xerographica Rohweder forma variegata M. Moffler J. Brom Soc. 28: 165-7. 1978 See below
Desc from S&D p926 and p1392-4 for T. kruseana where desc is shown in brackets
Plant stemless, flowering 35-55 cm high (flowering 85 cm or higher).
Leaves subbulbous-rosulate, stiff; (rosulate, coriaceous, densely pruinose-lepidote, 65-70 cm long)
Sheaths broadly ovate or suborbicular, more or less inflated, to 6 cm long, mostly pale;( orbicular, 8 cm in diameter, forming a pseudobulb, subcastaneous);
Blades narrowly triangular, recurved and contorted, 40 cm long, 4 cm wide, covered with subappressed cinereous scales. (long-caudate, 7 cm wide, flat or slightly channeled, contorted toward apex.)
Scape erect, stout, glabrous;( 45 cm long);
Scape-bracts imbricate, lanceolate, the blades arching-recurved, subulate, appressed-lepidote.( broad-sheathed, the blades 45-50 cm long, ascending to spreading, coriaceous, thick, reddish, white-lepidote.) Inflorescence amply bipinnate from about 10 spikes, 30 cm long; (erect, 40 cm long, laxly bipinnate from 20-23 spikes);
Primary bracts ovate, much shorter than the spikes, subinflated, appressed-lepidote, the lower short-laminate, the upper apiculate; (elliptic, long-caudate with a subulate apex, 15-18 cm long, white-lepidote);
Spikes erect or suberect, narrowly lanceolate or sublinear, 10(-15) cm long, 15 mm wide, mostly 3-4-flowered, the lower half sterile with 4-5 bracts; rhachis glabrous. (long-stipitate, lanceolate, complanate, 12 cm long, 4-5-flowered, glabrous, green);
Floral bracts imbricate and covering the rhachis, lanceolate, acute or submucronate, 4-5 cm long, exceeding the sepals, 4-6 times as long as the internodes, straight toward apex, slightly if at all carinate, coriaceous with a hyaline margin, more or less nerved, glabrous, lustrous. (densely imbricate, oblanceolate, much exceeding the sepals, carinate, coriaceous, green, lepidote toward apex.)
Sepals linear-lanceolate, acute, 30-35 mm long, thin except the subcoriaceous base, nerved, posteriorly carinate and connate for 1/2 or more; (symmetrical, free, 30 mm long, 8 mm wide, ecarinate, subchartaceous, yellowish green, glabrous);
Petals tubular-erect, 5-6 cm long, pale lavender;
Stamens and pistil exserted.
Type. Rohweder 157 (holotype HBG), Los Cobanos, Sonsonate, Salvador, 10 May 1951.

DISTRIBUTION. Epiphytic or rarely terrestrial, 200-600 m alt, southern Mexico, Guatemala, Salvador.
MEXICO. OAXACA: 80-85 km west of Tehuantepec, Dec 1958, MacDougall 402 (US). WITHOUT EXACT LOCALITY: 2 Mar 1958, Foster 3029 (US). GUATEMALA. PROGRESO: El Rancho, 3 Oct 1946, Clover 9241 (MICH). ZACAPA: near Zacapa, Oct 1940, Standley 74149-A (F). SALVADOR. SONSONATE: Los Cobanos, 10 May 1951, Rohweder 151 (HBG); 152 (B); 153-156 (HBG). LIBERTAD: 9 May 1951, Rohweder 159 (HBG).

Protologue
Tillandsia xerographica Rohweder, Senckenbergiana 34: 113,figs. 8-11, pl. 1,fig. 2. 1953.
See pdf Tillandsia xerographica Rohweder forma variegata M. Moffler J. Brom Soc. 28: 165-7. 1978
Butcher's comment Apl 2016 - now treated as type see also World Checklist of Selected Plant Families
A forma xerographica foliis alba virideque longitudina liter striatus differt.

Type locality: Guatemala, coastal area, collected January 1977.
Holotype: US Isotype: SEL
Note The possibility of variegated offsets from T. xerographica forma variegata is more promising, although this immature plant has not yet produced offsets.

Tillandsia kruseana Matuda, Cact. & Sucul. Mex. 19: 24, fig. 15. 1974.
Considered a synonym of T. xerographica by Gardner 1982 p158-9
Desc from S&D
Plant flowering 85 cm or higher.
Leaves rosulate, coriaceous, densely pruinose-lepidote, 65-70 cm long;
Sheaths orbicular, 8 cm in diameter, forming a pseudobulb, subcasteneous;
Blades narrowly triangular, long-caudate, 7 cm wide, flat or slightly channeled, contorted toward apex.
Scape erect, stout, 45 cm long;
Scape-bracts imbricate, broad-sheathed, the blades 45-50 cm long, ascending to spreading, coriaceous, thick, reddish, white-lepidote.
Inflorescence erect, 40 cm long, laxly bipinnate from 20-23 spikes;
Primary bracts elliptic, long-caudate with a subulate apex, 15-18 cm long, white-lepidote;
Spikes long-stipitate, lanceolate, complanate, 12 cm long, 15 mm wide, 4-5-flowered, glabrous, green.
Floral bracts densely imbricate, oblanceolate, 4-5 cm long, much exceeding the sepals, carinate, coriaceous, green, lepidote toward apex.
Sepals symmetrical, free, 30 mm long, 8 mm wide, ecarinate, subchartaceous, yellowish green, glabrous;
Petals tubular-erect, 60 mm long, lilac;
Stamens and style long-exserted.
Type. Epiphytic in oak woods, Rincon de la Via, Guerrero, Mexico, 600 m alt, 7 Oct 1973, H. Kruse 3118 (MEXU n v).
DISTRIBUTION. Known from the type collection only.

According to the author, Tillandsia kruseana is related to T. mexicana L. B. Smith but differs in its larger, laxer inflorescence, its brilliant red, imbricate scape-bracts, and its larger, densely pruinose-lepidote leaves. In its lax inflorescence and densely lepidote leaves, T. kruseana more closely resembles T. xerographica Rohweder but the latter species has posterior sepals that are carinate and highly connate.

Tillandsia kruseana Matuda, Cact. & Sucul. Mex. 19: 24, fig. 15. 1974.
RESUMEN: In October 1973 Senor Hubert Kruse collected, near Rincon de la Via, Guerrero, some Tillandsias with many flowers that resulted in a new species named after him and described here.
A Tillandsia mexicana L. B. Smith cui affinis, sed folia egregie lepidibus maximis pruinosa, multo latissima, coriaceis; petalae lilacinae differt.
Epiphyta usque ad 85 cm alta, saepissime majoar. Folia egregie bulbosa, numerose rosulata, usqued 65-70 cm longa; vaginis late orbiculatis subcastanies, 8cm latis et longis; laminis longe triangularibus, planis vel late canaliculatis, 7cm latis en basi, sursum longe caudatis, 70 cm longis, extento-involutis, in apicem tortum, persensis angustata, utrinque densissime lepidobus prunosis; scapi erecti, robusti 45 cm longis; scapi bracteis imbricatis, basi amplexicaulis, lamina in basi 4 cm lata, 45-50 cm longa, apice lineari-acaudata, coriacea, crassa, ascendentis vel extensis, rubescentia utrinque albo-lepidotis; inflorescentia erecta, myriantha, dense pinnata, 40cm longa, 20-23 spicis; bracteis primariis ellipticis longe caudato apice longe subulatis, albo-lepidotis. 15-18 cm longa; spicis longe stipitatis, lanceolatis complanatis, 12 cm longis 1.5 cm latis in medium, glabris viridis, 4-5 floris; bracteis florigeris dense imbricatis, oblanceolatis, 4-5cm, longis 1,5 cm latis, coriaceis, carinatis, viridis, sepala multo superantibus, ad apicem versus lepidotis; sepalis subchartaceis, glabris, flavo-viridis, ecarinatis, 3 cm longis, 8mm latis, symmetris, libris; petala sepalis ad 3 cm superans, tubulose, erecta, lilacina; staminibus stylo longe exertis; capsulae non vidi.
Mexico: Guerrero. Rincon de la Via. a 600 m. en bosque de encinos. Colecto Ing. Hubert Kruse No. 3118, 7 octubre de 1973. Tipo en el Herbario Nacional del Instituto de Biologia de la U.N.A.M.

Tillandsia xerographica Rohweder Information from Gardner 1984
Tillandsia tomasellii DeLuca, Sabato and Balduzzi, Brittonia 31:4, Figs. 1 and 2,1979.
Type: MEXICO: OAXACA: Rio Hondo, Dept. Yautepec on the road to Santo Domingo Tehuantepec, epiphytic on tree trunks along the river, DeLuca, Sabato & Balduzzii s.n. (Holotype: NY, Isotypes FI, NAP, PAV n.v.).
Additional material examined: MEXICO: GUERRERO: Rincon de la Via, 1980, Gardner 1212 (US, SEL); OAXACA: Pochutla, 1981, Gardner 1446 (US, SEL); 80-85 km W of Tehuantepec, 1958, MacDougall 402 (US); Rio Hondo, 1979, Gardner 1127 (US, SEL); without exact locality, 1958, Foster 3029 (US). GUATEMALA: ZACAPA: near Zacapa, 1940, Standley 74149-A (F; photo: US); cultivated without exact locality, 1979, E. Baker s.n. (SEL).

Specimens collected at the type localities for T. kruseana and T. tomasellii were compared to cultivated plants of T. xerographica collected in Guatemala and with a photograph of Rohweder 157. No character distinctions were found to support the maintenance of T. kruseana or T. tomasellii as separate species (Gardner, 1982). All the specimens examined shared narrow, laterally flexed claviform branches, polished, nerved floral bracts and lavender petals. The leaves of specimens from Rio Hondo, Oaxaca tend to be less contorted than those of specimens from Guatemala or Rincon de la Via, Guerrero.

Tillandsia tomasellii De Luca, Sabato & Balduzzi, Brittonia 31:4, Figs. 1 and 2,1979.
TREATED AS A SYNONYM OF T. xerographica BY GARDNER 1982 see above
Acaulis, florifera 60-80 cm vel ultra alta. Folia rigidula, rosulata, cretacea; vaginae suborbiculatae, ad 6 cm longae; laminae lanceolato-subulatae, 50 cm vel ultra longae, basi 5-6 cm latae, regulariter revolutae, densissime subappresse lepidotae. Scapus erectus, validus, glaber, basi foliis imbricatis indutus. Inflorescentia bipinnatim paniculata, ad 50 cm longa, spicis 25-30 vel ultra; bracteae primariae pallide erubescentes, ovatae, inflatae, subappresse lepidotae, inferiores lamina subulata praeditae, superiores acuminatae; spicae 10-12 cm vel ultra longae, erectae vel suberectae, lanceolatae, 1.5 cm latae, 2-3-florae, rachi glabro et 4-5 prophyllis breviter mucronatis carinatisque praeditae; bracteae florigerae 3-4 cm longae, lanceolatae, erectae, mucronatae, carinatae, rigidae, glabrae, margine hyalinae, virides vel levissime erubescentes, rachim obtegentes, sepala superantes. Flores erecti, 5 cm longi; sepala 2-3 cm longa, lineari-lanceolata, acuta, glabra, pallide viridia, postica carinata atque longe connata; petala violacea, erecta, tubum angustum formantia, quam stamina stylusque breviora.

Plant stemless, flowering 60-80cm high or more
Leaves somewhat rigid, rosulate, cretaceous.
Sheaths sub-orbicular, to 6cm long;
Blades lanceolate-subulate, 50cm or more long, at the base 5-6cm wide, rolled back, very dense appressed lepidote;
Scape erect, robust, glabrous, covered imbricately with the base of the leaves (scape bracts?)
Inflorescence a bipinnate panicle, to 50cm long,
Spikes 25-30 or more, 10-12cm or more long, erect or suberect, lanceolate, 1.5cm wide, 2-3 flowered,
Rhachis glabrous, and 4-5 prophylls which are short mucronate and keeled
Primary bracts pale rose, ovate, inflated, appressed lepidote, blades of the lower ones subulate, upper ones acuminate
Floral bracts 3-4cm long, lanceolate, erect, mucronate, keeled, rigid, glabrous, hyaline edges, green or a very light pink, covering over the rhachis, exceeding the sepals;
Flowers erect, 5cm long;
Sepals 2-3cm long, linear lanceolate, acute, glabrous, pale green, posterior pair keeled and long connate;
Petals violet, erect, forming a narrow tube, shorter than the stamens and style
TYPE: MEXICO. OAXACA: by Rio Hondo, Dept. Yautepec, on the road to Santo Domingo Tehuantepec, 12 Ju11969, De Luca, Sabato & Balduzzi s.n. (HOLOTYPUS: NY; ISOTYPI: FI, NAP, PAV).
Specimens were observed by the authors epiphytic on tree trunks along the river.
Tillandsia tomasellii, according to Prof. Lyman B. Smith (pers. comm.), is related to T. xerographica Rohweder and to T. fasciculata Swartz on the basis of its carinate posterior sepals. It is different from T. fasciculata (Mez, 1935; Smith, 1958; Swartz, 1788) because its leaves are more cretaceous-coated, its spikes are few-flowered and smaller, its inflorescence is denser and much longer; and from T. xerographica (Rauh, 1970; Rohweder, 1953) because it is larger, its inflorescence is denser and much longer, its spikes are more numerous, its flowers and its floral bracts are smaller, its primary bracts are very pale pink and not yellow-red.
These differences have been confirmed by our observations made on living specimens of Tillandsia fasciculata collected in 1971 by us in many localities of Central Mexico and of T. xerographica collected in 1974 by us in Los Cobanos, El Salvador.
The authors dedicate this species to Ruggero Tomaselli, Professor of Botany in Pavia University, President of Societa Botanica Italiana (Italy);

Notes
In 1969, in the course of a botanical expedition to Mexico organized by Accademia Nazionale dei Lincei (Italy), we collected numerous living specimens of Tillandsia by Rio Hondo, Oaxaca. These specimens, grown in a greenhouse in the Naples Botanical Garden (Italy), have flowered many times. Their examination allowed us to state they belonged to a new species.
---
Updated 25/02/23
---