Tillandsia winkleri
Click thumbnails for full size, scaled to a new window.
---
Tillandsia winkleri
Species, Brazil. (originally variety of T. aeranthos)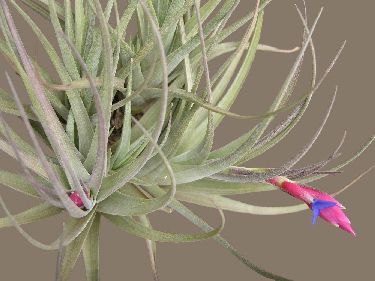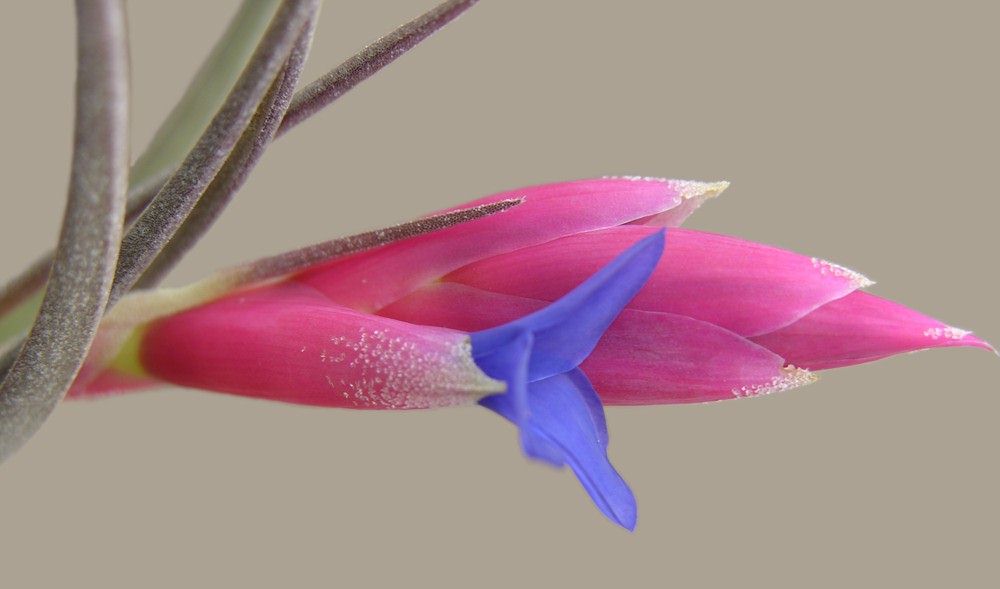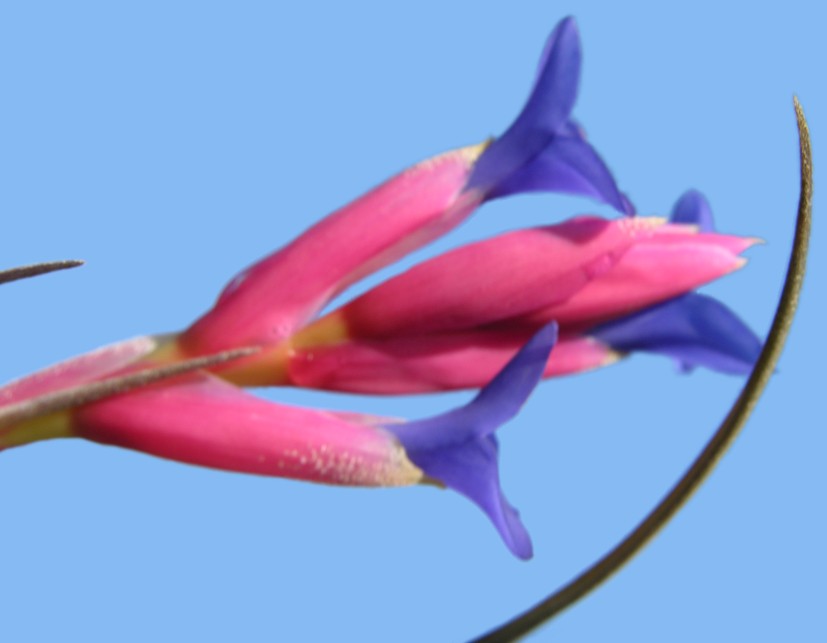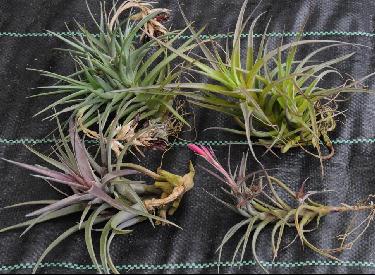 | | | |
| --- | --- | --- |
| Len Colgan 04/12 | Len Colgan 05/12 | Peter Tristram 07/11 Clockwise from from left: winkleri (Tropiflora), aeranthos, aeranthos aemula (Tropiflora), jonesii (Tropiflora) |
Len Colgan ... "Quite a number of years ago I received from Renate a single plant labelled "T. aff. aeranthos, ex Professor Winckler".
Some time later, Strehl published a number of new species in the T. aeranthos complex, with one of them named T. winckleri.
Needless to say, I always wondered whether this might be the same species.
Anyway, at long last, a couple of plants in the now large clump are coming into spike, with the first flower popping out today.
The plant itself is more than double the size of the common form of T. aeranthos, and the leaves are quite stiff, and not at all green.
The pictures on Derek's disk, attributed to Strehl herself, look nothing like my plant and there is some doubt when comparing to pictures from Renate.
However, my plant looks very much like that in the pictures by Varella, making me think that, at the least, it is the same as Varella's plant."
Derek Butcher ... "Len. If you are really serious you should be comparing drawings. Teresia drawing skills are much better than her photography.
For detailed comparisons we should go back to 2000 when Teresia named T. aeranthos var. aemula, var. rosea, T. afonsoana, T. bella, T. itaubensis, T. jonesii, and T. winkleri but did not do a key so we could see the subtle differences.
(Luiz Varella is a young keen Bromeliad grower who looked up to Teresia and her work. In fact he was the one who told me of Teresia's death. He was also the one who supplied me photos of the various coloured T. aeranthos growing in close proximity in Rio Grande do Sul.
My comment at the time was why was this variability not noticed say 50 years ago. Could deforestation etc be changing pollinators or were they getting confused about what their role is supposed to be! >:-}
He also said that ORANGE T. crocata is quite common in Rio Grande do Sul but I am still waiting proof with a photo!)
For what it is worth I think your plant is very close to T. winkleri. I do not believe that Renate had direct contact with Teresia but was aware of the Winkler collection. What does intrigue me is that when Winkler wrote about his find in Zeitschrift Documenta Naturae in 1982 he linked it to T. bergeri. This publication does not seem available on the internet."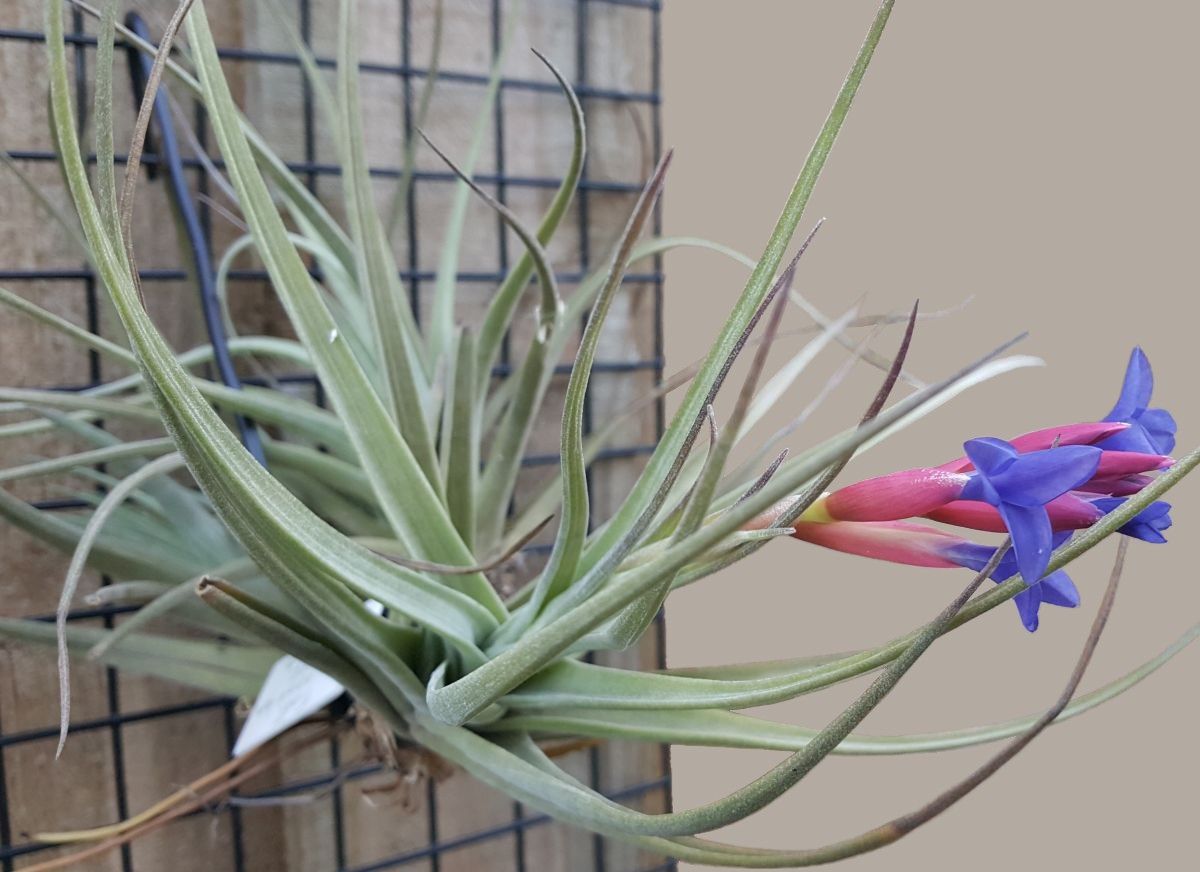 Chris Larson 07/18 ex. Len Colgan ex. Winkler

Len Colgan ... "The previous pictures I posted of this species(?) were taken immediately the first flower appeared. Now, sometime later, the inflorescence has opened up more and there are extra flowers. I think this picture goes a long way towards confirming the identity."

---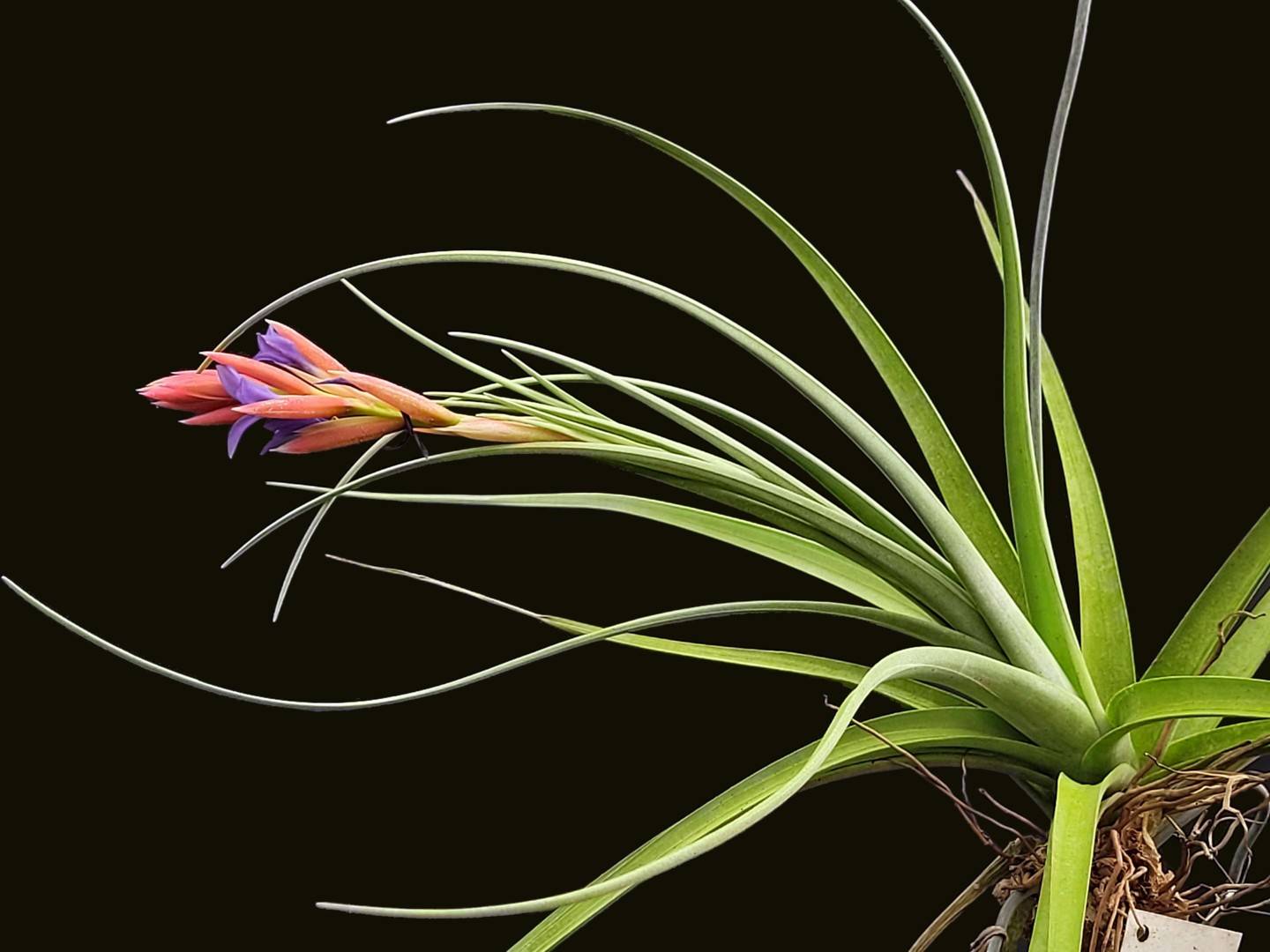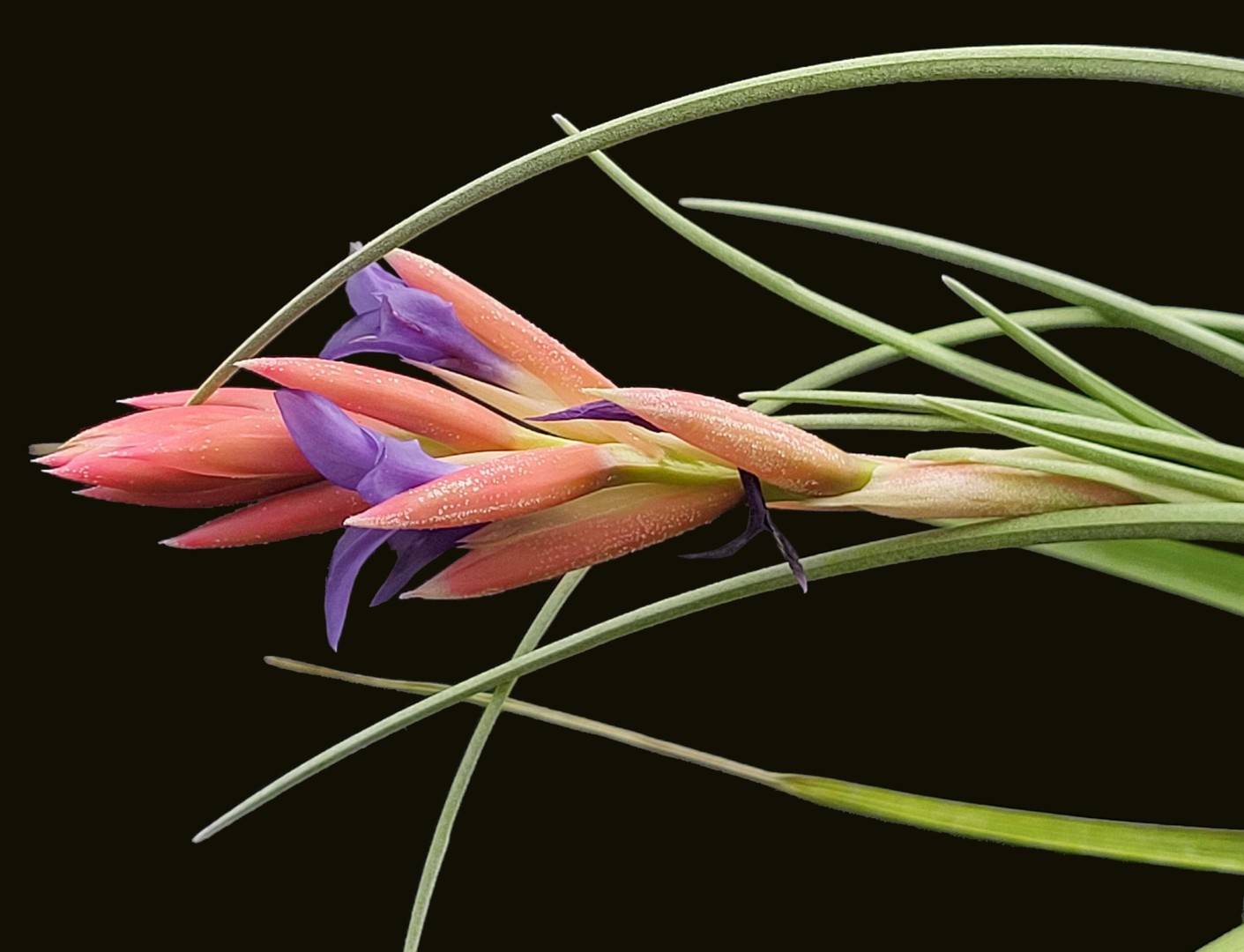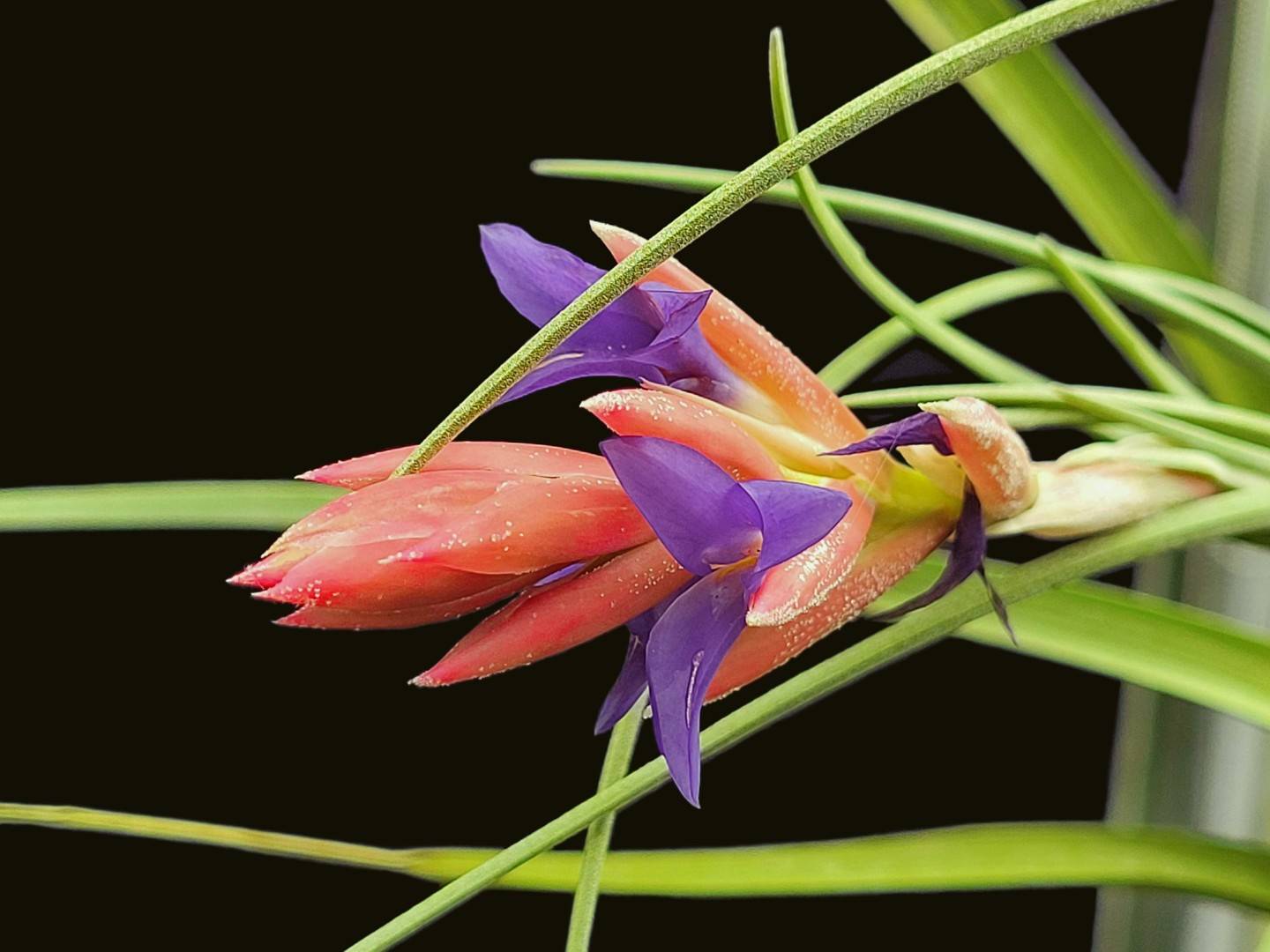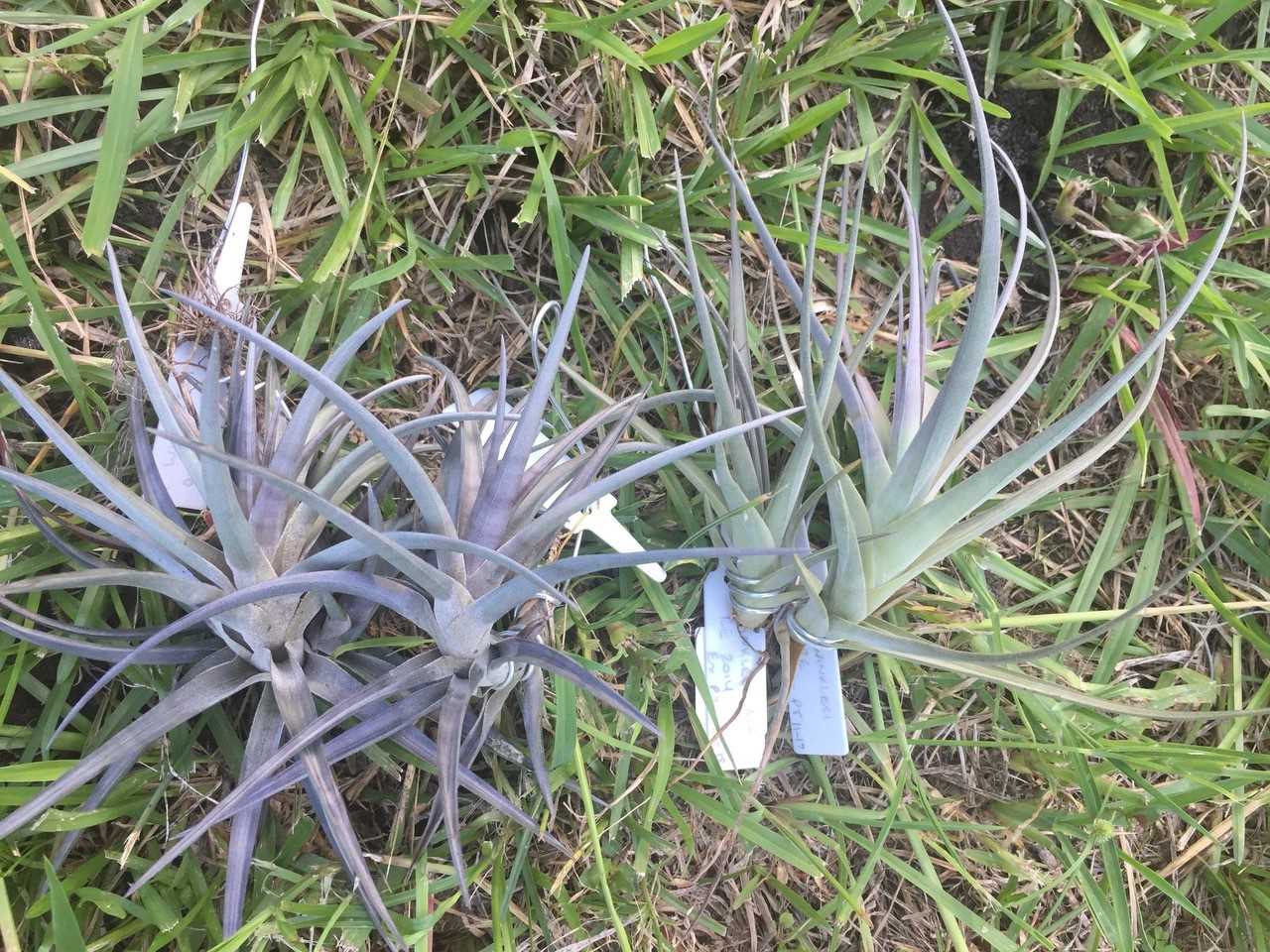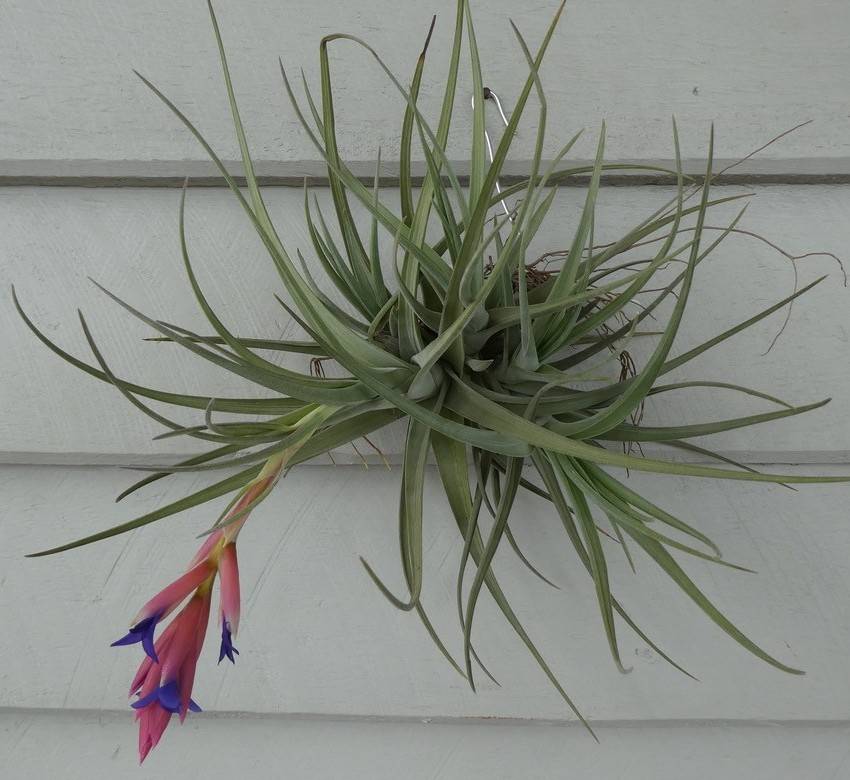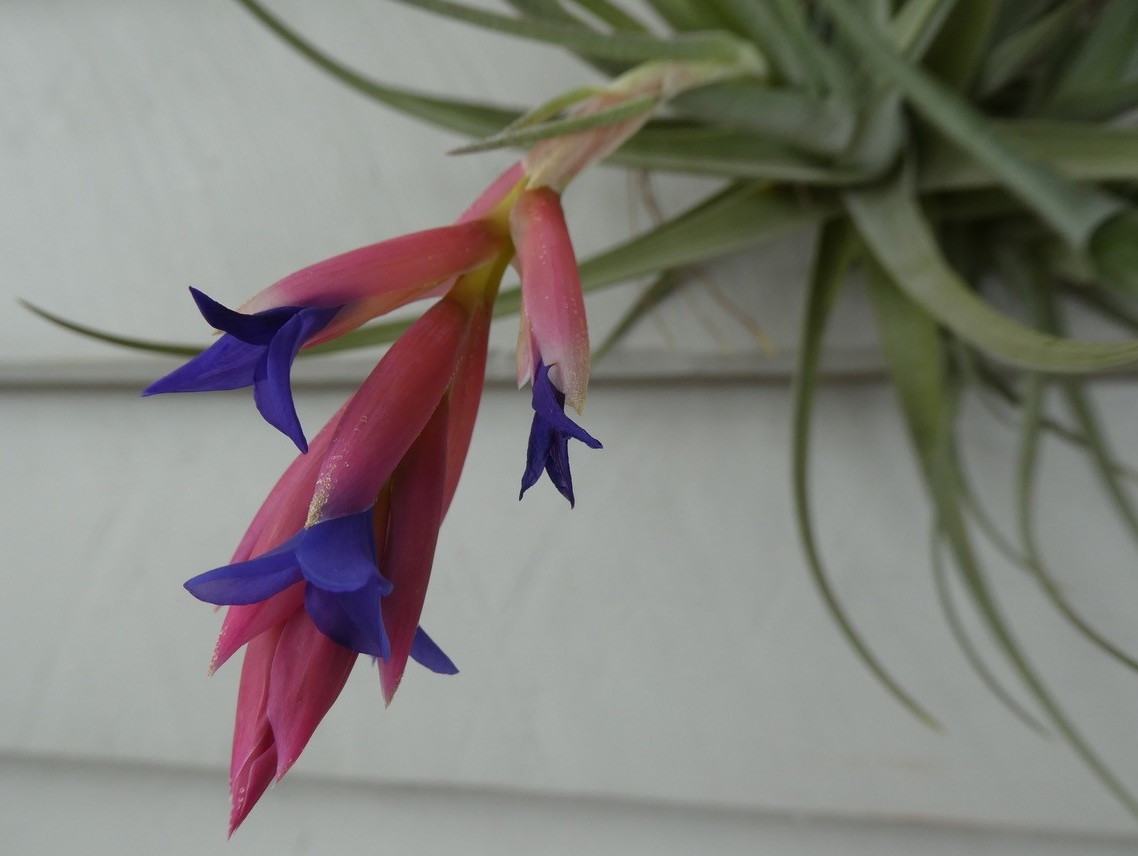 winklerii(Left) - aff. winklerii(Right)


Bruce Dunstan 04/21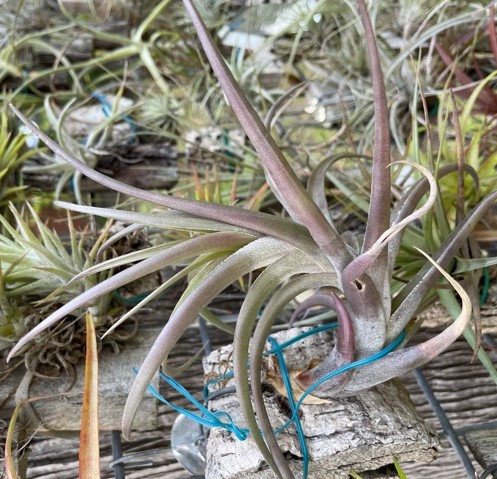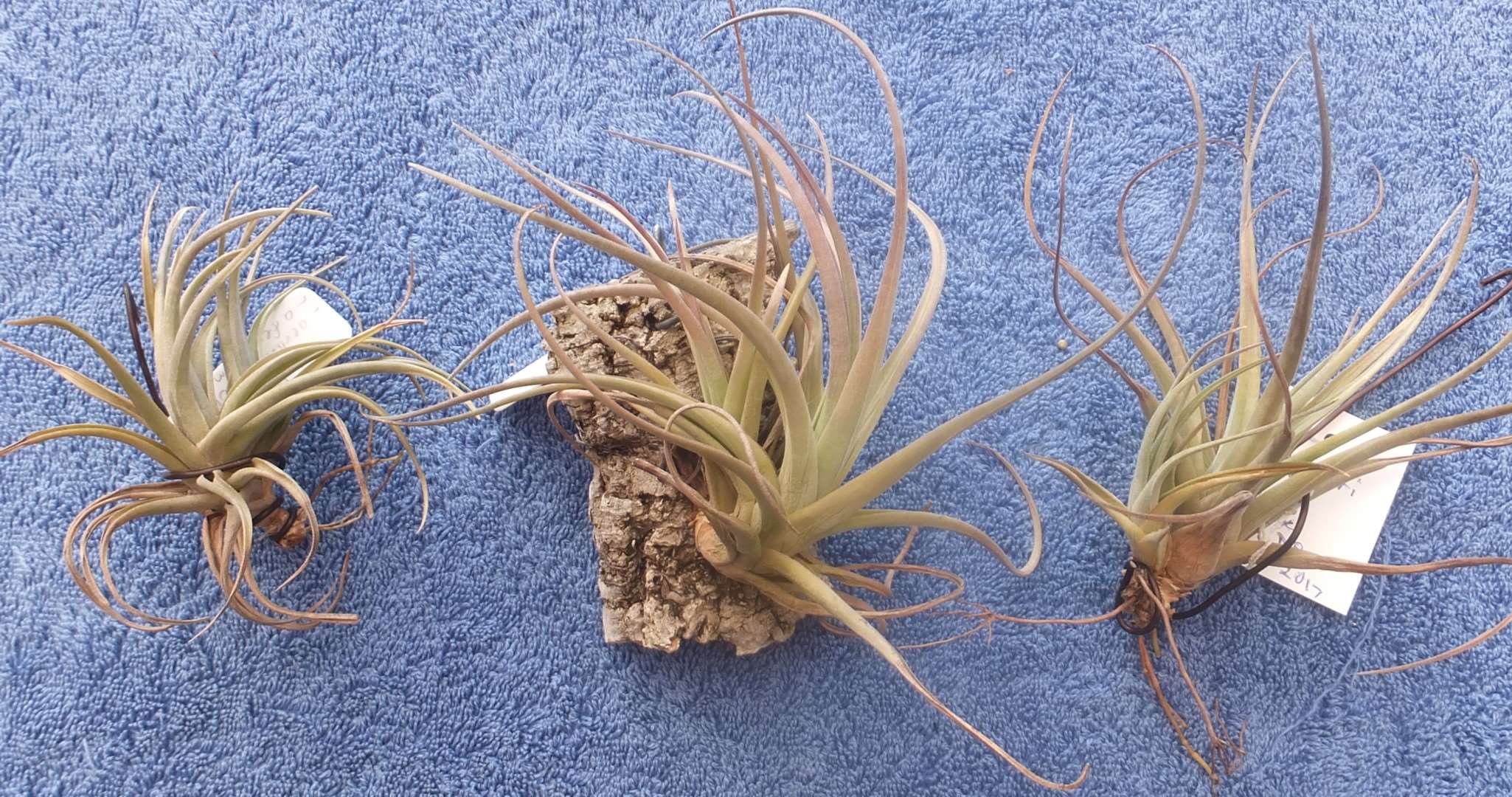 Cameron Kettle 04/21

Left ex Len Colgan Rio Grande do Sol - Middle Len Colgan - Right ex. Derek Butcher


Adam Bodzioch 04/21
Peter Tristram ... "I obtained this interesting species from Len Colgan tagged as T. winkleri or aff. winkleri (Len's label has disintegrated unfortunately), but queried. I discussed it with Chris who remembers that Len said he got it from Winkler himself hence the name and query. That rings a bell too in my distant memory. It's basically stemless, with very different foliage being much larger, differently trichomed and stiffer and slower growing than others I've imported as winkleri from Europe and the US. There's a pic as winkleri in the dvd (Twinkleri R.G.do Sul re) that it sure resembles. If anyone else has this nice plant I am wondering what to name it (other than aff. winkleri). There must be some out there by now."
Dale Dixon ... "Lovely, plant. Call it Tillandsia "Twinkler"."
George Nieuwenhoven ... "I have had a piece of it for years from Len Colgan I believe, it has flowered and sits amongst my other Tillandsias somewhere."
Bruce Dunstan ... "I'm growing it as well, from you as aff. winkleri. I've noticed recently that it doesn't colour up with sun exposure the way my T. winkleri has. In the image it is winklerii on the left and aff. winkleri on the right. In its new location it is getting full sun till 10 then dappled sun whereas it used to be in a shadehouse."
Cameron Kettle ... "Full morning sun Central Queensland. Decidedly green in shade. No fertiliser."
Adam Bodzioch ... "I have a winkleri from Len Colgan which the tag says Rio Grande do Sol Brazil (left of pic)
However I also have a much bigger winkleri from Len and it is about 3 times as big as that one (centre of pic).
I also have a winkleri from Derek Butcher which I presumed he got from Len but it is different again (Right of pic).
I have done a comparative pic if that is useful."
Chris Larson ... "It was reasonably recently that Len told me the story of the T. aff winkleri again. Apparently Len was at a conference or brom meeting of sorts in Germany. Winkler walked up to him and gave him a plant. With little or no information. When Len saw T. winkleri published he said that must be it. His words to me were "What else could it be?"
I then asked if it has been compared against the description. Len said not as far as he knows.
I reckon it deserves a name."
Peter Tristram ... "Thanks for the story! I'll look at bits and compare with description when I return after the Qld school hols."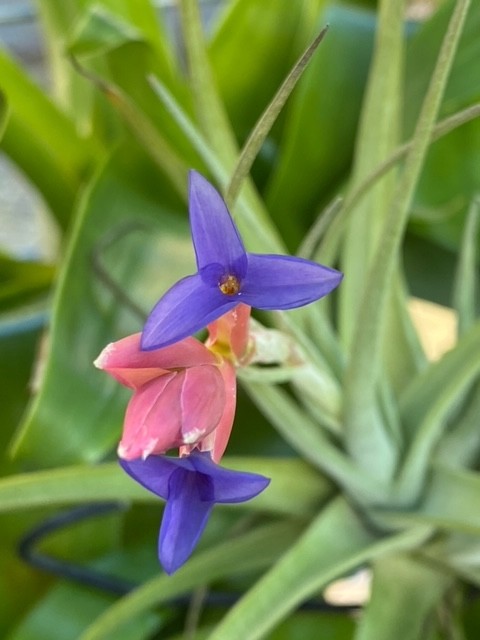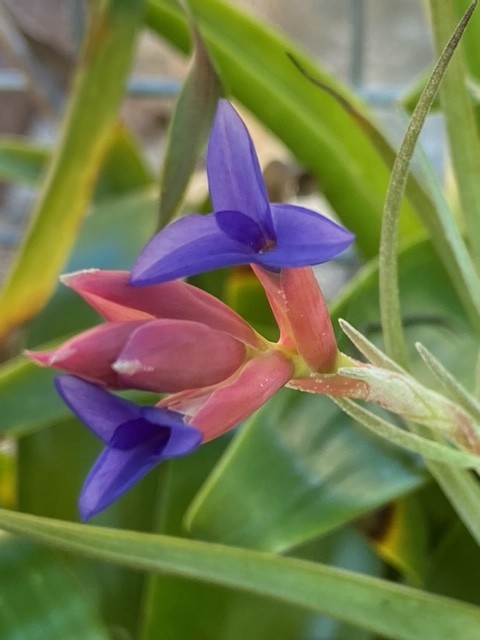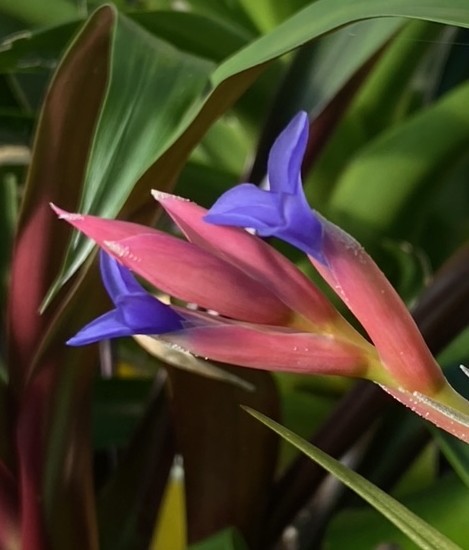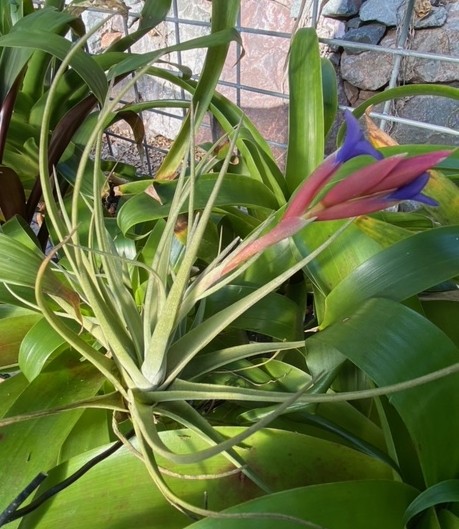 Dale Dixon 04/21 from Chris Larson ex.Len Colgan ex.Derek Butcher
---

Tillandsia winkleri T. Strehl sp. nov.(Fig. 24-28, 41, 42) Iheringia, Ser. Bot., Porto Alegre, n.54, p. 19-44, Dec.2000
Diagnosis: Planta saxicola, caulescens, florens ad 50 cm altes. Folia cinereo-lepidota; Lamina ad 12-15 cm longa, ad 1.5-2 cm lata. Inflorescentia simplex ad 6-10 cm longa; bracteae scapi foliis similis, longiores quam internodia; bracteae florales ad 1.8-2.5 cm longae, ad 1.2-1,5 cm latae. Sepala 1,2-1,6 cm longa. Petala 2,5-3 cm longa, coerulea.
A T. jonesii, cui affinis, set planta major, foliis viridibus et inflorescentia densiori differt.
Holotypus: BRASILIA, Rio Grande do Sul, Rio Zinho, 27.VI.1997, J. C. da Silva & T. Strehl 1863 (HAS 66353);
Paratypus: ibidem, 25.III.1993, T. Strehl 1511 (HAS 66218); ibidem, 1980. S. Winkler 117, 166 (ICN 7491).

Plant saxicolous, caulescent; stems 15-50 cm long, growing in clumps on rocks
Leaves densely polystichous along the stem, covered with gray adpressed scales,margins strongly raised;
Sheaths lepidote, 2 cm long, 2 cm wide;
Blades triangular, both sides cinereo-lepidote, 12-15 cm long, 1.5-2 cm wide at the base; in the basal area and on the margins of the blades the scales are longer and a larger number.
Scape about 8-18 cm long, covered by the bracts similar to the leaves.
Inflorescence simple, erect and exceeding the plant, 6-10 cm long, axis visible at anthesis, green and glabrous, 8-10 flowers polystichous, suberect, 2.6-3 cm long.
Floral bracts pink or red, apex white and scaly, margins membranaceous, 1.8 –2.5 cm long, 1.2-1.5 cm wide.
Sepals membranaceous, slightly pink, 1.2-1.6 cm long, the anterior free, the posterior carinate and connate to 2 mm from the apex,
Petals a little ligulate, claw white, enlarged blade, ovate, acuminate tip, blue, 2.5-3 cm long.
Stamens included, with plicate filaments, 1.9 cm long, white.
Anthers basifixed, filiform, yellow.
Pistil white, 2.3 cm long.
Ovary oval.
Capsule cylindric.
Habitat: growing on rocky walls of sandstone.

Fenologia: it blooms between July and October.
Etymology: the name is in homage to Prof. Dr. Sieghart Winkler, first collector of this plant in Rio Grande do Sul, mentioned in the article on T. bergeri Mez (Winkler, 1982).

Comments: the species stands out from T. jonesii, in the size of the petals and of the whole plant, in the coloration and disposition of the leaves.
It stands out from T. bergeri (Mez, 1935) in the color, size and form of the petals.
---
Updated 20/04/21
---