Tillandsia winkleri
Click thumbnails for full size, scaled to a new window.
---
Tillandsia winkleri
Species, Brazil. (originally variety of T. aeranthos)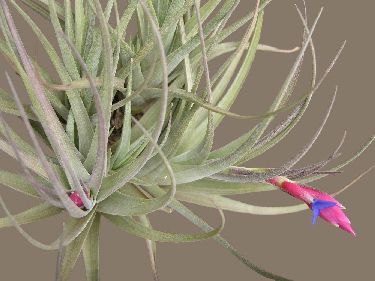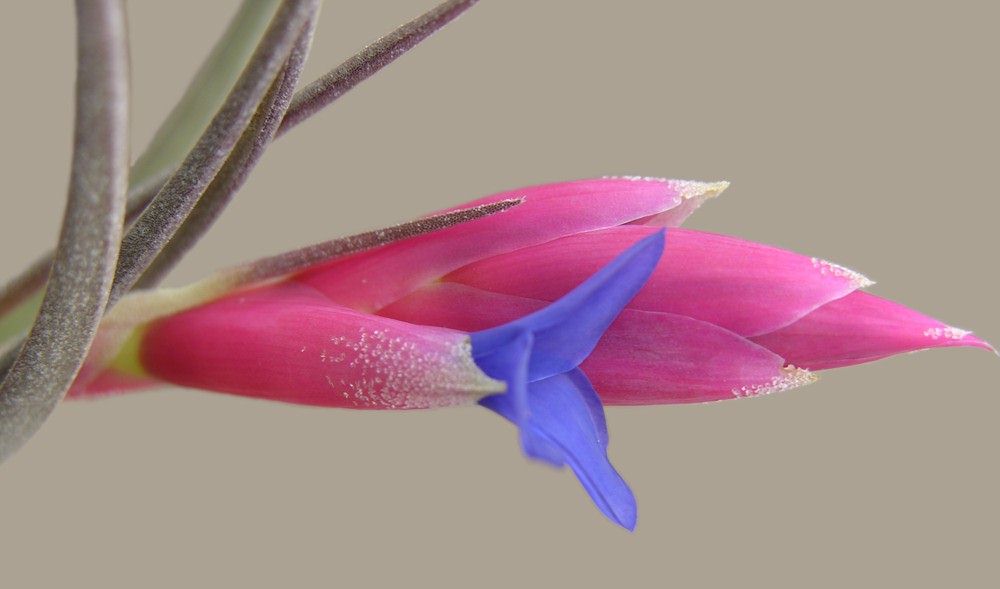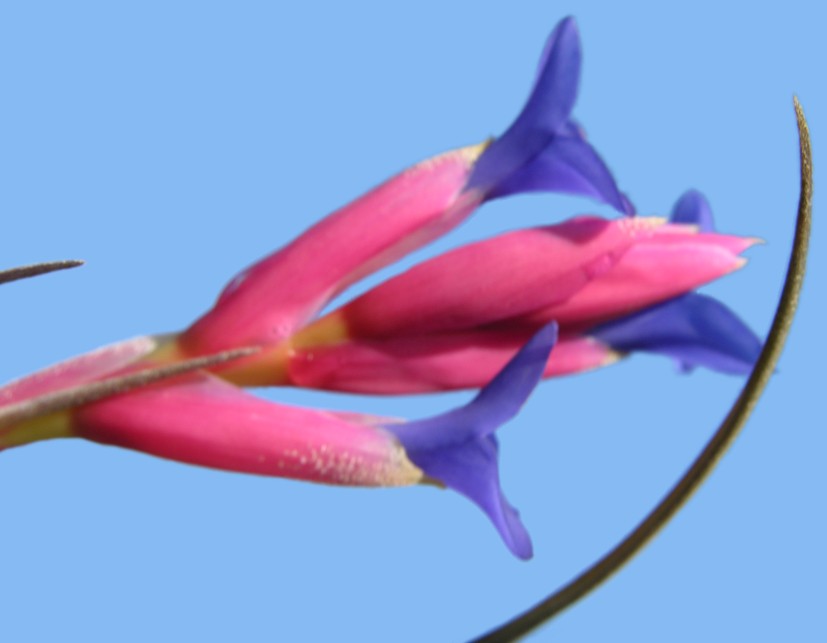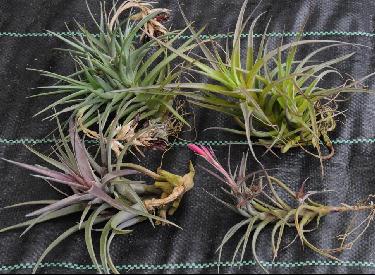 | | | |
| --- | --- | --- |
| Len Colgan 04/12 | Len Colgan 05/12 | Peter Tristram 07/11 Clockwise from from left: winkleri (Tropiflora), aeranthos, aeranthos aemula (Tropiflora), jonesii (Tropiflora) |
From Len Colgan - "Quite a number of years ago I received from Renate a single plant labelled "T. aff. aeranthos, ex Professor Winckler".
Some time later, Strehl published a number of new species in the T. aeranthos complex, with one of them named T. winckleri.
Needless to say, I always wondered whether this might be the same species.
Anyway, at long last, a couple of plants in the now large clump are coming into spike, with the first flower popping out today.

The plant itself is more than double the size of the common form of T. aeranthos, and the leaves are quite stiff, and not at all green.
The pictures on Derek's disk, attributed to Strehl herself, look nothing like my plant and there is some doubt when comparing to pictures from Renate.
However, my plant looks very much like that in the pictures by Varella, making me think that, at the least, it is the same as Varella's plant."

---
From Derek Butcher - "Len. If you are really serious you should be comparing drawings. Teresia drawing skills are much better than her photography.
For detailed comparisons we should go back to 2000 when Teresia named T. aeranthos var. aemula, var. rosea, T. afonsoana, T. bella, T. itaubensis, T. jonesii, and T. winkleri but did not do a key so we could see the subtle differences.

( Luiz Varella is a young keen Bromeliad grower who looked up to Teresia and her work. In fact he was the one who told me of Teresia's death. He was also the one who supplied me photos of the various coloured T. aeranthos growing in close proximity in Rio Grande do Sul.
My comment at the time was why was this variability not noticed say 50 years ago. Could deforestation etc be changing pollinators or were they getting confused about what their role is supposed to be! >:-}
He also said that ORANGE T. crocata is quite common in Rio Grande do Sul but I am still waiting proof with a photo! )

For what it is worth I think your plant is very close to T. winkleri. I do not believe that Renate had direct contact with Teresia but was aware of the Winkler collection. What does intrigue me is that when Winkler wrote about his find in Zeitschrift Documenta Naturae in 1982 he linked it to T. bergeri. This publication does not seem available on the internet."

---
From Len Colgan - "The previous pictures I posted of this species(?) were taken immediately the first flower appeared. Now, sometime later, the inflorescence has opened up more and there are extra flowers. I think this picture goes a long way towards confirming the identity."

---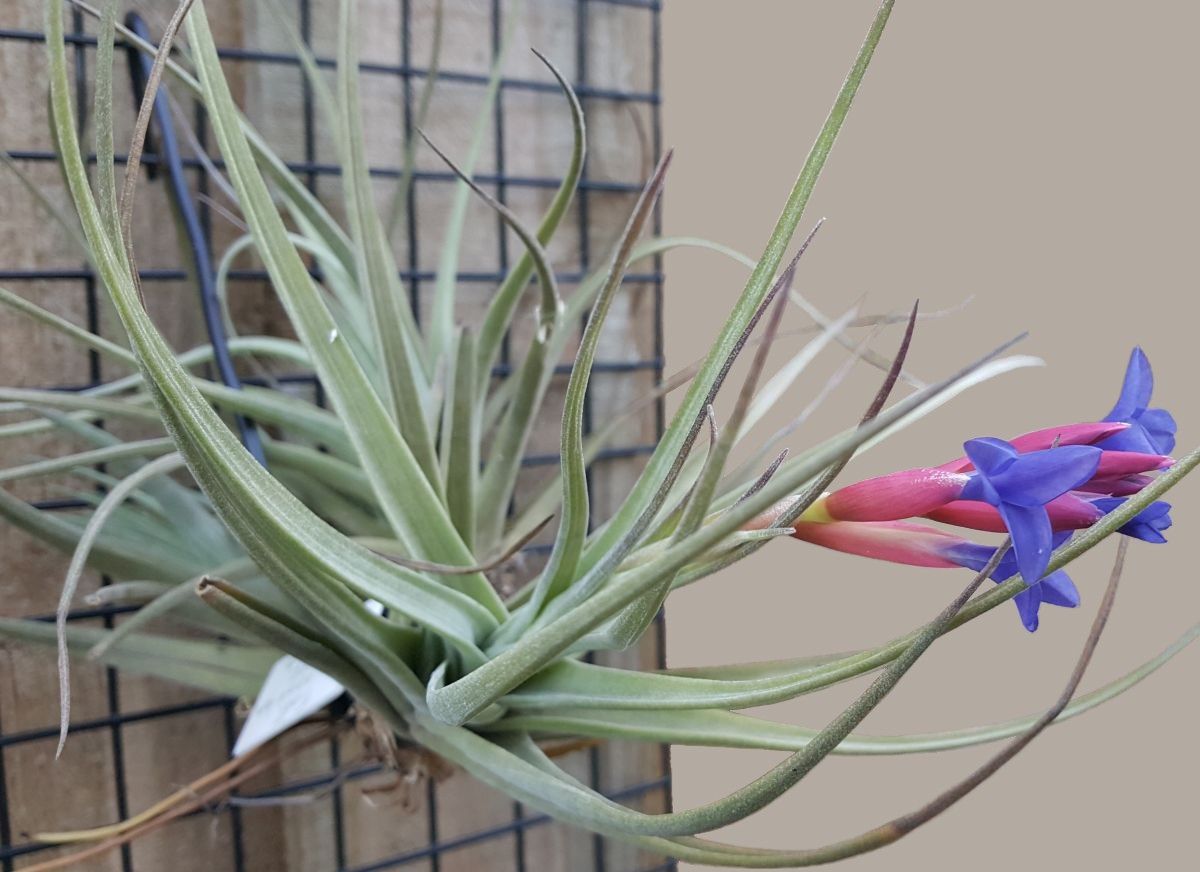 Chris Larson 07/18 ex. Len Colgan ex. Winkler
---
Updated 06/11/18
---