Tillandsia trigalensis
Click thumbnails for full size, scaled to a new window.
---
Tillandsia trigalensis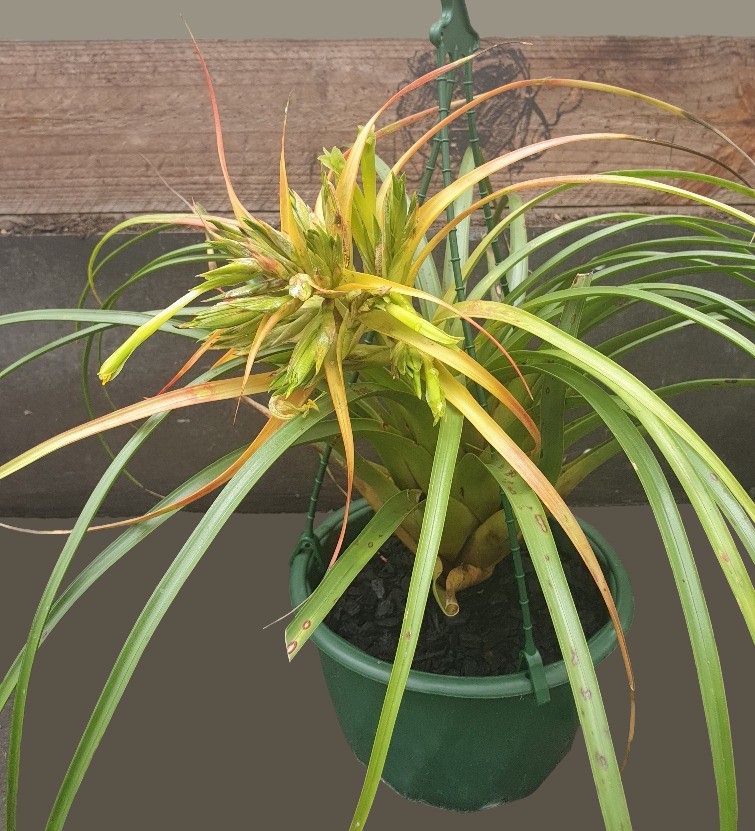 Chris Larson ... "Not a plant I'm particularly proud of yet. Just been doused in eco-oil & neem due to a very bad scale attack. But I figured few would have seen it.
One from Guatemala."
Derek Butcher ... "At least you are growing it which is a challenge in itself."

---

A STILL-UNKNOWN BROMELIAD HABITAT IN QUICHE by Wilfred Avenhuis.
(translation of a Die Bromelie 2/3 1997 article by George Rudolph) See Bromeletter 36(6): 10. 1988

It's time again; the destination is Guatemala. On time and reliable, Uwe Feldhoff picks me up from the airport at Guatemala City in his car. After a cordial welcome we drive to Cobana Schwiza which will be my home for the next few weeks. I prepared for a few days excursion in the forest and wanted to cross the mountain chain Sierra de las Minas. When I told Uwe he advised me against it because it would be too dangerous wandering for days in the mountains without a guide. Uwe, who had often helped me organise trips, made a suggestion which got me immediately excited, "You can go with one of my men who comes from Cunen because he knows the mountains well". Cunen is in the district of Quiche, where the Sierra de las Cuchumatanes starts in a westerly direction. This area was for many years taboo to tourists. Six o'clock in the morning I pack my gear in the car and then have a hearty breakfast. The Indian was called Ancel.

With the FWD we drive on a sealed road as far as Santo Curz del Quiche and eat there in an Indian bistro. After the city the roads get that bad that we can only use second gear. As we drive through the valley of Chixcoy we see a dark blue vehicle which is decorated with a few 1 m long inflorescences of Tillandsia eizii. Ancel explains it is a wedding vehicle. I quickly take a photograph before the wagon disappears from view. Now it becomes an arduous journey, stopping and getting out to find the best way, mostly at walking pace over slippery rocks. We stop often, not only because of the terrible terrain but because of the view also. A few times we look down to the valley of Chixcoy which lies in the distance. I am overwhelmed. Suddenly `finito'! In front of us about a dozen men with shovels and rakes are spreading a heap of gravel. After some delay we eventually arrive at the village and after a few more minutes we are at Ancel's family home. He built his house from clay with clay roof tiles. Ancel introduces me to his family. Everybody welcomes me cordially and I thank them for their hospitality. Now I am invited into the house and sit on a simple wooden chair. Although the house is at an altitude of 1900 m and the sun is almost at its summit, the house is comfortably cool. To my delight we get eggs, beans and coffee which are cooked on a wood stone-oven.

The next day we climb the hill over small washed-out paths. Around us grow small bushes and small leafy trees. Sometimes we pass clearings that are planted with maize and beans. I can see the hillside below me. It is covered two thirds by trees, the rest are fields. Above us is a thickly covered hill with rocks sticking up here and there. Under a stand of trees we make our camp. I find T. velickiana, T. lautneri, some Catopsis, orchids and red Vrieseas in the trees. Then I see for the first time T. eizii in its habitat. I get very excited and take photo after photo. Such beauty I did not expect in my wildest dreams. But that was not to be everything. After a frosty night we start early to climb to the summit. The path is so steep that the hard gained metre is seemingly lost by sliding back down! As we reach a ridge the climate changes completely. Now we walk on paths that are covered in moss and leaves. It gets dimmer, damp and cool. We are at 2930 m. On fallen trees grow lianas, moss, lichen and many other things. Terrestrial orchids grow there also. Huge trees grow straight up. You can't see the tops as they are hidden in the clouds. We walk through a magical forest. The clouds become drops of water in the crowns of the trees and drip off the leaves. As the sun breaks through I can see the size of the trees. They are some 80 m high and have gigantic crowns which are covered by epiphytes. I can only guess through my binoculars what grows up there. The forest is illuminated by breaks in the cover. It has an eerie sensation. As we walk on I discover on the tree trunks T. ponderosa with bright red inflorescences and T. mateoensis. The light is good enough to take photos to capture these scenes but even so I realise that they cannot capture the atmosphere. Later as we try to find water we see a pigeon in a tree and Ancel shoots it. He gives me his gun and goes to retrieve it. As I wait I look around and see a plant in a tree that I had not seen before. To start with it reminds me of T. punculata but this has shorter leaves and is more bulbous. Ancel returns up the hill out of breath and we head back to the camp. For breakfast we have roast pigeon. Afterwards we return to the forest to look for examples of my discovery. We find some on their own and in clumps but none with an intact inflorescence. This plant is different to T. punctulata and I decide to pick three plants from a tree in the hope they will flower at home. One plant flowered within the year and it was clear it was not T. punctulata. I gave the plant to Mrs Ehlers for her to study. She said she already knew the plant but she would take the plant to the meeting and get the description prepared for printing and the drawings of the flower details done.
The excursion into the hills of the Cuchumatanes excited me and to have seen a piece of untouched nature was fantastic. The plant was eventually described as Tillandsia trigalensis from the Trigal hills near Cunen.
Tropi Maya, a well-known Tillandsia supplier from Guatemala first collected the plant, in 1989. But it took the gift from Wilfred Avenhuis to Renate Ehlers to prompt her to action.
---

We'll never be able to grow this plant in Adelaide and if it ever got to Australia it would be very difficult to grow. It grows in the humid, cool mountain areas of Guatemala with Tillandsia eizii, T. ponderosa, T. lautneri (as capitata guzmanioides) and T. mateoensis. There are not many of these in Australia! It seems related to T. lautneri. This article was not written to encourage others to acquire this plant because it would inevitably die and is one of those cases where plants are best left in habitat. What I did find fascinating and why I got George to translate this article was the reference to cloud forest. Cloud forest is one of those things that you have to experience to appreciate and Wilfred is one of the lucky ones. For those who want to see this intriguing plant, there are photos in Die Bromelie 2/3, 1997. (Derek Butcher).

---

Tillandsia trigalensis Ehlers. Die Bromelie 2/3: 46-8. 1997
A Tillandsia standleyi L. B. Smith et T. orogenes Standley & L. O. Williams, ambis pro parte similis, habitu multo minore, inflorescentia minore, spicis subcapitatis dispositis, bracteis primariis aurantiacis, spicis latere latiore in axe dispositis et petalis multo longioribus flavo-viridibus differt.
Typus: Guatemala, Prov. Quiche, Sierra de Chuacus, inter San Andres Saicabaja et San Bartolome Jocotenango, 1700-2000 m s.m., epiphytica in Pinus spec., leg. Anonymus s. n. ex coll. Tropi Maya 1989, (holotypus in WU); specimina altera: Guatemala prope Cunen, Cerro de Trigal, 2200-2600 m s. m., leg. Uwe Feldhoff s. n. 1995 (Paratypus: WU); prope Cunen 2200-2600 m s. m., leg. Wilfried Avenhuis Steinfurt Nr. 937. 1996 (Paratypus: WU).

Plant stemless, growing singly or in groups, flowering to 40cm high, to 35cm diam, Leaves numerous ca 20–45, to 35cm long, almost hard leathery, forming an erectdense funnel rosette with bulbose base, the blades bent outwards.
Sheath distinct, to 8cm long, to 4.5cm wide, erect, pressed together, elliptic, spoon shaped, arched, the edges strongly bent, inside black, outside brownish black, both sides dense brown punctulate scales. Blade 1–1.5cm wide next to sheath, 15–20cm (to 30cm) long, narrow triangular with long, linear tip, the tip bent towards the outside, the edges bent into a groove, shiny dark green, nerved, both sides very small punctulate scales.
Scape much shorter than the leaves, ca 9cm long, 6mm diam, round, erect or bent over.
Scape bracts imbricate, few, similar to the inner rosette leaves, to 20cm long, the blade bent outwards, almost covering the scape, Internodes 2–3cm, the upper bracts often shiny orange-red.
Inflorescence shorter than the leaves, 8–10cm long, 7–12cm wide (without the primary bract), almost capitate, dense bipinnate, with 8–15 almost erect (spreading to an angle of 40 - 60º) polystichous spikes, the broad side to the rhachis.
Primary bracts similar to the scape bracts, the oval sheath as long as the spike and are on the broad side, the blade of the lower ones many times longer than the spike (to 20cm long), with an almost filiform narrow tip, the tip is bent under, the upper ones reduced to a short tip, shiny orange-red.
Spike 4–6cm long, 1–1.8cm wide, narrow elliptic acuminate, strongly complanate, with 4mm long, 6mm wide, thick fleshy stem, with 2-4 sessile flowers (at the base an extra 2-3 sterile bracts) densely imbricate (rhachis not visible).
Flower bracts 3- 3.8 cm long, to 1.5cm wide, narrow elliptic acuminate, with a bent tip, strongly keeled, leathery, inside glabrous, strongly nerved, outside nerved, almost glabrous, towards the tip small punctulate scales, shiny light green (#82 Moss green ).
Sepals 2.4–2.8 cm long, 0.7–1cm wide, narrow elliptic acuminate, almost free, the anterior joined for 1mm, the posterior for 2mm, and the base with a thick keel, light green, thin leathery, nerved.
Flowers not scented, the erect petals exceed the flower bracts by up to 5 cm, however the bent tube forms a cavity, corolla opening at time of anthesis.
Petals to 8.3 cm long, 9mm wide, narrowing to 4mm at base, tongue shaped, the rounded tip spreading outwards, the upper 1/3rd green yellow (#80 Nile green), underneath yellowish and the base white.
Stamens as long as the flower tube, at anthesis the lobes project sometimes 1mm from the flower tube
Filament to 8cm long, arranged in 2 unequally long rows, straight, the upper portion 0.75mm wide, oval, strongly narrowing and ribbon like below, similar colour to the petals.
Anthers 3mm long, 1mm wide, versitile, joined 1/3rd from the base, ochre coloured.
Pollen egg yellow.
Style to 7.5cm long, thin, greenish white, Stigma 2mm high, 1mm wide, lobes erect, twisted and papillose, green.
Ovary 6-7 mm long, 3mm wide, conical, triangular in cross section, green.
Type Locality Guatemala, Prov. Quiche, Sierra de Chuacus, between San Andres Saicabaja and San Bartolome, Jocotenango, 1700–2000 m alt. epiphytic in pine trees leg. anonymous but from collection of Tropi Maya 1989 (Holotype in WU)
Other collections Guatemala, near Cunen, Cerro de Trigal, 2200 – 2600m alt. leg. Uwe Feldhoff s.n. 1995 (Paratype WU) near Cunen, 2200 – 2600 m alt. leg Wilfred Avenhuis, Steinfurt, nr. 937, 1996 (Paratype WU)

Differs from T. standleyi and T. orogenes in:
Habit much smaller.
Inflorescence smaller.
Spikes sub capitate.
Primary bracts orange.
Spike flat side next to rhachis.
Petals much longer and yellowish green.

Habitat and range:
So far only known from Quiche from the Sierra los Chuchumatanes in the area around Cunen and from the Sierra de Chuacus close to San Bartolome Jocotenango. The plant grows in the cool and moist fog-forest. In the same area is T. eizii L. B. Smith, T. ponderosa L. B. Smith and T. lautneri R. Ehlers. as well as T. mateoensis R. Ehlers.
The Key of L. B. Smith does not link to this plant. It may belong to the complex around T. standleyi L. B. Smith and T. orogenes Standley & L. O. Williams. From these, it differs in the following characteristics:
Plant much smaller and strongly bulbose. Inflorescence almost capitate, with smaller spikes, whose wide side is turned to the axis, compound, primary bracts orange-coloured, petals much longer and greenish yellow.
At first glance and if the petals are not visible, the plant looks similar to a small T. lautneri R. Ehlers, which also grows in the area. The leaves of the plant are however narrower, much harder and leathery, compared to the very soft and thin leaves of T. lautneri. The scape is almost upright, not strongly bent over, the primary bracts more narrow and a long blade tapering to a filiform tip, the floral bracts, almost twice as long and overhanging the sepals, the petals, yellow green, not dark-violet.

I saw the plant for the first time in August 1989 in the garden of Dotterer in Frieberg, which was an interesting Tillandsia that had been imported under the name T. orogenes from Tropi-Maya Guatemala. Already in September two plants flowered in our collection, and it turned out that it was an unknown species. A description of the plant lies ready in my drawer since 1989, because the exact place of discovery was unknown. Mr. Dotterer was so nice and ordered extra "T. orogenes" for me. But other green funnel tillandsias were unfortunately delivered.
On a visit in 1992 to Guatemala we met Uwe Feldhoff, a plant-collector for Tropi-Maya that we knew, and he found out where the plant comes from. Unfortunately, we had not the time to reach San Bartolome near the very remote Jocotenango.
We obtained a large number of tillandsias from a Holland Plant Company. I wrote to the gardener, sending a photo of the plant and asking whether he had this plant. Unfortunately, I never got an answer and I was somewhat sad that probably the two plants that we had in our collection, cultivated without difficulty, should be the only two around. It seemed no one had any other plants.

In 1995 Jurgen Lautner on a Guatemala trip brought home plants, that Uwe Feldhoff had collected near Cunen and which he assumed was close to T. punctulata or a close relative. And really this plant in a non-flowering condition looked like large version of this. Unfortunately not one of these plants flowered until now. I did get a herbarium specimen of a postfloral inflorescence however. Jurgen Lautner and I discussed this plant at our leisure and I haggled that to me, it could be same as the plant from San Bartolome.
In autumn 1996, Wilfried Avenhuis from Steinfurt sent me a flowering plant that he had collected in Spring 1996 close to Cunen. I was happy because I was sure this was the same Tillandsia that had waited for verification since 1989. Also Dr. Till in Vienna will be happy because he will now receive additional material to the Holotype from another area already held in the herbarium in Vienna.
---
Updated 06/09/19
---