Tillandsia tortilis
Click thumbnails for full size, scaled to a new window.
---
Tillandsia tortilis

Andrew Flower NZ 04/12, as "T. aff. tortilis".

From Andrew Flower... "Len sent me some seed in 1997: "T. aff. tortilis Xichu, Mexico. Extra-fuzzy form, with larger inflorescence.
First one flowered here last year, dimensions taken at the time: petal visible for 16mm; inflorescence 13.72mm across, 4.42mm deep;
rachis (peduncle) 47mm; primary bracts about 34mm; leaves around 62mm, sheaths 8mm wide.
Many thanks to Len Colgan for thinking of me with the seed."
From Derek Butcher.... "Why the "aff"? I think most likely linked to EM942701."

---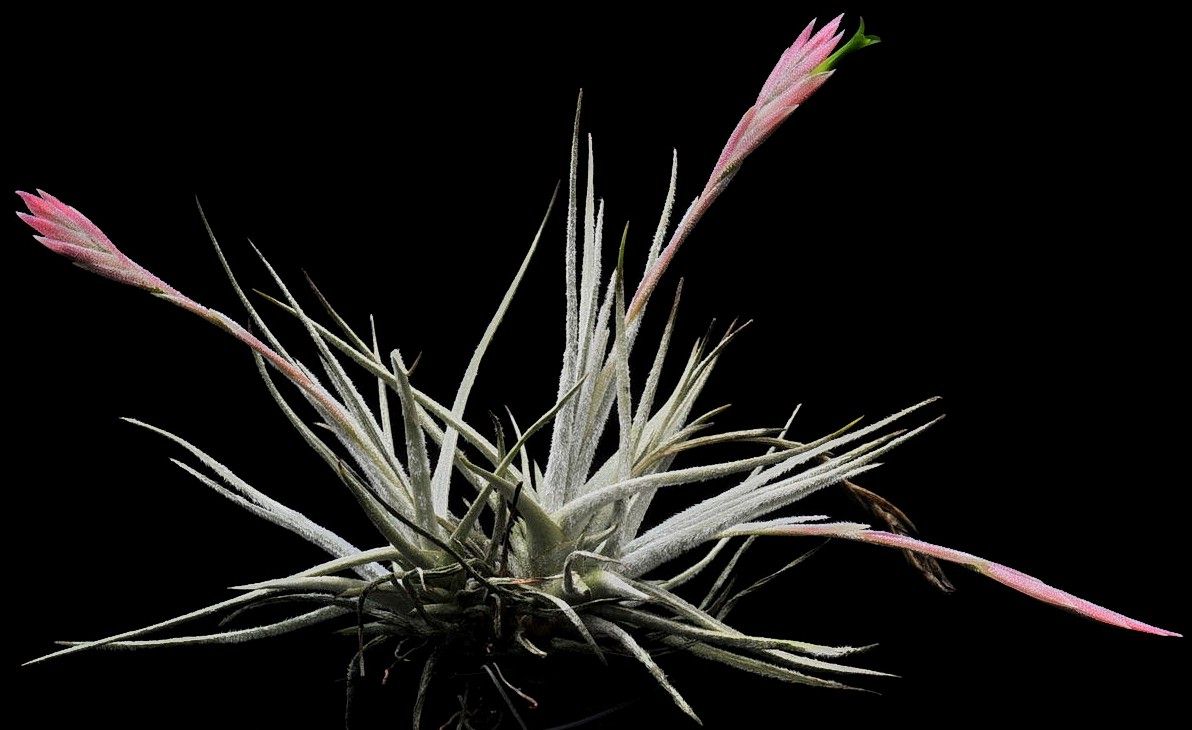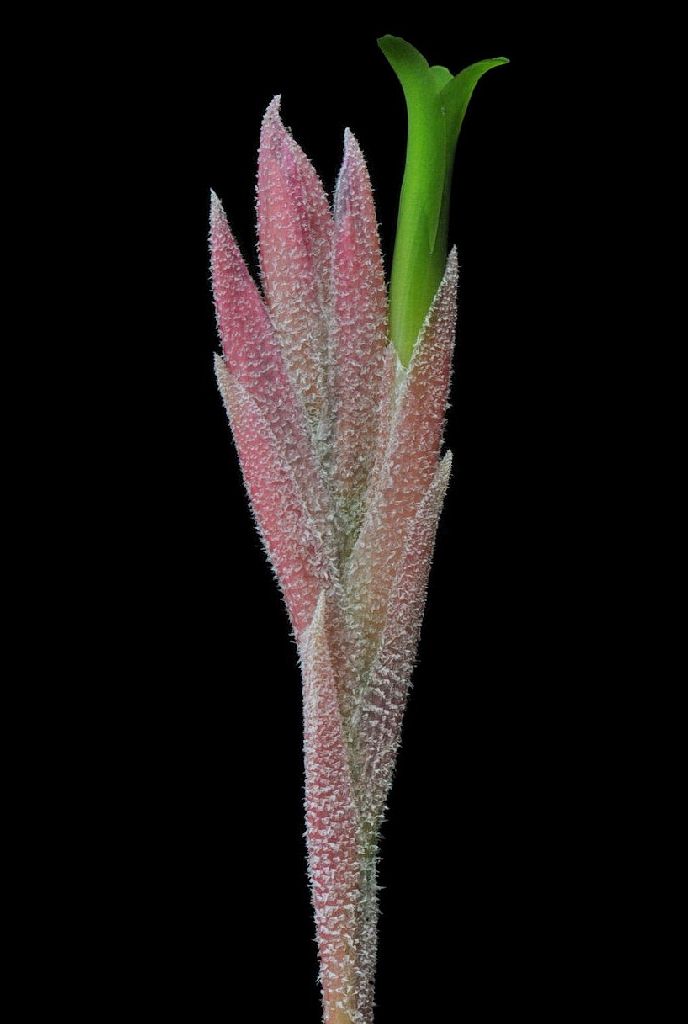 From Peter Tristram... "It seems that the little green Mexicans and the tectorums are pretty close genetically so the term 'Mexican tectorums' wasn't far off the mark! The reclassification of the Tillandsioids, as shown at the conf. in NZ, includes the proposal to group all of these under the subgenus Viridantha (not as a separate genus as once debated). Fascinating stuff! But at least these remain Tillandsias unlike those proposed to head into the new genera: Lemeltonia, Josemania and Rothowia, and Steve's bathroom companion which could be a Racinaea, along with dyeriana and hamaleana.
Some of the rarer Mexican tectorums are currently blooming for me, as per labels - T. teloloapaensis?? (but it looks more like atroviridipetala v. longepedunculata!) – easily mistaken for a small tectorum if not for the flowers and T. tortilis, a fairly large form from Goettingen BG.
Lovely little delights. In my experience the 2 most difficult to grow in this group are the small atroviridipetalas and plumosa! Strange as they are/used to be the most common. I am still hopeful one of my LGM will turn out to be easily identified as telolapanensis!"

---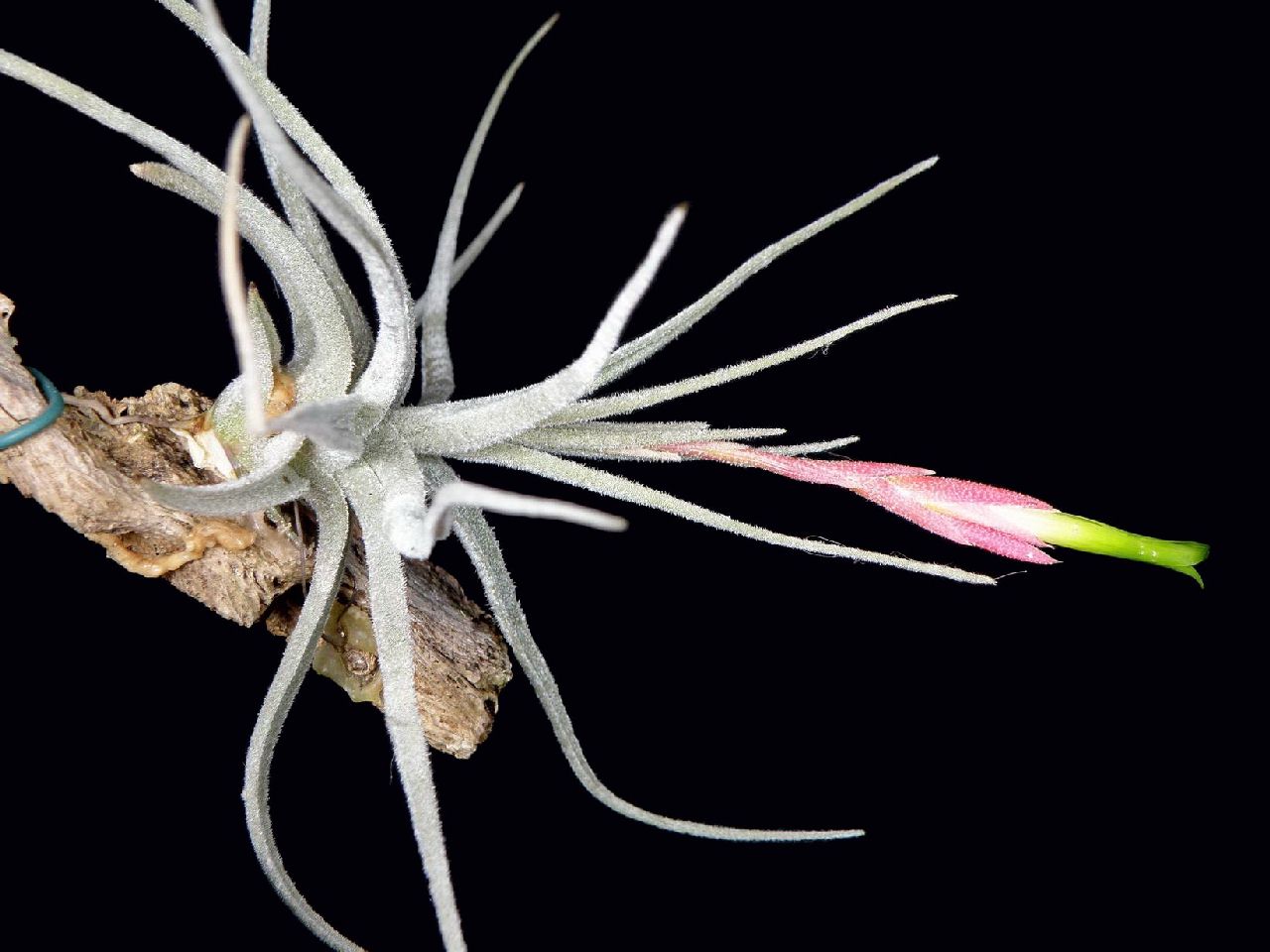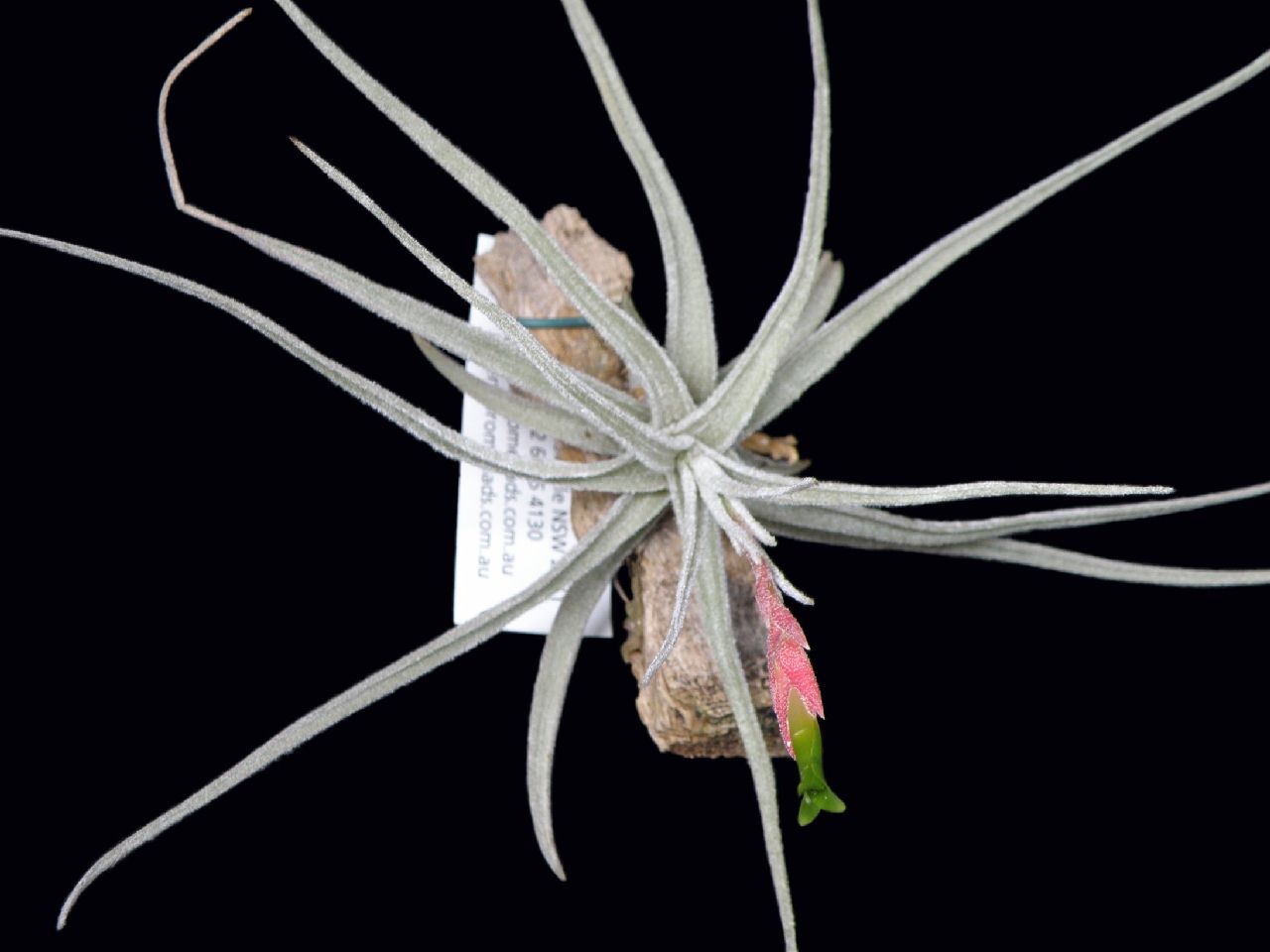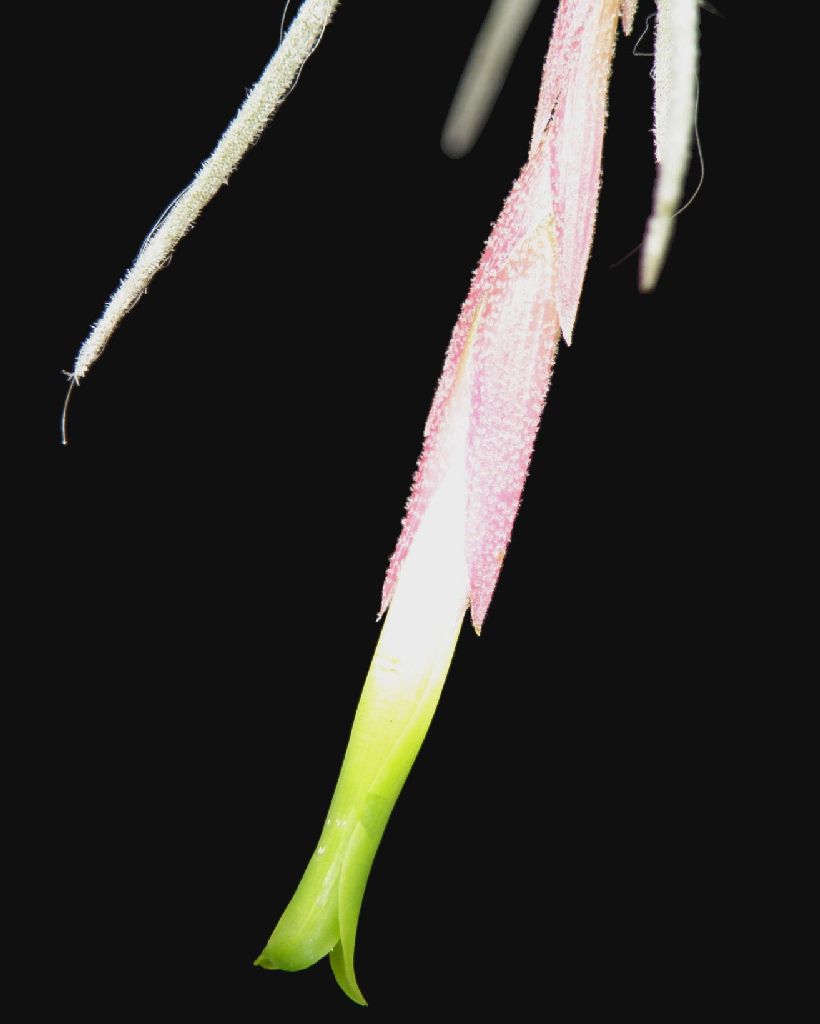 Brenton Cadd, ex. P.Tristram, 11/14

Peter Tristram 11/14 - "'Die grünblühenden, kleinen, grauen Tillandsien Mexikos', is a must-have book for lovers of this group. Fortunately Derek translated Renate's German making life much easier. Brent's T. tortillis grows well here too so a very adaptable species. There are lots of photos in Renate's book that match this plant well. In my experience many of the "Little Green Mexicans" (LGM) self, so growing from seed will eventually increase their availability."

---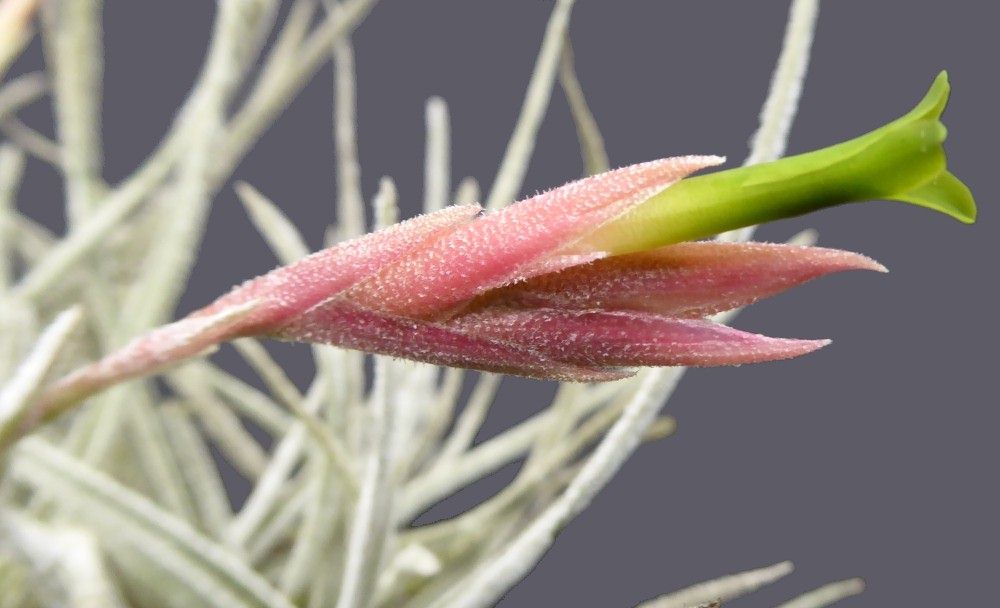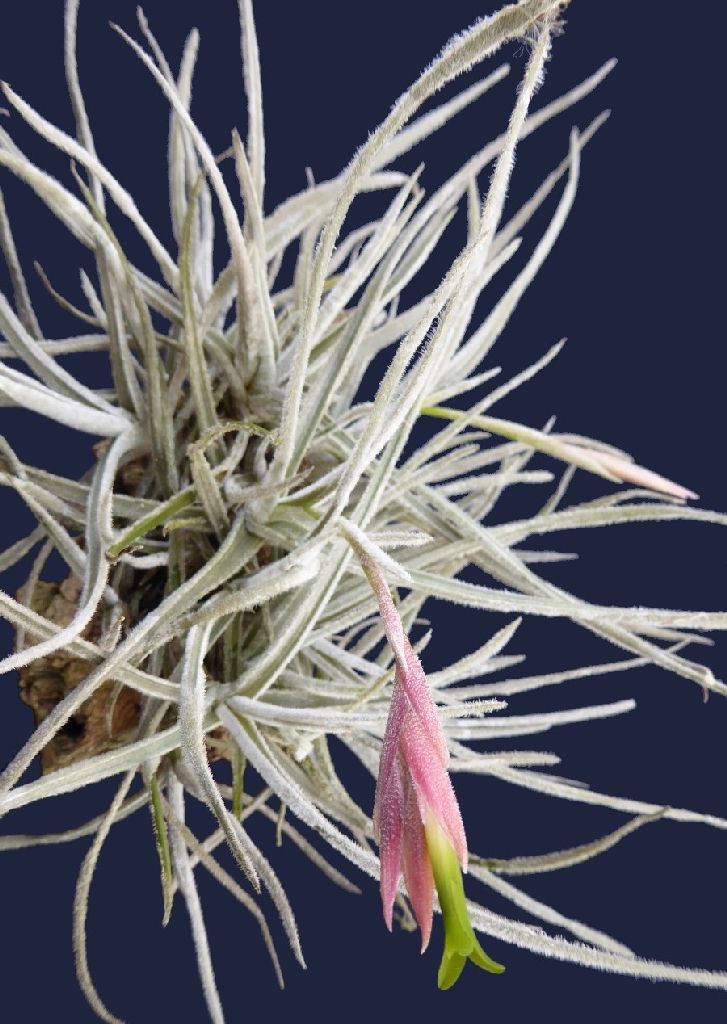 Chris Larson as lepidosepala> 06/15

Chris Larson ... "Just flowering this again. Imported from Holm as T. lepidosepala – I have always had problems growing lepidosepala in the cold. It survives but never thrives and after a number of years dies. This is strange for a plant which grows at 2-2,500m alt noth of Mexico City – as this is the stuff that is usually best here. So I've grown this one in the warm.
Although I've been advised that this one is closer to T. lepidosepala – looking at the photos on the disc I am thinking tortilis is closer.
The disc says: "Only when you investigate the inflorescences you can determine that T. lepidosepala has quite a short peduncle, the flower spike is shorter and much broader, the floral bract colour does not pale even in Mexico, where they remain yellow or green, while with T. tortilis it is shiny pink, the petals are much smaller, darker green and the tips are not bent outwards."
T. tortilis also comes from altitude (2200 to 2400m alt) so I might acclimatize this one to a colder climate - after winter."

Andrew Flower ... "I'd say your calling your plant T. tortilis is pretty well on the nail.
Attached pics (Ed: top of this page) shows a plant grown from seed collected in Mexico by Big Len, labelled by him as "aff, tortilis" and one we have grown here for a long time as T. lepidosepala (I'm pretty sure our lepidos started life ex the BSI seed bank).
T. lepidosepala shown below for comparison.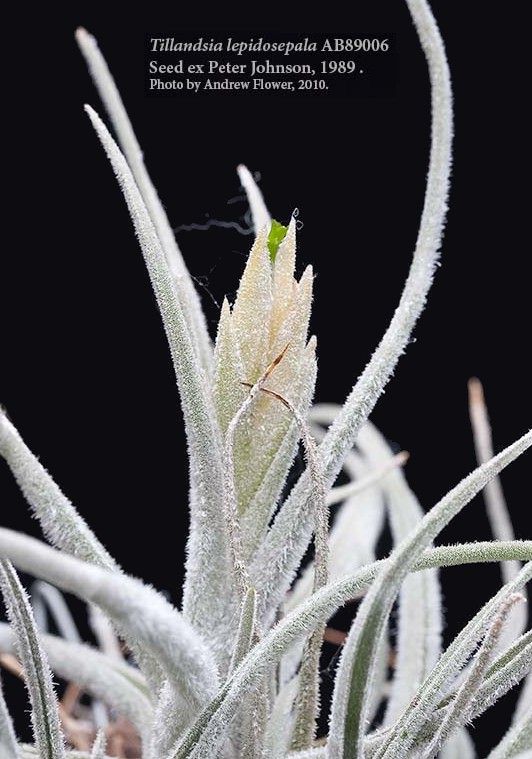 Andrew Flower - lepidosepala 06/15
---
Updated 05/11/16
---