Tillandsia tafiensis
Click thumbnails for full size, scaled to a new window.
---
formerly Tillandsia xiphioides var. tafiensis now raised to species status.
See Tillandsia xiphioides for discussion of types.
---
Tillandsia tafiensis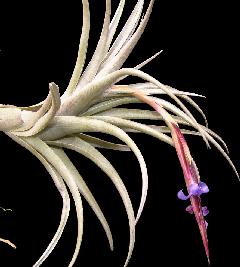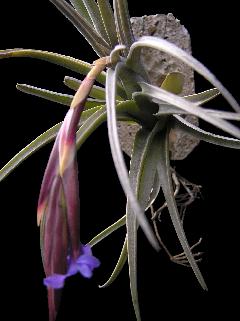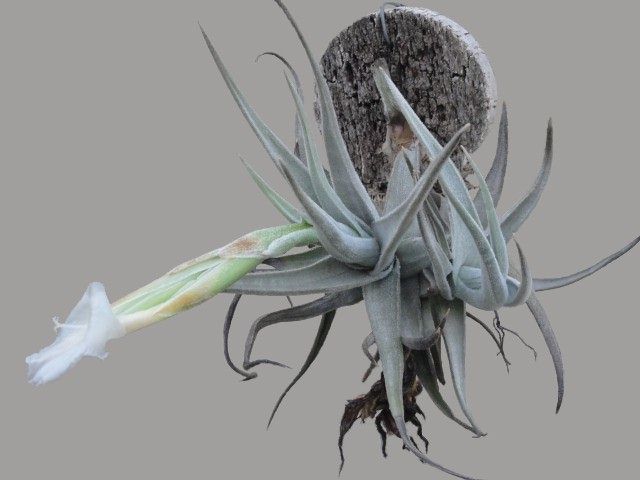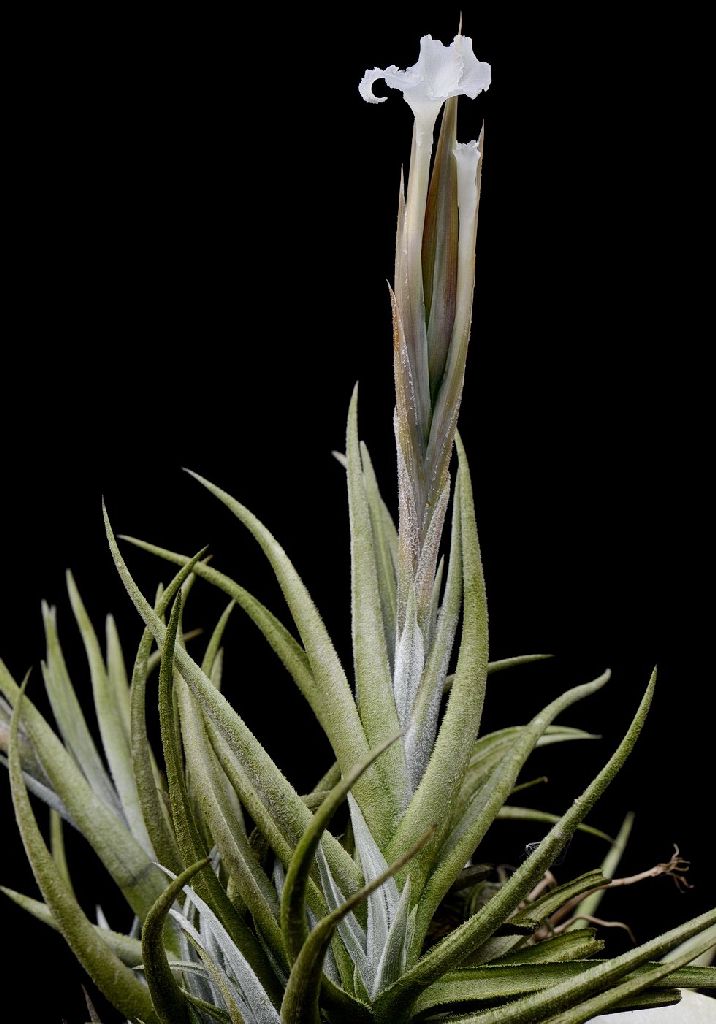 | | | |
| --- | --- | --- |
| Ken Woods 06/09. As xiphioides "Blue". | Stephen Haines 11/13. As xiphioides var. tafiensis | Peter Tristram 14/11/13. xiphioides sold as tafiensis |

Steve Haines 2/11/13 ... "As Peter mentioned it is xiphioides flowering time, I have a few different kinds flowering at the moment, here are some pics.
1st photo; T. xiphioides var tafiensis, large and somewhat translucent white flower that is short lived.
Len Colgan 3/11/13 ... "Thanks for sharing those pictures of forms of T. xiphioides.
I do not know whether or not it is strictly correct to label the first of them as T. xiphioides var tafiensis. The description of this variety stipulates large purple flowers, and I personally only use this name if that is the case. However, in the USA, they do not have the purple flowered form, and use the var tafiensis tag for any very scurfy forms, undoubtedly with white flowers, whether or not they come from anywhere near Tafi in Argentina.
The second form from Germany most probably originated from me. Maurice can confirm if that is the case. It is a smaller form with gun-barrel grey leaves, and was collected by the River Mizque in Bolivia.
What is really interesting about collecting T. xiphioides in Bolivia, rather than in Argentina, is that widely separated habitats yield quite different forms, making it possible to have a varied mini-collection of T. xiphioides types."

Chris Larson 3/11/13 ... "One of the things that Marj Mc & I noted on our trip – my first to Argentina – was that Isley's tafiensis is very very similar to the form that grows right beside the road just over the ridge out of the Tafi valley – only about 1 or 2 km from the pass (& the only ones we could find at the correct altitude near the Tafi valley) – but still within the state of Tafi. I agree that this is not var tafiensis by the description. The site of the blue flowered var. tafiensis to be found near there (according to Smith & Downs) is some 10 or 15 miles away. Which I never found due to lack of detail on maps at that time – Google maps make life easier for collectors now – but AQIS makes it harder."

Derek Butcher 3/11/13 ... "I can only back Len on this one. As the DVD says -
Tillandsia xiphioides Ker-Gawler var tafiensis L. B. Smith, Phytologia 20: 173. 1970.
Tillandsia friesii sensu Castellanos, An. Mus. Nac. Hist. Nat. Buenos Aires 37: 501, pl. 1. 1933; in part, non Mez, 1906.
Differs from Type in -
Leaf-scales with narrow lobes, making the leaves tomentose-lepidote.
Floral bracts 5-6 cm long. Sepals 30 mm long; Petals violet.
Type. Schreiter 7176 (holotype US, isotypes GH, NY, LIL), Managua (Colalao del Valle), Tafi, Tucuman, Argentina, Dec 1931.
Distribution. Epiphytic, 2000-3000 m alt, northwestern Argentina. Tucuman, Tafi: Quebrada de Amaicha, El Molle, Nov 1932, Schreiter 8835 (GH, LIL).

We have the true blue in Australia and we should not settle for second best. It took me several years to convince Rainforest Flora that they had the wrong name on their plants and there is a possibility this could be the source of wrongly identified stock. Many years ago now in trying to keep up with the latest I did import from Germany only to get white flowers. Luckily the supplier listened to my plea and on the second attempt I got the blue!
So if your 'tafiensis' flowers white please change the label to straight xiphioides. Remember here that 'lutea' only applies if the petals are a yellowish hue."

Peter Tristram 14/11/13 ... "Hi all, another white "tafiensis" from Deutschland, from a Botanic Garden as well! At least the luteas are flava."

Derek Butcher 27/10/15 ... "For those who thought it took a long while to write T. xiphioides var. tafiensis on labels are in for a pleasant surprise.
It has been promoted to species status. All you need to write is T. tafiensis
(Ed... but only for the violet petelled ones ? )
---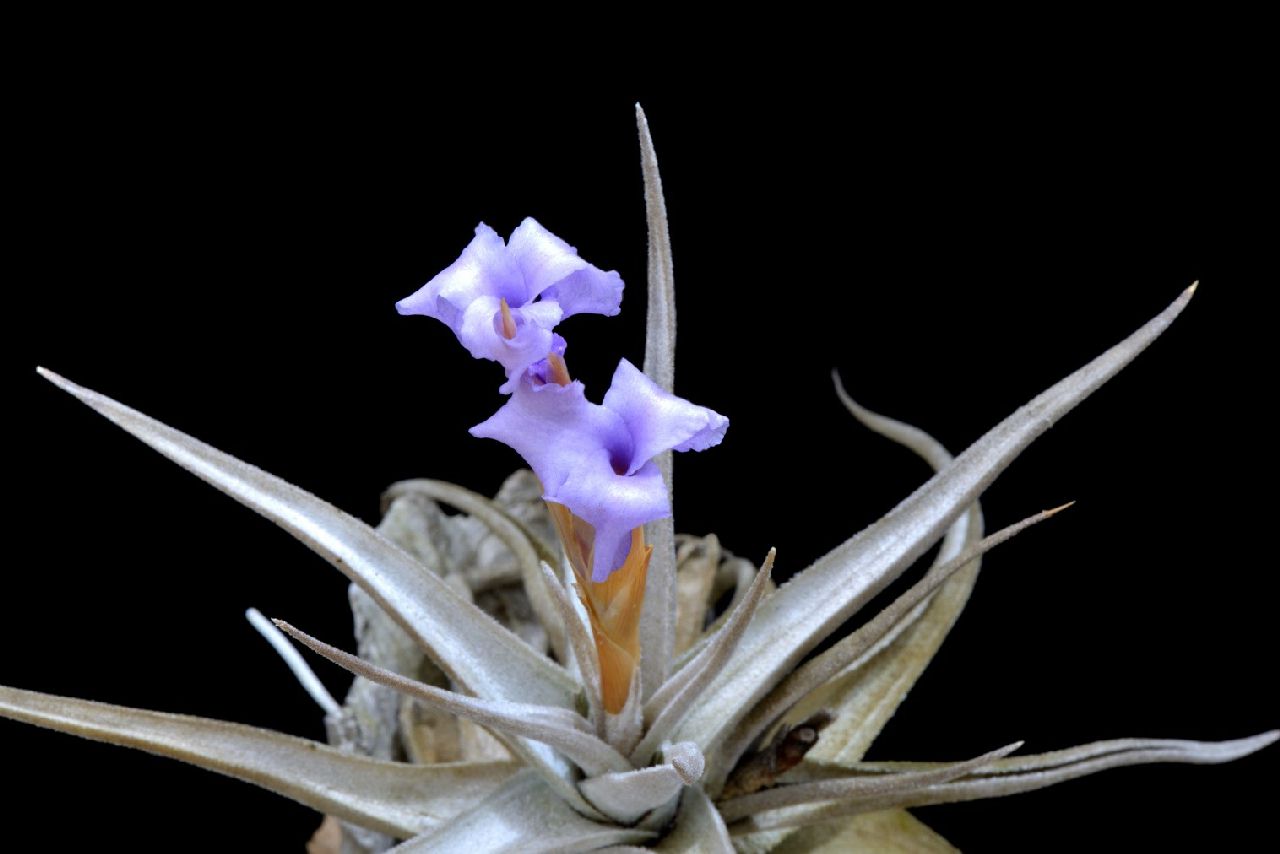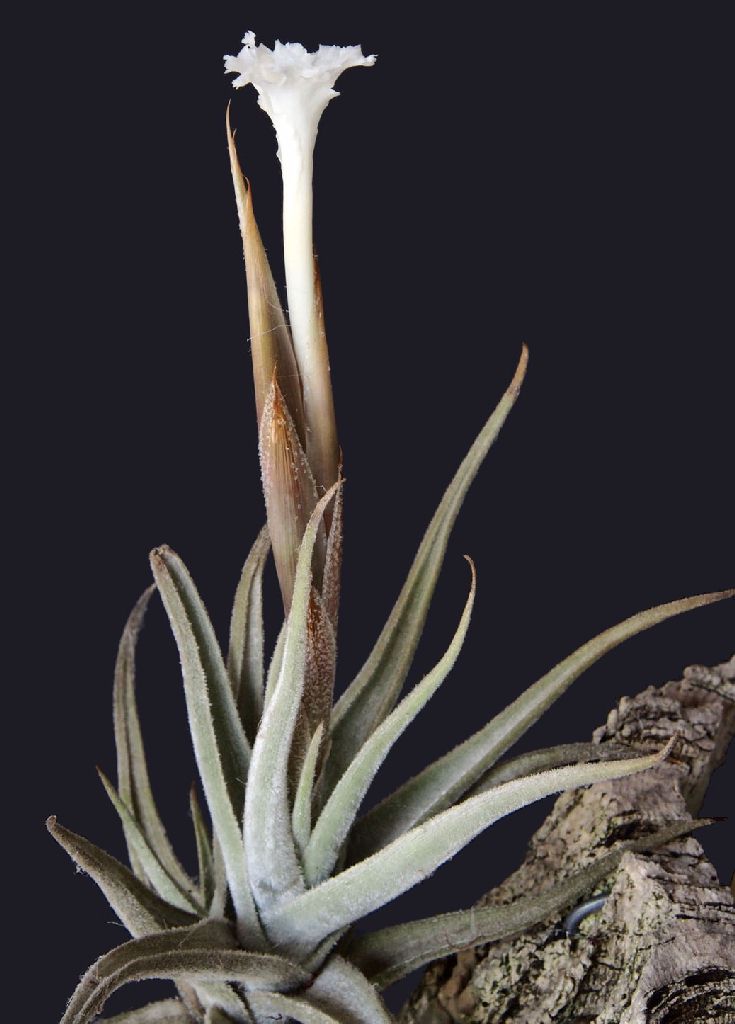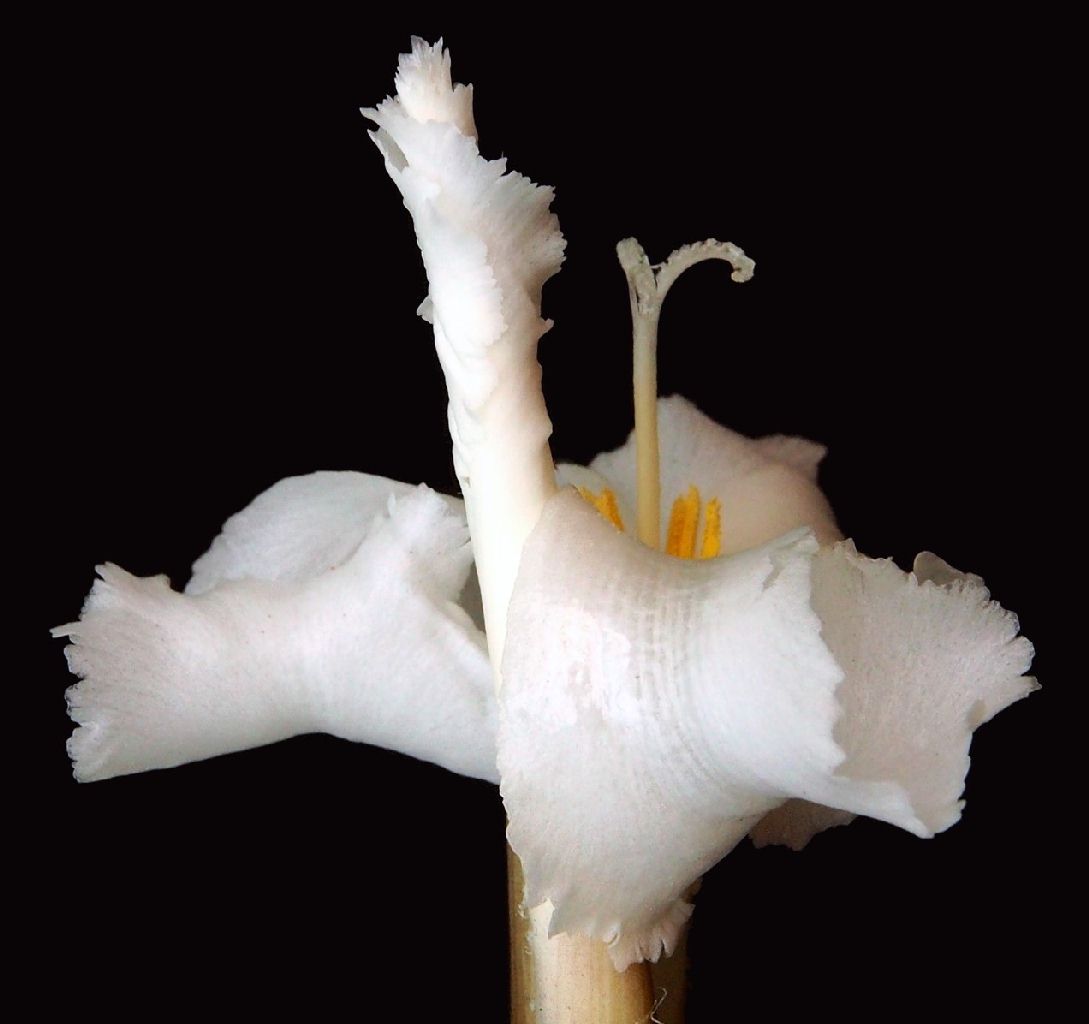 | | |
| --- | --- |
| George Nieuwenhoven 12/16 | Julie Batty 11/17 as xiphioides |

Julie Batty ... "This particular xiphioides has only produced two flowers but they were relatively large, perfumed, and looked good with the bronze sepals."
Chris Larson ... "Justin, remember that T. xiphioides var tafiensis is now T. tafiensis. This is very close to the form of the one from the top of the Tafi Valley – where I reckon Isley collected his supposed tafiensis with white flowers – Marj & I collected a very similar form there."
Julie Batty ... "I got this one from Adam and apart from the lovely bronze bit, it is also scurfier than other plainer ones I have which are almost abrasive to the touch. Do you know if the Isley find made it to Oz?"
Chris Larson ... "So many of the mis-named T. xiphioides var. tafiensis that are here with white flowers were the Isley plants. As I understand it, they didn't have much of the true purple flowered T. xiphioides var tafiensis – no T. tafiensis – in the USA. At least for a while it was only available from Europe. The predominant form here is still the white flowered mis-named plant.
I spent a lot of time looking for it in 96 & 98 and didn't find it in the southern location around the town of Tafi, State of Tafi or Tafi Valley. I did manage to find it in the northern location in 98 – just dumb luck. Now with Google maps it is easy to find the State of Tafi location. But back then the locality wasn't on the maps and we couldn't find any locals that knew where the town of Managua (the only reference in Smith & Downs) was. I'm pretty sure that when Paul went there he had these issues and he assumed the form at the top of the Tafi Valley, which we saw, was it. This led to a lot of confusion."

---
Updated 27/01/18
---