Tillandsia streptocarpa
Click thumbnails for full size, scaled to a new window.
---
Tillandsia streptocarpa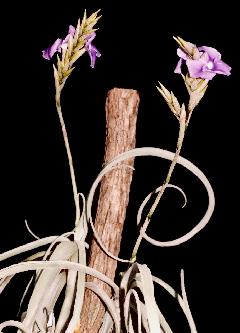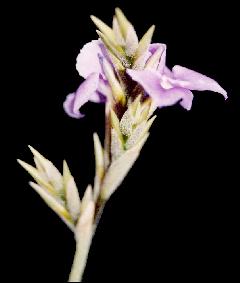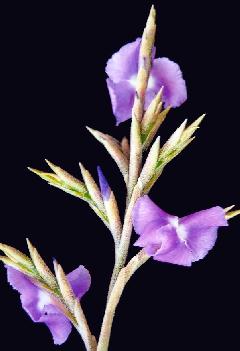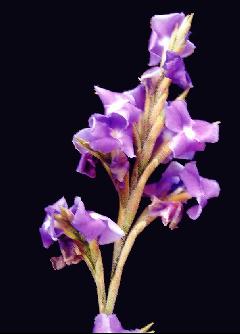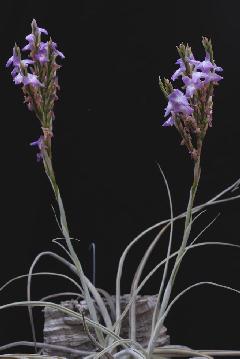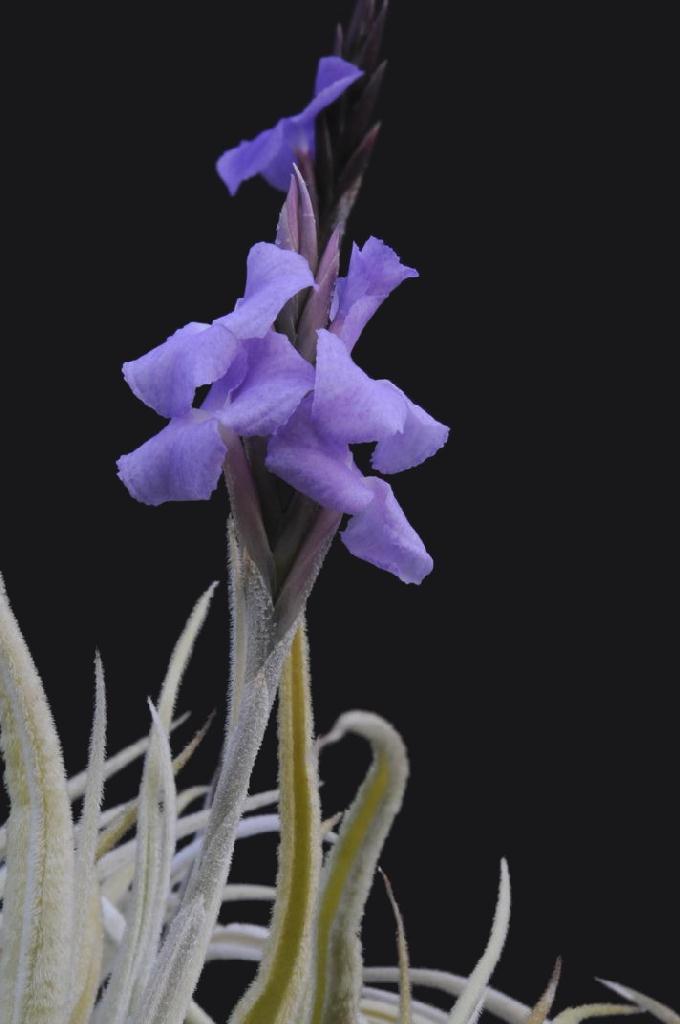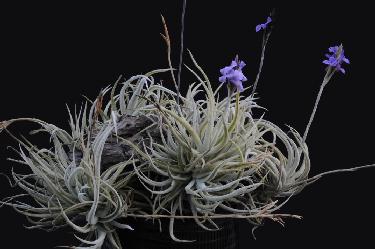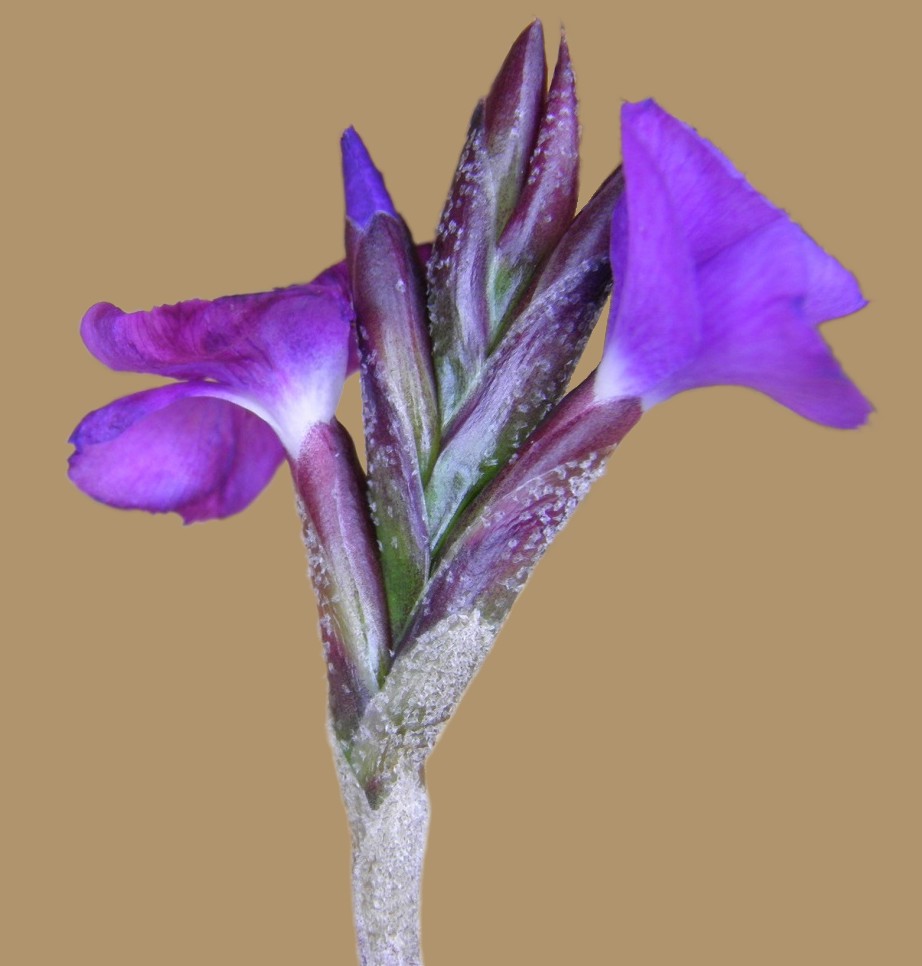 George Nieuwenhoven 02/08.

Peter Tristram 12/10. (Weiss)
N.B. 01/01/12. This form is listed as 'Succulent Silver' pending registration or further detail.

Derek Butcher 01/17 -seed from Knize 1991 !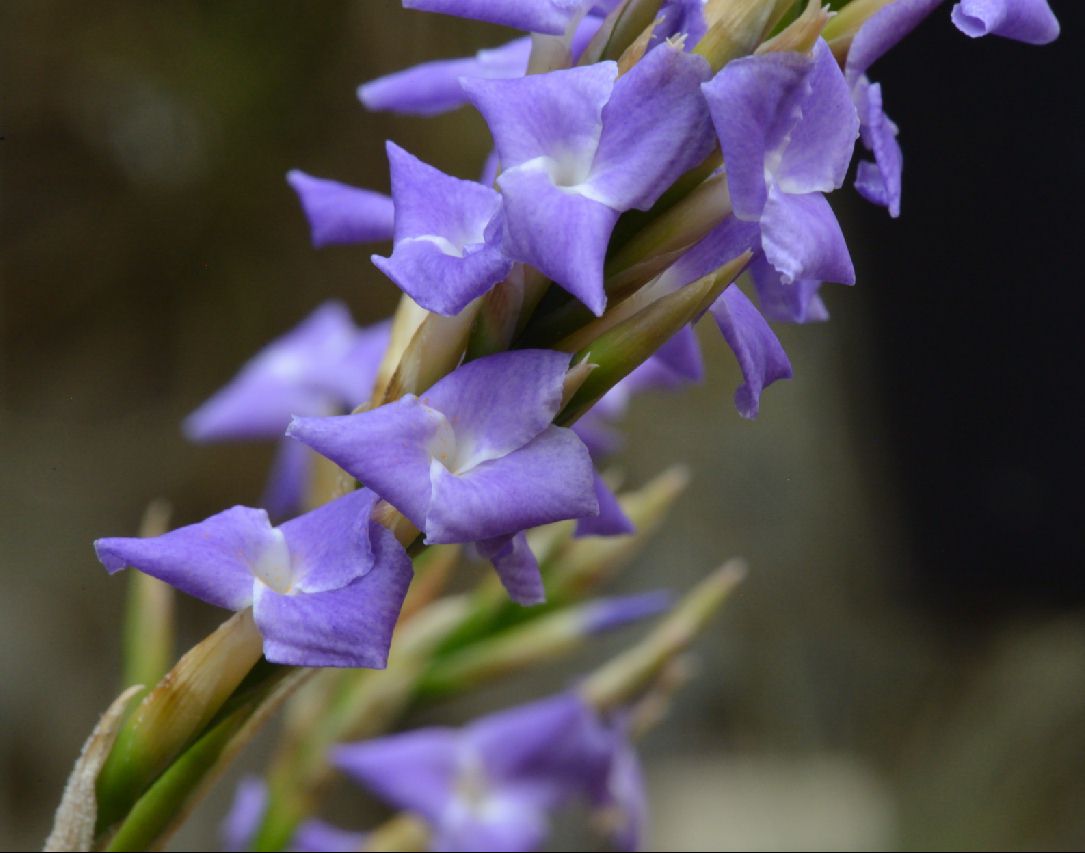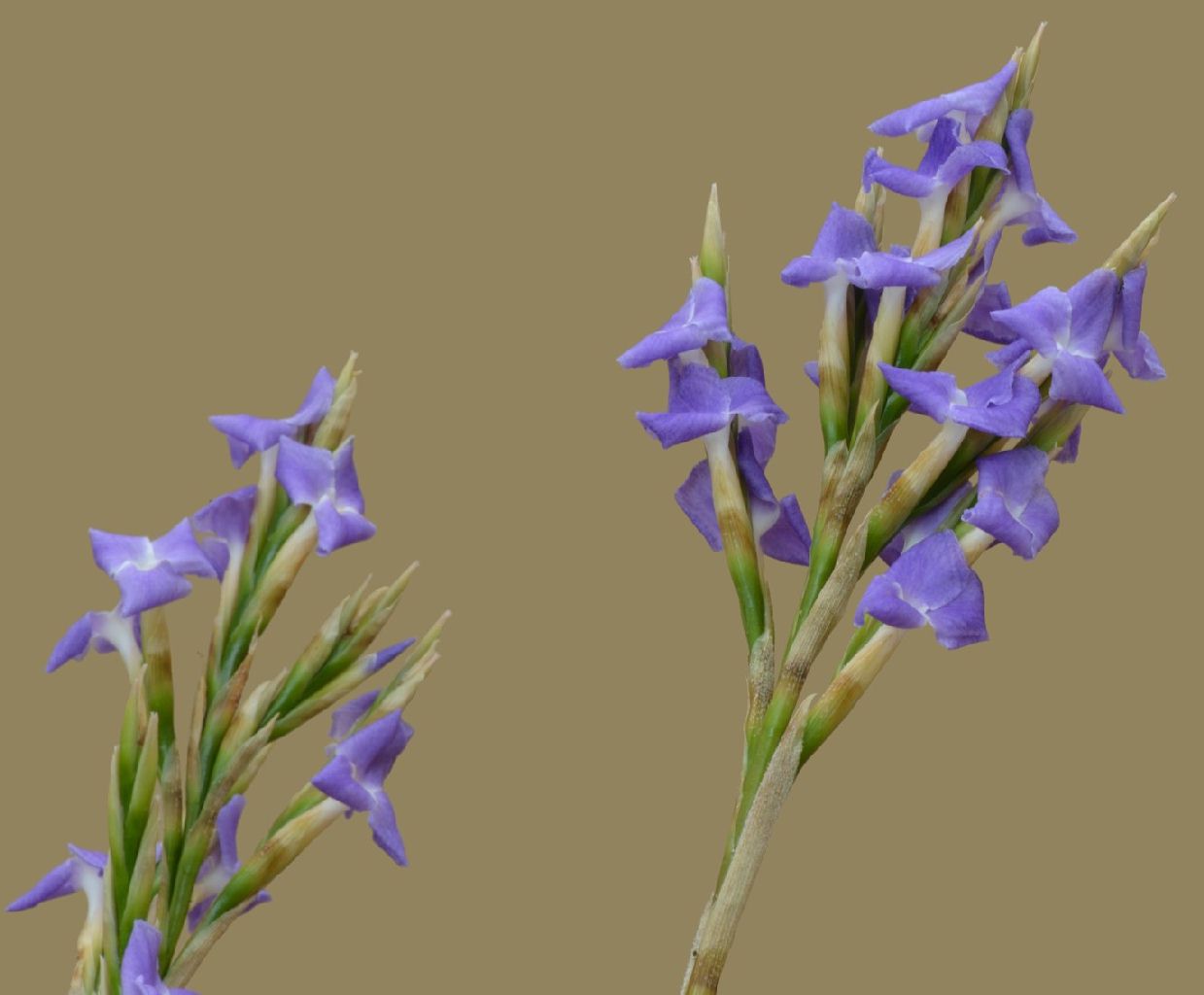 George Nieuwenhoven 01/19

George Nieuwenhoven ... "This must be one of the easiest Tillandsias to grow. Beautiful flowers and heavenly scent, comes in white as well."
Peter Tristram ... "You cannot have too many of these! How do you tell it from reichenbachii? Just one to ponder! Send it to me and I'll cross it with erici - all of mine have finished blooming!"
George Nieuwenhoven ... "My reichenbachii appears smaller in stature and flowers are more open on it, apart from that they could easily be the same species. For now I will keep the original name on them. Oh, and not to forget they bloom at the same time so what you are alluding to is probably correct."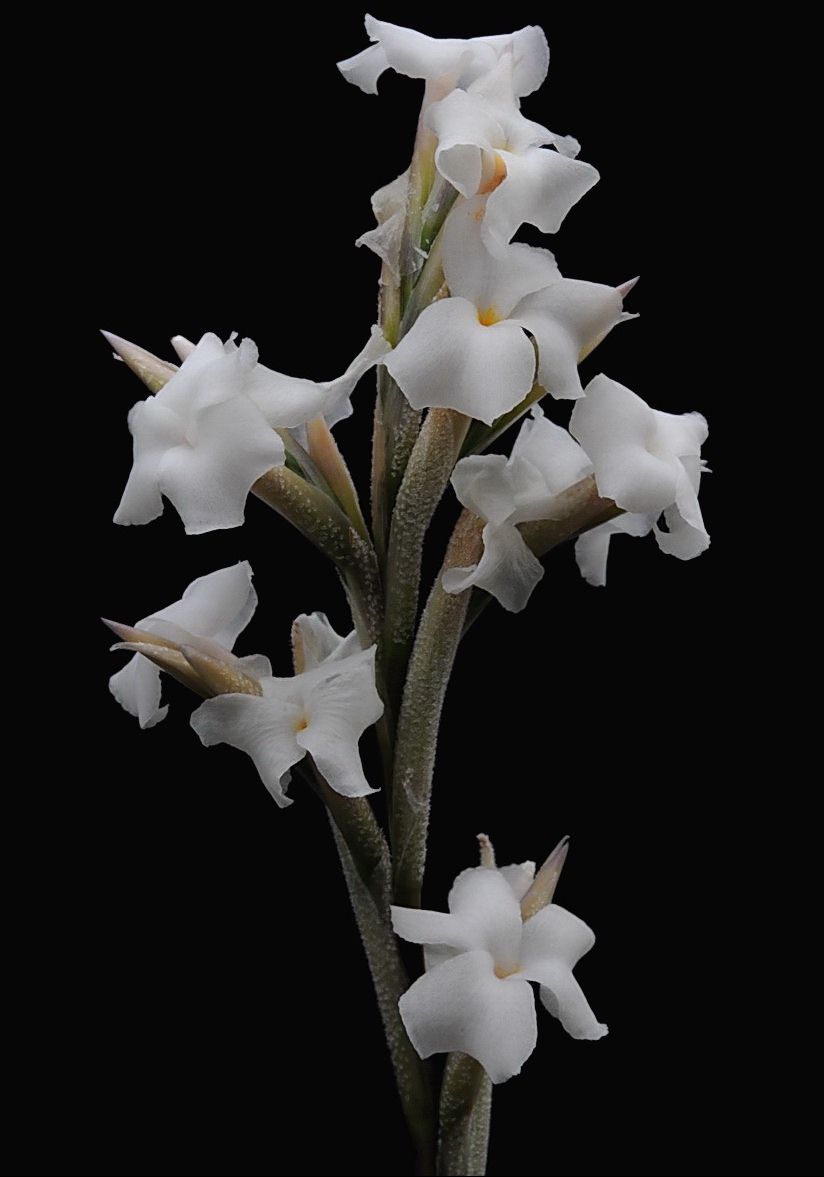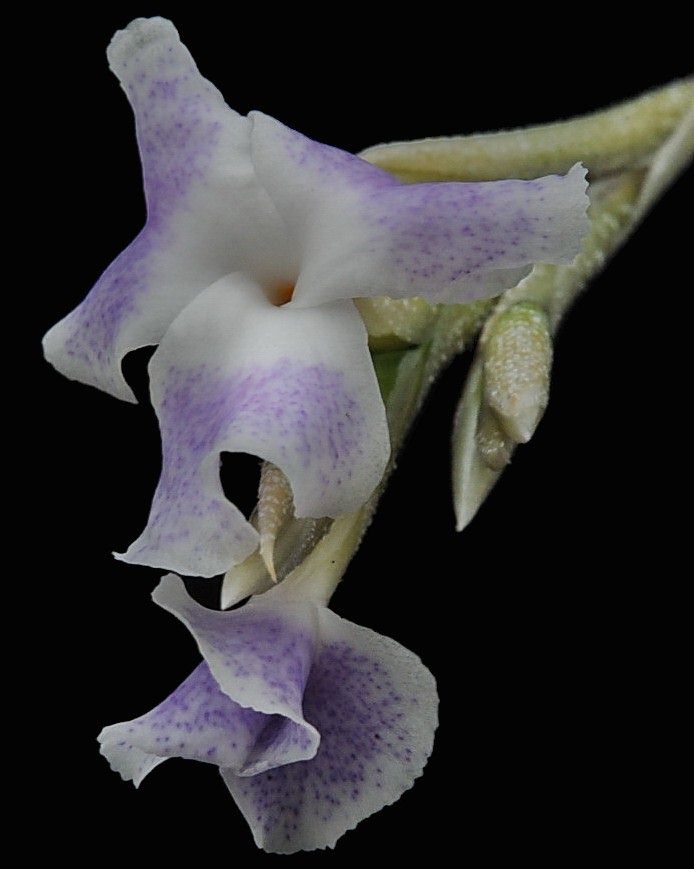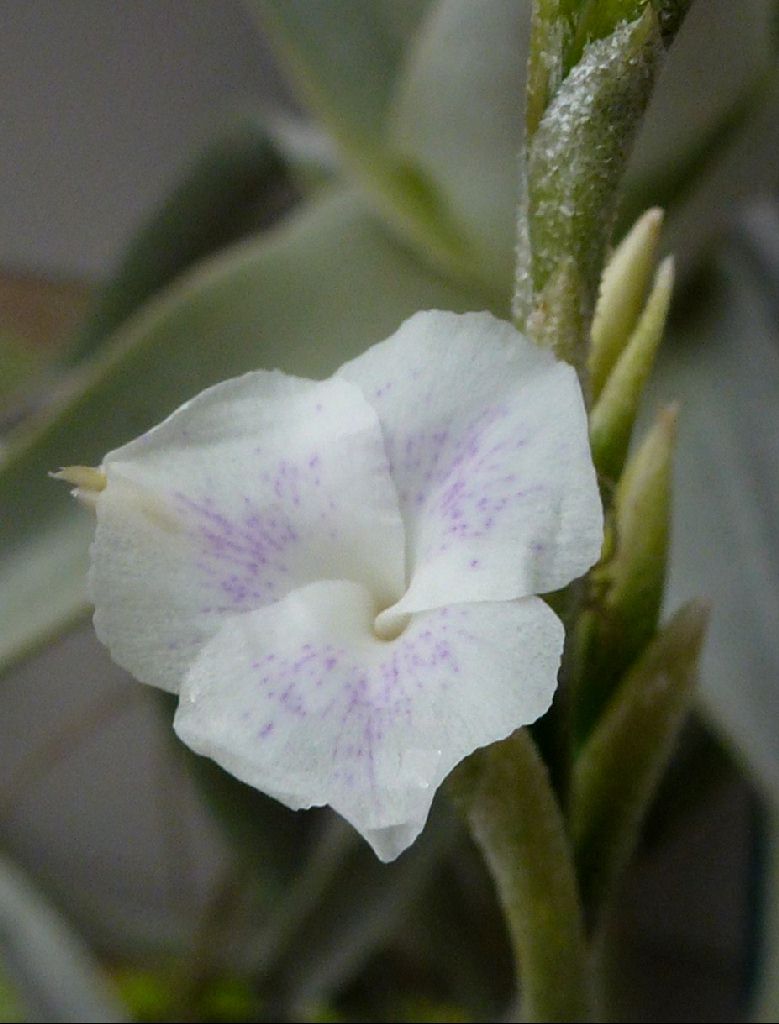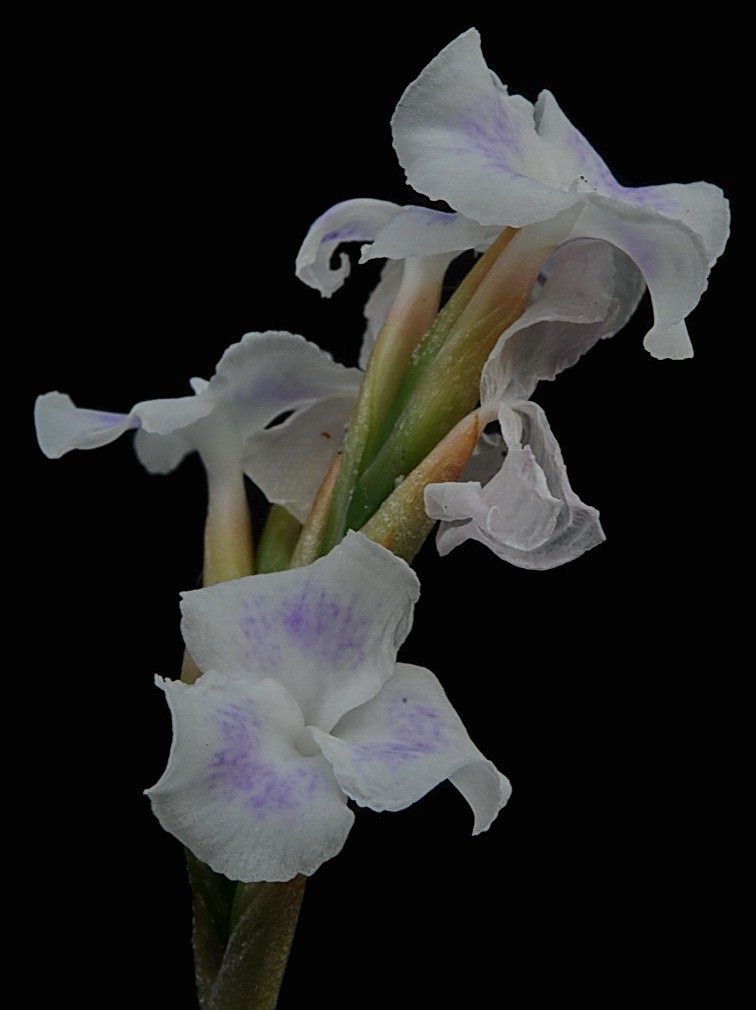 | | | | |
| --- | --- | --- | --- |
| Peter Tristram 12/11. streptocarpa White from Lotte Hromadnik. | Peter Tristram 12/11. streptocarpa White from Burkhard Holm. | Bruce Dunstan 12/11. As streptocarpa White. | Peter Tristram 12/11. As reichenbachii White from Barry Genn. |
Refer also to T. reichenbachii. See discussion below (not yet complete?) from Tillandsia discussion group...

Peter Tristram 19/12/11 - I decided to take some pics of a plant Barry Genn recently (very) gave me. It is referred to as T. reichenbachii White (flowered form) and a lovely little beauty at that. As you can see there is some pigment in those petals. What struck me was the close resemblance to a plant from Burkhard Holm - plant obtained as seedling from T. streptocarpa White and probably a cross of White with the normal form. Once again, interesting pigmentation on close examination. A macro of the white streptocarpa from Lotte is also attached and this one is all white with a yellow corolla – there is variation in this group of Lotte's collected plants.
Apart from how lovely these forms are, the name reichenbachii again confuses me. All of the plants I have seen and imported as either reichenbachii or tucumanensis (synonyms) are very small, only about 10-15cm in bloom whereas the descriptions refer to plants of 20cm or more with a dense rosette of polystichous leaves. Uwe Scharf has spent considerable time studying the complex including streptocarpa, arhiza, retrorsa, paleacea, duratii, graomogolensis and so on, both in the extensive European collections and in the wild. He makes interesting listening on this group, so I am going to ask if he has a summary he can help us with.
Chris Larson 20/12/11 - What I saw in the valley immediately to the north of Tucuman & most other places around NW Argentina was this smaller "reichenbachii" – the one we generally call reichenbachii here. Remember that Marj collected either 2 or 3 times in this area before she went there with me. I remember one locality in particular, probably somewhere near Salta or Jujuy, there was a location where there were heaps of what we call reichenbachii - and there were different coloured flowers at the same locality in dry scrubby forest, including the white one. Both Marj & I bought back a fair bit of the white one.
There is a form of "reichenbachii" that, I think, Cliff Norden used to sell at the BSA shows, which was quite a bit larger than the ones Marj & I collected, more like the 20cm plants of which you speak. Many nutters must have the descendants of Cliff's seedlings – as well as Marj's.
The strepto white from Holm can also be blue. I think that he may have been referring to foliage! It is certainly a chunky little white plant.
Bruce Dunstan 24/12/11 - My White streptocarpa flowered and it's white and purple as well.
Peter Tristram 24/12/11 - Hi Bruce. Was it from me? I have whites from 2 sources and only a couple of the Hromadnik ones are pure white, albeit with a yellow corolla.

---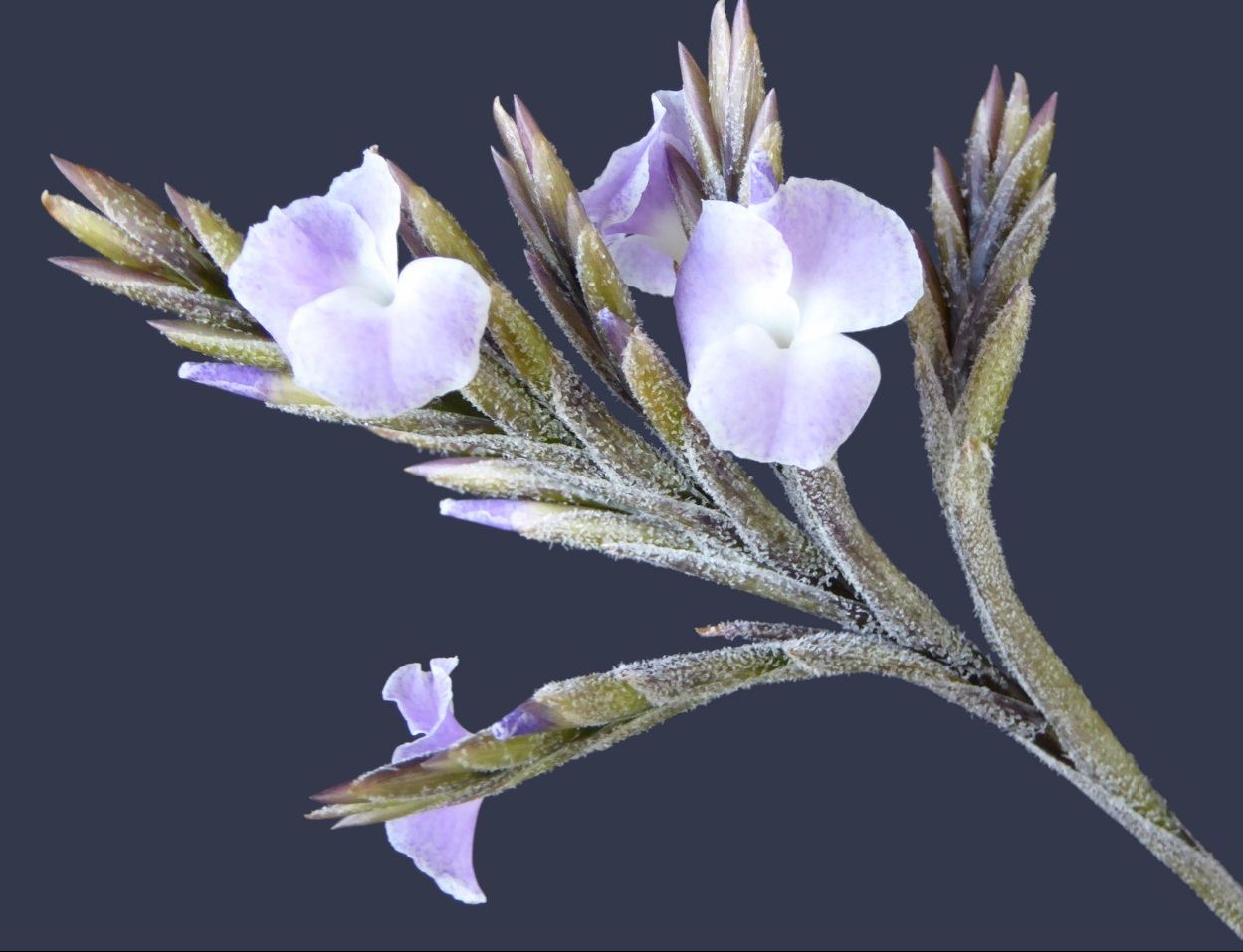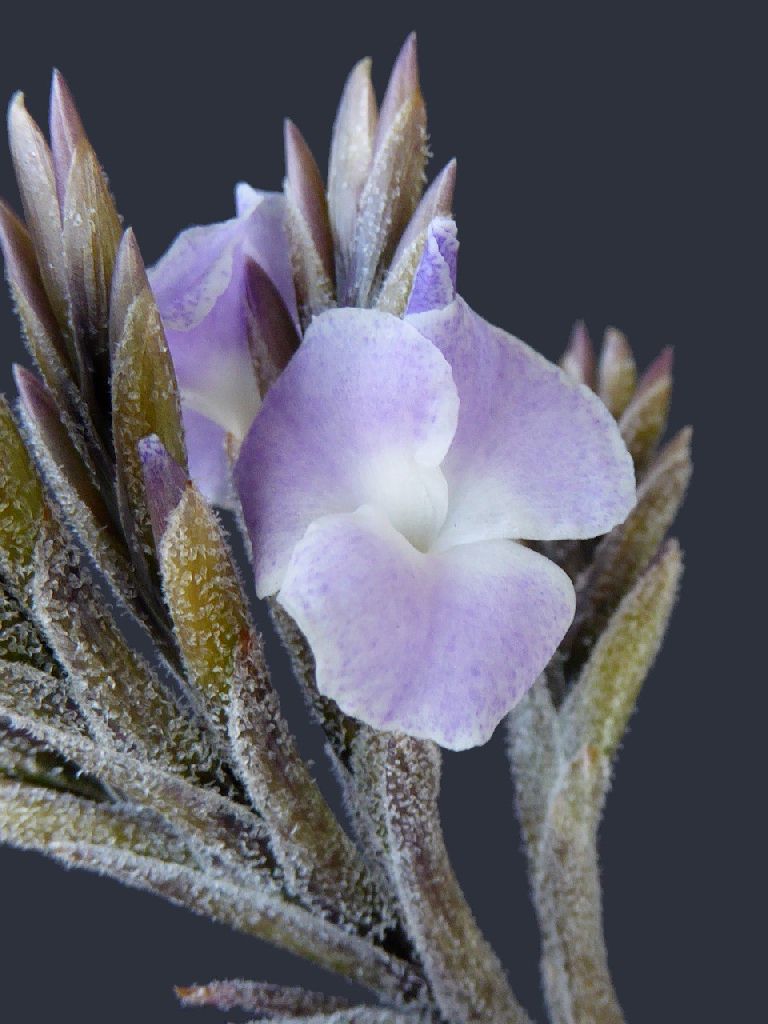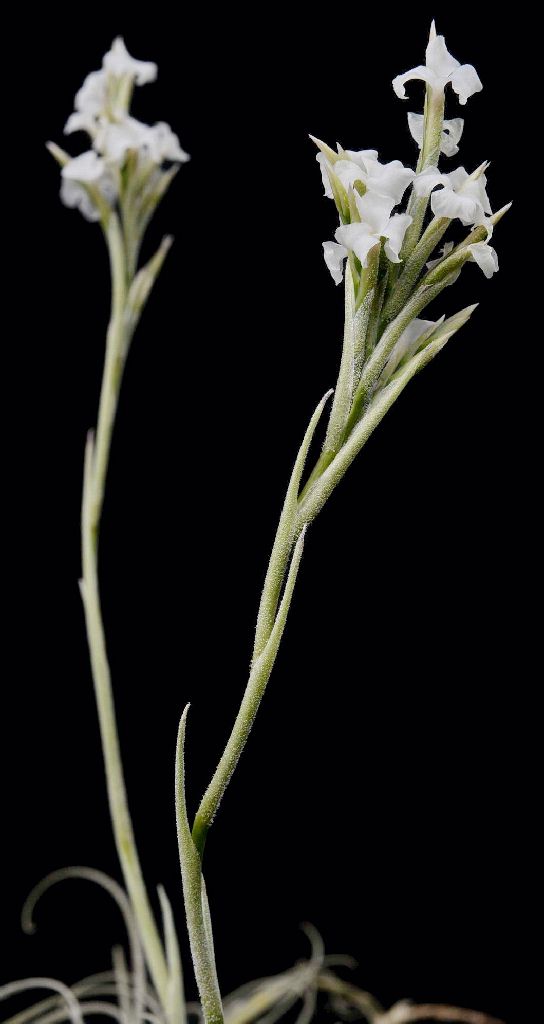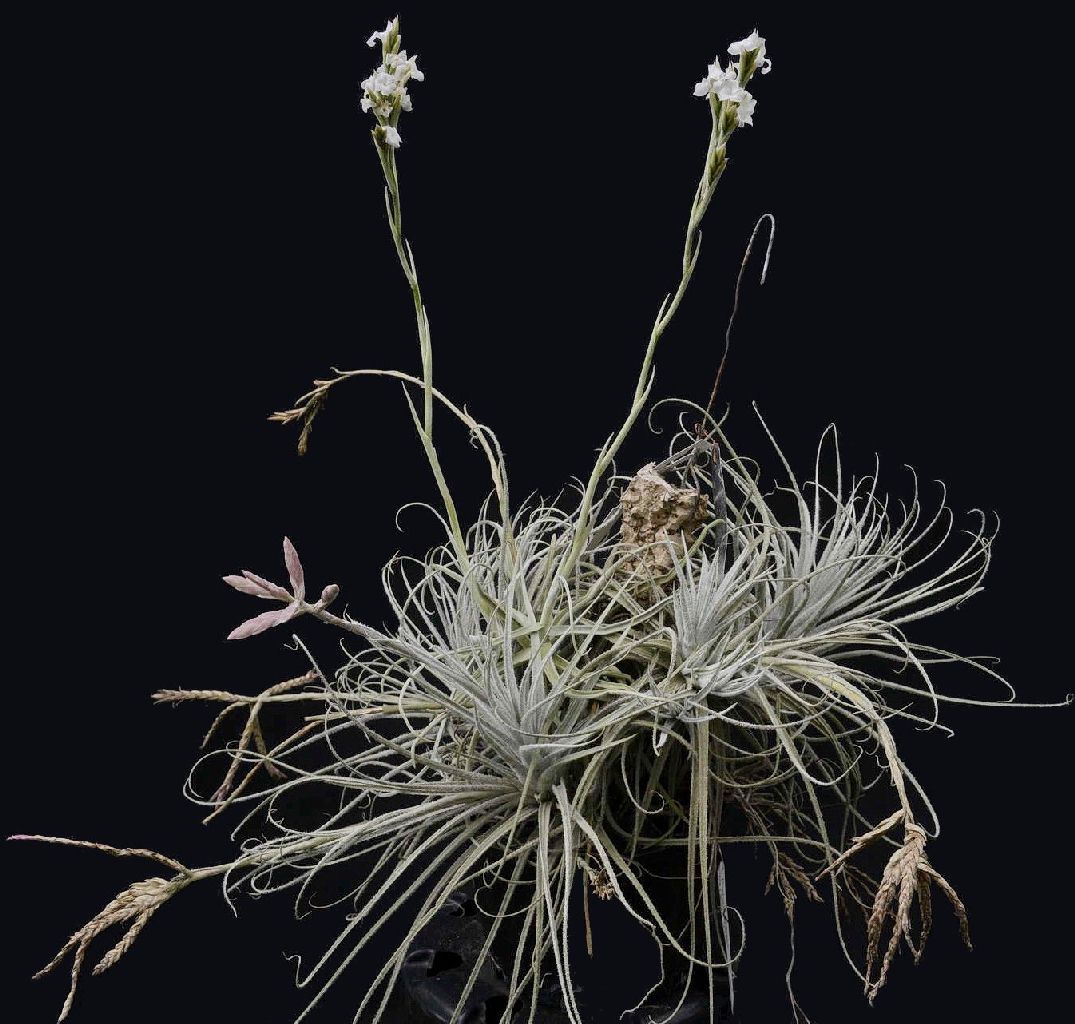 | | |
| --- | --- |
| Bruce Dunstan 10/17 ex. Peter Tristram | Peter Tristram 12/18 Lotte's white seedling on a tectorum |
Bruce Dunstan ... "First flowering of this plant for me. It is a few weeks ahead of the white streptocarpa that Bob Hudson has already flowered in Sunny Cairns. This has the beautiful scent and shares both parents in the resulting flowers."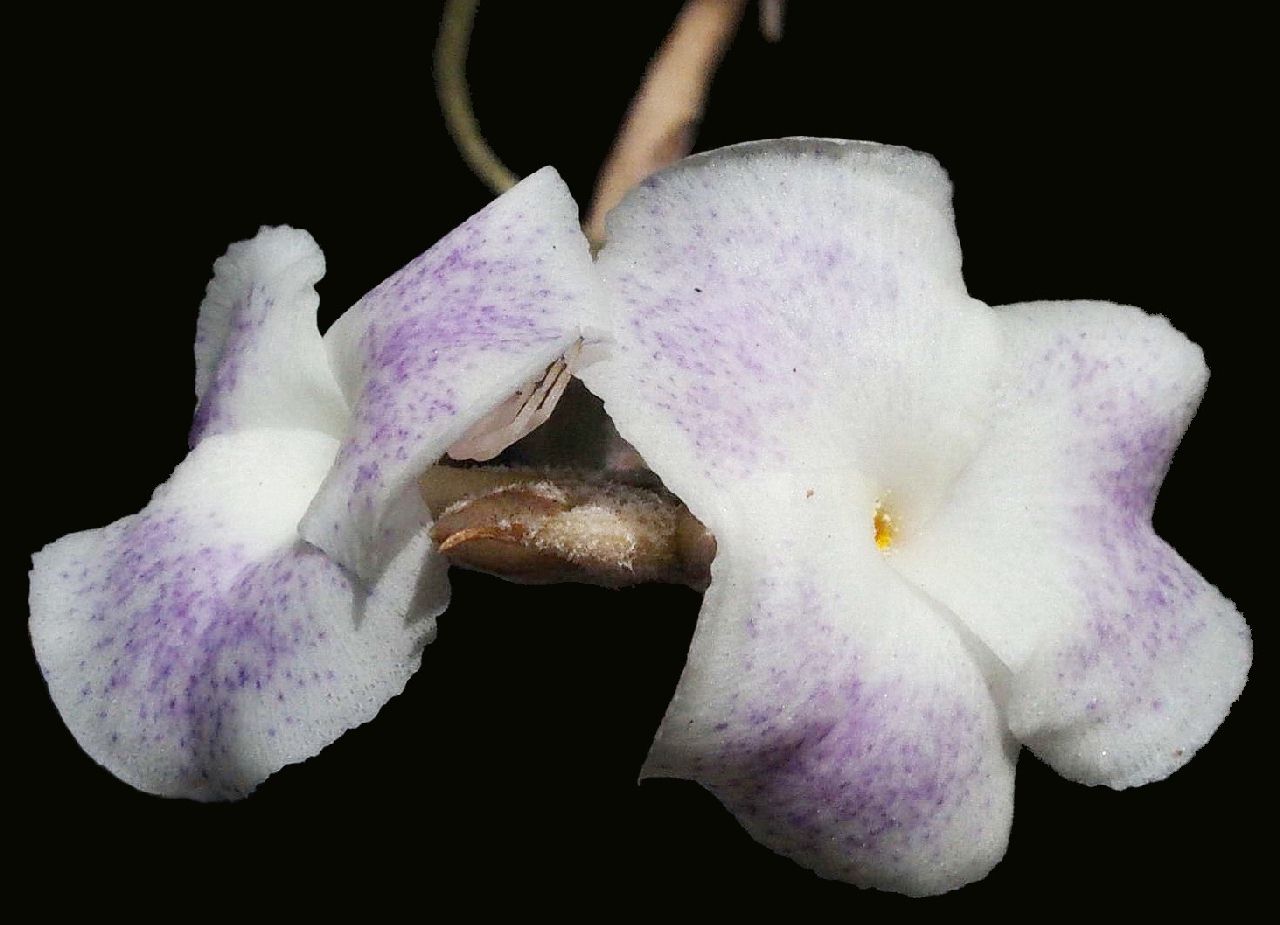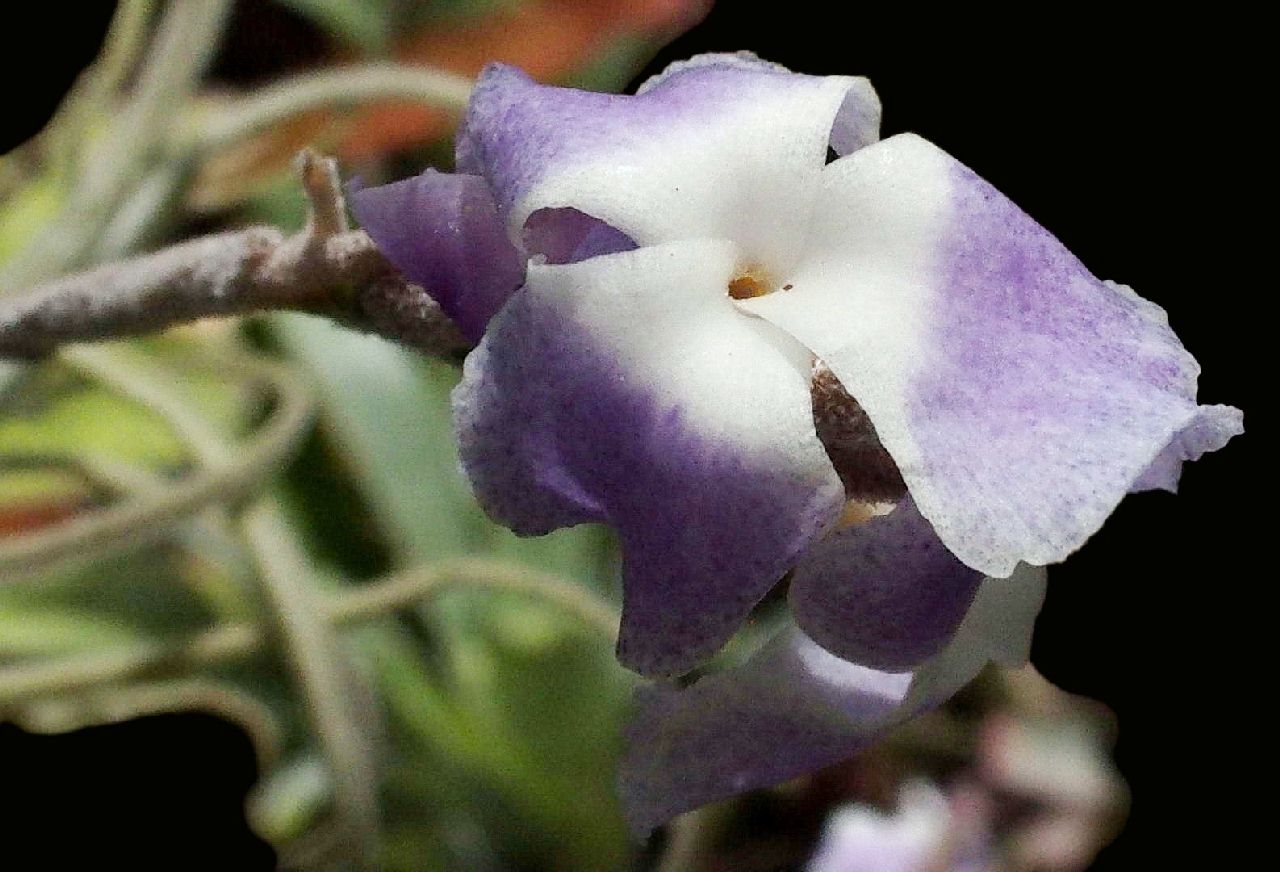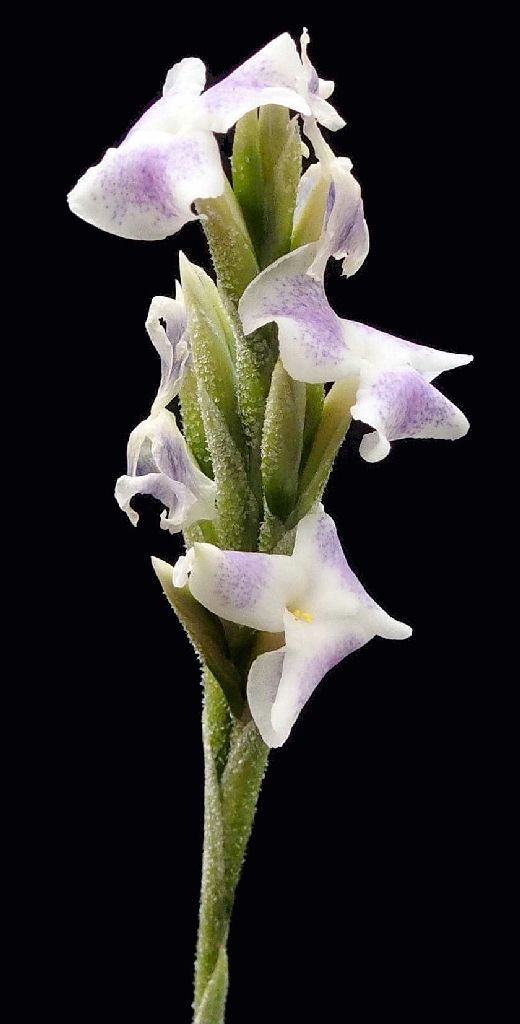 | | |
| --- | --- |
| Peter Tristram 12/18 white x blue PT, 2 types | Peter Tristram 12/18 white x blue Holm |
Peter Tristram ... "At the moment it's streptocarpa (and its relatives) blooming season. We see the various 'normal' blue flowered forms and the odd white ones being shown off and discussed here and there. A few years back I crossed some blue ones with a pure white form from Lotte, both ways, with bloomings over the last few years. Some collectors have bought them at various shows and Till days, under formula.
Holm also did a similar cross and Chris and I have bloomed them for a few years now.
The resulting plants have mostly spotted petals though some are blue with a large white throat. I took a few pics of 3 different crosses – see attached pics, with a lot more to burst flowers in the next couple of weeks. Over the next few years quite a few different versions will begin to bloom. Do I grex name them or give each seedling a name? No two are exactly the same! To date I have sold them under formula.
A streptocarpa seedling, which hitched a ride on one of Lotte's tectorum, has bloomed pure white too. Pics also attached. This year I have been busily pollinating white forms from 3 different sources (and some others!)."

---
Updated 09/05/19
---