Tillandsia rusbyi
Click thumbnails for full size, scaled to a new window.
---
Tillandsia rusbyi
Species from Bolivia & Peru.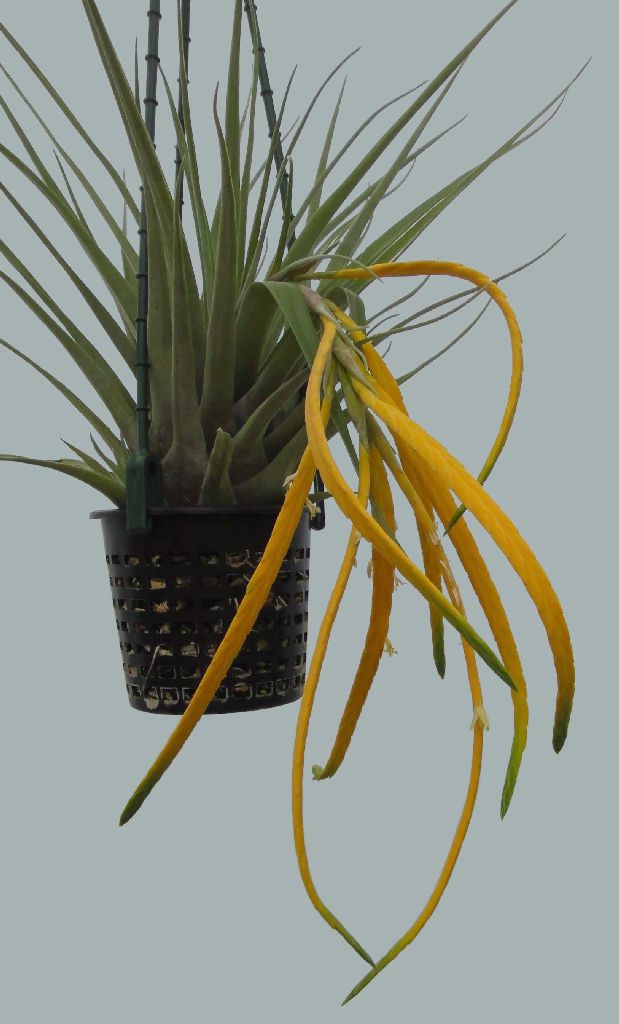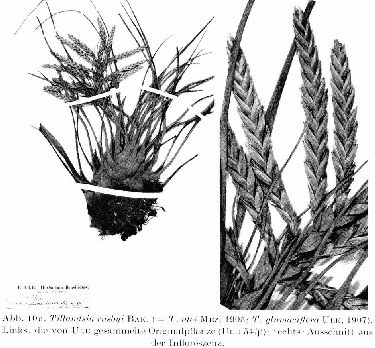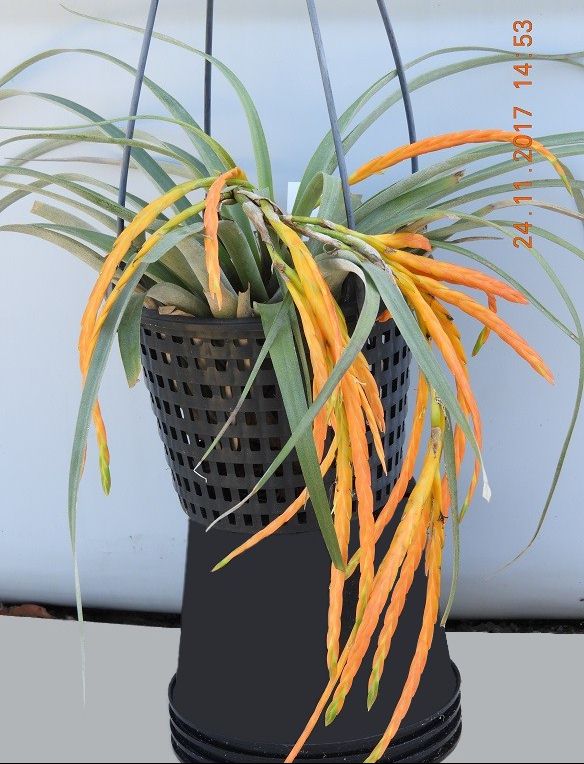 | | | |
| --- | --- | --- |
| Chris Larson 11/12. (probably T. barthlottii) | Herbarium specimens. Thanks to Derek Butcher 11/12. | Greg Jones 11/17 ex. Chris Larson (also T. barthlottii ?) |
Chris Larson 11/12... "Iíve just flowered this lovely plant from Jeffrey Kent. Native to Peru & Bolivia. Peter T. posted one a while ago, but this is my current favourite plant in flower. For a size ref, I think the pot is around 3Ē wide.
I canít find my photos of a flowering T. barthlottii at present, but I agree with Peter Ė this Ecuadorian plant is very similar to T. rusbyi. The only superficial differences between the plants that I have of each of these species are in size & the stiffness of the foliage. Check the photos on the disc & see if you think they look different."

Derek Butcher 11/12..."Chris, you are right in saying that your plant is close to T. barthlottii because I think it is. See DVD where Rauh went to great lengths to point out the differences between the two species. see attached. But when you look at the herbarium specimens of so called synonyms you start to wonder.

Ed. 07/14 ... See also notes on this website for T. barthlottii

Rauh ... "Vegetatively T. rusbyi can be compaired favourably with T. barthlottii. Resembling this, it forms a stemless, bulbose at the base, to 25 cm high rosette. Forming a virtual sphere, about 4 x 4 cm in size, a distinct sheath with dark brown scales with a narrow lanceolate, involute blade ca. 1 cm wide, tapering to a long, filiform tip, densely gray lepidote. The visible differences only appear at flowering. T. rusbyi does not have a digitate inflorescence with laxly hanging spikes but clearly pinnate, with to 5 cm long lepidote axis and in almost distichous order up to 12, spreading horizontally spikes ( fig. l0a). These have a 1-1.5 cm long stem and reach only to 6 cm long (with T. barthlottii to 40 cm), and 0.5 cm wide. The floral bracts in contrast to those of T. barthlottii are densely imbricate, ecarinate, densely lepidote, only 0.5 cm long and shorter than the sepals. With T. barthlottii however these are 1.2-1.5 cm long, much longer than the sepals and totally glabrous.
The Bolivian T. rusbyii Bak, in which L. B. Smith (in: Rhodora, Vol. 71, 1969, p. 244) also includes as synonyms T. buchtienii Winkl. (in: Fedde's Rep. Spec. Nov 7, 1909, p. 107) and T. guentheri Harms, (in: Notizblatt, Botan. Garten Berlin10, 1929, p. 794), is distinguished from the Peruvian species by having about 14, distichously arranged spikes that are half erect to spreading, 9-16 cm long, to 20-flowered; the 11-12 mm long, lepidote floral bracts are laxly imbricate and a little exceed the sepals; the Stamens enclosed. But T.barthlottii differs from the Bolivian plant by the finger forming branched, hanging inflorescence."
---
Updated 20/01/22
---