Tillandsia rubella
Click thumbnails for full size, scaled to a new window.
---
Tillandsia rubella
Species from Bolivia & Ecuador.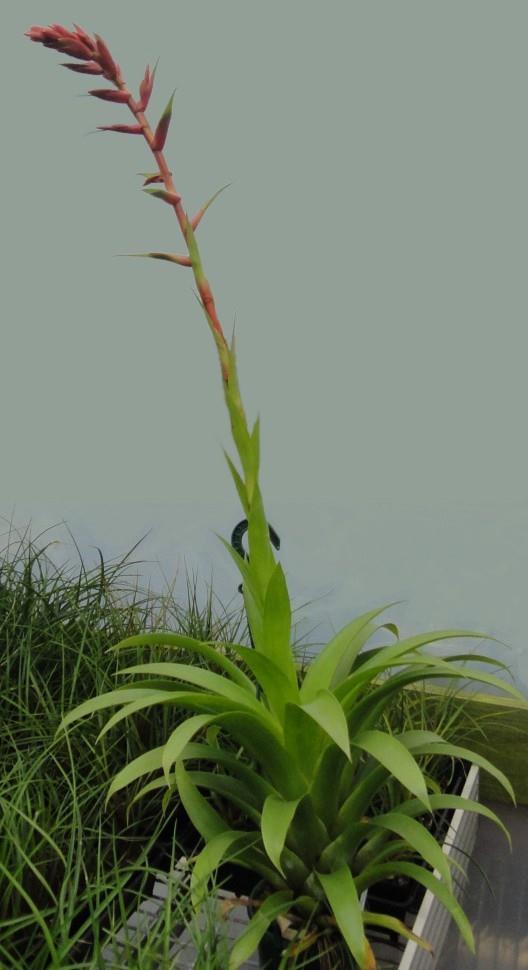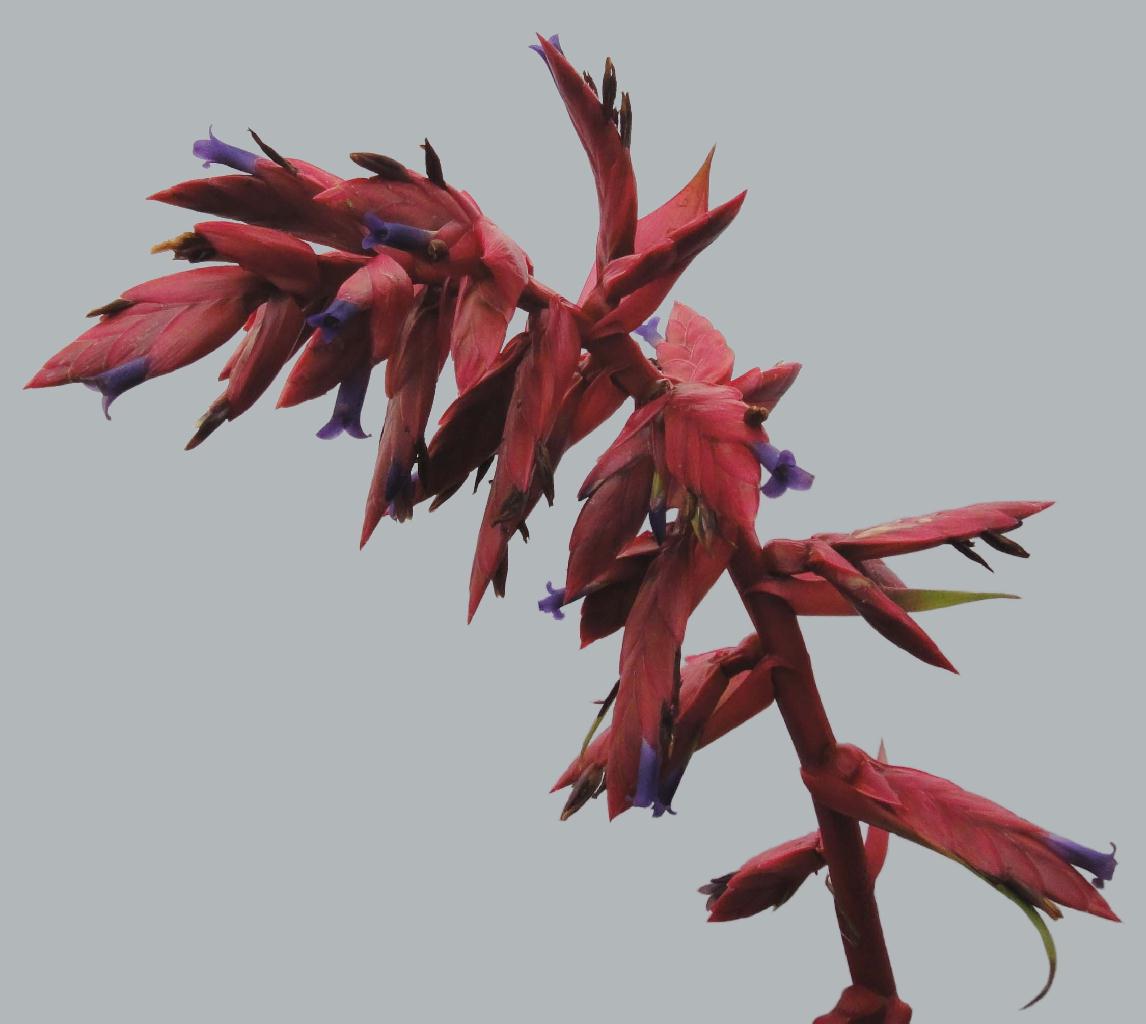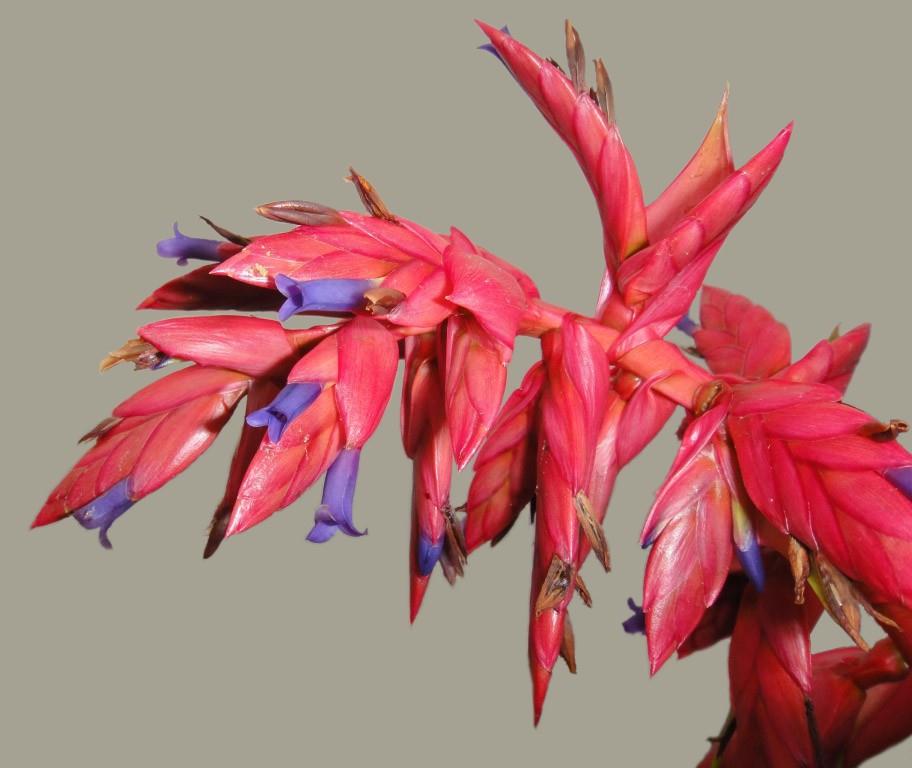 Chris Larson 10/11. "traces back to Cheryl, and was ID'd by Harry Luther."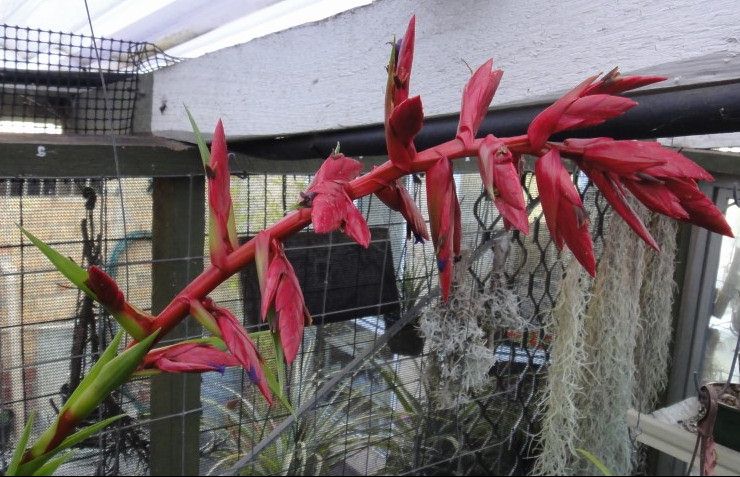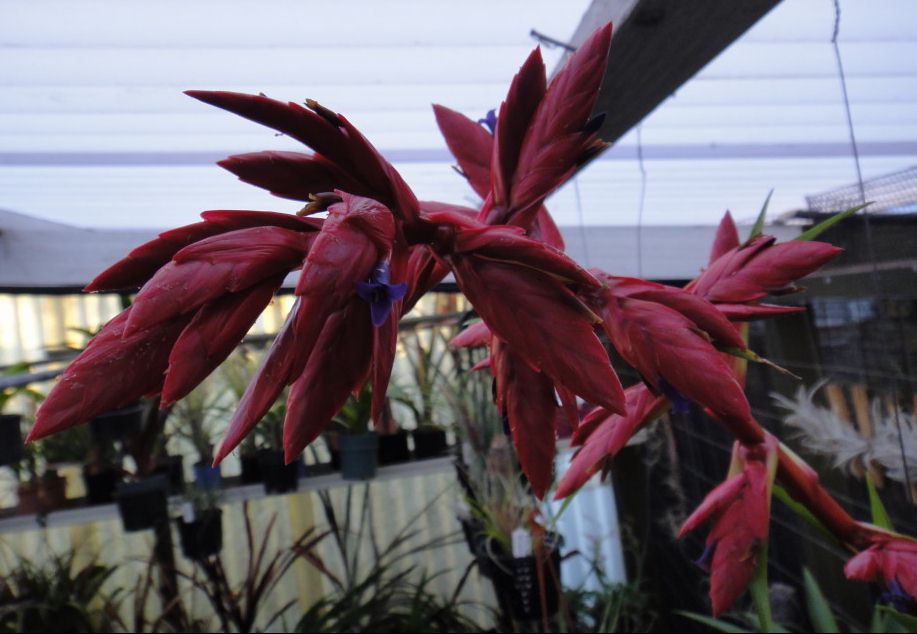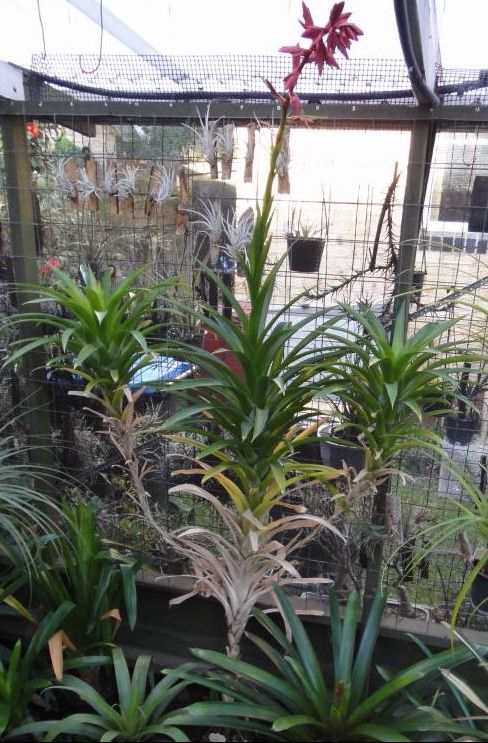 Chris Larson 08/12. "This is one of the mysteries we have been wondering about for over 10 years. Len Riddle said that he got it from Grace Goode as T. australis. I knew it wasn't & got a pup. Len Summers saw mine & wanted one too. The pups were tiny. But see now what Len has done to it. There has been much conjecture, but finally all has been revealed."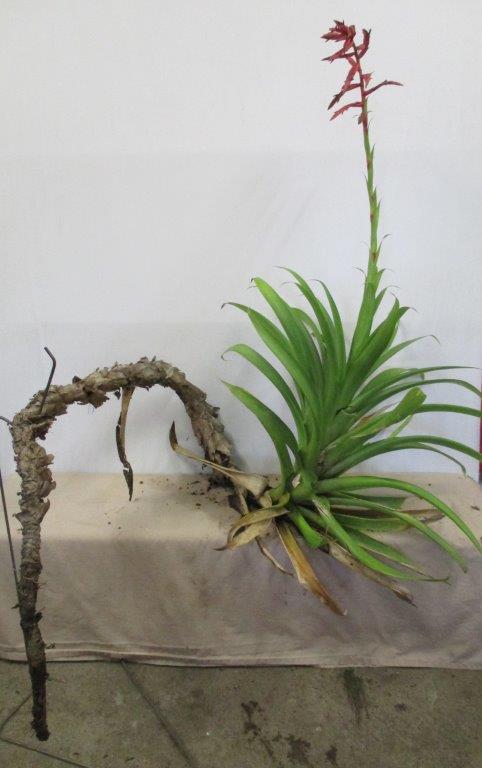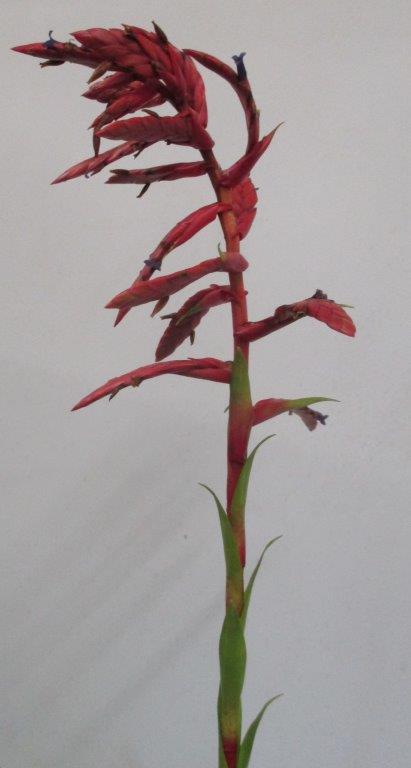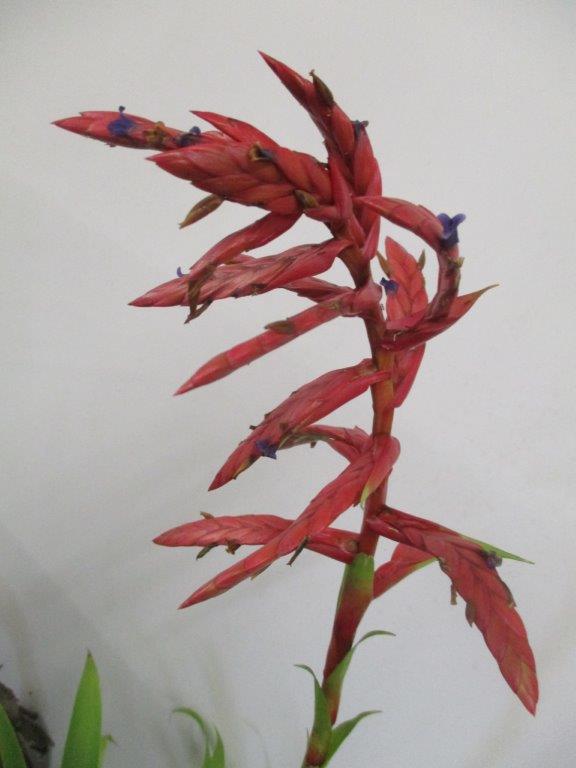 Ross Little ... "First time flowering for me, bought this T. rubella around 1997/98 from Peter Tristram. I've tried growing it mounted on cork, it's been potted with no success in getting it to set root, it just grew longer and longer so I left it to sprawl across the ground under trees for many years, I had to move it 18 mths ago and broke about one metre of its 'tail' off, it is now only 2.66 m long from tail to tip of the inflorescence x 650 mm across."
Chris Larson ... "Mine go well in a pot with straight orchid mix with plenty of food. Root well and flower well. Mounted ones on a starvation diet at home grow a lot slower and lose their lower leaves like yours. Very nice plant all the same."
Peter Tristram ... "Harry Luther ID'd this, though whether it is rubella I am not sure! Maybe we'll know more when Jose's Tillandsioideae book is published. I got the plant from Cheryl who brought it in from the US from Betty Patterson I think. She has travelled to Ecuador a lot. Whatever it is it's a beautiful Till and quite easy to grow for a high up species. The long stolons are a feature as well. I agree with Chris BUT it does do better in the cooler climes and in the cooler months here. It prefers indirect light too."
Derek Butcher ... "What makes you think Harry was wrong? Mind you there are discrepancies between S&D, Gilmartin and the Protologue but it seems to fit to me even to the elongated stem of Ross's"
- Botanical listing.....
Tillandsia rubella Baker. Jour. Bot. London 26: 44. 1888.
Desc from S&D p717-8
Plant stemless, propagating by stolons 9-15 dm long; flowering 5 dm or exceptionally to 13 dm high.
Leaves many in a loosely spreading rosette, 3-6 dm long;
Sheaths distinct, ample, subovate, covered with minute appressed brown scales;
Blades ligulate, acute with a recurved apex, 3-5 cm wide, chartaceous when dry, subglabrous, green, sometimes with fine purple spots.
Scape erect, exceeding the leaves, 9-14 mm in diameter, glabrous;
Scape-bracts densely imbricate, lance-elliptic, acute, the upper ones reddish.
Inflorescence 2-3-pinnate, ellipsoid to subthyrsoid, dense toward apex, interrupted below, red, glabrous or nearly so;
Axes glabrous;
Primary bracts spreading, ovate, the lowest acuminate and exceeding the branches, the upper acute, shorter than the branches;
Branches simple or the lower digitate with 3 spikes, suberect to spreading, to 6 cm long including the short naked sterile base;
Secondary bracts scarcely larger than the floral bracts;
Spikes lanceolate, acute, 2-6 cm long, 10-20 mm wide, slightly complanate, subdensely 8-12-flowered.
Floral bracts imbricate but partially exposing the rhachis, very broadly ovate, subobtuse, 14-20 mm long, slightly exceeding the sepals, submembranaceous, strongly nerved, cari¬nate toward apex.
Sepals ovate, subacute, 12-15 mm long, equally subfree, subcoriaceous, the posterior carinate;
Petals erect, 23 mm long, the blades narrowly elliptic; (violet – see Gilmartin)
Stamens included; anthers linear, acute, 4.5 mm long;
Ovary slenderly pyramidal; style equaling the stamens.
Type. Mandon 1187 (holotype K, K photo 7434, isotypes GH, P), Sorata, Larecaja, La Paz, Bolivia.
Distribution. Saxicolous on cliffs and epiphytic in low forest, 2200-3400 m alt, Ecuador to Bolivia.
Local Name. Horka (Foster 2533). Edible.

44. Tillandsia rubella Baker, 1888 (Jour. Bot. vol. 26) p. 44; Mez, 1935, p. 536.
Detail from Gilmartin 1972
Plant ca. 1 m tall;
Leaves 30-60 cm long,
Blades 3.0-4.0 cm wide, linear-lingulate, apex attenuate, subglabrous both surfaces, much red,
Sheath 9.0-16.0 cm long by ca. 10 cm wide, red-purple above;
Scape ca. 1.0 cm in diameter, erect-curving;
Scape-bracts 5.0-16.0 cm long, imbricate throughout, apices red, erect;
Inflorescence 20-50 cm long by ca. 5.0-8.0 cm in diameter, cylindrical, lax to sub-dense, bi- to tripinnate;
Primary Bracts 3.0-8.0cm long in part exceeding spikes, spreading to ascending, ovate, apex acute-caudate;
Primary branches 4.0-6.0cm long by 2.0-4.0cm wide, 0.8-3.0cm apart;
Spikes 2.5-3.5cm long by 1.0-1.4cm wide exclusive of petals or capsules, 2 to 3 spikes per branch; erect, distance between spikes 4-5mm;
Floral bracts 1.0-1.6cm long by 1.0-1.4cm wide, bicarinate, imbricate, nerved, glabrous without, lepidote within, apex acute;
Sepals 1.2-1.5cm long by 0.8-1.0cm wide, wide-ovate, subequally nearly free, acute, posteriorly carinate, strongly nerved, glabrous without, lepidote within;
Petals ca. 2.0cm long, violet. stamens included within corolla by 2-3mm;
Ovary 5-7mm long by 2-3mm in diameter, distance between flowers 4-6mm.
Material Examined: Mandon 1187 (B, TYPE) Bolivia; Foster 2533 (US) on steep cliff, Cochabamba, Bolivia, ca. 2200m; AJG 1158 (US) km 40 Loja-Cuenca, edge of "paramo" and dwarf forest, moderately common, Prov. Azuay, 2600m, 12 Aug. 1965; AJG 1167 (US) windy cliff, km 94 Cuenca-Guayaquil, moderately common, no water in tank, Prov. Azuay, ca. 2800m, 13 Aug. 1965; Asplund 7138 (US) Islote Chica, Lago Cuicocha, Prov. Imbabura, 3100m, 23 June 1939. Bolivia.

Protologue
145. Tillandsia rubella n. sp. Baker. Jour. Bot. London 26: 44. 1888.
Root-leaves lorate from an ovate dilated base , acute, a foot long, above an inch broad at the middle, thin, flexible, subglabrous. Peduncle much longer than the leaves; bract-leaves ovate, lanceolate, imbricated, almost entirely adpressed and scariose, the upper bright red. Inflorescence a panicle 6-8in. long; spikes numerous, simply distichous, erecto-patent, 1-1 ½in. long , 5/8in. diam., branch-bracts ovate-cuspidate, shorter than the spikes, bright red; flower-bracts ovate-oblong, obtuse or subacute, bright red, ½in. long. Calyx ½in. long, reaching to the tip of the bract; sepals glossy, much imbricated. Petal-blade narrow, acute, ¼in. long. Stamens not protruded beyond the petals.
Habitat. Andes of Bolivia, near Sorata, alt. 8000 ft., Mandon 1187! Nearly allied to T. rubra R. & P.
---
Updated 16/04/16
---