Tillandsia rodrigueziana
Click thumbnails for full size, scaled to a new window.
---
Tillandsia rodrigueziana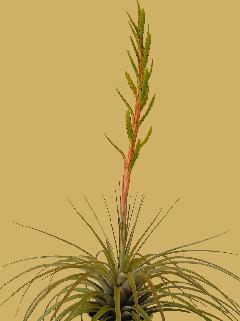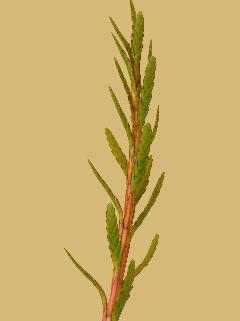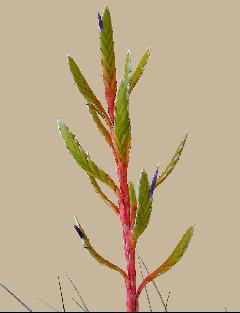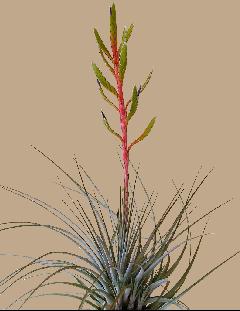 | | |
| --- | --- |
| David Scott's Reserve Champion at BSA Spring Show 2007. | Chris Larson's plant, BSA Spring Show 2009, photo Ken Woods. |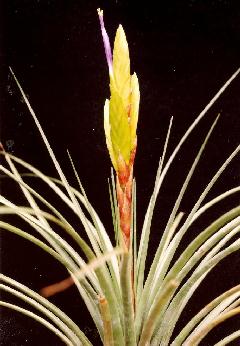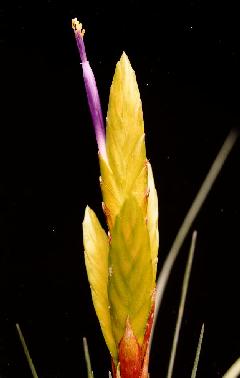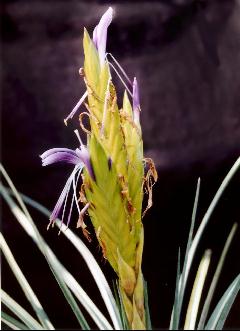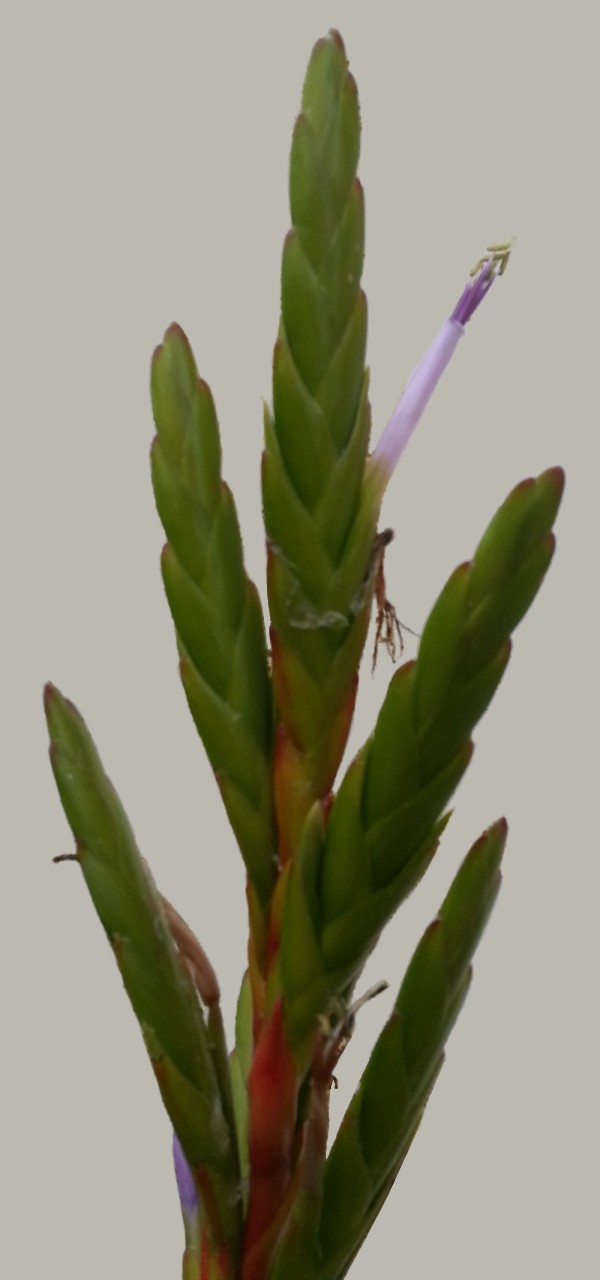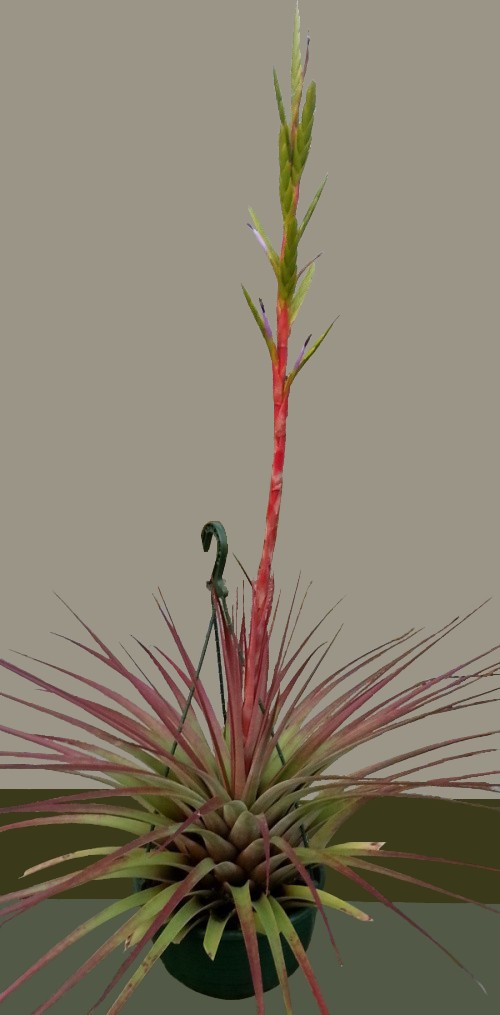 Chris Larson .... "Another of those plants which we imported as T. fasciculata 'Triclor'.
Many friends have this one as it came in some years ago & as many of you know, I'd rather these cheaper species get spread around the nutters before offering them to the general public where most will never be seen again. In the past I named them aff T. rodregueziana as I had never seen the flower & it was a rough guess – and I made this clear to those that wanted to take a punt. This doesn't have the twist in the branches associated with rodregueziana, but nice all the same.
This plant has thick leathery green leaves & looked good before flowering. The pot is an 8" pot. The plant has not been highly fed which is why I've had to trim the base leaves.
Due to the lack of provenance it can't be treated as a different species – and so it just goes into that mass of plants which show the morph between one 'species' & another."
| | |
| --- | --- |
| Peter Tristram 08/13 from WT. | Peter Tristram 08/13 from LK. |
Peter Tristram ... "I am not sure the aff is even necessary though as it has that rodrigueziana look about it, certainly more so than a couple I have in bloom (pics attached). One is from Lydia as rodrigueziana and the other from Walter as an unk, possibly dugesii. It is obviously not dugesii and both are probably in the rodrigueziana fold though even more aff. than your one. As you say, it's a morphing mix. It's a great species for the lumpers sporting a dazzling range of shapes, sizes and colours! Love them all!"
| | |
| --- | --- |
| Tony Tucker 10/19 | Barry Langridge (from Melbourne) 01/23 in location South Chiapas, Mexico. |
Tony Tucker ... "The tag says melanocrater, the eyeball ponders christagalli, seems too large for tricolor.
Is this within the range for rodriguezii? spike extends 60 cm beyond leaves. Waiting on a bloom but thankful for any id suggestions in the meantime."
Peter Tristram ... "Hi Tony, consider a form of the variable T. rodrigueziana."
Dale Dixon ... "These two Tillandsias have had their ID queried on an international Tillandsia page. First one was bought as T. botterii and the second one as T. rodrigueziana."
Peter Tristram ... "T. botteri. Plants were imported long back as tricolor but with multibranched spikes, ex Alfredo Lau, ex Vera Cruz area, in my case. We, at a TPE decided that these would be closer to botteri. Check the DVD. The Yanks sell a different plant with that name, not botteri either IMO. Harry Luther agreed re our decision on botteri.
The rodrigueziana could be one of mine, ex Selby, which I thought could be a large paraisoensis at one stage. (If not, then it's very similar!) That was before I had any verifiable paraisoensis. Renate actually had exactly the same plant in her car when I got a lift to a DBG conference (2006) and it was decided to be best left as rodrigueziana. I believe provenance played a part too. rodrigueziana is like fasciculata - so variable and likely a bunch of species lumped. Harry simply referred to the groups as hybrid swarms. I'm sure Pam knows more about the Mexican stuff than any of us!"

Peter Tristram 02/23 ... "It's great to see these habitat pics of so many species and forms of them that we have here. That rodrigueziana is a dead ringer for a form imported years ago though I'd have expected a drier habitat, or is it just a lush time of the yearly cycle? Enjoy your travels Barry!"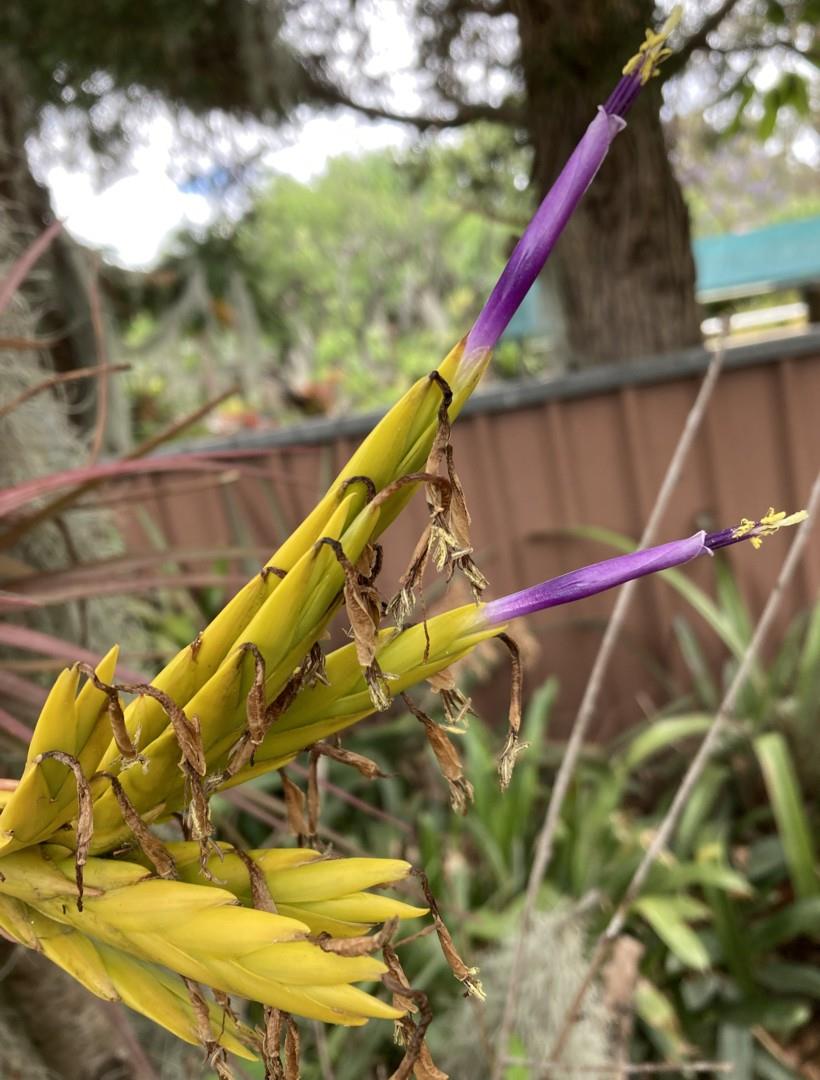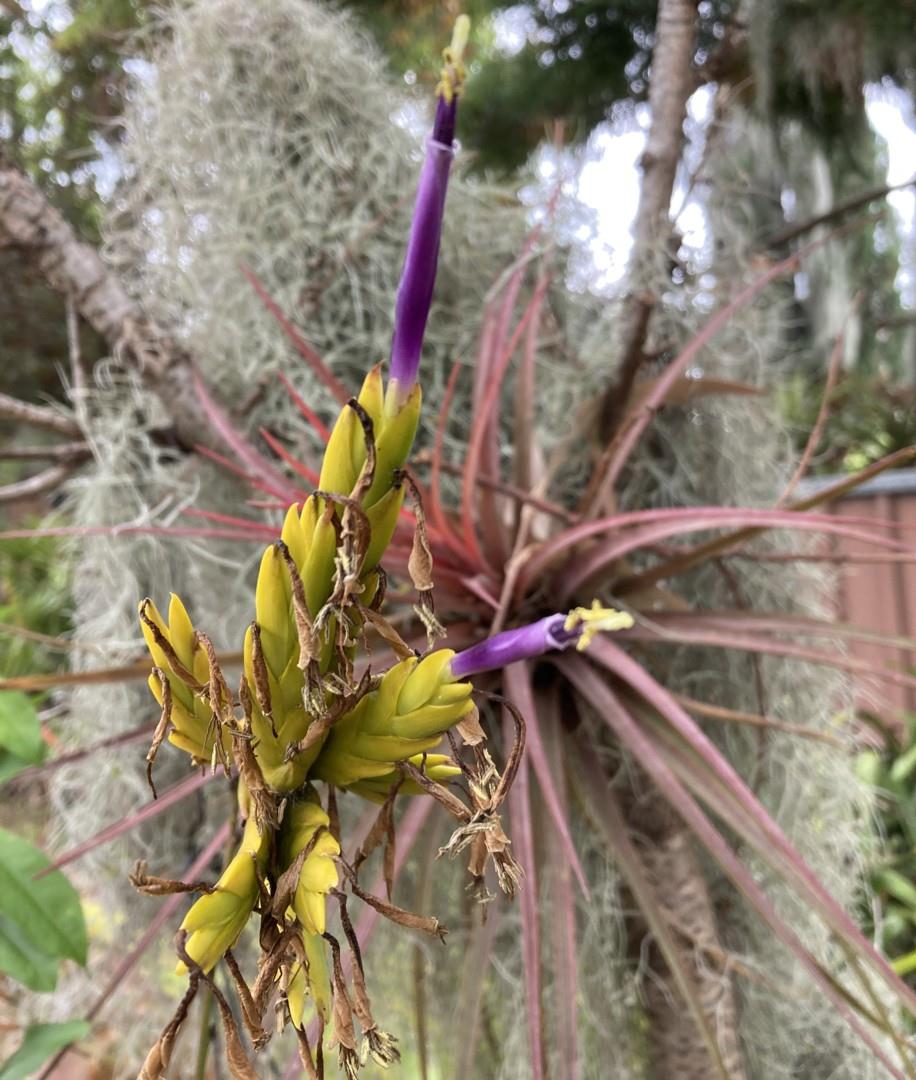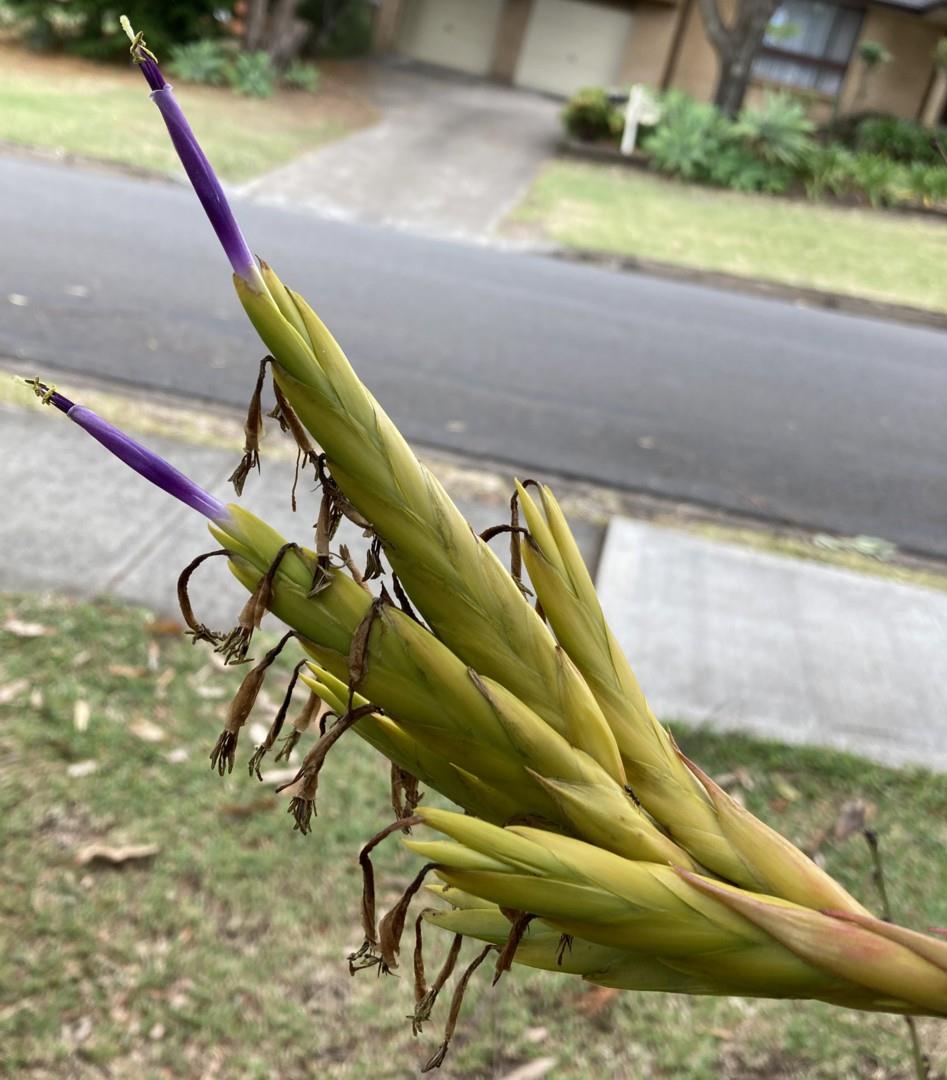 ---

Tillandsia rodrigueziana Mez, Repert. Sp. Nov. 16: 73. 1919.
Desc from S&D p955-6
Plant flowering over 1 m high.
Leaves 5 dm long, covered with appressed canescent scales;
Sheaths broadly ovate, dark brown;
Blades involute-subulate, attenuate, 35 mm wide at base, finely keeled, rigid.
Scape erect, stout;
Scape-bracts densely imbricate, densely lepidote, broadly ovate with long foliaceous laminae.
Inflorescence pinnately compound, subthyrsiform, decurved toward the apex, to 4 dm long and 2 dm thick;
Primary bracts like the scape-bracts but with short or no laminae, distinctly shorter than the axillary spikes;
Spikes sessile, erect to divergent, lance-oblong, complanate, very dense, 12-20-f1owered, to 12 cm long and 23 mm wide.
Floral bracts suberect, four to five times as long as the internodes and completely concealing the rhachis, ovate, cucullate, alatecarinate, 2 cm long, equaling the sepals, rigidly coriaceous, glabrous, even, sublustrous.
Sepals elliptic, obtuse, coriaceous, even, glabrous, the posterior ones carinate and connate for about half their length;
Petals tubular-erect, 4 cm long;
Stamens and pistil exserted.
Capsule cylindric, 4 cm long.
Type. Rodriguez s n (holotype B, B photo 1192/14-15), without exact locality, Guatemala, Jun 1884.
DlSTRIBUTION. Saxicolous on cliffs and epiphytic in open areas or in forest, 1200-2100 m alt, southern Mexico to Nicaragua.
MEXICO. OAXACA: Gullatao, 27 Apr 1960, Van Hyning 6050 (US). CHIAPAS: Tuxtla to Las Casas, 15 Apr 1957, Foster & Van Hyning 2950 (US); Teopisca, 1959, Van Hyning 5927 (US); Aguacatenango, Venustiano Carranza, 28 jan 1965, Raven & Breedlove 20086 (US); 7 Mar 1965, Breedlove 9252 (US); Burrero, Zinacatan Center to Ixtapa, 20 Apr 1966, Laughlin 711 (US). GUATEMALA. BAJA VERAPAZ: Santa Rosa, 30 Mar 1939, Standley 69753 (F); 69788 (F); 4 Apr 1941, 91263 (F, GH).
SACATEPEQUEZ: Antigua, Standley 58822 (F). CHIMALTENANGO: Chimaltenango to San Martin Jilotepeque, 25 Nov 1938, Standley 58008 (F). SOLOLA: San Pedro to Volcan Santa Clara, 8 Jun 1942, Steyermark 47309 (F, GH). SANTA ROSA: Volcan Jumaytepeque, Nov 1892, Heyde & Lux 4631 (GH, US). HONDURAS. TEGUCIGALPA: km 26, Tegucigalpa to Zamorano, 9 Jul 1964, Gilmartin 964 (US). SALVADOR. SANTA ANA: Hacienda Los Planes, 15 Feb 1950, Rohweder 160 (HBG); Volcan de San Vicente, 7 Mar 1951, Rohweder 161-167 (HBG). MORAZAN: Montes de Cacaguatique, 13° 46' N, 88° 13' W, 13 jan 1942, Tucker 780 (F, UC, US). NICARAGUA. JINOTEGA: Jinotega west to Cerro de la Cruz, 27 Jun 1947, Standley 10305 (F); Jinotega to Matagalpa, 1 Apr 1961, Bunting & Licht 990 (US).

From Mez 1935
46. T. Rodrigueziana Mez in Fedde, Rep. XVI. (1919) 73.
Plus quam metralis, validissima. Folia semimetralia, super vaginam ad 35 mm lata, indein apicem subuliformem sensim angustata, rigidula, sicca canaliculato-involuta, lepidoto-canescentia. Scapus validissimus, erectus, dense vaginis e late ovato laminigeris, internodia superantibus involutus. Inflorescentia myriantha, dense 2-pinnatim panniculata, apice conspicue nutanti-decurva, subthyrsoidea, usque ad 0,4 m longa et 0,2 m diam. metiens mihi visa; bracteis primariis vaginis scapalibus isomorphis sed brevius vel vix laminigeris, quam spicae axillares permulto brevioribus; spicis sessilibus, axi optime pinnatim insertis, multis, subaequalibus, dense flabellatis, parum complanatis utraque facie convexiusculis, ad 20-floris, usque ad 0,12 m longis et 23 mm latis mihivisis nonnunquam minoribus; bracteis florigeris dense imbricatis, rigide coriaceis, dorso glabris laevibusque, apicem versus acute carinatis et minute incurvis, ad 20 mm longis, sepala aequantibus. Flores stricte erecti, vix infra 35 mm longi; sepalis antico libero, posticis binis fere medium usque connatis, coriaceis, glabris laevibusque, ellipticis, apice rotundatis, ad 25 mm longis. Petala sepalis ad 20 mm longiora, tubulose erecta, quam stamina breviora.
Guatemala : ohne Standortsangabe (Rodriguez), am Vulcan Jumaytepeque, Dept. Sta. Rosa (Heyde und Lux ed. Donnell-Smith n.4631).
---
Updated 24/11/23
---