Tillandsia remota
Click thumbnails for full size, scaled to a new window.
---
Tillandsia remota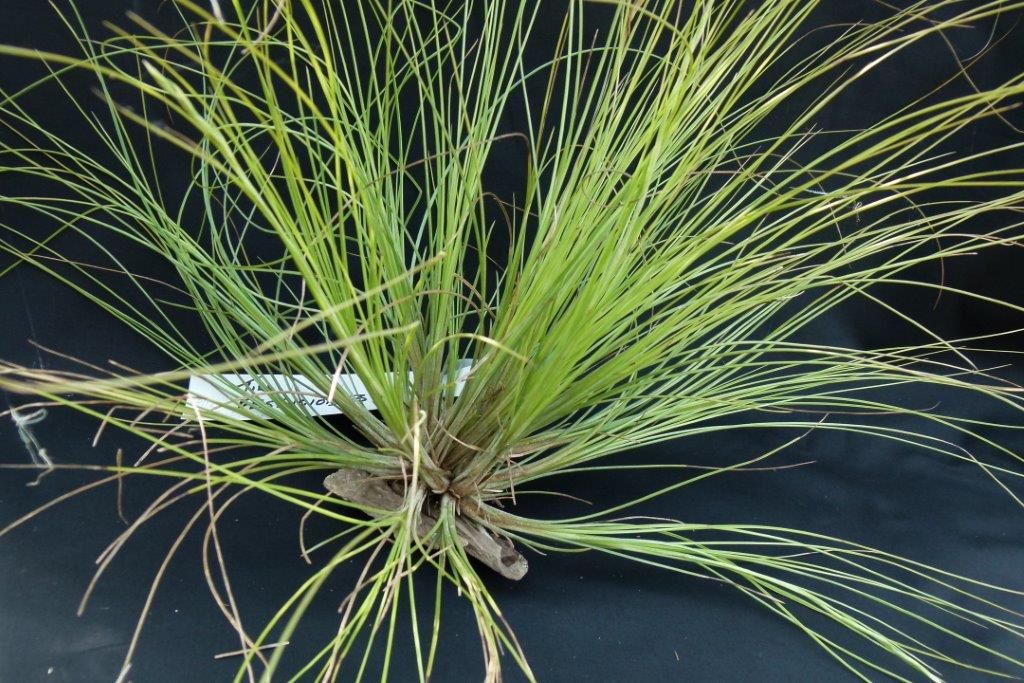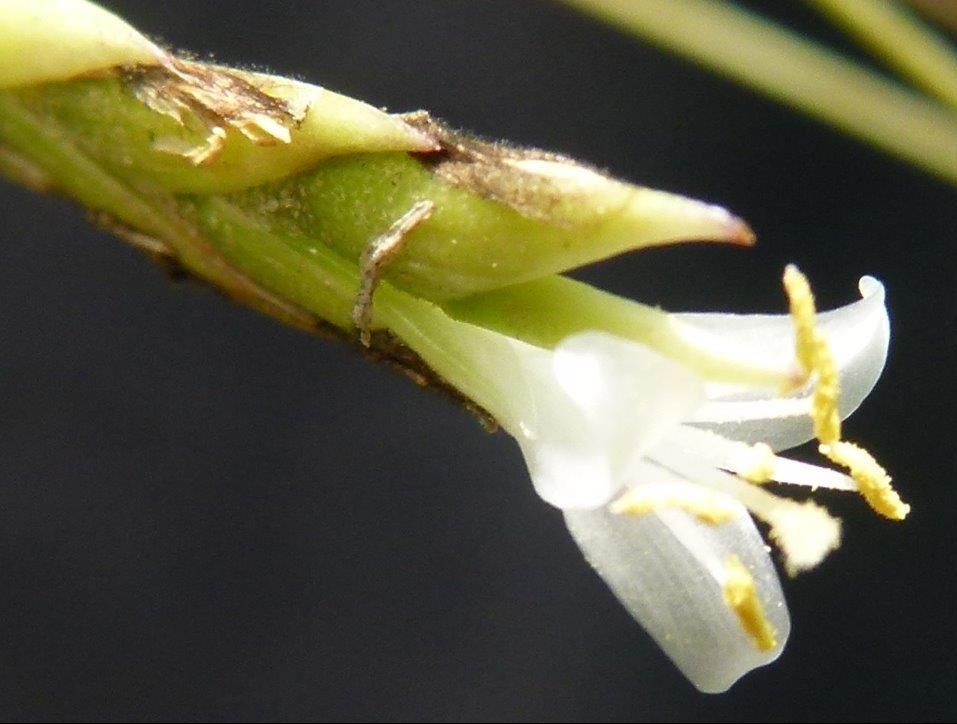 Nanette Collingwood 04/20

Nanette Collingwood ... "These are photos of my clump of T. remota, purchased as T. festucoidies, the plant habit and flower proved otherwise.
A few years on, it is a lovely clump. I have no idea of how many plants, more than a meter in diameter though."

---

Tillandsia remota Wittmack, Bot. Jahrb. 14 (Beibl. 32): 6. 1891; L. B. Smith, Phytologia 8: 10 ,pl. 1, figs. 12-14. 1961.
Tillandsia tenuifolia sensu L. B. Smith, N. Am. Fl. 19: 133. 1938; in part, as to Tillandsia remota Wittmack.
Desc from S&D p765-7
Plant stemless, flowering 4 dm high.
Leaves about 20 in a fasciculate rosette, to 5 dm long;
Sheaths conspicuous, triangular, hyaline-margined, brown toward base, covered toward apex with a membrane of appressed scales;
Blades setaceous, filiform-attenuate, 5 mm wide at base, gray-green, more or less glabrescent toward apex.
Scape erect, very slender, about half as long as the leaves;
Scape-bracts imbricate, closely involute about the scape, lanceolate, elongate, filiform-laminate.
Inflorescence very laxly bipinnate from 3-4 spikes;
Primary bracts erect, lanceolate, long-acuminate, submembranaceous, equaling the lowest spike;
Spikes sessile with one edge next the axis, lanceolate, acute, 30 mm long, 5 mm wide, complanate but with convex sides, densely 5-7-flowered.
Floral bracts imbricate and covering the rhachis, very broadly ovate, acute, 10 mm long, about equaling the sepals, carinate and incurved toward apex, nerved, sparsely lepidote;
Pedicels short but slender.
Sepals lanceolate, acute, 8 mm long, half connate posteriorly, chartaceous, even, glabrous;
Petals spreading or suberect at anthesis, white, very fragrant (! Foster), the blades elliptic, acute, 5 mm long;
Stamens included; pistil exserted.
Type. Bernoulli & Cario 680 (holotype GOET, US photo), Riojoja (?), near Mazatenango, Suchitepeguez, Guatemala, May-Jun 1870.
DISTRIBUTION. Epiphytic in open areas, 186-1000 m alt, Mexico, Guatemala, Sal-vador.
MEXICO. SINALOA: Rosario, 6. Jul 1897, Rose 1553 (US); Colomas, foothills of the Sierra Madre, 16 Jul 1897, Rose 1709 (US); Rosario, Picachos, Sep 1932, Ortega 7128 (US), VERA CRUZ: Orizaba, Botteri 50 (US); Coatepec, 11 Apr 1957, Foster & Van Hyning 2986 (US): OAXACA: Cafetal Montecristo, 2 Apr 1917, Reko 3028 (US), GUATEMALA, ZACAPA: Gualan, 16 Jun 1909, Deam 6299 (US), SUCHITEPEQUEZ: Mazatenango, May 1870, Bernoulli 1193 (K, GH photo), ESCUINTLA: Anubis, near Obispo, 21 Apr 1937 , Muenscher 12394 (F), SALVADOR, AHUACHAPAN: Near Ahuachapin, Jan 1922, Standley 19775 (GH, US); Jan 1947, Standley & Padilla 2486 (F). SANTA ANA: Chalchuapa, 1922, Calderon 1022 (US). SONSONATE: Izalco, Mar 1922, Standley 22186 (GH, US). LIBERTAD: Laguna de Zapotitin, 9 Apr 1951, Rohweder 71 (B, HBG); 72 (HBG); 14 May 1951, 73 (HBG). SAN SALVADOR: San Salvador, Aug 1922, Calderon 1091 (US); Apopa, 9 Jan 1951, Rohweder 69 (HBG); 70 (HBG). LA PAZ: Road to Zacatecoluca, 15 May 1951, Rohweder 74 (HBG).
LOCAL NAME. Gallito (Standley 22186); zacate (Ortega 7128).
Rohweder Ab. Gebiet Auslandsk. Univ. Hamburg 61(Reihe C, 18); 70. 1956 has already clarified the distinctions of Tillandsia remota from his field observations and there can be no doubt that it is in a different subgenus from T. tenuifolia Swartz despite strong superficial similarity.

TILLANDSIA REMOTA Wittm. by L. B. Smith, Phytologia 8: 10 ,pl. 1, figs. 12-14. 1961.
Tillandsia remota Wittm. in Engler, Bot. Jahrb. 14, Beibl. 32:6. 1891; Mez in DC. Monogr. Phan. 9: 637, 673. 1896.
Tillandsia tenuifolia sensu L. B. Smith, No. Am. Fl. 19:133. 1938, in part, as to Tillandsia remota Wittm.
In describing Tillandsia remota, Wittmack did not see complete stamens and did not commit himself as to their length, although he surmised that they about equaled the petals. Mez made the rather natural assumption that, like the majority of species in Mexico and Central America, it had exserted stamens. Furthermore the habit of T. remota is so close to that of T. tenuifolia that it is difficult to distinguish them without good flowers, Mezís key character of spike position being worthless. Actually the spikes, bracts and flowers of T. remota are even smaller than those of T. tenuifolia, and the axes still more slender. Also T. remota has distinctly nerved floral bracts and posterior sepals more than half connate, but the spreading petals and included stamens are the most distinctive character, placing the species in the subgenus Allardtia instead of in subgenus Tillandsia with T. tenuifolia. To date T. remota is known from Mexico, Guatemala and Salvador.
Pl. I, fig. 12: Inflorescence (Bernoulli 1193) x Ĺ; Fig 13: Inflorescence (Foster & Van Hyning 2986) x 1; fig. 14: Petal and stamen x 2.
---
Updated 05/01/21
---