Tillandsia ramellae
Click thumbnails for full size, scaled to a new window.
---
Tillandsia ramellae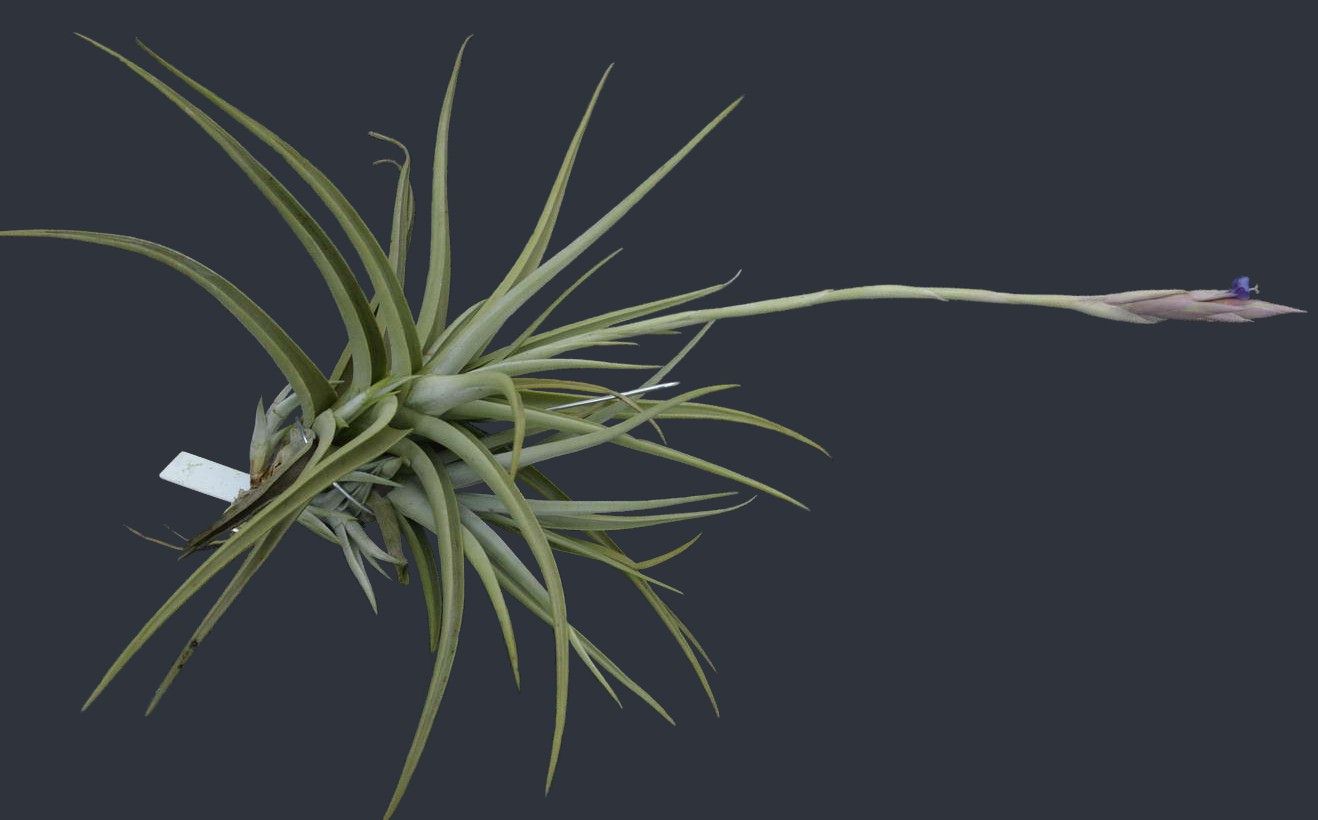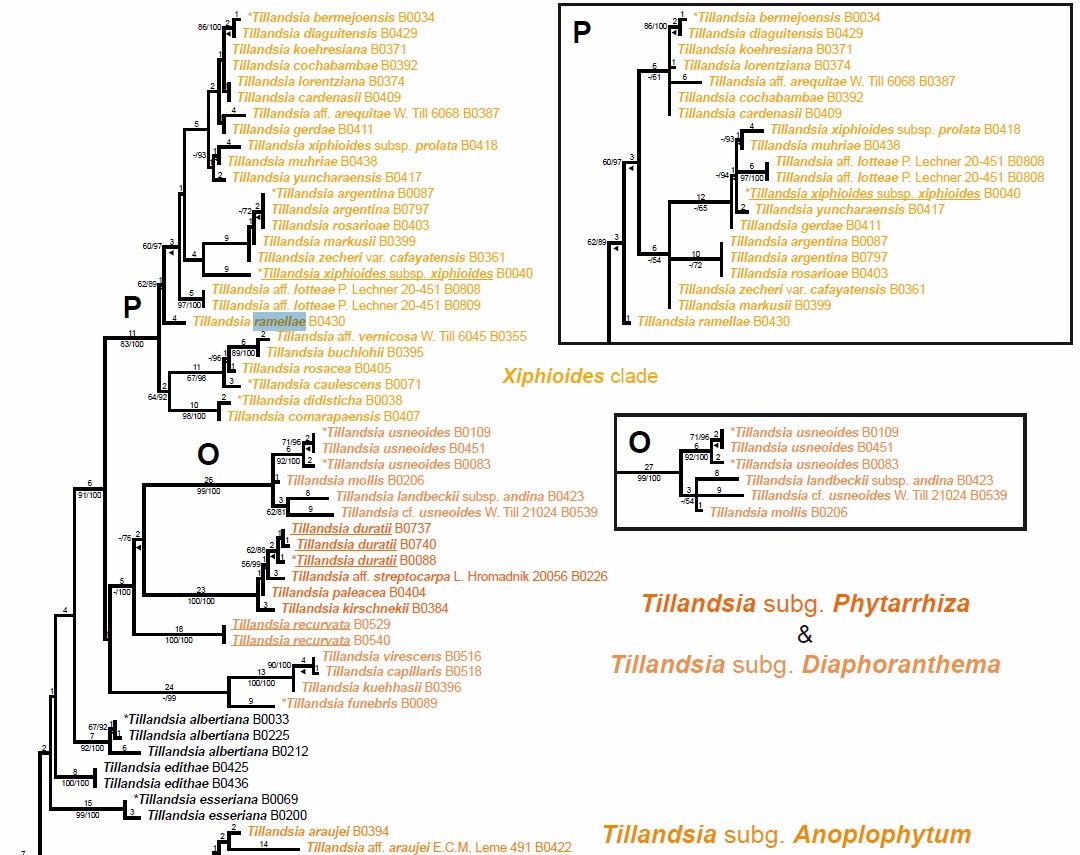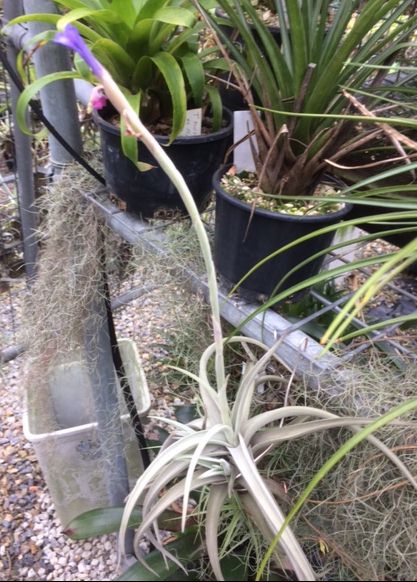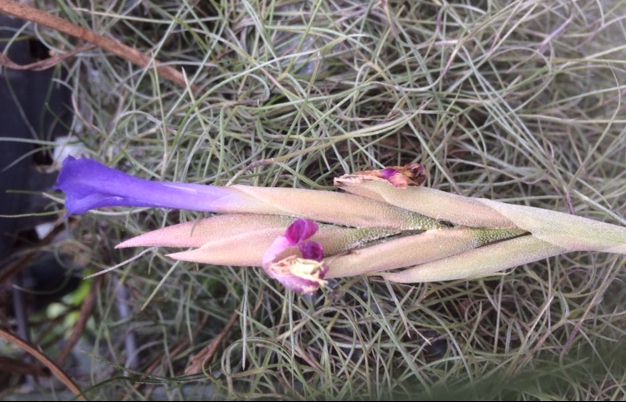 | | |
| --- | --- |
| Peter Tristram 06/17 | John Olsen 02/18 |
Peter Tristram ... "This one is for Bruce Dunstan before he disappears over the horizon into the soggy Heaven of NW Ecuador. I am waiting for fresh flowers to do a better photo shoot. Interesting species!"
Len Colgan ... "This rare(?) T. ramellae species comes from the Chaco desert-like region in the north-west of Paraguay near the Bolivian border. How long have you had it before it flowered? I have a couple of large clumps from many years ago, but none have yet flowered.
Even though the differential diagnosis was with T. esseriana (also from Paraguay), it does seem closer to the T. lorentziana group. What is your opinion?"
Peter Tristram ... "I first got it as xiphioides var lutea from Renate but soon realised the mistake! Bruce got a piece (as xiph lut – I am not a hoarder!), fattened it up and released a few plump ones last year at the Brisbane Till Day. I decided to buy back a fine specimen and it is the one in bloom. I have another coming into bloom too. I also acquired the species from Holm, Heidelberg, Lotte, Walter (got to be the real deal!) and other sources, not always as ramellae either, hence so many sources, but the 'look' of the plant gives it away. Whether they are all the same clone I do not know.
I checked on its placing in the 2012 Barfuss dna chart and it fits in on its own branch evolving separately but at roughly the same time as lotteae, etc (see chart). T. lorentziana is in there too but perhaps a little more distant. I'd love to see photos of the habitat and might ask Walter if he has any. I've parted with quite a few over the years and wonder if anyone else has bloomed it. Timm Stolten asked me to send photos if I ever bloomed one so it must be a rare occurrence. Nutters might find the info in Derek's dvd very interesting too."
Len Colgan ... "Very interesting Peter!"
When I visited Walter Till in the mid-1990s about the time the species was described, he was reluctant to reveal the precise location to me, probably concerned about over-collecting. However, I see that he did provide quite accurate coordinates in the description of T. ramellae, which comes from a restricted habitat.
I gather from your comments that it is more spread in Australia than I imagined, certainly more so than in the USA.
Do you know about Walter's co-author in the description of this species? Susanne is Walter Till's wife. I believe there are only one or two tillandsias that they jointly described. I have always wondered if they might have been together in Paraguay at the time."
Pam Butler ... "I purchased my plant from Peter in 2009 and I am still waiting for it to bloom."
Peter Tristram ... "I think Susanne is Walter's wife. He has mentioned a lady and a couple of very large dogs to me.
I hope the habitat remains largely intact. Unfortunately commercial collectors have decimated localised accessible populations of desirable Tillandsia species in various counties. I hope those days are past and populations can recover. Because T. ramellae is such a stunning species and pups well it will become more known and likely even more in demand."
Bruce Dunstan ... "Attached is Pitcairnia susannae named for Susanne. We saw it in Western Colombia in Pluvial forests. It was described in Ecuador so we may see it in the coming weeks." (Ed. See Pitcairnia entry.)
---
Len Colgan 02/18 ... "Well done John, I have had plants of this Paraguayan desert species for a long time, but not one has ever flowered."
Bruce Dunstan 02/18 ... "Same for me Len. I have taken pieces off my clump and they flower for others but I'm still yet to flower it."
Peter Tristram 02/18 ... "I bloomed 2 plants last year, ex Bruce, ex me lol but apparently with altered chemistry! One of Bruce's chemically enhanced plants had a branched spike. I'm sure I posted pics which I also sent to some of my European colleagues who'd always asked to see a blooming specimen. Walter disputed its identity until I let him know the specimen was well fertilised. He was happy with the single spiked plant though, both from the same mum. I tried to pollinate and cross it without success. So, Len, you might have to feed yours!"

---
Updated 10/05/18
---