Tillandsia punctulata
Click thumbnails for full size, scaled to a new window.
---
Tillandsia punctulata
Species Honduras/Mexico.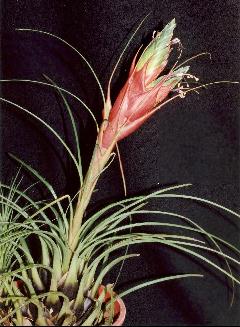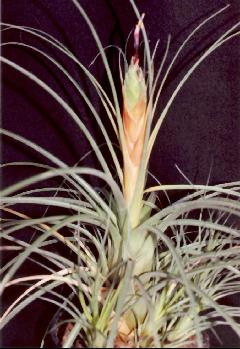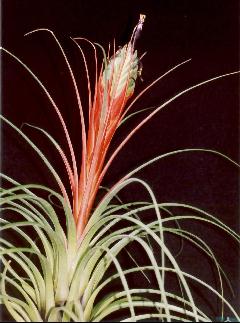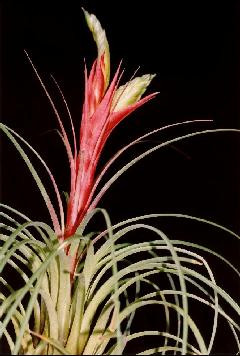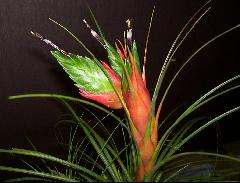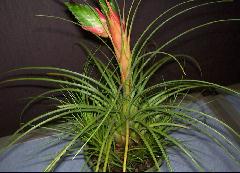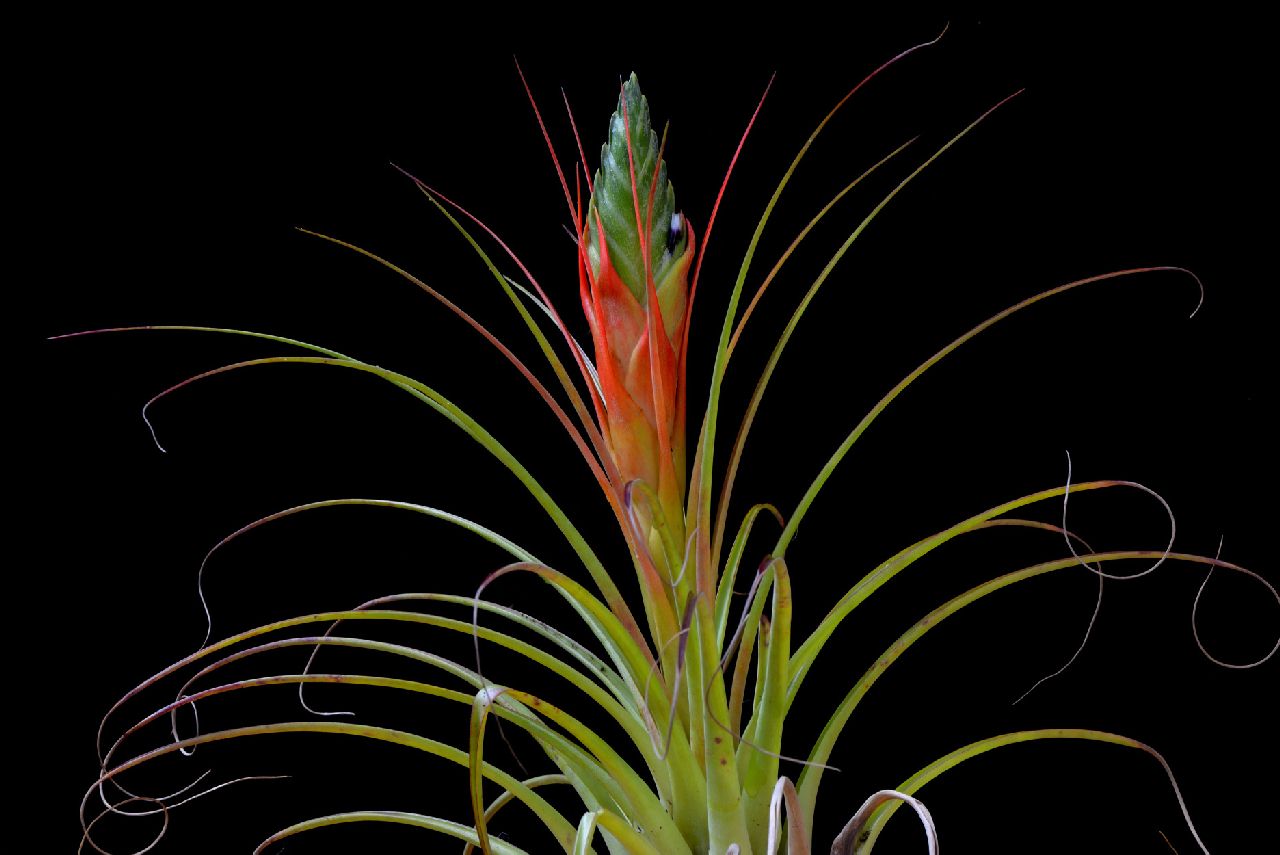 | | |
| --- | --- |
| Ian Hook BSA open competition 07/04 | George Nieuwenhoven 01/18 |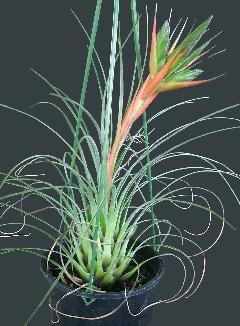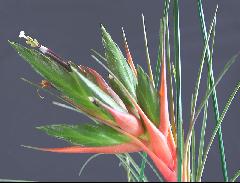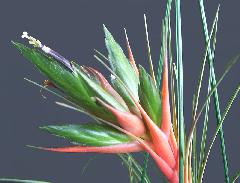 | | |
| --- | --- |
| Ian Hook, 05/06. Small form registered as "Tanya Maree" | Ian Hook, 08/06. Small form registered as "Tanya Maree" |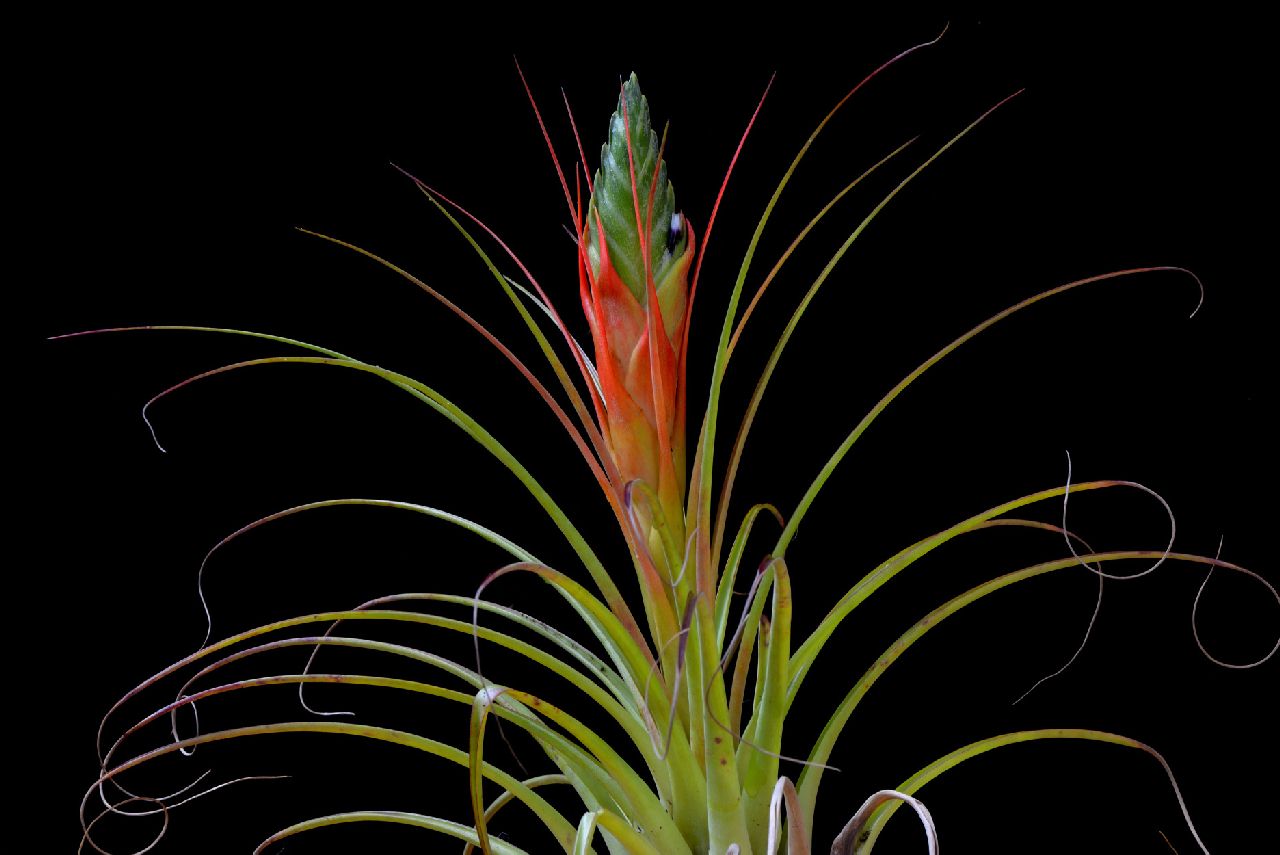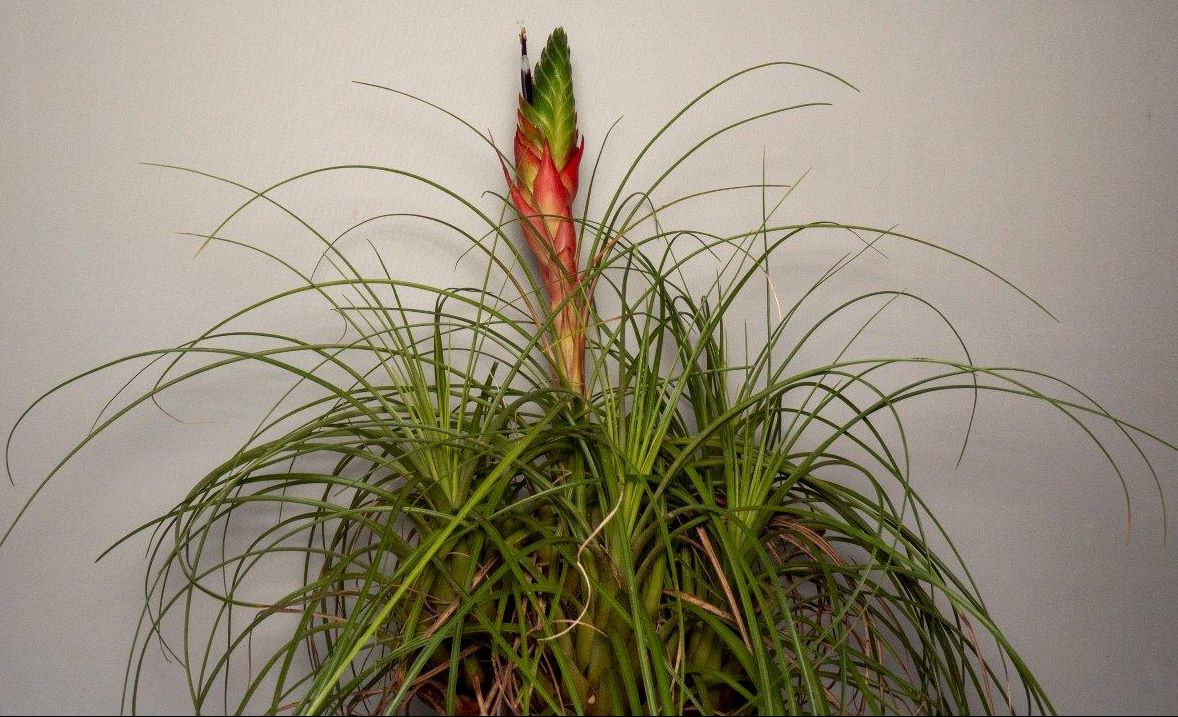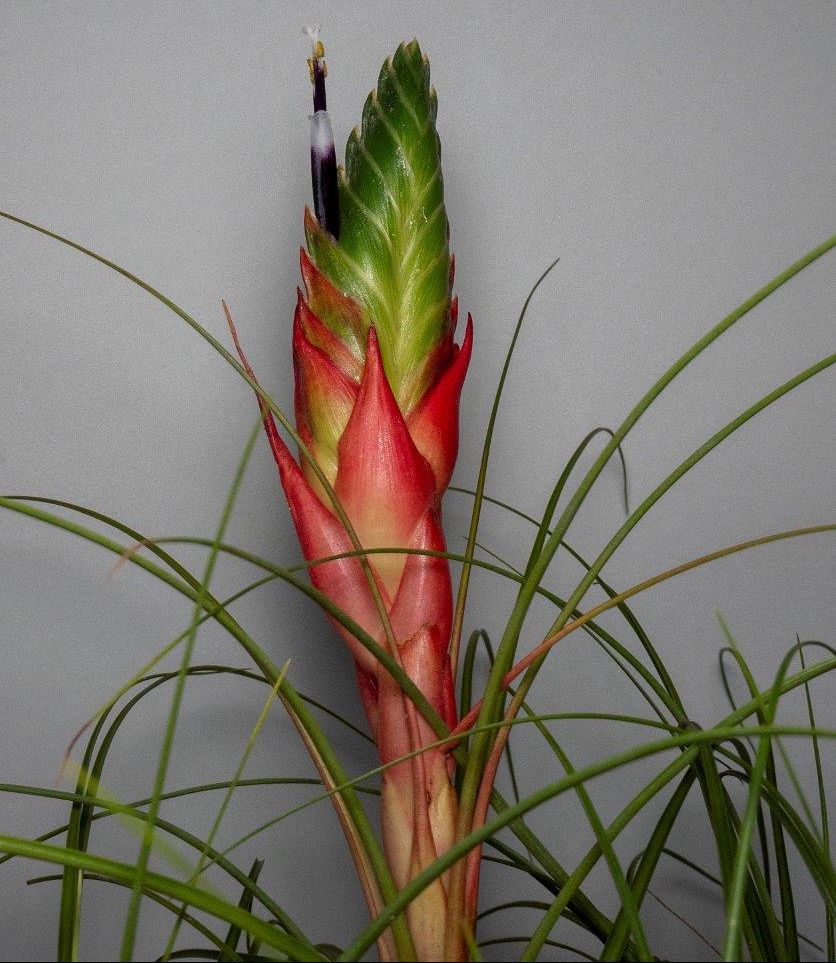 Rob Bower 05/20. "the petal colours are a nice surprise"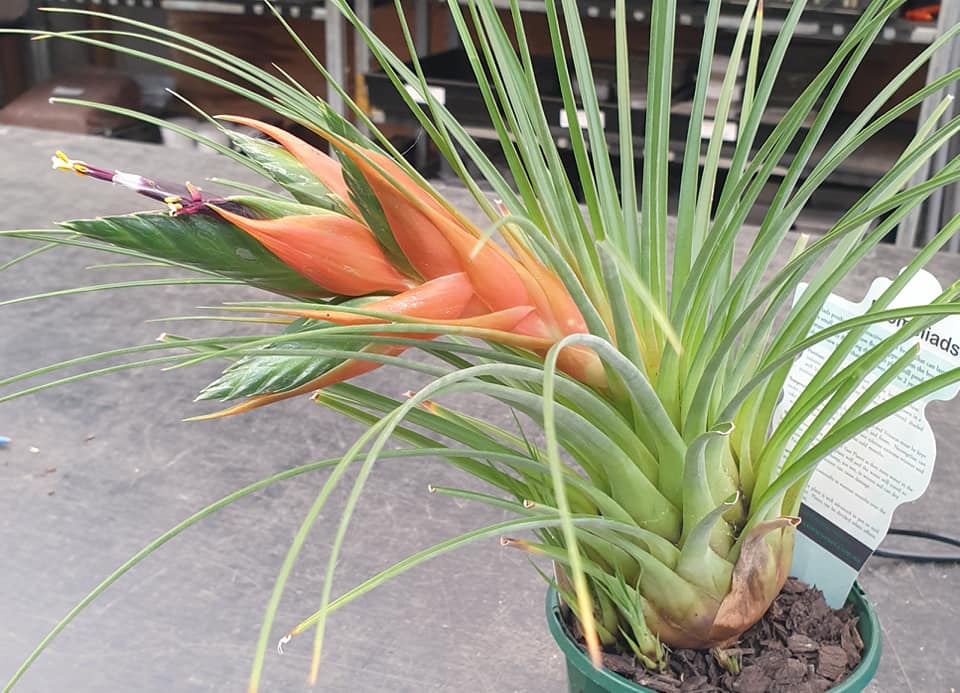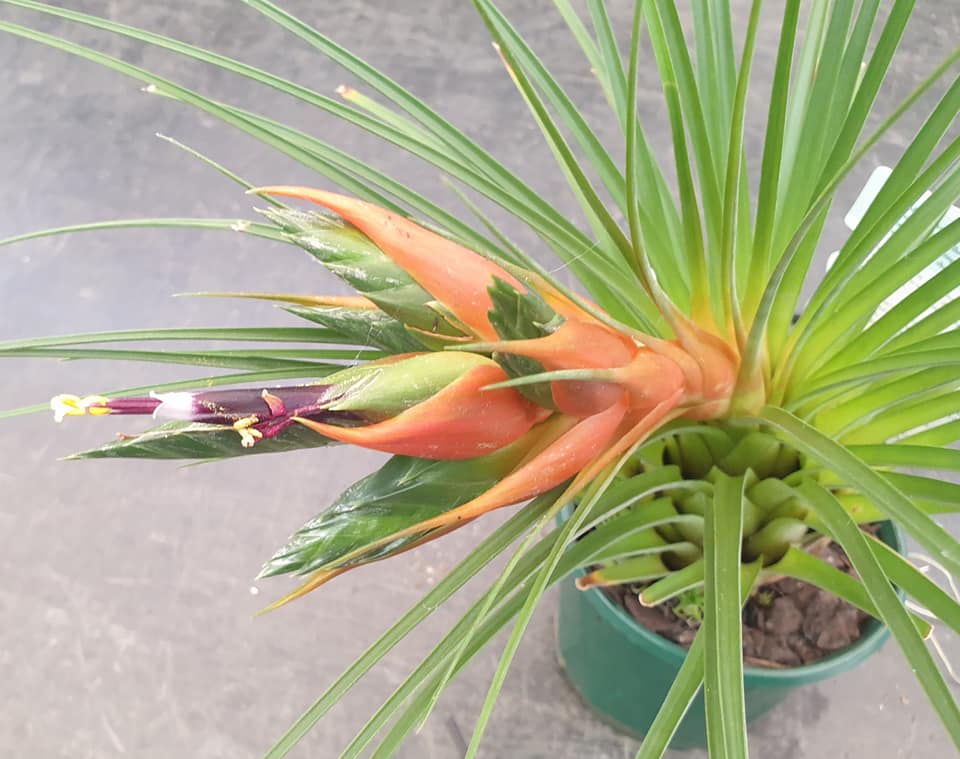 Chris Larson 08/21 Large Orange form.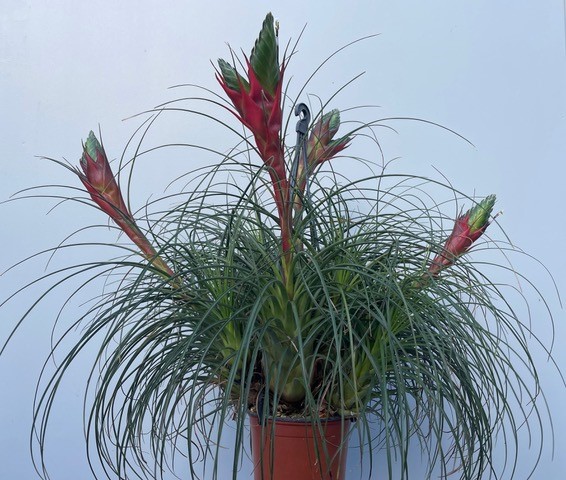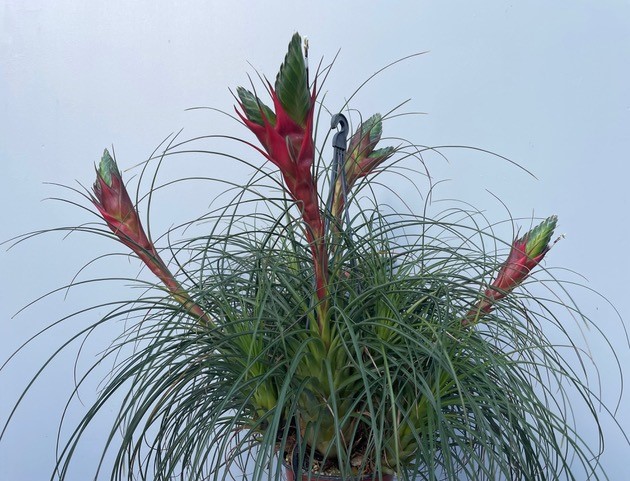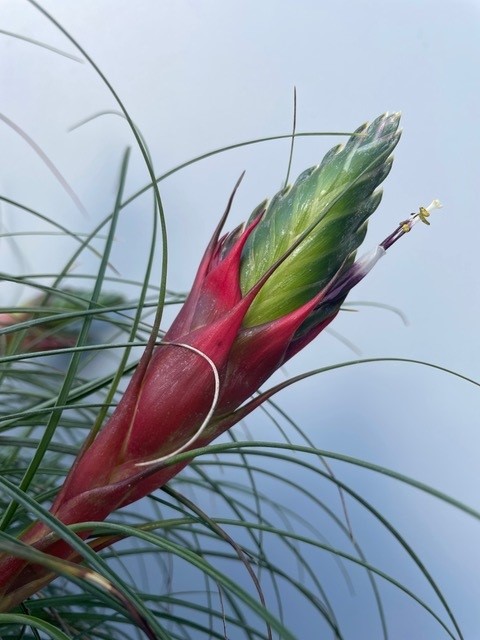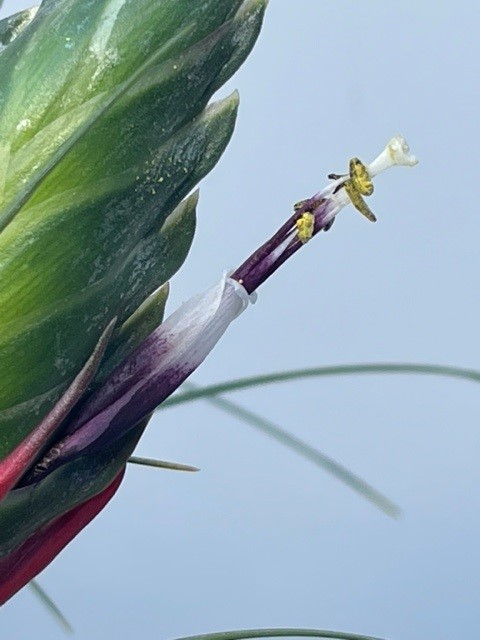 ---
Tillandsia punctulata from Illawarra 'NEWSLINK' July 2020.
Also known as Mexican black torch--is native to Central America (Belize, Costa Rica, El Salvador, Guatemala, Honduras, Nicaragua, Panama) and Mexico where it thrives in warm and wet conditions.* It is found at various altitudes, ranging from 0 to just over 2250 metres above sea level.
It is a medium-sized species with many curved leaves that form a fine rosette with bright green and purplish green leaves. It produces upright spikes of four to six tubular, white-tipped violet flowers with green floral bracts.
From Paul Isley III's book, Tillandsia II, "Tillandsia punctulata is often confused with Tillandsia tricolor because it is similar in appearance and both have the same papery leaves. But there are differences that make these two species easily distinguishable. The bases of T. tricolor are brown, and those of T. punctulata are usually a maroon so dark as to appear almost black. In addition, virtually every specimen of T. tricolor has a series of chestnut-coloured dots as the sheaths blend into the green of the blades. The sheaths of T. punctulata are wider, the blades brighter green, and the tips recurve. The leaves of T. tricolor are stiffer. Both species produce stoloniferous offsets, but the runners of Tillandsia tricolor are tougher and thicker."

*From an article, A Geography Lesson, by Carol Johnson of Florida, which appeared in the Journal of The Bromeliad Society, November-December 1989, Vol. 39(6) I have extracted the following:
"Prospective bromeliad buyers most often ask: 1. How much light is best for this plant" and 2. Will it take cold if planted outdoors?
Rarely do they ask, "Where does this plant come from?" Yet this is the most important of all information required to grow bromeliads successfully and the answer to this question will also settle the first two. Geography plays a major role in the growing of our plants—altitude, moisture, and heat go along with this.
Light. For many years I struggled to grow Tillandsia punctulata without much success. It neither lived nor died. Then, in Mexico, at about 3,500 feet, we collected Tillandsia punctulata. It was growing in the tree tops in cool, dense shade and nurtured by wet, rotted leaf mould. This taught me a lesson about the tillandsias. All those years I had lumped all tillandsias together, as sun-loving, dry-growing epiphytes. Now I know that every tillandsia, in fact every bromeliad, should be researched before becoming part of a collection."

---

Tillandsia punctulata Schlechtendal & Chamisso, Linnaea 6: 53. 1831.
Tillandsia tricolor sensu E. Morren, Belg. Hortic. 29: 162, pl. 10/11. 1879; non Schlechtendal & Chamisso, 1831. Based on Wendland in Herrenhausen Hortus s n. No specimen known.
Tillandsia melanopus E. Morren ex Mez, DC. Monogr. Phan. 9: 680. 1896. Type. Chiriqui, Panama, 1883, Pfau s n (LG, GH photo).

Desc from S&D p931-2
Plant stemless, 25-45 cm high.
Leaves many in a dense rosette, equaling or exceeding the inflorescence but usually recurving, very densely and minutely appressed-lepidote throughout;
Sheaths broadly ovate or elliptic-oblong, 4-8 cm long, deep castaneous;
Blades linear-triangular, filiform-attenuate but with blunt apex, 5-10 mm wide at base, complicate, involute or flat.
Scape erect;
Scape-bracts foliaceous but red-brown, all linear-laminate, usually subinvolucrate below the inflorescence.
Inflorescence simple and distichous-flowered or densely digitate from 2-5 spikes;
Primary bracts resembling the upper scape-bracts but very short-laminate, less than half as long as the axillary spikes;
Spikes sessile, ovate or lanceolate in outline, acute, 7-10 cm long, 25-35 mm wide, stout, slightly complanate.
Floral bracts erect, densely imbricate, broadly ovate, acute, to 4 cm long, exceeding the sepals, subinflated, strongly carinate, coriaceous with a broad membranaceous margin, nerved, minutely appressed-lepidote;
Flowers subsessile.
Sepals lance-oblong, acute, 30-35 mm long, complicate, alate, subcoriaceous, densely and minutely brown-appressed-lepidote;
Petals tubular-erect, ligulate, broadly acute or obtuse, white near apex, violet below; Stamens and pistil long-exserted.
Capsule acute, 3 cm long.
Type. Schiede & Deppe 1006-A (holotype B, B photo 1192/13), Jalapa, Vera Cruz, Mexico.
DISTRIBUTION. Epiphytic in forest, 350-2000 m alt, Mexico, Central America. MEXICO. VERA CRUZ: Orizaba, Botteri s n (US); 1855, Muller 1045 (GH, NY); 25 Aug 1865, Bourgeau 2961 (US); Jalapa, 8 Nov 1888, Mexicana Com. Geogr. 373 (GH); 31 Mar 1899, Pringle 8064 (BM, GH, US); Tezuitlan, 1938, Foster V (GH). PUEBLA: Huauchinango, Feb 1932, Froderstrom & Hulten 829 (S); 830 (S); 916 (S); Apr 1952, Matuda 32256 (MEXU, US); Zacatlan, 21 Sep 1962, Gutieerrez 84 (IPMEX). OAXACA; Valle Nacional to Ixtlan de Juarez, 30 Ju1 1959, King 2114 (MICH). CHIAPAS: Letrero, 6 Ju1 1941, Matuda 4356 (GH, MEXU); Monte Bello, Jan 1952, Carlson 2370 (US); May 1952, Bravo 1 (US); Moore 6346-D (BH, US); 25 Mar 1960, Hale 20491 (US); 14 Apr 1965, Breedlove 9770 (DS, US); 23 May 1967, Ton 2407 (US); Koltol Te, Tenejapa, 10 Jul 1964, Breedlove 6166 (DS); Bochil, 11 Feb 1965, Breedlove 8847 (DS, US). GUATEMALA. HUEHUETENANGO: Sierra de los Cuchamatanes, Jul 1942, Steyermark 48938 (F); 49459 (F). ALTA VERAPAZ: Tactic, 20 Feb 1942, Steyermark 43997 (F, GH); Cubilguitz, 1 Mar 1942, Steyermark 44468 (F, GH). BAJA VERAPAZ: Santa Rosa, Apr 1887, Tuerckheim 1173 (US); 30 Mar 1939, Standley 69748 (F); 69772 (F); 4 Apr 1941, 91275 (GH). IZABAL: Cerro San Gil, Dec 1941 Steyermark 41960 (F, GH). SAN MARCOS: San Rafael Pie de la Cuesta, Mar 1939, Standley 68687 (F); Tajumulco, 26 Feb 1940, Steyermark 36698 (F). ZACAPA: Sierra de las Minas, 12 Oct 1939, Steyermark s n (F); Volcan de Monos, 10 Jan 1942, Steyermark 42402 (F, GH). CHIQUIMULA: El Chaguiton, Jan 1907, Pittier 1812 (NY, US); Jocotan, 10 Nov 1939, Steyermark 31647 (F).JALAPA: Jalapa, 2 Dec 1939, Steyermark 32542 (F). BRITISH HONDURAS. Camp 30, British Honduras-Guatemala Survey, 26 Feb 1934, Schipp S-805 (GH). HONDURAS. COMAYAGUA: El Achote, Siguatepeque, 28 Ju1 1936, Yuncker, Dawson & Youse 6177 (GH). MORAZAN: Rio Yeguare, 11 Sep 1949, Williams 15995 (EAP, US): Montafia La Tigra, San Juancito, 13 Ju1 1964, Gilmartin 970 (US). SALVADOR. SANTA ANA: Hacienda Los Planes, 16 Dec 1950, Rohweder 75 (HBG); 77 (HBG); 79-80 (HBG); 24 Feb 1951, 81 (HBG) Volcan de San Vicente, 7 Mar 1951, Rohweder 82 (HBG). COSTA RICA. ALAJUELA, San Carlos: Villa Quesada, 28 Feb 1939, Smith H-1741 (F). SAN JosE: Zurqui, 13 Feb 1926, Standley & Valerio 48339 (US); Tarbaca, San Jose, 1 May 1956, Williams 19447 (EAP). CARTAGO: Rio Reventado, Apr 1894, Smith 4966 (US); 26 Feb 1926, Standley & Valerio 49401 (US);49510 (US); Cartago, 19 Apr 1906, Maxon 63 (NY); Feb 1924, Standley 33326 (US); 33330 (US); El Muneco, Navarro, Feb 1924, Standley 33886 (US); Mar 1926, Standley & Torres 51744 (US); Cerro Carpintera, Laguna de Ochomogo, 8 Jan 1930, Dodge & Thomas 6151 (F, GH, S, US); Volcan Turrialba, 6 May 1956, Williams 19649 (EAP); Sierra de Talamanca, Jul 1962, Haines 19 (US); 41 (US). PANAMA. CHIRIQUI: Volcan de Chiriqui, 1938, Woodson, Allen & Seibert 991 (GH); 14 Ju1 1938, Davidson 965 (GH); Finca Lerida, Jul 1940, Woodson & Schery 226 (GH, US); Jul 1947, Allen 4677 (MO); 4765 (US); Boquete, 11 Mar 1963, Stern, Eyde & Ayensu 1983 (US).

Desc from Mez 1935
30. T. melanopus Morr. ex Bak. Bromel. (1889) 199, nomen, et ap. Mez in DC. Monogr. Phaner. IX. (1896) 680.
Vix ultra 0.2m alta. Folia multa subbulbose rosulata, ad 0.2m longa, super vaginam ad 8mm lata, inde in apicem peracutum sensim angustata, sicca carinatim complicata apicem versus subulata, lepidibus pallidis appressis dense obtecta. Scapus validus, erectus vel ascendens, foliis permulto brevior, dense vaginis laminigeris indutus. Inflorescentia subpauci- vel submultiflora, nunc simplex dense. flabellatimque spicata, nunc e spicis 2-4 optime digitatim composita, folia paullo superans; spicis sessilibus optime flabellatis, parum compressis utraque facie convexiusculis, ad 60mm longis et 30mm latis, ellipticis vel ovato-ellipticis, ad 8-floris; bracteis florigeris densissime imbricatis, rigidis, dorso glabris laevibusque vel paullo prom inenti-venosis, apicem supremis saltem incurvum versus acute carinatis, ad 30mm longis sepala superantibus. Flores erecti, ad 40mm longi; sepalis antico libero posticis ultra medium connatis, subcoriaceis, glabris laevibusque, ad 22mm longis; lanceolatis, longe acutis. Petala violacea, tubulose erecta, sepalis ad 11mm longiora, quam stamina breviora. Mexico: ohne Standortsangabe (Heese). Nicaragua: ohne Standortsangabe
(Oersted). Costarica : offenbar sehr haufig (Cooper n. 261 et ed. Donnell-Smith n. 5954, Herb. inst. phys- geogr: Costaric. n. 9107 leg. Pittier, 10 628 leg. Tonduz, 16186 leg. Wercke , Pfau n. 254, Werckle n. 60). - Aus Costarica lebend erhalten.

1006. TILLANDSIA punctulata n. sp. Schlechtendal & Chamisso, Linnaea 6: 53. 1831.
oculo nudo pro glabra laevique habenda, oculo armato squamulis minutis arcte adpressis contiguis umbone depressis vestita et punctulata. Folia rosulata, stipite brevi pseudo-radicalia, bulbum cynariformem mentientia, e dilatata (14 lineas lata) basi angustata, marginibus involutis subulata, arida, reflexa, pedalia longioraque. Caulis foliis similibus minoribus arcte imbricatis vestitus, crassitie fere digiti minoris, foliis infimis brevior. Spica simplex, lanceolata, anceps, crassa, multiflora, bracteis bifariis arctissime imbricata, quae bracteae, ellipticae, acutae (vix acuminatae) carinatae, tenuiter, nervosae. Flores bracteas 9 circiter lineis superantes. Capsulae bracteais paulo breviores.
Jalapae in arboribus. Nov.
---
Updated 25/04/22
---