Tillandsia pseudosetacea
Click thumbnails for full size, scaled to a new window.
---
Tillandsia pseudosetacea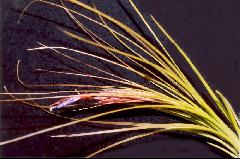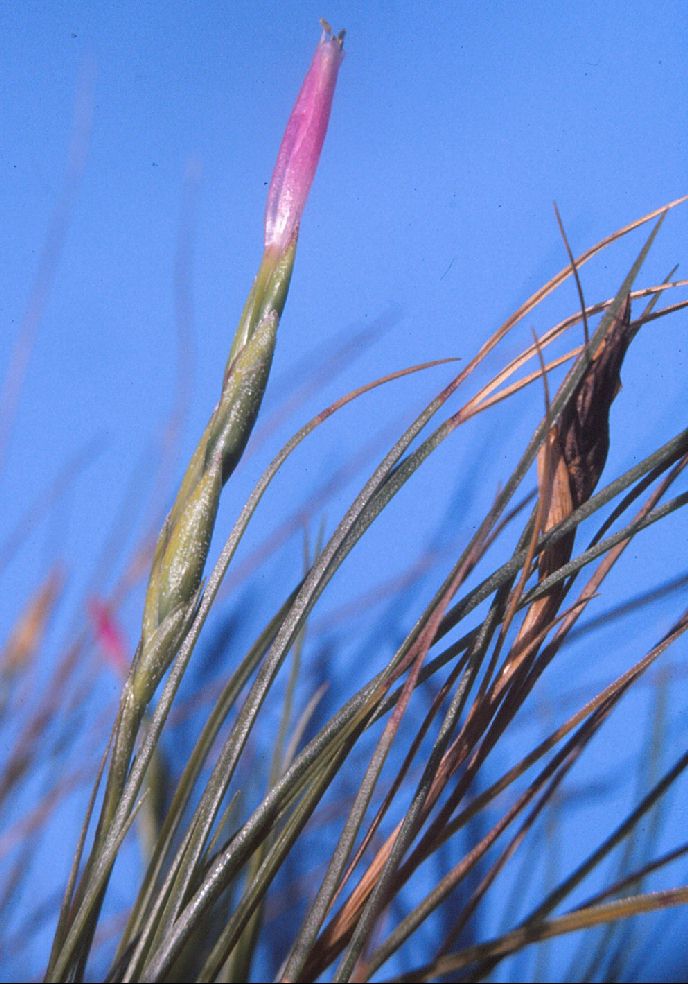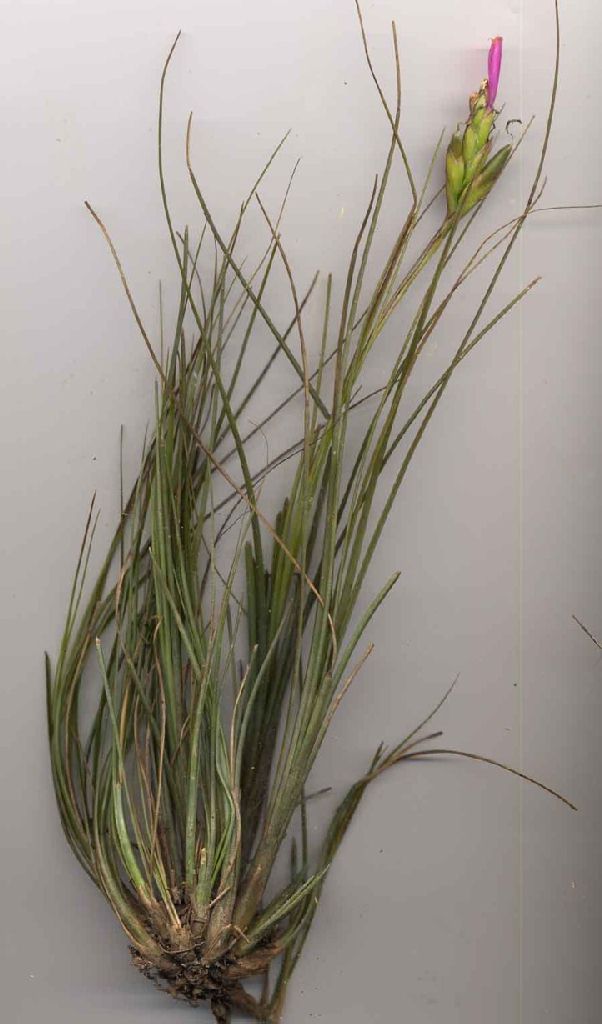 | | | |
| --- | --- | --- |
| Ken Woods 08/04 *setacea ?* | Derek Butcher | Holotype R.Ehlers, Chapalilla Nayari |
*Ed. Ken Woods 08/04 picture is possibly setacea - "Petals bluish violet".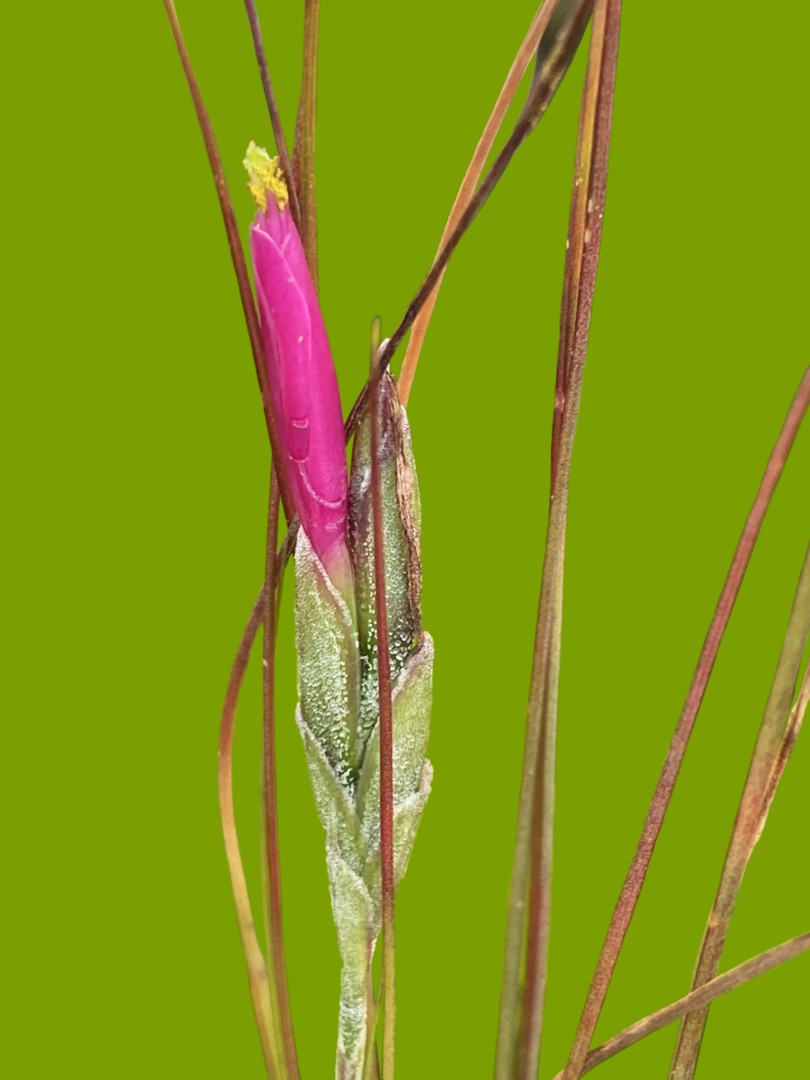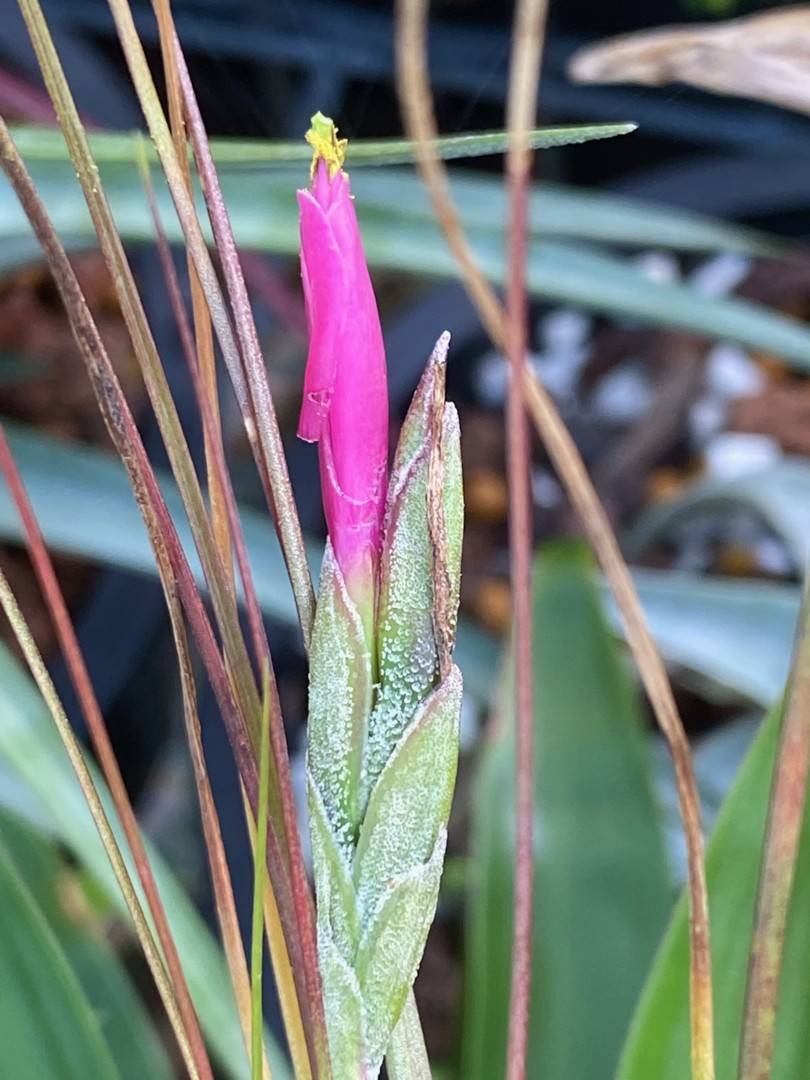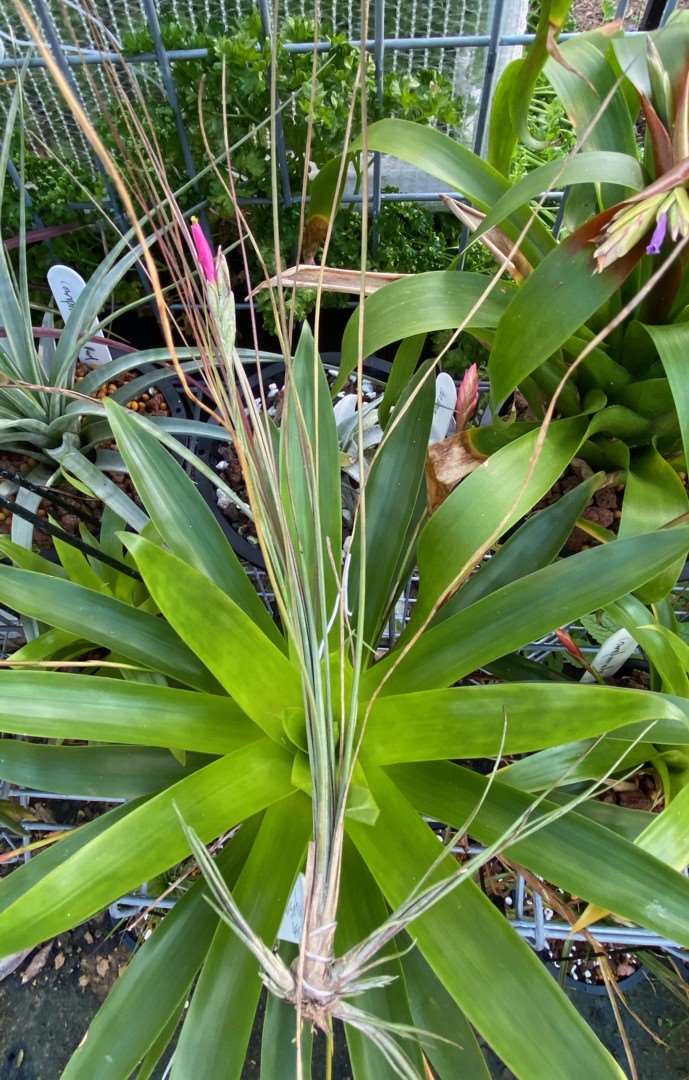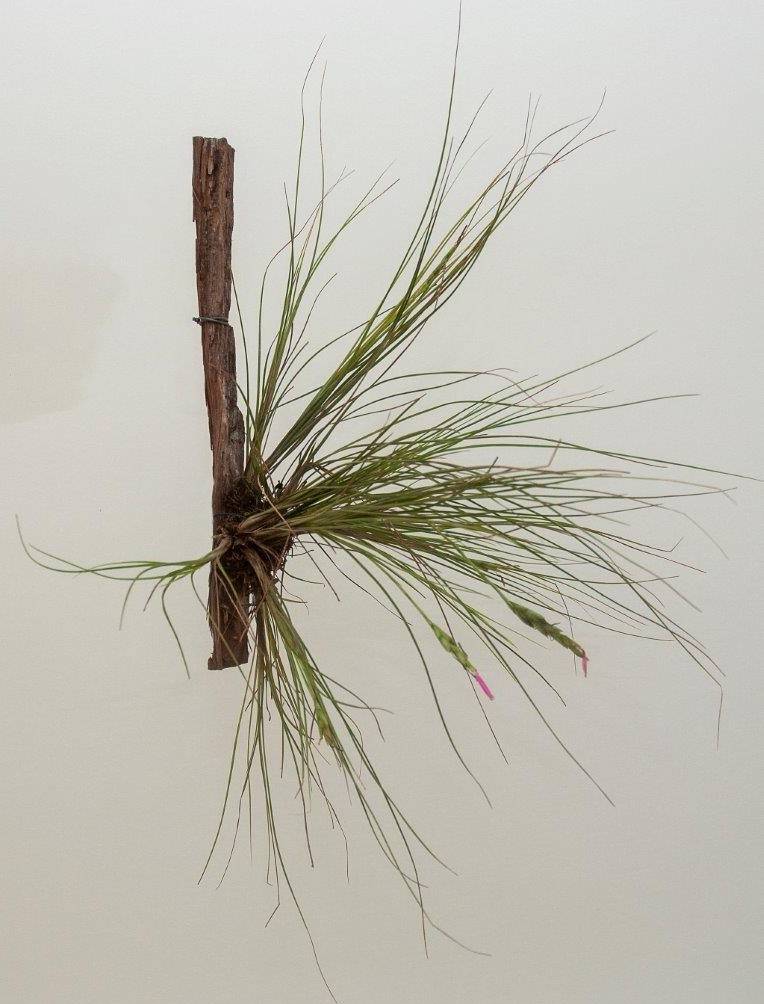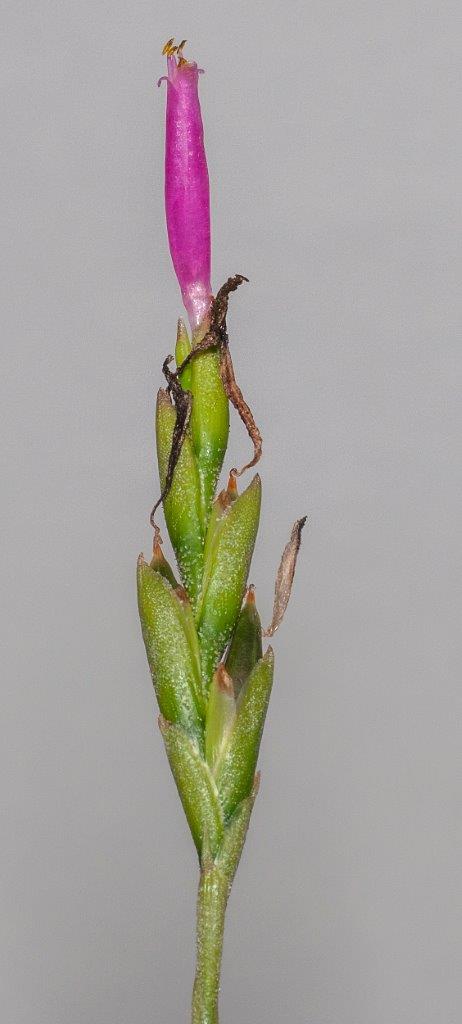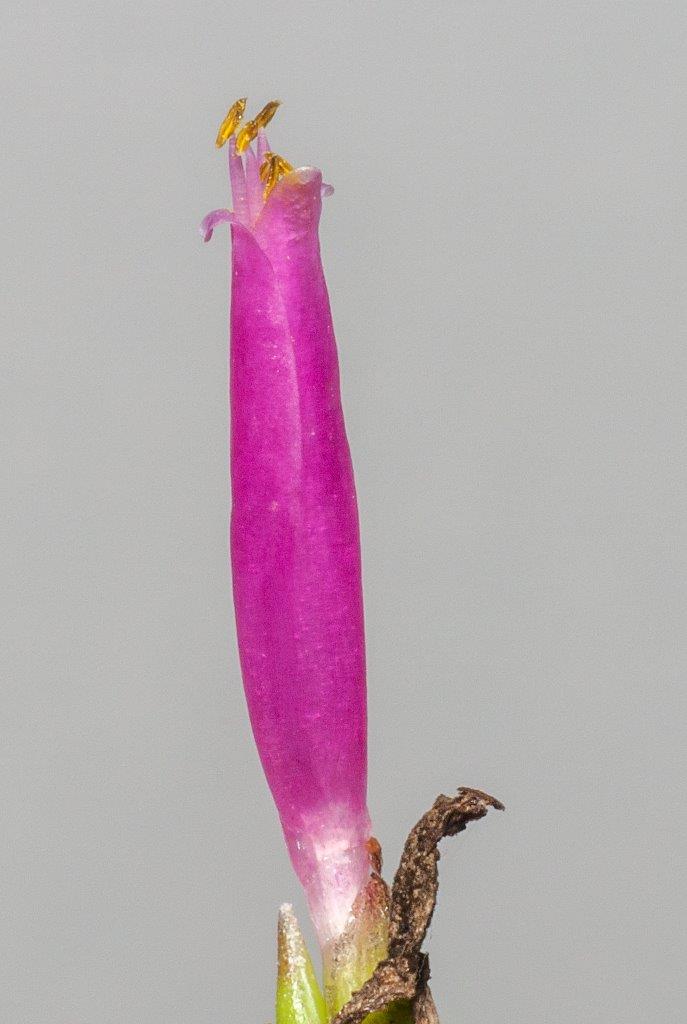 ---

Tillandsia pseudosetacea Ehlers and Rauh, Sp. Nova Trop. Subtrop. Pflanz.58: 35-37. 1986
T. setacea similis, sed ab ea differt characteribus sequentibus: Bracteae scapi superiores perbreves non longiores quam quarta pars inflorescentiae unispicatae. Petala lucenti-carminea, non coeruleo-violacea. Stamina inclusa, non exserta.
Holotypus: R. Ehlers EM 82015 (Marz 1982), in herb. inst. bot. system. univ. heidelb. (HEID).
Patria et distributio: epiphytica inter Puerto Escondido et Oaxaca, Estado Oaxaca, Mexico, apud 1800 m.s.m.
Translated by Butcher.
Plant stemless, flowering to 40cm high, sprouting well from the base and for that reason making a rough, dense, grass-tufted bush.
Each rosette thin, 10mm wide at base, with 10–15 leaves, the base of the lower leaves brown.
Leaf sheath clearly seen, 3 angled, oval, ca 8mm wide, to 15mm long, both sides brown scaled.
Leaf blade erect, filiform, to 40 cm long, 1.2mm wide, green, occasionally reddish, appressed lepidote.
Scape thin, erect, weakly geniculate, much shorter than the leaf rosette.
Scape bracts the bottom ones leaflike, the upper with longer brownish sheath and shorter more erect blade, 6 –15mm long, 5mm wide, longer than the internodes.
Inflorescence mostly simple, sword-shaped (rarely bipinnate with one ot two side spikes) to 6mm wide and 3 – 5cm long, 3 to 7 flowered.
Rhachis flexuous, clearly flat, naked, not visible at anthesis.
Floral bracts densely imbricate, both basal ones sterile, oval-lance like, acuminate, not keeled, strong, to 15mm long, 8mm wide, very scattered lepidote, green with dark red edges, smooth, (nerved when dry) as long or a little longer than the sepals.
Sepals longish lance-like, acuminate, green, very scattered lepidote, the posterior keeled and joined for 3 – 7mm.
Petals thin, ligulate, to 3.2cm long, the tips a little bent back, carmine red.
Stamens and Stigma enclosed, the green stigma lobes overhang after anthesis.
Ovary green, ca 4mm long.
Holotype R Ehlers EM82015 (March 1982) HEID
Habitat epiphytically between Puerto Escondido and Oaxaca, Oaxaca State, Mexico. about 1800m

Differs from T. setacea in
1. . Primary bracts shorter and not longer than a quarter of the simple inflorescence.
2. . Petals carmine red not bluish violet.
3. . Stamens included not excluded.

T. pseudosetacea seems to have a wide range, is similar vegetatively with T. setacea and up to now may have been confused with it.
It has been collected under the following numbers: Ehlers EM 82/313, ( March 1982), at the Lagune Chapala, Guadalajara, (Jalisco State); EM 83/013,( March 1983) between Puerto Escondido and Oaxaca, in light oak forest near 1300 m (Oaxaca State), South Mexico; EM 85/006, (March 1985), 14 km west from Autlan, Colima, (Colima State), close to the high pass (1600 m) epiphytic on oaks and pines. From the last location T. pseudosetacea was also collected by Mr. Freudenberger, Bad Wimpfen, and is cultivated at the University of Heidelberg Botanical Garden under the number B.G.H. 58 352.
---
Updated 23/01/21
---