Tillandsia porphyrocraspeda
Click thumbnails for full size, scaled to a new window.
---
Tillandsia porphyrocraspeda
Formerly Vriesea cylindrica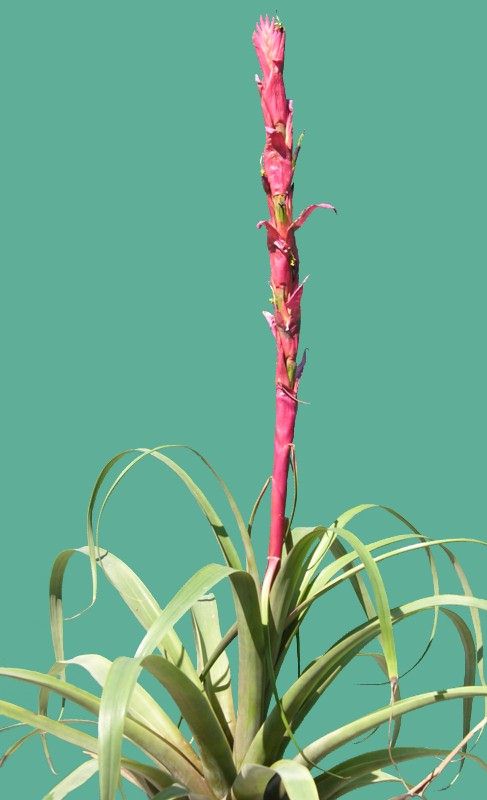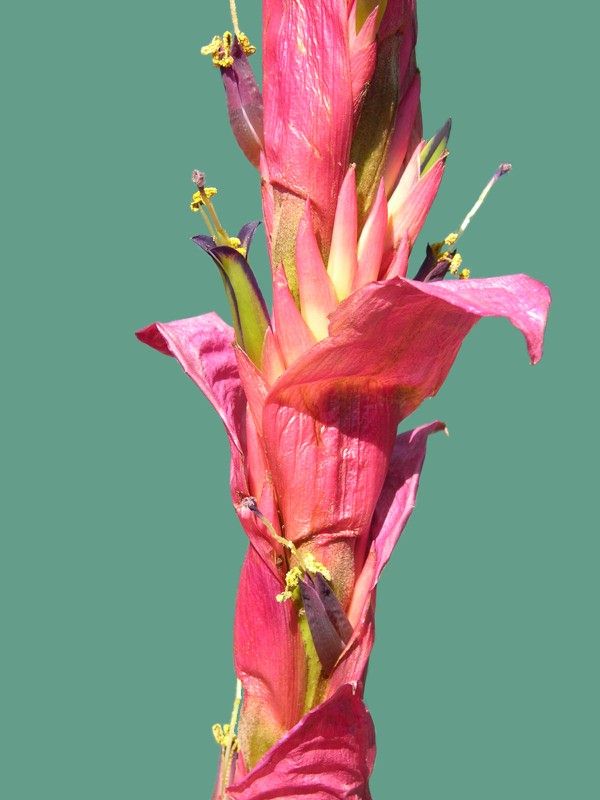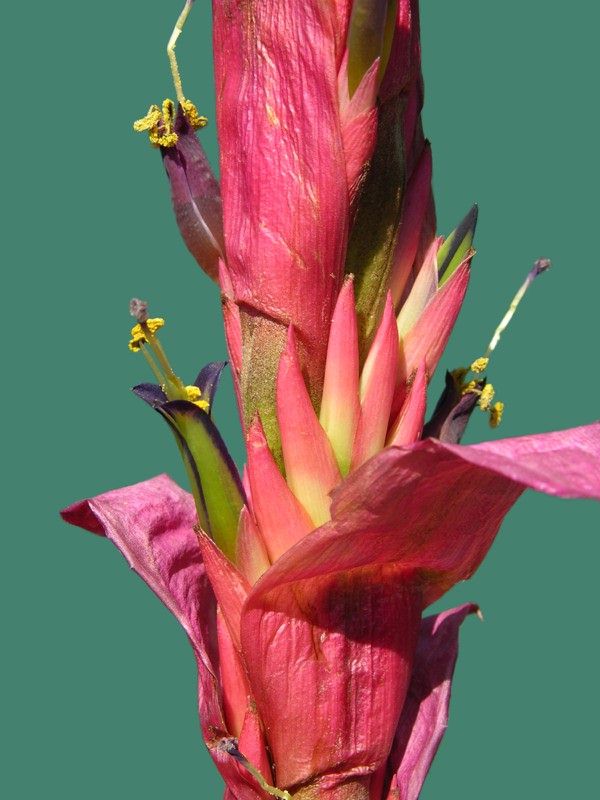 Len Colgan ... "a plant forming a tall red spike that I had collected in Ecuador. It is a TV, being previously known as Vriesea cylindrica. It was the most southerly plant I collected (during the second trip to Ecuador), with its habitat between Loja and the Peruvian border. I promised I would show images when it eventually flowered. Well, at long last it has! Please see the three attached images. For those who were not at Albury, the leaves are grey lepidote and firmish (actually much greyer than they appear in the first image). Notice how the bracts wither before the flowers emerge, as is the case with many species in this group. There will clearly be a lot of flowers."

Peter Tristram ... "a wonderful addition to the Aussie Till bank. But how close to porphyrocraspeda is it? Those pbís cover the spikes very well. Could it be T. tillandsioides or something in between? No doubt the next Manzanares book will sort this group out, in Ecuador at least."

Len Colgan ... "I must admit that I assumed it was T. porphyrocraspeda (Vriesea cylindrica) when I collected it, and T. tillandsioides did not cross my mind. I have had a reply from both Walter Till and Eric Gouda, and neither has disputed it, though.
I actually collected two plants of that T. porphyrocraspeda near Yangana, south of Loja, with the now flowering (larger) one growing inside my Ecuador house. The other smaller one is outside under shadecloth, and is growing really well. But, of probable future interest are two other extremely similar looking plants that I collected near Santiago, quite a way north of Loja. One was handed around at Albury. I wonder if they might be the TV shown in images 19 and 33 in Hiroyuki's Tillandsia Handbook, which are not T. portillae. But that will be yet another story."
---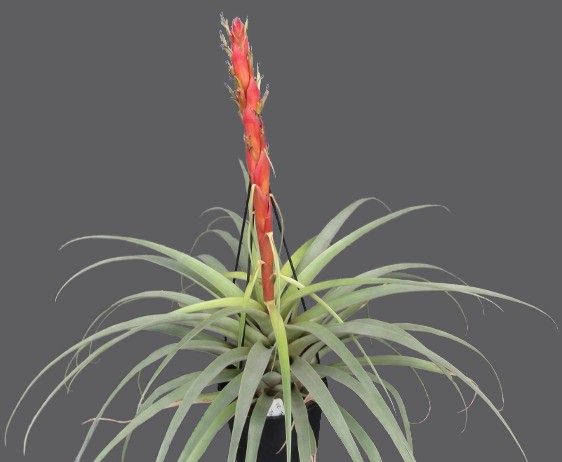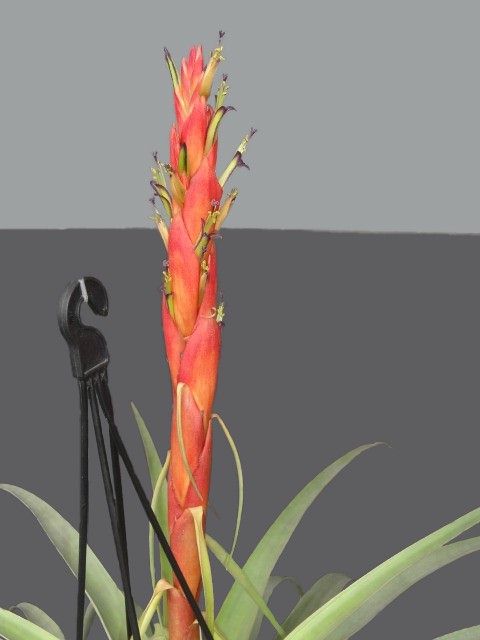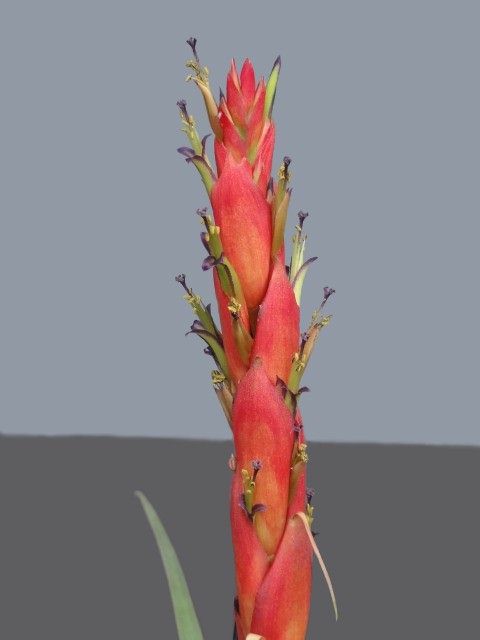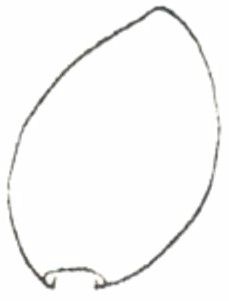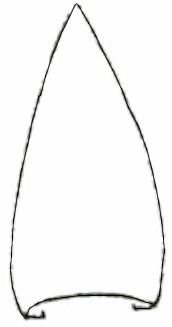 | | | |
| --- | --- | --- |
| Stephen Haines 09/13 as tequendamae, but see comments below. | D. tequendamae | DD. cylindrica |

Derek Butcher 23/09/13 ....To me you have a fine specimen of TV porphyrocraspeda (Vr. cylindrica). See attached key.
Peter Tristram 23/09/13.....Just for the record Steveís very attractive, smallish, erect-spiked plant was named by Harry as tequendamae who assured me not all populations are pendant.
Derek Butcher 24/09/13.....But look at the key by Gilmartin below. She does not mention whether the inflorescence was hanging or not and as far as I am aware Harry did not dispute her Monograph on Ecuador regarding these two species. I ask all of you to critically look at the shape of the primary bracts.

---
Key by Gilmartin...
8. Inflorescence compound
- 10. Primary bracts orbicular (D), apices rounded, or apiculate, at least the lower spikes obscured at antithesis........9. Vr. tequendamae
- 10. Primary bracts ovate to triangular (DD), apices acute-attenuate, spikes exposed in part throughout inflourescence.
- - 11. Leaves 40-70cm long, inflorescence erect at antithesis, usually 20cm long or more.........10. Vr. cylindrica
- - 11. Leaves to 35cm long or if longer, then petals with crenulated margins, inflorescence curving at antithesis, 8-18cm long or tripinnate and to 45cm long
---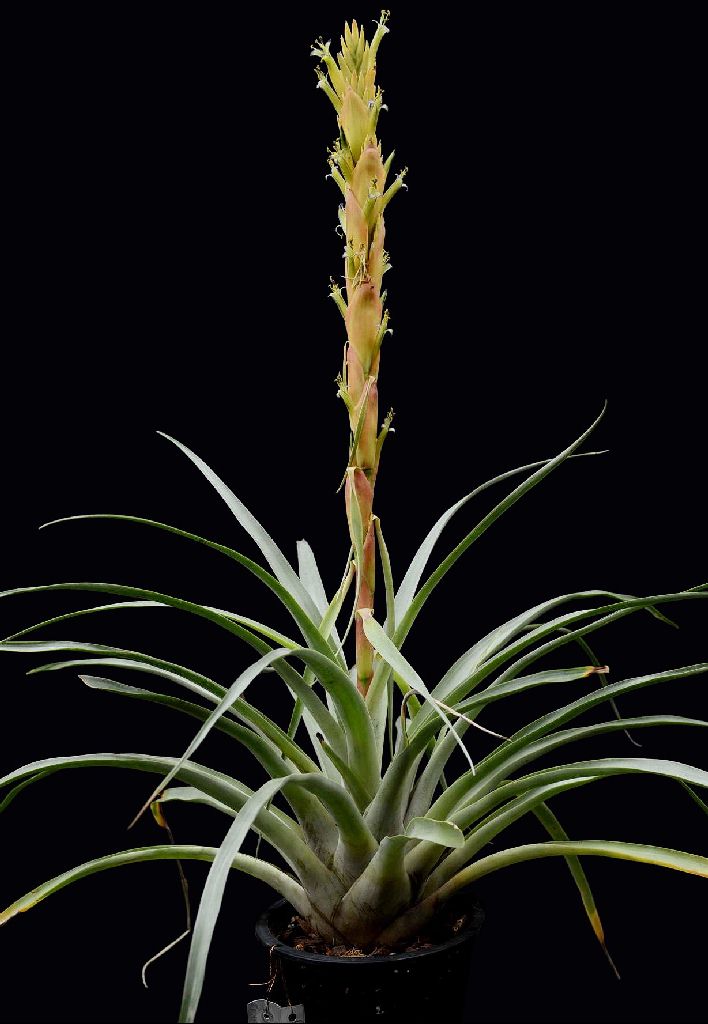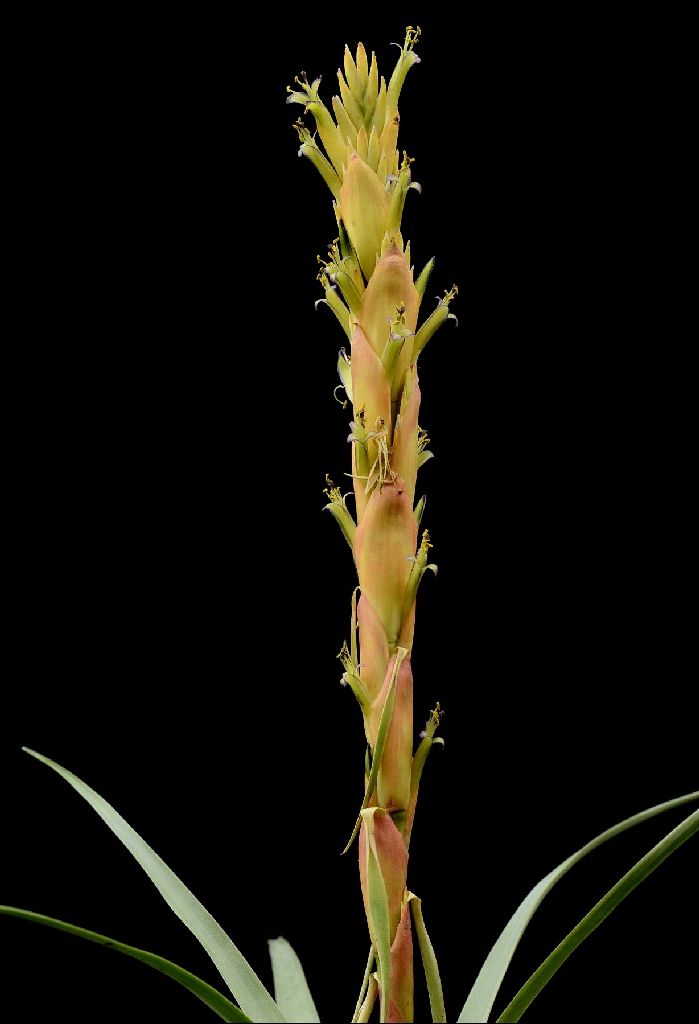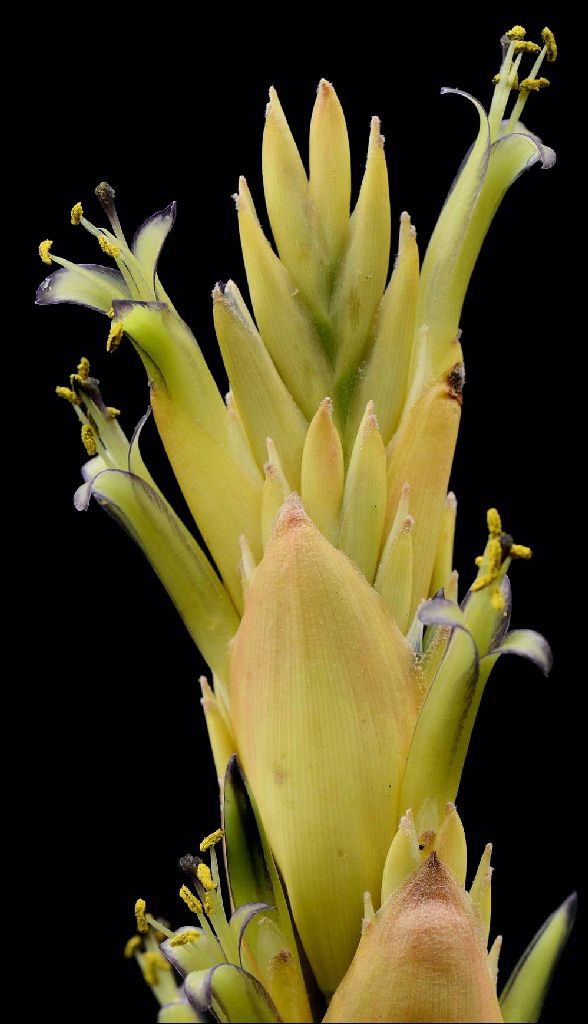 Peter Tristram 12/14 ... "I got this plant from Germany as T. portillae (much excited!) though had my doubts when I finally saw it in quarantine, due to the long-tapering leaves. It appears to be another T. porphyrocraspeda, aka Vr. cylindrica. It has been grown out in the weather since arriving here last year so is pretty hardy. I am not sure if the bracts would be redder if the weather had been cooler over the last month so, for now, Iíll regard it as a yellow, tinged red form. I wonder if Len, Eric and others who have been to this speciesí habitat can comment on bract colour variation? I also wonder it the yellow bracted and flowered TV, identified variously as tequendamae, wuelfinghoffii (now azuayensis) and cuencaensis has ever been published as aureiflora ? Colombia has many interesting TVs too, some of which made it to Oz and through quarantine"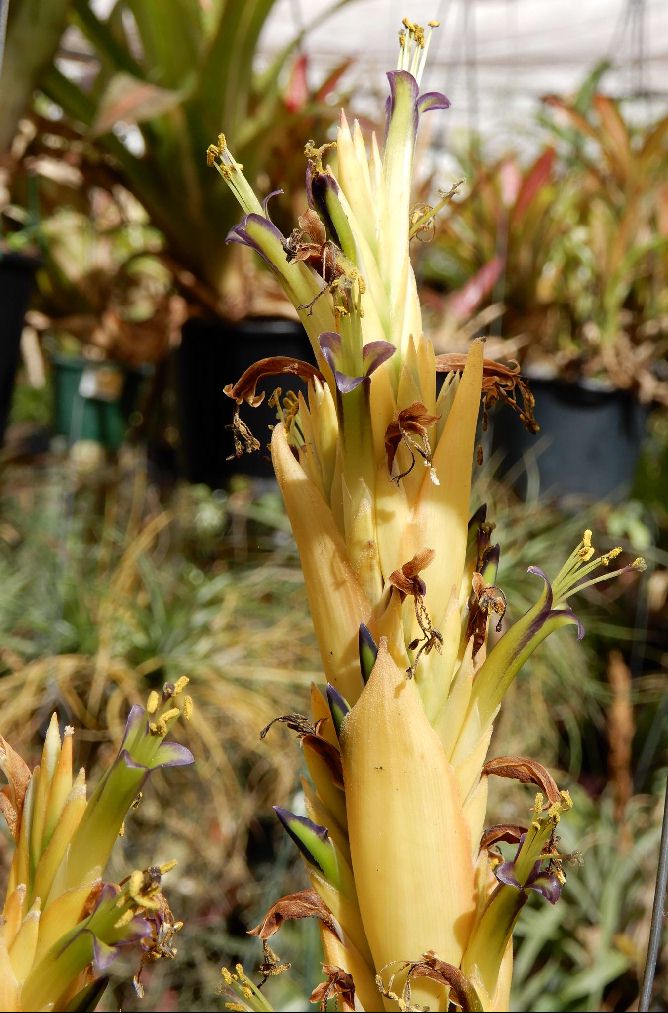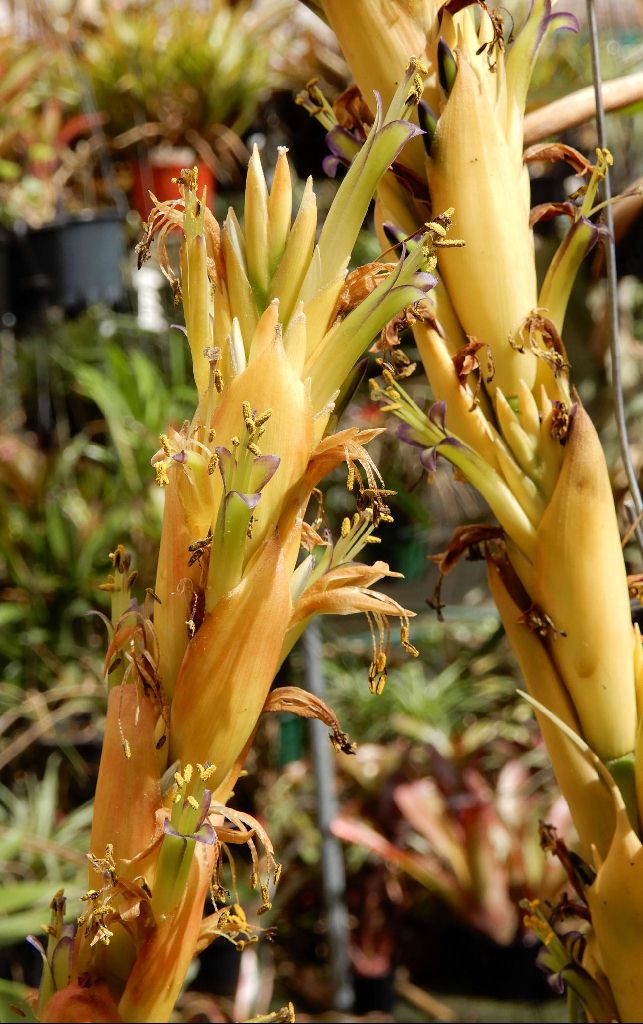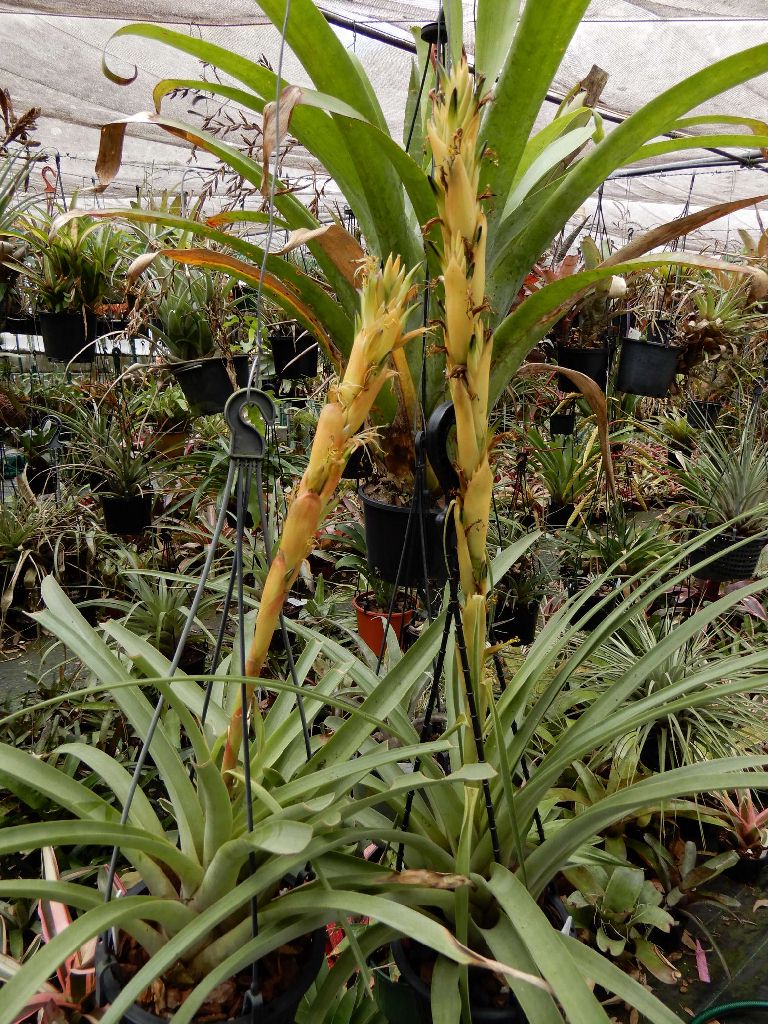 Peter Tristram 12/18 ... "At the BSQ Till Day Iíll be presenting on TVs (Tillandsia subgenus Pseudovriesea these days) and one group to get a look at will be the porphyrocraspeda/tequendamae, etc. group. These two rather yellow forms came from two different countries I gather, the one with chewed leaves and shorter spike from Ecuador (ex Germany) and the other from Peru (ex Steve Haines, ex Mick Romanovsky). Both seem a good match for porphyrocraspeda according to the keys. I used to have other forms, red and pink, but all seem to have fried a couple of years ago. I wonder if any collectors still have any? Len Colgan also collected some which could still be alive and well in Adelaide. They were a notoriously difficult group to import, invariably all dead if MeBr was used."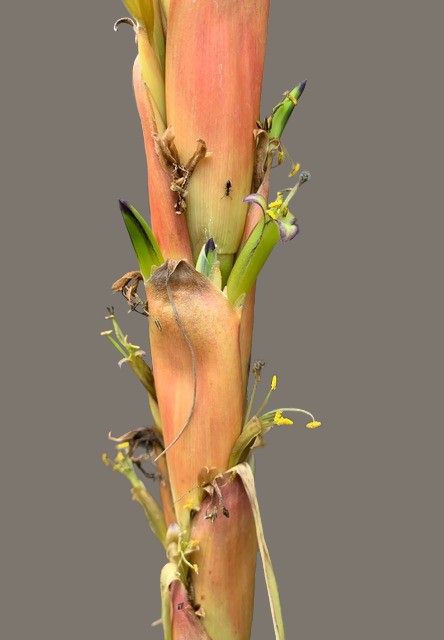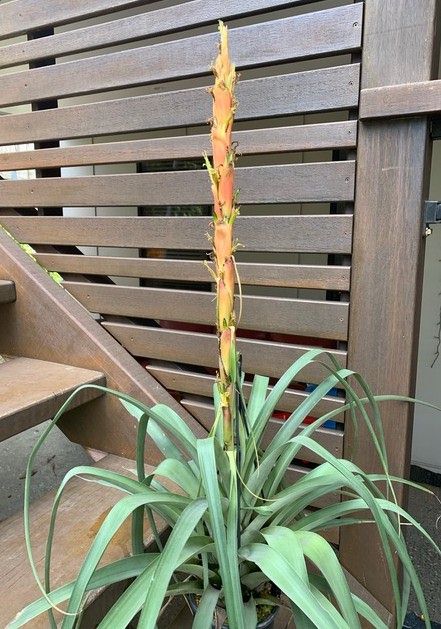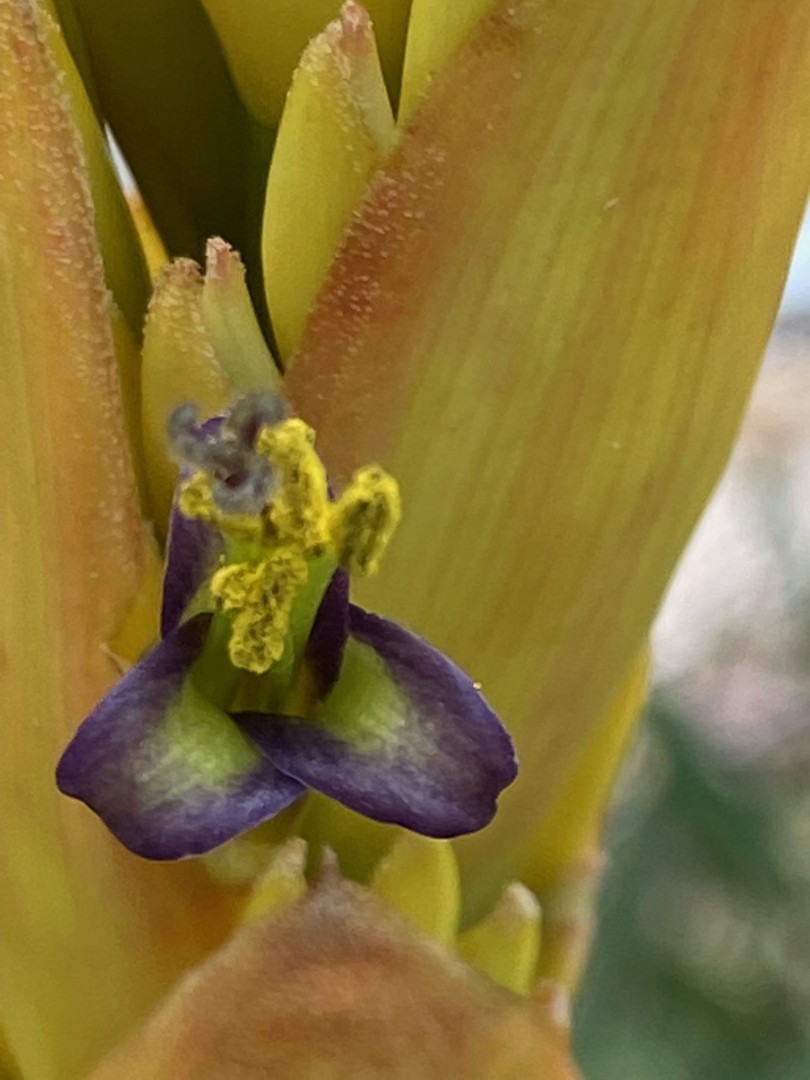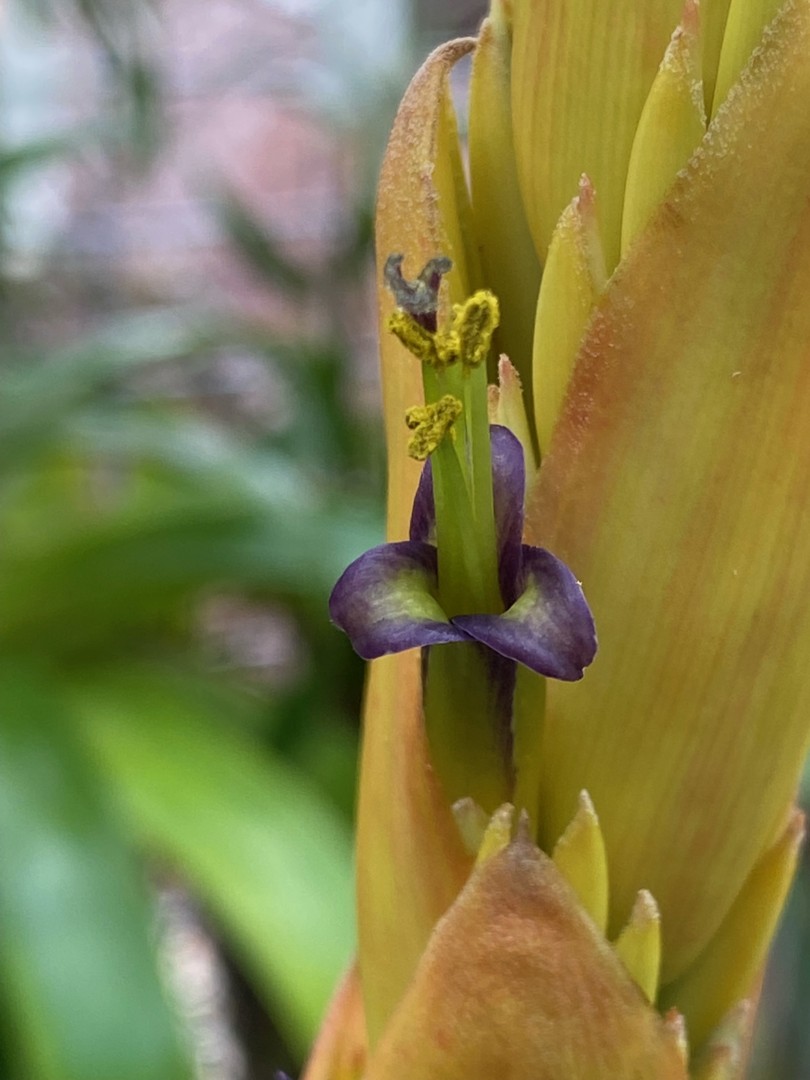 | | |
| --- | --- |
| Bruce Dunstan 12/19 | Dale Dixon 12/21 |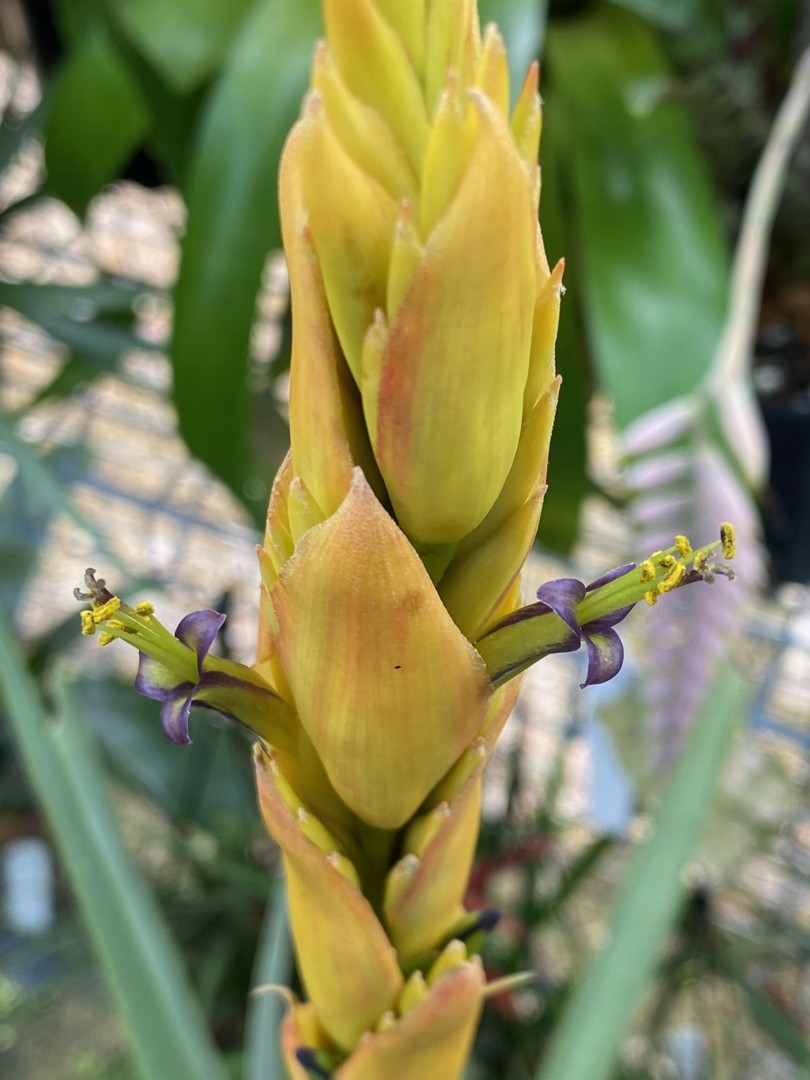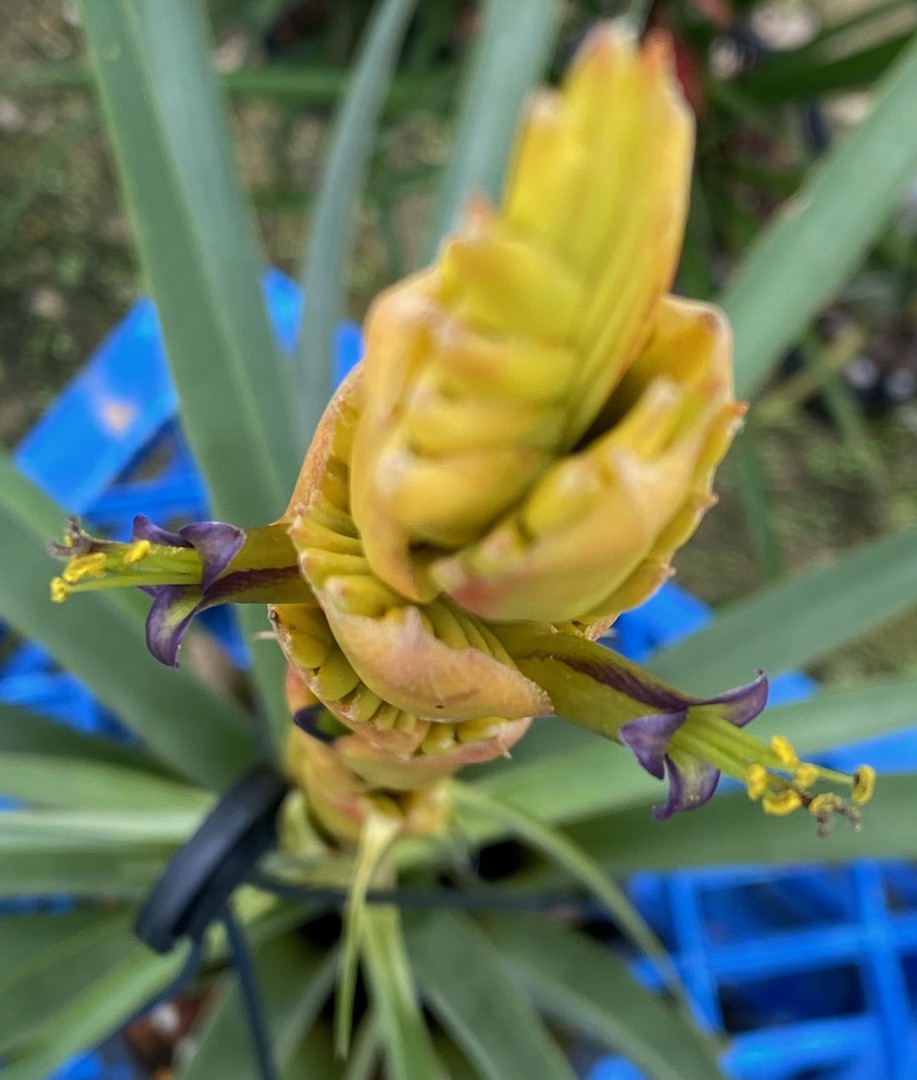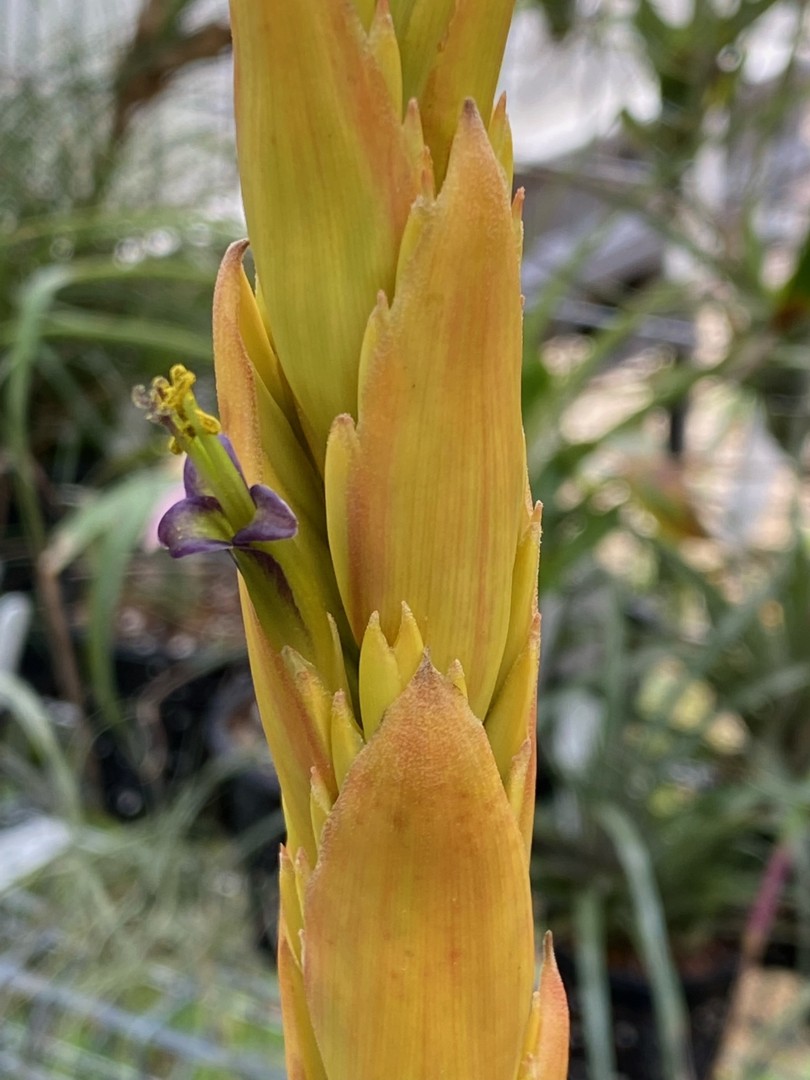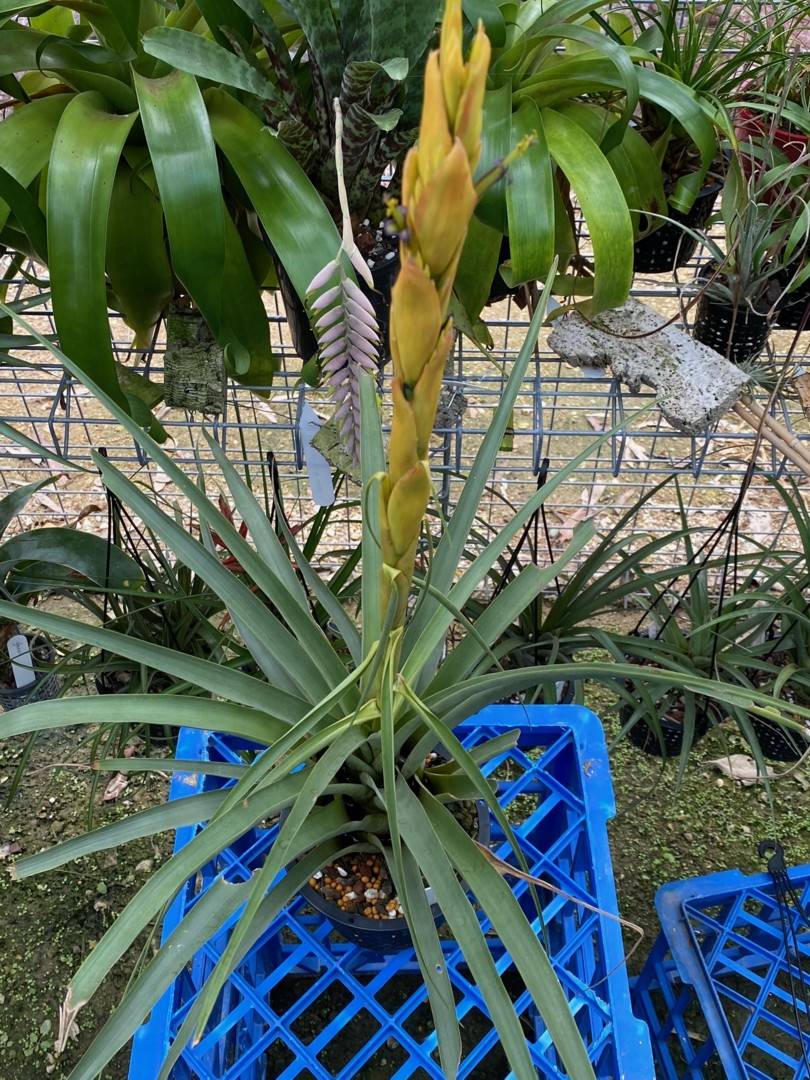 Bruce Dunstan ... "First flowering of this plant originally from Jan Claus via Peter Tristram. It seems pretty happy in Brisbane through the extreme heat, although my place doesnít seem to suffer too much on top of the hill in the breeze. So far."
Dale Dixon ... "I've been patiently watching this one waiting for flowers. Didn't think it would be today or even December. Low and behold this morning two flowers out and many more emerging perhaps tomorrow.
Label says yellow bract form from Peru ex Michael Romanowski."
Peter Tristram ... "As far as I know it's from Michael Romanowski, collected in 2004 in nth Peru or from Knize. Others might have more detail. It's an easy form to grow and very attractive that's for sure. It is much smaller that the fabled cuencaensis, aureispica, tequendamae yellow form, wuelfinghoffii, azuayensis etc. from Ecuador, as photographed on rocky crags by Rosco, Lesley and company a few years ago.
I got seed from Len Colgan but the first of the very hot years finished them all off. What plants are left out of that group, all imported too, are the heat tolerant ones for sure!"

---
Updated 06/01/22
---