Tillandsia plumosa
Click thumbnails for full size, scaled to a new window.
---
Tillandsia plumosa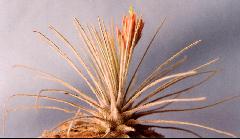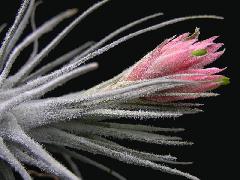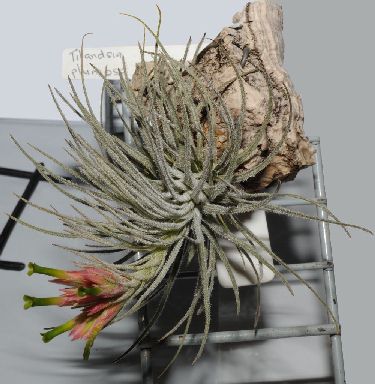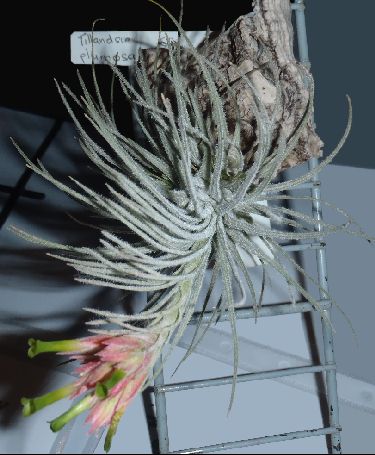 | | |
| --- | --- |
| Ken Woods 08/04. | Terry Davis BSA Show 10/13 |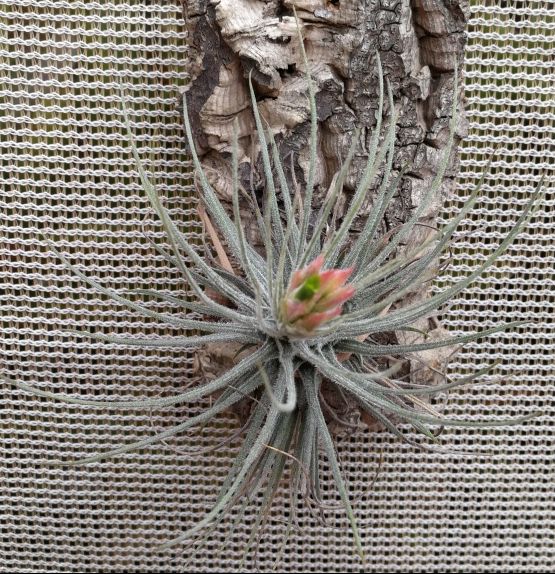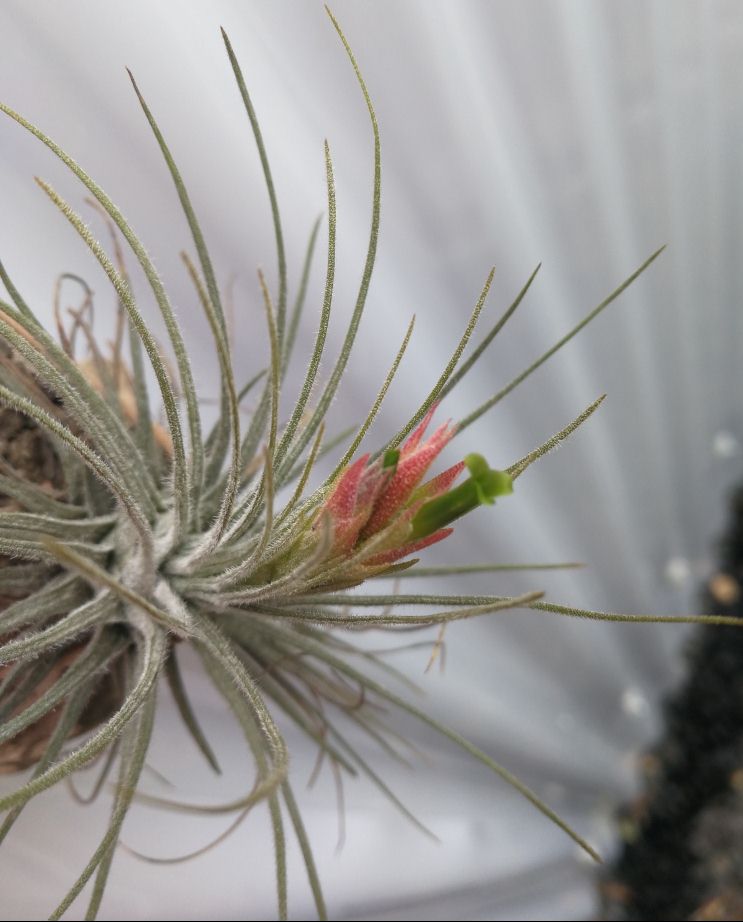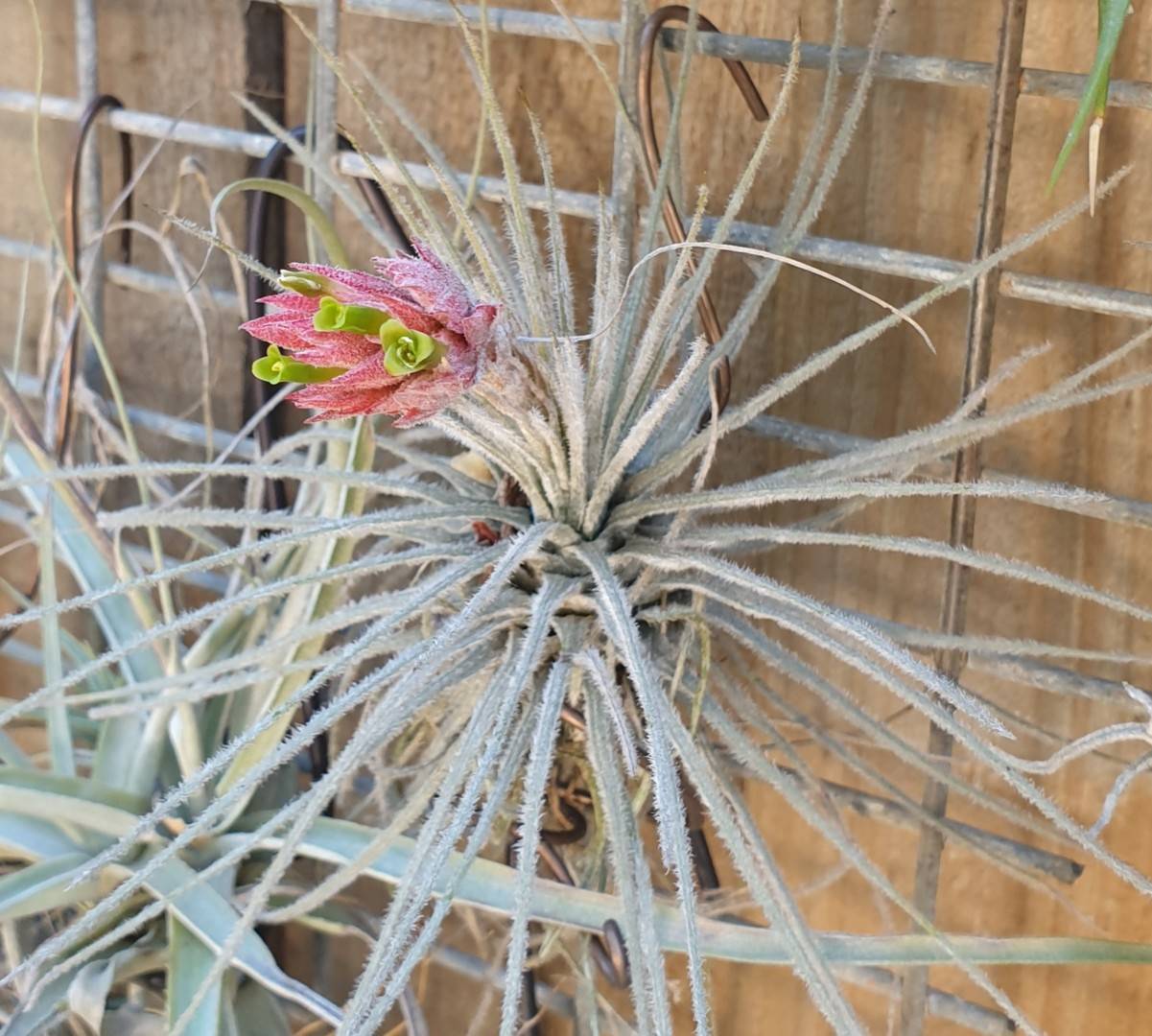 | | |
| --- | --- |
| Justin Lee 11/19 | Chris Larson 11/20 |
Justin Lee ... "Nice plant with interesting green flowers. I might cross it with either tortilis or mauryana which are both coming into flower."
Chris Larson ... "This one has been sitting still since before winter. The bracts were fully extended and coloured back in May. Finally flowers."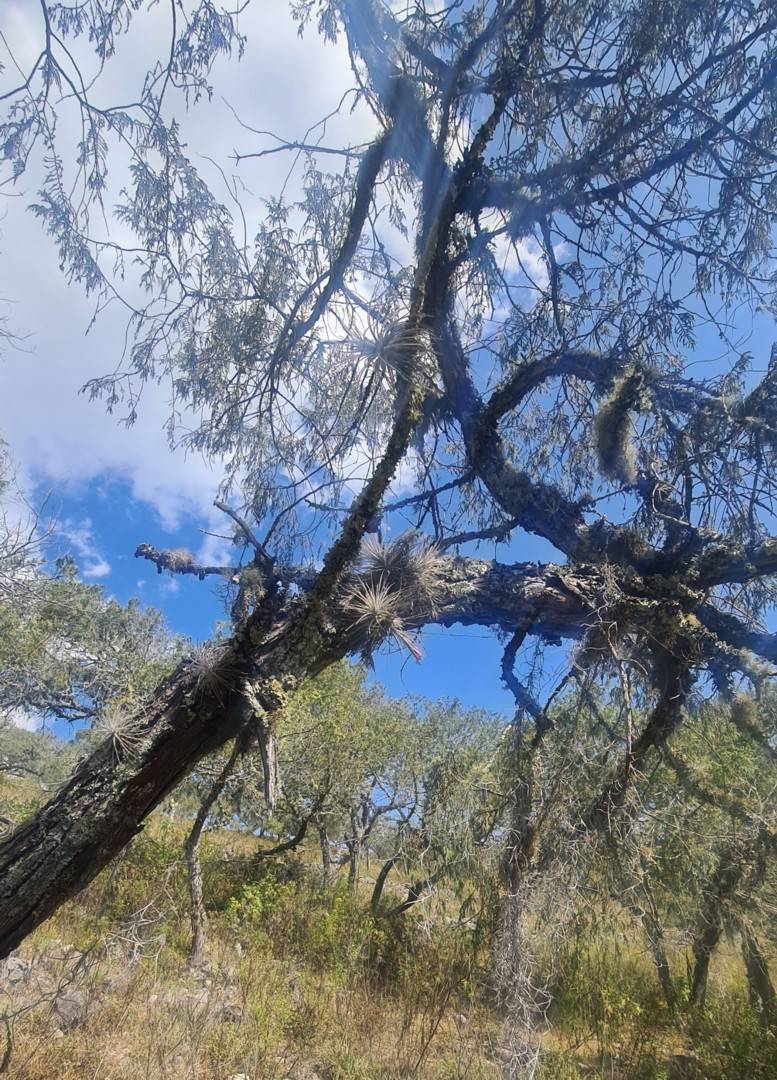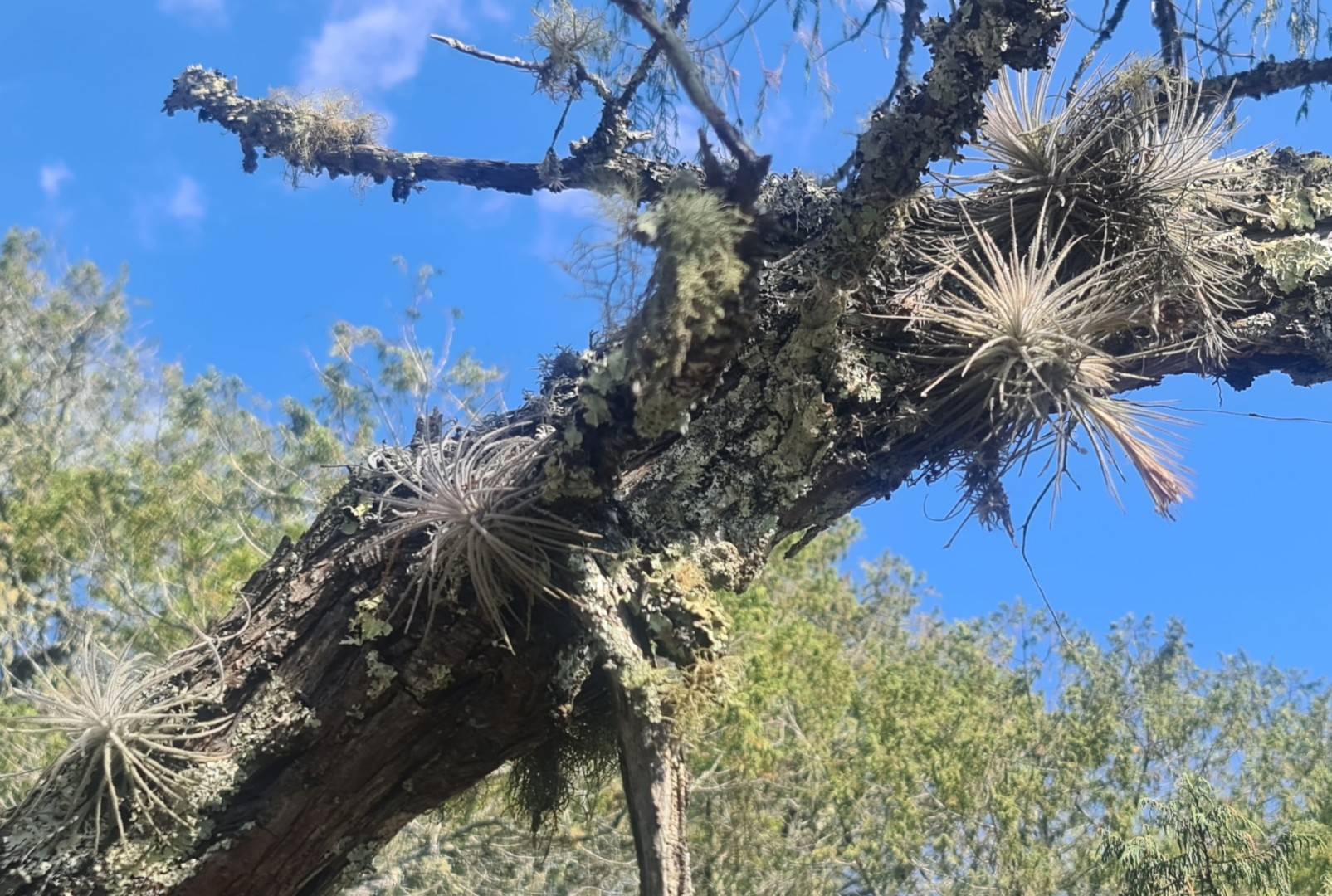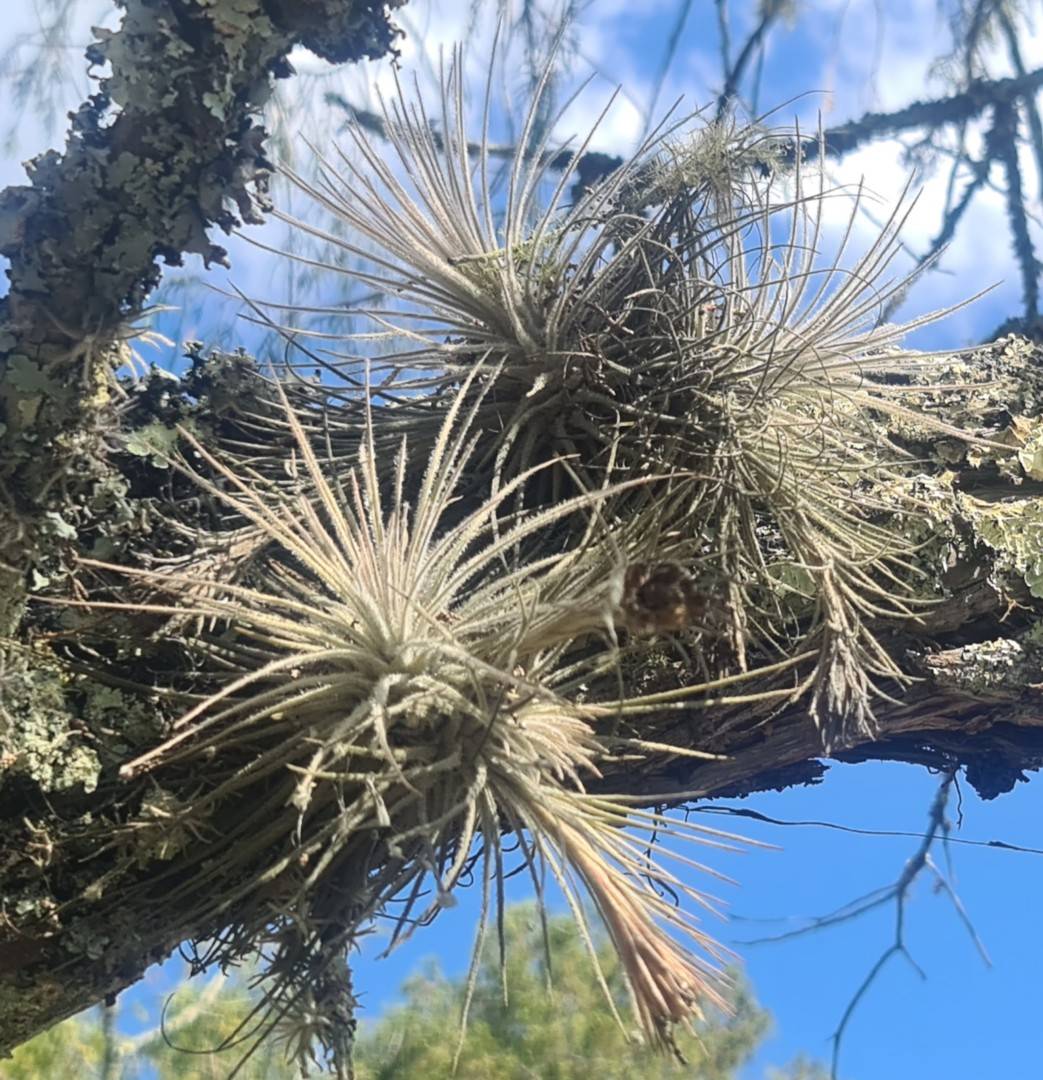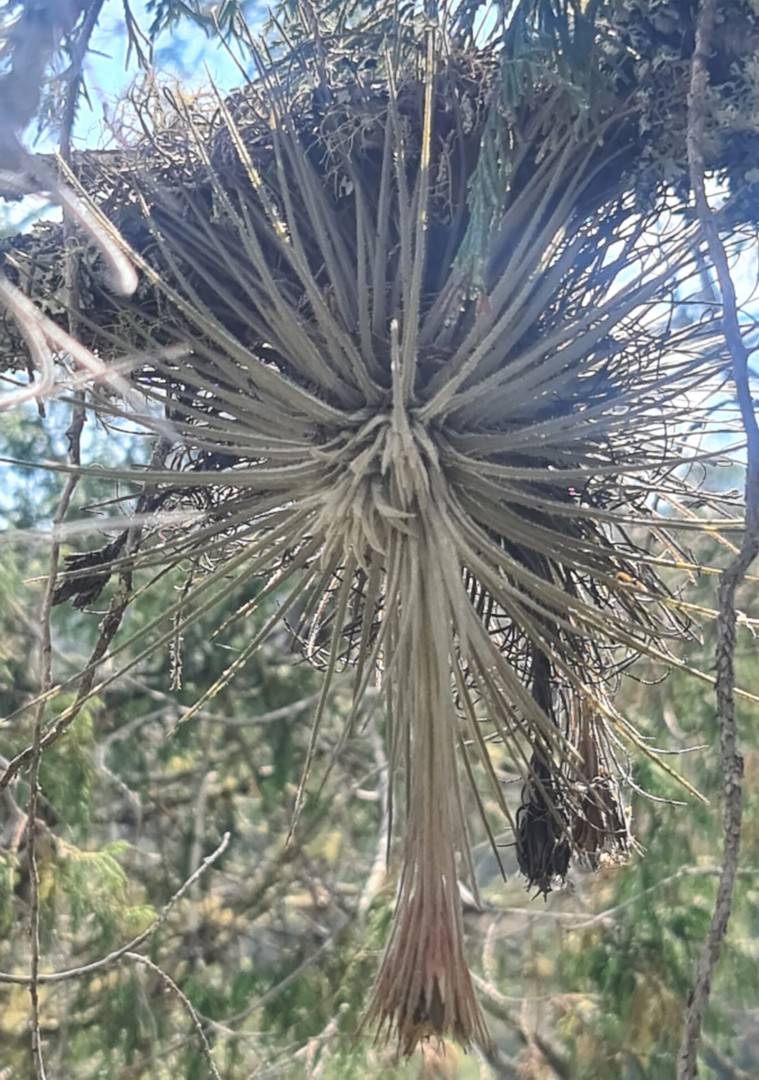 Barry Langridge 22/22 "On location, Mixteca Region, Oaxaca."
---

Tillandsia plumosa Baker Jour. Bot. London 26:13.1888.
Syn.: Viridantha plumosa (Baker) Espejo comb. nov., Acta Bot. Mex. 60: 31, fig. 5 (2002). Type: Mexiko, Puebla, Andrieux 57 (holo K, photo GH; iso G, M).
Detail from Ehlers in Die Brom Sonderheft 6: 34-6. 2009
Plant stemless, often growing in large clumps, flowering 12 -18 cm high, to 15 cm wide, a dense, spherical rosette formed from many (up to 50) leaves, spreading radially on all sides.
Leaves to 14 cm long, densely covered with prominent feathery-woolly scales.
Sheaths forming a bulb, 1-2 cm long, 10 mm wide, long oval shape and thin.
Blades distinct, 5-12 cm long, above the sheath 6 mm wide, linear awl-like, dense white feathery scales.
Inflorescence longer than the leaves,
peduncle 6-11cm long, 2 mm thick, usually exceeding the leaves, erect to suberect,
peduncle bracts densely imbricate with their oval sheaths enclosing the peduncle, with long, erect, often secund, nerved, leaf like, pink, densely prominent scaled blades.
The fertile part of the inflorescence to 4 cm long, 2(-3) cm wide, capitate or club-shaped, with 3-10 erect spikes, sometimes appearing simple due to the reduction of each spike to a single flower.
Primary bracts as long as the spikes or exceeding them, similar to the upper peduncle bracts, erect, narrow lanceolate acuminate, 2 cm long, 5 mm wide, thin, green or pink, abaxially grey scales.
Spikes up to 3 cm long, 1 cm wide, broad lanceolate, flattened, densely distichous with 1-3(-4) dense erect flowers, basal ones often being sterile.
Floral bracts 14-17 (-20) mm long, 7 mm wide, approximately as long as the sepals, oval-lanceolate, acuminate, membranaceous, strongly nerved, carinate, adaxially glabrous, abaxially very fine feathery scales, at the base green, tip pink.
Sepals 15-16 mm long, 5 mm wide, narrow lanceolate, acuminate, thin, nerved, scaled, the adaxials (next to axis) are 1 mm high connate and carinate.
Petals 18-20 mm long, 3 mm wide, with somewhat prominent tips, green, #82 moss green (Isley III., P. T. 1987, colour chart), stamens and pistil enclosed.
Seed capsule cylindrical, 2 cm long.
Species name - The name is deduced from the Latin: plumosus = feathery. The leaves are equipped with long, prominent hairy scales that have the look of feathers.
Habitat and Range - Mexico, in the highlands of Guerrero, Hidalgo, Michoacan, More-los, Puebla, Oaxaca and Veracruz. Usually, the species grows in high altitude, somewhat moist habitats.
Cultivation - In winter Tillandsia plumosa should be cultivated not too warm and moist, in summer it is recommended to keep the plants outside.
Variability - Tillandsia plumosa is very constant in size and varies very little although it is wide spread in a large distribution area.
Examined material Oaxaca: Tlaxiaco-Nuyoo, 2350 m, 7.12.2001, R. Ehlers EM012301 (WU); Tlaxiaco - S. Mateo Penasco, on trees near the road, 1900 m, 8.12.2001, Ehlers EM0112403 (WU); San Mateo Penasco, on trees below the rock walls and growing on the same tree together with Tillandsia atroviridipetala, 1800 m, 8.12.2001t, Ehlers EM012402 (WU); Xoixtlahuaca, together with Tillandsia atroviridipetala, 10.12.2001, Ehlers EM012604 (WU); Guelatao-Oaxaca, 2150 m, 12.2.2005, Ehlers EM050306 (WU); Oaxaca, Mex 131, km 54, 1300 m, Febr. 2002, M. Kretz 513 (WU); Oaxaca, km 72 from Tamazulapan towards Yosondua, Febr. 2003, M. Kretz 202 (WU); Huajuapan de Leon -Oaxaca, 1978, K. & R. Ehlers s. n. (WU). Guerrero: Tlatlanquitepec, 2400 m, 6.3.1990, Ehlers EM900607 (WU).

Tillandsia plumosa Baker, Jour. Bot. London 26: 13. 1888
Description from Mez 1935 but he is describing T. magnusiana ! We think!
Plant more than 15cm high
Leaves many, forming a cushion shaped rosette, spreading or recurved, up to 15cm long, very often shorter, filiform subulate, large feathery lepidote
Scape evident, erect, slender,
Scape bracts sheaths equal the blades of the rosette leaves, well exceeding the internodes, involute,
Inflorescence rarely more than 6 flowered, simple, polystichous capitate corymbose.
Floral bracts membranous, elliptic, longer than the sepals.
Flowers erect, 40-45mm long,
Sepals free, by no means carinate, to 17mm long,
Petals violet, tubular erect, shorter than the stamens.
Habitat Mexico, near Puebla (Andrieux n.57), Nacaltepec (LC Smith n 535 ), Oaxaca (Selar n. 1606) or Type Locality (Karwinsky)

168. T. PLUMOSA Baker in Journ. Bot.1888, 13.
Leaves densely rosulate, subulate from an ovate base 1/3in. diam., 8-4 in. long, 1/16in. diam. low down, densely beset with spreading hair-pointed scales.
Peduncle shorter than the leaves;
bract-leaves crowded, long-pointed.
Inflorescence a dense capitulum ½ in, long and broad;
flower-bracts ovate-cuspidate, 1/4in. long.
Calyx as long as the bract, flattened on the side nearest the axis;
sepals acute.
Petals not seen.
Habitat: Mexico; province of Puebla, on trees, Andrieux 571 Connects the sections Anoplophytum and Pityrophyllum.

123. Tillandsia plumosa Baker, Jour. Bot. London 26: 13. 1888.
Tillandsia magnusiana sensu L.. B. Smith, N. Am. Fl. 19: 153. 1938; non Wittnrack, 1889.
Tillandsia atroviridipetala Matuda, Cact. y Sucul. Mex. 2: 53, fig. 40.1957.
Type. Puente de Calderon, Mexico State, Mexico, Matuda 32632 (MEXU). Now species in own right.
Tillandsia mauryana sensu L. B. Smith, Phytologia 7: 173. 1960; in part as to synonymy of Tillandsia atroviridipetala Matuda, not as to type.
Desc S&D
Plant stemless, flowering to 18 cm high, densely aggregated.
Leaves very numerous in a dense globular rosette, to 18 cm long, densely tomentose-lepidote with fine linear spreading cinereous or ferruginous scales;
sheaths ovate-oblong, 1-2 cm long, thin;
blades spreading to reflexed, filiform-subulate.
Scape from 11 cm long to almost none, about 2 mm in diameter, usually curved; scape-bracts densely imbricate, elliptic with long foliaceous erect blades, densely tomentose-lepidote, membranaceous, strongly nerved, roseate.
Inflorescence capitate or corymbose, compound or appearing simple and polystichous-flowered by the reduction of each spike to a single flower, 3 cm in diameter;
primary bracts like the upper scape-bracts, exceeding the axillary spikes;
spikes erect, broadly lanceolate, 1-3-flowered, complanate.
Floral bracts lanceolate, acute, 14-17 mill long, about equaling the sepals, carinate, membranaceous, strongly nerved, very finely tomentose-lepidote.
Sepals ovate-lanceolate, acuminate, 15 mm long, thin, nerved, lepidote, the posterior carinate;
petals linear, 18 mm long, yellowish-green;
stamens included.
Capsule cylindric, short-beaked, 2 cm long.
TYPE. Andrieux 57 (holotype K, GH photo; isotypes G, M), Puebla, Mexico.
DISTRIBUTION. Saxicolous and epiphytic in open sunny habitats, 1500-2550 m alt, central Mexico.
MEXICO. HIDALGO: Metzquititlan, 4 Apr 1965, Rzedowski 19504 (MICH). VERA CRUZ: Las Minas, 16 Apr 1957, Foster & Van Hyning 3014 (US). PUEBLA: Tehuacan, Dec 1842, liebmann 14539 (US); 8 Sep 1906, Rose 11370 (US); Puebla, Arsene s n (US); 25 Dec 1907, 1925 (US); San Luis Tultitlanapa, Aug 1908, Purpus 3393 (F, GH, UC, US). MICHOACAN: Morelia, Foster XIII (GH). Oaxaca: Nacaltepec, 6 Apr 1895, L. C. Smith 535 (GH); Oaxaca, Nov-Dec 1895, Seler 1606 (GH); Cerro Soriano, Flacolula, 20 Apr 1920, Conzatti 3932 (US); Cuautemoc, May 1952, Bravo 5 (MEXU, US); Tamazulapan, 14 Apr 1959, Van Hyning 5959 (US); Acatlan, 21 Mar 1960, Van Hyning 6064 (US); Puerto Herrera, Vanhuitlan, 20 Aug 1960, Iltis, Koeppen & Iltis 1144 (US, WIS); Tamazulapan, 18 Apr 1965, Rzedowski 19698 (US).

Fruiting specimens of Tillandsia plumosa with few flowers and almost no scape are easily confused with T. magnusiana Wittmack but may be distinguished by their narrowly acute carinate floral bracts and small sepals.
Because of its filiform-attenuate tomentose-lepidote leaves, Tillandsia atroviridipetala Matuda belongs in the synonymy of T. plumosa and not in that of T. mauryana L. B. Smith which has stouter leaf-blades with broad scales.

Tillandsia plumosa Baker, J. Bot. Brit. & For. 26: 13. 1888. from McVaugh in Flora Novo Galiciano
Open sunny habitats on trees or rocks, in Nueva Galicia in open oak forest with Opuntia, Eysenhardtia, and arborescent Ipomoea, 1750-2100 m, flowering and fruiting Jan.
Jal., Mich., Oax., Pue. (Andrieux 57, K, the holotype), Ver., Hgo.
Above Amacueca, 12-13 km toward Tapalpa (McVaugh 25954, det. L. B. Smith, 1976); Cerro de la Cruz, NE of Tapalpa (Puga 2437, IBUG); Mpio. Tuxcue¬ca, 5 km toward Concepcibn de Buenos Aires, 1750 m (Puga & Carvajal 9821, IBUG).
Acaulescent, up to 18 cm high when flowering;
leaves very numerous in a dense globular rosette, 10 (-18) cm long, densely lepidote and appearing finely bristly under a lens, the scales with an elongated or filiform-subulate upright lobe or lobes;
leaf-sheaths 1-2 cm long; blades filiform-subulate, -spreading to strongly reflexed, 2-3 mm wide at base;
scape almost none or up to ca 10 cm long, 2 mm in diameter;
scape-bracts densely imbricated with long erect foliaceous blades, lepidote like the leaves, "'light bright red" or "roseate";
inflorescence capitate or corymbose, compound or appearing simple (each spike reduced to a single flower), 3 cm wide (to 6 cm wide in fruit), the spikes if developed erect, 1-3-flowered, distichous, complanate;
floral bracts lanceolate, acute or long-acute, 14-17 mm long, about equalling the sepals,
keeled, membranous, nerved, densely lepidote; sepals acuminate, ca 15 mm long, thin, nerved, lepidote, the posterior (adaxial) ones keeled;
petals ca 18 mm long, "green" or "yellowish green" or (G) "nile-green";
stamens included;
fruit cylindric, short-beaked, 2-3 cm long.
Smith (Phytologia 19: 287. 1970) noted that the leaves of Tillandsia plumosa and T. magnusiana Wittm. are "practically indistinguishable, both having nearly setaceous blades and very fine linear spreading scales. Typical T. plumosa has a distinct scape, but in some specimens it is nearly lacking as in T. magnusiana. In our specimens from Jalisco the cluster of flowers is sessile or elevated 2-4 cm above the base of the rosette but the scape is covered and concealed by the surrounding appressed foliaceous bracts.
---
Tillandsia plumosa complex in Die Brom Sonderheft 6, 28-32. 2009
Let us address now the complex around Tillandsia plumosa.
Tillandsia plumosa Baker was published in 1888. In 1957 Matuda described Tillandsia atroviridipetala. In Smith & Downs (1977) this was not acknowledged as a species in its own right but was first treated as synonym of Tillandsia mauryana, and later of T. plumosa.
Rauh, 1990, was of the opinion that Tillandsia atroviridipetala, which shows a broad varibility should remain as its own species. The species has been widely acknowledged in the meantime.
Gardner (1982) states that both species were evidently similar but Tillandsia plumosa can be distinguished by the longer peduncle, the length and nature of the leaves and furthermore through the different ecological conditions under which the species grows: Tillandsia atroviridipetala prefers arid regions, whereas T. plumosa prefers moist habitats with frequent fogs. Furthermore Tillandsia plumosa produces many vegetative offsets and because of this forms large clumps, whereas T. atroviridipetala rarely has offsets.
From my point of view the last-mentioned classification seems to be logical and I couldn't understand Smith's differing opinion. Field studies on the many tours in Mexico gave the opportunity for the following observations.
Let us consider first the characteristic "peduncle": Tillandsia plumosa has one about 5 cm long, T. atroviridipetala has a sessile inflorescence, at least in the extreme forms. There are now plants growing at many locations, which should be named Tillandsia atroviridipetala, because of the nature of the leaves. At least they do not correspond to Tillandsia plumosa in size and scales, but they have an elongated peduncle. So, for example we found in Jalisco, near Mazamitla, plants that were, in size, between both species and with a peduncle from ca. 2 cm length. There are similar plants also in large quantities in Jalisco between Tecotlan and Quila and at the pass near Autlan de Navarro.
All these locations were rather humid at about 1700 m. But also near Tehuacan, Canada, Lydia Kohres found a Tillandsia on rocks, almost as big as Tillandsia plumosa, the leaves however were much broader and not feathery scaled, the peduncle is about 2.5 cm long. On our trip in 2005 we found in Oaxaca between Mitla and Ayutla, a form, as large as Tillandsia plumosa, however in the scales and in the inflorescence it was closer to T. atroviridipetala.
In contrast to general opinion that Tillandsia atroviridipetala would not form groups, there are many contrary examples. In the State of Oaxaca near San Mateo Penasco I have found large groups, and near Huajuapan de Leon, there are many trees, that are virtually covered with gigantic groups and accumulations of single plants.
If we now examine the statement, "Tillandsia atroviridipetala would grow in dry areas", this also does not always ring true. We have found, for example, in Durango between Topia and Canelas at 1700 m s.m., in a moist fog-forest on pine trees, growing with Tillandsia bourgaei, a "typical" small T. atroviridipetala, that corresponds to the description by Matuda precisely.
Two locations, at which I found both species peacefully united, are especially interesting. In December 2001, I found in Oaxaca near Xoixtlahuaca, only about ten metres apart from each other, a small, typical Tillandsia atroviridipetala and a large and a small form of T. plumosa. I was even more astonished, when I could collect near San Mateo Penasco on the same tree Tillandsia plumosa and a quite typical T. atroviridipetala. The plants themselves were almost the same in the size, only one, slightly larger, had somewhat feathery scaled leaves and a clearly extended peduncle. Also on our trip in February 2007, we could repeatedly find at other locations in the area around San Mateo Penasco, plants of both forms at the same location.
Concerning the size of the plants, it appears that Tillandsia plumosa is relatively steady in its rather large habitat area. Admittedly they are somewhat smaller in dry and high-situated areas, but the differences are marginal.
With Tillandsia atroviridipetala the difference is much bigger. Even at the same location, for example between Mitla and Ayutla, I found plants with a diameter of 3 cm in flower, which correspond in size to the description by Matuda. There were however, also plants, which were as big as a large Tillandsia plumosa, with a diameter of at least 10 cm. There is a large habitat area of differing plants, which include a rather large Tillandsia atroviridipetala showing a short, though clear peduncle.
If we now appraise all these field studies, we come to the conclusion that there are many forms and many transitions, as well as in the size of the plants, the nature of the leaves and the length of the peduncle. I was inclined initially in my studies to the opinion that Smith had united the two species correctly. I thought, the best solution would be to acknowledge Tillandsia plumosa as the type species, and treat the T. atroviridipetala forms as varieties or subspecies. The evolution in this family is by no means complete.
After many long years and particularly on the last Mexican trips intensively examining this complex, I would like to treat both as species, Tillandsia plumosa and T. atroviridipetala. The plants of the two species are very easily distinguishable in their morphology and correspond to the original descriptions. They show many different characteristics and can be distinguished also without inflorescence. Moreover, they have a large individual habitat so that the species status appears justifiable.
From the entire complex, some forms attract attention through strong characteristic differences that they should be described as species. The complex, quite small until now, including only six species so far, is being widened. Also a taxon, that, was treated as a subspecies to Tillandsia tortilis, is, by virtue of long observations and a large number of further field studies, now given the new status of a species: Tillandsia curvifolia.
This species shows many differences to all other related species justifying this statement. As the only one of the group this species has a polystichous not distichous inflorescence. The few flowers are spirostichous here, arranged spirally around the inflorescence axis.
I would now like to introduce the known species and to describe the new species. With the well known species, I have added extra details to the descriptions based on my own observations and studies. For a standard approach to colour in all descriptions, I have referred to the colour charts of P. T. Isley III (1987).
---
Updated 24/02/23
---