Tillandsia peruviana. (Was Vriesea sagasteguii).
Click thumbnails for full size, scaled to a new window.
---
Tillandsia peruviana
Formerly Vriesea sagasteguii.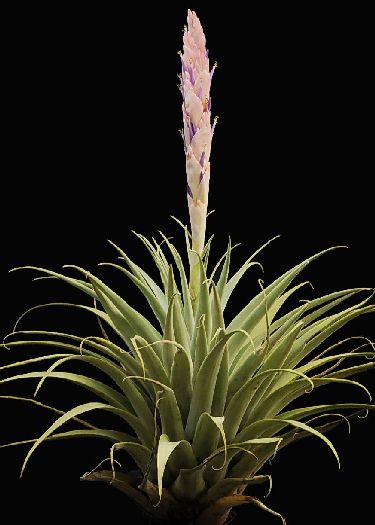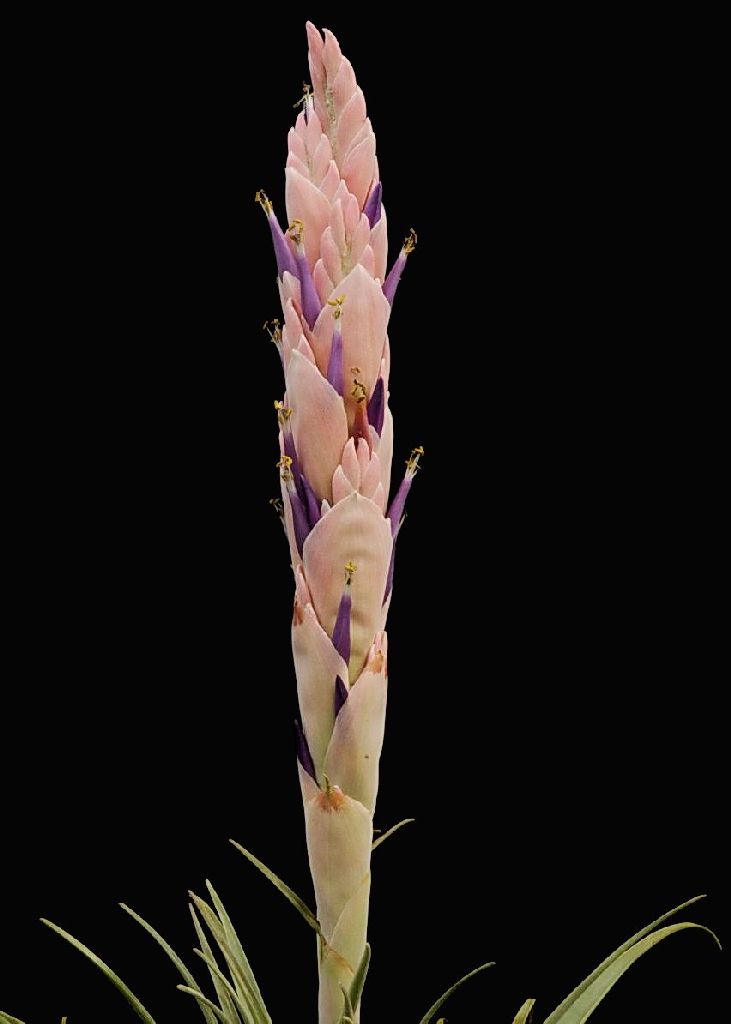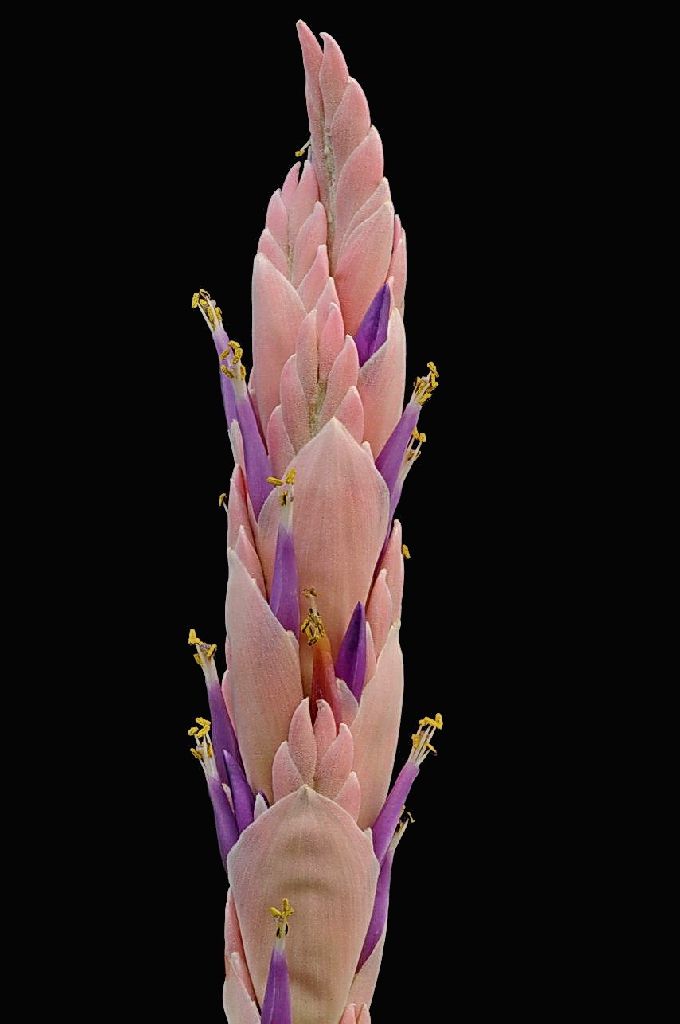 Peter Tristram ... "Some plants take many years between flowerings and T. peruviana/Vr sagasteguii is no exception.
I doubt it will self so maybe in 20 years the BCR might record it as a parent...
It is big too, about 60cm and weighs a ton! "
| | |
| --- | --- |
| Peter Tristram 05/20 | Chris Larson 05/20 |
Peter Tristram ... "As many of you know, TVs, aka Tillandsia subgenus Pseudovriesea these days, are a passion of mine. One species that has survived the rigors of the last few years is the large, white-leafed T. peruviana. It used to be Vriesea sagasteguii. The plant in the pic is from my oldest clone, obtained in the Ď80s. I grow them mounted (like this one), potted and racked, all doing well in my main Till tunnel. They should make great hybrids too."
Chris Larson ... "My T/V. peruviana did its thing back in Feb. However, it was mounted on a wire and flowered at a small stage. My other larger one (though I have not flowered it yet to confirm identity) still hasn't done its stuff. Can't wait to see the difference.
Interesting to know if the small plant flowering at a small size was due to lack of nutrient from potting, or due to other factors.
This is one of the slower tills for me - but definitely worth the effort."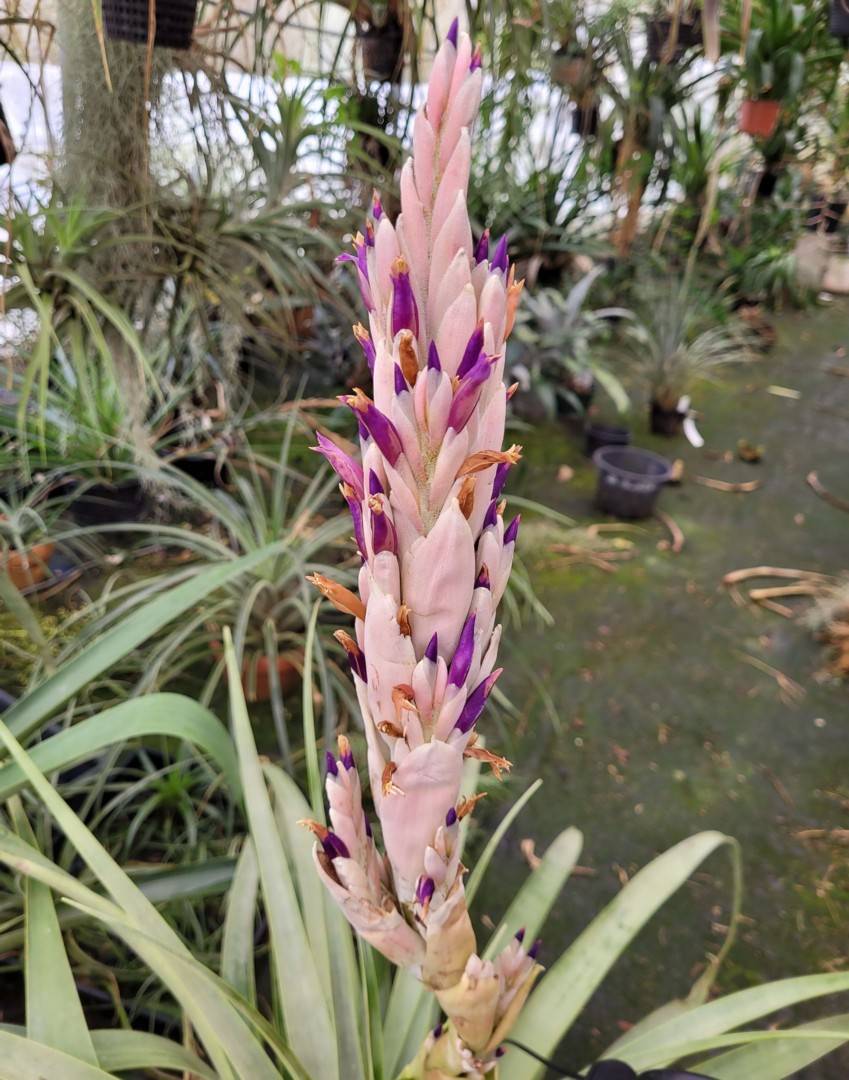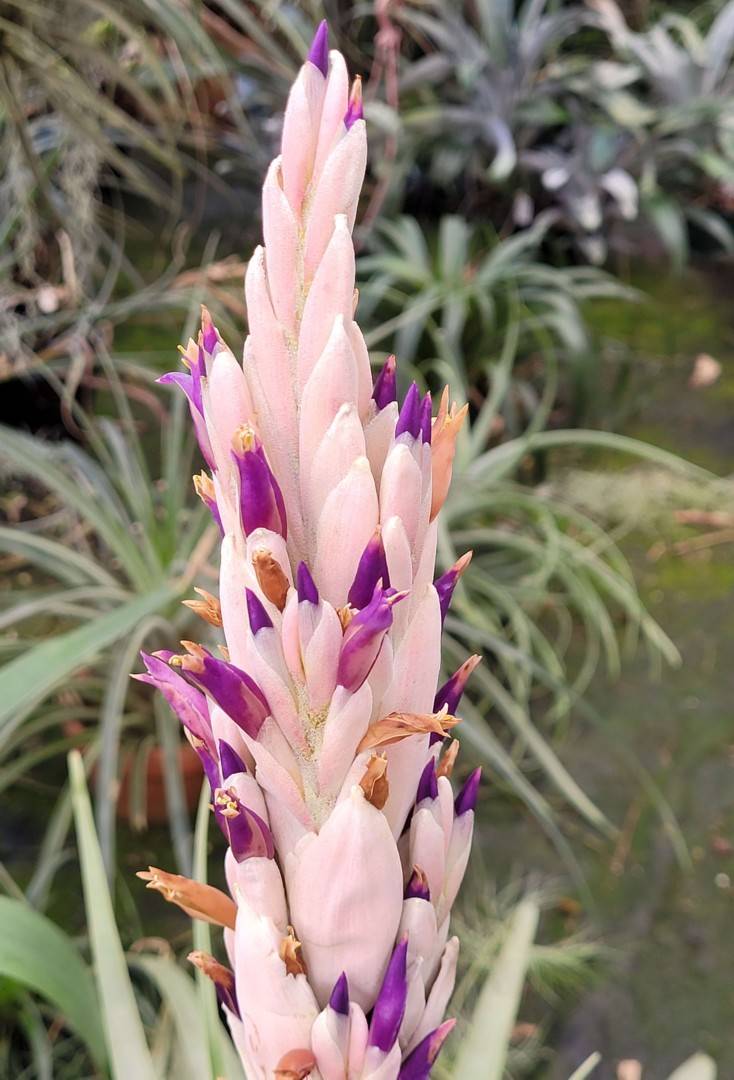 Peter Tristram ... "Despite the endless rain, the TVs are surviving and some even thriving. This peruviana is under plastic but the flowers were unusual in that most budded simultaneously and didnít open normally."

---

Tillandsia peruviana Grant, Phytologia 75(2): 170-175. 1993
Vriesea sagasteguii L. B. Smith, Phytologia 16: 82, pl. 2, figs. 12, 13. 1968.

Desc. from S&D p1252
Plant flowering 75 cm high. (40cm at Selby- Luther)
Leaves rosulate, 80 cm long, covered with appressed cinereous brown-centered scales;
Sheaths indistinct;
Blades very narrowly triangular, 4 cm wide.
Scape straight, 1 cm in diameter;
Scape-bracts densely imbricate, broadly elliptic, covered with pale appressed scales, linear-laminate.
Inflorescence bipinnate, densely cylindric, 30 cm long, 3 cm in diameter;
Primary bracts like the scape-bracts but merely apiculate, to 7 cm long, covering all but the highest spikes;
Spikes lanceolate, complanate, densely 7 -flowered, 5 cm long without the naked sterile base, 17 mm wide.
Floral bracts ovate, 25 mm long, covering the sepals, ecarinate, chartaceous, nerved, densely pale lepidote.
Sepals ovate, 20 mm long, ecarinate, thin-coriaceous, glabrous except at apex;
Petals tubular-erect, 5-6 cm long; (appears purple-rose but really cream with dense violet-rose speckles- Luther)
Stamens exserted.
Type. Lopez & Sagastegui 5175 (holotype US, isotype TRP), on rocks, Catache to Santa Cruz, Santa Cruz, Cajamarca, Peru, 20 May 1965.
DISTRIBUTION. On rocks and cacti. 1500-2000 m alt, northern Peru.
PERU. CAJAMARCA: Valley of Rio Huancabamba, Aug 1967, Rauh 20059 (HElD, US).
---
Updated 22/04/22
---