Tillandsia penduliscapa
Click thumbnails for full size, scaled to a new window.
---
Tillandsia penduliscapa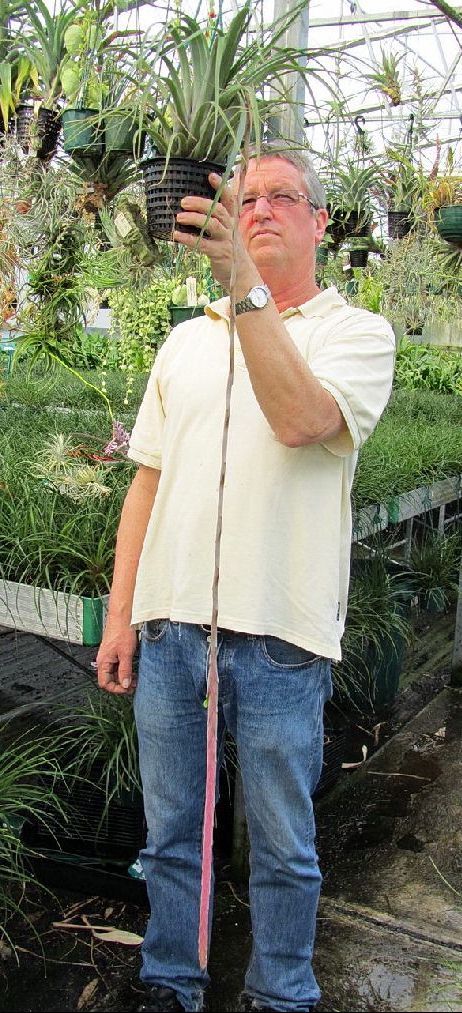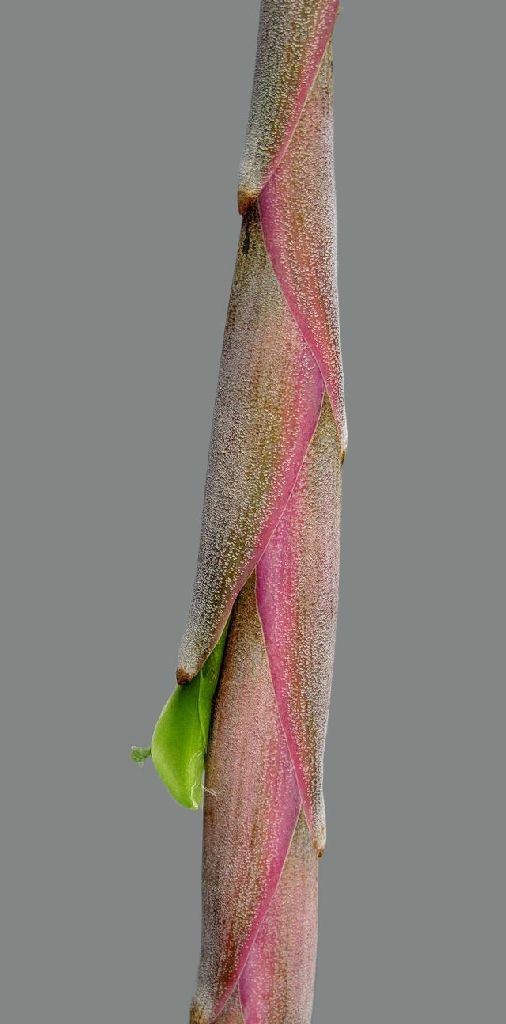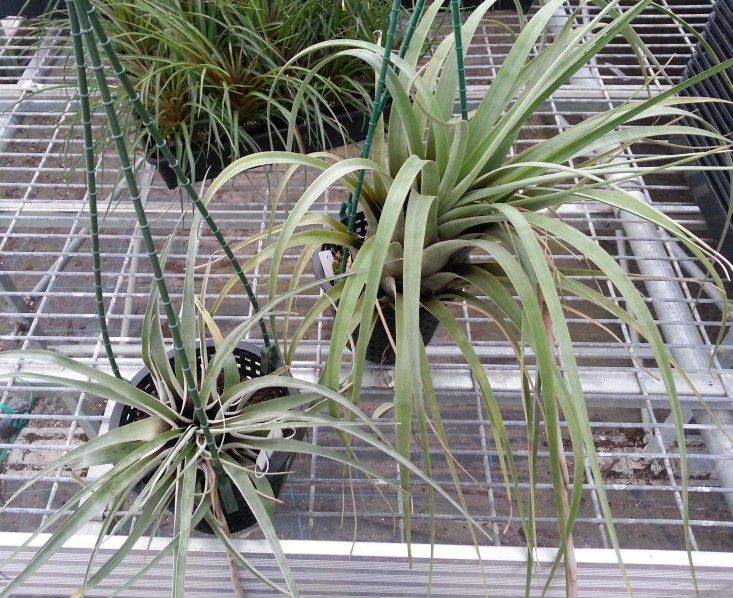 | | |
| --- | --- |
| Peter Tristram 10/13. | Chris Larson 11/13. |
Peter Tristram ... "A proud Chris Larson holding aloft a splendid specimen of T/Vr penduliscapa. The plant was imported from Jeff Kent a couple of years ago (as longiscapa!) and is the longest one to bloom so far. I think it will end up Chrisís length."
Chris larson ... "I showed Peter these photos a couple of days ago. Of course the phone doesnít do as good a job as the Nikon camera, but you get the picture. Both ex-Kent under different names (possibly a mix up during dipping at AQIS/DAFF) Ė but different plants with similar flowers Ė and probably the same species.
The smaller appear to have the same type of foliage as Peters, but the large is distinctly different." Peter Tristram ... "Chris has this neat species in bloom too and photos of his very long are posted above.
The problem for me is that the first (imported as) Ďlongiscapaí in a different import only has 20 mm floral bracts whereas this baby has 40-45 mm fb, matching the description nicely for that criteria.
At least some of these were misnamed fragrans, so thatís another issue!
But E&Dís Taxon lists a Vr. longiscapa Ule. I would like to find out more about this one!"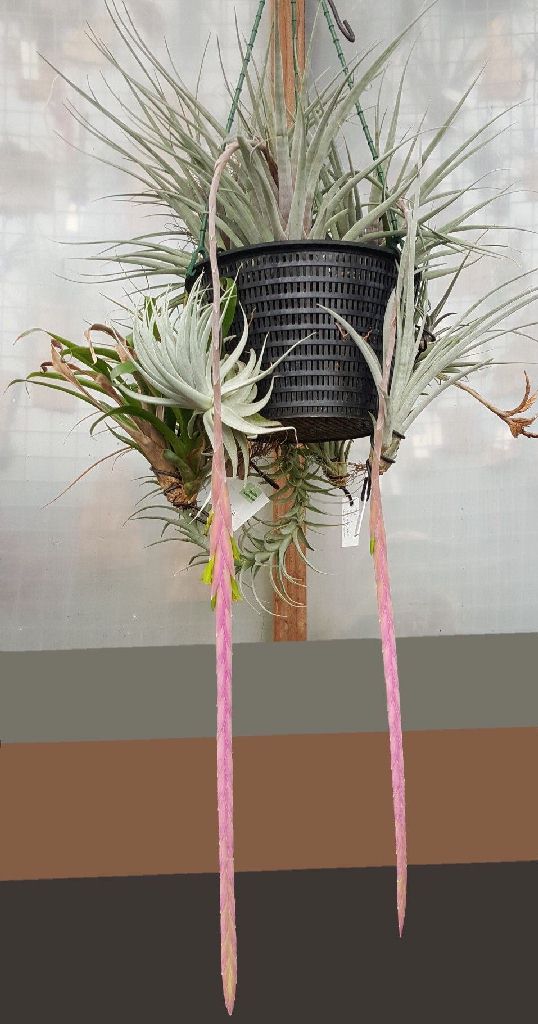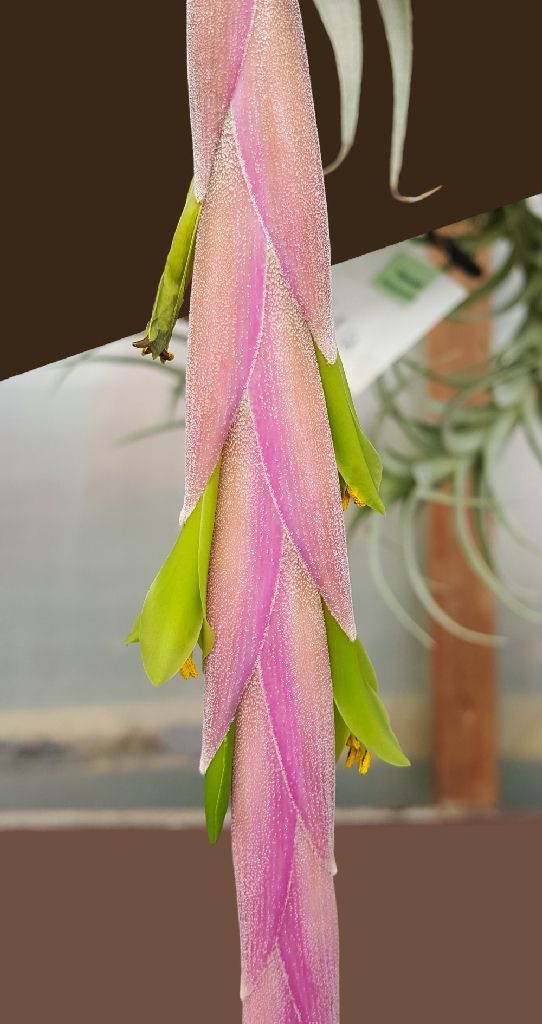 Chris Larson ... "This is a plant that I have been growing for some years. Last time I didnít get the chance to check the ID out. Another that has no tag. I have 2 plants Ė one on the disc as T. pendulispica has a really long inflorescence (me holding my plant in Pedros photo). I have another as TV. fragrans Ė a little smaller & which I thought was this one, though does have a rosette more intermediate to the size of TV penduliscapa, though last time it was a little larger. The flower colour alone has it fairly as T. penduliscapa, but Iíll have to check the other differentials next time Iím at work. Pretty thing though."
Peter Tristram ... "Hi Chris. Unfortunately nothing from our imports labelled as T/Vr fragrans has bloomed as such. I have scolded you many times for not changing labels!!! This species, sold to me by Jeff Kent as TV fragrans and TV longiscapa, was easy to identify as TV penduliscapa (not pendulispica which is a Racinaea now) when it bloomed not long after importing it in 2012. Itís one of the easier, bulbous-based TVs to grow and blooms regularly for me too. Quite a few collectors should have it by now as I usually take some pups to the Till Day. Please be careful not to take pups off most TVs too small Ė they arenít as hardy as fasciculatas and the like and prefer some initial Ďbodyí mass to get a move on!"
Chris Larson ... "I had sort of figured it out, but having my plants at such a distance means I canít bring them to the house to check keys easily Ė and by the time I get back to the nursery Iíve forgotten. Which is why labels donít get changed. I have success with the smaller form which is easier Ė ie which is easy to remove - but the others are a little softer, and need that mass.
Some probably have these from me under these names T. longiscapa & fragrans."

---
Updated 08/01/19
---