Tillandsia patula
Click thumbnails for full size, scaled to a new window.
---
Tillandsia patula
Previously classified as Vriesea.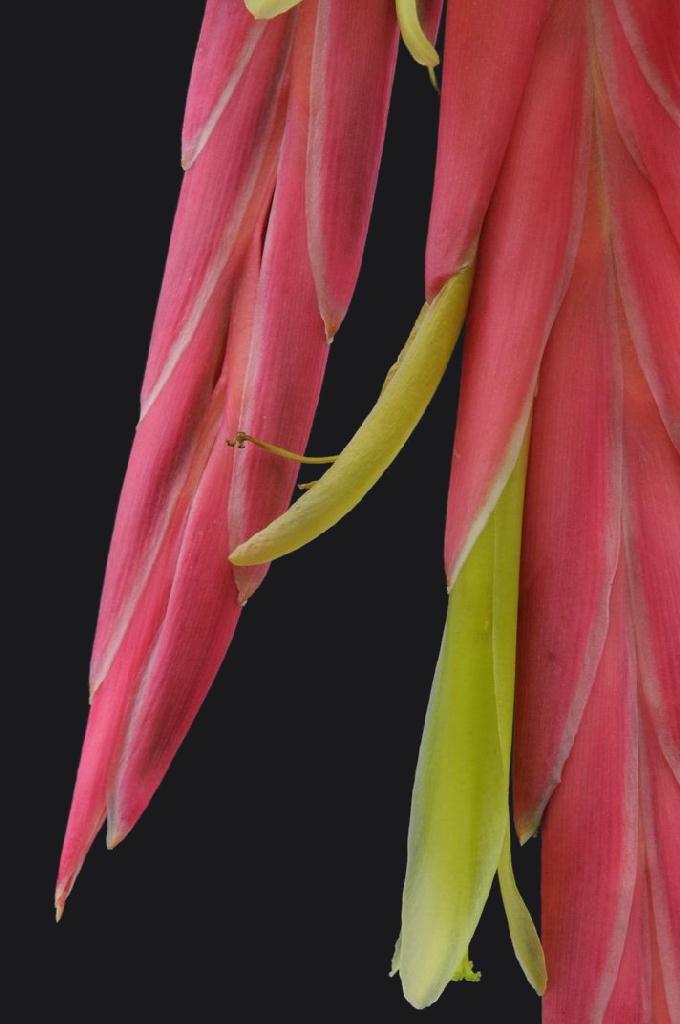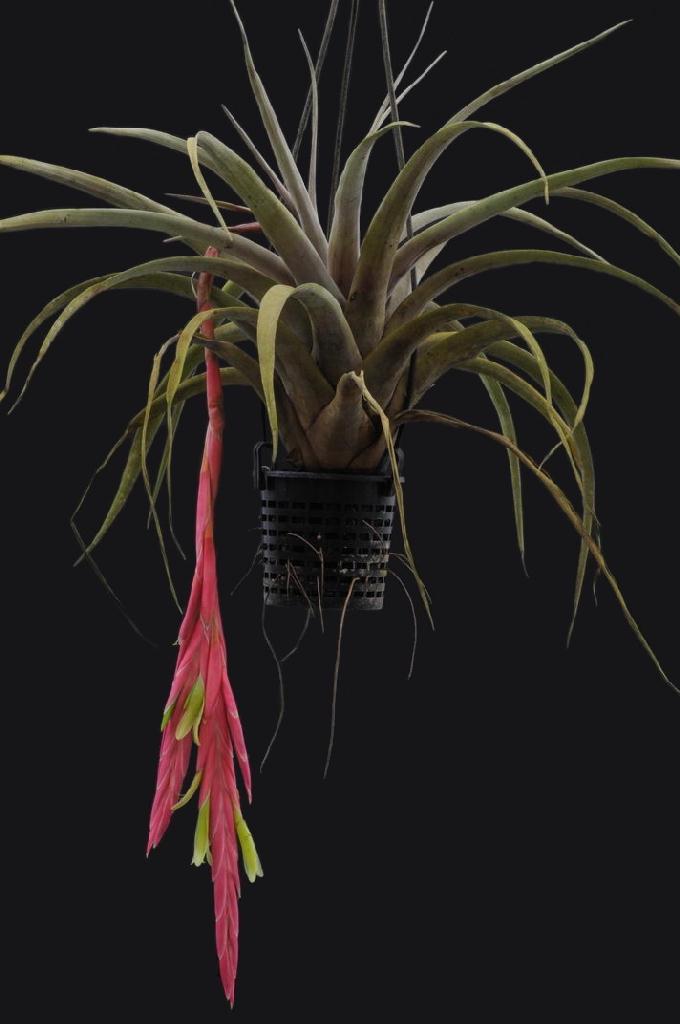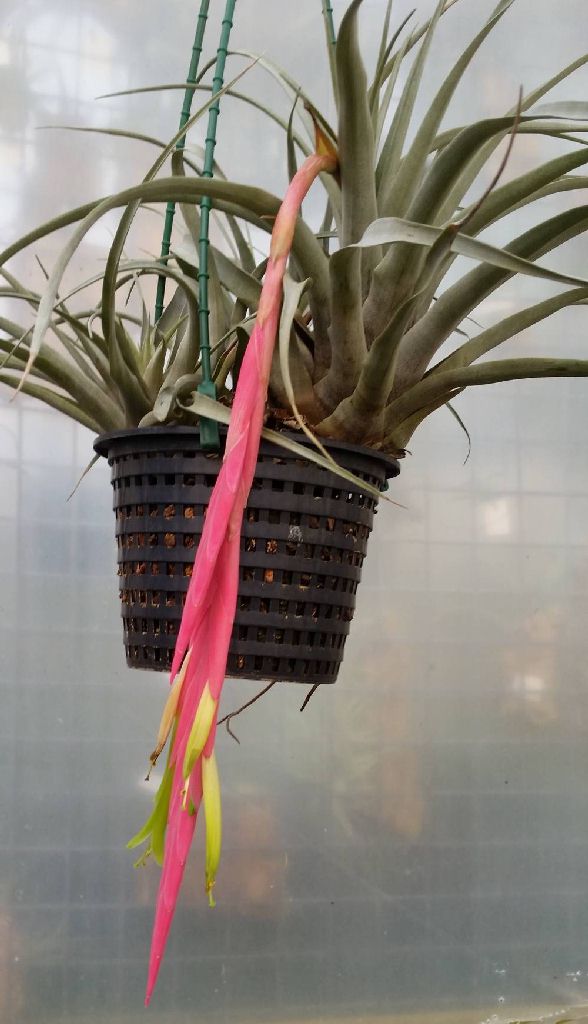 | | |
| --- | --- |
| Peter Tristram 04/11 | Chris Larson 06/16 |
Peter Tristram ... "A couple of spectacular T/Vs flowering at the moment. I can't go past patula (aff??) for this plant (50x50cm, fb 35-45mm). It is the first branched one in the group, the rest being simple so far but with longer floral bracts, though the rosettes all look the same – very brown and equal in size."
| | |
| --- | --- |
| Chris Larson 06/17, another form. (Before & after flowering) | Chris Larson 03/19 |
Stephen Morgan ... "Can you help me with some hints on how you grow T. patula? I have one that is not happy as it is only growing slowly and has rolling leaves. It grows under shade cloth in Summer and under protection in the colder months."
Stephen Morgan ... "For these softer TVs:
Summer: Cooler. Higher relative humidity, but not humid – i.e. regular watering with good air movement, to just dry in between with no prolonged dry periods. Moderate light.
Winter: Control water – under fixed roof. Keep on dry side, but do not dehydrate – usually attained by misting regularly. Still in moderate light.
For my climate: Grow with T. carlsoniae. But it is easier for me to do this at work where I have better control for these more difficult plants. Even though it grows over 2100m, and therefore it should take the Melbourne cold, it is still easier in the work heated greenhouses."
Geoff Beech ... "I've had patula x Chris outside in Coburg for a couple of winters now on an east facing wall seems ok so far touch wood."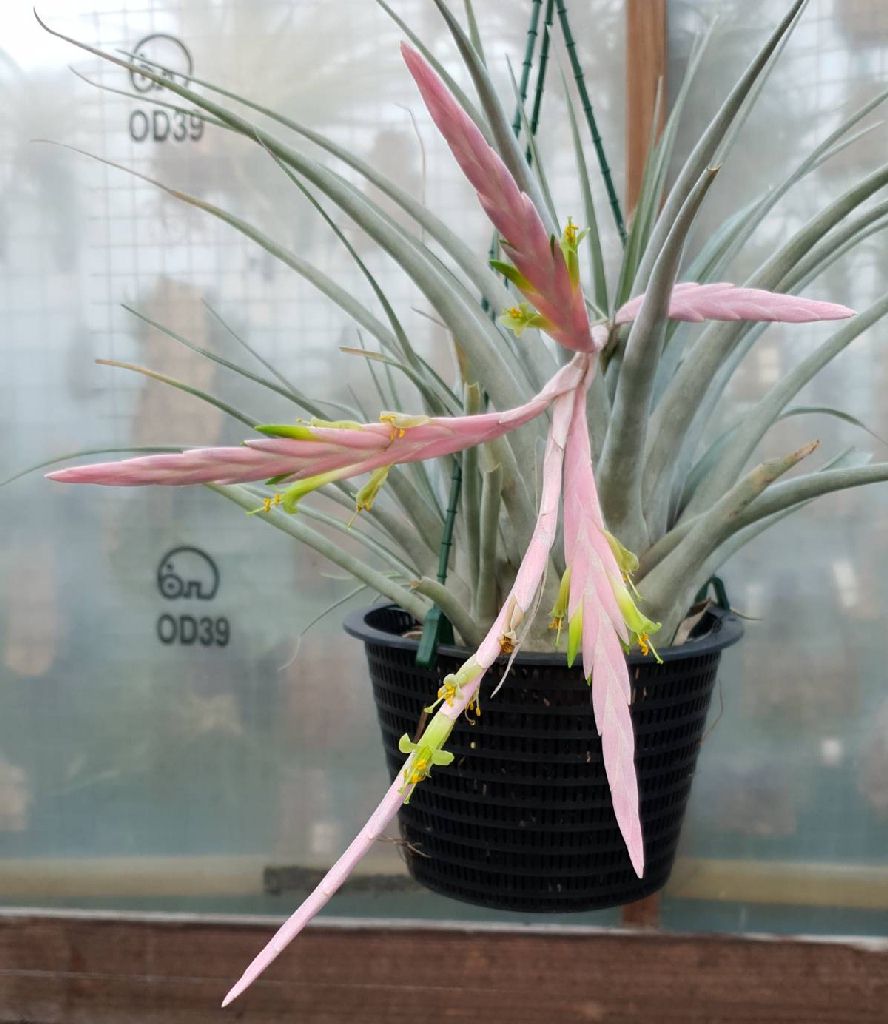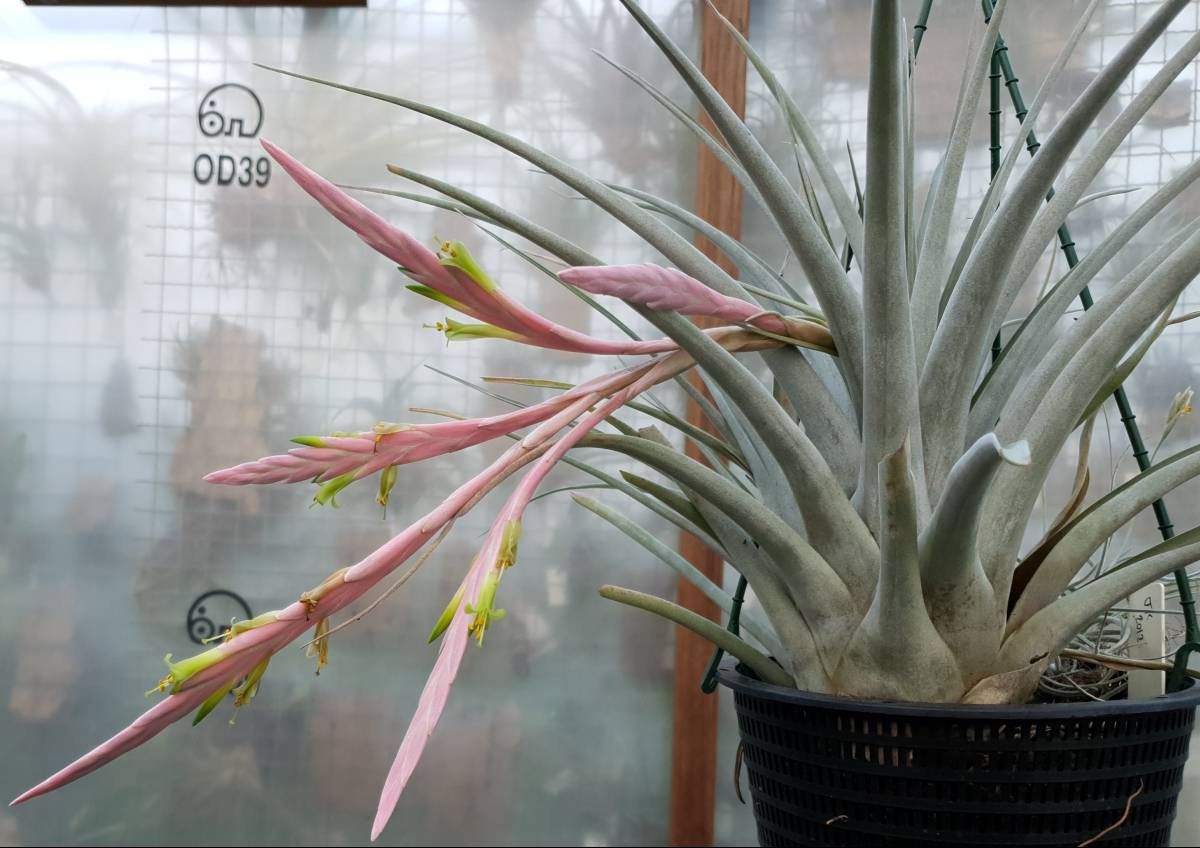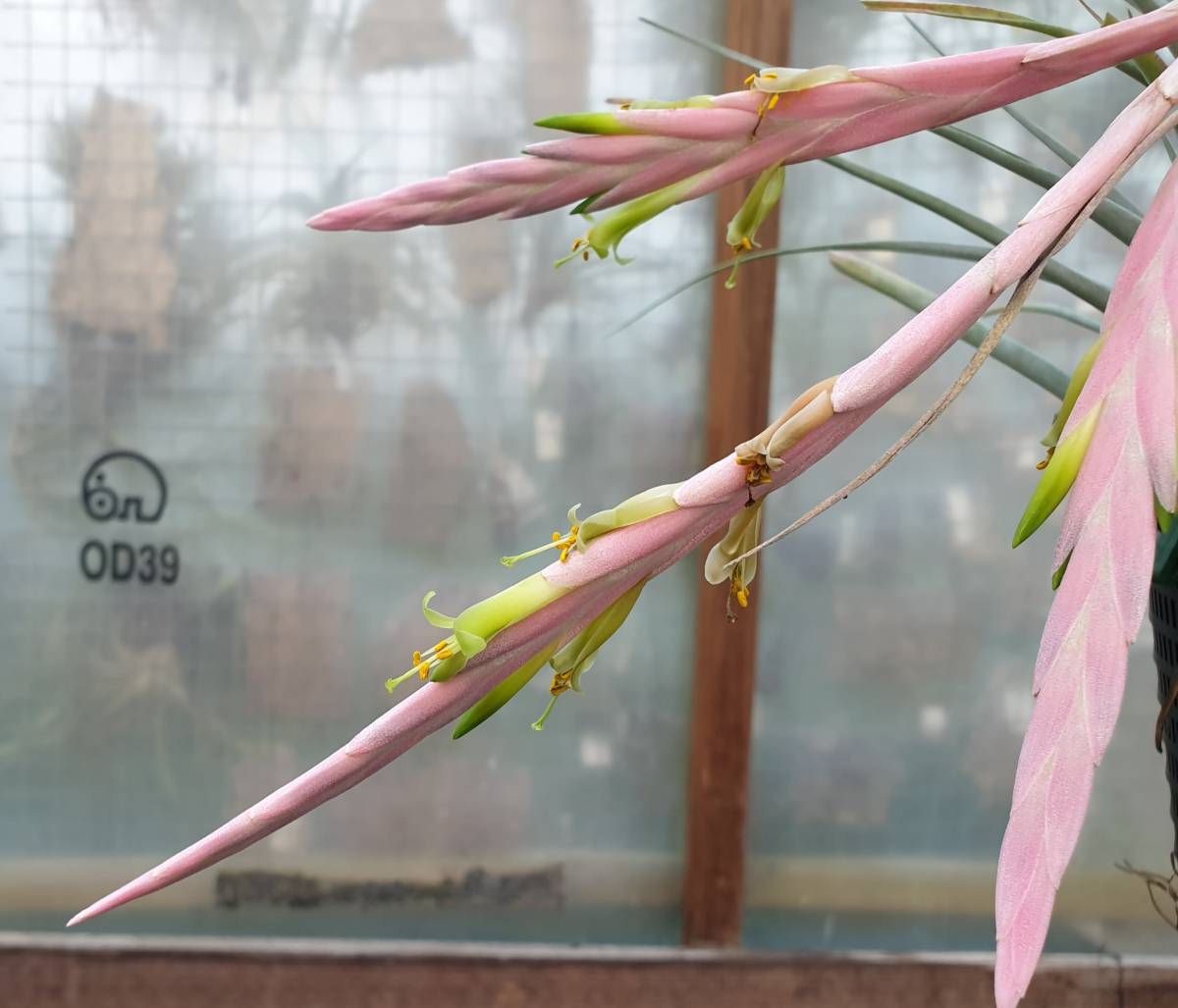 Chris Larson 07/20 not the giant form
---
Tillandsia patula Mez, Repert. Nov. Sp. 3: 1906, see Grant in Phytologia 75(2): 170-175. 1993
Vriesea patula (Mez) L. B. Smith, Phytologia 5: 288. 1955; as "Vriesia."
Desc from S&D p1248-9
Plant flowering 4 dm high, stout.
Leaves many in a subbulbous rosette, ca 2 dm long;
Sheaths very broadly triangular-ovate, brown-lepidote;
Blades narrowly triangular , involute-subulate, 25 mm wide, rigid, cinereous-lepidote.
Scape decurved or straight, stout, shorter than the leaves; Scape-bracts imbricate, broadly elliptic, densely lepidote, all but the lowest bladeless.
Inflorescence simple or digitate;
Primary bracts like the scape bracts, much shorter than the branches;
Spikes 12-22 cm long, 4 cm wide;
Rhachis straight, alate, glabrous; internodes 12 mm long.
Floral bracts imbricate but so narrow as to expose most of the rhachis, erect, recurved-spreading toward apex when dry, oblong, subacute or rounded, ecarinate, ca 45 mm long, 3--4 times the internodes, exceeding the sepals, striate, rose, glabrous;
Pedicels very short;
Flowers erect or suberect, to 70 mm long.
Sepals equally subfree, elliptic, narrowly obtuse, 24 mm long, ecarinate, chartaceous when dry, prominently nerved toward apex, glabrous;
Petals ligulate, narrowly obtuse, yellow,(green, turning yellow when dry – Gilmartin) appendaged;
Stamens and style exserted.
Type. Weberbauer 2012 (holotype B, F photo 11520), Huacapistana, Tarma, Junin, Peru.
DISTRIBUTION. Terrestrial and epiphytic, open or shrubby slopes, 2100-2850 m alt, Junin, Peru.
PERU. JUNIN: Carpapata to Huacapistana, 7 Jun 1929, Killip & Smith 24349 (US); 23 May 1955, Ferreyra 11051 (US, USM); Tarma, 27 Jul l970, Rauh 23689 (HElD); 20 Sep 1970, 24669 (HElD).

From Bromeliaceae of Ecuador 1972 by Gilmartin
3. Vriesea patula (Mez) L. B. Smith, 1955 (Phytologia vol. 5, no. 7) p. 288. Tillandsia patula Mez, 1906 (Repert. Novae Species Fedde vol. 3) p. 35: Smith, 1936, pp. 548-549.
PLANT ca. 30 cm tall by ca. 24 cm in diameter;
LEAVES 15-25 cm long. blades 1.5-2.0 cm wide, blade narrowly triangular, involute, coriaceous, densely gray-lepidote, sheath dark brown, apex attenuate to filiform:
SCAPE 2-3 mm in diameter, erect to curved, much exceeded by leaf-rosette;
SCAPE-BRACTS ca. 3.5 cm long, erect, imbricate, apex rounded acute;
INFLORESCENCE simple or digitate, 10-30 cm long, having up to 6 spikes, lepidote;
PRIMARY BRACTS 2.5-3.0 cm long, inconspicuous, like scape-bracts, much shorter than stipe of spikes;
SPIKES 10-27 cm long by 2.0-2.5 cm wide at anthesis, spreading, to 1.0 cm between spikes, having 7 to 10 flowers per spike, stipe 5.0-20.0 cm long with 3-7 sterile bracts;
FLORAL BRACTS 3.5-4.5 cm long by 1.2 cm wide, elliptic-ovate, erect, imbricate but not obscuring spike rhachis, ecarinate, nerved, densely, silvery lepidote without, glabrous within, apex acute, often arching outward at anthesis;
SEPALS 1.8-2.1 cm long by 5-6 mm wide, ovate, narrowly rounded, posteriorly slightly carinate, equally subfree, nerved, glabrous without and within;
PETALS 5.0-6.0 cm long, green, turning yellow when dry, with two scales 1.6 cm from petal base;
CAPSULES to 3.0 cm long, distance between flowers 0.8-1.2 cm.
MATERIAL EXAMINED: Weberbauer 2012 (B, TYPE; US, photo) Peru; Teuscher 1872-56, near Cuenca, road to San Lucas, Prov. Azuay, ca. 2800 m, cultivated by Teuscher in Montreal Botanical Garden, collected from cultivation July 1958.
PERU.
---
Updated 14/08/20
---