Tillandsia pardoi
Click thumbnails for full size, scaled to a new window.
---
Tillandsia pardoi
"Around Australia for many years masquerading under the name of T. tenuifolia var vaginata but with green bracts."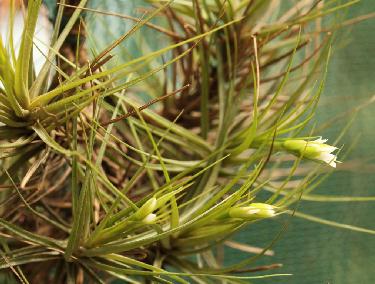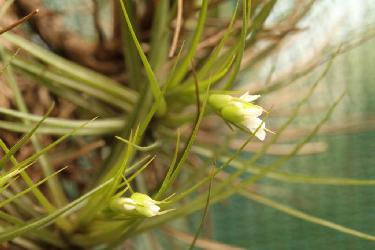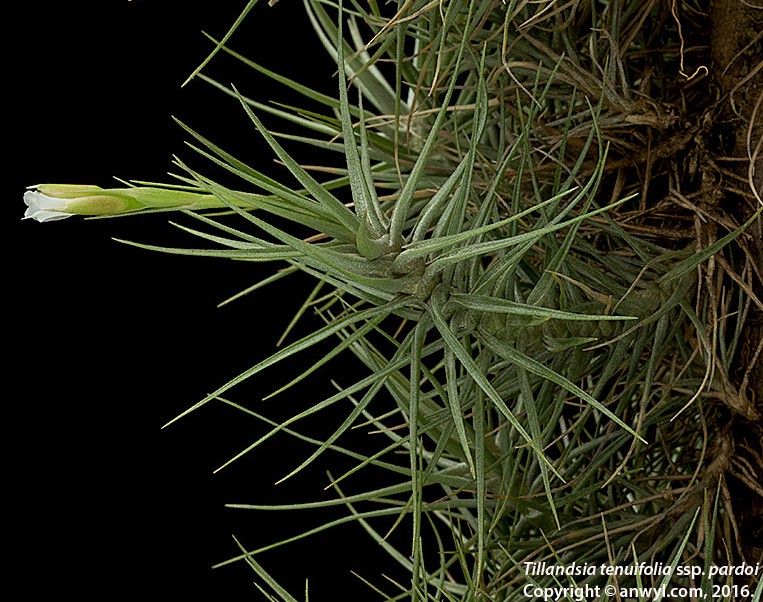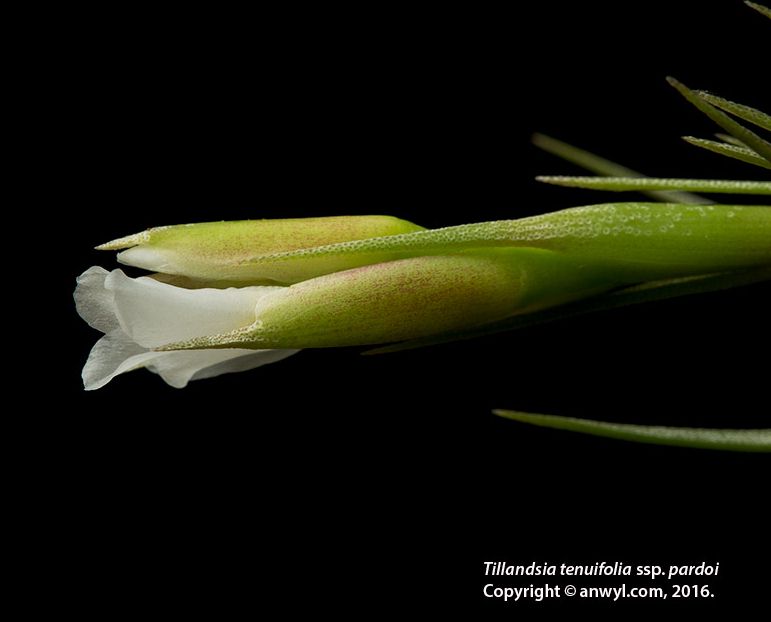 | | |
| --- | --- |
| David Sheumack 09/11. | Andrew Flower 06/16 as tenuifolia ssp. pardoi |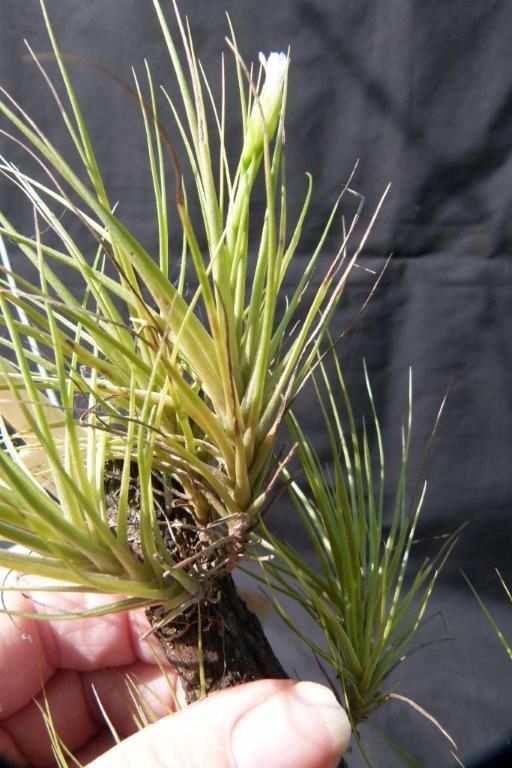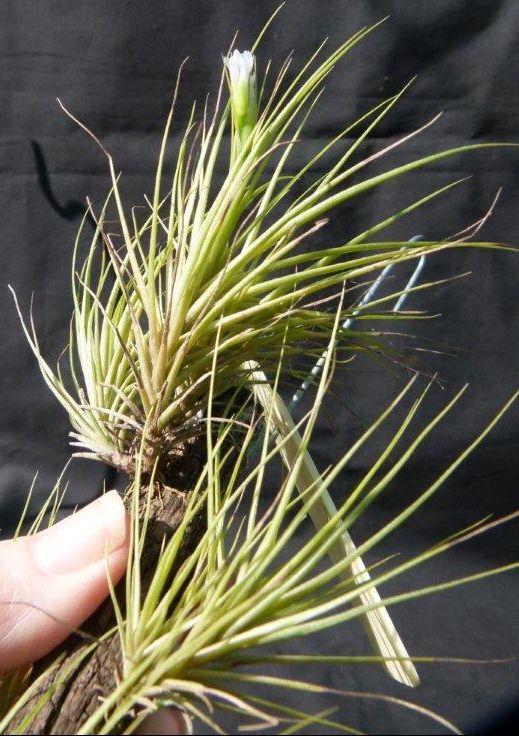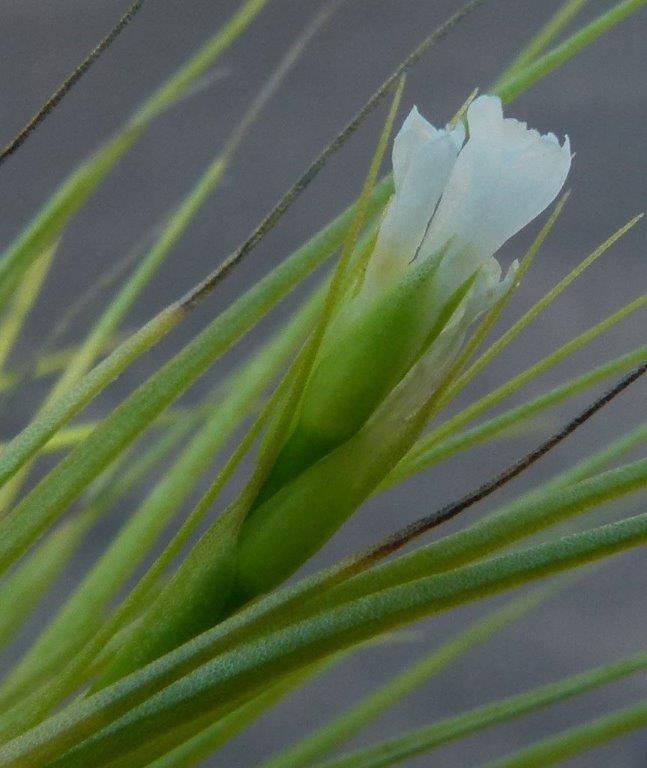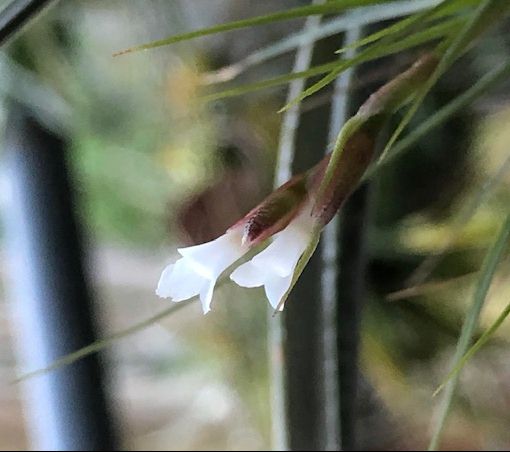 | | |
| --- | --- |
| Nanette Collingwood 06/16 as unknown. | Dale Dixon 08/19 tenuifolia v. vaginata? |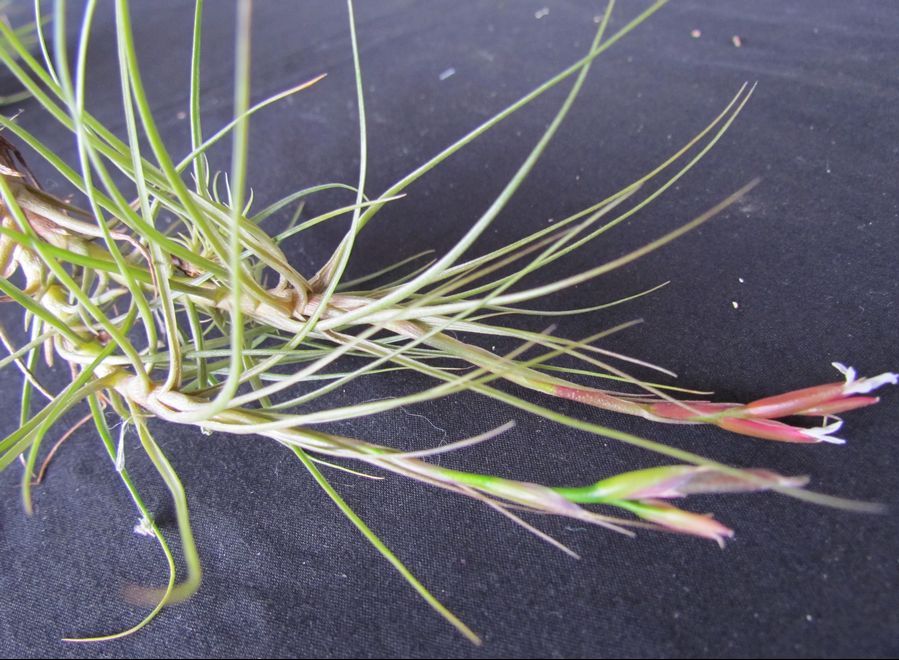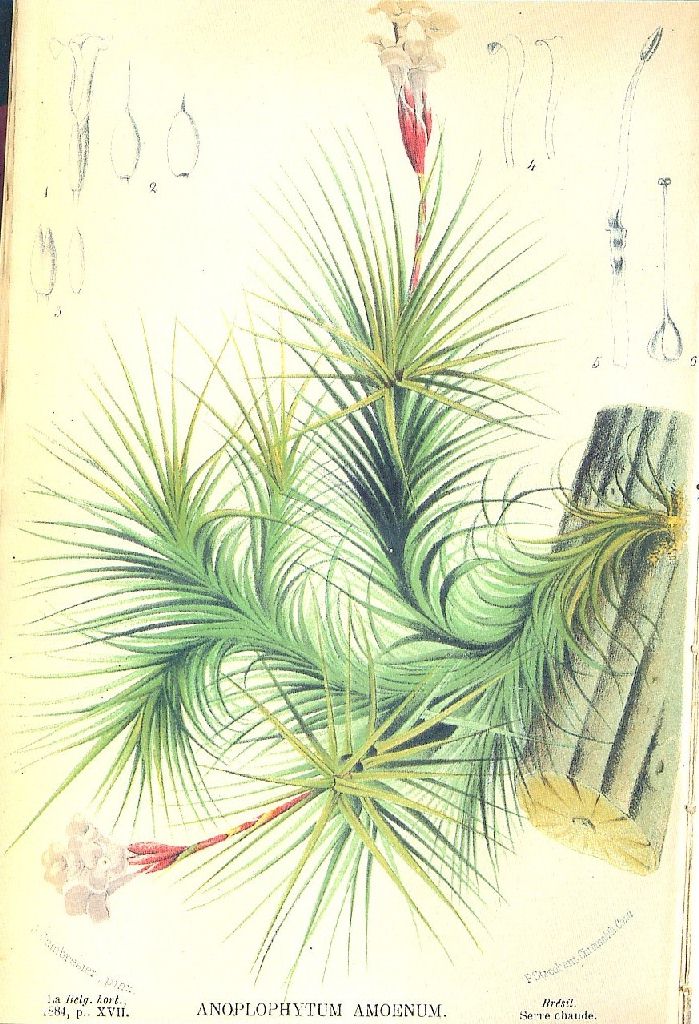 | | |
| --- | --- |
| tenuifolia v. vaginata Kerry McNicol 07/16 | tenuifolia v. vaginata Derek Butcher |
Nanette Collingwood 28/06/16 ... "This little 10 cm (4 inch) plant came as a hitchhiking seedling on a plant purchased in 2012. It has similar looking siblings, which I mounted altogether onto a stick in 2013. I was very surprised to see it flowering on the weekend - a tiny white tube flower, with green sepals and floral bracts. I haven't been able to key it to anything, and have difficulty guessing at its parents.
Any ideas anyone???"
Andrew Flower 28/06/16 ... "Looks like Tillandsia pardoi (Gouda).
Eric distributed seeds of the type in 1997. Currently flowering here (for the first time!), see pics, I think this is a sub-species of T. tenuifolia, but feel free to ignore my decision!"
Derek Butcher 28/06/16 ... "I agree with Andrew. It is not a new species but has been around Australia for many years masquerading under the name of T. tenuifolia var vaginata. The true vaginata is an elusive plant because I have no photo of a living plant. I wonder who has this plant but has not changed the name to pardoi? One main difference is the green floral bracts rather than pink."
Nanette Collingwood 28/06/16 ... "Thank you both Derek and Andrew. Your opinions are invaluable to me. I had followed the white flowers keys of the tillandsia keys on the DVD and came up short because of the complete plant being green with only white petals, and had considered an albino / alba? form of a conceivably miniature tenuifolia, or a hybrid.
I have not seen a T. pardoi before but my little plant is very comparable to Andrew's pictures. Also, the picture of T. pardoi by David Sheumack 09/11 on the Bromeliads in Australia website and it looks EXACTLY like my plant."
Greg Aizlewood 28/06/16 ... "Thank you All, I have a plant that I received from the late Bob Paulsen as T. tenuifolia var. vaginata which also resembles the plant in question. I am confident now I can rename this plant T. pardoi. Thank you all once more."
Bruce Dunstan 28/06/16 ... "For what it's worth the plant is named for Alexis Pardo. Sadly he has passed away. Alexis was a Venezuelan plant enthusiast who spent a lot of time out collecting plants. He also has a Heliconia that I know of named for him. Heliconia pardoi which I have seen in Ecuador. Alexis also was one of the first people to cultivate T. samaipatensis. He even offered to bring pups to me in the States when I was due to attend a conference there."
Kerry McNicol 29/06/16 ... "Hi All, I have that plant as T. tennuifolia var. vaginata, both white and pink flowering. The Tillandsia pardoi pic from Andrew looks much more robust that the clones I have. So, I guess I will now go out and change the name if my fingers don't freeze off!"
Derek Butcher 29/06/16 ... "Kerry Mc: I hope you mean pink floral bracts, because if you do I would like a photo when it flowers."
Kerry McNicol 29/06/16 ... "Oh, Dear! Yes Derek, I do mean pink/cerise floral BRACTS, it was a picture in my head of pink in the inflorescence, not noticing detail!"
Derek Butcher 30/06/16 ... "Don't worry. At least I have you thinking.
Now, if you do have a plant with tenuifolia v. vaginata on the label with pink/cerise floral bracts it needs investigating. Where did you get it from?
When will it flower so you can take its photo?"
Kerry McNicol 01/07/17 ... "I got my T. tennuifolia v vaginata 'Red Bract' several years ago from Margaret Paterson.
It has flowered for me but seems to have been in 'rain shadow' and is not faring too well, it is now where I can take notice and look after it a bit better.
The only photo I have doesn't show how 'pink' it really is, it is similar to a stricta colour. Sorry, this photo was taken in July 2014. It flowers around now."
Derek Butcher 01/07/16 ... "Kerry. It looks like you do have T. tenuifolia var. vaginata if we follow Smith & Downs -
Leaf-blades involute throughout and thus contrasting sharply with the sheaths, very slender, much shorter than the long branching stem, often spreading.
Your plant mainly follows this trait of the leaves. I see no need for the 'Red bract'. Your photo will be featuring in future DVD."

---

Tillandsia pardoi Gouda. Die Brom 3: 135-143. 2010.
Tillandsia tenuifoliae L. similis, sed differt foliis 3-7 cm (nec 7-15 cm) longis, vaginis in laminam contractis, laminis involutis (nec laminis in vaginam sensim transientibus raro basi involutis), bracteis floralibus inferioribus setiformibus vel caudatis viridibus vel pallide vinaceis (nec bracteis floralibus apiculatis plerumque laete roseis), sepalis 0,8 cm longis posterioribus sepala anteriora paullo superantibus (nec sepalis 1,3--1,5 cm longis et aequalibus), petalis 1,6 cm longis apice erosis vel denticulatis (nec 2,5 cm longis et integerrimis).
Typus: Venezuela, Ocumare de la Costa,1997, Alexis Pardo s.n. (holo U, iso VEN). Grown at the Botanic Gardens Utrecht with the number 1997GR00905.
Paratypus : Venezuela, Choroni, 08 Feb 1996, Alexis Pardo s.n. (U). Two accessions from this collection are grown at the Botanic Gardens Utrecht with the number 1997GR00903 and 1997GR00904.

Plant often long caulescent, 5-11 cm or longer, but then only partly with living leaves, 6-14(-20) cm tall, flowering slightly taller, subdense or dense, with many to very many leaves, green.
Leaves 3-7 cm long, shorter than the inflorescence (mostly exceeding the peduncle);
sheaths very small, contracted into the blade and involute at this point (especially when dry), chartaceous, broadly ovate, 0.5-l cm long, l-1.4 cm wide, with membranaceous margins except at apex, adpressed lepidote but soon glabrous toward the base adaxially, less lepidote abaxially, whitish;
blades (the lower ones) often sub-erect and the upper ones spreading, rigid, coriaceous, strongly channelled and involute-subulate when dry especially at the base, very narrowly triangular (often finely carinate), 3-6.6 cm long, 0.3-0.5 cm wide, margins involute at base, at least when dry long-attenuate, acute, on both sides very densely lepidote with closely appressed, whitish or cinereous scales, green and often reddish at the base.
Inflorescence simple, 4-6 cm long.
Peduncle wholly covered by bracts or partly exposed in upper part, erect or slightly decurved, 2.5-4 cm long, ca. 1.5 mm in diam., glabrous, green or upper part tinged with red;
peduncle bracts erect, imbricate, foliaceous, sheathing part chartaceous, elliptic (excluding blade), the upper ones caudate, sheathing part about equalling the internodes (exceeding the peduncle by the blade), glabrous except for the apex, greenish often tinged with red.
Fertile part erect, densely and spirostichously set with 3-7 flowers, slenderly ellipsoid, sub-truncated, excluding petals 1.8-2.5 cm long, 0.6-0.7 cm wide, often with one reduced flowerless bract at the apex;
rachis hidden or partly exposed by the upper bracts, stout, straight or flexuous (when dry), at insertion of the flower excavate and obtusely angled, glabrous, green or tinged red at the base of a bract;
floral bracts like the upper peduncle-bracts erect, clasping the flowers, imbricate, sub-membranaceous, even (fresh) or finely nerved (when dry), ecarinate, rectangular-elliptic or obovate, broadly rounded and the lower setiform to caudate, nearly straight, excluding setaceous cusp 0.8-1.1 cm long (becoming smaller toward the apex of inflorescence), ca. 0.6 cm wide, three to many times as long as the internodes, just exceeding the sepals (excluding seta), with broad hyaline margins, glabrous (except the apex/setaceous cusp) outside, green or tinged with wine-red.
Flowers contiguous, sessile (17 mm long).
Sepals membranaceous, even, ovate to lanceolate, acute(-ish), adaxial ones slightly incurved toward the apex, 0.8 cm long (adaxial ones slightly longer than abaxial one), ca. 0.2 cm wide, adaxial ones bluntly carinate toward apex and highly connate (for ca. 5 mm), glabrous on both sides, green flushed with red along midvein.
Corolla tubular-erect or slightly divergent at apex.
Petals spatulate, blade obovate-oblong, rounded and finely erodate dentate, 1.6 cm long, 0.3 cm wide, white.
Stamens included;
filaments ribbon-shaped, plicate just above the middle, slightly unequal in length, ca. 1 cm long, glued to the petals, whitish;
anthers basifixed, linear, 1 mm long;
pollen yellow.
Pistil slightly exceeding the stamens;
ovary obconic or obovoid, green, 2.5 mm long, contracted into the style;
style elongate, many times as long as the ovary;
stigmas unequal in length, linear.

This new species is morphologically similar and probably closely related to Tillandsia tenuifolia L., but can be distinguished by the following characteristics (values for T. tenuifolia given between brackets):
Leaves 3-7 cm long (vs. leaves 7-15 cm long);
sheaths contracted into the blade,
blade involute and abaxially nerved at the base (vs. sheaths merging into the blade and the blade rarely distinctly involute at the base);
lower floral bracts setiform to caudate, green or tinged with wine-red, but never brightly coloured (vs. floral bracts apiculate, mostly brightly pink or red);
sepals 0.8 cm long (connate ones slightly longer than the solitary one) (vs. sepals 1.3-1.5 cm long);
petals 1.6 cm long and dentate at the apex (vs. petals ca. 2.5 cm long and entire).

Material studied:
Cuba: Prov. of Santa Clara, Buenos Aires, Trinidad Hills, 2500-3500 ft., l6 Mar 1932, J.G. Jack 8589 (US); Prov. of Santa Clara, Buenos Aires, Trinidad Hills, 760-1065 m, 10 Apr 1930, J.G. Jack 7930 (US); Prov. Sta. Clara, Top of Collantes, 08 Apr 1940, J. Acuna 11118 (US!, F, SV).
Dominican Republic: Polo to Los Arroyos, l8°06N 7l°l6W 800-1000 m, 28 Feb 1969, A.H. Liofier 14337 (NY. US!); Prov. Santiago, El Buzo, 900 m, l4 Jan l945, J. Jimenez 305 (US); Prov. La Vega, vicinity of Constanza, 1000-1600 m, 05 Dec 1947, H.A. Allard 17769 (US); Prov. Santiago, Guazumal, l0 Sep l950, J. de Jimenez 2104 (US); Prov. Peravia, The road to the southwest of Horma, l8°33N 70°35W 1250 m, 27 Jun 1984, M. Mejia, J. Pimentel & R. Garcia 910 (US); Prov. Pedernales, Isla, W of the Hoyo de Pelempito, NE of Cabo Rojo, 1500 m, l8°08N 71°31W 11 Feb 1981, T. Zanoni, R.P. Adams, C. Ramirez 10936B (US); Prov. La Vega, vicinity of Constanza, 1000-1600 m, 04 Dec 1947, H.A. Allard 17640 (US).
Haiti: Caille la Croix, S of St. Michel, l2 Dec 1925, E.C. Leonard 8010 (US); Dept. du Nord, Vicinity of Marmelade, road to St. Michel, 800 m, 2l Dec 1925, E.C. Leonard 839a (US); Dept. du Nord, Vicinity of Mole St. Nicolas, W of Mole Gorge, 16 Feb 1929, E.C. Leonard, G.M. Leonard 13304 (US); Vicinity of Jean Rabel, S of town, 02 Mar 1929, E.C. Leonard, G.M. Leonard 13654 (US).
Jamaica: Bryans Hill distr., below Westphalia, near the Green River, 762 m, 28 Jun l952, G.R. Proctor 6856 (US).
Martinique: White River, 100 m, 30 Jul l940, H. Stehle 4587 (US); La Pleine du Trois Ilets, l3-18 Apr l979, R.A. Howard & E.S. Howard 18859 (US).
Puerto Rico: Near summit of Mount Montoso, near Maricao, 28 Jan 1955, H.E Winters s.n. (US); Ciales, 600 m, 05 5ep 1943, G.H. Sargent 3073 (US); Municipio de Cidra, Barrio Salto, uppermost slopes & summit of El Penon, SW of Raod 775,km 6.1, 640-660 m, 12 Feb 1992, G.R. Proctor, R. Rivera & J.L. Correa 47637 (US).
Venezuela: Est. Falcon, Mts. of San Luis, Forest tropofila near the Bridge of Jobo, between Curimagua and San Luis, 800-900 m, 20 Jul 1967, J.A. Steyermark 99282 (US); Est. Falcon, Mountain range of San Luis, between Curimagua and the bifurcation from the way to the Hotel Parador, 1200-1400 m, l8 Jul 1967, J.A. Steyermark 99074 (US); Distrito Federal, virgin wet forest on slopes along old road between Portachuelo and Pinita (Petaquire) and Carayaca, between Colonia Tovar-Junquito road and Hacienda El Limon, 608 mi. below junction of Junquito-Colonia Tovar road., 1300 m, 31 Jul 1966, J.A. Steyermark 96018 (US); Middle Catuche wood, above Caracas, 1300 m, 22 Feb 1922, H. Pittier 10093 (US); Aragua, Rancho Grande, alt. 253 m, 24 Oct 1951, M.B. Foster 2781 (US); State of Anzoategui, steep forested slopes between Cerro San Jose along headwaters of Quebrada La Tigra and Cerro Peonia (Cerro Los Pajaritos), 1500-1600 m, 20 Mar 1945, J.A. Steyermark 61565 (US); State of Monagas, in coffee hacienda of Juan Bautista Simonpierti on S side of Rio Caripe, Caripe, 850 m, 17 Mar 1945, J.A. Steyermark 62144 (US);Est. Sucre, Peninsula de Paria, Rio Oscuro, W of Cerro de Humo, 700-750 m, 07 Aug 1966, J.A. Steyermark, M. Rabe 96114 (US); Paria Peninsula, Mnts. above Cristobal Colon, 700-150 m, C.S. Pittendrigh 1069 (US);

Notes
ln 1997 we got some material of a nameless little Tillandsia with collecting data from my friend Alexis Pardoi from Las Delicias, Maracay, Venezuela. At that time it was already long known to me, because Mr. Wubben, who owns an orchid nursery in the Netherlands, had collected it in the 1980's in Venezuela, but the exact origin was unclear to me. In 1998, I finished the protologue to describe this small Tillandsia, that keys out in Smith & Downs (1977) to T. tenuifolia var. vaginata (Wawra) L.B. Sm., as new. But then it seemed to be difficult to distinguish it (dried material) from the very variable T. tenuifolia L., especially the smaller varieties from Brazil. Further study proved that this species was quite common and geographically isolated from the distribution area of T. tenuifolia, growing epiphytically on the Caribbean Islands of the Antilles from Cuba to Martinique and in the Northern (coastal) statesof Venezuela (Falcon to Monagas).
Tillandsia tenuifolia L. has a large distribution range, from Venezuela, the Guianas, Peru, Bolivia, Brazil, Paraguay and Argentina. It has many (semi-) isolated populations, all looking different from each other, mainly in its habit (relative stem length, colour, size and direction of the leaves), but also in size of floral elements and number of flowers. You can see the speciation process in full action within the T. tenuifolia complex. Some populations have long stems and short leaves and tend to have larger flowers like the closely related T. araujei Mez- one of the members of the T. tenuifolia complex. These species have simple inflorescences, spirostichous flowers, large imbricate floral bracts exceeding the sepals, sepals adaxially carinate and highly connate, and white or blue petals. Within this complex, it can be difficult to identify a specimen as T. tenuifolia or T. araujei. Other members in the South of Brazil (Rio Grande do Sul) have dark blue flowers (pale blue is more common in other forms), red floral bracts and are difficult to distinguish from T. aeranthos (Loisel.) L.B. Sm., another member of the T. tenuifolia complex. At the University Utrecht Botanic Gardens, we grow at least 20 different forms that are clearly different from each other.
It would be a huge task to describe and distinguish all those forms. We could also come to the conclusion that it is an endless story like the forms of T. usneoides and the T. capillaris complex. There, you have to get back to differences in flower characteristics to distinguish species and varieties and to keep it practical.
Above all, typification of T. tenuifolia is difficult, at least concerning its origin. If we look at the large amount of specimens L.B. Smith has enumerated (Smith & Downs 1977 828-833), most of them are identified as T. tenuifolia var. tenuifolia or T. tenuifolia var. surinamensis. The most difficult element here is the type of the autonym (valid name of the subspecies), Royen s.n. (L), which is of unknown locality, grown in the Hortus Leiden and came probably from Suriname earlier. I came to that conclusion because the specimens from the Guianas and N.E.-Brazil are large, bright green, quite stiff leaved plants that dry typically pale yellow-brown like the type. Suriname was a Dutch colony in that time, and it is likely that, if material came from that country it was grown in the Hortus Leiden. The type of T. tenuifolia var. surinamensis is Hostmann 592-A (U, Suriname without exact locality), but is probably lost, because I couldn't find it anywhere. The isotype (P) doesn't look different from any other material from Suriname.
Therefore, I proposed this variety conspecific with T. tenuifolia var. tenuifolia (Gouda 1987).
The difference between both varieties is given by Smith (Smith & Downs 1977: 829, 831): inflorescence exceeded by or exceeding the leaves is variable within one and the same population. It can have 4-15 flowers in a spike (Gouda 1981) and also T. tenuifolia var. strobiliformis (Ehlers 1996) looks conspecific with the type variety and must be considered a synonym. Interestingly, L.B. Smith noted at the typical variety of T. tenuifolia, that much West Indian material intermediates between the typical variety and T. tenuifolia var. vaginata and in fact most of them are listed below as specimens of the new T. pardoi Gouda proposed herein. Others were not verified. The two specimens from Jamaica and Martinique listed as T. tenuifolia var. vaginata have not been verified, but are probably identical.
---
Updated 24/08/19
---