Tillandsia pardoi
Click thumbnails for full size, scaled to a new window.
---
Tillandsia pardoi
"Around Australia for many years masquerading under the name of T. tenuifolia var vaginata but with green bracts."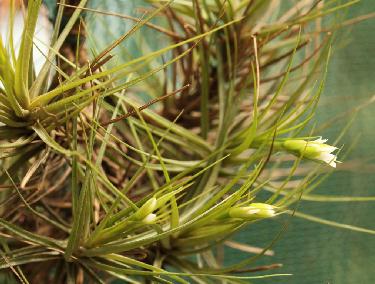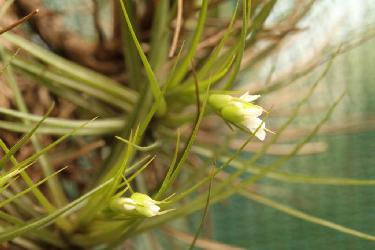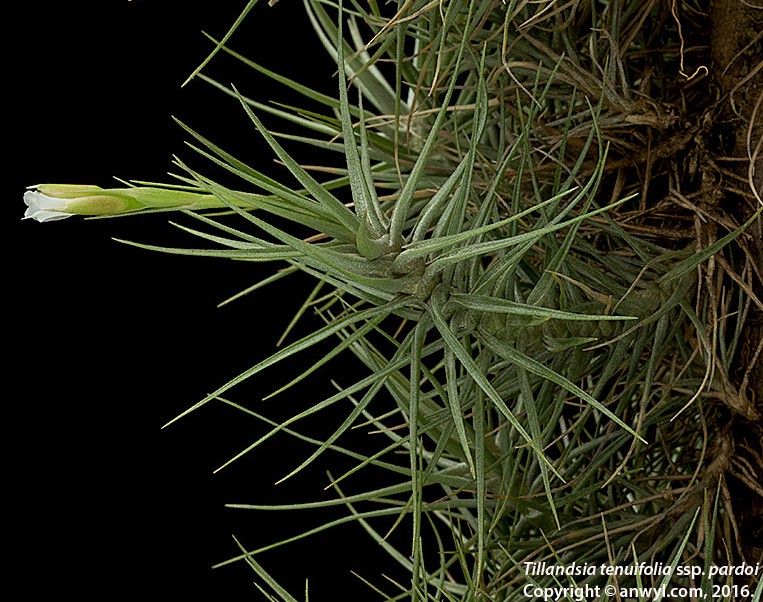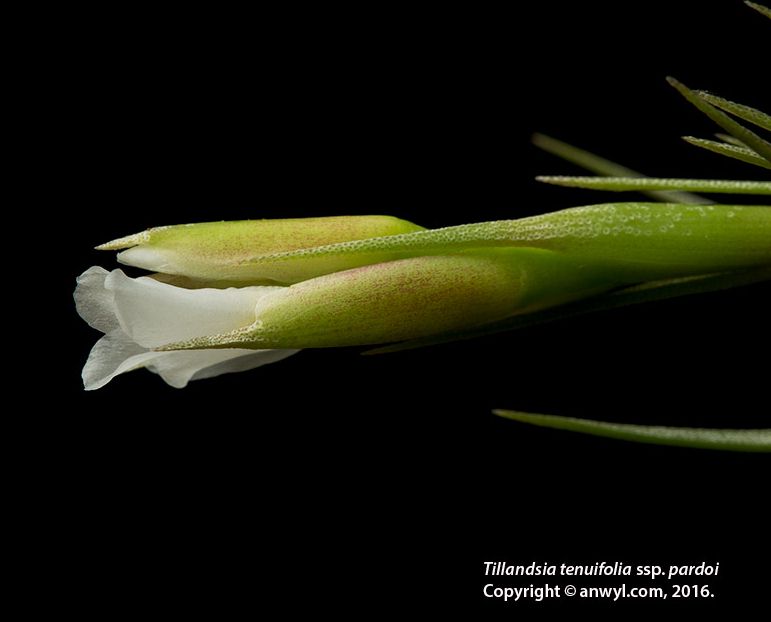 | | |
| --- | --- |
| David Sheumack 09/11. | Andrew Flower 06/16 as tenuifolia ssp. pardoi |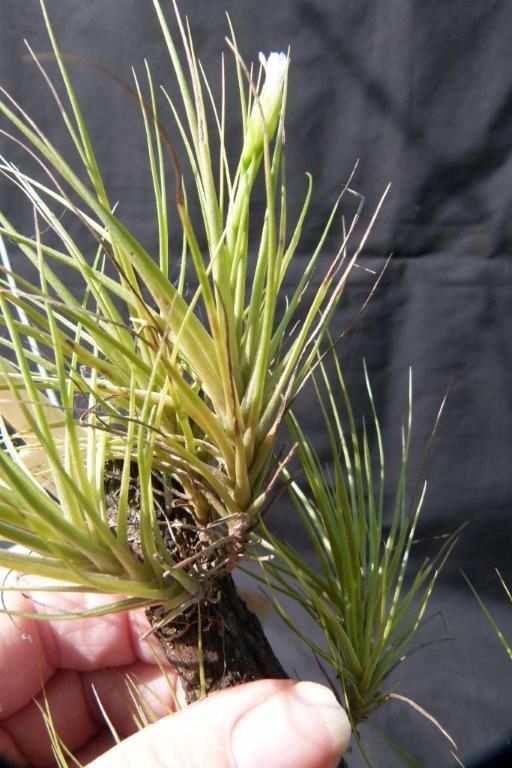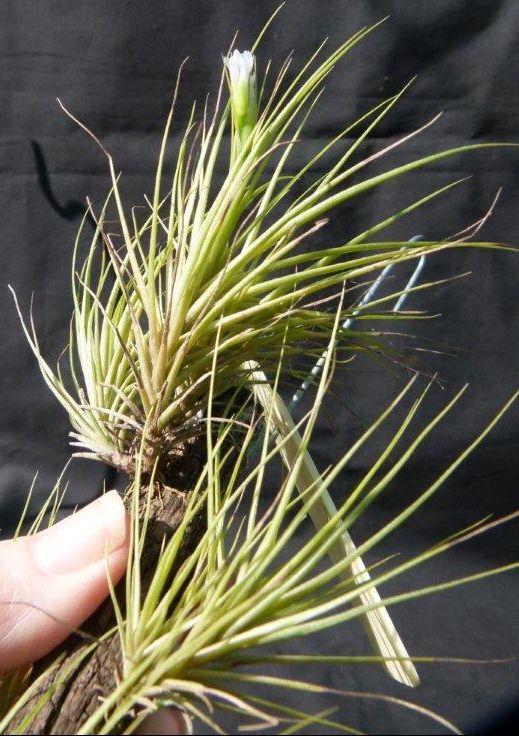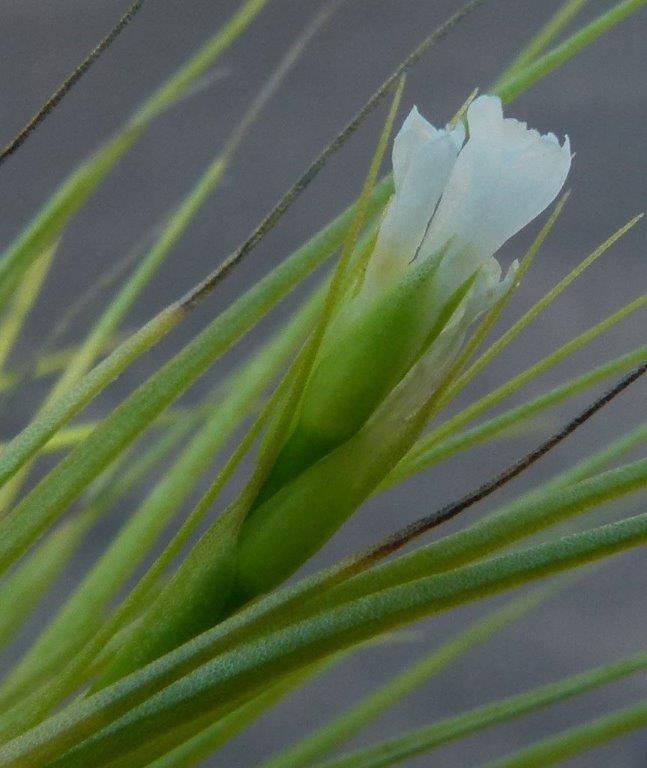 Nanette Collingwood 06/16 as unknown.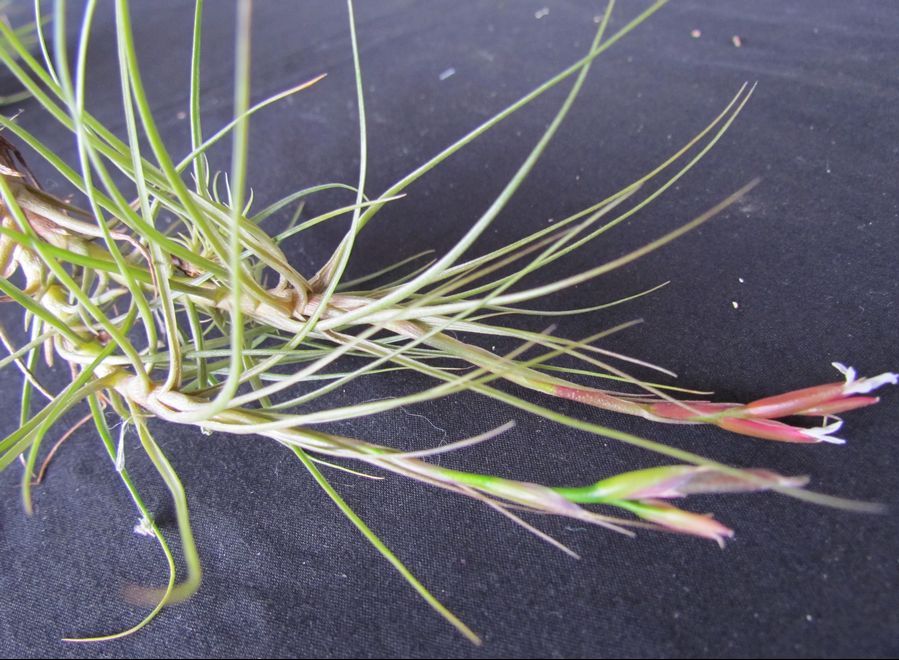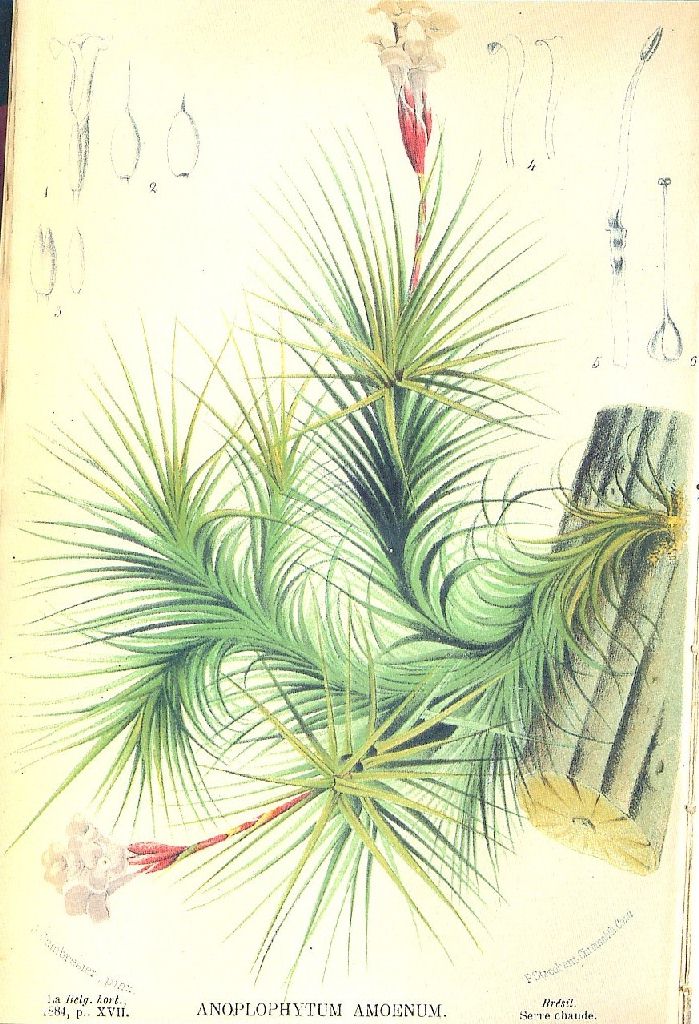 | | |
| --- | --- |
| tenuifolia v. vaginata Kerry McNicol 07/16 | tenuifolia v. vaginata Derek Butcher |
Nanette Collingwood 28/06/16 ... "This little 10 cm (4 inch) plant came as a hitchhiking seedling on a plant purchased in 2012. It has similar looking siblings, which I mounted altogether onto a stick in 2013. I was very surprised to see it flowering on the weekend - a tiny white tube flower, with green sepals and floral bracts. I haven't been able to key it to anything, and have difficulty guessing at its parents.
Any ideas anyone???"
Andrew Flower 28/06/16 ... "Looks like Tillandsia pardoi (Gouda).
Eric distributed seeds of the type in 1997. Currently flowering here (for the first time!), see pics, I think this is a sub-species of T. tenuifolia, but feel free to ignore my decision!"
Derek Butcher 28/06/16 ... "I agree with Andrew. It is not a new species but has been around Australia for many years masquerading under the name of T. tenuifolia var vaginata. The true vaginata is an elusive plant because I have no photo of a living plant. I wonder who has this plant but has not changed the name to pardoi? One main difference is the green floral bracts rather than pink."
Nanette Collingwood 28/06/16 ... "Thank you both Derek and Andrew. Your opinions are invaluable to me. I had followed the white flowers keys of the tillandsia keys on the DVD and came up short because of the complete plant being green with only white petals, and had considered an albino / alba? form of a conceivably miniature tenuifolia, or a hybrid.
I have not seen a T. pardoi before but my little plant is very comparable to Andrew's pictures. Also, the picture of T. pardoi by David Sheumack 09/11 on the Bromeliads in Australia website and it looks EXACTLY like my plant."
Greg Aizlewood 28/06/16 ... "Thank you All, I have a plant that I received from the late Bob Paulsen as T. tenuifolia var. vaginata which also resembles the plant in question. I am confident now I can rename this plant T. pardoi. Thank you all once more."
Bruce Dunstan 28/06/16 ... "For what it's worth the plant is named for Alexis Pardo. Sadly he has passed away. Alexis was a Venezuelan plant enthusiast who spent a lot of time out collecting plants. He also has a Heliconia that I know of named for him. Heliconia pardoi which I have seen in Ecuador. Alexis also was one of the first people to cultivate T. samaipatensis. He even offered to bring pups to me in the States when I was due to attend a conference there."
Kerry McNicol 29/06/16 ... "Hi All, I have that plant as T. tennuifolia var. vaginata, both white and pink flowering. The Tillandsia pardoi pic from Andrew looks much more robust that the clones I have. So, I guess I will now go out and change the name if my fingers don't freeze off!"
Derek Butcher 29/06/16 ... "Kerry Mc: I hope you mean pink floral bracts, because if you do I would like a photo when it flowers."
Kerry McNicol 29/06/16 ... "Oh, Dear! Yes Derek, I do mean pink/cerise floral BRACTS, it was a picture in my head of pink in the inflorescence, not noticing detail!"
Derek Butcher 30/06/16 ... "Don't worry. At least I have you thinking.
Now, if you do have a plant with tenuifolia v. vaginata on the label with pink/cerise floral bracts it needs investigating. Where did you get it from?
When will it flower so you can take its photo?"
Kerry McNicol 01/07/17 ... "I got my T. tennuifolia v vaginata 'Red Bract' several years ago from Margaret Paterson.
It has flowered for me but seems to have been in 'rain shadow' and is not faring too well, it is now where I can take notice and look after it a bit better.
The only photo I have doesn't show how 'pink' it really is, it is similar to a stricta colour. Sorry, this photo was taken in July 2014. It flowers around now."
Derek Butcher 01/07/16 ... "Kerry. It looks like you do have T. tenuifolia var. vaginata if we follow Smith & Downs -
Leaf-blades involute throughout and thus contrasting sharply with the sheaths, very slender, much shorter than the long branching stem, often spreading.
Your plant mainly follows this trait of the leaves. I see no need for the 'Red bract'. Your photo will be featuring in future DVD."

---
Updated 18/03/17
---