Tillandsia paraensis
Click thumbnails for full size, scaled to a new window.
---
Tillandsia paraensis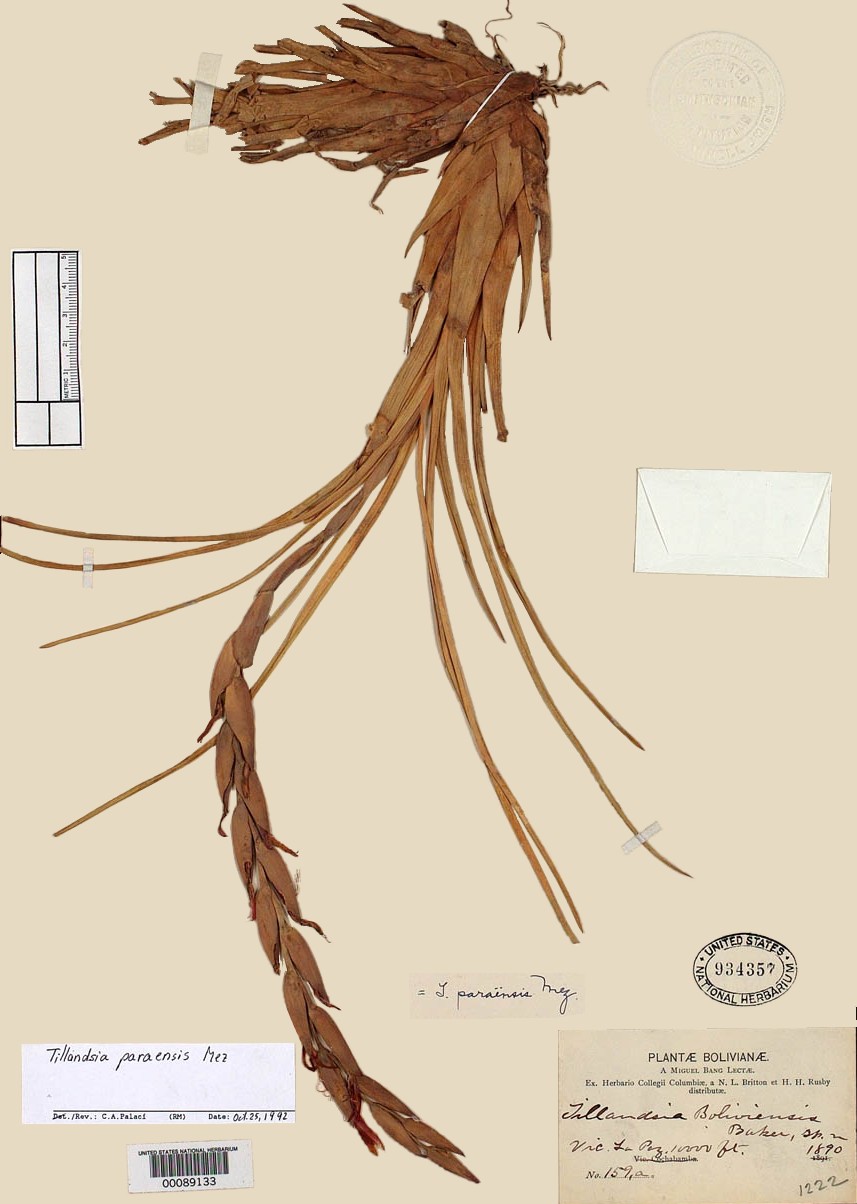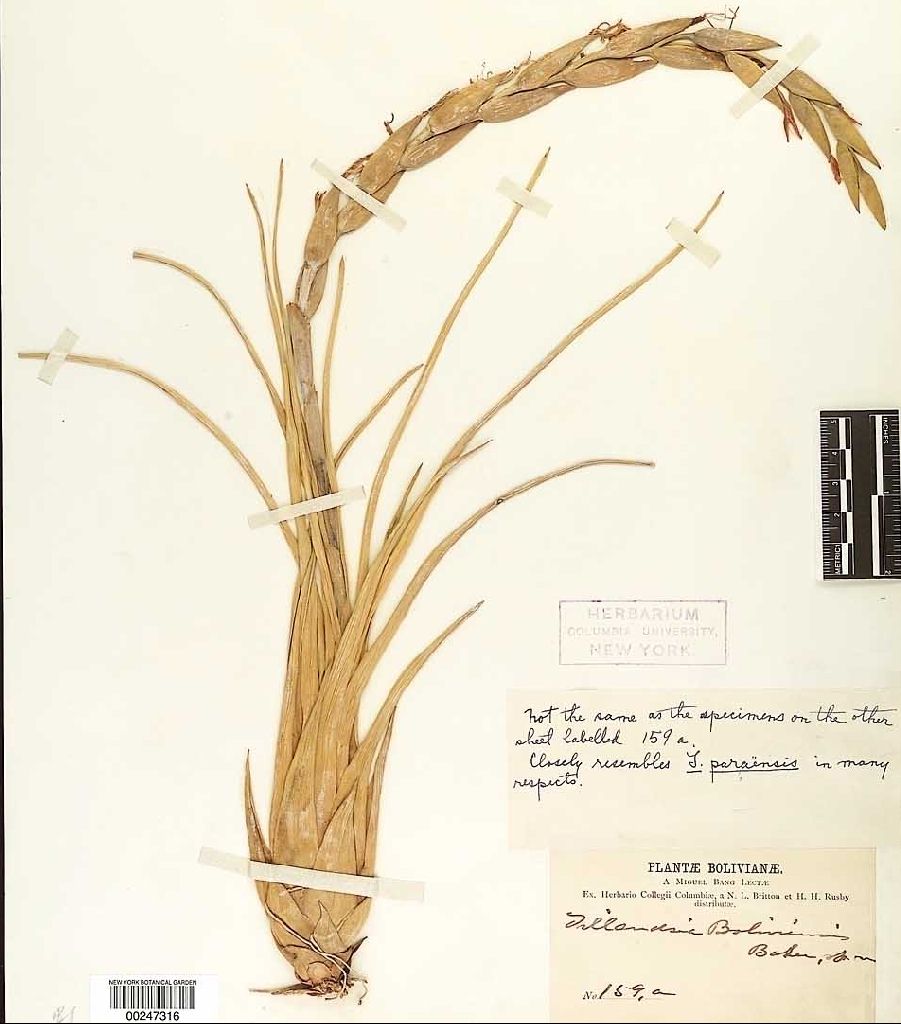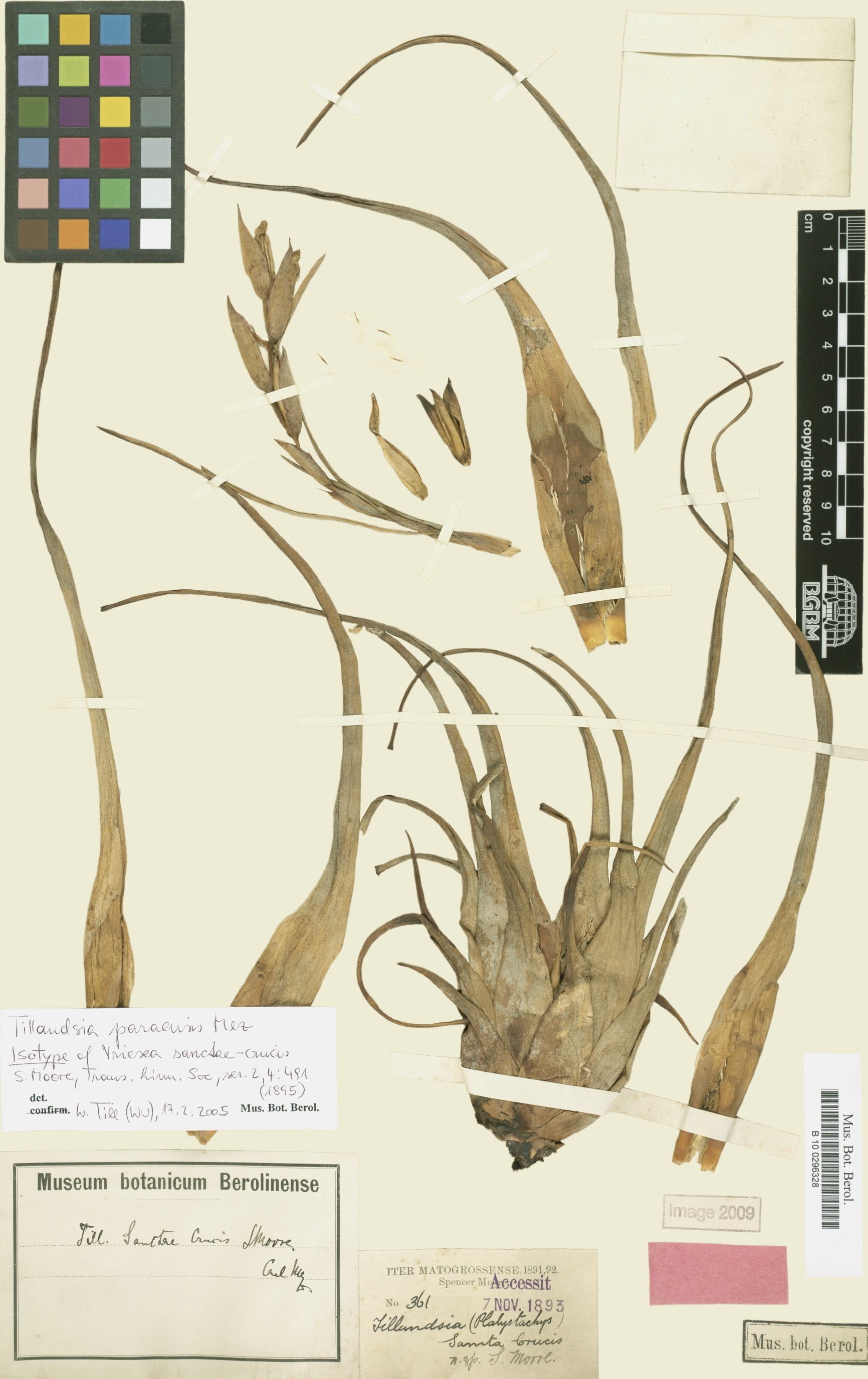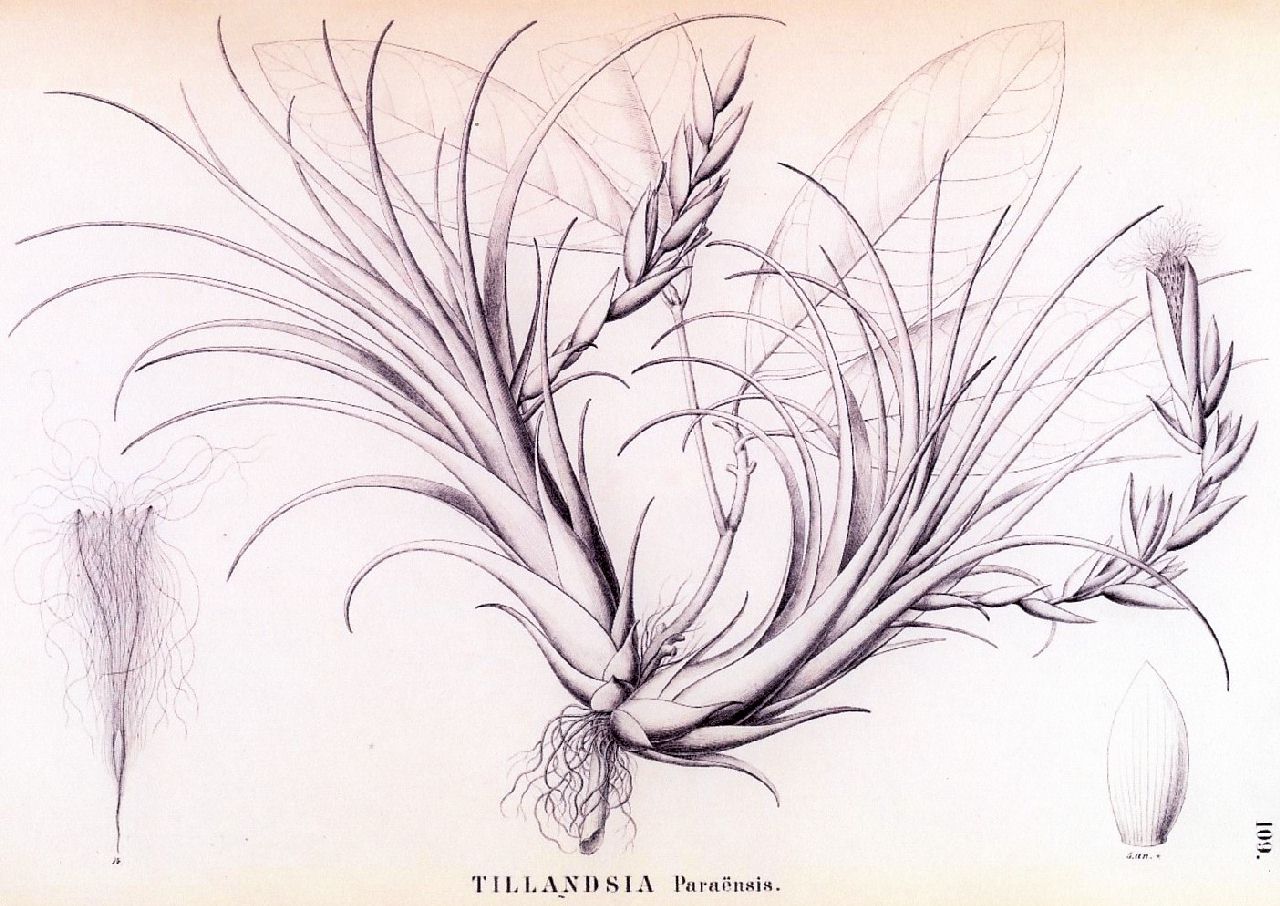 | | | |
| --- | --- | --- |
| New York Herbarium specimens, as boliviensis | Herbarium specimen | Drawing t109, 1894 |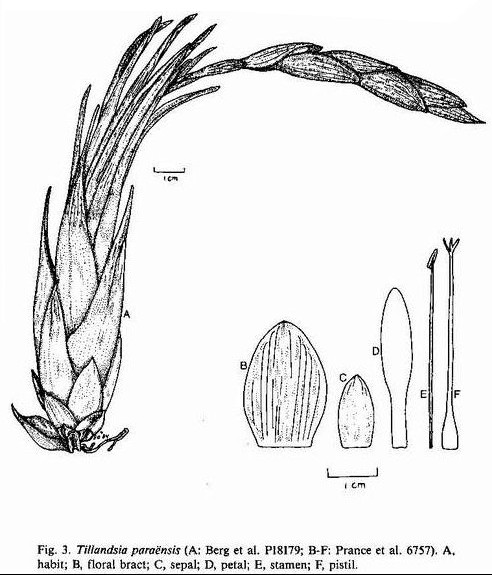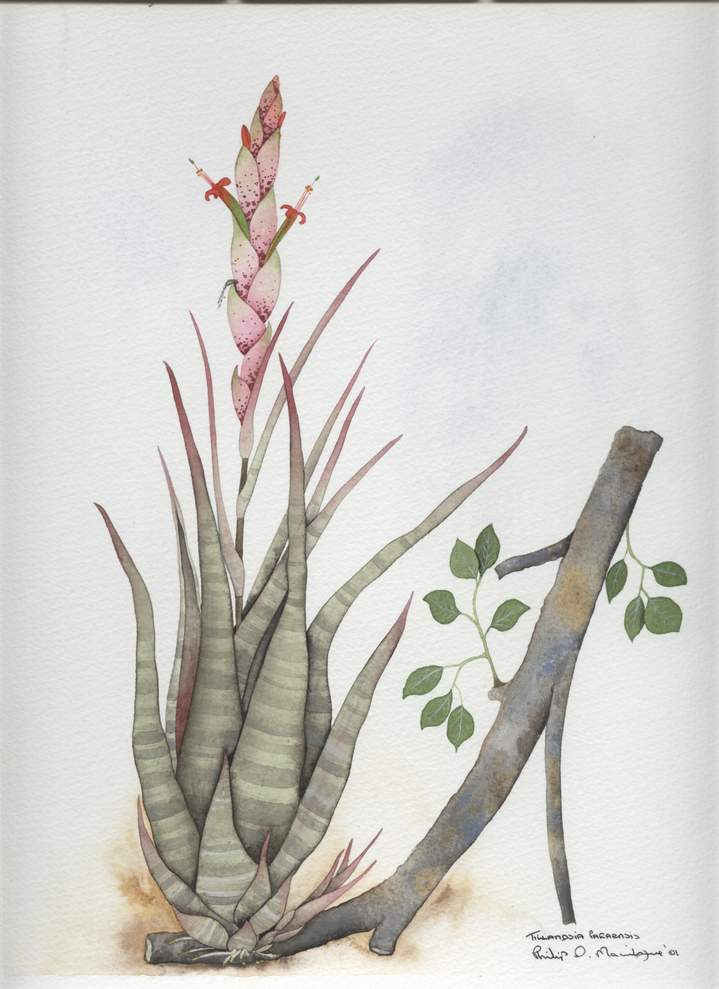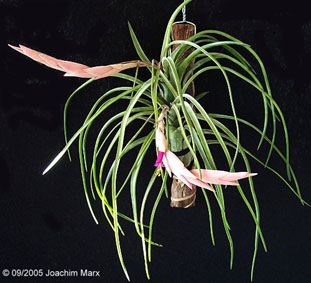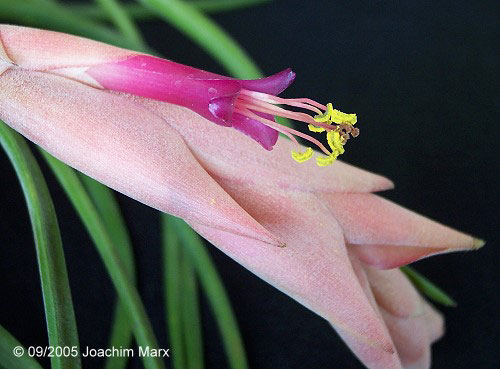 | | | |
| --- | --- | --- |
| Drawing, Berg | Drawing | Joachim Marx |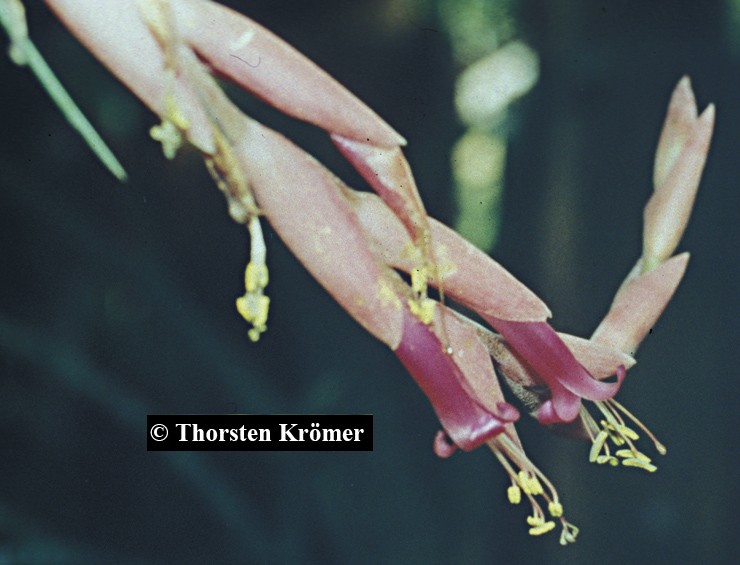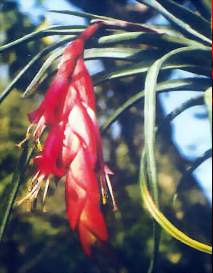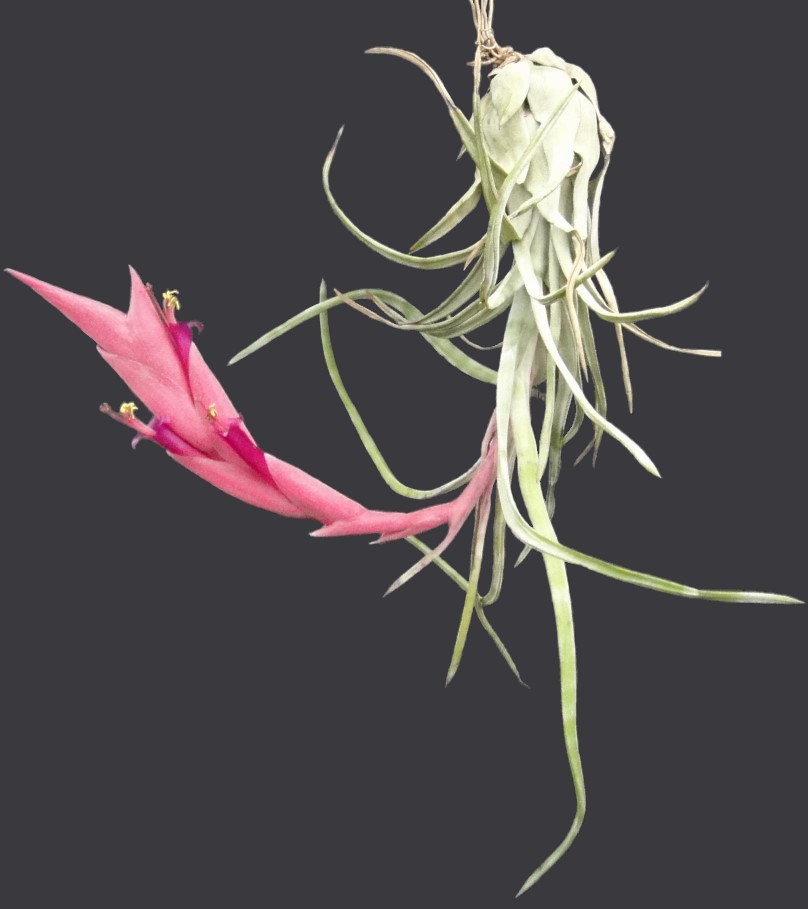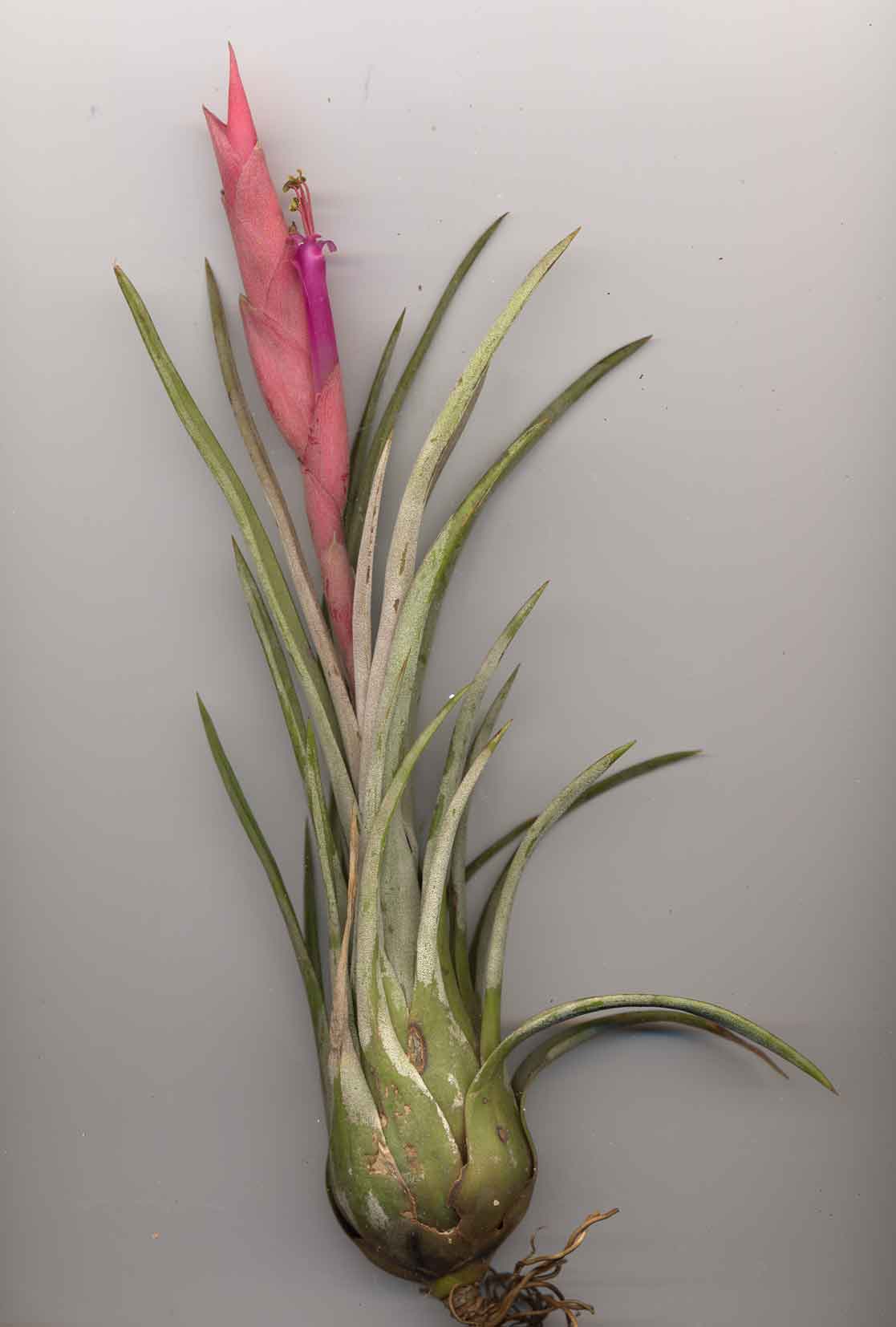 | | | | |
| --- | --- | --- | --- |
| Thorsten Kromer | - | Chris Larson | N Yungas Coroico ex Knize Bol. |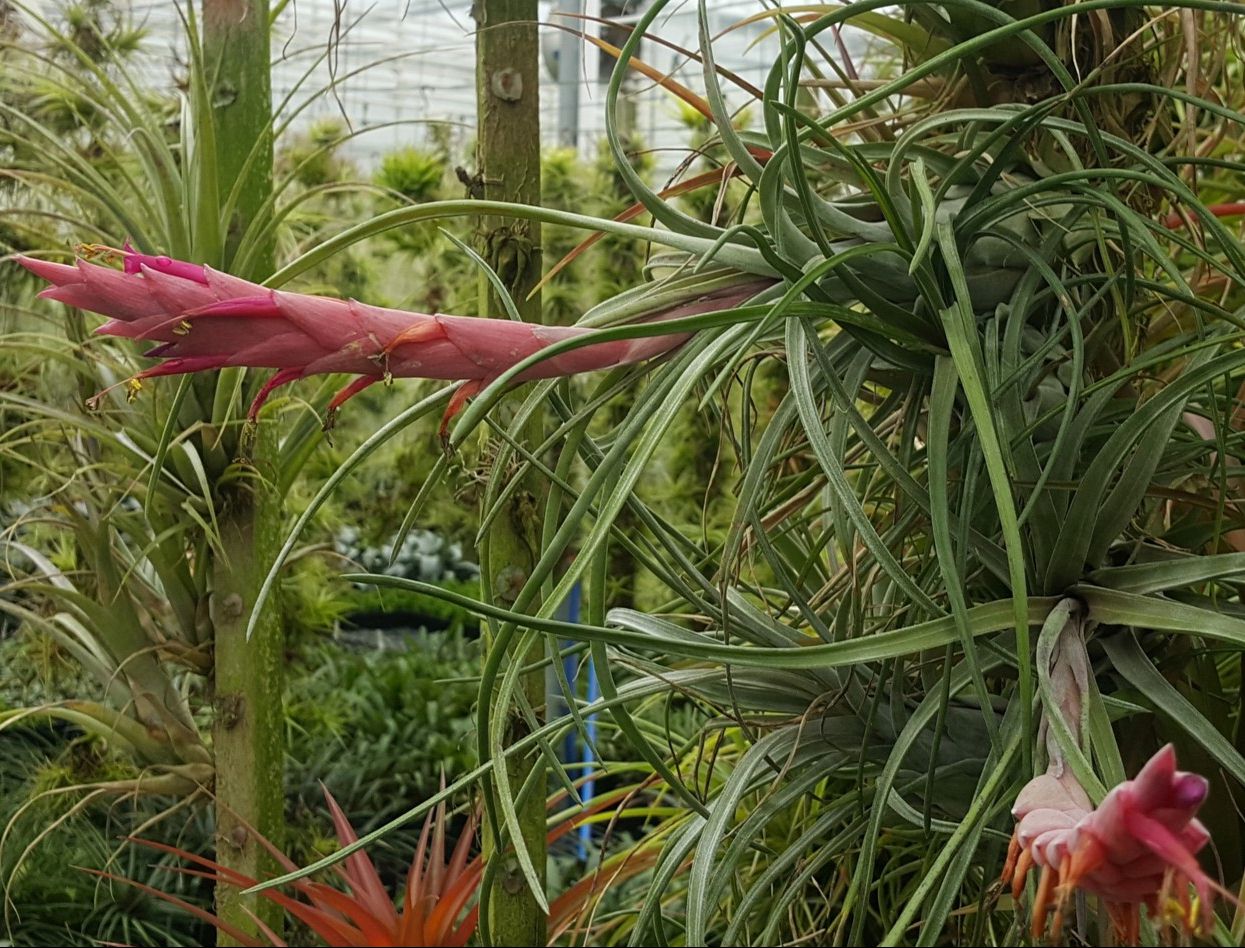 Chris Larson 10/18 juruana/paraensis

Chris Larson ... "Interesting plant this one. I think last time I keyed it to T. juruana – I will look at the differentials next week when back at work. Plant is ex-Knize. Very difficult to grow for us here being from a very low altitude. Still, with a bulbous base and a pretty flower – what is not to like, and to take the effort to find a spot for it. This is the first flowerings of one of my seedlings from the original import probably around 10 years ago."

Tillandsia paraensis Mez in Martius, FI. Bras.3(3):586, pl.109. 1894.
Tillandsia boliviensis Baker, Mem. Torrey Club 4: 267. 1895: in part, but not as to type. Based on Bang 159-A in part (K, NY), Bolivia, without exact locality.
Vriesea sanctae-crucis S. Moore, Trans. Linn. Soc. 11. 4: 491. 1895. Type. Santa Cruz, Mato Grosso, Brazil, S. Moore 361 (BM, GH photo), Sep 1891.
Tillandsia sanctae-crucis (S. Moore) Mez, DC. Monogr. Phan. 9: 710. 1896.
Tillandsia juruana Ule, Verh. Bot. Brandenb. 48: 143. 1907. Type. Jurui Mirim, Amazonas, Brazil, Ule 5734 (B, F photo 11508), Jul 1901. TREATED AS A SPECIES BY L HROMRADNIK IN DIE BROMELIE 1/1998

Desc from S&D p989-90
Plant stemless, flowering 15-46 cm high.
Leaves to 35 cm long, covered with minute pale appressed scales, the outer reduced to small acute sheaths,
Sheaths the inner ones large, ovate, convex and forming an ovoid pseudobulb;
Blades very narrowly triangular, abruptly acute, pungent, involute.
Scape curved, suberect, 3 mm in diameter, sparsely lepidote;
Scape-bracts elliptic, equaling or slightly exceeding the internodes, densely lepi¬dote, the lower long-laminate, the upper apiculate.
Inflorescence simple or of two spikes;
Primary bract like the upper scape-bracts, much shorter than the spikes;
Spikes linear , complanate, 6-17-flowered, to 25 cm long.
Floral bracts erect and imbricate but later convolute about the flowers and exposing the rhachis, broadly elliptic or suborbicular , obtuse or minutely apiculate, 25-32 mm long, much exceeding the sepals, ecarinate, nerved, subchartaceous, greenish, yellowish, or purplish; densely lepidote; flowers subsessile.
Sepals free, elliptic, acute, 24 mm long, ecarinate, lepidote;
Petals 33-70 mm long, erect, red;
Stamens exserted.
Capsule cylindric, 3-7 cm long.
Type. Sieber 68 (holotype BR, GH photo), Para, Brazil, 1826.
DISTRIBUTION. Epiphytic in forest, 100-490 m alt, Colombia to Venezuela, western Brazil, and Bolivia. COLOMBIA. VAUPES: Rio Cudyuari, tributary of Rio Vaupes, 15 Sep 1939, Cuatrecasas 6835 (COL); Bacuraba Cachoeira, Rio Vaupes east of Mitu, 4 Nov 1944, P. H. Allen 3319 (US); middle course of Rio Piraparani, 1952, Schultes & Cabrera 17139 (COL, GH, K, NY, US): Cano Teemeena, Rio Piraparani, 0° 15' S, to 0° 25' N, 70° 30' W, 6 Sep 1952, Schultes & Cabrera 17223 (COL, GH, US); Cafio del Caribe, Rio Guainia, 2° 45' N, 67° 50' W, 2 Nov 1952, Schultes et al. 18263 (US); Raudal Tayasu, Mitu to Javarete, Rio Vaupes, May 1953, Schultes & Cabrera 19277 (US); Yutici, Mitu to Javarete, 19382 (US). AMAZONAS-VAUPES: Cachivera de Jirijirimo, Rio Apaporis, 10 Jun 1951, Schultes & Cabrera 12493 (US): Raudal de Jirijirimo, 0° 5' N, 70° 40' W, 21 Jan 1952, Schultes & Cabrera 14940 (COL, US); Raudal Yayacopi, Rio Apaporis, 0° 5' S, 70° 30' W, 15 Feb 1952, Schultes & Cabrera 15358 (COL, F, GH, US). AMAZONAS: Raudal de Jirijirimo, Mar 1951, Schultes 12091 (US); Rio Popeyaca, 0020' S, 70°30' W, 15 Apr 1952, Schultes & Cabrera 16190 (US). VENEZUELA. BOLIVAR: tributaries of the Rio Uari, Gran Sabana, 15 Mar 1946, Tamayo 3144 (VEN); Sabana de Triana, Rio Chicanan, 6°22'N, 610 53' W, 1 Sep 1961, Steyermark 89707 (US, VEN); Rio Kanarakuni, Mar 1967, Steyermark 97796 (VEN). AMAZONAS: Rio Pacimoni, 7 Apr 1953, Maguire & Wurdack 34906 (NY, US). SURINAME. Wilhelmina Gebergte, ca. 3° 30' N, 56°35' W, 28 Jul 1963, Irwin et al 54487 (NY, US); 22 Aug 1963, 55195-A (NY, US); 27 Aug 1963, 55250 (NY). PERU. SAN MARTIN, Mariscal Caceres: Tocache Nuevo, Puerto Pizana, 15 Apr 1971, Schunke 4825 (F, US); 10 Jun 1971,4975 (F, US). LORETO: Caballo-Cocha on the Amazon River, Aug 1929,L. Williams 2251 (F, GH); Mishuyacu, near Iquitos, Sep 1929, Killip & Smith 29914 (US); Feb-Mar 1930, Klug 1020 (US); 1059 (US); Apr 1930, 1197 (F, NY, US); Iquitos, May 1967 , Soukup 6075 (US); Maynas: Santa Maria de Nanay, 29 Feb 1968, Schunke 2435 (F, US). HUANUCO, Pachitea: Puerto Inca, 17 Dec 1968, Schunke 2895 (F, US). BOLIVIA. PANDO: Fortaleza, Rio Abuna, 17 Nov 1968, Prance et al 8564 (NY). LA PAZ: Santa Ana, Rio Bopi, Sur Yungas, 27 Sep 1921, 0. E. White 1087 (MICH, NY); San Bartolome, Calisaya, basin of Rio Bopi, Jul 1939, Krukoff 10045 (NY); 10229 (NY); Tuiri, Mapiri, Larecaja, Sep 1939, Krukoff 10908 (F, GH, MO, NY). SANTA CRUZ: Ichilo, Rio Yapacani, 7 Oct 1926, Steinbach 7596 bis (GH, NY). BRAZIL. AMAZONAS: Humaita, Livramento, Aug-Sep 1934, Krukoff 6774 (NY); Panure, Rio Uaupes, 16 Nov 1947, Pires 1087 (IAN); 1100 (IAN); 1101 (IAN); Serra de Tunui, Rio Negro, 14 May 1948, Black 48-2689 (IAN); Taracua, Rio Negro, 1 Mar 1959, Rodrigues, Pires & Silva 164 (IAN); km 1-5, Boca do Acre to Rio Branco, 24 Sep 1966, Prance 2525 (NY); Labrea, 31 Oct 1968, Prance et al 8139 (NY). RONDONIA: Cachoeira de Santa Cruz, Rio Jamari, 28 Jun 1965, Pires 9977 (US); Rio Pacaas Novos, Aug 1968 Prance et al 6757, 6861 (NY, US). ACRE: Seringal Sao Francisco, Nov 1911, Ule 9162 (MG); Rio Macauhan, tributary of Rio Iaco, 9°20' S, 69° W, 14 Aug 1933, Krukoff 5499 (F, GH, MICH, MO, NY, US). PARA: Cachoeira da Zoada, Rio Cumina, 30 Oct 1928, Sampaio 5409 (R); Rio Mapuera, 28 May 1952, Pires & Silva 4188 (IAN, US). MATO GROSSO: Buritizinho, Serra de Itapirapuan, 17 Apr 1894, Lindman A-3379 (S); Salto Utiariti, Rio Papagaio, Jun 1909, Hoehne in Com. Rondon 2032 (R); Rio Juruena above Rio Arinos, Jan 1911, Hoehne in Com. Rondon 5162 (R); 5163 (R).

Tillandsia paraensis Mez from Gouda in Flora of the Guinas 1987
Plant acaulescent, flowering 12-40 cm long, with an elongate pseudo-bulb or a narrow-utriculate, 10-30(-37) cm long rosette of 10-25 cinereous leaves.
Leaves 10-35 cm long, often exceeding the inflorescence or at least the scape, very densely subappressed-lepidote throughout, the outer ones much reduced and sheathlike; Sheaths ample, but not very distinct, merging into and concolorous with the blades, stiff-coriaceous, ovate, inflated-convex, 3- 7 x 1.7-3 cm, with membranaceous often purple-red margins;
Blades suberect or arching, fleshy (succulent) coriaceous, very narrowly triangular, often finely carinate on both sides, 6-25(-33) x 1.4-2 cm, attenuate and often involute toward the apex when dry, abruptly pungent. Inflorescence simple (or rarely compound of two spikes), 10-30(-40) cm long;
Scape often curved, 8-19 cm long, 2-3.5 mm in diam., sparsely floccose or subglabrous, concealed by its bracts and the leaves, or elongate and partly exposed;
Scape bracts erect, densely imbricate to remote, chartaceous, ovate, the lower ones long laminate, the upper ones more apiculate, (densely) appressed-lepidote or floccose, at least at the apex;
Spikes mostly curved, linear (-lanceolate), complanate, 6-15(-20) x 1-1.5 cm, acute, sub¬densely and distichously 4-15-flowered, rarely with more than one sterile bract at the apex;
Rachis only partly hidden at anthesis, but often wholly exposed when dry, more or less flexuous, sharply angled when dry, sparsely floccose or subglabrous;
Floral bracts clasping the flower scarcely imbricate (if at all), so narrow to expose the rachis in part, sub-chartaceous, with even or veined surface when dry, (broadly) elliptic, 2.3-3.9 cm long, less than twice to 4 times as long as the internodes, equaling to much exceeding the sepals, obtuse or the lower ones minutely apiculate, ecarinate, scarcely incurved, densely lepidote or subglabrous, often yellow-green, tinged with red or wholly reddish.
Flowers erect or subspreading, distichous, subsessile; involucre obconic, ca. 2 mm long, angled (?);
Sepals thin-coriaceous, with veined surface only when dry, ovate-oblong, 1.5-2.3 cm long, obtuse or subacute, free, sparsely and minutely lepidote;
Petals erect except for the slightly divergent apex, linear-lanceolate, 3.3-6.5 cm long, attenuate, obtuse, pink-rose;
Stamens exserted, or about equaling the petals, unequal in length, equaling the pistil (?), filaments straight, flat, subterete at the apex, anthers dorsi fixed (slightly below 1/2), ca. 4.5 mm long; ovary slenderly ovoid, evenly con¬tracted into the slender style.
Capsule (slenderly) cylindric, 3-6 (-7) cm long, 2-4 times as long as the bracts, long attenuately beaked.
Distribution : Colombia to Surinam, W. Brazil, Peru and Bolivia. Epiphytic in forest, 100- 750 m alt. 14 collections studied (l-GU, 4-SU).
Culture and use: A very beautiful small species, especially in flower, but not undemanding; must be grown like an epiphyte at a bright and sunny location in temperate or hot greenhouse. The hollow sheath-chambers are often inhabited by ants.

From Mez 1935
Inflorescentia simplex.
Folia longe sensimque acuta.
Flores ad 65 mm longi . . . . . 93. T. juruana.
Flores ad 35 mm longi . . . . . 94. T. Paraensis.

93. T. juruana Ule in Verb. bot. Ver. Brandenb. XLVIII.

1906
(1907) 143.
Usque ad 0,5 m alta. Folia 15-25 dense optime bulbose rosulata, ad vaginas haud picta, usque ad 0,36 m longa, e basi sensim peracuta, tota quam maxime canaliculata, intus fere nuda, dorso dense appresseque lepidota. Scapus manifestus, gracilis, folia subaequans, laxe vaginis mediis haud vel vix laminigeris, late ellipticis, internodia vix aequantibus prae¬ditus. Inflorescentia simplicissima, laxe disticha subpinnata, 10-20-flora, usque ad 0,25 m longa, folia bene superans; rhachi geniculata; bracteis erectis, vix imbricatis, coriaceis, nec incurvis nec carinatis, dorso dense lepidotis, ad 32 mm longis, sepala multo superan¬tibus. Flores erecti, ad 65 mm longi; sepalis liberis, coriaceis, ovato-lanceolatis, acutis, paullo lepidotis, ad 24 mm longis. Petala pulchre rosea, ad 55 mm longa, tubulose erecta apice patula, quam stamina tridynamia multo breviora.
Brasilien: Hylaea, am Jurua Miry (Ule n.5734).

94. T. paraensis Mez in Mart. Fl. Brasil. III. 3. (1894) 586, t. 109.
Ad 0,2 m alta. Folia utriculum optime bulbiformem, haud pictum formantia, ad 0,2 m longa, e basi per¬sensim acuta, tota longitudine involutim fistulosa, dense appresseque lepidota. Scapus crassiusculus, curvatus, foliis satis brevior, vaginis late ovatis, subinflatis, omnibus internodia superantibus indutus. Inflorescentia simplicissima, laxe disticha subpinnata, 6- ad 8-flora, folia subaequans vel iis paullo brevior, ad 90 mm longa et 20 mm lata; rhachi vix geniculata; bracteis haud vel vix imbricatis, dorso dense lepidotis, late ovatis, acutis, carinatim complicatis apice rostratim paullo incurvis, ad 25 mm longis, sepala superantibus. Flores erecti, ad 35 mm longi; sepalis liberis, coriaceis, dorso lepidotis, oblongo-ovalibus, acutis, fere 24 mm longis. Petala tubulose erecta, quam stamina breviora.
Brasilien : Hylaea, bei Para (Sieber), auf einer Insel bei Sao Joaquim am Rio Negro (Ule n. 6020)

Detail from Mez 1935
74. T. sanctae-crucis Sp. Moore ap. Mez in DC. Monogr. Phaner. IX. (1896) 710. –
Vriesea sanctae-crucis Sp. Moore in Trans. Linn. Soc. 2. ser. IV. (1895) 491. –
Ad 0,2 m alta. Folia subbulbose utriculatim rosulata, vix 0,3 m longa, super vaginam fere 20 mm lata, inde in apicem subuliformem sensim angustata, rigidula, dorao lepidoto-cinerascentia. Scapus brevissimus, ascendens, gracilis, vaginis dorso dense lepidotis, supremis acuminulatis, internodia aequantibus indutus. Inflorescentia pauciflora, simplisissima optime pinnata, ad 4-flora, vix 80 mm longa et 25 mm lata; bracteis erectis, dorso appresse lepidotis et prominulo-venosis, e late elliptico subacutis, haud carinatis, membranaceis, nullo modo imbricatis, ad 32 mm longis, sepala superantibus involventibusque. Flores ad 45 mm longi, erecti; sepalis subaequaliter liberis, subcoriaceis, dorso dense appresseque lepidotis et tenuiter prominulo-venosis, ellipticis, obtusis, ad 29 mm longis. Petala sepalis ad 15 mm longiora, tubulose erecta, quam stamina breviora.
Brasilien: Staat Matto Grosso (Spencer Moore n. 361).
---
Updated 15/03/19
---