Tillandsia paleacea
Click thumbnails for full size, scaled to a new window.
---
Tillandsia paleacea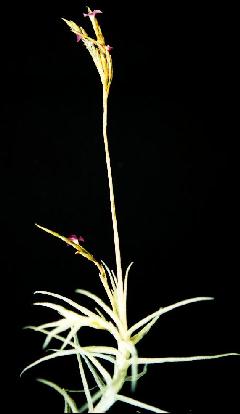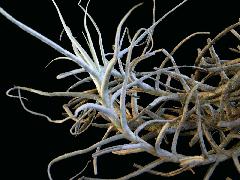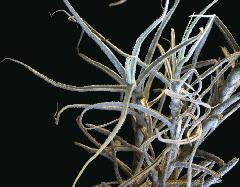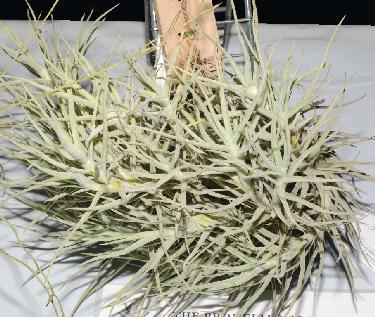 | | | |
| --- | --- | --- |
| Ken Woods. | Ian Hook 08/08. | Plant/photo, Terry Davis. BSA Show 05/10. |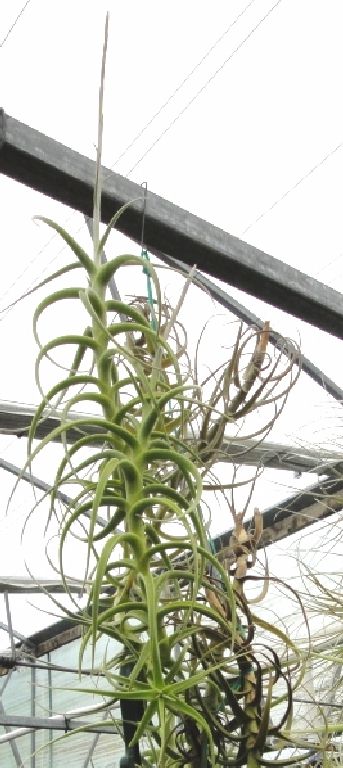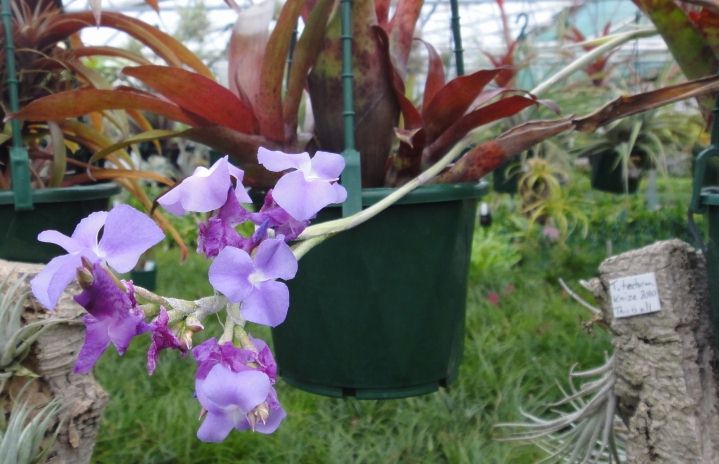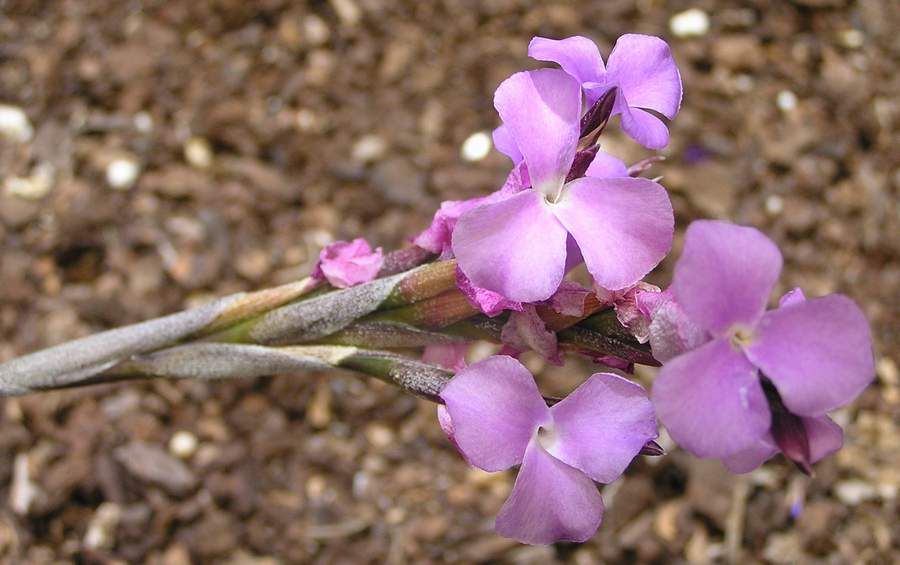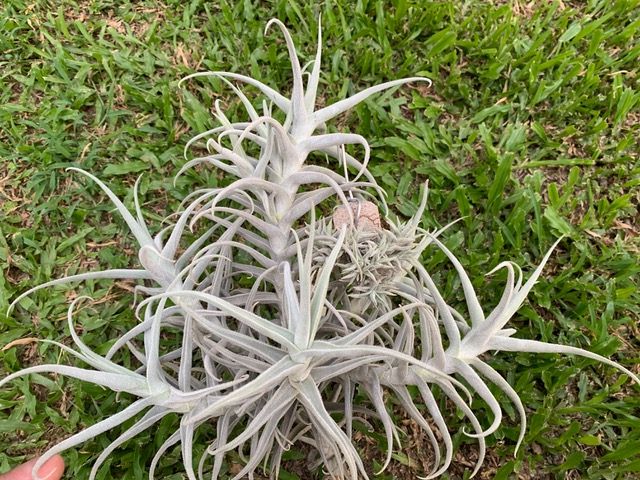 | | | |
| --- | --- | --- |
| Chris Larson 01/12. From Knize. | Derek Butcher 01/12. From Chris Larson seed "Inca Trail 1989" | Bruce Dunstan 02/20 Large & small |
Bruce Dunstan ... "This is the large and the small. The large is from Halle Botanical Garden and the small is from Heidelberg BG. Both from Peter Tristram."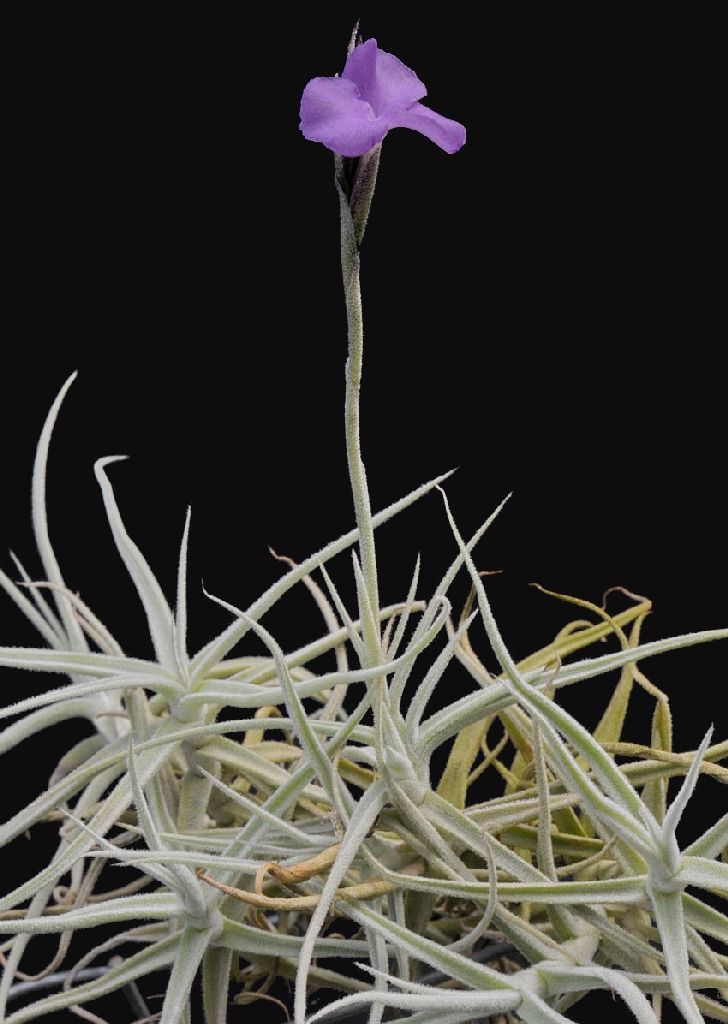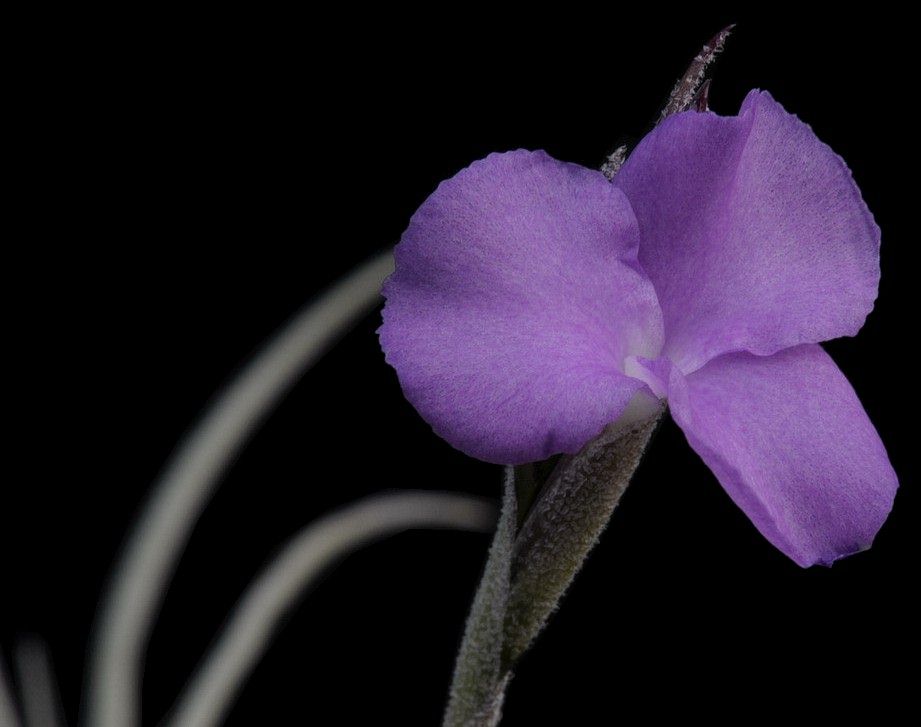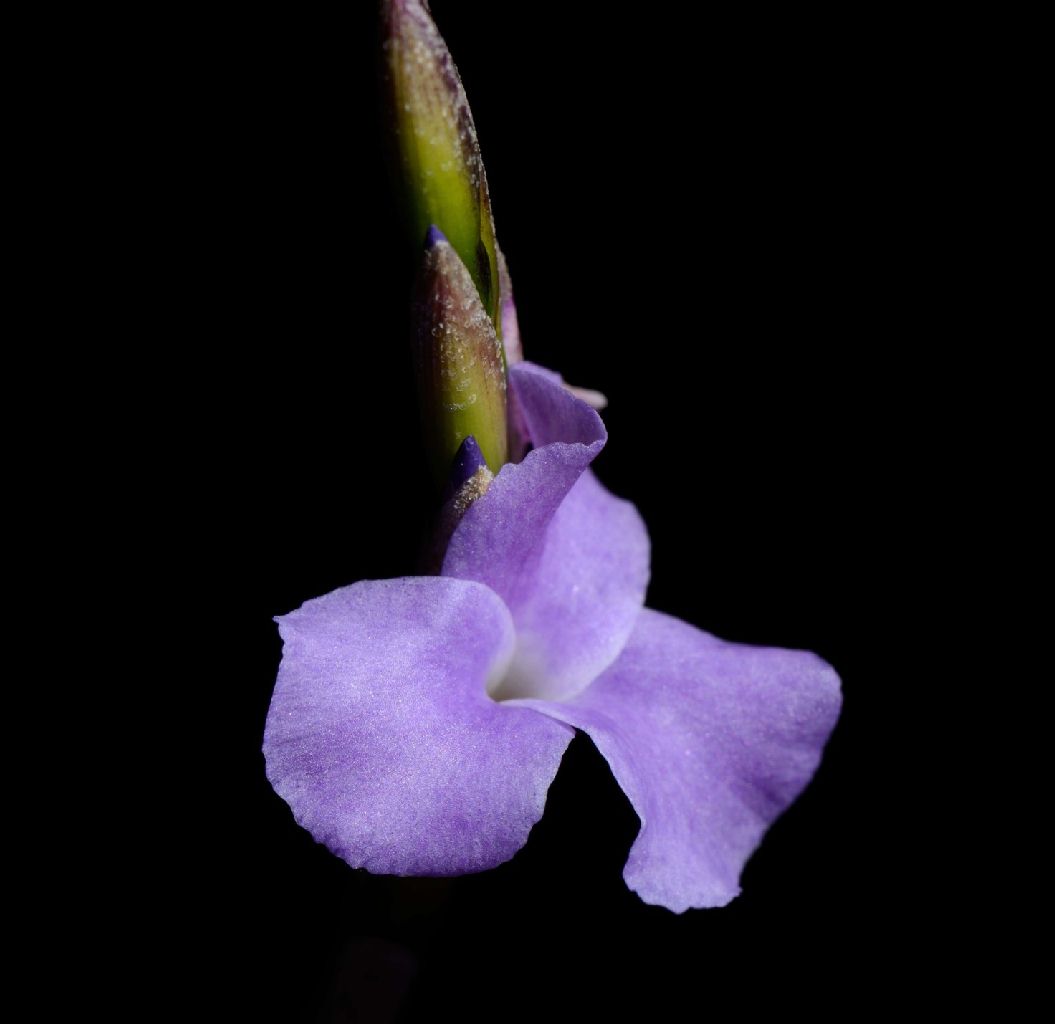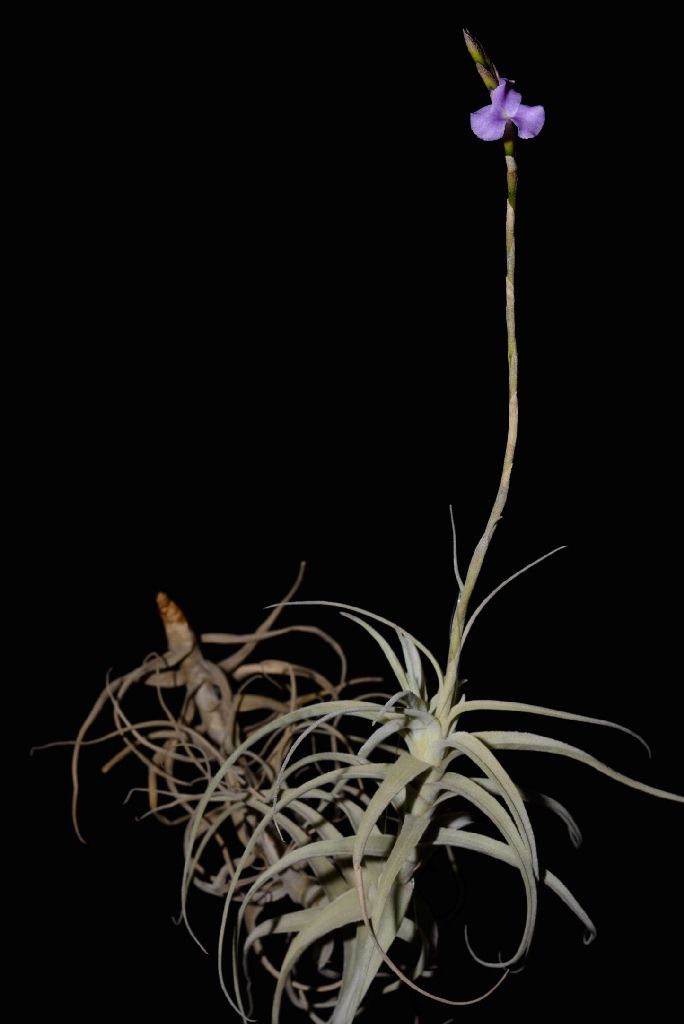 | | |
| --- | --- |
| Peter Tristram 12/12. From Uwe, DBG. | George Nieuwenhoven 03/14. |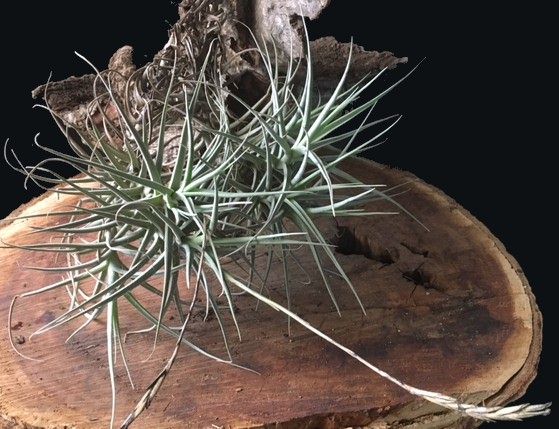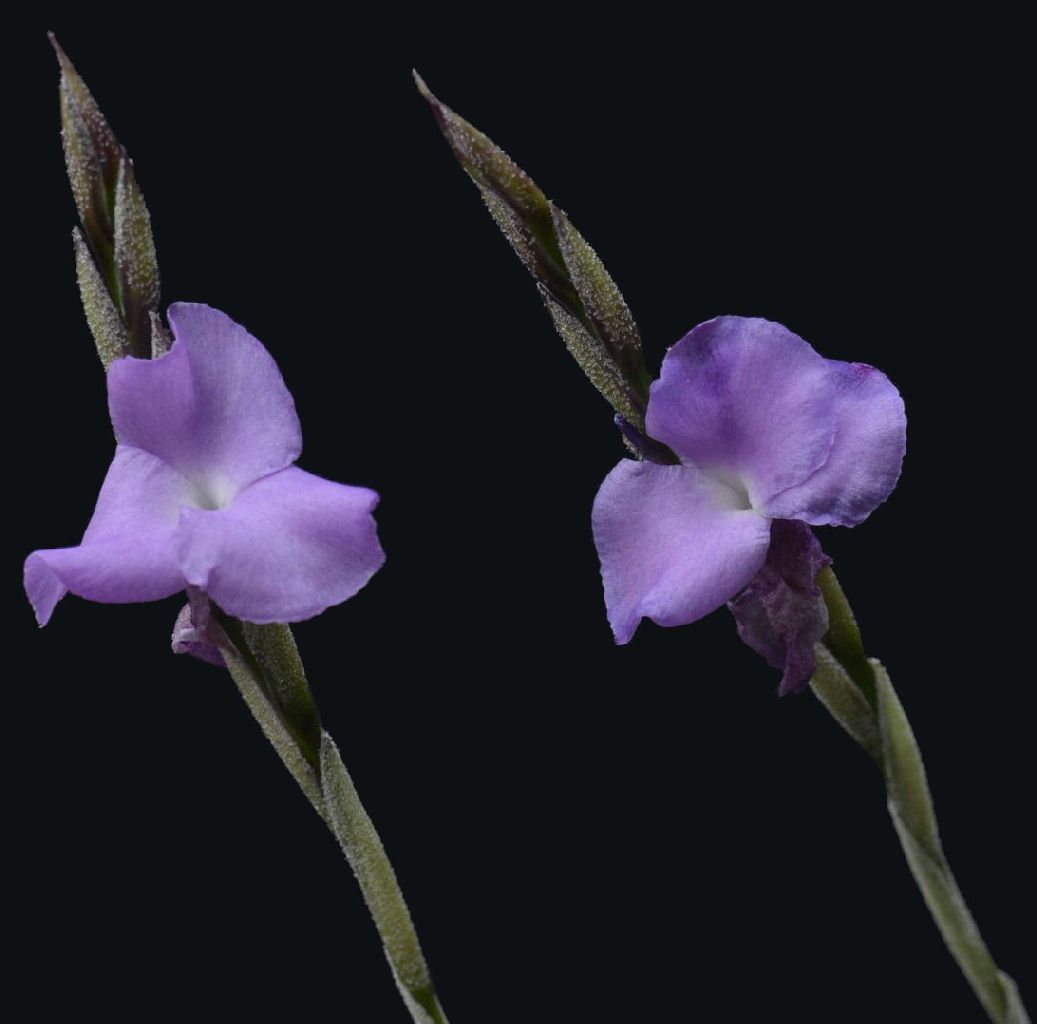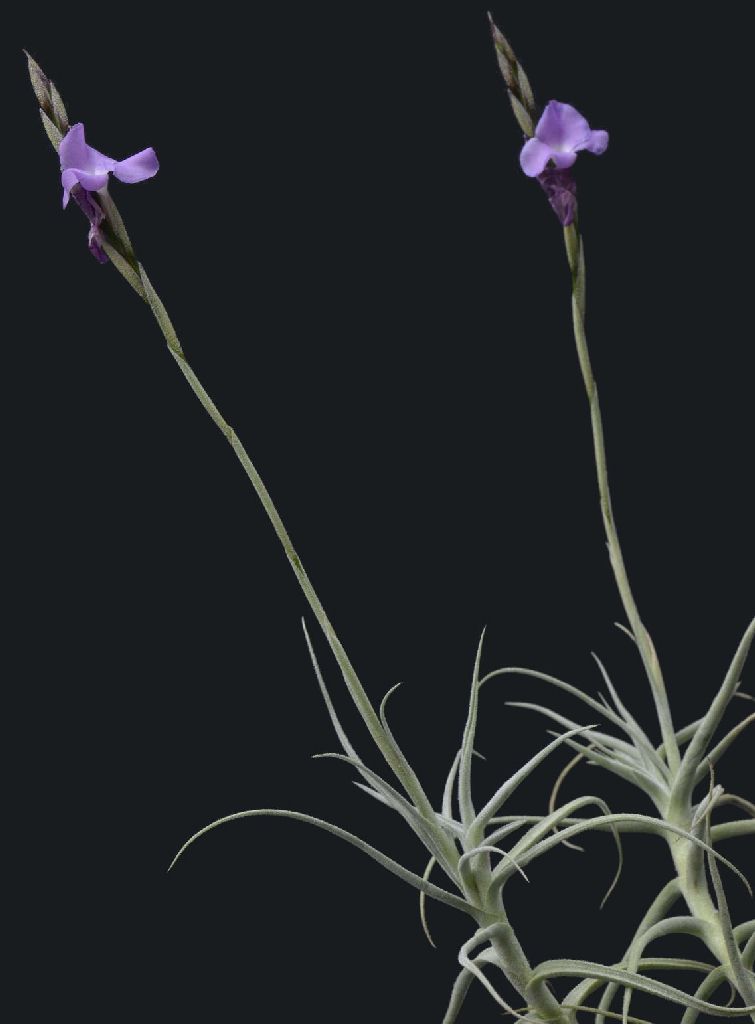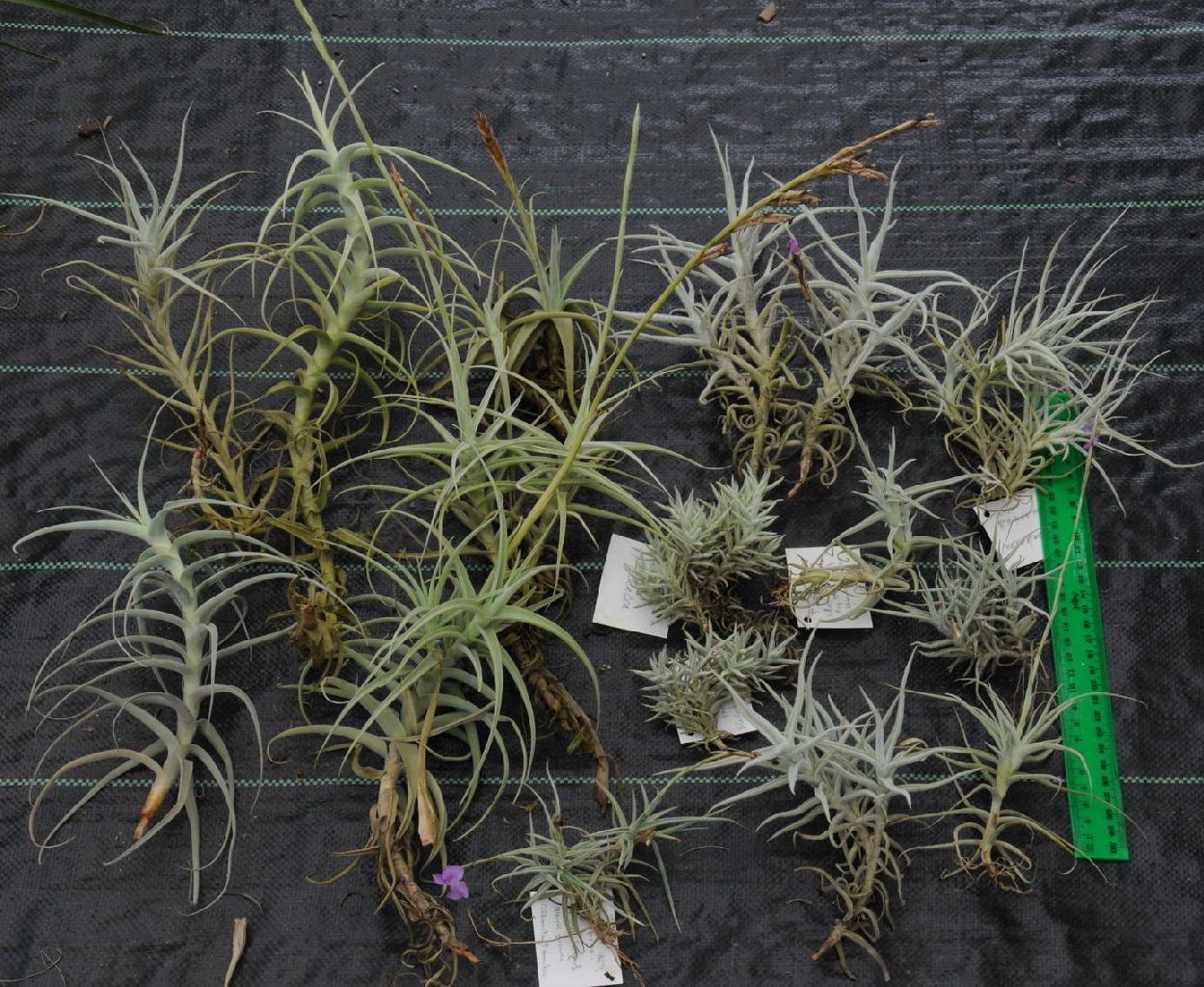 | | |
| --- | --- |
| Ian Cook 08/17 'ourime apurimac' ex Butcher | Peter Tristram 08/17 Ollantaytambo |
Ian Cook ... "This form I got from UD 12 months ago is labelled 'ourime apurimac'"
Peter Tristram ... "Over the years, dozens of forms of T. paleacea complex plants have been imported and everyone would have some in their collections. Unfortunately I have rarely photograph them. The form above was collected by Uwe Scharff near Ollantaytambo at the lower end of the Sacred Valley near Cuzsco and it has a particularly large flower. On our 2003 trip we saw masses of paleacea in that area too, mainly draping over rocks along with usneoides. I've also included a shot of multiple types."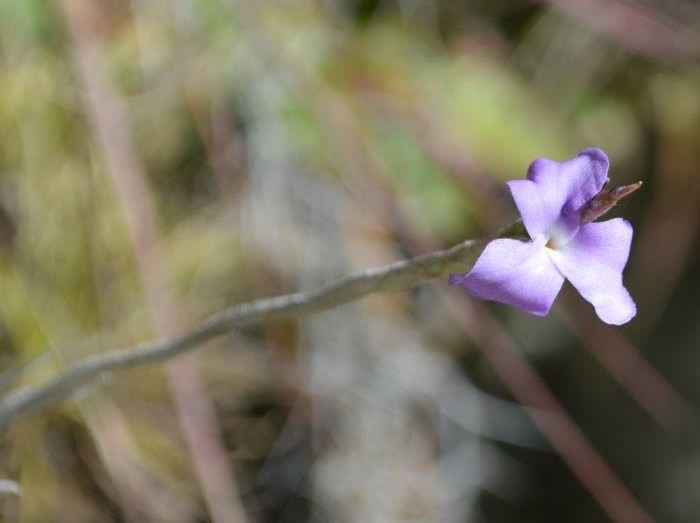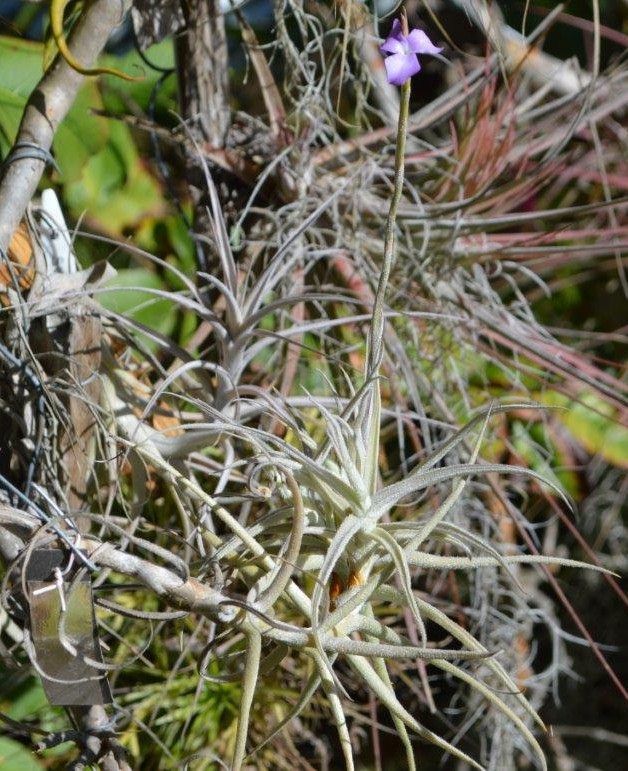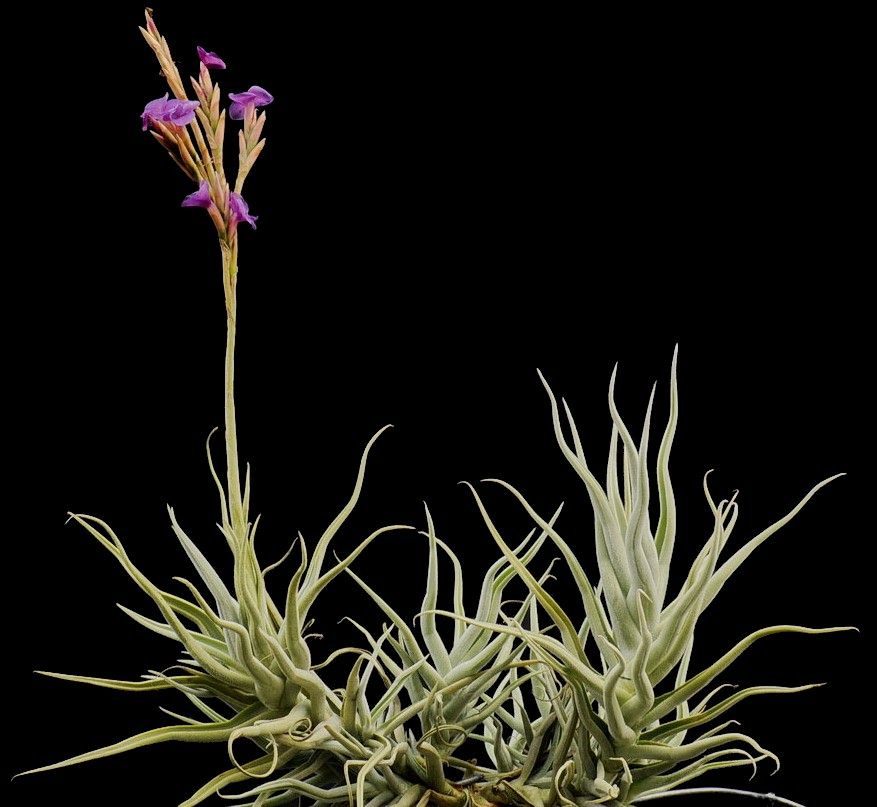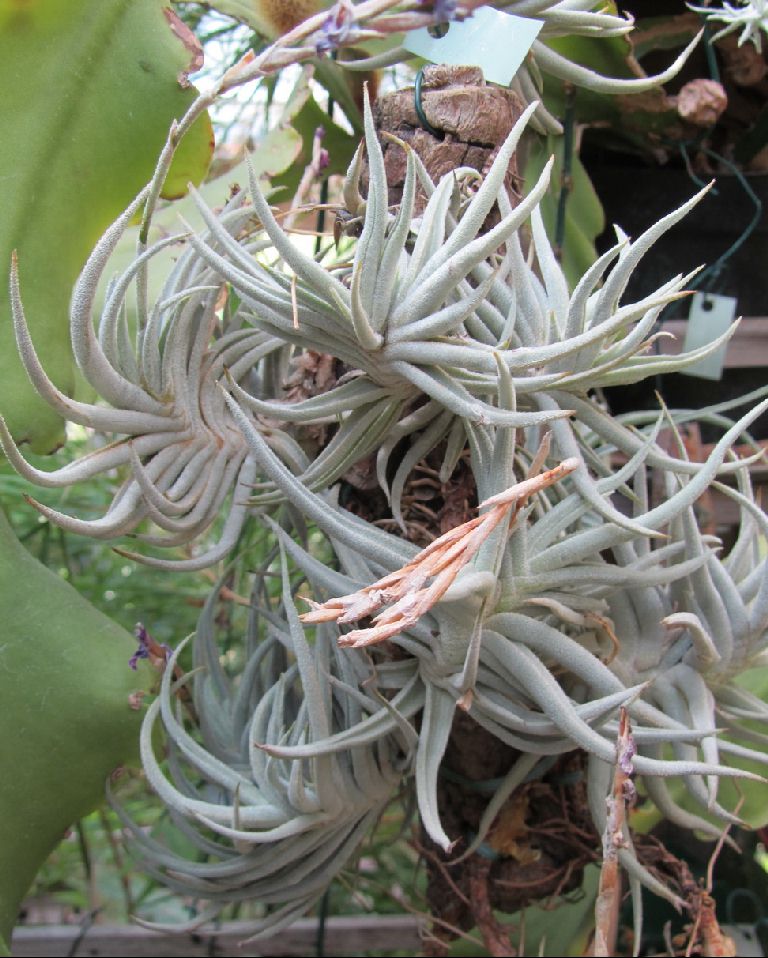 | | | |
| --- | --- | --- |
| Rob Bower 08/17 'Canto' ex Bob Hudson | Peter Tristram 08/17 'Zik Zak' | Peter Tristram 08/17 distichous |
Peter Tristram ... "Nice paleacea Rob. Any idea what Canto refers to? Something to do with singing? Maybe it's from Derek via Bob when he gave away forms of paleacea in Albury some moons ago. Maybe there's a place called Canto in Peru or it's Knize code?
The HESA form (after Helmut Sang), now T. Zik Zak, and the distichous form from Lotte Hromadnik, are very unusual. I imported a couple of the distichous form but haven't seen mine for a while so I hope Chris still has his!!"
Rob Bower ... "Canto seems to be a city/suburb in Brasil on the SE corner. Maybe that's it. It does have a music meaning also but I don't know what it is."
Bob Hudson ... "Hi Peter & Rob. I acquired this form from Tropiflora a few years back."
Ray Clark ... "An apology is required. It has become apparent that Ian Cook's plant is indeed as labelled, T. ourime apurima.
The conundrum lies in the fact that despite our brilliant resources including the DVD, there are several forms of paleacea which have never been formally named or captured. This lack of info is what lead me to question Ian's plant. Walter Till described apurimacensis as a subspecies but there are other forms getting around which have not been described, these include paleacea minima, 'ourime apurimac' and 'rio rimac'. These plants most likely came from Karel Knize to Derek Butcher many moons ago.
Although the plants were lacking formal recognition Derek rightly chose to note the locality names on the labels with a view to potential identification some day in the future."
Chris Larson ... "There are just so many forms of so many species amongst collections. I remember that Peter Tristram was intent on importing forms of paleacea over a few imports, around 2010. I was questioning why? Not that I don't like them, but there are just so many.
Species have parameters where something can fit in. Cultivars, by the ICNCP general rules, can only be of one type. Then you have to account for variation of growth in one type between the harsh climate & (usually) underfertilized Adelaide plants (something which is changing) - and something like Bruce would grow in Brisbane in well fertilized conditions – the look would be totally different. This has been the problem the last two BCRegistrars have had to deal with – and why we have often been encouraged to lump them with a similar form on the BCR already.
Derek has labelled his plants with, I assume, Knizes collection data – but Knize labelled his plants randomly. You'd open the paleaceas to find tectorums, tectorums to find walteri, walteri to find paleacea – and so on. While having the best of intentions, Derek may have been mis-informed by Karel's random naming procedures.
Also, the term Apurimac in this sense, ie this paleacea, may imply the Apurimac River or Valley near Arequipa – and Ourime is probably a town in the valley. T. paleacea var. apurimacensis grows there, but so do many other plants.
Registering every form has merits, but also has problems with bloating the BCR – just my personal opinion. I tend to only register cvs when I see particular merit in doing so."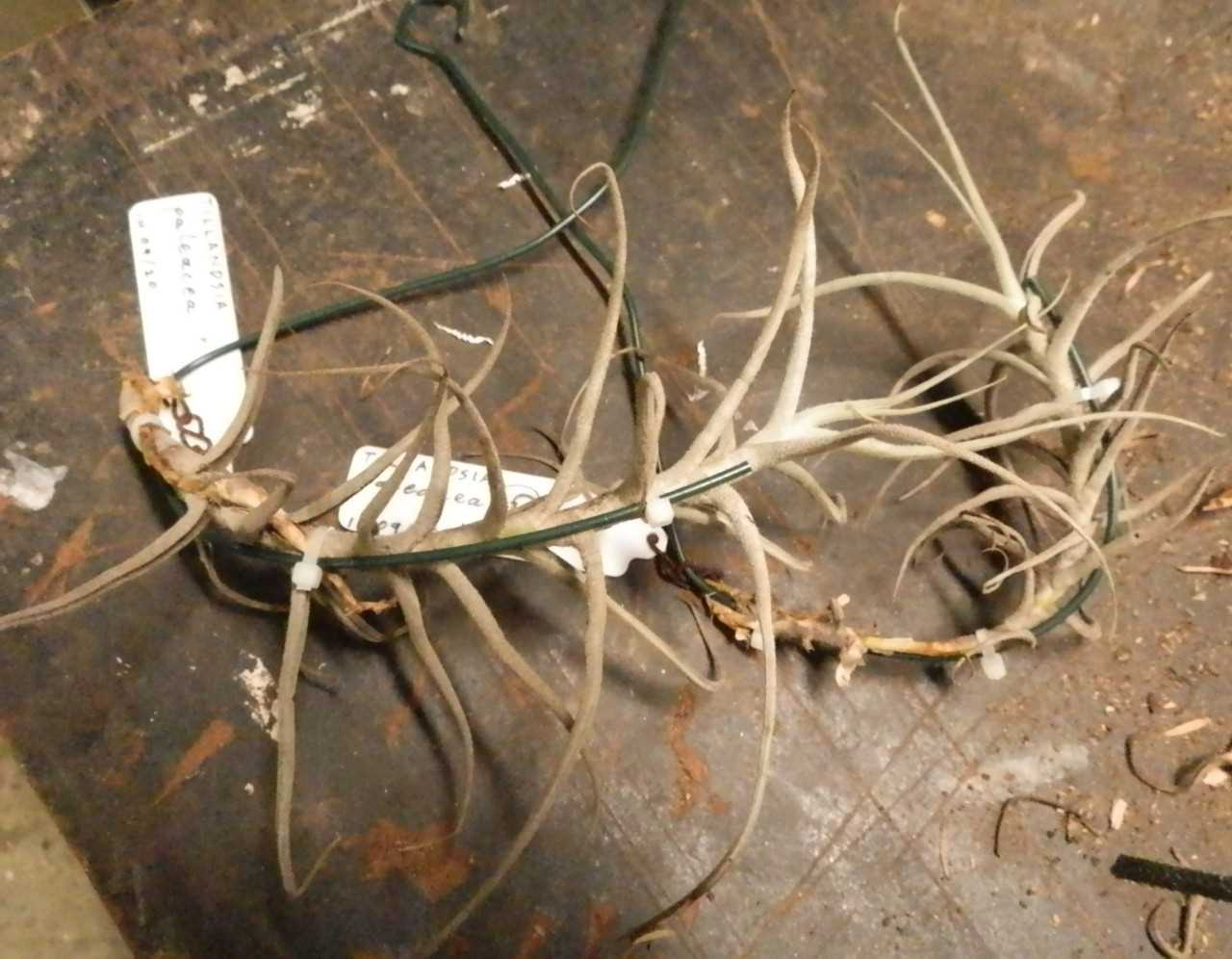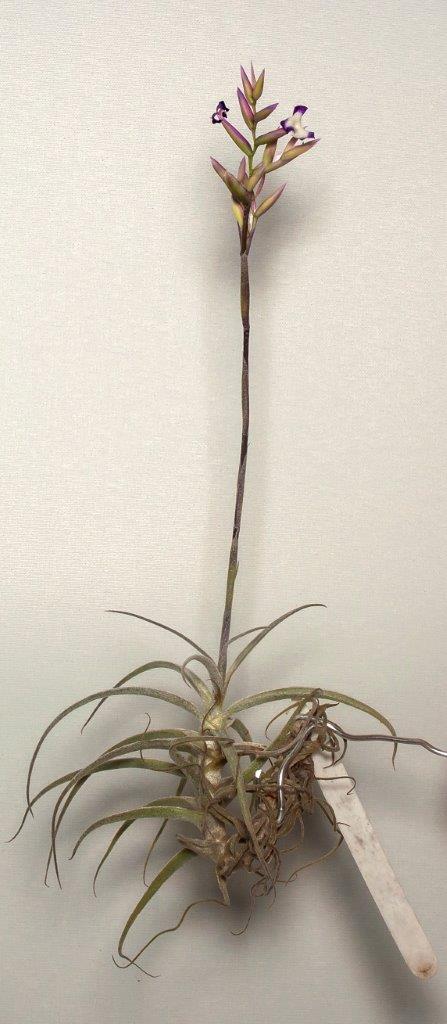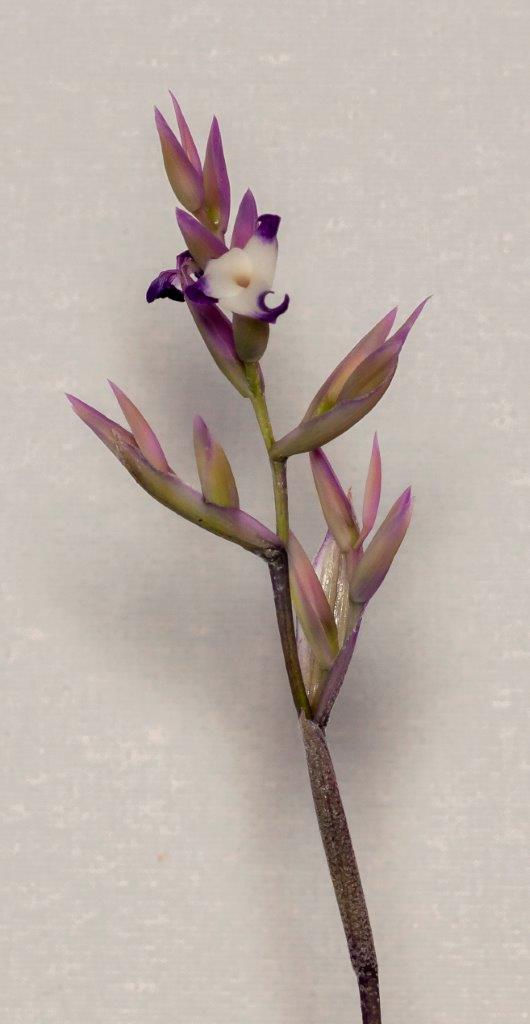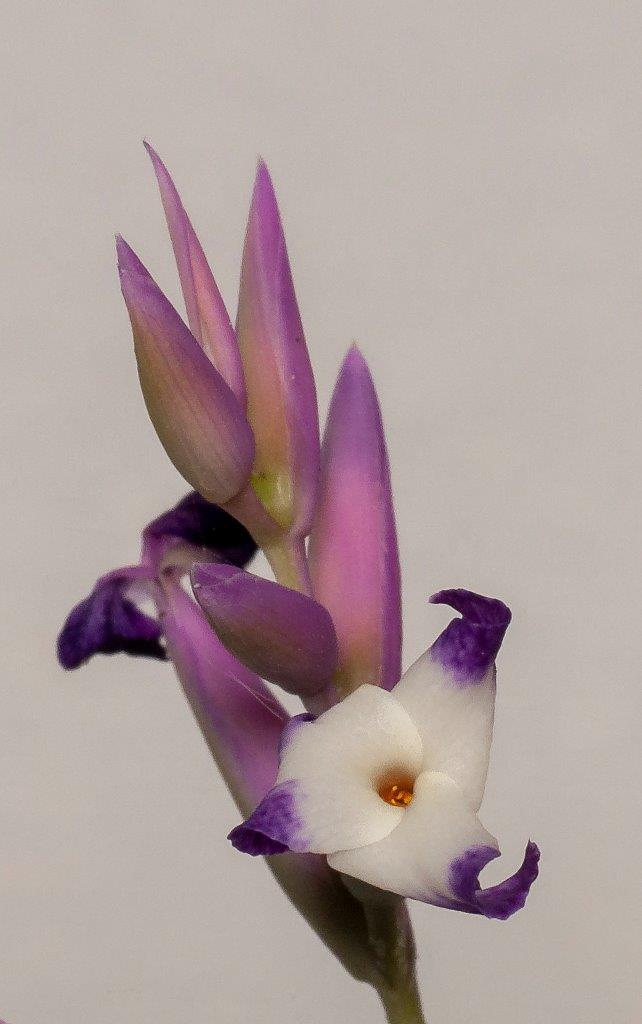 | | |
| --- | --- |
| Ian Hook 10/20 ? from an old deceased estate Sydney | Rob Bower 10/20 as "paleacea 701" ex Chris Larson |
Dale Dixon ... "Hi Rob, certainly doesn't look like Tillandsia paleacea, looks like it has Tillandsia straminea in it."
Chris Larson ... "This is a wild collected Peruvian plant. My book has been put away telling me where I would have collected it but this is in southern Peru (1998) - likely on the road from Lima to Cuzco. I have not seen it flower before."
Eric Gouda ... "A few hands full of T. straminea forms can be found in Cajamarca, I have studied several (maybe 10) forms collected by Franz Gruber and the variation is amazing."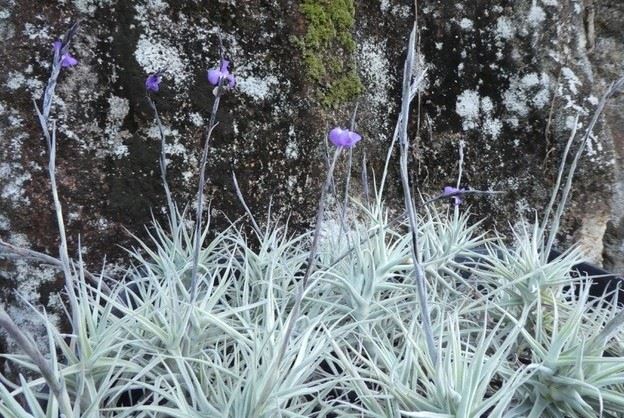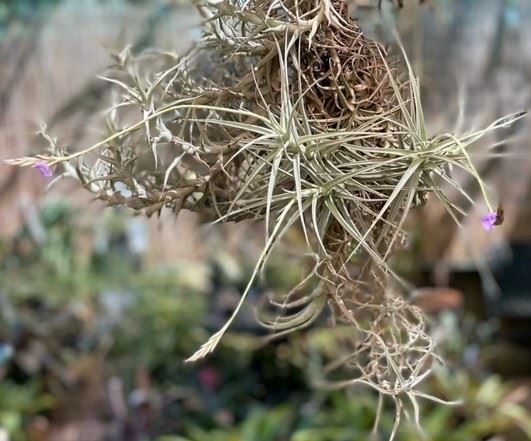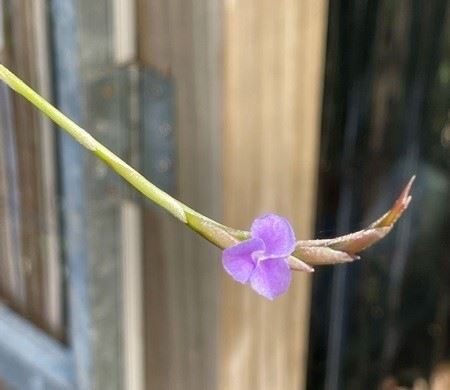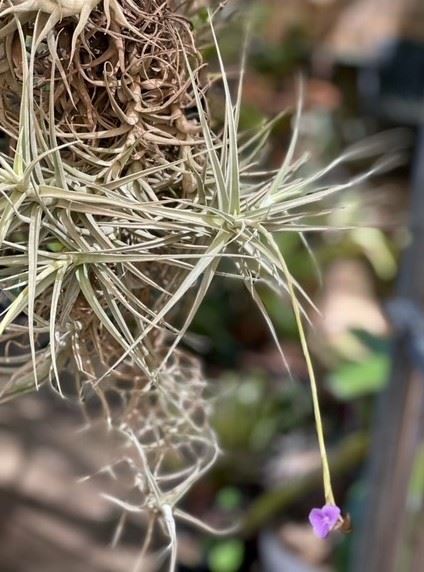 | | |
| --- | --- |
| Bruce Dunstan 08/21 "#1 Ex Neville Ryan" | Ian Cook 11/21 |
---
Tillandsia paleacea ssp. apurimacensis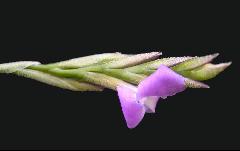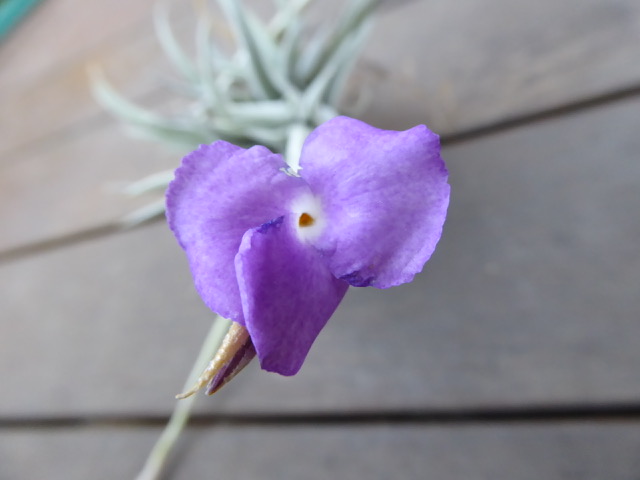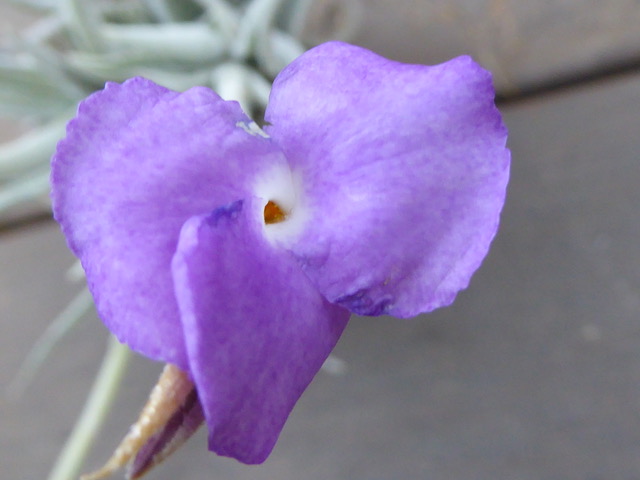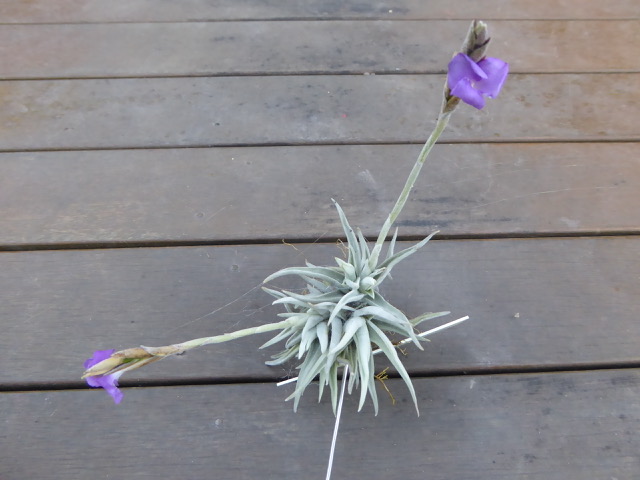 | | |
| --- | --- |
| Ken Woods 12/05 | Bruce Dunstan 11/18. "KK Ex.PT 5/17" |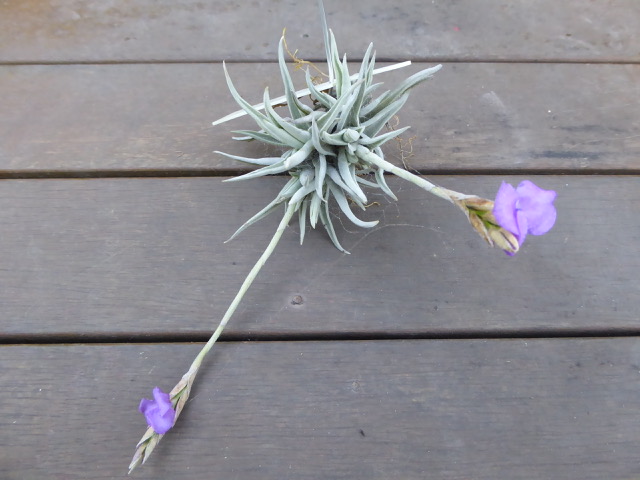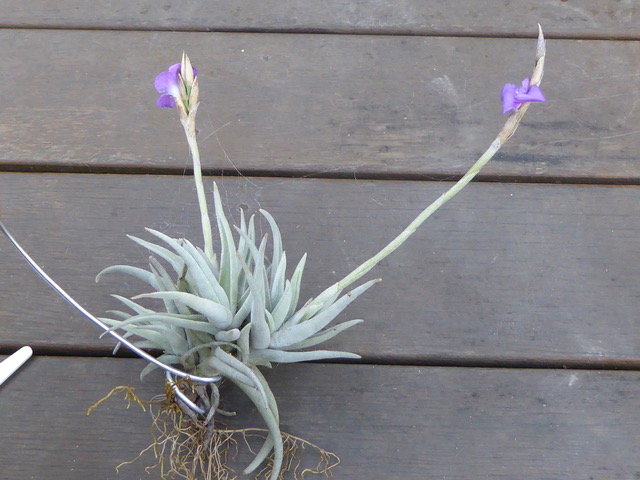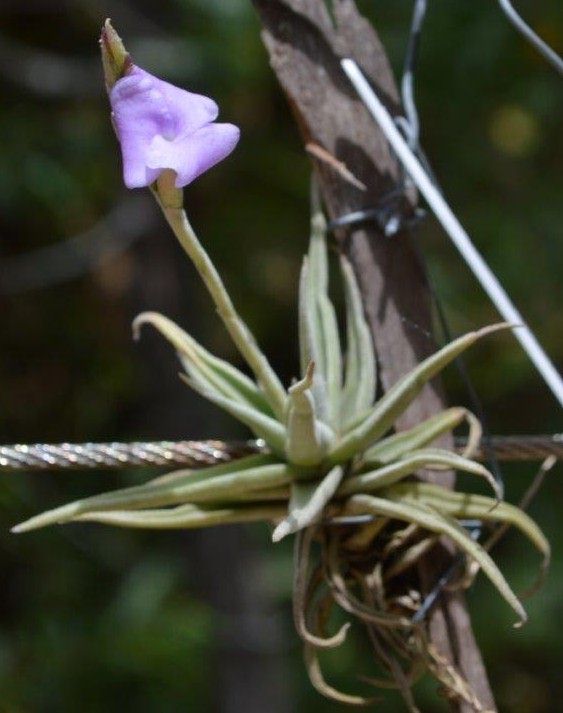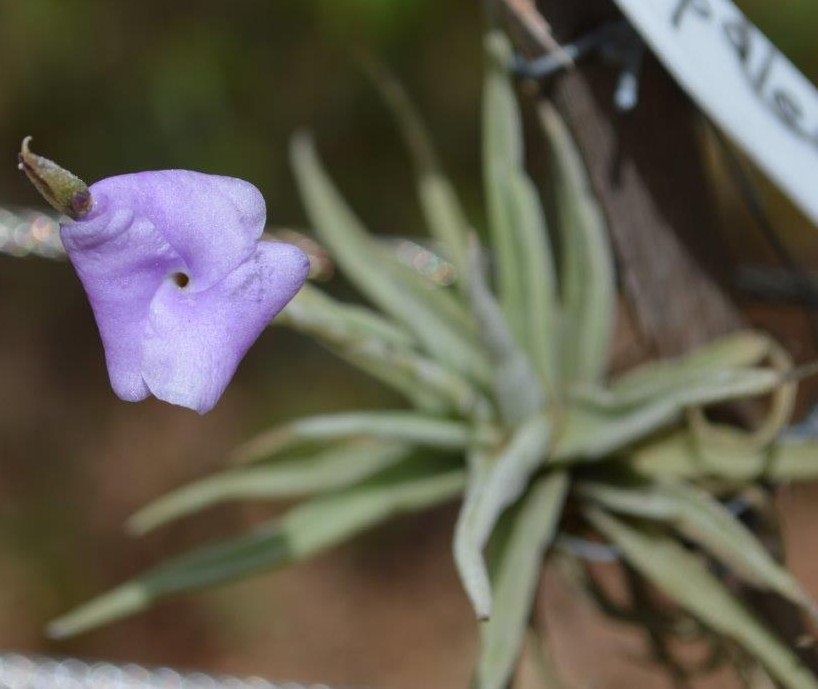 | | |
| --- | --- |
| Bruce Dunstan 11/18. "KK Ex.PT 5/17" | Bob Bower 12/18 |
Bruce Dunstan ... "Not my smallest paleacea but on the smaller side of the species."
Peter Tristram ... "It's a lovely little species for sure. Knize used them as packing on a shipment about 15 years ago but most died in that gassing, packing and everything else! There were a few different ones that survived and I remember sending them to SA so the Crow Eaters should have some of those Knize ones too. Are these from me/KK?"
Andrew Flower ... "T. paleacea subsp. apurimacensis (Walter Till JBS 1993 pp 7-10). It was also around in horticulture as "Tillandsia streptocarpa Mini" for many years."
Chris Larson ... "Andrew Thompson & I also spread some around from a locality around Ayacucho – collected in 1998. This is the other documented locality away from the Apurimac Valley."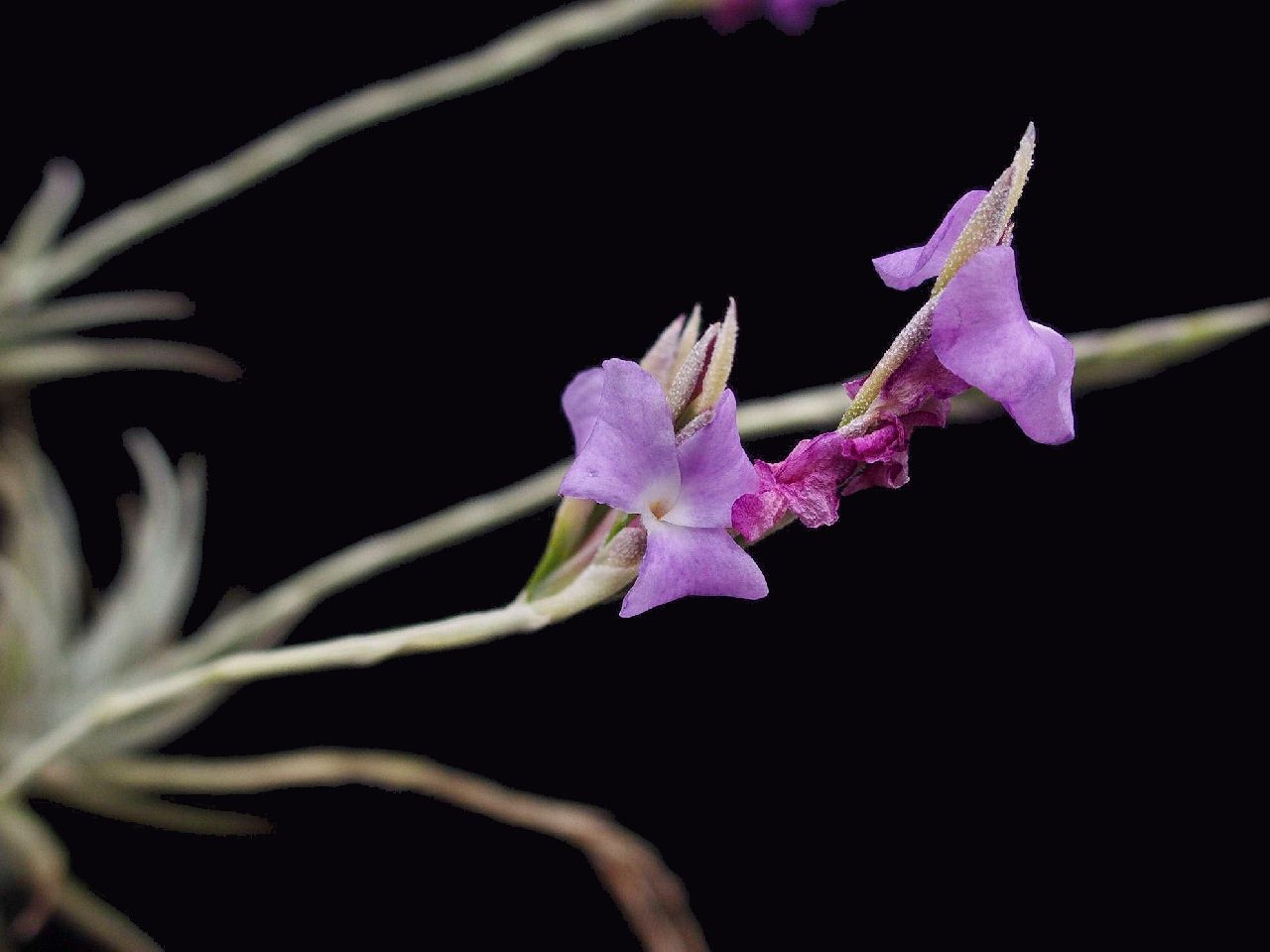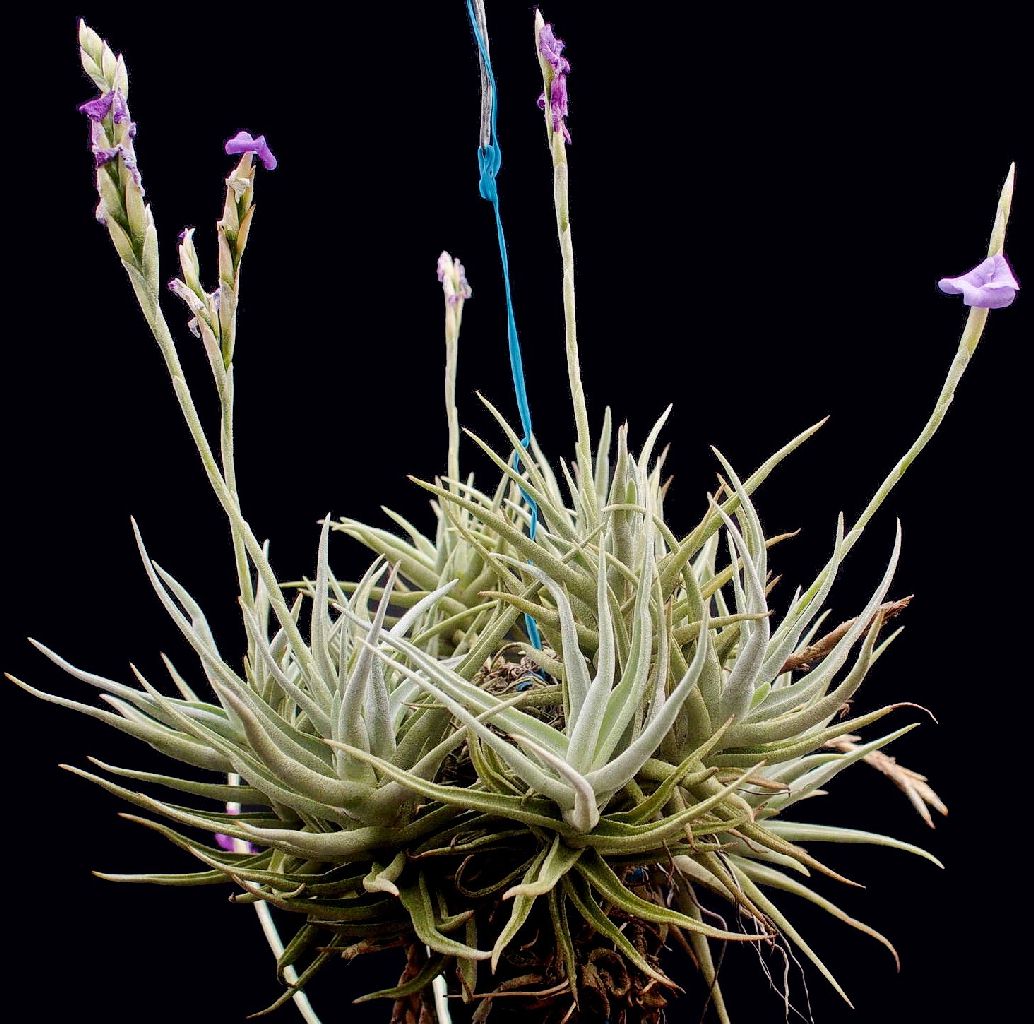 Peter Tristram 12/18 Ex. Knize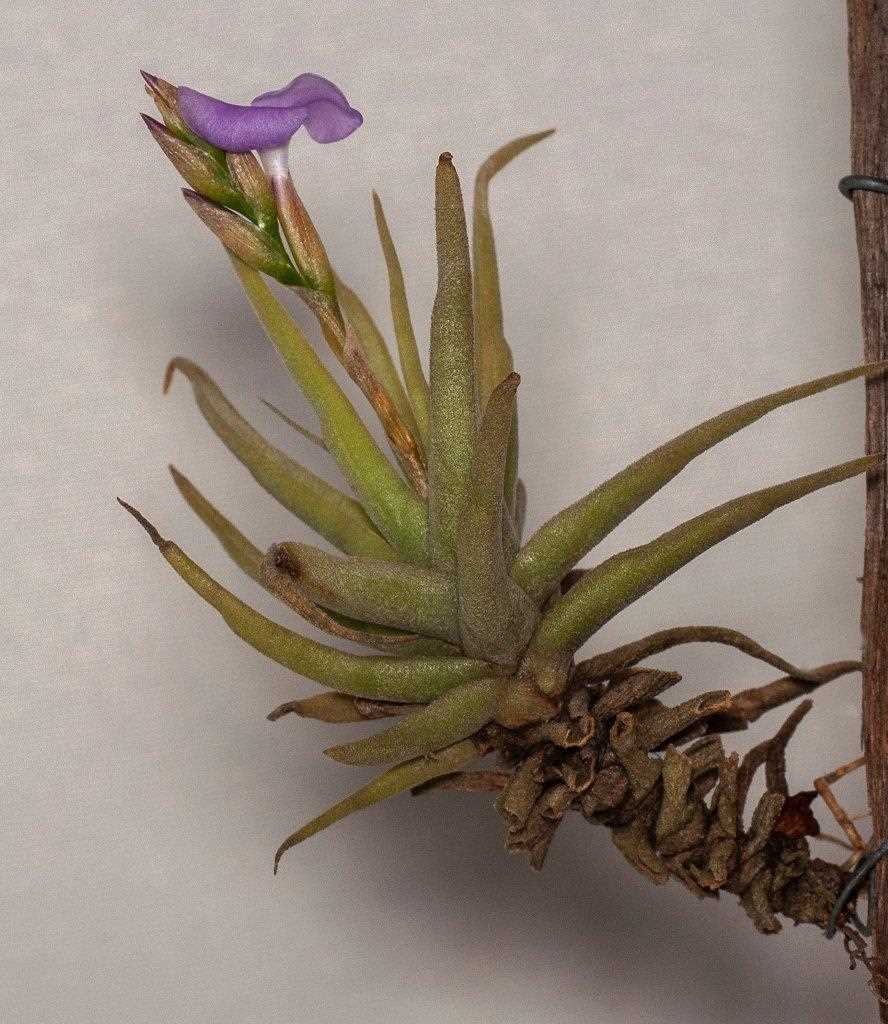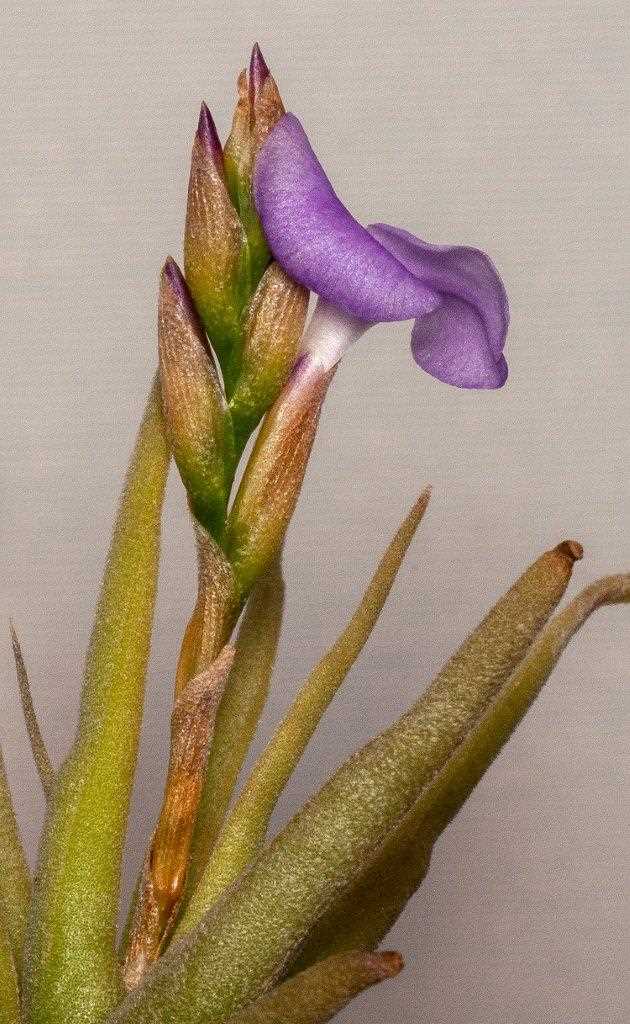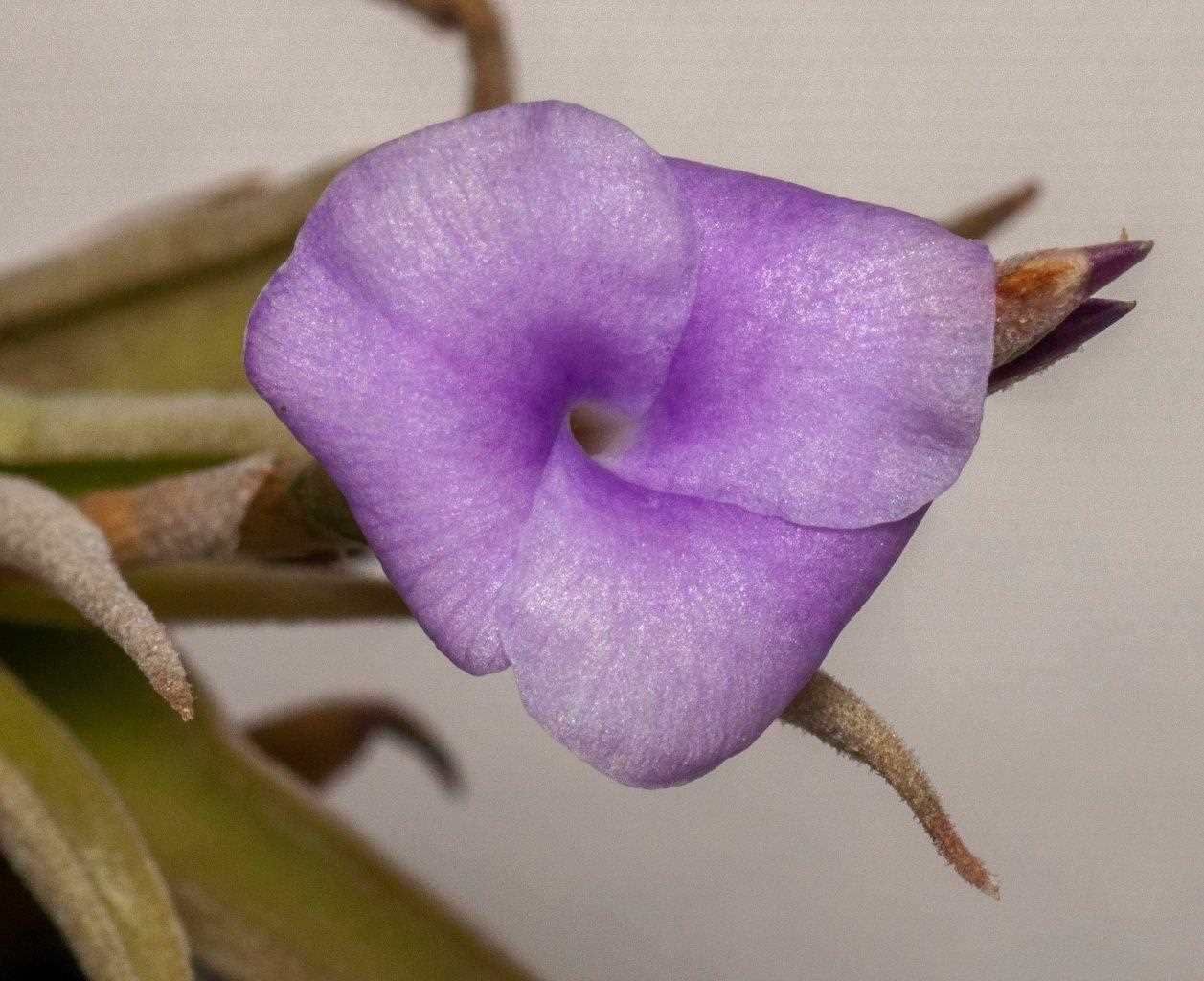 Rob Bower ... "A lovely stubby little paleacea. Mine is ex. Peter Tristram"
Dale Dixon ... "Makes wonder if T. kirschneckii evolved from T. paleacea var. apurimaoensis or vice versa."
Andrew Flower ... "Actually the name you are using is invalid (at least according to Eric's list) - I think you have Tillandsia paleacea ssp. apurimacensis - these were around in the trade for many years as "Tillandsia streptocarpa mini." A neat little plant."
Rob Bower ... "Yes I was thinking about the different forms of paleacea - some with long flower stems and some short. Darwinianly it's a very easy trait to select for because theres a simple 'promoter' (genetic traffic light control system) that says grow - keep growing - keep growing - ok stop now - that determines how long the spike will be. So if its useful to the plants reproductive efficiency to have a long spike, eg holds the flower up high so it can be seen by pollinators, then the promoter evolves to keep firing and the spike grows long. Conversely if a little stubby flower spike is more effective, eg stay low so winds don't damage it, then the promoter easily evolves to switch off early and the spike stays short. That's the never ending Darwinian process that produces all the different forms of tills that we all like."
Chris Larson ... "While the Apurimac Valley is quite some way away from T. kirschneckii, there is a locality on the main road around where T. kirschneckii is found where I collected T. paleacea ssp apurimacensis. The plants I collected there are the form on Derek's disc with my name under the photo."

---

Tillandsia paleacea Presl, Rel. Haenk. 1: 125. 1827; L. B. Smith, Contr. Gray Herb. 104: 81, pl. 2. 1934.
Tillandsia fusca Baker, Jour. Bot. London 16: 240. 1878. Type. Obrajillo, Lima, Peru, Brackenridge in Wilkes Expedition s n (GH, K, US), 1839.
Tillandsia scalarifolia Baker, Jour. Bot. London 25: 235. 1887. Type. Without exact locality, Bolivia, Pentland s n (K, GH photo), 1839.
Tillandsia schenckiana Wittmack, Bot. Jahrb. 11: 63. 1889. Type. Near La Plata, Huila, Colombia, Lehmann XXVII (BM, GH photo; G), Dec 1882.
Tillandsia chilensis Baker, Handb. Bromel. 166. 1889. Type. Northern Andes of Chile, without exact locality, Gay s n (P, GH photo).
Tillandsia lanata Mez, Bull. Herb. Boiss. II. 5: 109. 1905. Type. Matucana, Lima, Peru, Weberbauer 1697 (B, F photo 11509).
Tillandsia favillosa Mez, Repert. Nov. Sp. 3: 43.1906. Type. Ollantaitambo, Cuzco, Peru, Weberbauer 4933 (B, F photo 11495), 15Jun 1905.
Desc from S&D p863-5
Plant flowering 1-7 dm long; roots present at least at first; stem at least to 35 cm long, much branched, appearing stout because of the leaf-sheaths.
Leaves more than distichous but relatively few-ranked and widely spaced so that the blade and the upper half of the sheath are clearly visible, cinereous often becoming fuscous with age, densely tomentos-elepidote;
Sheaths broadly ovate or elliptic, large, glabrous except on the upper half outside;
Blades abruptly spreading, usually contorted, narrowly triangular, involute-subulate, to 12 cm long, 4-6 mm wide.
Scape erect, slender, very short to over 15 cm long, glabrous or nearly so;
Scape-bracts mostly equaling or exceeding the internodes, narrowly elliptic, apiculate, lepidote, the lower filiform-laminate.
Inflorescence simple, narrowly lanceolate, acute, to 5 cm long, dense, complanate, 1-12 flowered;
Rhachis straight or flexuous, angled, glabrous.
Floral bracts distichous, ovate or elliptic, about 3 times as long as the internodes, slightly shorter to slightly longer than the sepals, ecarinate, sulcate, soon glabrous;
Flowers subsessile.
Sepals lanceolate, 10-17 mm long, free, glabrous;
Petals with narrow.claw and large suborbicular spreading blue or violet blade;
Stamens deeply included, exceeding the pistil.
Capsule cylindric, 2 cm long.
Type. Haenke s n (holotype PR, GH photo), without exact locality, Chile. DISTRIBUTION. On rocks and desert sands, or on trees in dry areas, 0-3000 m, south-western Colombia to Bolivia and northern Chile.
COLOMBIA. HUILA: La Plata, 1882, Lehmann 2234 (! Mez); Dec 1882, s n (BM); Rio Paez, Lehmann 5302 (K). PERU. SAN MARTIN: Moyobamba, Stuebel 62-B (! Mez). ANCASH: Rio Fortalezza, 25 Ju1 1954, Rauh & Birsch P-1952 (US). LIMA: Chosica, Mar 1923, Macbride 2879 (F, GH, US); 10 Oct 1935, West 3599 (GH, UC, US); Pampa de Quilmana, Asia to Canete, 6 Feb 1949, Ferreyra 5380 (US, USM); San Bartolome, Martinet 191 (P).
HUANCAVELICA: Rio Mantaro, Salcabamba to Surcubamba, 14 Jan 1939, Stork & Borton 10404 (F). ICA: Lamas de Marcolla, south of Nazca, 22 Sep 1958, Ferreyra 13372 (US, USM). APURIMAC: Rio Pachachaca, Casinchihua, Abancay, 21 Dec 1962, Iltis & Ugent 826-A (US, WIS). CUZCO: Ollantaitambo, Urubamba, 4 May 1915, Cook & Gilbert 554 (US); Feb 1925, Berrera 702 (US); Jul 1925, 801 (US); 4 Ju1 1939, Vargas 413 (F, GH, US); 22 May 1958, Bumbert30616 (P); 3 Sep 1963, Gade s n (US, WIS); Torontoy, 11 Jul 1915, Cook & Gilbert 1774 (US); Valle de Lacco, Calca, 30 Ju1 1955, Vargas 11090 (US); Machupicchu, 21 May 1958, Reitz 5964 (HBR, US); Cuzco, May 1958, Bumbert 30539 (P); Ollanta, Sep 1967, Rauh RP-20727 (US). AREQUIPA: Camalla, 18 Mar 1954, Rauh & Birsch P-539 (US). BOLIVIA. LA PAZ: La Granja, Dec 1923, Julio 158 (BM, US).

Tillandsia paleacea Presl subsp. apurimacensis W. Till JBS 1993 p7-10
A subspecie typica caule breviori cum internodiis multo brevioribus, foliis rectioribus et indumento appresso recedit.
Typus: Peru, Depto. Apurimac, Prov. Abancay, km 87 in via de Chalhuanca a Abancay, 30 km ante Abancay, 1840 m.s.m., 12. 8. 1982, leg. W Till & E. & F. Vitek WT183, epilithica in rupibus fere verticalibus (holotypus: WU, isotypi: USM, WU); Depto. Apurimac, Prov. Abancay, Hac. Casinchihua in valle fluminis Rio Pachachaca, 33 km (per aerem) SWab Abancay, 2300-2500 m.s.m., 21.12.1962, leg. H.H. & C.M. lltis & D. & V Ugent 826a (paratypus: K).
Plants moderately stemmed (5-12 cm), without or only with dead leaves in the older (basal) part, with strong, woody, adhesive roots, internodes very short and wholly concealed by the leaves.
Leaves densely polystichous, narrowly triangular, ( 4-) 6-10 cm long, densely appressed lepidote, slightly succulent, more or less flat but the margins rolled up and hence semicircular in cross section, evenly tapering to a subulate apex.
Inflorescence scape well developed, 10-13 cm long, concealed by lanceolate
Scape bracts, these abaxially densely lepidote and slightly longer than the internodes; Inflorescence simple or very rarely with a reduced lateral branch.
Flowers c. 2 mm very stout pedicelate, without fragrance.
Floral bracts 10-14 ( -16) mm long, c. 3 mm wide, broadly linear, acute, densely to moderately lepidote, ecarinate, nerved towards apex when dry, stramineous.
Sepals elliptic-lanceolate, obtuse, glabrous, 10-12 mm long, c. 4.5 mm wide, usually about equalling the floral bracts, subfree (c. 0.5-0.7 mm equally connate), ecarinate.
Petals c. 19 mm long, the blade purplish blue, rhombic-cuneate with undulate-crenate upper margin, c. 9 mm long and c. 8.5 mm wide, the claw white, linear, c. 10 mm long and c. 2 mm wide.
Stamens 6 mm long, exceeding the ovary but deeply included into the throat of the flower, the anthers orange, cylindric, c. 2 x 0.5 mm, the filaments white, broadly linear and 0.5 mm wide, flat, rather abruptly contracted into a subulate apex, basally attached to the anthers.
Ovary cylindric, c. 3 x 1.5 mm, style very short and stout, stigma lobes simple-erect. Fruit unknown.
The plants are named after the province, Apurimac.
Distribution: Typical plants are found in the lower valley of the Rio Pachachaca. Similar plants have also been collected in Prov. Ayachucho near Huanta at 2300 m elevation (0. Irnstorfer 33a, WU), in Prov. Huancavelica near Mayocc in the valley of the Rio Mantaro at 2200 m elevation (H. & L. Hromadnik 2036, WU), and in Prov. Cuzco, valley of the Rio Urubamba (R. & K. Ehlers P8103, WU). They all differ in rosette width; the floral bract covering varies from more or less lepidote to glabrous.

"Sixteen kilometers farther up in the same valley the second population was found under the same ecological conditions. The peculiarity was that within one and the same population the leaves were arranged polystichously and distichously, with all transitions. Some of the distichously leafed plants were in flower."

Tillandsia paleacea subsp. apurimacensis f. disticha W. Till,
A forma typica foliis distichis et foliorum marginibus magis involutis differt.
Typos: Peru, Depto. Apurimac, Prov. Abancay, in via inter urbes Chalhuanca et Abancay, circiter 46 km ante Abancay, 2000 m.s.m., 12. 8. 1982, leg. W Till & E. & F. Vitek WT182, epilithica in rupibus fere verticalibus (holo- et isotypus: WU).
Leaves distichously arranged, slightly more succulent than in the typical form and the margins of the leaves more involute.
Tillandsia paleacea is closely related to T. streptocarpa Baker as stated in Smith & Downs (1977) and in Rauh (1987).
Those species can be separated mainly by a combination of characters:
T. paleacea:
long stems,
leaves shorter than the stem,
inflorescence mostly simple,
floral bracts mostly lepidote.

T. streptocarpa:
stems very short,
leaves longer than the stem,
inflorescence mostly digitately compound,
floral bracts mostly glabrous or subglabrous.

Simple inflorescences are not very rare in T. streptocarpa and the floral bracts can also be rather densely lepidote. Those facts stress the close affinity of both. The new subspecies resembles T. paleacea in its inflorescence morphology, in its vegetative morphology, however, it comes nearer to T. streptocarpa and seems to link both species.

Detail from Baker 1889
11. T. FUSCA Baker in Journ. Bot.1878, 240.
Leafy stem stout, woody, ½ ft. long, copiously branched.
Leaves laxly disposed, subterete, 1½-2 in. long, 1/12 – 1/8 in. broad low down, subcoriaceous, channelled down the face, densely clothed all over with ovate acute lepidote scales.
Peduncle very short, densely 2-3-flowered;
flower-bracts oblong-lanceolate, lepidote, ½ in. long.
Sepals rigid, naked, lanceolate, ? in. long.
Petals and capsule not seen.
Hab. Andes of Peru; Obragilla, Brackenridge !

27. T. SCHENKIANA Wittm, in Engl. Jahrb. xi 63.
Leaves spaced out over a 2-3-inch stem, subulate, ascending, 9-10 in. long, 1/8 – 1/6 in. broad low down, densely clothed with lax deflexed linear whitish scales.
Peduncle slender, ½ ft. long;
bract-leaves long pointed.
Spike dense, simple, distichous, an inch long, ?-½ in. diam.;
flower-bracts oblong-lanceolate, ½ in. long.
Calyx a little overtopping the flower-bract.
Petal-blade small, suborbicular, purplish.
Hab. Andes of Columbia; Tolima, alt. 3000 ft., Lehmann 2234! Near T. scalarifolia.

28. SCALARIFOLIA Baker in Journ. Bot. 1887, 235.-
Leaves spaced out over a stem 2-3 in. long, all except the upper spreading, subulate from the base, rigidly coriaceous, 3-4 in. long, densely persistently lepidote.
Peduncle slender, 2-3 in. long;
bract-leaves few, with short free points.
Inflorescence a dense simple spike 1-1½ in. long, ¼-?in. diam.;
flower-bracts oblong -lanceolate, lepidote, ½ in. long.
Calyx reaching to the tip of the bract.
Petal-blade obovate-cuneate, purple, ¼ in. long.
Stamens not longer than the calyx.
Hab. Andes of Bolivia, Pentland !

30. T. CHILENSIS Baker.
Leafy stem 3 in. long.
Leaves laxly disposed, linear, spreading, 2-3 in. long, ¼-? in. broad low down, densely laxly lepidote all over.
Peduncle 4-5 in. long.
Inflorescence a dense simple distichous spike 1½-2 in. long, ¼ in. broad;
flower-bracts oblong, ? - ½ in. long.
Calyx as long as the flower bract.
Petals reddish, obovate, ¼ in. long and broad.
Stamens not longer than the calyx.
Hab. Andes of North Chili, C. Gay ! (Herb. Mus. Par.).

Detail from Mez 1935
357. T. favillosa Mez in Fedde, Repert. III. (1906) 43. –
Elongate caulescens, usque ad 0,25 m longa mihi visa. Folia fere distiche ordinata, squarrose patentia, ad 0,11 m longa, tota longitudine involuta, subulata, persensim acutissima, lepidibus cinereis piliformibus plumose villosa. Scapus gracillimus, erectus, folia fere duplo superans, vaginis tubulosis, acutis, dense lepidotis, demum nonnunquam glabratis, internodia paullo superantibus indutus. Inflorescentia simplicissima, disticha, ad 8-flora, usque ad 40 mm longa et 7 mm lata, flabellata, anguste lanceolata, utrinque acuta; bracteis stricte erectis, flores involventibus, ovatis, acutis, venoso-lineatis, ad 13 mm longis, dense lepidotis, sepala subaequantibus vel inferioribus paullo superantibus. Flores stricte erecti, ad 20 mm longi; sepalis subaequaliter liberis, coriaceis, glabris laevibusque, late lanceolatis, acutis, ad 17,5 mm longis. Petala laminis latissimis, patentibus, suborbicularibus, rotundatis. Stamina profunde inclusa, stylum superantia.
Peru: Dept. Cuzco, Prov. Urubamba, bei Ollantaitambo (Weberbauer n. 4933).

358. T. lanata Mez in Bull. Herb. Boiss. 2. ser. V. (1905) 109.
Longe caulescens, usque ad 0,4 m longa mihi visa. Folia quaquaverse ordinata, patentia vel recurvata saepius irregulariter crispata, fere tota canaliculatim subteretia, ad 75 mm longa, basi vix ultra 6 mm lata, lepidibus maximis crasse lanata. Scapus gracilis, erectus, folia bene superans, vaginis inferioribus breviter laminatis superioribus acutis, his quam internodia brevioribus, lepidotis indutus. Inflorescentia simplicissima, distiche flabellata, usque ad 8-flora, anguste lanceolata, utrinque acuta, usque ad 45 mm longa et (floribus neglectis) 6 mm lata; bracteis inferioribus saltem lepidotis sepala aequantibus vel iis paullo brevioribus, elliptico-triangularibus, acutis, prominenti-venosis, ad 12 mm longis. Flores stricte erecti, ad 17 mm longi; sepalis subaequaliter liberis, glaberrimis, laevibus, rigide coriaceis, ellipticis, subrotundatis, ad 10 mm longis. Petala laminis violaceis, latissime obovatis, optime patentibus, latissime rotundatis. Stamina profunde inclusa, stylum superantia.
Peru: bei Matucana (Weberbauer n. 1697)

20. T. Schenckiana Wittm. n. sp., Bot. Jahrb. 11: 63. 1889.
caule brevi; foliis ca. 20, sparsis, horizontaliter patentibus (exsiccatione erectis) elongatis, e basi late vaginata, alba, nuda lineari-subulatis; superne setaceis, canaliculatis, patenti-argenteo-lepidotis, scapo erecto, foliis breviore; anaphyllis inferioribus foliaceis, superne setaceis, superioribus ad vaginas breviter acutatas, fere glabras reductis; spica simplici, brevi, 6-7florae; bracteis erectis; lanceolatis, acutis, glabris, striatis, calycem arcte involventibus; sepalis bracteis 1¼ longioribus, lanceolatis, pergamaceis, arcte involutis; petalis basi in tubum convolutis, lamina valde patente, orbiculari,.ungue anguste lineari. Staminibus calyce brevioribus, stylo brevissimo, stigmatibus capitatis.
Radix fibrosa, brevis, caulis brevis, superne vaginis albis foliorum vetustorum obtectus. Folia haud rosulata, viridi-glauca, 10-28 cm. longa, setacea, insigniter modo lepidota, lepidiis in pila patentis vel deflexa elongata attenuatis. Scapus 14-15 cm longus. Spica dense disticha, 3,5 cm longa, 1 cm late; bracteae florales 1 cm, calyx 1.2 cm longus; petalorum ungula 1,2 cm, lamina 1 cm longs, 9 mm lata, violacea. Filamenta gracillima, antherae breviter-lineares. Ovarium, triangulata-conicum, stylo subnullo.
Columbia, Tolima.
Frequentissima; ad arbores ad flumina et in silvis parvis dictis "Savannae" prope, La Plata, alt. 4000 m (no. XXVII et 2234) 10. Dec. 1882, statu florifero Intermedia inter T. tricholepim Bak. Brasiliae meridionalis et T. scalarifoliam Bak. Andium Boliviensium. A prima differt caule subelongato, foliis.sparsis, floribus plurimis, laminis petalorum violaceis, nec fulgide rubris, minoribus; ab altera foliis lepidibus piliformibus, scapo breviore, bracteis; minoribus, minus striatis, lamina petalorum orbiculari, ab utrisque foliis multo longioribus: . Nominavi in honorem cl. Dr. H. Schenck, qui in Bromeliaceis in regionibus tropicis cognoscendis multum desudavit.

Tillandsia paleacea Presl, Rel. Haenk. 1: 125. 1827
T. foliis densissime argenteo - paleaceis lineari - subulatis canaliculatis reflexis, spica simplici pauciflora contracta, bracteis glabriusculis calycis longitudine.
Hab. in Chile, Perennial
Caulis semipedalis adscendens ramosus vaginis foliorum imbricatis obtectus. Folia 30 lineas longa, basi duas lata, horizontaliter patentia, lineari - subulata canaliculata, apice in tenue acumen attenuata et recurvata, undique vaginisque squamis argenteis lanceolatis paleaeformibus patentibus densissime obtecta. Pedunculus bipollicares erectus vaginis striatis acutis imbricatis squamoso-paleaceis obtectus. Spica pollicaris oblonga quadriflora, floribus imbricatis. Bracteae ovato-oblongae acutiusculae striatae squamis rotundatis argenteis adspersae ultra 4 lineas longae, superiores calvescentes. Calyx glaber longitudine bracteae, laciniis oblongo-lanceolatis obtusiusculis. Nec corollam nec capsulam vidi.
---
Updated 06/12/21
---