Tillandsia orogenes
Click thumbnails for full size, scaled to a new window.
---
Tillandsia orogenes
Honduras, Mexico, Nicaragua.
Tillandsia leiboldiana
Sometimes mixed up with T. leiboldiana which has shorter, softer, thiner, stumpier leaves with red/brown spots/patches. Shorter less tapering floral bracts, greener rachis, and shorter internode distance.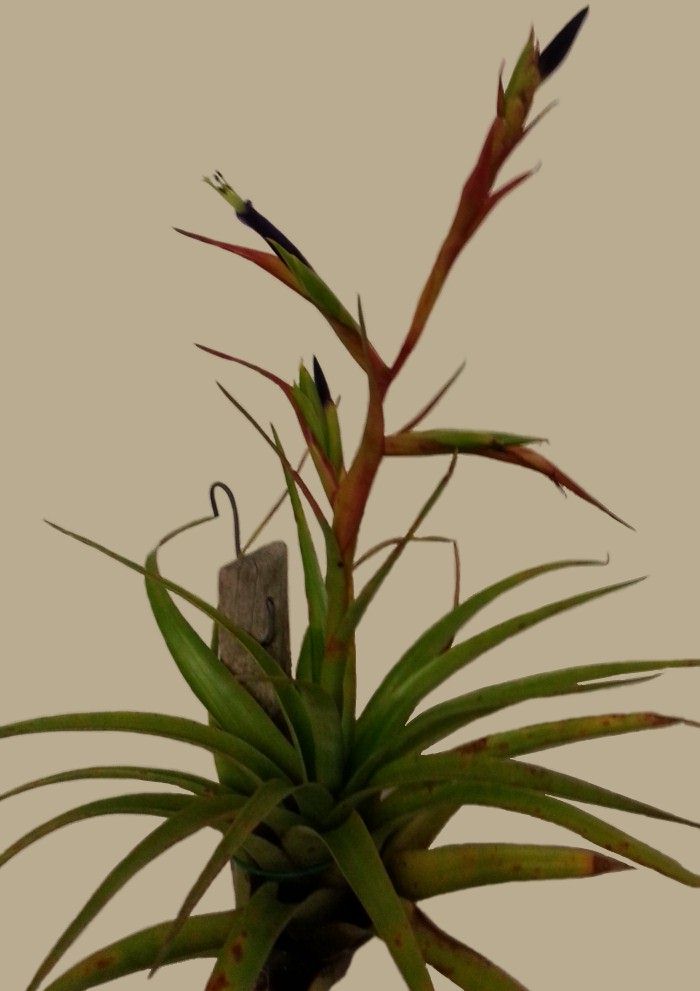 Chris Larson ... "This is a plant that I got from Peter Tristram around 20 years ago. It has pupped well, but never flowered. It had the name T. romeroi var gruberi on it – but this might have been my mix up. Mine still hasn't flowered, but Len Summers brought it along in flower to a meeting the other night. I parted with a couple of pups, so you may like to change your tags. It looks like T. orogenes."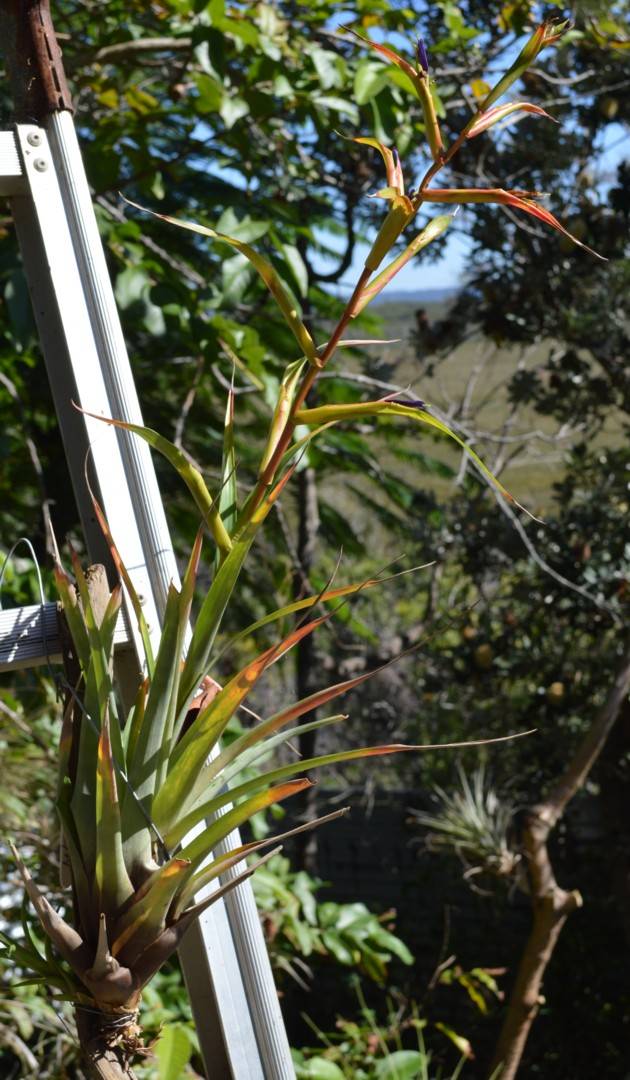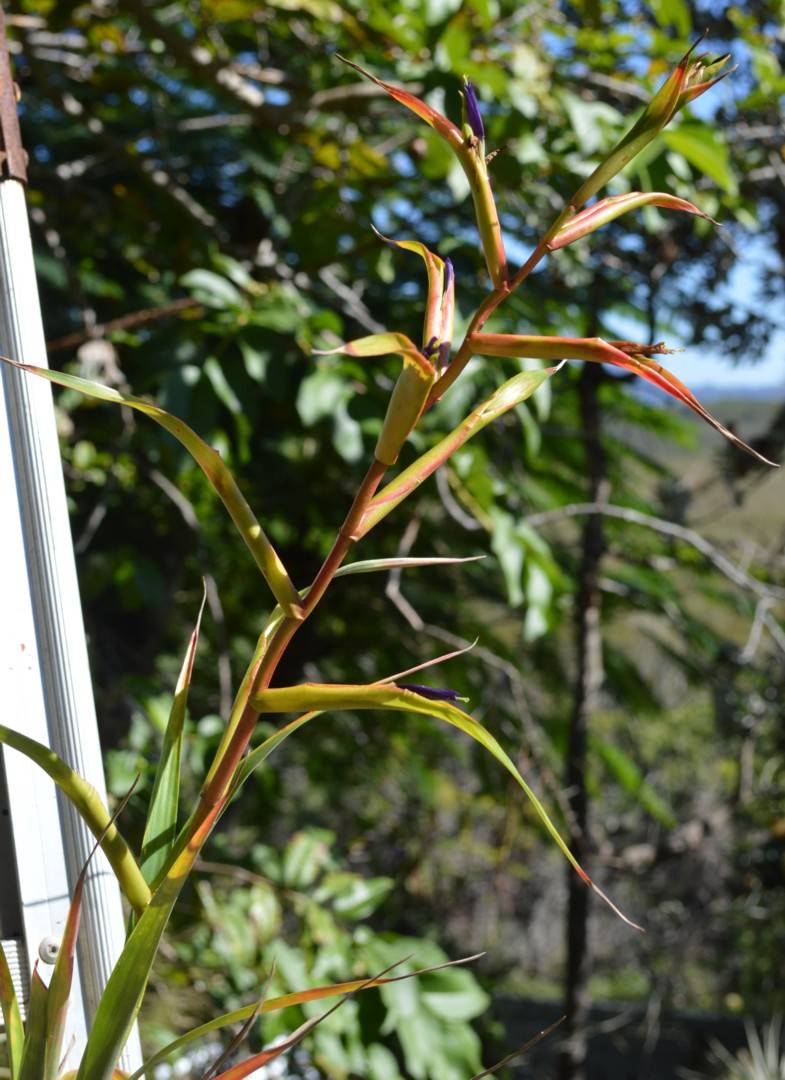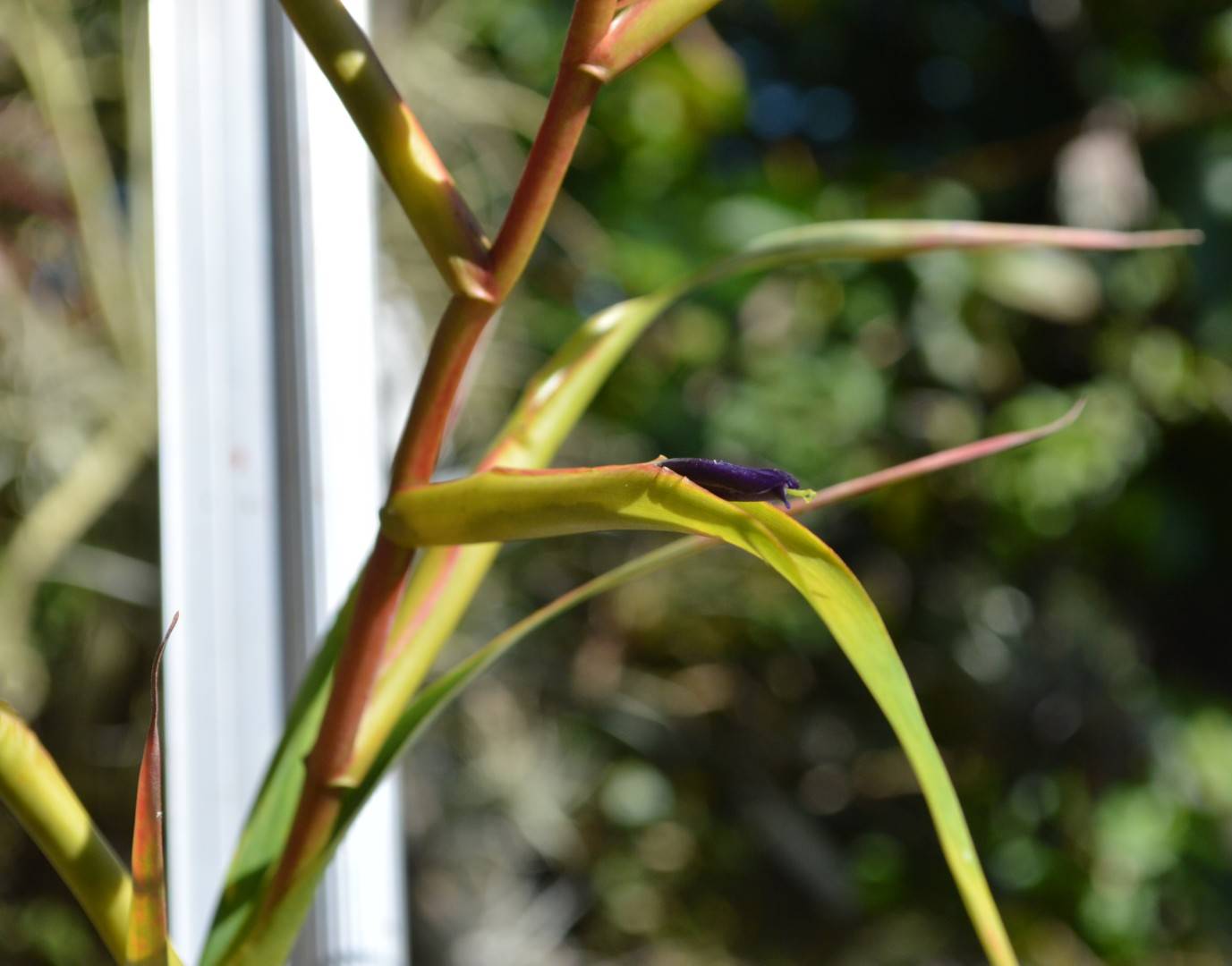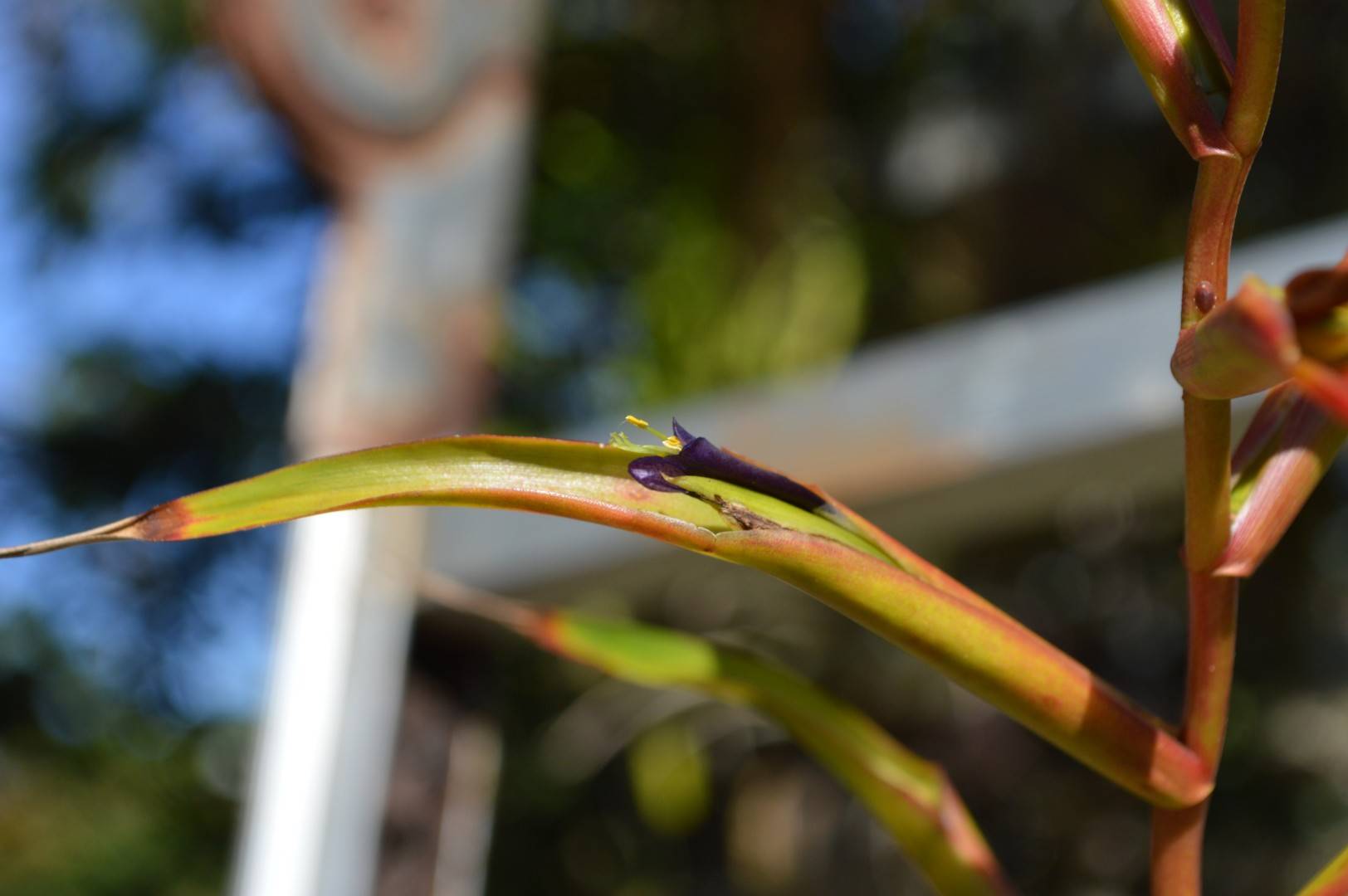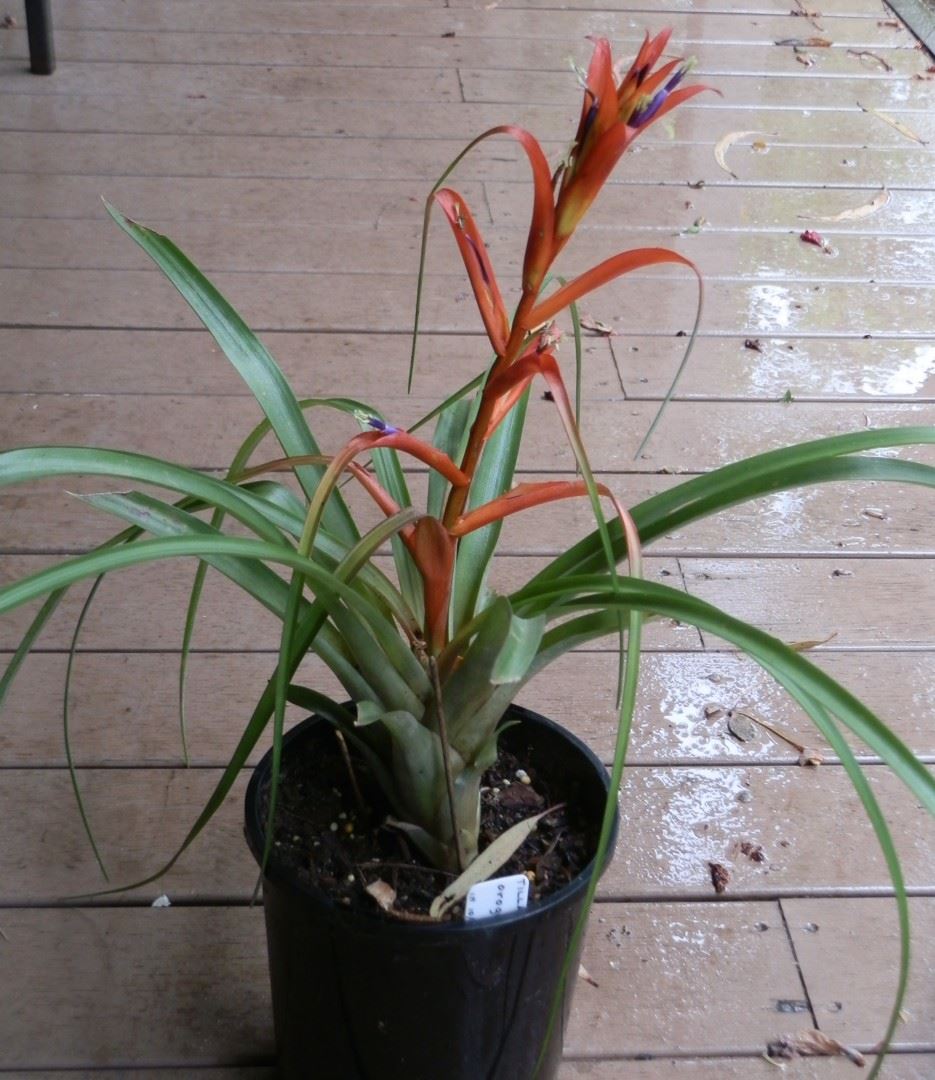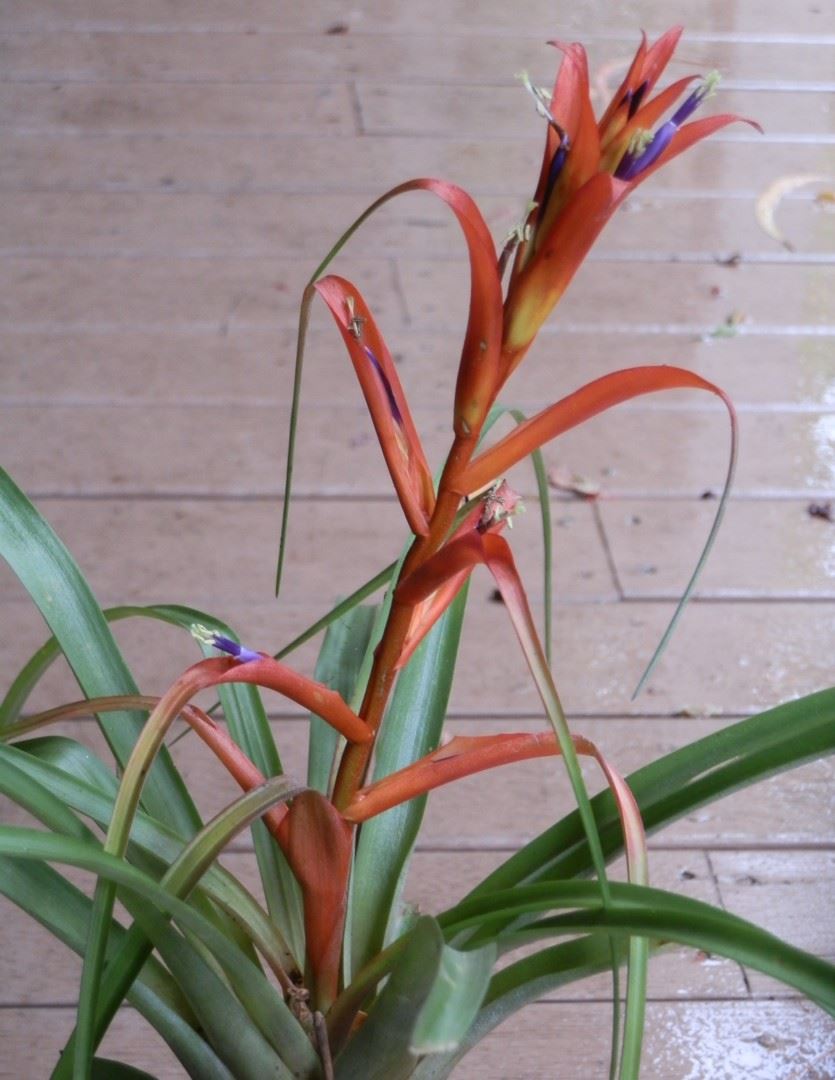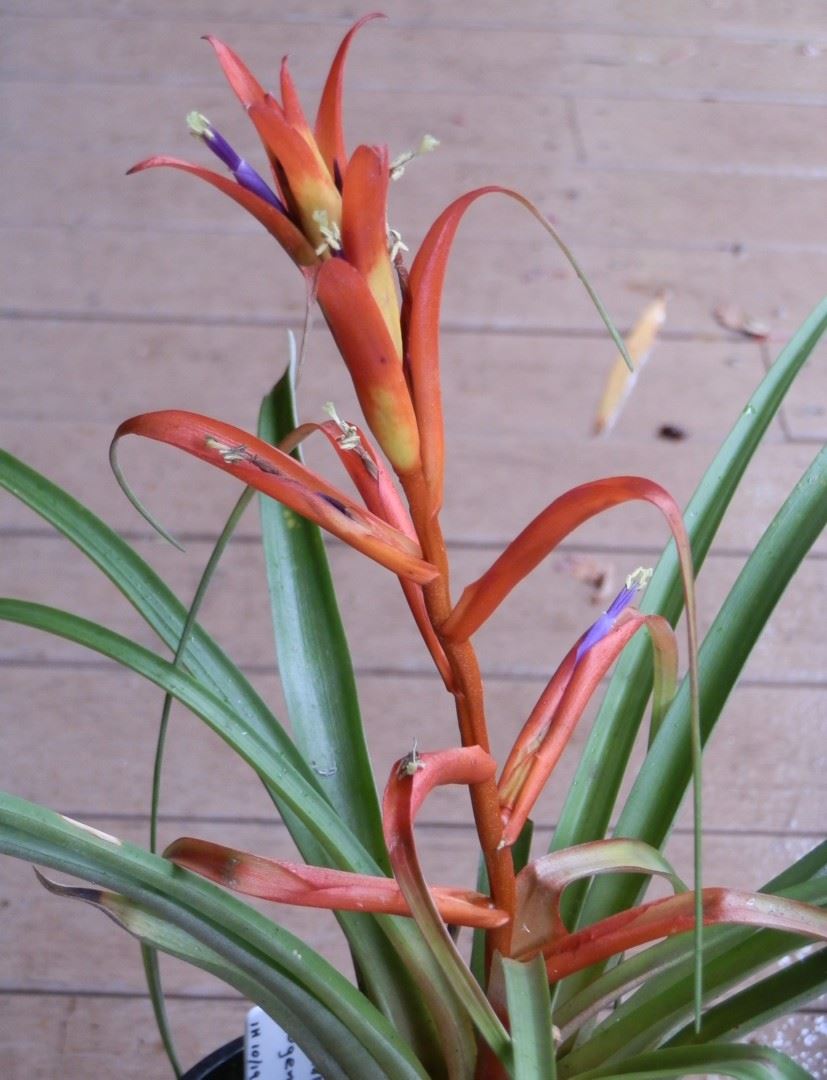 Ian Hook 11/21, formerly as leiboldiana
---

Tillandsia orogenes Standley & L. 0. Williams, Ceiba 3: 188. 1953.
Desc from S&D p783
Plant stemless, flowering 7 dm high.
Leaves in a spreading rosette, 2-4 dm long;
Sheaths elliptic-ovate, 4-6 cm wide, purple-brown when dry;
Blades linear-triangular, minutely lepidote on both sides.
Scape nutant or decurved;
Scape-bracts imbricate, foliaceous.
Inflorescence laxly bipinnate;
Axis slightly geniculate, costulate when dry;
Primary bracts spreading, acuminate or apiculate, to 15 cm long and 3 cm wide, at least twice as long as the lower spikes and enfolding them, the upper shorter, barely exceeding the spikes, all bright red, impressed-lepidote beneath, glabrous above;
Spikes linear-lanceolate, arcuate, slightly complanate, 3-6 cm long, 8 mm wide, 5-7-flowered.
Floral bracts oblong-obovate to lance-ovate, acute or acuminate, chartaceous, sphacelate, 15-30 mm long.
Sepals free, lanceolate, acute or acuminate, 25-30 mm long, 6-8 mm wide, strongly carinate, chartaceous;
Petals linear-oblanceolate, obtuse, ca 45 mm long, 5 mm wide near apex, purple, naked;
Stamens included (exserted – confirmed by W Till 3/2006); anthers narrowly elliptic, 4 mm long; pistil exserted.
Type. L. 0. & R. P. Williams 18461 (holotype EAP, isotype US), Barranco de El Socorro, south of Siquatepeque, Comayagua, Honduras, Sep-Oct 1951.

DISTRIBUTION. Epiphytic in forest, 1400-2200 m alt, southern Mexico to Nicaragua.
MEXICO. CHIAPAS: Los Lagos. southeast of Comitan, Apr 1949, Carlson 1929 (US); Monte Bello, 5 Nov 1951, Ramirez 755 (MEXU, US); 25 Mar 1960, Hale 20490 (US). HONDURAS. INTIBUCA: Pelon, La Esperanza, 3 Apr 1956, Molina 6197 (EAP, F). MORAZAN: Cerro Uyuca, 5 Dec 1946, Allen, Standley & Williams 4000 (F, MO, US); 8 Dec 1946, Standley et aI 1146(F); 22 Feb 1947, Standley & Molina 4341 (F); 26 Nov 1948, Williams & Molina 14776 (EAP, F, GH); 15 Jul !964, Gilmartin 985 (US); Quebrada Honda, Las Tablas to Lepaterique, 31 Mar !957, Molina 7821 (EAP , F). EL PARAISO: Montana de Yuscaran, 3! Dec 1943, J V Rodriguez 1911 (EAP, F). NICARAGUA. MATAGALPA: Santa Maria de Ostuma, !960-61. Heller 5659 (F); 23 Feb 1963, Williams et al 24867 (F).
---
Updated 21/11/21
---