Tillandsia organensis
Click thumbnails for full size, scaled to a new window.
---
Tillandsia organensis
Brazil.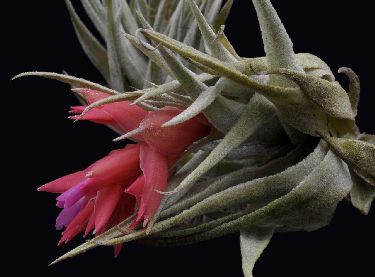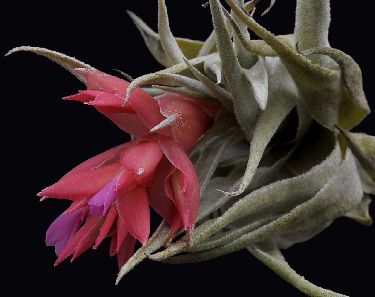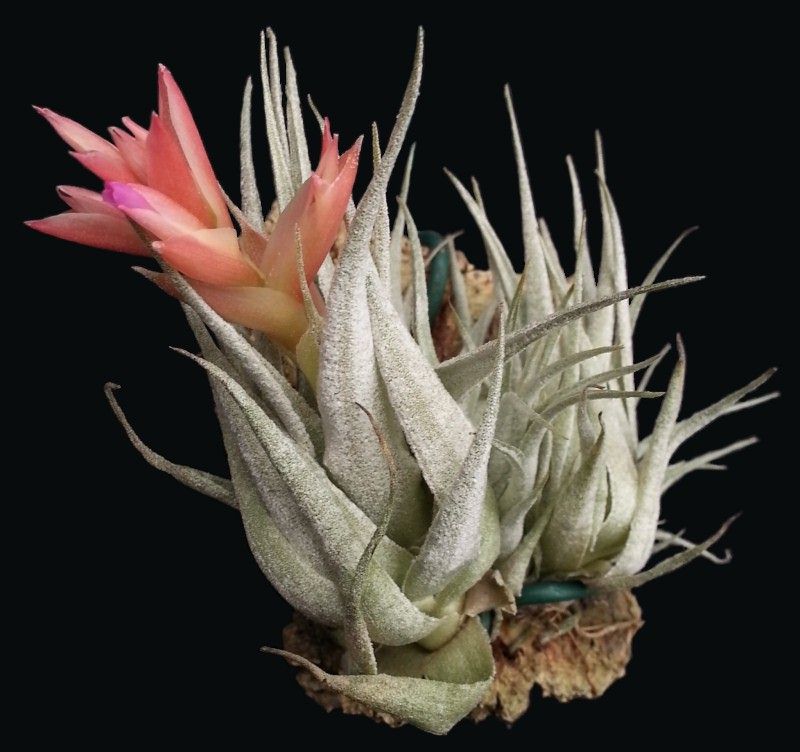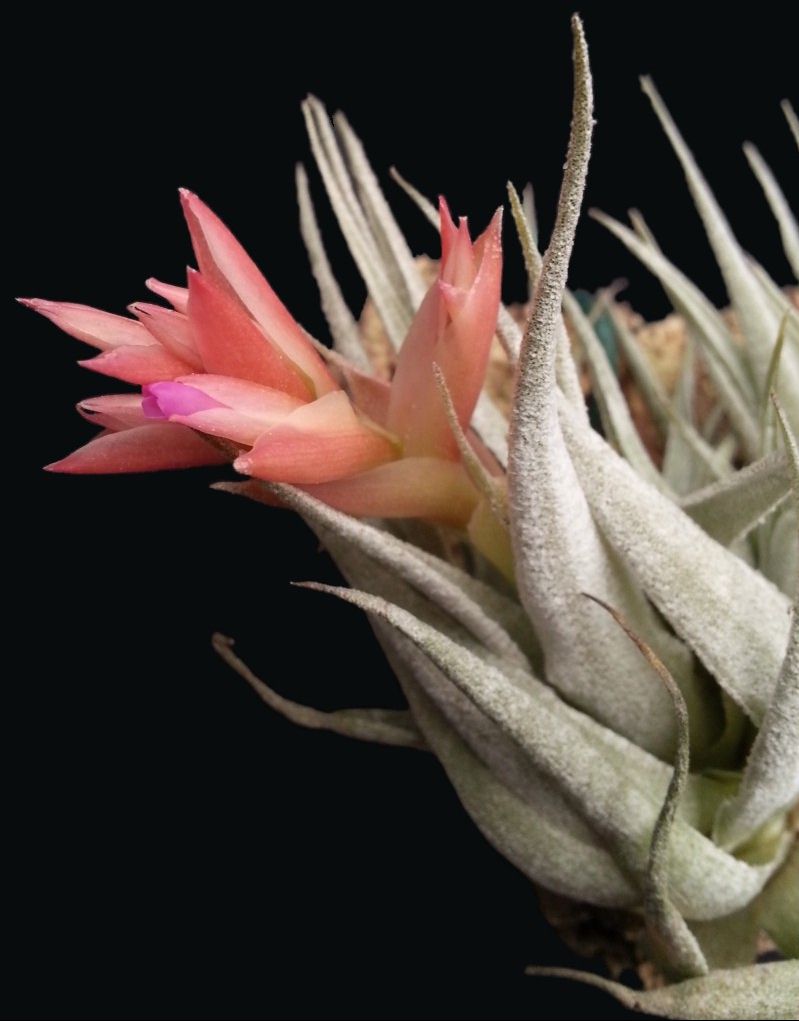 | | |
| --- | --- |
| Peter Tristram 07/12 | Chris Larson 04/14 |
Peter Tristram ... "One of the treasures I was lucky enough to obtain in Germany was T. organensis. It is a really stunning small silver red-flowered Brazilan species. Luckily I have 2 flowering from different sources so maybe they are different clones and true seed will set. It seems easy enough to grow."
| | |
| --- | --- |
| Justin Lee 11/17 | Chris Larson 02/19 |
Justin Lee ... "Are many growing T. organensis ? I've been growing it for a few years but it never flowers. The one in the picture is about the size of a 50 cent piece."
Bob Hudson ... "I do not think i have enough years left to grow that one but best of luck in getting it to flower."
Chris Larson ... "I find that it likes a very sheltered environment."
Chris Larson (02/19) ... "One I find good in the spot it is in – shady but not dark, not wet, but humidity from other plants around it. Slow, not too many pups. No seed. Out of synch. with the other red Brazilians. A superb contrast between the colour of the bracts and the petals. (Lap agrees with me that the bracts are kind of orange -I got it right – a first.) Almost luminescent when I spotted it today. I love it."

---
Key to Brazilian Tillandsias, with red or pink petals from Die Bromelie, Sonderheft 3 1996
1. Stamens - exceeding the flower tube => paraensis
- included in the flower tube => 2
2. Leaf blade - filiform and grasslike => globosa
- triangular => 3
3. Plant - 4 - 8 cm in diameter => 8
- 10 - 25 cm in diameter, forming a more or less spreading rosette, stemless => 4
4. Floral bracts - lepidote => 5
- glabrous or nearly so: Plant 6 - 15 cm diameter, inflorescence elliptic or globose, spikes elliptic, sublax with 1 - 3 (- 5) flowers, floral bracts carinate, glabrous or punctulate lepidote, sepals glabrous => roseiflora
5. Inflorescence - elliptic or subglobose => 6
- elongate => 7
6. Leaves - soft, green or reddish, appressed lepidote, spike lax, 2 - 4 flowered, floral bracts shorter than sepals, petals red - violet => geminiflora
- soft, grey, densely lepidote with spreading trichomes, spikes dense, 3 - 12 flowered, floral bracts densely lepidote, exceeding the lepidote sepals => gardneri
7. Leaves - subsucculent, stiff, inflorescence with 4 - 6 spikes => chapeuensis
- Plant only 11 - 13 cm in diameter, an open silvery star-shaped rosette, leaves appressed lepidote, inflorescence with 5 - 7 spikes => grazielae
8. Plant - short - caulescent => 9
- stemless, forming an erect, often subbulbose rosette, leaves often somewhat secund, inflorescence elliptic or subglobose, flowers red or violet, filament not plicate => 10
9. Plant - 3 to 5 cm in diameter, pine cone shaped, dorsiventral, pendant, leaves green, silvery appressed lepidote, inflorescence simple, distichous => reclinata
- 4 to 8 cm in diameter, an erect-secund rosette, the basal leaves recurved, leaves cinereous-lepidote, inflorescence compound, spikes lax, floral bracts carinate, shorter than the lepidote sepals, the posterior ones carinate and 4 mm connate => sucrei
10. Floral bracts - glabrous or nearly so => 14
- lepidote => 11
11. Inflorescence - simple => 12
- bipinnate: Leaves channelled, regularly lepidote with coarse cinereous scales, inflorescence with up to 8 spikes which are laxly 3 - 4 flowered, the posterior sepals carinate, 1/3 to 1/2 connate, lithophytic growing at sea level => brachyphylla
12. Inflorescence - with polystichous flowers => 13
- with distichous flowers: Plant ca. 4 cm in diameter, short caulescent, small pine cone shaped, pendant, leaves grey appressed lepidote => reclinata
13. Leaves - secund, thin and soft, grey with appressed trichomes, looking like grey velvet, scape densely lepidote, inflorescence simple, sometimes compound of up to 3-flowered spikes, floral bracts carmine-red, sepals slightly lepidote, free, posterior ones carinate, petals violet-rose => heubergeri
- Leaves not secund, subsucculent, green, covered with coarse grey scales, plant pendant, floral bracts rose, sepals more lepidote, petals pink => thiekenii
14. Posterior sepals - not carinate => 15
- carinate => 16
15. Leaves many, green-grey, densely lepidote with irregular cumulated coarse trichomes, appearing rough pruinose, epiphytic at sea level => sprengeliana
- Leaves many, narrow triangular, with appressed trichomes, appearing metallic, epiphytic 700 - 1000 m => kautskyi
16. Plant - 2.5 to 5 cm in diameter, rosette of broadly triangular leaves with shorter blade, very densely and regularly silvery subpruinose lepidote, appearing like silvery velvet, sepals carinate and short connate, lithophytic 1800 - 2200 m => organensis
- Plant bigger, up to 15 cm in diameter, rosette often bulbose, leaves grey - green appressed grey lepidote, appearing like grey velvet, bipinnate with 1 - 3 (-5 ) flowered spikes, floral bracts conspicuously carinate, posterior sepals carinate, epiphytic => roseiflora
---
Updated 18/10/20
---