Tillandsia novakii
Click thumbnails for full size, scaled to a new window.
---
Tillandsia novakii
| | | |
| --- | --- | --- |
| Bruce Dunstan 10/14. | Bruce Dunstan 11/14. | Comparison, Peter Tristram 11/14. |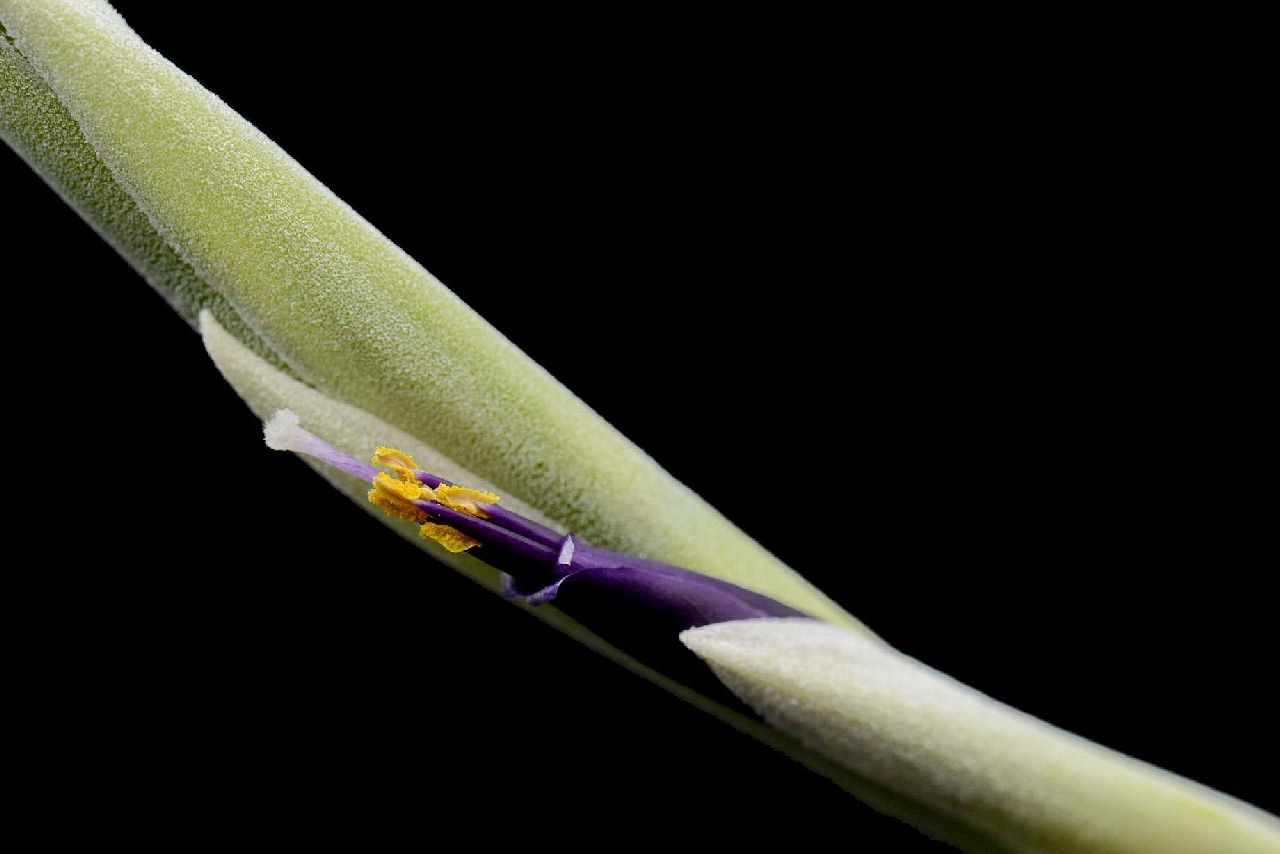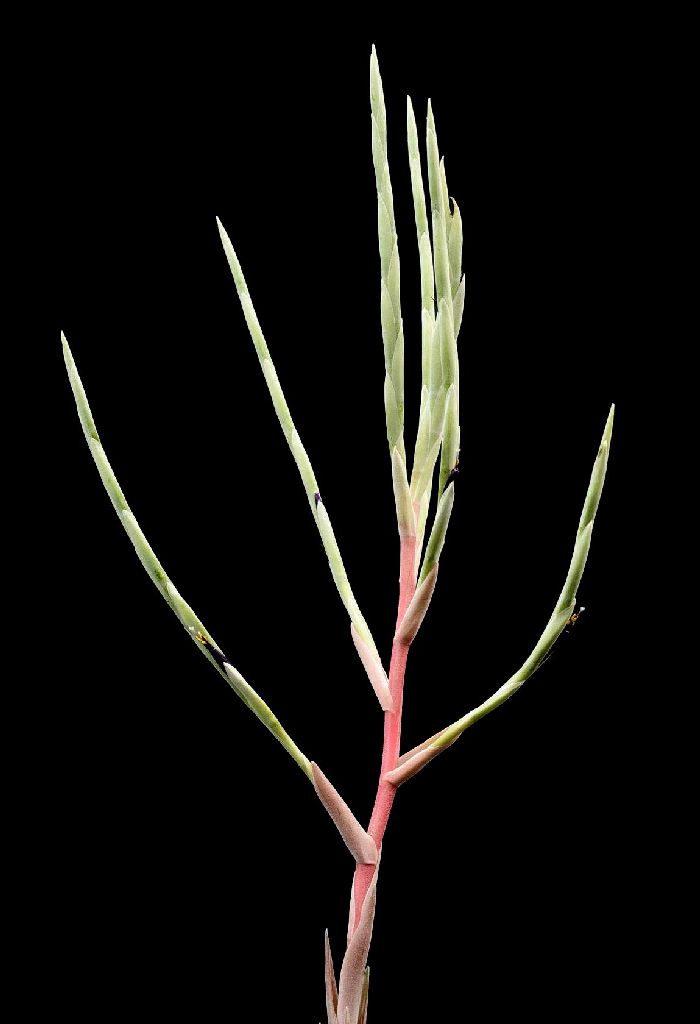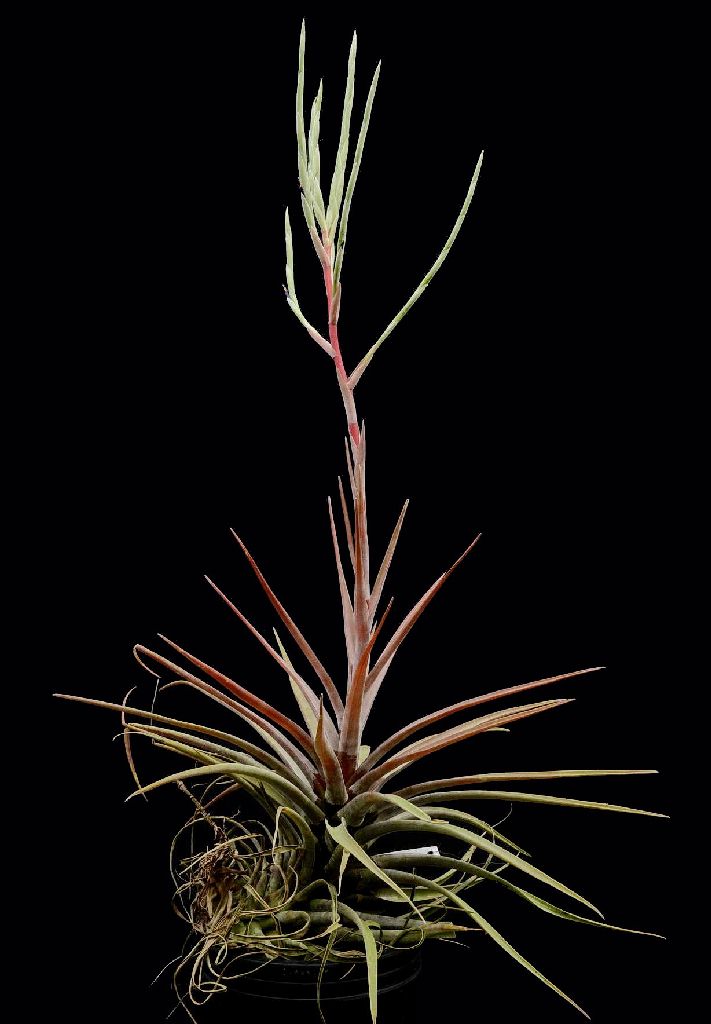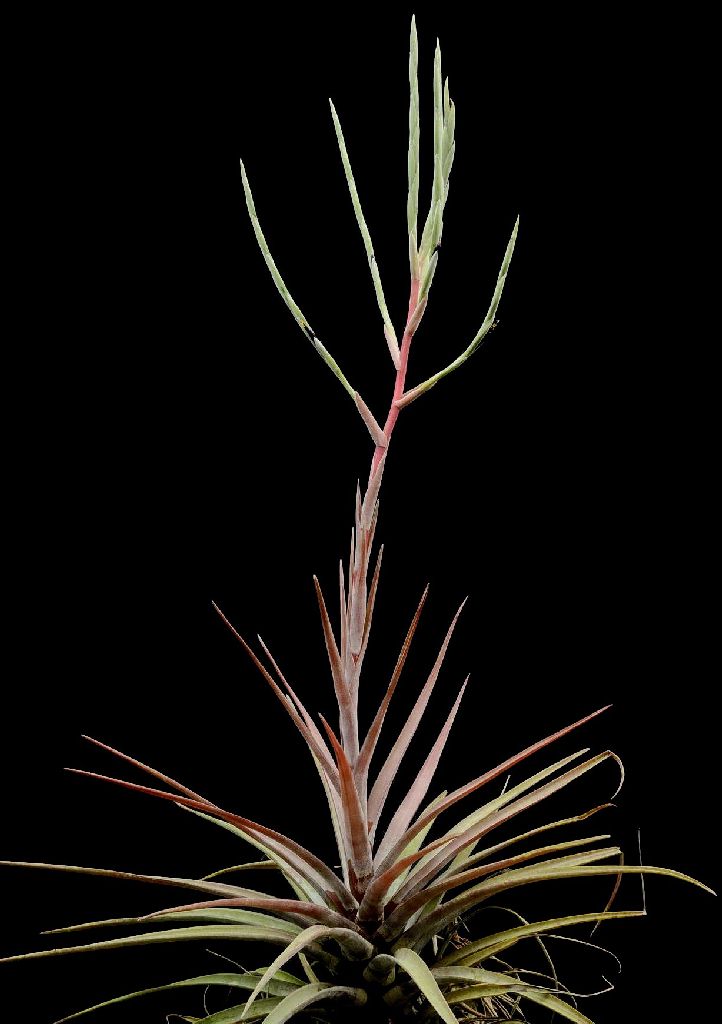 Bruce Dunstan .... "I'm probably growing mine a touch hard in the sun but it seems to enjoy the neglect. It hangs on my back deck. Morning sun till midday and very few applications of any fertilisers, maybe once every 4-6 months these days."

Peter Tristram ...."I have 2 basic forms - one from Germany like Bruce's and one from Tropiflora with more glabrous leaves and a more coppery colour see comparison shot above. There was some suggestion it is a natural hybrid too, like the rest of the them!"

Peter Tristram ...."Bruce, I reckon you have a plant ex Len Colgan, as I also have one from him which is very long stemmed like yours. The one in bloom here came from Lydia and is very similar to Len's but not as caulescent. The one from Tropiflora is different again, larger, with stacking, more coppery-red leaves and less frosting. There were a couple in bloom at Tropiflora when I purchased mine, just typical novakii. The flowers are very dark with a tight curl on the tips."

Derek Butcher ... "I still can't understand how two forms got into the nursery trade when Renate could not find it in the wild!"

Peter Tristram ... "Maybe it depends on who you talk to. According to some of the Yanks, quite a few clones were collected by Mr Novak but, as was typical of many of the US collectors in the good old days, recording localities was not a priority. But, I must admit I was surprised to come across this plant at Tropiflora and added some to my collection. Maybe Dennis can remember more than I can of what I was told!
I wonder if Pam knows more of the Novak story?"

Len Colgan ... "In the 1980s, I returned a few times to Adelaide's sister city of Austin (doing research in mathematics with staff of the University of Texas), and went around to Tony Novak's place a couple of times. He seemed a "nice old guy", and was a leading figure in the local bromeliad group. He was very proud of T. novakii, but did not elaborate on his discovery of the plant. I remember getting a couple of plants then, probably amongst the first ever released, but I cannot recall from whom. Something tells me it was not Tony himself. Anyway, since then, I have spread them around Australia to unsuspecting collectors. I am delighted that this species has now flowered. I do know, from conversations with Renate, that she spent a lot of time in the general area from where Tony claims he found the plant, and she is adamant that there are none there (now). In fact, she wonders about the whole story behind this "species"."

Stephen Haines 12/14. From P.Tristram '07, probably not the Denis Cathcart clone.
---
Updated 26/05/16
---