Tillandsia nayeliana
Click thumbnails for full size, scaled to a new window.
---
Tillandsia nayeliana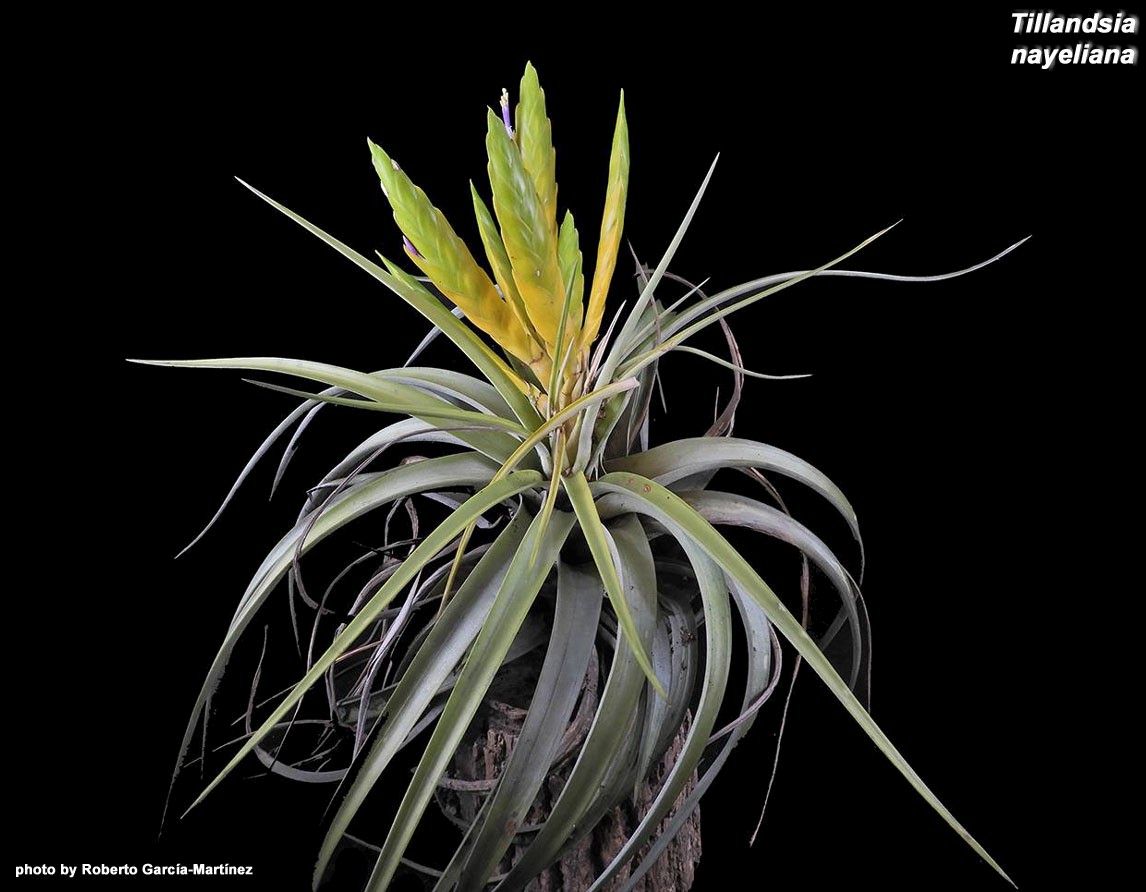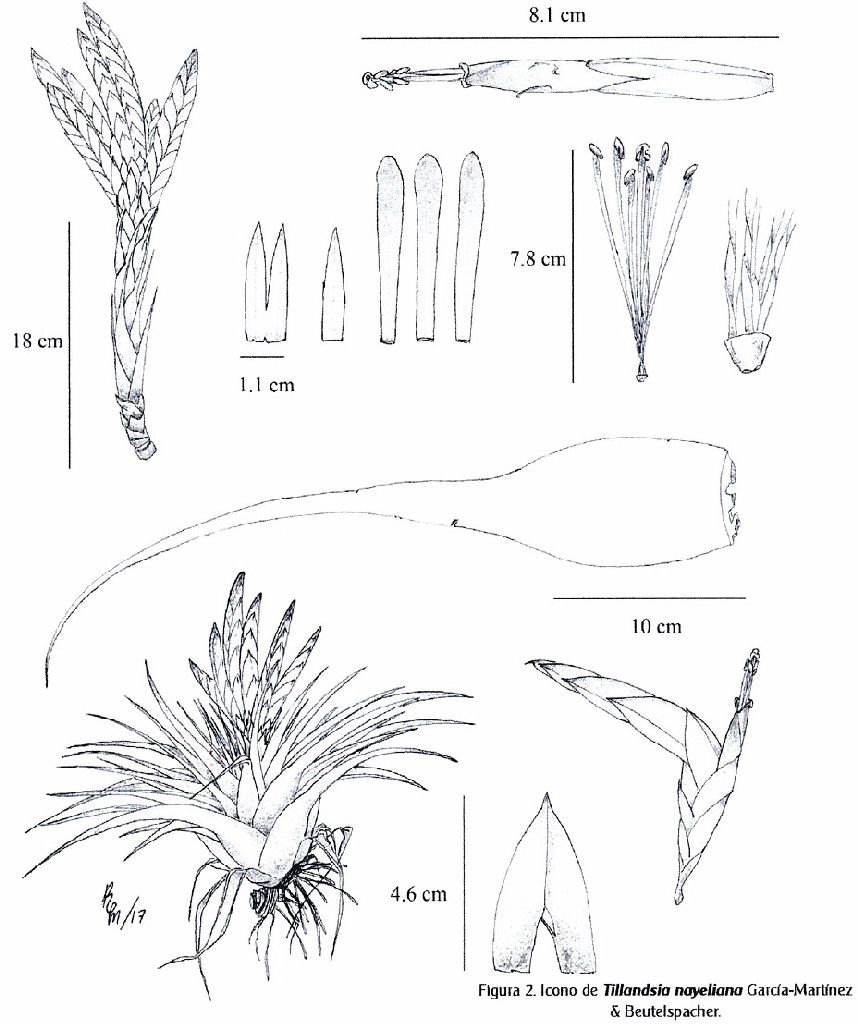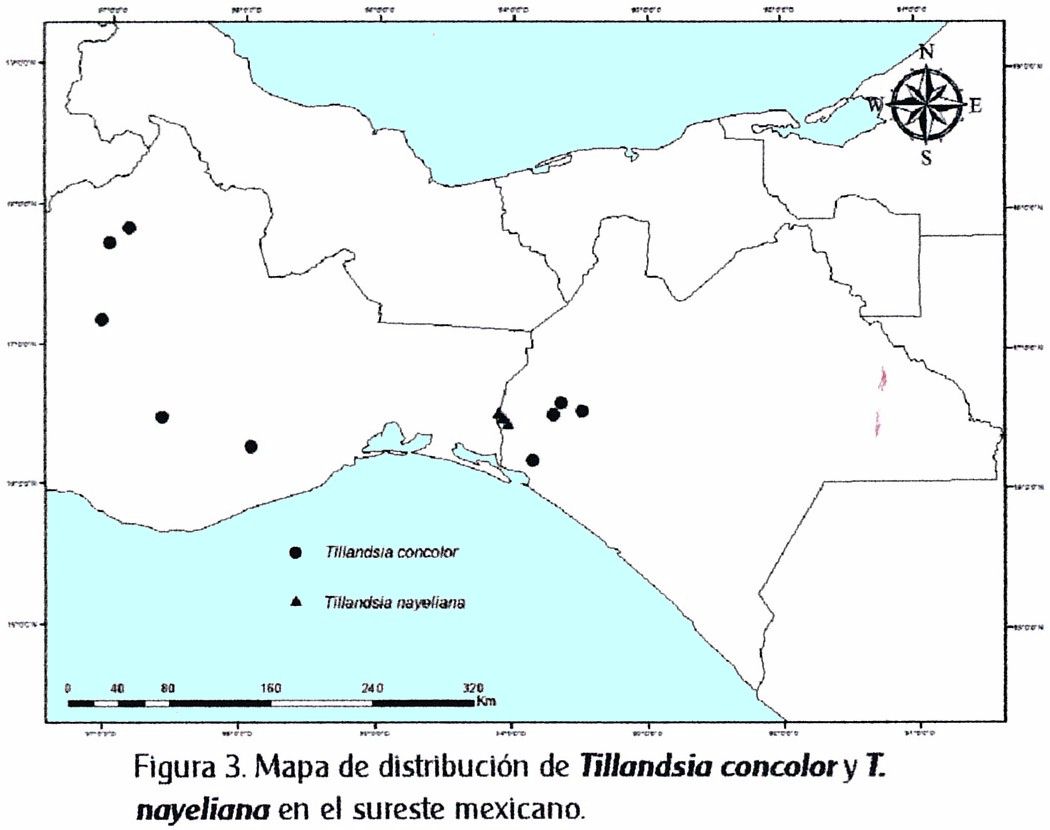 Derek Butcher ... "A newly described species. Trouble is that it looks like a branched flavobracteata and similar to the photo on the DVD from Chris Larson"
Chris Larson ... "My small T. flavobracteata is the same plant from Bird Rock that George has also spread around in Qld. Pam would have collection data I think.
Pam also told me (pers comment) that a lot of the plants called T. flavobracteata, just because they have a yellow spike, are not that species. I tried to get further detail from her but the conversation went in a different direction."
Ed. ... See T. flavobracteata for a continuation of this discussion.
---

Tillandsia nayeliana Garcia-Martinez & Beutelspacher sp. nov. Lacandonia 11, 11, 1:19-28. 2017
Tipo MEXICO: Chiapas. Municipio de Cintalapa de Figueroa, desviacion hacia el municipio Belisario Dominguez. 16° 32'32.4" N, 94°11'34.5" W: 1416 m s.n.m. 19 Marzo 2017. R. Garcia Martinez 125 (HEM). Epifita sobre Quercus polymorpha Schltdl & Cham.

Translated by Butcher
Herb acaulis, rosette, epiphyte, up to 35 cm high excluding the inflorescence, the rosette up to 64 cm in width or wider. Plant solitary or in groups of up to three rosettes.
Leaves abundant, involute, pruinose on the underside.
Sheaths dark, with spotted fuzzy lines spanning them transversely, very wide, up to 10.3 cm long by 6.5 cm wide.
Blades green greyish, clear brown at in the base, up to 35.7 cm long by 4.4 cm wide, acuminate, carinate on the underside, widened at the base, dark brown at the apex, yellowish at the base and peduncle bracts greenish near the base, pruinose on the underside similar in shape, texture and color of the leaves, thin, the bottom ones 25 cm long by 2.1 cm wide, the top ones 17. 2 cm long by 1.2 cm wide.
Inflorescence terminal, digitately compound, erect, shorter than leaves, up to 37 cm long by 2.7 cm wide,
primary bracts yellow, ovate lanceolate, unguiculate at the apex, 4.3 cm long by 2.2 cm wide, secondary bracts 2.1 cm long by 3.7 cm in width.
Peduncle yellow, pruinose, semicylindric, covered entirely by the bracts of the inflorescence, up to 18 cm long by 1.2 cm wide.
Spikes 4-8, with long stems, ascending, slightly reflexed, very close to each other, up to 1cm between one and another, up to 19 cm long by 2.7 cm, wide, with 8-10 flowers.
Floral bracts yellow, greenish at the base, imbricate, apex do not protrude the spike in live plants, ovate, carinate, with a small acumen at the apex, 4.6 cm long by 2.8 cm wide.
Flowers tubular, ascending, sessile, distichous, actinomorphic, 8.1 cm long and 0.6 cm wide. Petals elongated, lepidote, membranaceous, violet from the middle to the apex, white translucent at the base, 6.5 cm long by 0.9 cm wide.
Sepals yellowish, translucent, shiny, greenish at the base, ellipsoid, with a sharp apex, the adaxials joined for l/3 of their total length, carinate, 3.9 cm in length by 0-2 m wide.
Filaments linear, threadlike, white from the base up to 3/4 of its total length, violet in its apical portion, 7.8 cm long by 0.1 cm wide, spiral near the base.
Anthers oblong, black, subbasifixed, 0.45 cm long by 0.1 cm wide.
Stigma white, filamentous, exserted, conduplicate-spiral type II (sensu Brown & Gilmartin, 1984), style white, long, filiform, apical, 7.4 cm. long and 0.1 cm wide.
Ovary green, ovoid, 0.6 cm long by 0.4 cm wide.
Capsule not seen.

OTHER EXAMPLES EXAMINED:
MEXICO: Chiapas. Municipio de Cintalapa de Figueroa, colonia Rizo de Oro rumbo a Belisario Dominguez. 16°32' 32.4" N, 94°11' 34.5 "W 1416 m s.n.m. 19 Marzo 2017. C. R, Beutelspacher S/N. (HEM.)

ECOLOGY and DISTRIBUTION
Tillandsia nayeliana an epiphyte conspicuous in forests of Quercus and Pinus spp. Is found in the limits of Chiapas and Oaxaca, at elevations above 1,400 m s n m, associated with epiphytes and Epiphyllum sp., Tillandsia seleriana Mez and Peperomia deppeana Schltdl & Cham. It can potentially be distributed on the Sierra Madre de Chiapas in same ecotones; on the other hand, there are photographs in similar publications from the Sierra Sur de Oaxaca (municipality of San Bartolo Yautepec), 1,300 m s n m.
Tillandsia concolor, the closer species, has populations sympatric with T. nayeliana, however, this species occurs in plant communities of low deciduous and tropical Oaks at lower elevations and is apparently numerous in grasslands where exposure to sunlight is totally different to the areas where T. nayeliana is collected with its humid conditions and with vegetation preserved sites; so, while we do not have biological material in that area to study, this new species is reported only for Chiapas. It was observed that plants of T. nayeliana flower from February to May.

ETYMOLOGY
We have the honor of dedicating this species to M. c. Nayely Martinez Meléndez, of the Biological Sciences Institute of the UNICACH, who has dedicated his life to the study of vascular epiphytes, with special emphasis on the Bromeliaceae.
---
Updated 04/05/18
---