Tillandsia multicaulis
Click thumbnails for full size, scaled to a new window.
---
Tillandsia multicaulis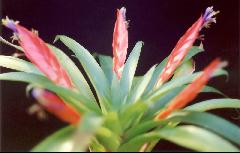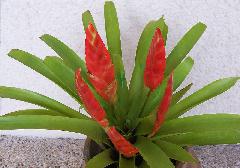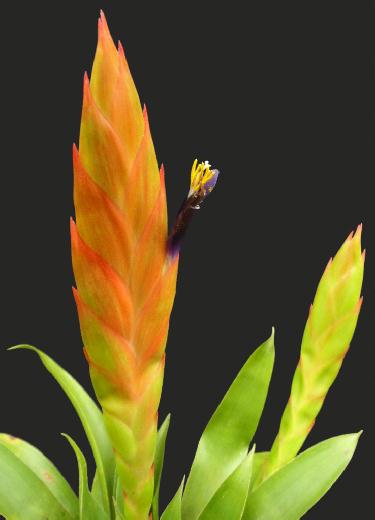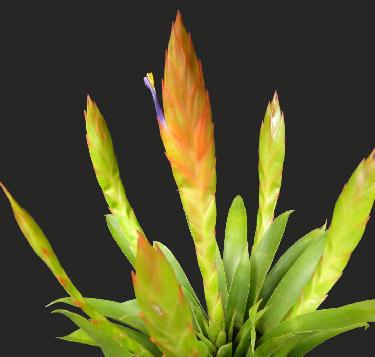 Ken Woods 08/04.

Andy Staelens 03/05.

Chris Larson 07/11.
See notes below.
Chris Larson ... "It is a smallish clone, probably around 9-12" across, and fewer leaves than most that we grow here. It does colour up quite well with a red colour - however the colour comes quite late. The interesting thing about this clone that we imported from Guatemala in 2007 is that it always has a central inflorescence - a few of you have got this clone from me - I think around 20 plants survived the gassing. I was talking to Michael Romanowsky and he says he has some seedlings that do the same thing.
This got me to start reading "the disc" & I couldn't find anything yet to say T.multicaulis shouldn't have a central spike."
Derek Butcher ... "Nothing strange about your T. multicaulis. From BSI Round Robin 1998, comments by Jerry Raack and Carolyn Schoenau -
'Despite the fact that this plant flowers from the axils it appears to be a terminal flowerer where the centre portion dies and offsets appear either just off centre or adventitious as grass pups.' "
Peter Tristram ... "I got some of these from you and some developed a central spike like yours. The inflorescences are quite different too, with those 'serrated' stems and I sure wondered if it was a hybrid. I also note that the cold weather has affected them badly compared to other T. multicaulis or maybe it was last summer's heat and humidity and they are rotting off now?"

---

Tillandsia multicaulis Steudel, Nom. Bot. ed. 2. 2: 688. 1841; nomen novum.
Tillandsia caespitosa Schlechtendal & Chamisso, Linnaea 6: 54.1831; non Le Conte, 1828. Type. Jalapa, Vera Cruz, Mexico, Schiede & Deppe s n (BM).
Tillandsia schlechtendalii Baker, Jour. Bot. London 26: 49. 1888; nomen novum.
Vriesea caespitosa E. Morren ex Baker, Jour. Bot. London 26: 49. 1888; nomen in synon. Vriesea schlechtendalii (Baker) Wittmack, Bot. Jahrb. 14(Beibl. 32): 8. 1891.
Desc from S&D p907-8
Plant stemless.
Leaves many in a dense rosette, 3-4 dm long, exceeding the inflorescences, densely but obscurely brown-punctulate-lepidote throughout;
Sheaths elliptic, 12 cm long, purple or castaneous on the inside;
Blades ligulate, acute and apiculate, 25-35 mm wide.
Scapes several from the axils of the leaves, erect, 5 mm in diameter, glabrous;
Scape-bracts erect, distichous, imbricate, broadly elliptic, acute, incurved at the apex, carinate, 2-4 cm long with the smallest below, glabrous, even, subcoriaceous, bright red.
Inflorescences simple, lanceolate in outline, acute, strongly complanate, very densely 9-12-flowered, 14 cm long, 4-6 cm wide, glabrous.
Floral bracts like the scape-bracts, densely imbricate, 5 cm long, 4 cm wide, much exceeding the sepals, very sharply carinate;
Flowers subsessile.
Sepals narrowly elliptic, obtuse, to 36 mm long and 10 mm wide, submembranaceous, glabrous outside, finely punctulate-lepidote inside, free; the posterior ones carinate;
Petals lingulate, acute, 7 cm long, erect, blue;
Stamens slightly exserted, the filaments free, the anthers 10 mm long; pistil exceeding the stamens;
Ovary slenderly comc.
Type. Schiede & Deppe 1007 (holotype B, isotype BM, GH photo), Jalapa, Vera Cruz, Mexico.
DISTRIBUTION. Epiphytic in forest, 1500-2500 m alt, southern Mexico, Central America.
MEXICO. VERA CRUZ: Orizaba, Botteri 66 (GH); 28 Aug 1866, Bourgeau 2960 (GH, P, US); Jalapa, 28 Aug 1866, Hahn 444 (P); JuI 1884, Mexicana Com. Geogr. 370 (GH); Sep. 1922, Johnson s n (US). OAXACA: Trapiche, 1841, Liebmann 7955 (C, GH, US); Comaltepec, 3 May 1959, MacDougall 424 (US). CHIAPAS: Jitotol, 23 Dec 1921, MacDougal1 485 (US). GUATEMALA. HUEHUETENANGO: Nucapuxlac, 17 Ju1 1942, Steyermark 48940 (F, GH); Maxbal to Xoxlac, 17 Ju1 1942, Steyermark 48973 (F, GH). ALTA VERAPAZ: Tactic, 9 Apr 1939, Standley 71164 (F); 30 Mar 1941,90500 (GH); Apr 1941, 91431 (GH). SAN MARCOS: Volcan Tajumulco, 9 Mar 1940, Steyermark 37401 (F). QUEZALTENANGO: Santa Maria de Jesus, 25 Jan 1941, Standley 84599 (GH). PROGRESSO: Montana Canahui, 10 Feb 1942, Steyermark 43815 (F, GH). BRITISH HONDURAS. Camp 34, British Honduras-Guatemala Survey, 10 Apr 1934, Schipp S-809 (GH); Columbia, Toledo, 12 Apr 1948, Gentle 6503 (LL). HONDURAS. COMAYAGUA: Siguatepeque, 18 Feb 1928, Standley 56178 (GH, US); 1936, Yuncker, Dawson & Youse 5896 (GH); 18 Apr 1951, Williams & Molina 18157 (EAP, US). MORAZAN: Las Tablas to Lepaterique, 31 Mar 1957, Molina 7818 (EAP, US). SALVADOR. SANTA ANA: Hacienda Los Planes, 16 Dec 1950, Rohweder 137 (HBG); 24 Feb 1951,139 (B); 140-141 (HBG). SONSONATE: Laguna de las Ranas, 14 Feb 1951, Rohweder 138 (HBG); Cerro Los Naranjos, 24 Mar 1951, Rohweder 143 (HBG). NICARAGUA. MATAGALPA: Jinotega to Matagalpa, 1 Apr 1961, Bunting & Licht 945 (US); San Ramon, 1963, Heller 5579 (F). COSTA RICA. ALAJUELA: Fraijanes, Feb 1926, Standley & Torres 47545 (US); 47630 (US); San Rafael de San Ramon, 8 Feb 1937, Brenes 22031 (F); Palmira, Alfaro Ruiz, 27 May 1938, Smith NY-683 (F, NY); La Laguna, Villa Quesada, 19 Feb 1966, Molina et al 17554 (EAP, F, US). HEREDIA: Coronado, 22 Feb 1925, Alfaro s n (US); Volcan Barba, 24 Apr 1956, Williams 19311 (EAP, US). SAN JosE: Escasu, 31 Jan 1924, Standley 32498 (US); Aserri to Tarbaca, 12 Feb 1924, Standley 34179 (US); Santa Maria de Dota, 24 Dec 1925, Standley 43074 (US); Tablazo, 23 Jan 1935, Valerio 1070 (F). CARTAGO: Cartago, 8 Mar 1878, Lehmann 67 (W); 10 Feb 1882, 1248 (BM); 1901, Werckle 16175 e p (G, US); 16199 (US); 26 Feb 1926, Standley & Valerio 49507 (US); 49605 (US); 16 Dec 1948, Foster 2694 (US); 23 Apr 1956, Williams 19300 (EAP, US); 1962, Haines 681 (US); Volcan Irazu, Mar 1896, Alfaro 6965 (US); Dulce Nombre, 27 Feb 1924, Standley 35789 (US); La Estrella, Mar 1924, Standley 39550 (US); Orosi, 30 Mar 1924, Standley 39952 (US); El Mufleco, Rio Navarro, Mar 1926, Standley & Torres 51295 (US). PANAMA. CHIRIQUI: Casita Alta, Volcan de Chiriqui, 1938, Woodson, Allen & Seibert 992 (GH); Pena Blanca, 9 Ju11940, Woodson & Schery 320 (GH); Boquete, Jul 1940, Woodson & Schery 806 (MO); 11 Mar 1963, Stern, Eyde & Ayensu 1984 (US).

Notes
Despite the fact that this plant flowers from the axils it appears to be a terminal flowerer where the centre portion dies and offsets appear either just off centre or adventitious as grass pups. From BSI Round Robin 1998 comments by Jerry Raack and Carolyn Schoenau.

Detail from Baker 1889
246. T. SCHLECHTENDAHLII Baker in Journ. Bot. 1888, 49.
T. caespitosa Cham. et Schlecht. in Linneea vi. 64, non Leconte.
Vriesea caespitosa E. Morren (M.D.). –
Leaves lanceolate from an ovate base 2 in. broad, above a foot long, 1½ in. broad at the middle, thin, flexible, subglabrous, plain green, tinged with purple towards the base.
Peduncle much shorter than the leaves;
bract-leaves adpressed.
Spike dense, simple, 5-6 in. long, 2 in. broad;
flower-bracts ovate, acute, pink, 1½-2 in. long, an inch broad.
Calyx 1¼ in. long.
Petal-blades violet, lingulate, as long as the Calyx.
Hab. Central Mexico, Pavon ! Schiede & Deppe ! Bourgeau 2960! Hahn !
Costs Rica, Hoffmann ! Lehmann 1188! Chiriqui, alt. 8000 ft., Pfau ! Near T. incurvata. Introduced into cultivation in 1883.

1007 Tillandsia caespitosa n. sp. Schlechtendal & Chamisso, Linnaea 6: 54.1831
caespitosa, multicaulis. Folia pedalia, plana, attenuata, acuta; basi paululum dilatata duos pollices lata et marginibus hyalinis; punctis (squamulis) dissitis impressis utrinque adspersa. Caules (rami subradicales?) simplices, foliis breviores, inferne bracteis sterilibus minoribus dissitis vestiti, spica terminati lanceolata, disticha, ancipiti, crassa, sub – 10- flora. Bracteae bipollicares, imbricatae, naviculares, carinatae, ellipticae, acuminatae, acutae, acumine inflexo, marginibus subrevolutis, epunctatae. Flores sesquipollice bracteas superantes. Fructus deest. - "Spicis axillaribus radicalibus, bracteis coccineis, floribus caeruleis. Jalapa. Aug."
---
Updated 18/02/21
---