Tillandsia muhriae
Click thumbnails for full size, scaled to a new window.
---
Tillandsia muhriae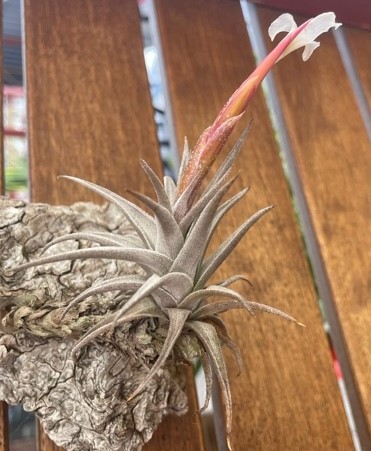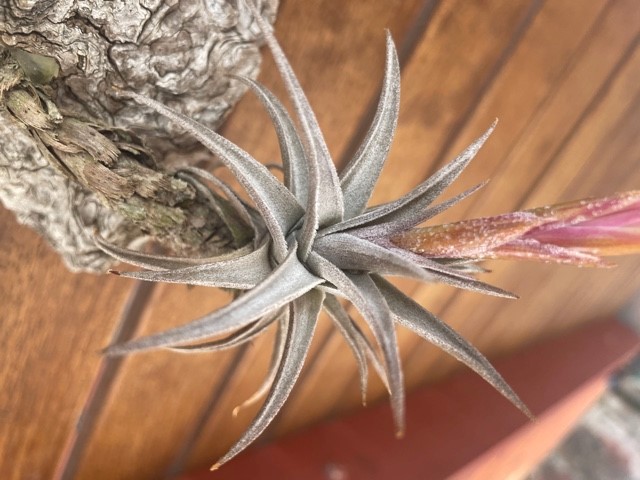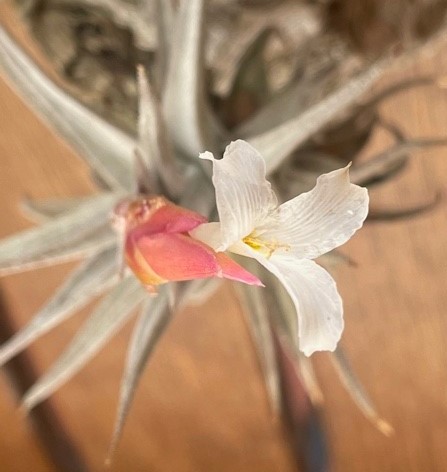 Ray Clark 11/20 originally as T. alberi

Ray Clark ... "I have been waiting for this one to flower for more than four years now and almost missed it, apoligies for the translucent lookng flower, hopefully there is another coming yet.
The plant is ex Derek Butcher, ex Len Colgan and he collected it during his trip to Bolivia hence the CL suffix. If I were to cross reference Len's list he questions wether the plant is actually T. alberi.
A quick check of the Taxon list tells me that T. alberi (Ehlers) is in fact T. muhriae.
Alfonso Trudu ... "Well done, Ray... this is a very slow plant to flower!"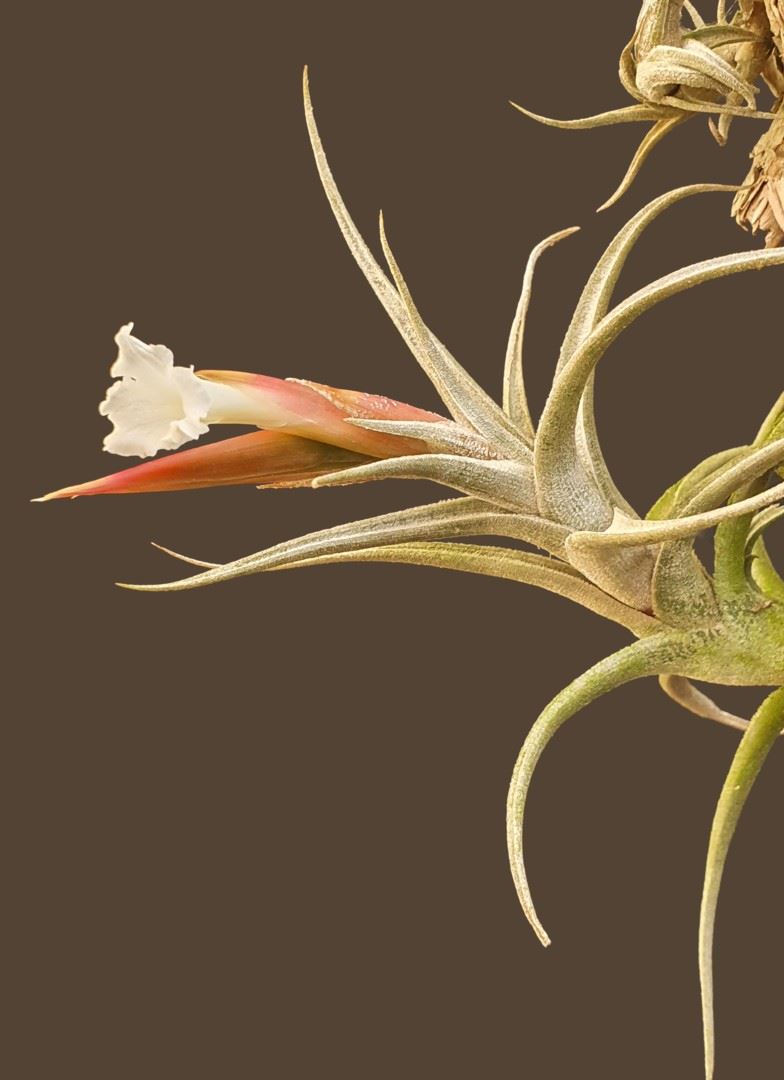 Geoff Beech 11/21 ex. Len Summers
---

Tillandsia muhriae Weber, Feddes Repert. 97(3-4): 101-3.1986 (as muhrae)
Name changed to T. muhriae by Till in J. Brom. Soc.40(6): 257. 1990
Tillandsia alberi Ehlers R , Die Bromelie 4/87: 55. 1987
Tillandsia guasamayensis Palaci & Gilmartin, Syst. Bot. 14(2): 152-4. 1989

Plant long caulescent, flowering to 25cm long.
Leaf becoming densely polystichous, to 9cm long, spreading wide, nerved, becoming densely appressed scaled.
Leaf Sheath indistinct from the blade, 18mm long, 15mm wide, erect, imbricately covering the stem.
Leaf blade thin triangular, strongly grooved, awllike, acuminate, becoming plump, 14mm wide next to sheath.
Scape very short, much shorter than the leaf.
Scape bracts erect, densely imbricate, leaflike, the top ones similar to the floral bracts.
Inflorescence simple, densely distichous, to 5 flowered, 7cm long, 18mm wide, bent downwards.
Flower with a very short (ca. 2mm) and thick stalk, erect to 50mm long.
Floral Bract almost erect, broad lance like, acuminate, 30 – 40 mm long, to 15mm wide, leathery with broad transparent edges, not scaled, not keeled, light reddish, at the bottom greenish, much longer than the sepals, most of the sepal enveloped.
Sepal lance like, tipped, leathery with transparent edges, not scaled, light green, to 24mm long,7mm wide, the posterior ones keeled and joined for 2-3mm.
Petal white, to 50mm long, linear, tubular, its blade wide-oval, blunt, 15mm long, to 12mm wide, recurved, the edges finely crenate.
Stamens white, 26mm long, shorter than the petal throat:
anther 6mm long, yellow, joined at base.
Style thin, 30mm long, lobes small, erect, papillose.
Ovary oval, 6-7mm high, light green
Habitat Salta, Argentina
Leg. Muhr s. n., Argentina, Salta, floruit hort. Weberi 17. 5. 1983. Holotypus WEB 591

Collections by Palaci
Palaci # 1184 Huajra, El Volcan, Jujuy, 2100m
Palaci #1190 Charcito between El Volcan and Maimara, Jujuy at 2500m

Differs from T. diaguitensis in
1. Scape much shorter
2. Petals and sepals smaller
3. Posterior sepals carinate
4. Posterior sepals connate ( 2-3mm)

Tillandsia alberi Ehlers R , Die Bromelie 4/87: 55. 1987
Treated as a synonym of T. muhriae by Palaci (1991)22-5, 67-8 See DeRebus I 1994 p32

PLANT - Forming clumps, with strong spreading roots, saxicolous, stemmed, flowering to 18cm high, stem much longer than the rosette. Rosette erect, secund, to 15cm long, 8cm wide.
LEAF - Densely polystichous, grey, both sides dense almost pruinose scaled, the bottom side strongly nerved, plump, the edges with long scales, 10cm long.
LEAF SHEATH - Indistinct from the blade, to 2.5cm long, 1.5cm wide, erect, extensively covering the stem.
LEAF BLADE - To 8cm long, thin triangular, strong grooved, awllike acuminate, the edges trimmed with assymetrical scales, erect to secund, recurved.
SCAPE - Almost missing, to 0.5cm long.
SCAPE BRACTS - Densely imbricate, leaf-like, the top ones like the flower bracts. Primary bract 1/2 as long as the spike.
INFLORESCENCE - Simple, shorter than the leaves, densely distichous, complanate, elliptic, 5-6cm long, to 1.5cm wide, 5-7 flowered. Flower erect, almost sessile, no scent.
FLOWER BRACT - Much longer than the sepals which they completely cover, almost erect, lance-like acuminate, 2.6-3.1cm long, 1cm wide, leathery with transparent edges, not scaled, not keeled, strongly nerved, green or violet-red, when dying becomes straw coloured.
SEPALS - Lance-like acuminate, thin membranous, naked, nerved, free, the back ones strongly keeled, to 2cm long, 0.5cm wide, bottom half green, upper half pink.
PETAL - white, erect, forming a narrow tube, almost tongue shaped, to 3.5cm long, at base to 2mm wide, the blade 4-5mm wide, the edges weakly finely notched, the tip spreading or recurved, paper thin.
STYLE & STAMEN - As long as the throat of the petals, at the same time the anthers and stigma lobes exceed the flower.
Style 2.5cm long, filiform, base white, top half brownish.
Stigma tiny, 0.8mm, lobes bent backwards, light brown.
Filament 2.4cm long, filiform, pleated and stuck together, white.
Anthers yellow, 6mm long, 0.8mm wide, joined at the base.
OVARY - White, 5mm high, egg shaped.
TYPE LOCALITY Bolivia, Dept. of Potosi, near Chagua to the south of the town of Tupiza, 3370m, saxicolous, 29th Sept. 1986, leg. E. Huagg 7029 ( Holotype WU)
Other collections, Bolivia Dept. of Potosi, near Titihoyo to the south of the town of Tupiza, 2950m (E. Haugg 7023) and 3700m, ( E. Haugg 7025) Sept. 1980
Also Palaci#1200 on road to Titihay, 20km Sth of Tupiza, Rio San Juan de Oro, 3000m

DIFFERS FROM T. XIPHIOIDES BY
1- Smaller non scented flowers.
2- Smaller flower bracts and sepals.
3- Petals more narrow.

Stuttgart, 4. 2. 93
Dear Mr. Palaci,
I also apologize for my delay in writing to you. Thank you for your interesting letter of June 25, 1992.
In June 1992 flowered T. muhrae Weber in our collection. I own a piece of the type- clone. There are really to note some details that differ from T. alberi:
The plant is longer caulescent, the posterior sepals of T. muhrae are connate for 2 - 3 mm, and the petals are much longer (62 mm instead of to 36 mm), the petal blade in T. muhrae is broadly elliptic and crenulate, to 14 mm wide while T. "alberi" has ligulate petals with blades 4 - 5 mm wide. I enclose a herbarium petal for you as well as 2 slides.
I also enclose a slide of a plant I received from Kohres as T. muhrii. The plant was collected 1987 on the way Cafayate - Salta, 1500 m s. m. The leaves are strongly nerved, the margins with asymmetric trichomes, the floral bracts are smaller, not much longer than the sepals, the posterior sepals are connate, all 3 sepals are carinate, the petals are longer and wider (3.8 cm long, 6 mm wide). There seem to be so many similar plants, and also intermediate between T. zecheri and T. muhrii (or is it T. cafayatensis now?) May be you are right that T. muhrii is falling into the varietal level.

All these plants seem to be a very difficult closely related family and I am curious what you will find out and to what conclusions you will come.
Sincerely
Renate

Tillandsia guasamayensis Palaci & Gilmartin, Syst. Bot. 14(2): 152-4. 1989
Treated as a synonym of T. muhriae by Palaci (1991)22-5, 67-8 See DeRebus I 1994 p32
TYPE. Argentina, Jujuy, Tilcara, Garganta del Diablo, saxicolous on rocky outcrops at river Guasamayo, 2800 m. 15 Oct 1986, Palaci 777 (holotype: MCNS, Isotypes: LIL LP, WS). PARATYPE Argentina, Jujuy. Tilcara (type locality), 27 Jan 1943, Cabrera 7702 (LP).
A T. friesii, cui affinis, bracteis florigeris et sepalis majoribus, chartaceis, nervis, et petalis albis differt.

Plant stem ca. 20 cm long. much exceeding leaves
Leaves densely polystichous. ca. 7 cm long,
blades 7-8 mm wide, channeled, broadening out gradually into sheath.
Leaf-sheath 15- 18mm wide, the vestiture like that of blades, coarsely cinereous lepidote.
Scape lacking.
Inflorescence terminal (may appear to be axillary), simple, oblanceolate and complanate, to 5 cm long and 1-1.5 cm wide, with 2-3 flowers.
Floral bracts 3-3.5 cm long, glabrous, ecarinate, char¬taceous, conspicuously nerved, dark purple when fresh.
Sepals 1.8-2.5 cm long, free, nerved, posteriorly carinate.
Petals 3.5- 4.0 cm long, white, lobes erect at anthesis.
Stigma of the simple erect type. slightly exceeding stamens, both included.
Stamen filaments narrow, undulate,
Capsule cylindric, ca, 1.5 cm long.

Note: Also growing in the same general area of Garganta de Diablo is T. diaguitensis eg Palaci 571. (MCNS)
---
Updated 09/12/21
---