Tillandsia mitlaensis
Click thumbnails for full size, scaled to a new window.
---
Tillandsia mitlaensis
Mexico.
| | | |
| --- | --- | --- |
| Bruce Dunstan 05/13. ex. Peter Paroz | Ray Clark 06/16. ex. Chris Larson | Ray Clark 10/16 |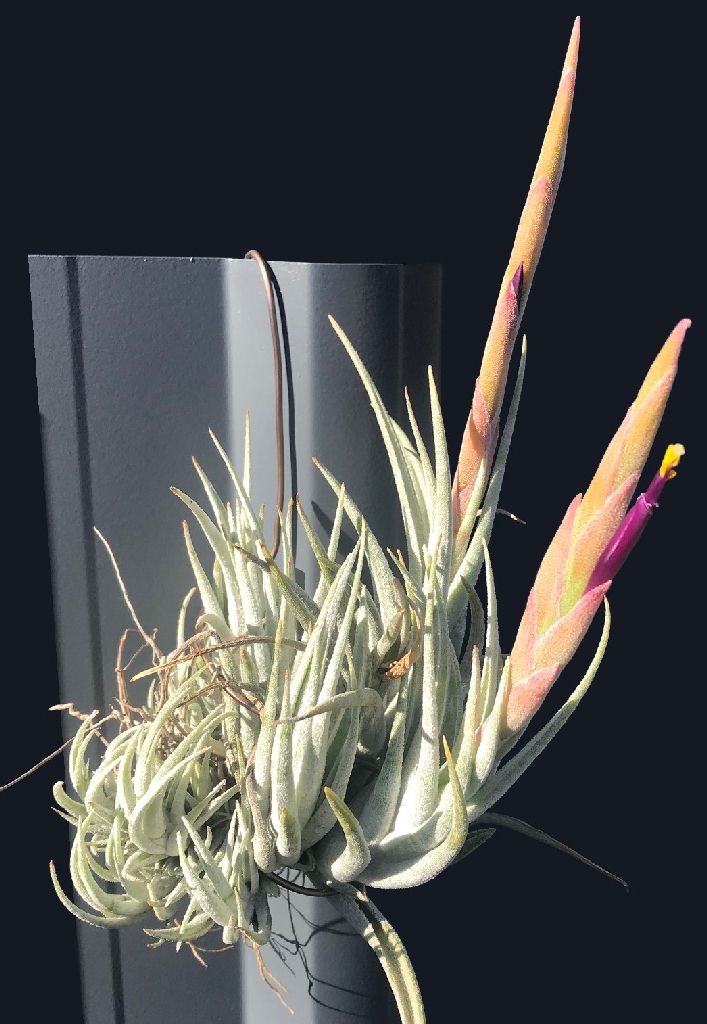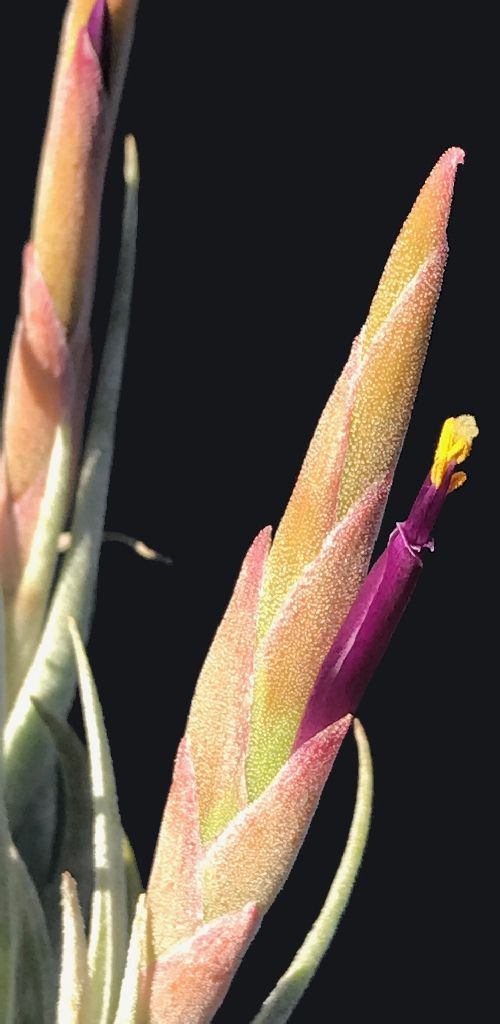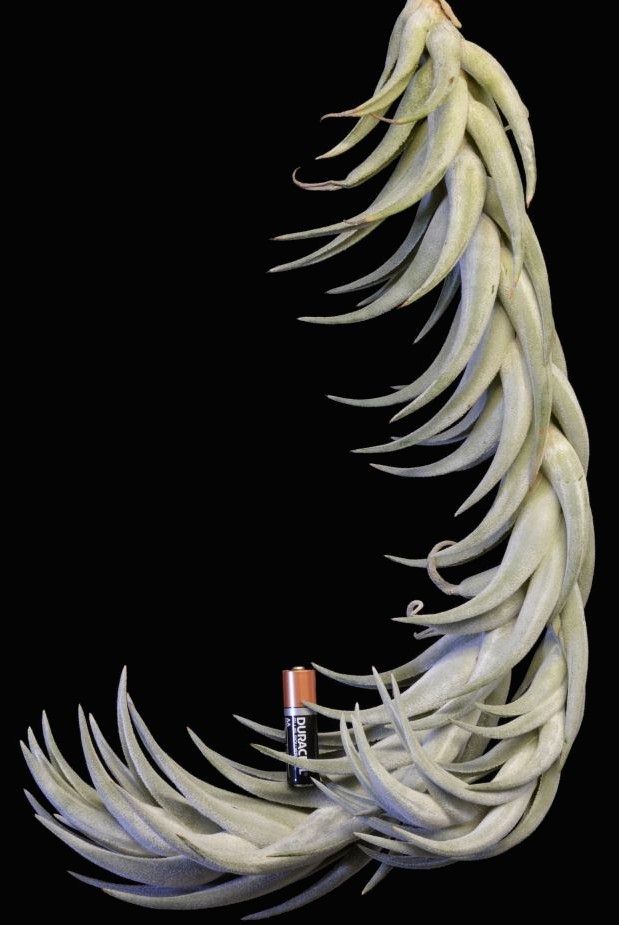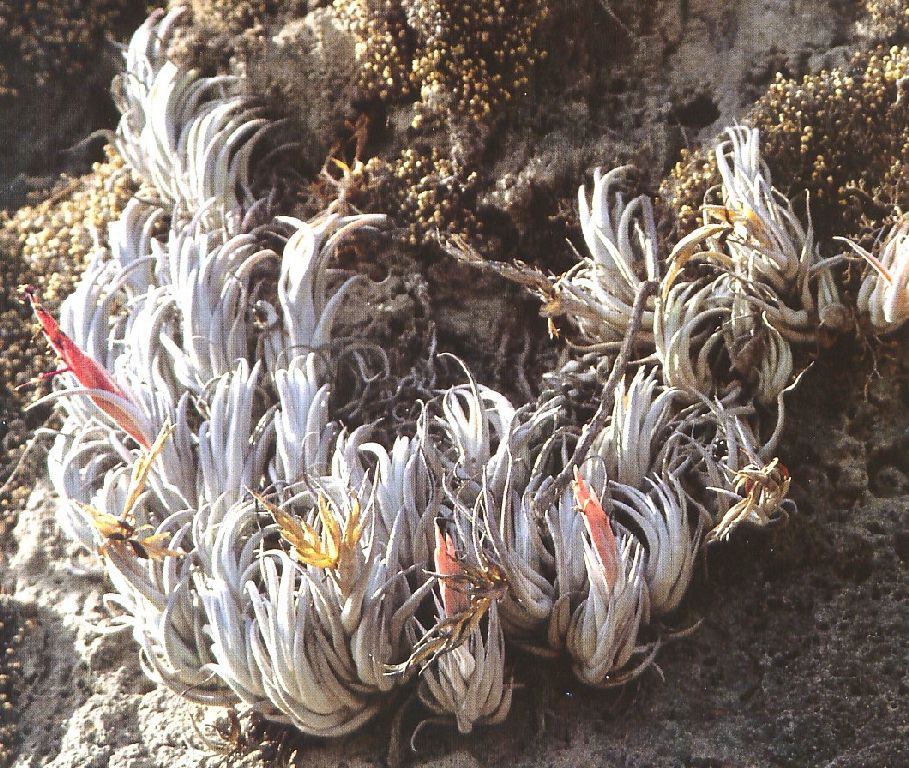 | | | |
| --- | --- | --- |
| Ray Clark 06/19. ex. Chris Larson | Eric Gouda 12/19 EG-298 | Habitat photo ex. Derek Butcher |
Eric Gouda ... "Ever seen a huge T. mitlaensis like this?"
Derek Butcher ... "It does not surprise me! See habitat shot."
Chris Larson ... "My first thought was T. mitlaensis var tulensis. But I do have a plant which has grown to a very large size instead of flowering."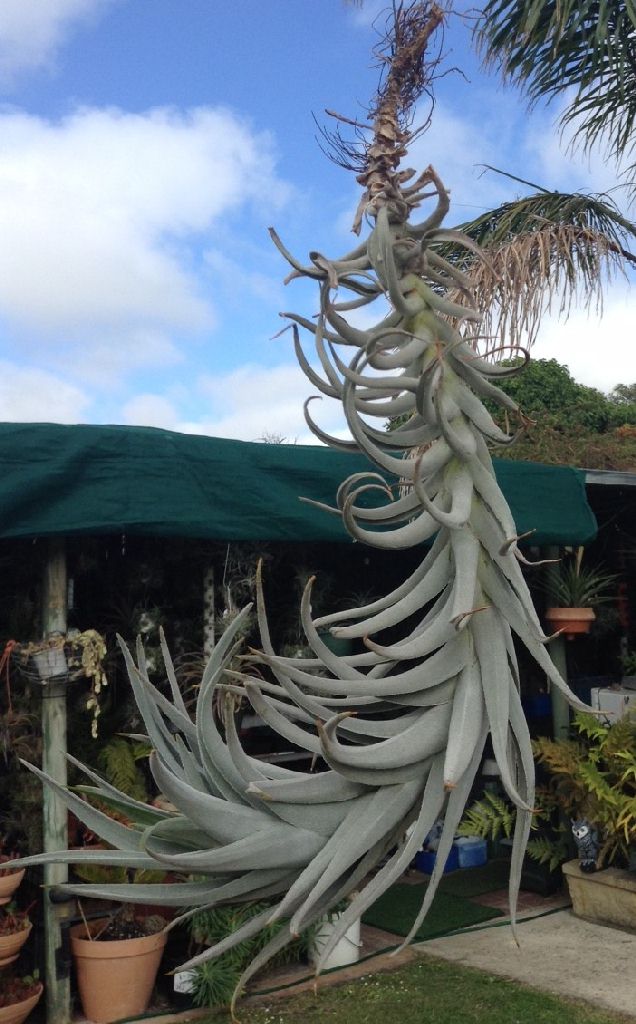 David Whitehead 12/19 mitlaensis?

David Whitehead 12/19 ... "I have had this plant now for about 15 years, bought from CC as a tiny seedling and came with a label marked T. recurvifolia v subsecundifolia. It has not flowered yet but keeps on growing and growing and now getting quiet large, currently 60cm long. It looks just like the one Eric has shown in his photo. Could mine be T. mitlaensis?"
Chris Larson 12/19 ... "You would have got these plants shortly after importation from Rainforest flora. Amongst these seedlings there were a number of T. recurvifolia var subsecundifolia hybrids. (Of course we received the whole shipment as T. leonamiana.) Looking at yours, this is what I would assume - to be confirmed on flowering.
There were also some T. mitlaensis in the same shipment though. ...."
| | | |
| --- | --- | --- |
| Chris Larson 09/20 | Andrew Flower 09/20 as "Species Dr Oeser" | Bruce Dunstan 09/20 |
Chris Larson 09/20 ... "I had some time up a ladder tidying tillandsias. Couldn't see this one from the ground. Pretty speccy I reckon."
Andrew Flower 09/20 ... "This species has an interesting history here. (NZ)
In 1966 the BSI published an article by Dr. Richard Oeser (Black Forest, Germany) "Propagation of Tillandsias from Seed" BSI 16(1). We corresponded with him at the time, and he used to send us seed - one lot he didn't name grew into a nice silver plant but it refused to flower. Dr Oeser died not long after, and being a little sentimental at the time I named his nice seedlings "Species Dr Oeser". I kept one of these seedlings, and it flowered for the first time in 2015-16. So it took nearly 50 years to flower, by which time it was a decent sized clump. One might suspect it need to clump up in order to initiate blooming as it has flowered faithfully every year since!
Attached pic taken today is the original seedling's clump - just finished flowering."
Pam Butler ... "Stunning. I have a few and as I haven't seen them on Tillnuts before I was wondering if they ever flower in QLD."
Chris Larson ... "Here in Melbourne I find them very shy to flower."
Neville Ryan ... "I have flowered them maybe twice over the years."
Peter Tristram ... "Nice clumps! Are these the seedlings from Holm? I haven't bloomed any for a few years though certainly more often than Bertie's experience! I remember that they were initially sold as a form of pueblensis back in the late '80s.
Thanks for the fantastic habitat pics too, Lesley and Ross - tells the story! It dies outside at Repton, I guess due to excess humidity and prolonged wet periods without sufficient air movement."
Bruce Dunstan 09/20 ... "Here is my clump 7 years on from flowering"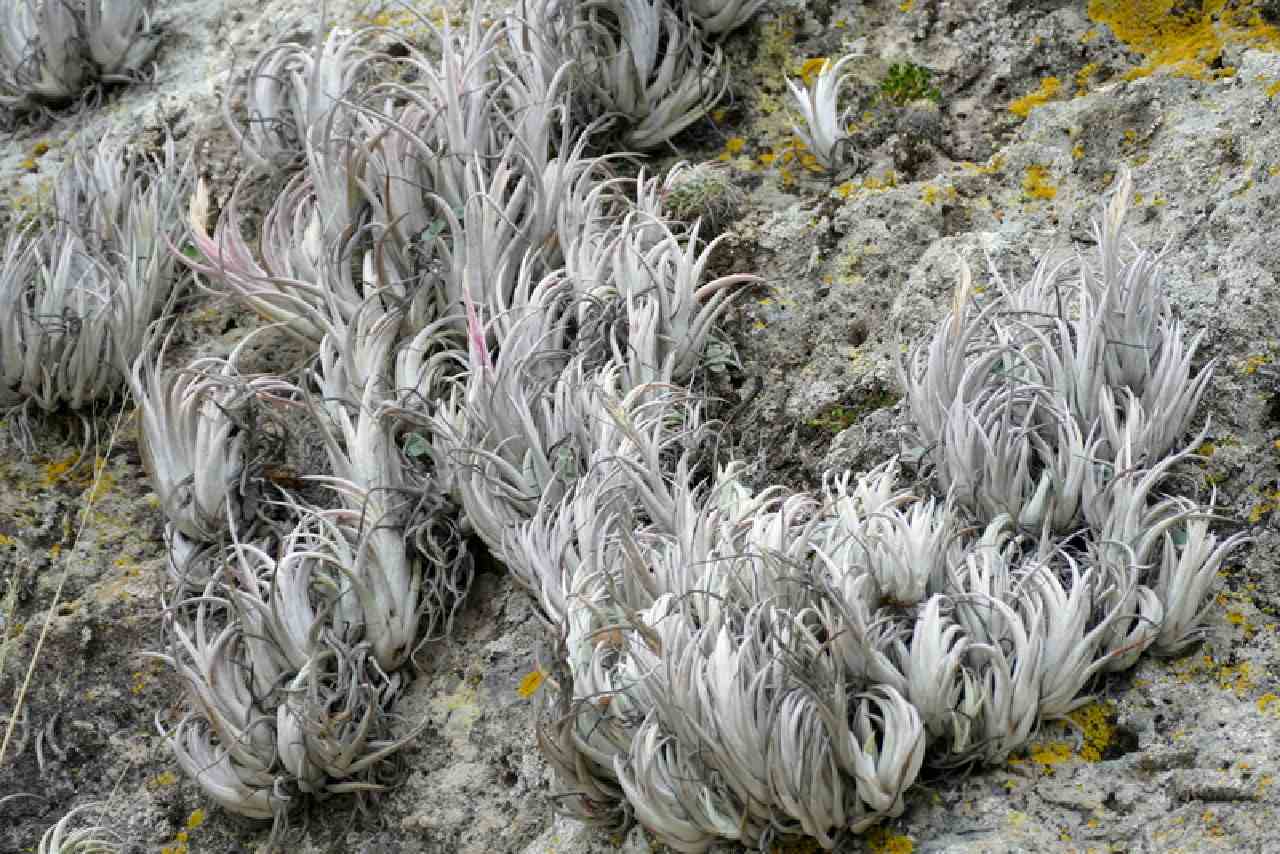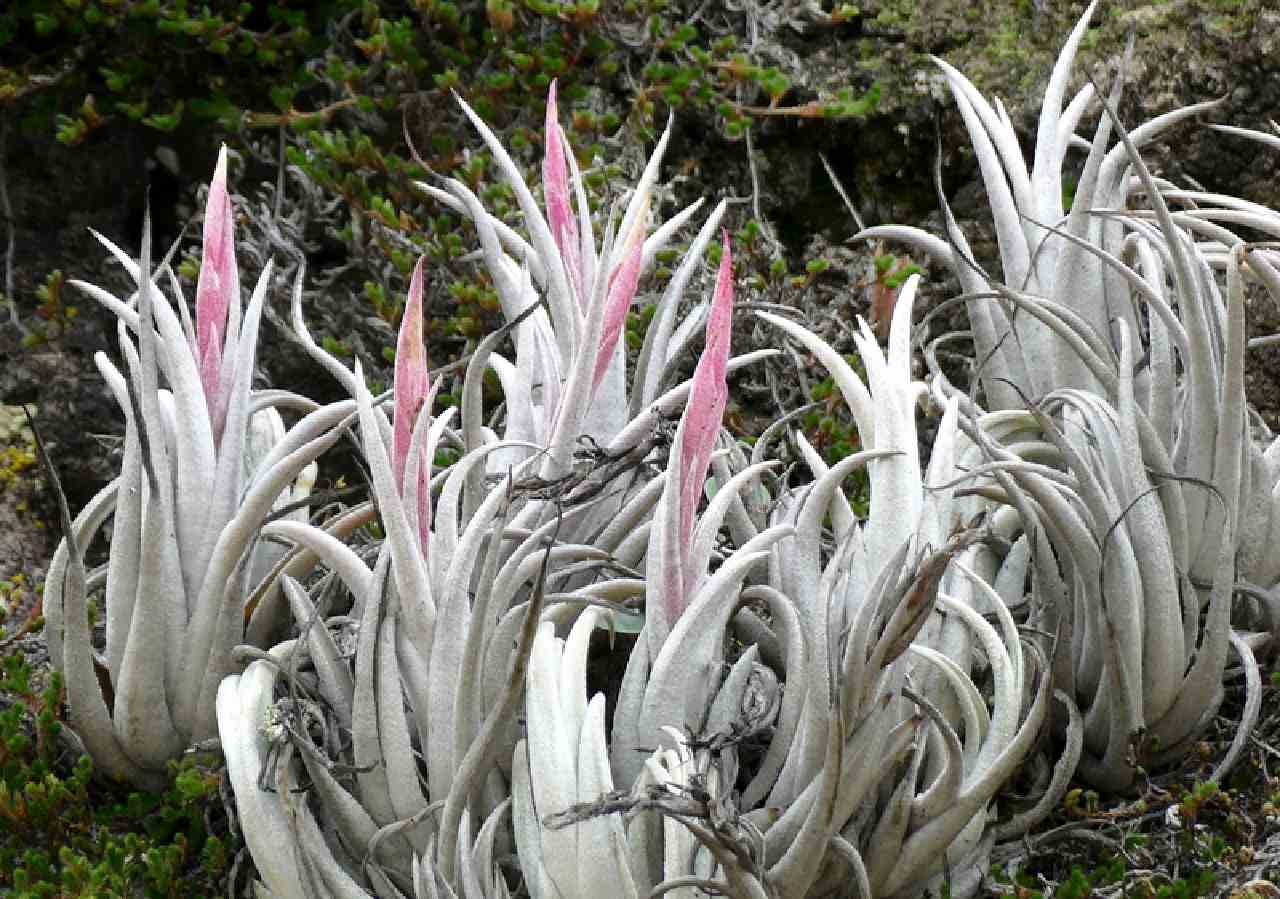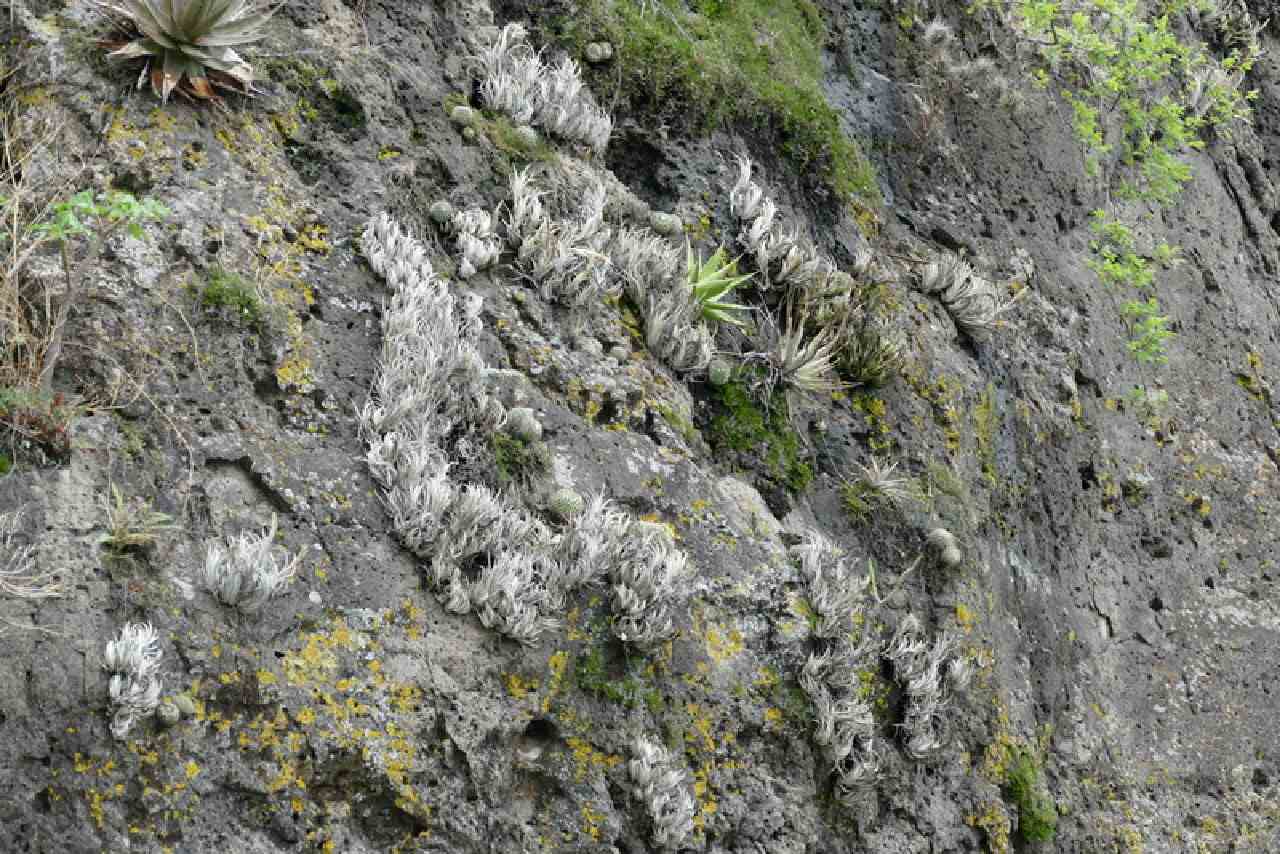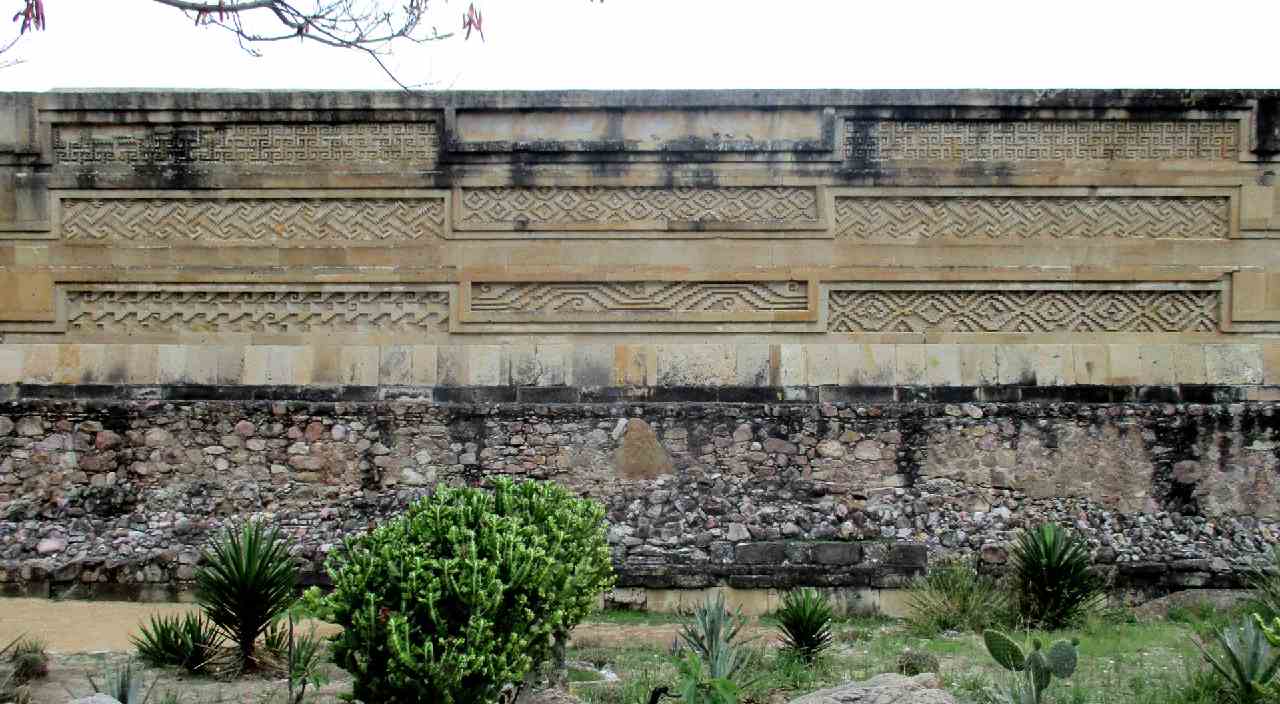 | | |
| --- | --- |
| Lesley Baylis 09/20 in habitat | Ross Little, Mitla ruins frieze |
Lesley Baylis 09/20 ... "Thought you might like to see these habitat photos - might be the only ones I ever seen in flower!! I had also been wondering why mine haven't flowered yet...
Chris Larson ... "Thanks for the photos Lesley - great photos as usual. I spent some time around Mitla in 1988 - 8th October from memory, but didn't look for T. mitlaensis. Backpacking time - though I was looking at whatever tills I could find - there was no internet and no real plan - so I couldn't research on the run. Beautiful ruins there. Amazing stone work - different from most of the other ruins.
I do get flowers every few years - probably around 7. Yours should be nearly ready Bruce. Those silvery leaves must bounce the sun off - and the leaves are so stocky and round - it would need a decent amount of light to photosynthesize - so clumps would work better."
Ross Little ... "A couple of photos for Chris of some of the amazing stonework (friezes) that we saw at the Mitla ruins in 2018 not seen on other temples etc. throughout Mesoamerica. This area is at the upper end of the cold, high valleys at around 1480 mtrs alt. which is something to consider when growing Tillandsia mitlaensis.
Lesley has been growing it outside here in Northern NSW for several years now and has flowered it but she has been so busy on the harvester lately she'd forgotten."
Dale Dixon ... "I have flowered the other variety (T. mitlaensis var. tulensis) last year. What is everyone's experiences with this taxon? Does it behave the same?"
Chris Larson ... "In my experience there is not much difference. Probably a flowering a little more often in the case of var. tulensis - but not that much."
Peter Tristram ... "As others say, every now and then you get a surprise! I can't grow them outside at Repton so all are inside the tunnels where I try to grow them in a bright dryish spot. T. schatzlii is even more difficult for me and I am astounded at how well it does at Bruce's with the more regular climate and endless air movement. They should love Dale's hill at Ninderry!"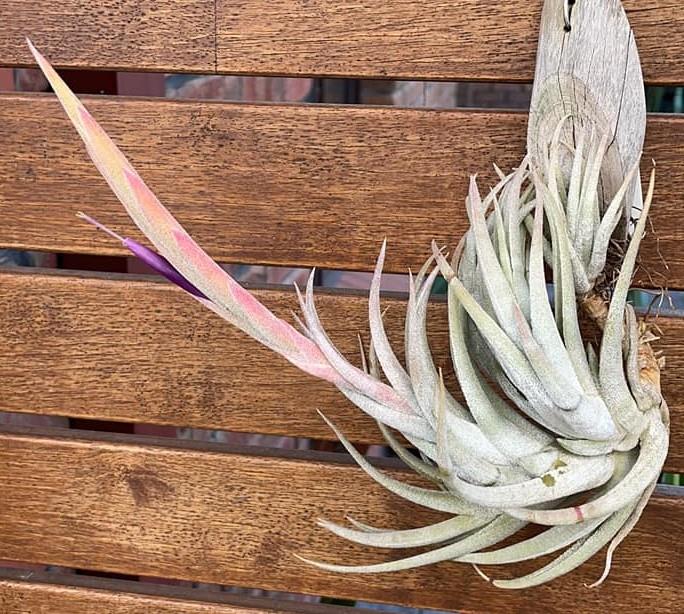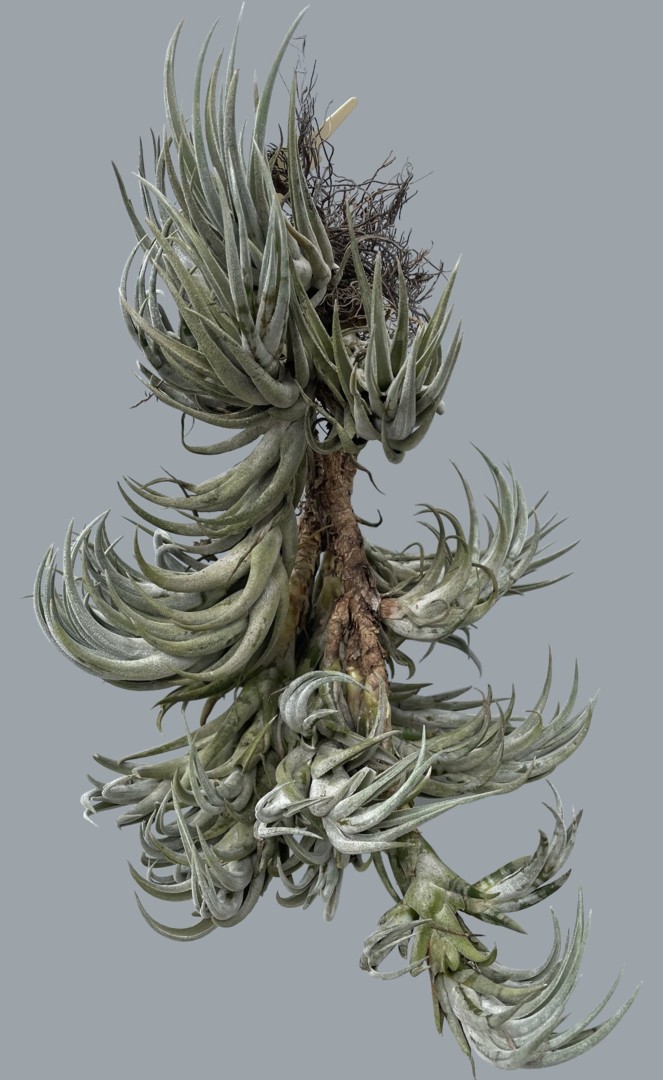 | | |
| --- | --- |
| Ray Clark 09/21 | Bruce Dunstan 11/21 |
---

Tillandsia mitlaensis Weber & Ehlers Feddes Repert. 94: 617-8. 1983
A Tillandsia circinnatoides Matuda l973 valde affinis, foliis leviter nervatis haud valde sulcatis perdense pruinose albolepidotis differt.

J. Brom. Soc. 33(1): 32. 1983
Plant flowered 16 cm high; leaves suberect, subsecund, dense coarse pruinose-¬lepidote, the outer reduced;
Sheaths indistinct, ovate, to 30 mm long, 20 mm wide;
Blades narrow triangular, stout, canaliculate, apex subulate, subobtuse acute, not pungent, 7-9 cm long, faintly nerved;
Scape suberect, short, hidden from the leaves, stout;
Scape bracts erect, dense imbricate enfolding the scape, with short sub foliaceous blades, dense pruinose lepidote;
Inflorescence simple, distichous, few complanate, lanceolate, 7 cm long, 16 mm wide, about 5-flowered;
Flower bracts suberect, dense imbricate, lanceolate-ovate, obtuse acuminate, 32-35 mm long, 16 mm wide, ecarinate, strongly nerved, submembranaceous, with hyaline margins, reddish, on both sides subdense lepidote;
Flowers sessile, about 35 mm long;
Sepals lanceolate, acute, 23 mm long, posterior carinate and 5 mm high connate, thin membranacous, glabrous, nerved, whitish;
Petals dark violet at apex whitish,
Stamens few exserted.
Type locality: Mexico: Oaxaca, near Mitla, leg. Renate Ehlers March 1981, WEB 283.

This new species is closely related to T. circinnatoides Matuda but differs in the only faintly nerved, not strong sulcate leaves, the dense coat of spreading white scales and the shape of the flowerbracts. The habitat resembles somewhat that of T. pueblensis.

Tillandsia mitlaensis W Weber & R Ehlers var. tulensis Lautner & Ehlers
Die Bromelie 1/2001 p20 –22
A varietate typica habitu caulescente longitudine usque ad 50cm, cormi diametro minore et foliis minoribus, subappresso canoalbido lepidotis differt.

Type locality Mexico, State of Oaxaca, near El Tule, 1750m, epilithic, leg. J Lautner LW 198 1/20 (Holotype MIEXU); same location, leg. K & R Ehlers EM851601 (Paratype MEXIJ, Will)

Plant not stemless forming an erect somewhat secund rosette, rather forming a long caulescent stem about 50cm long.
Plant less wide.
Leaves smaller with appressed grey-white scales compared to very dense pruinose white scales.
Habitat in the area of Mitla and on the stretch between Mitla and Ayutla about 20km back from Mitla.
Other material J Lautner LW 198 1/20 near El Tule; RUM 83 leg J Rutschmann 1983 near El Tule; EM851601 and EM891904 leg. K & R Ehlers; between Mitla and Ayulta leg. G Noller 1993 s.n.
Proposed the same as type by Espejo in Checklist of Mexican Bromeliaceae in Selbyana 25(1): 33-86. 2004. Not accepted by peers.
---
Updated 15/11/22
---