Tillandsia mirabilis
Click thumbnails for full size, scaled to a new window.
---
Tillandsia mirabilis
Mexico.
| | | |
| --- | --- | --- |
| Walter Till 12/13 | Peter Tristram 03/16 | Len Colgan 04/16 habitat |
Renate Ehlers ... "This photo sent by Walter Till of the T. mirabilis which he got from me this autumn, flowering at the moment.
The colour is not like in summertime, but it is a nice plant!"
Peter Tristram ... "The big, Mexican, cliff-dwelling Tillandsias are a wonderful bunch of giants that are relatively easy to grow and make stunning, long-lasting spectacles as they go through the blooming process. Various species get featured in our Till discussion group from time-to-time by the few of us that have mature specimens. Most, but not all, have come from German collections via Len and me, but Birdrock Tropicals has supplied some beauties too. I don't think this baby, the gorgeous T. mirabilis, has featured before. I first saw this species in bloom at Lydia's, then, later, at Andreas's. I got this plant as a tiny pup in 2006 from Lotte and it is the smallest of my old specimens so the big'uns will really put on a show. Unfortunately it isn't a plentiful adventitious pupper, like pamelae or grandis are but a ferw are better than none! I'll post some more pics when the flowers appear. Len will have some habitat pics too that he might like to share."
Len Colgan ... "Your wish is my command.
Please find attached a picture of T. mirabilis in habitat. It is part of my presentation on "The Large Cliff-dwelling Tillandsias of Mexico - A Dedication to Jurgen Lautner".
I am interested to see the other ones from this group that you say are coming into bloom."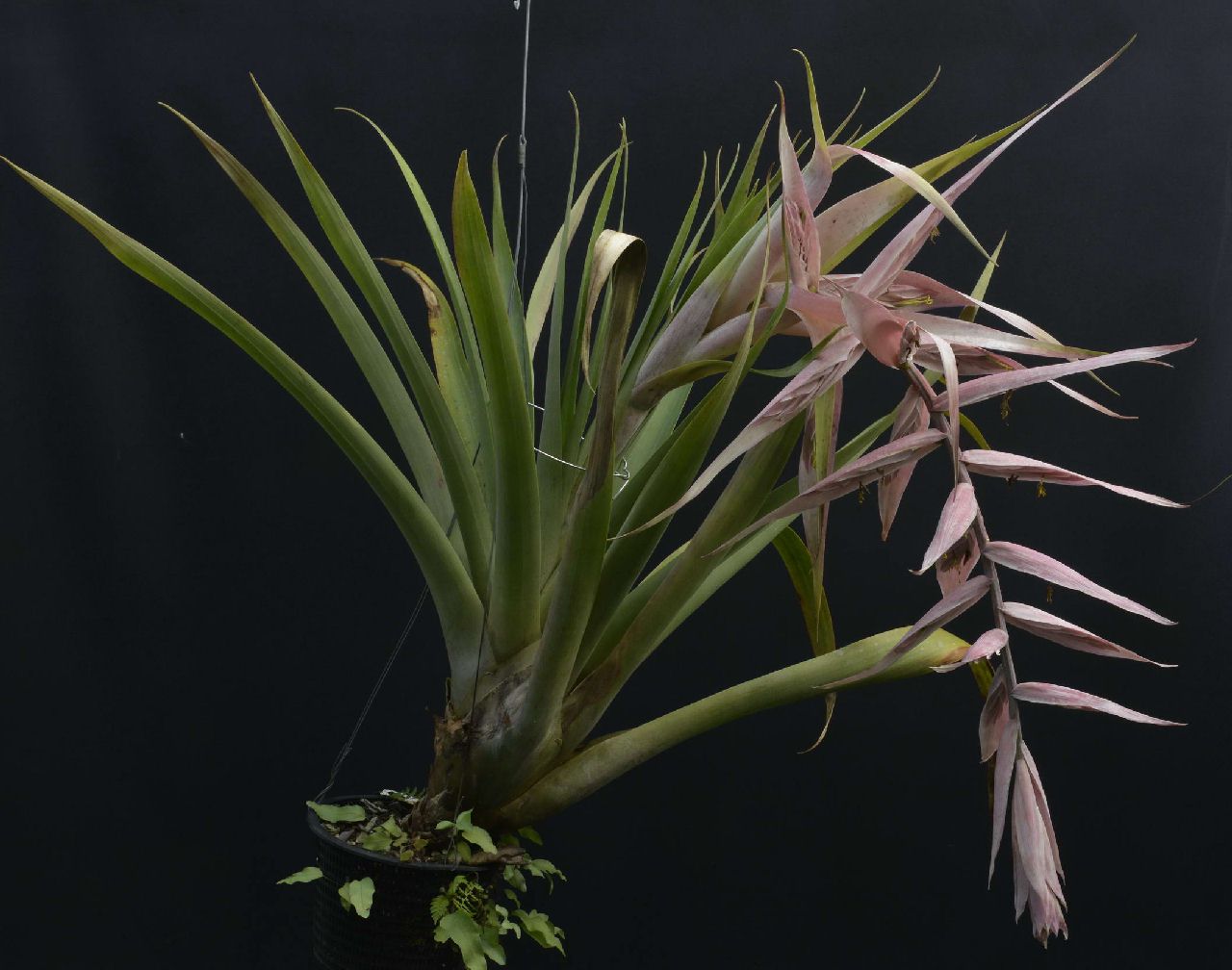 Peter Tristram ... "Lots of Tills have nodding spikes, with varying degrees of 'nodness'. Some are small, like T. stricta, while others are true tank Tills and always have the nod (positive geotropism I guess). Others, still, nod when the flower head seemingly gets too heavy for the scape (peduncle) but more on these later. There is another group that heads off to one side, not directly down at all. Maybe it can be assumed that the position of the bracts and their flowers must work for pollination whether erect, oblique or pendant and the myriad of combinations.
I showed some tanks at the Brissy Till Day, including the attractive, nodding Mexicans, T. mirabilis and T. trauneri (see above), both pretty large, cliff dwellers. trauneri looks to be related to pamelae, mooreana and cretacea (all with purple flowers). The spike begins to decurve as it lengthens, arching over gracefully, whereas mirabilis heads south as soon as the leaves let it. If petal colour is any guide, mirabilis is yellow-green, like the epiphytic prodigiosa but how closely they are all related phylogenetically will be revealed in the Mexican studies I guess.
I also bought a pamelae from Lydia, at great expense as it was supposed to be trauneri. John, check yours – if it looks like pamelae then it likely is! trauneri has darker, more ligulate leaves."

---
Updated 23/06/17
---