Tillandsia minasgeraisensis
Click thumbnails for full size, scaled to a new window.
---
Tillandsia minasgeraisensis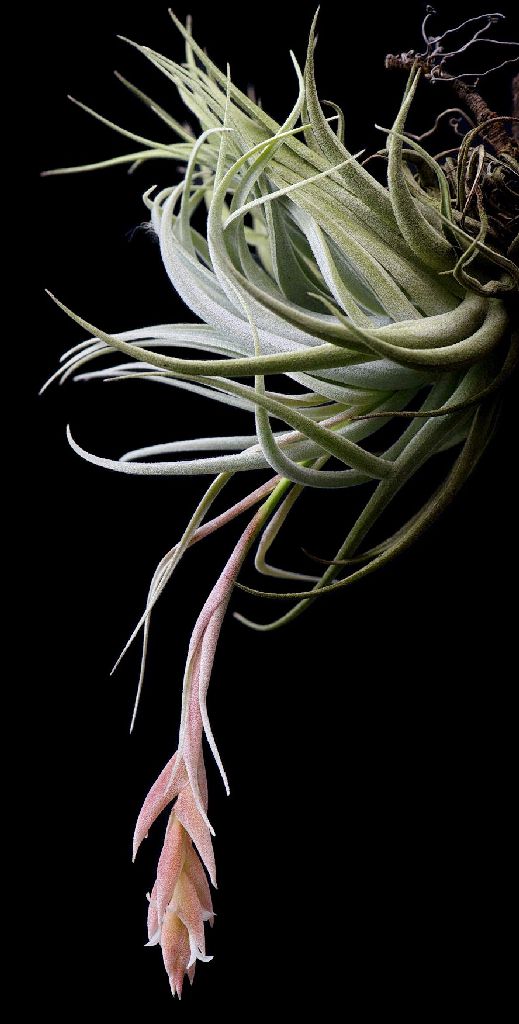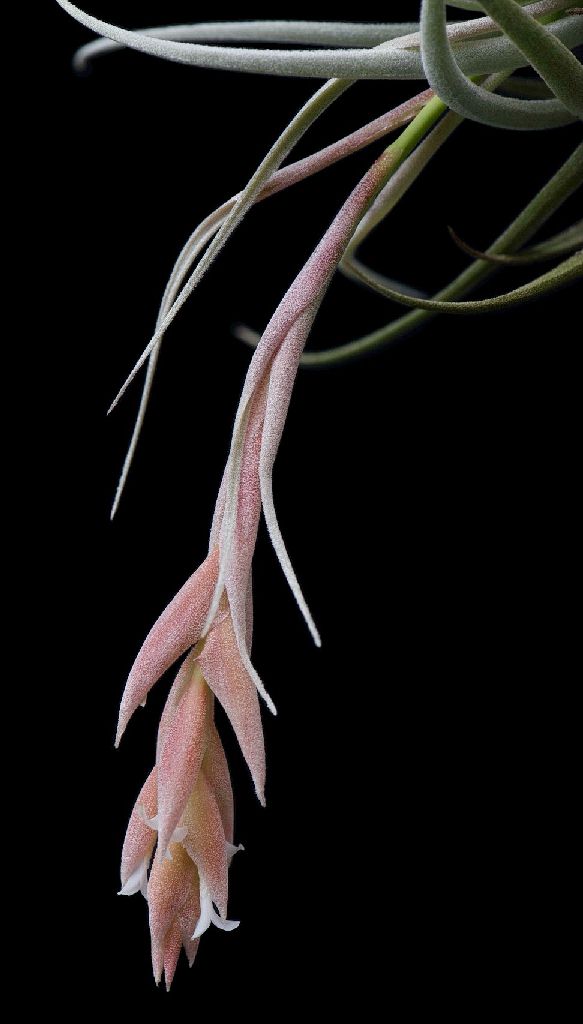 Peter Tristram 12/14...."If you subscribe to the German journal, Die Bromelie, you will remember an article featuring the habitat of T. minasgeraisensis. I obtained a few of these from Germany, I assume from the very limestone furrows pictured in the article, but none of them have bloomed yet. In 2012, while doing the grand tour of RFI's greenhouses with Paul Isley, I spied what looked like something Brazilian, tucked away in a corner. Paul said they were from the good old days, collected in the '70s and probably leonamiana (recurvifolia v. subsecundifolia). He has the name minasgeraisensis on a much smaller plant that doesn't have secund leaves but I haven't seen it in bloom. This particular plant is the larger clone of the two he had and seems pretty close to minasgeraisensis though I will investigate further. It is also much larger than the German clones but with the same, stiff, channelled, heavily scurfed foliage. Hell, it's slow though, like the others. They 'look' very different to the regular recurvifolia v. subsecundifolia."
Peter Tristram 02/15...."here's a blooming T. minasgeraisensis that I purchased from Lotte a couple of years ago. It compares well with what Paul Isley has, though not labelled as this species "
---

Not quite T. minasgeraisensis, although some think it is.
Not quite T. recurvifolia v. subsecundifolia
Nor does it quite match up with cultivars such as T. 'Leon', and little/no provenance data.
? ? ?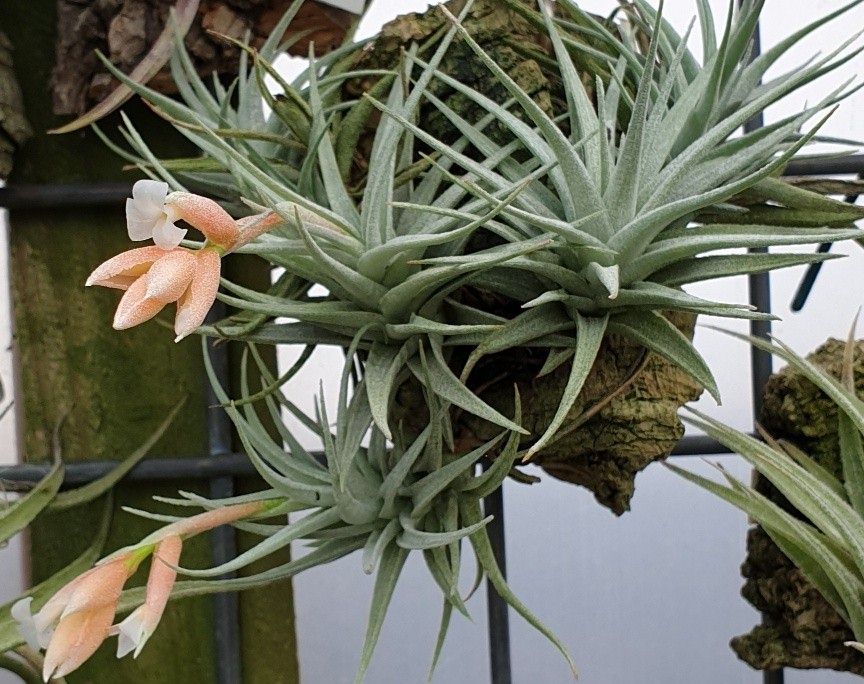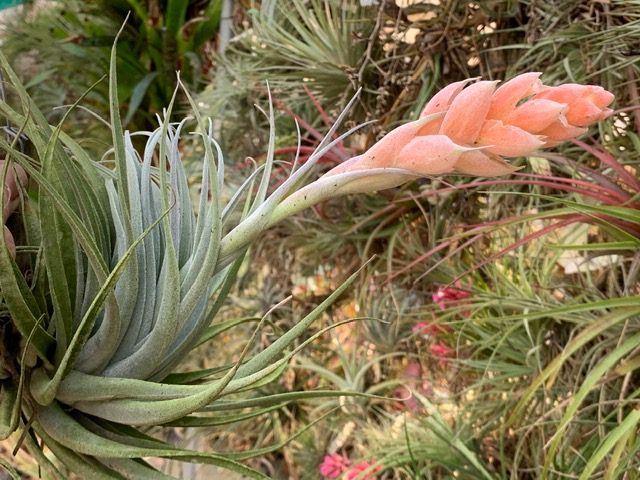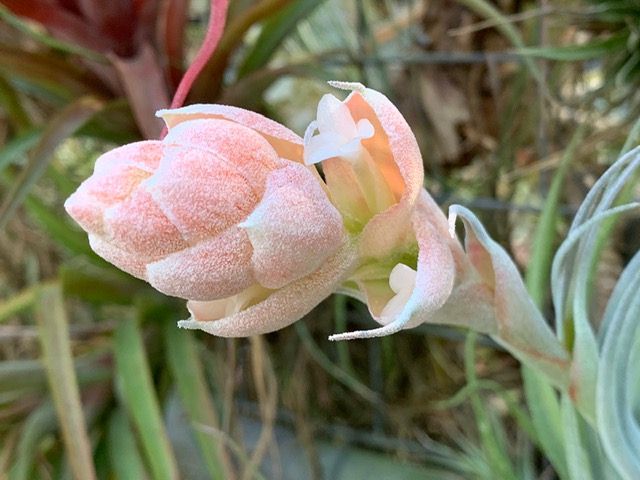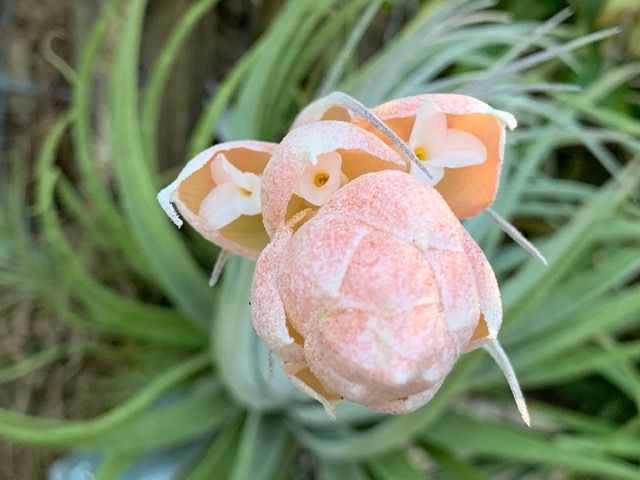 | | |
| --- | --- |
| Chris Larson 12/19 NOT minasgeraisensis | Peter Tristram 12/19 minasgeraisensis ex Paul Isley |
Chris Larson ... "This one makes a very cute specimen. Maybe it should have a cv name.
Got it from Paul Isley as minas-geraisensis but I have doubts and Peter Tristram says it doesn't key out.
It is only tiny - a little over 1" accross."
Peter Tristram ... "It doesn't fit the description IMHO. Just the foliage alone eliminates the naming for one. I did get true T. minasgeraisensis from Paul albeit under another name and posted pics a while back. The go to article in this species was in Die Bromelie a few years ago. Great article!
The pics above are of a plant from Renate with a crumbled label. I had a hunch as to what it could be and it conforms with the description of T. minasgeraisensis pretty well. The fairly stiff, very upwardly secund, channelled, foliage gives it away. Like a secund, orange-bracted pohliana or a variation on recurvifolia var recurvifolia."
Chris Larson ... "Thanks Peter, I had a brief look after your similar comments some years ago & agree that it doesn't stack against the description.
This one propagates well, and a few probably have it from me, and probably from you as well. It probably deserves a name as well."
Dale Dixon ... "I got this one, pictured below, from Chris ex RFI. I take it this is the one we've been discussion?
Labelled "T. minas-geraisensis ex. RFI ???". Mine is about 5 cm diameter now. Do they get much bigger?"
Chris Larson ... "Dale - yes this is the one. I did actual measurements - leaf tip to leaf tip is 6.5 cm to 8.5 cm on mature plants."
Derek Butcher ... "To identify T. minasgeraisensis is not easy because there are so many plants out there that seem to be variations to T. recurvifolia (This also has a chequered career in name changing). I would go back to the protologue (see below) and see how close it is. The attached drawing also helps."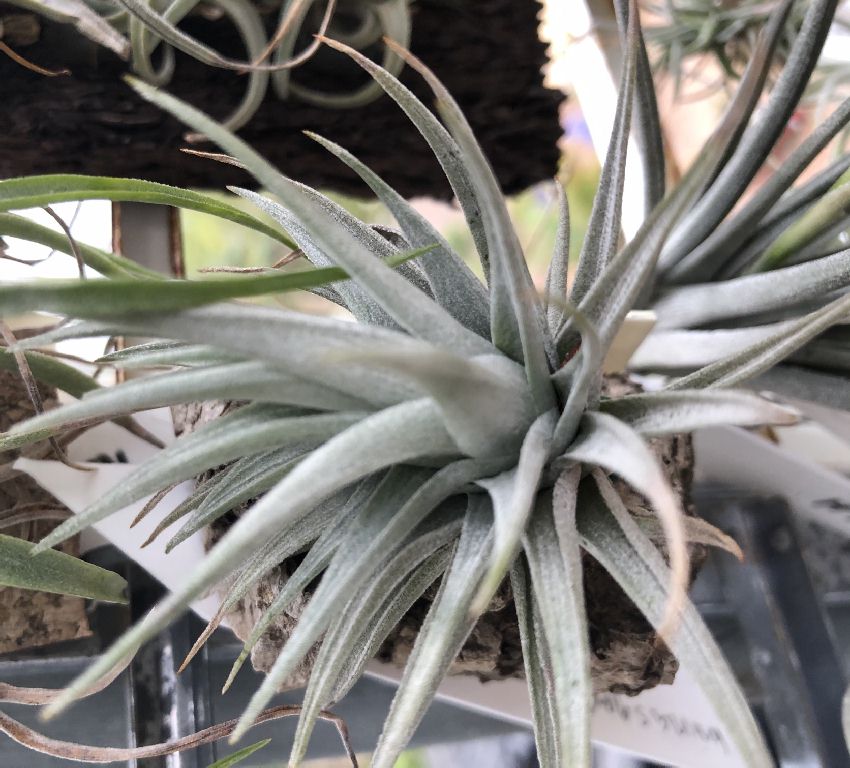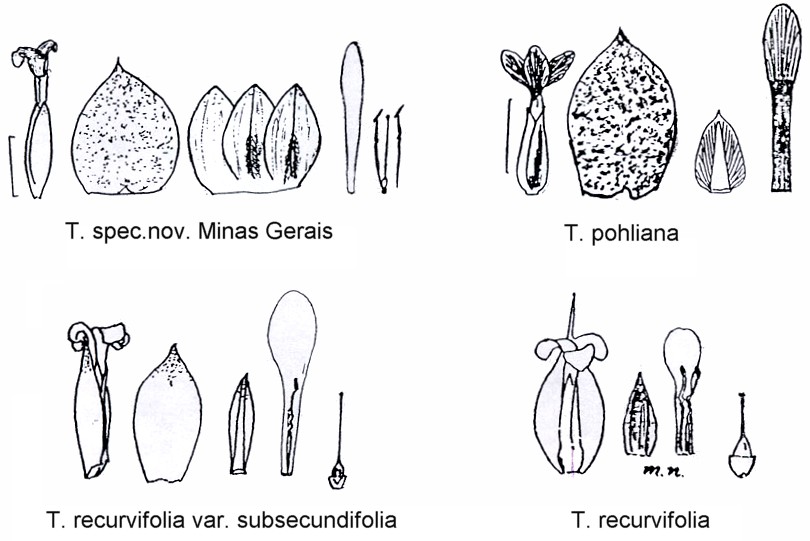 | | |
| --- | --- |
| Dale Dixon 12/19 NOT minasgeraisensis | from Derek Butcher |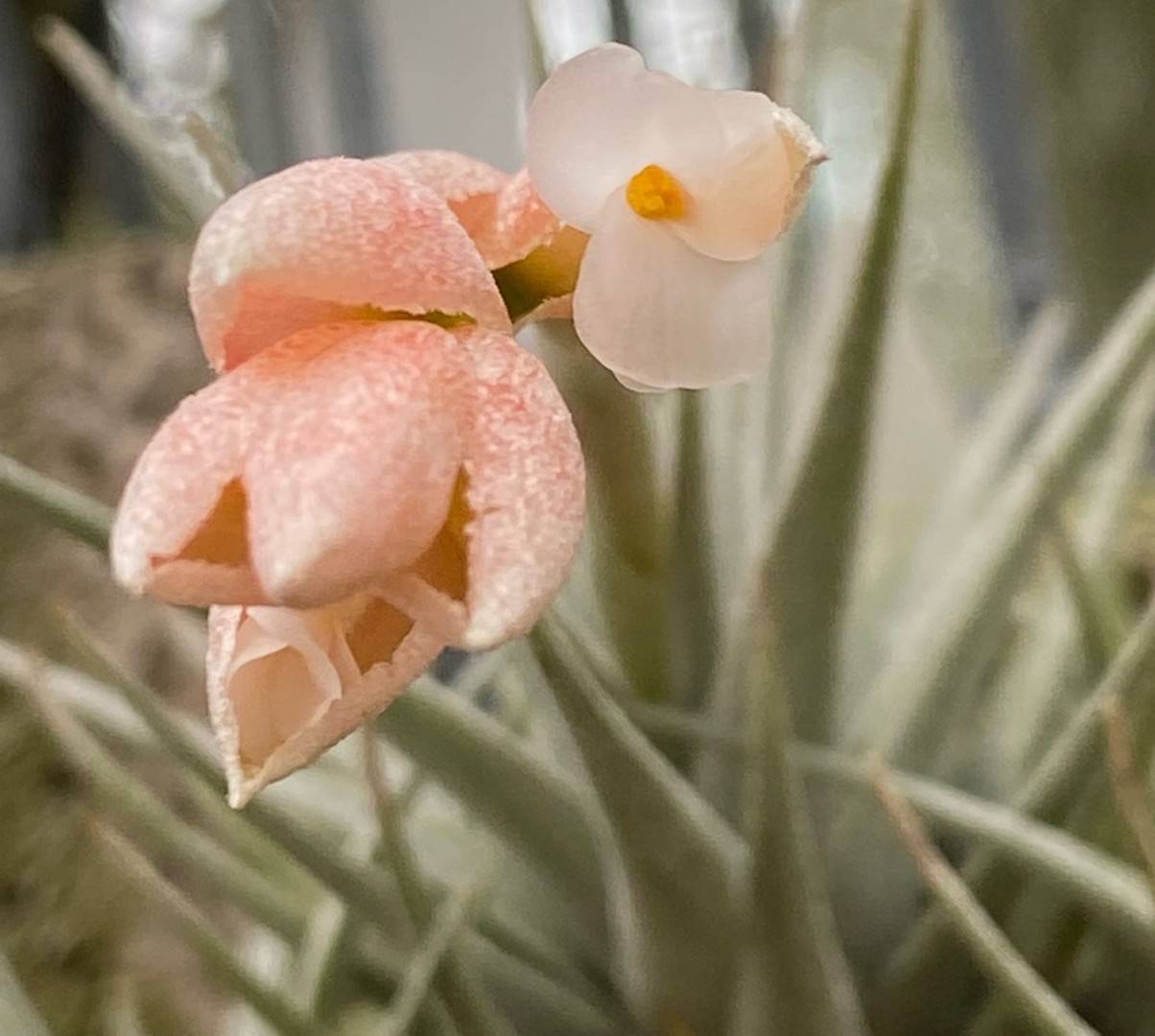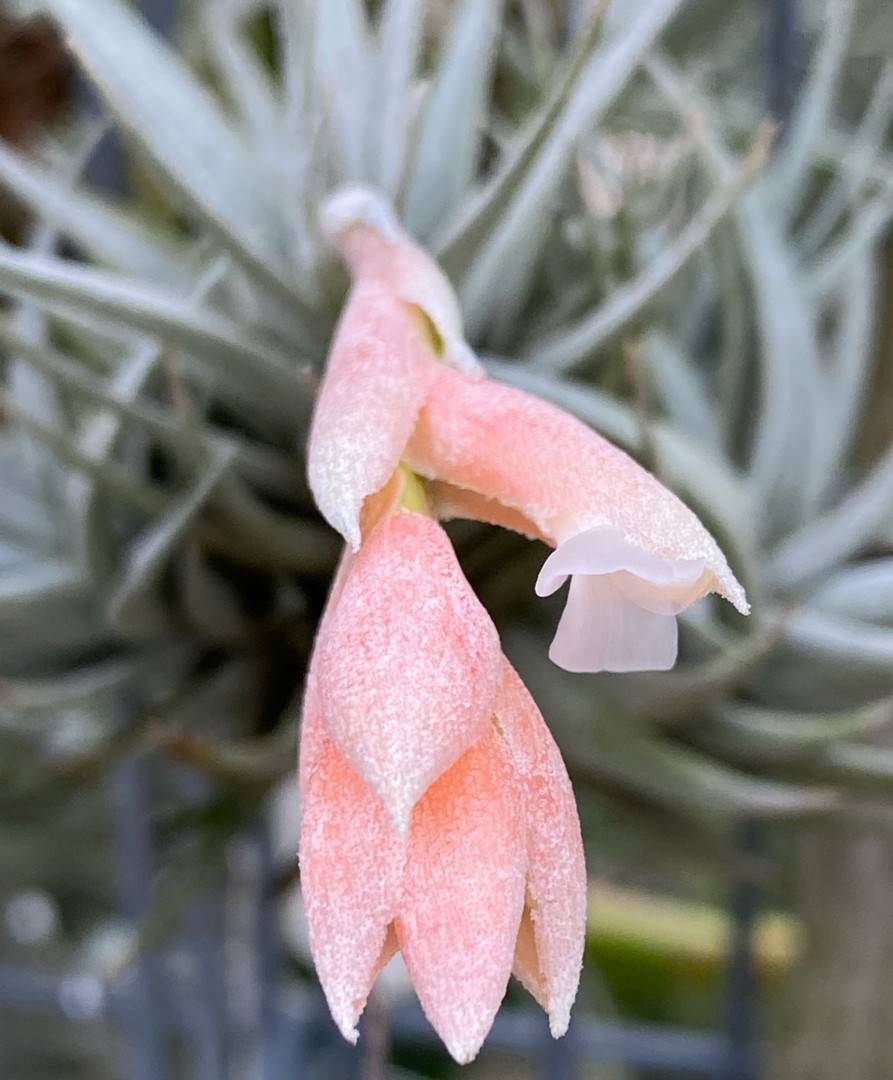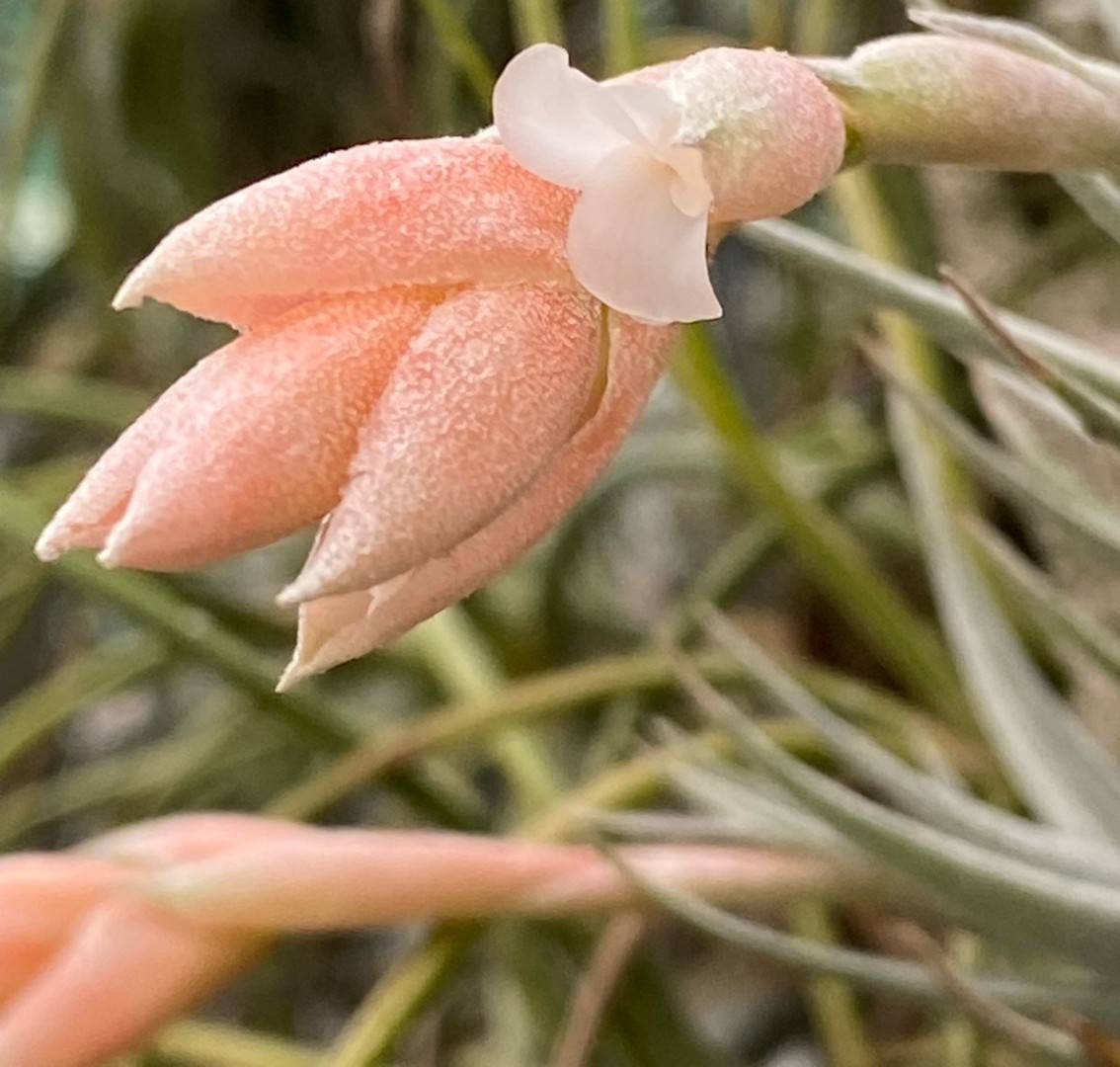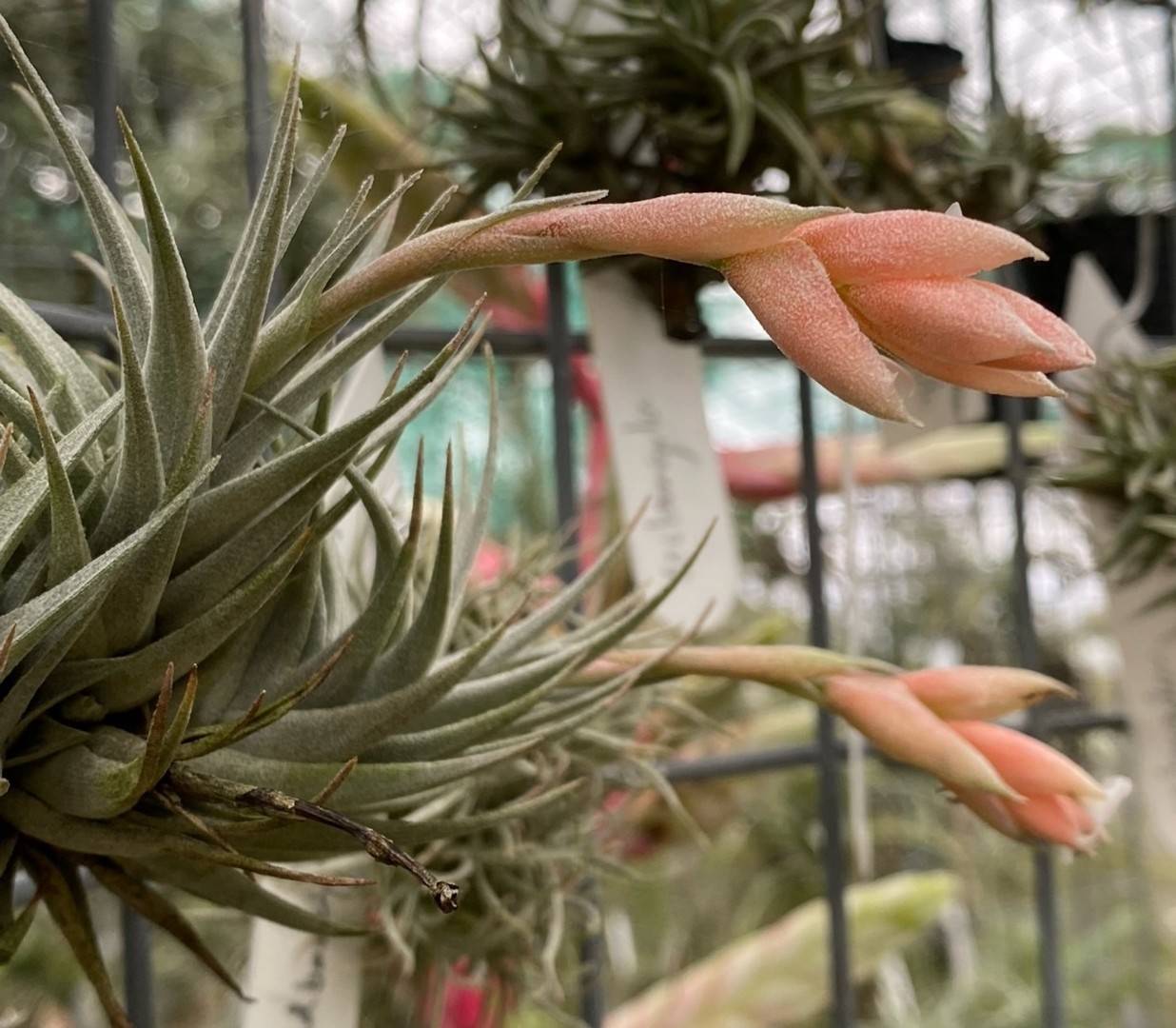 Dale Dixon 11/21 NOT minasgeraisensis


Dale Dixon ... "Here is Tillandsia sp. aff. minasgeraisensis. We've discussed this one before. It's ex Chris Larson. The inflorescence on mine aborted about the time we were discussing it. It went on to produce three offsets and they've flowered this year."
Bruce Dunstan ... "Hi Dale: I think I have the same plant ex Peter Tristram as T. recurvata var subsecundifolia 'HEID'. It has always intrigued me as it doesn't flower with the other rec var. subs and as I have discovered it doesn't produce pups like rec var. subs." (Ed: pictures not shown)
Chris Larson ... "I have posted this one on our Tillandsia discussion group a couple of times.
It is not the 'HEID' one, Bruce. Dale's plant is tiny compared to these other plants.
It is not T. minasgeraisensis & Peter Tristram reckons nowhere near when compared to the description. So we have not used the aff. or cf. (at least not for some years). Dale might have it from back when I may have used this.
Paul Isley is sticking to his guns on the name T. minasgeraisensis.
I have been using terms like "Isley's minasgeraisensis not" on the few I have parted with.
Paul Isley did not (possibly could not) tell me provenance. The plants like this and others like T. Leon that are around in cultivation should not be referred to as definite species, due to the fact that there are so many hybrids in this range - and there is no link with either back to the wild - they may key as sp., but so do others that we know are hybrids.
You will note that I use T. leonanamiana Leon - never dropping the cv name due to this - though my boss has on our packaging! I have tried to get back further to the origins of T. Leon, but our supplier does not know where he got it from. Likewise with this one I would be cautious with the affs. and cfs.
This one is ex-Isley. The plant is tiny - probably 1.5-2cm across from memory - Dale may give better/more accurate measurements. The bracts are really tight, almost a globe with a point. You can see this when you look closely at Dale's photos.
Leaves are much more open and quite a bit stiffer than the plants we know as T. minasgeraisensis - or most others in the group.
I find this one very easy in culture - on par with T. recurvifolia var subsecundifolia. It is reasonably prolific.
Peter Tristram & I have discussed putting a name on it.
A few points for consideration / discussion there !"

---
Tillandsia minasgeraisensis Ehlers & W Till sp. nov. J Brom Soc. 58(6): 245-9. 2008
Type: Brasil, Estado Minas Gerais, without exact locality, growing on flat rocks leg E. Brewer s. n., imported by D. Cathcart, Sarasota, Florida,flowered June 1991 in collection Ehlers. Holotype HB.
Paratypes: plants (s. loco) sold 1994 by Pfister Brazil (WCJ);
plants collected 1990 by Eberhard Bludau Koln (WU); Estado Minas Gerais, Mun. Diamantina, 9 km along the road from Guinda to Conselheiro Mata, 1,230 m elevation, 31. 1. 1995, leg. W Till 11091, terrestrial on rocks in Campo rupestre area (WU).

A Tillandia recurvifolia Hooker bracteis florigeris suborbicularibus, magis inflatis, densiter pruinosis, sepalis longioribus latioribusque, obtusis, adaxialiter breviter connatis et carinatis, glabris et petalis longioribus angustioribusque differt.

Plant stemless, flowering 10-15 cm high.
Leaves many, forming a dense rosette, more or less secund and twisted, rigid, to 10 cm long, the adaxial ones with asymmetrical keel, densely covered with cinereous adpressed trichomes;
sheaths 1.5-2 cm long, 1-1.2 cm wide, ovate, gradually merging into the blade, adaxially densely covered with brown-centered trichomes, abaxially with silvery subpruinose trichomes;
blades to 10 cm long, ca. 8 mm wide at the base, narrowly triangular, slenderly attenuate, channeled, involute, cinereous lepidote, the margins covered with asymmetric trichomes.
Peduncle 5 -7 cm long, curved, slender,covered by few imbricate peduncle bracts, the lower ones leaf-like, with long erect blades, the upper ones red, with elliptic sheaths and narrowly acuminate blades.
Inflorescence exceeding the rosette, to 6 cm long, 3-3,5 cm wide, elliptic, simple, with to 12 spirostichous, sessile flowers, lax at the base, the apical ones more densely arranged, the green rhachis slightly visible;
floral bracts equalling the flowers, the apical ones shorter than the flowers, 2-2.3 (to 3) cm long, 1.9-2.2 cm wide (often nearly as wide as long), broadly ovate or elliptic, the lower ones acuminate, the upper ones acute, inflated, spreading and exposing the sepals, membranaceous, nerved, the adaxial ones glabrous, the abaxial ones coraline, densely and finely pruinose lepidote all over;
sepals 1.4- 1.7 cm long, 7- 9 mm wide, ovate, obtuse, equally connate for 2-3 mm, the adaxial ones more or less carinate, glabrous or bearing at extreme apex few large trichomes, nerved, membranaceous with hyaline margins, light green;
petals to 2.6 cm long 3-4 mm wide (ca. 2 mm at the base), ligulate, without any distinct blade, forming an erect tubular corolla, corolla-throat open, the tips very slightly crenate, and curled back, white;
stamens deeply included, less than 1/2 as long as the petals, filaments 11-12 mm long, equal in length, flat, once-plicate in the middle, anthers ca. 3 mm long, basifixed, yellow;
pollen yellow;
style ca. 9 mm long, white; stigma very small, not much wider than the style, lobes erect, yellow-white;
ovary ca. 3 mm high, 2,5 mm wide, triangular in cross session, green.

Tillandsia minasgeraisensis seems to be related to T. recurvifolia Hooker (syn. T. meridionalis auct. non Baker) and T. pohliana Mez but differs from them by the following characters:
From Tillandsia recurvifolia Hooker: floral bracts nearly as wide as long, more inflated, densely pruinose lepidote from apex to the base, coraline (not pink), sepals longer, much wider, obtuse, short connate, the posterior ones carinate, glabrous, petals longer but less wide, without any distinct blade.
From T. pohliana Mez: plant smaller, rosette secund, leaves shorter and narrower, pruinose lepidote, the margins with asymmetric trichomes. The flowers mostly exceeding the floral bracts, these not green or slightly pinkish and glabrous towards the base but coraline-red and pruinose lepidote from apex to base. Sepals longer but narrower, obtuse and not apiculate, membranaceous (not thickly coriaceous), glabrous or lepidote only at extreme apex, the posterior ones slightly carinate, petals longer (to 2.6 cm), the blades curled back and slightly crenate. Stamens deeply included, not exceeding the petal claw.

Notes
In 1999, Eberhard Bludau, Koln, and Wolfgang Schindhelm, Berlin, collected the plant "spec. Minas Gerais" in Minas Gerais west of Diamantina near Conselheiro Mata, Brazil. Similar plants were imported in 1990 from Minas Gerais by Paul Isley III (California) and these were examined by Renate Ehlers.
In 1991 and 1992 plants of the "spec. Minas Gerais" flowered in collection Ehlers in Stuttgart and did not key out. They showed characters similar to Tillandsia recurvifolia and T. pohliana as well and it was evident that it was an undescribed species. But it was difficult to come to an agreement on which species the plant is most closely related to. Harry Luther sent copies of the type of T. hilaireana Baker, which he thinks is different from T. pohliana as it seemed similar with the species from Minas Gerais. Walter Till compared T. minasgeraisensis with the type of T. hilaireana in Paris but found that this plant shows quite a number of different characters: dense inflorescence, floral bracts narrower, glabrous, strongly nerved and only at extreme apex lepidote, the sepals narower, acute, glabrous, the posterior ones 5,5 mm connate. He also agreed with Luther that T. hilaireana is different from T. pohliana and could be an own species, but unfortunately there is no living material.
Investigating the plant from Minas Gerais over the years both authors now think the plant is different enough to be described as a species. Walter Till found the plant on flat rocks. He mentioned that Tillandsia pohliana and T. recurvifolia always grow epiphytically whilst T. minasgeraisensis differs ecologically as a saxicole.
---
Updated 20/12/21
---