Tillandsia milagrensis
Click thumbnails for full size, scaled to a new window.
---
Tillandsia milagrensis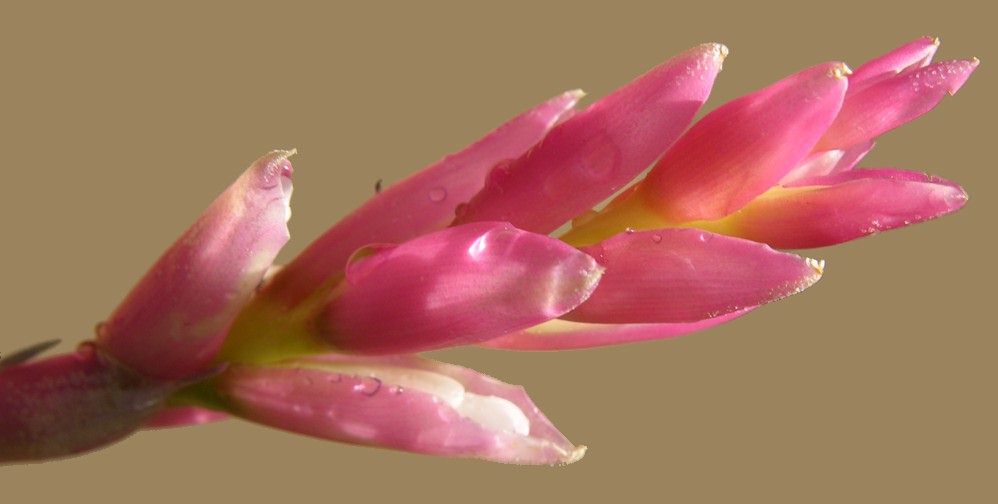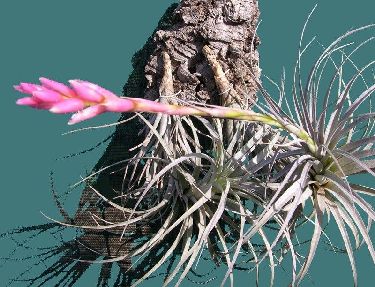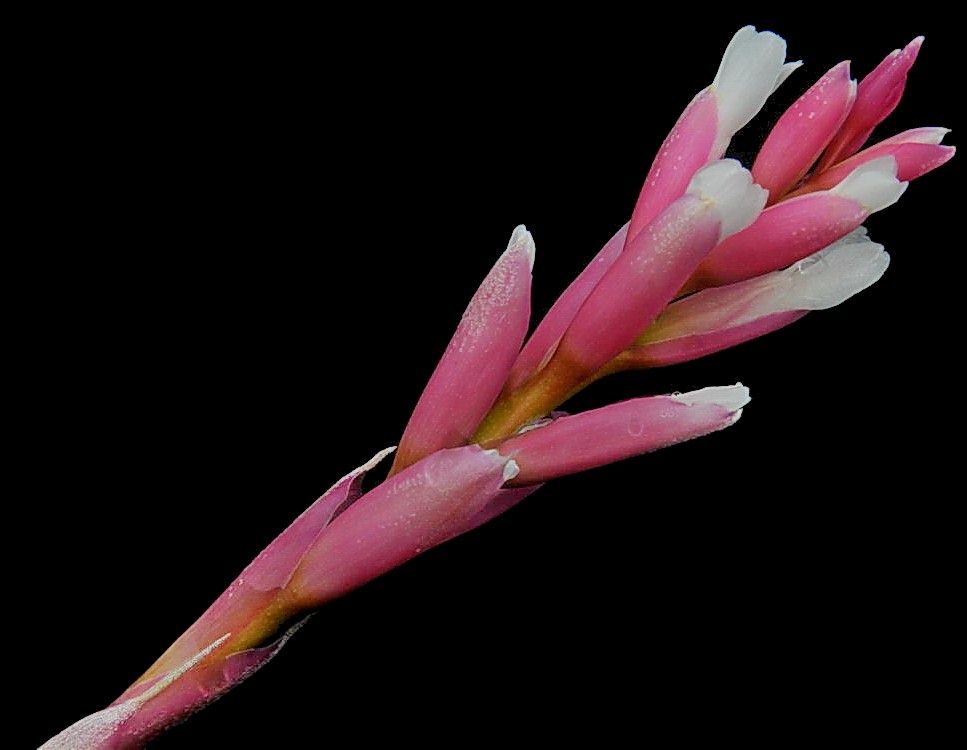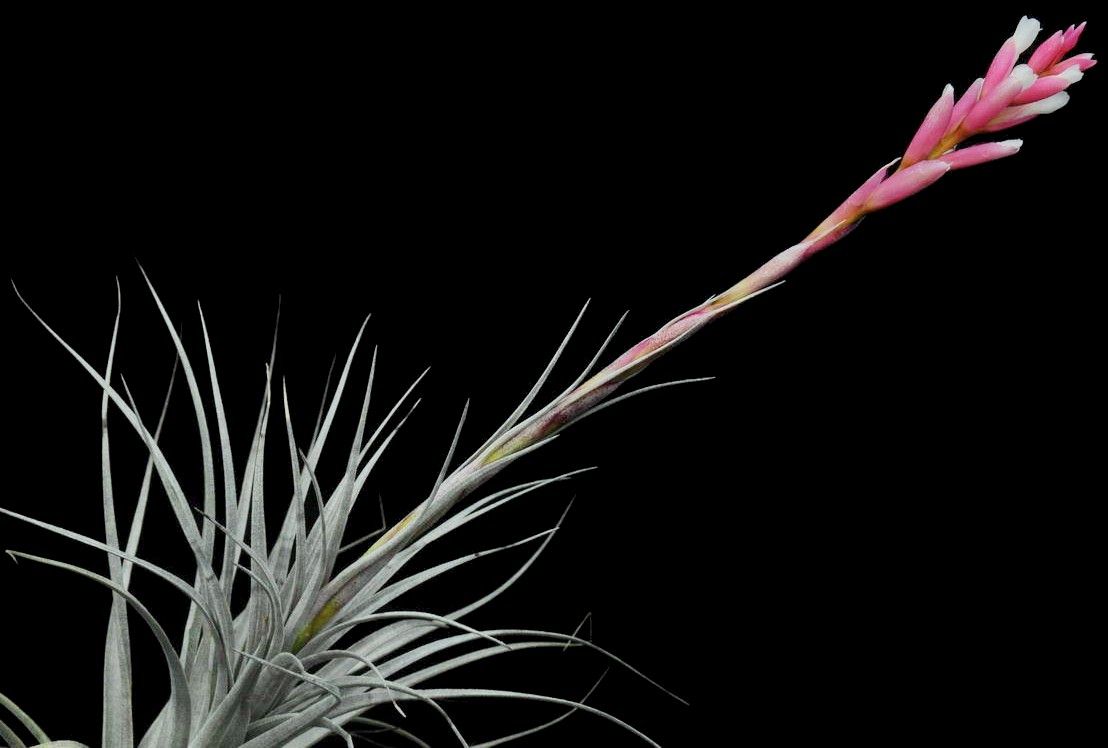 | | |
| --- | --- |
| Len Colgan 05/12. | Peter Tristram 05/12. |
Len Colgan .... "This is an unusual species.
It was first mentioned on pages 120-121 in 1993 in the book "Bromeliads in the Brazilian wilderness", by Leme and Maurigo. The plant seems to have been discovered in the same year that the book was published, in a dryish area of Bahia, and was "one of the most recent acquisitions of science". Also, it said Tillandsia milagrensis "is an atmospheric and probably evolved after the local isolation of populations of T. tenuifolia, which is widely distributed throughout South America."
However, no precise details were provided of the location, and bromeliad collectors couldn't find it for many years. There are many places called Milagres in Brazil, with some of them being in Bahia.
In the accompanying picture in the book, on the left edge, there is part of a cactus. German cactus collectors, prevalent in Brazil, were contacted regarding a habitat of that particular cactus species near a place named Milagres. Needless to say, that provided the link, and Lydia Koehres made sure someone collected T. milagrensis once it was confirmed. I acquired the two pictured plants just after they arrived in Germany.
The current leaf stem of the plant in flower is 30cm, but I did snap off about 15cm where the old leaves had died. It is very dry, like a stiff elongated T. tectorum. I had been waiting more than two weeks for flowers to pop out until this morning when I examined the inflorescence more closely.
Inside the lowest three pink floral bracts are white flowers. They were not obvious without close inspection.
I know that Peter T. has also flowered this plant, and possibly others. But, to me, it is remarkable if this really has evolved from a form of T. tenuifolia, even over millenia. Yes, it is growing, probably on the ground, in a dry area. But the leaf stem would have been 45cm, hardly like T. tenuifolia.
I wonder how well it will offset, and how?"
Peter Tristram .... "I am impressed you have flowered it in SA, Len.
I was certainly a very happy collector when I first got a plant in Germany in 2006. Not only German cactus collectors collected it, but also Pedro Nahoum (he might have been the first!), who gave me a few forms from silver to almost green foliage when I visited him in 2007, but, alas, they are now adorning Bruno's garden somewhere!
He told me of the dangers of climbing those granitic inselbergs as I am sure it was where this Till grows that he fell some distance and broke his leg/ankle – a quick return trip!
I did get the silver form from Lydia and Dennis C. and the bract colour varies from bright to pale pink, so more than 1 clone. The flowers will poke out a bit as in the attached pic, but are a different shape to those of tenuifolia. The good news is it pups well, but slowly. It did self-pollinate but the seed is all around my greenhouse."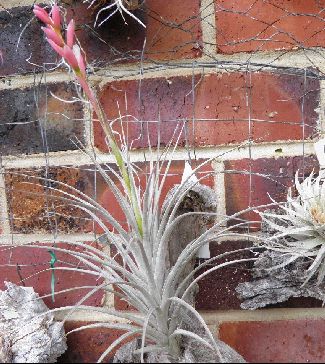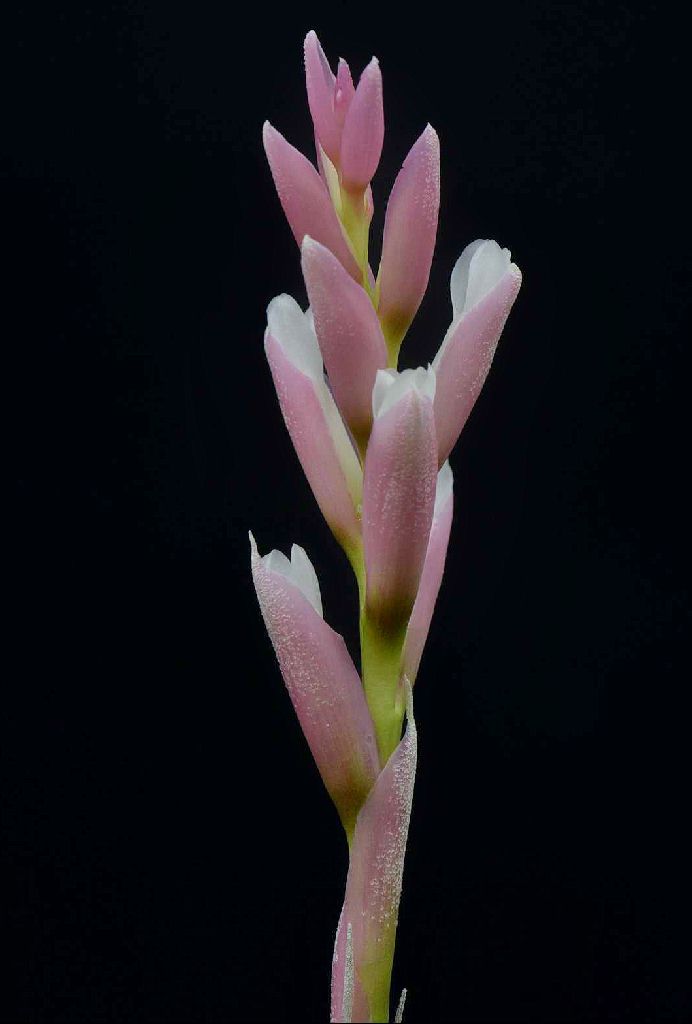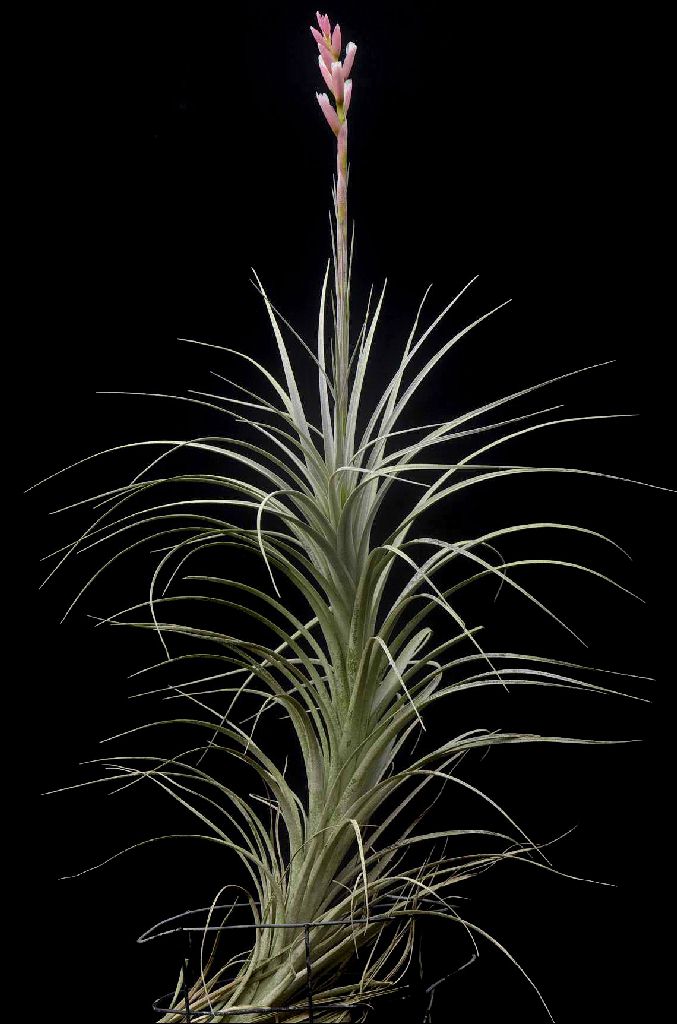 | | |
| --- | --- |
| Derek Butcher 05/16, Adelaide. Only took 3 years to perform. | Peter Tristram 05/17 |
Peter Tristram ... "This interesting species was discovered by Pedro Nahoum on top of an inselberg in eastern Brazil. On my trip to Brazil in 2007, Pedro told me he broke his leg sliding off the bare granite edge of the mountain, though I cannot verify this tale. Point being few folk have ever been to the locality so few (one??) clones exist in cultivation. Pedro gave me some plants but they adorn Bruno Rezende de Silva's garden now due to the impossibility of obtaining a phyto in Rio. Nothing is supposed to escape Brazil these days. It's like a giant silvery-pink tenuifolia. Luckily it's a toughie and tolerates our recent summer furnace-like conditions well."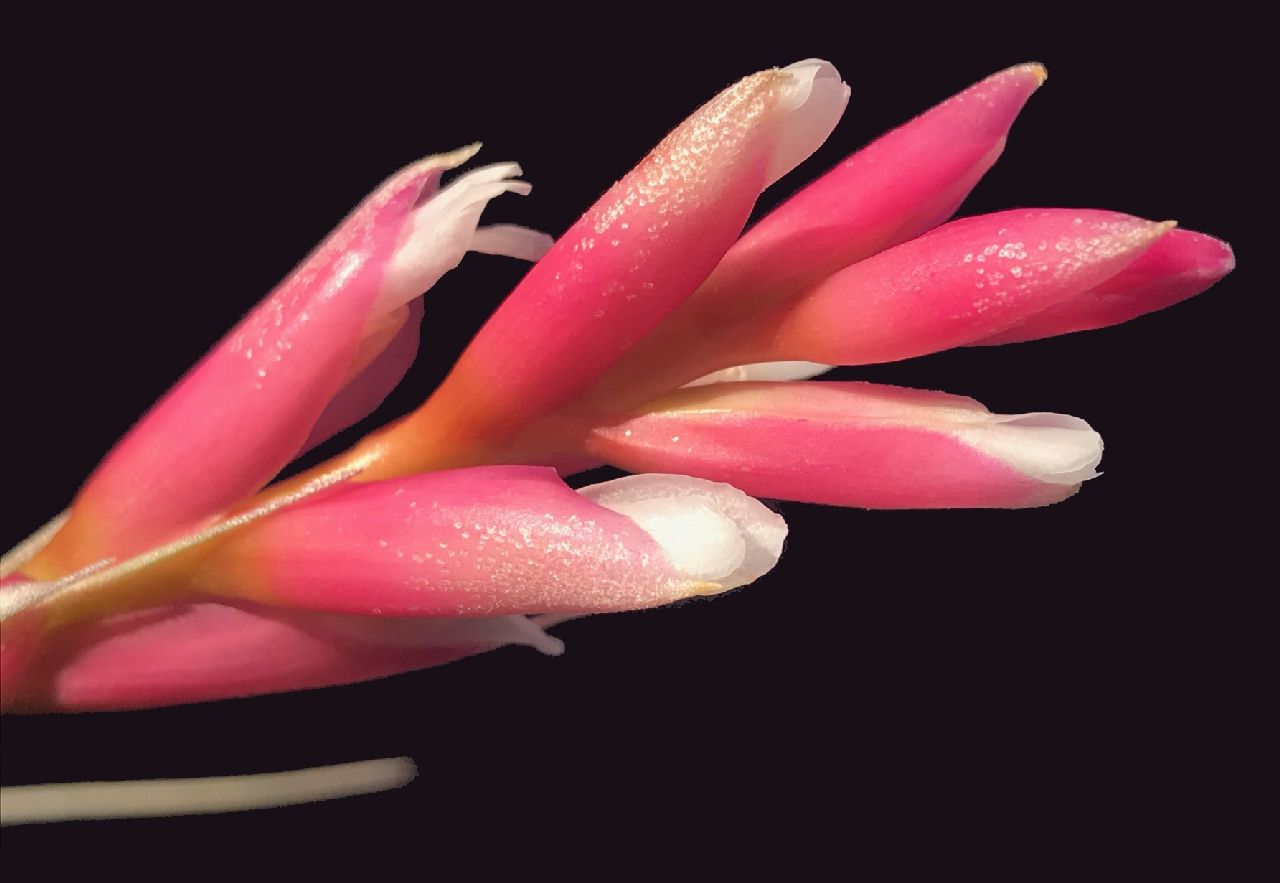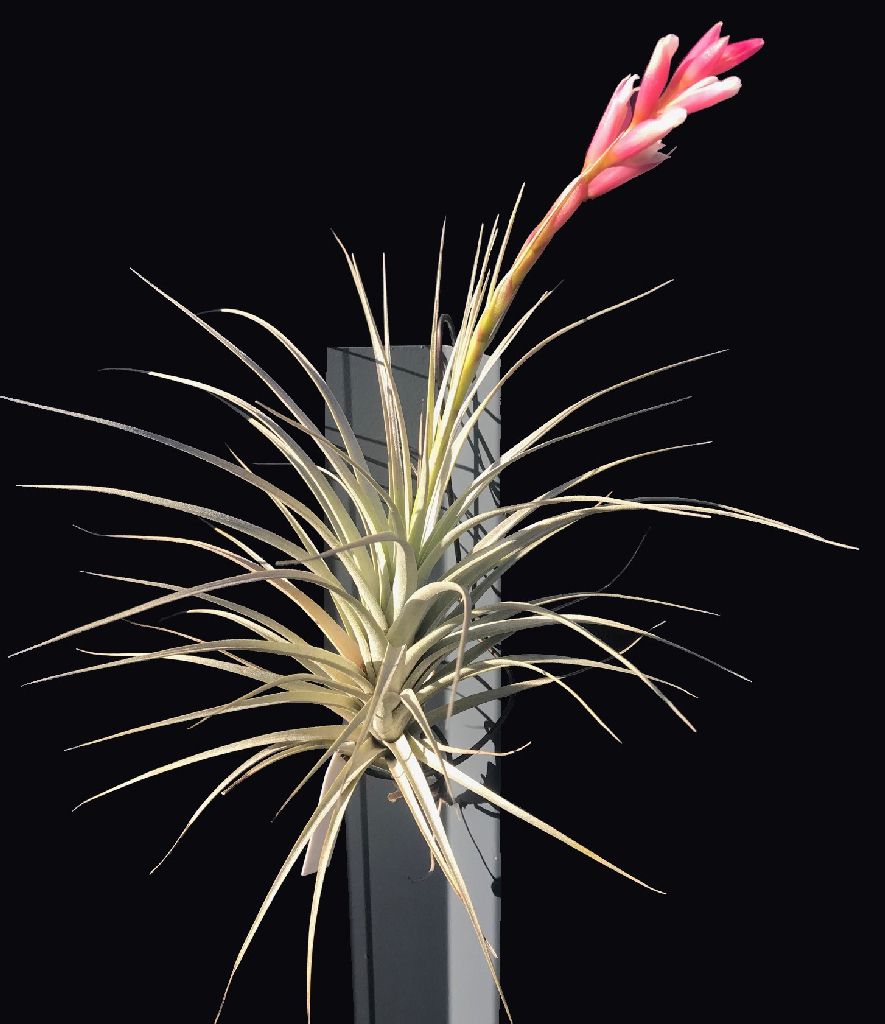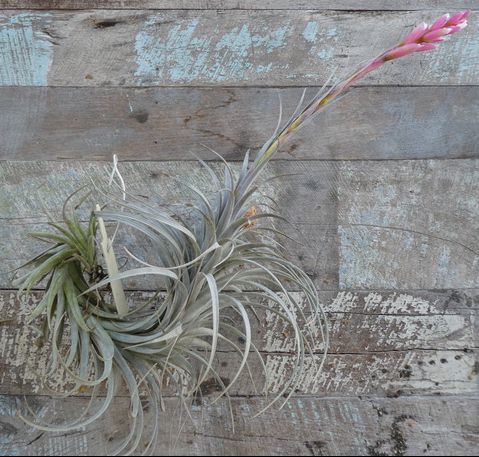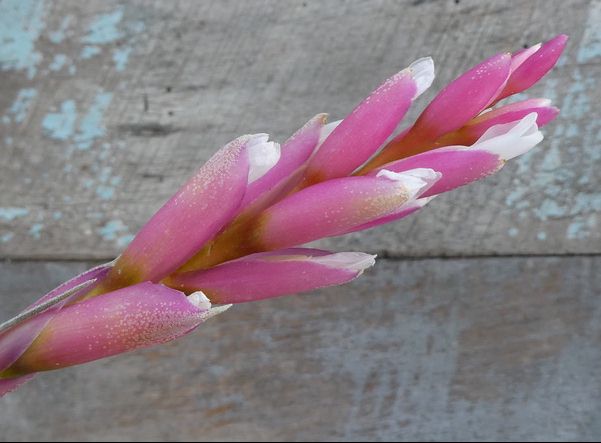 | | |
| --- | --- |
| Ray Clark 06/19 | Bruce Dunstan 08/20 |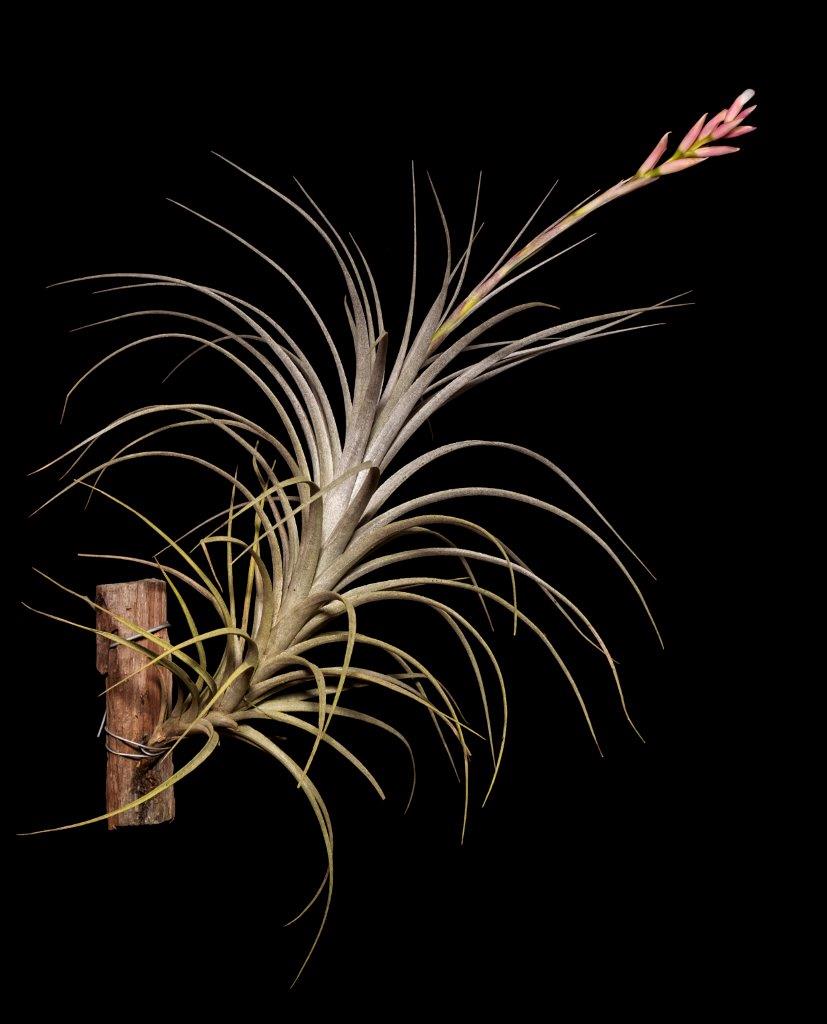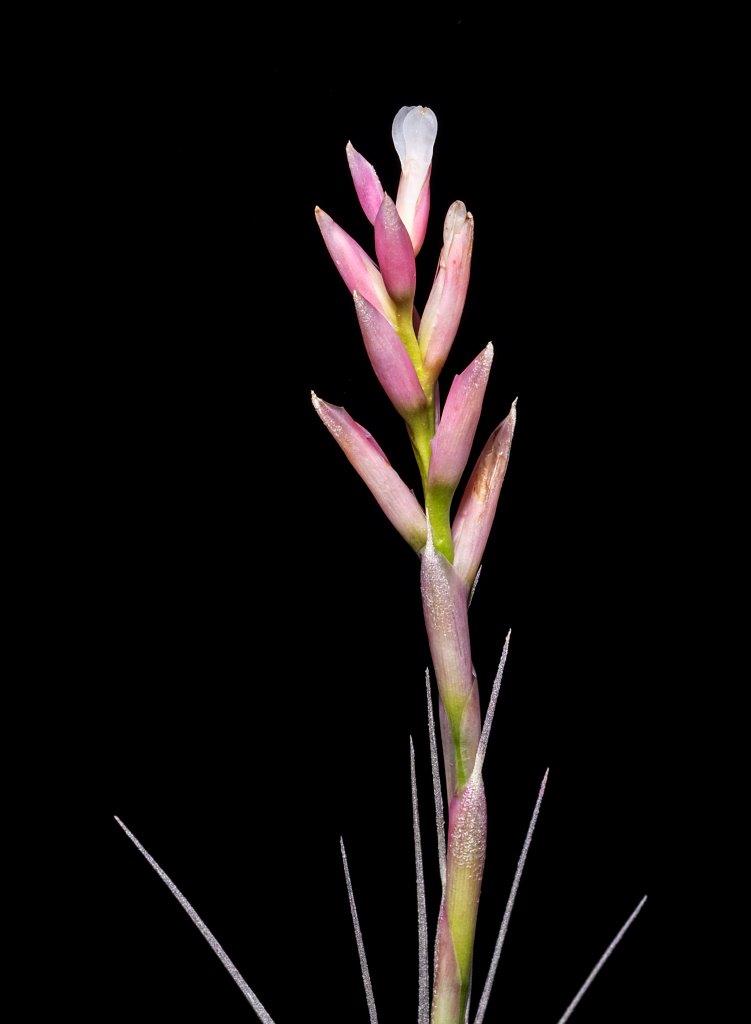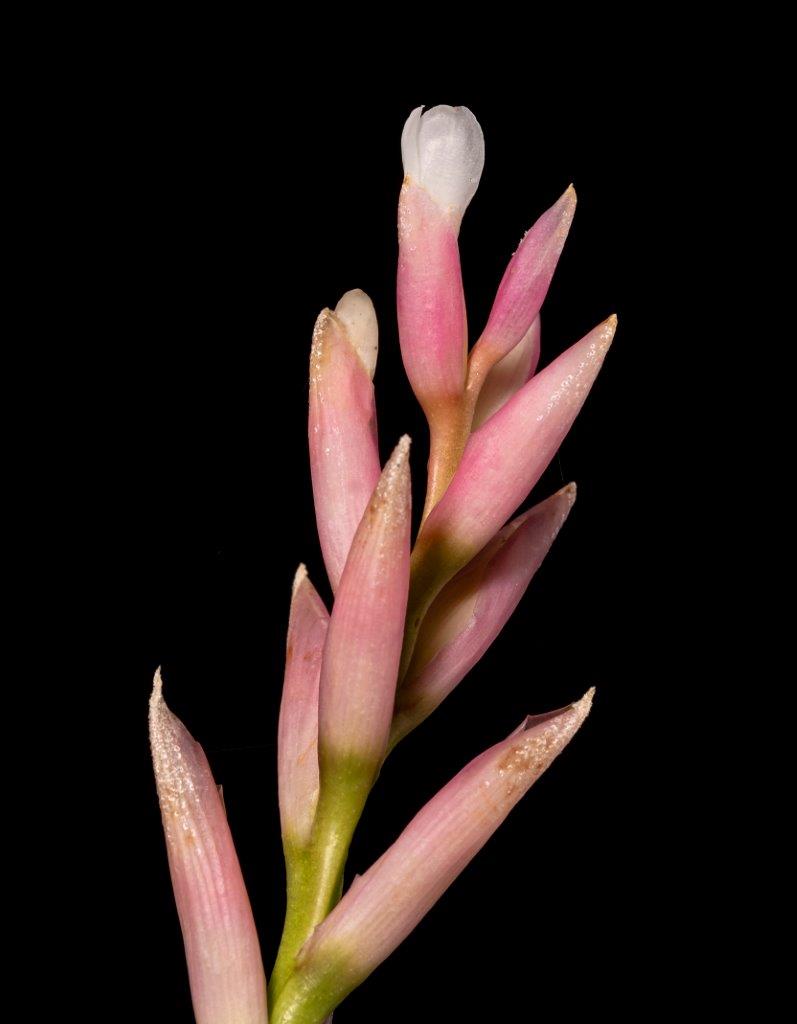 ---
Tillandsia milagrensis Leme, J. Brom. Soc. 43: 243-4 1993
A T tenuifolia Linnaeus, cui affinis, planta insigniter robustior, foliis manifeste cinereo-lepidotis, scapo folia valde superante, filamentis haud distincte plicatis differt.
Type. Brazil. State of Bahia, Milagres. Leg. P Nahoum & L.C. Marigo s.n., January 1993 (Holotype HB).
Plant lithophytic, clustering, caulescent, flowering ca. 50 cm high, stem ca. 30 cm long. Leaves many, densely polystichous along the stem, suberect-arcuate, narrowly triangular, attenuate, densely cinereous lepidote on both sides, channeled, ca. 20 cm long, ca. 1.5 cm wide at base;
Sheaths inconspicuous;
Scape ca. 15 cm long, ca. 0.3 cm in diameter, erect, glabrous, green, distinctly longer than the leaves;
Scape bracts foliaceous, suberect, shorter than the inflorescence, concealing the internodes.
Inflorescence simple, sub cylindric, suberect, ca. 5 cm long, ca. 2 cm in diameter;
Rachis glabrous, green, subangulous, 2-3 mm in diameter, not concealed by bracts;
Floral bracts membranaceous, red, white lepidote and distinctly nerved toward the apex, ecarinate, the basal ones with obovate-elliptic sheaths, ca. 23 mm long, ca. 14 mm wide, distinctly longer than the sepals;
blade filiform-caudate, the upper ones ovate-elliptic, acute, and apiculate, ca. 13 mm long, ca. 8 mm wide, equaling the sepals.
Flowers ca. 10, very short pedicellate, suberect, sublaxly and polystichously arranged 20-25 mm long;
Sepals narrowly lanceolate, acute, symmetric, 11-15 mm long, 4-5 mm wide, glabrous, nervate, pale colored, the posterior slightly carinate and connate for 9-11 mm, the anterior free and ecarinate;
Petals sublinear, apex rounded, 14-18 mm long, ca. 3 mm wide, free, white, apex slightly recurved at anthesis;
Filaments ca. 7 mm long, not distinctly plicate, flattened, dilated toward base;
Anthers ca. 1.5 mm long, oblong, obtuse, fixed near the base; ovary obovate, ca. 3 mm long, ca. 2 mm in diameter; style ca. 10 mm long.
This new species is very closely related to T. tenuifolia but can be distinguished from it by its incomparably large size, the densely cinereous lepidote leaves, as well as by the longer scape, which exceeds the leaves, and the indistinctly plicate filaments.
---
Updated 11/04/22
---