Tillandsia mazatlanensis
Click thumbnails for full size, scaled to a new window.
---
Tillandsia mazatlanensis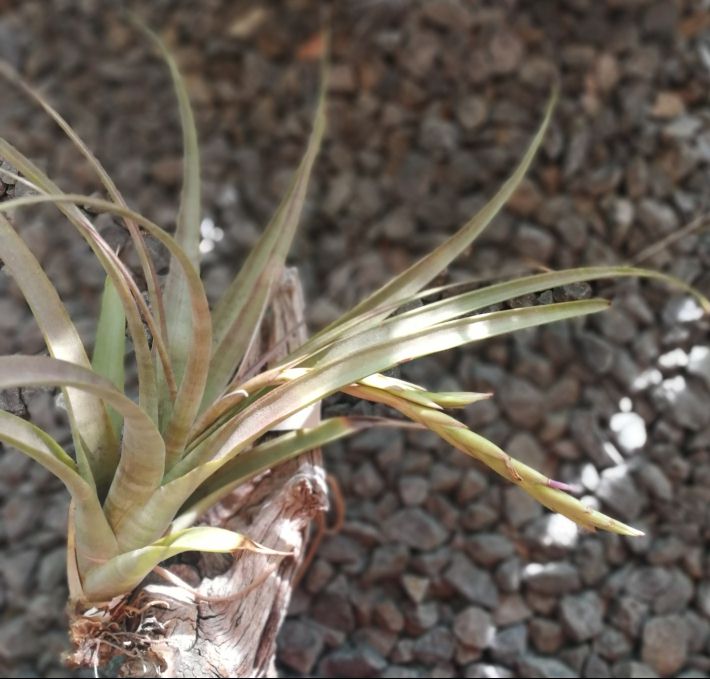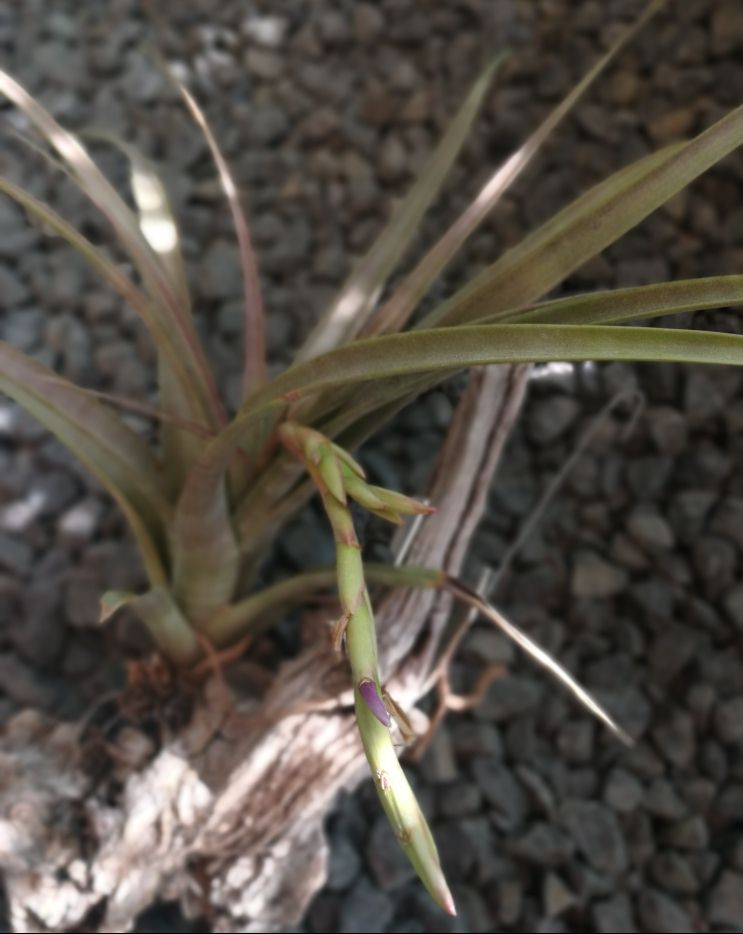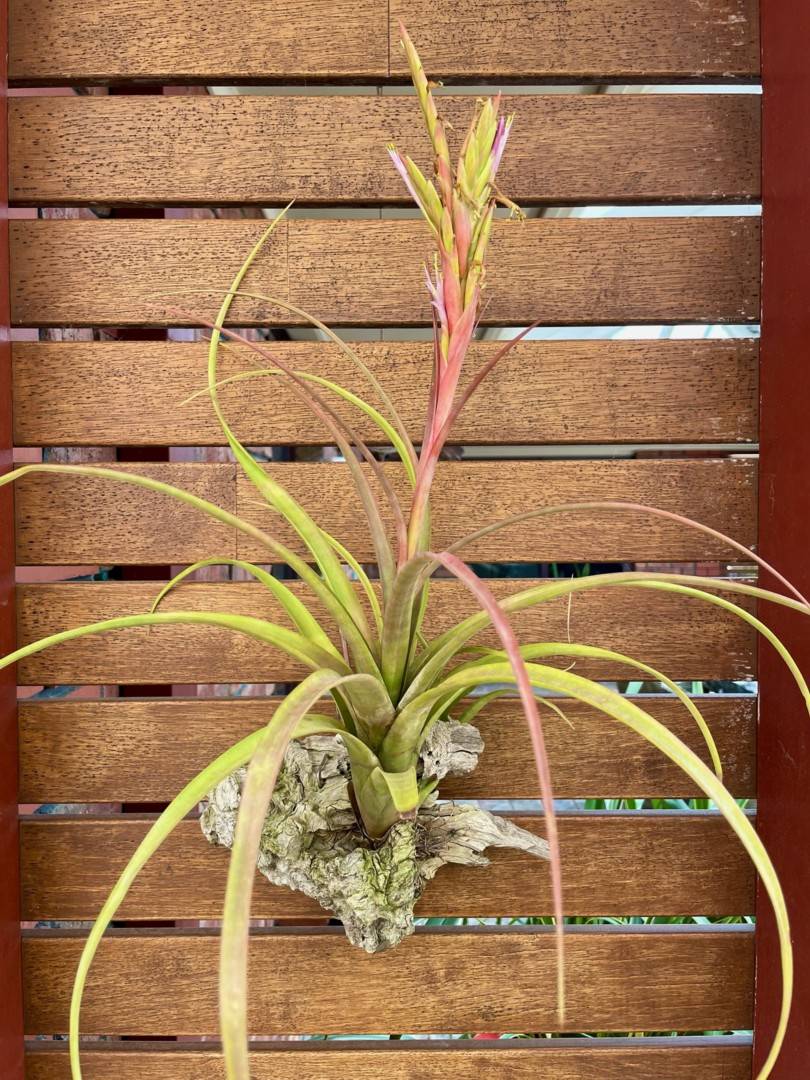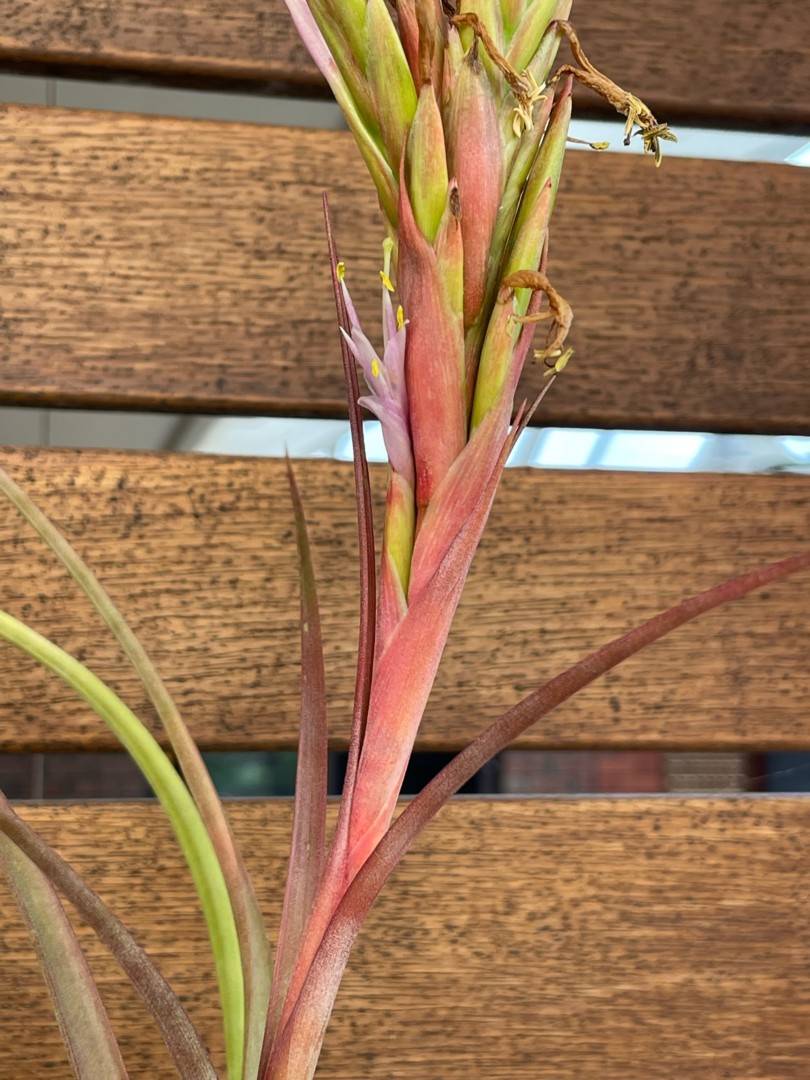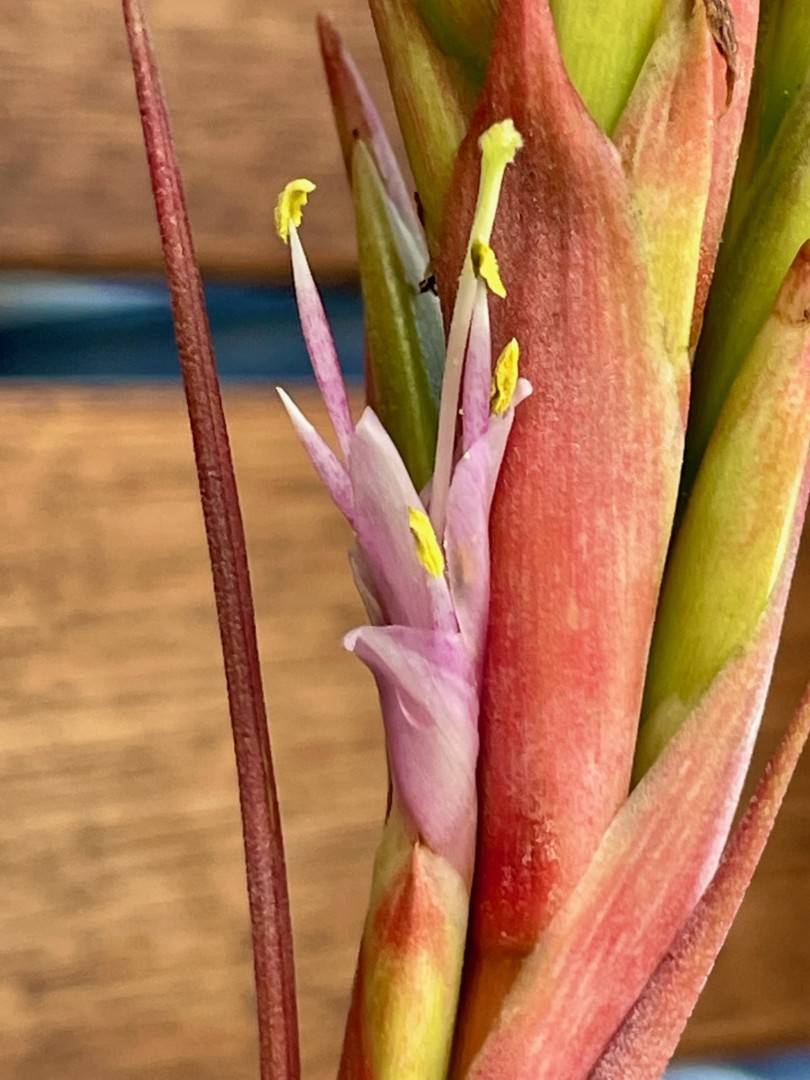 Ray Clark ... "This one has been a while coming to flower but worth the wait. I think that the pups from this will go into a pot next time."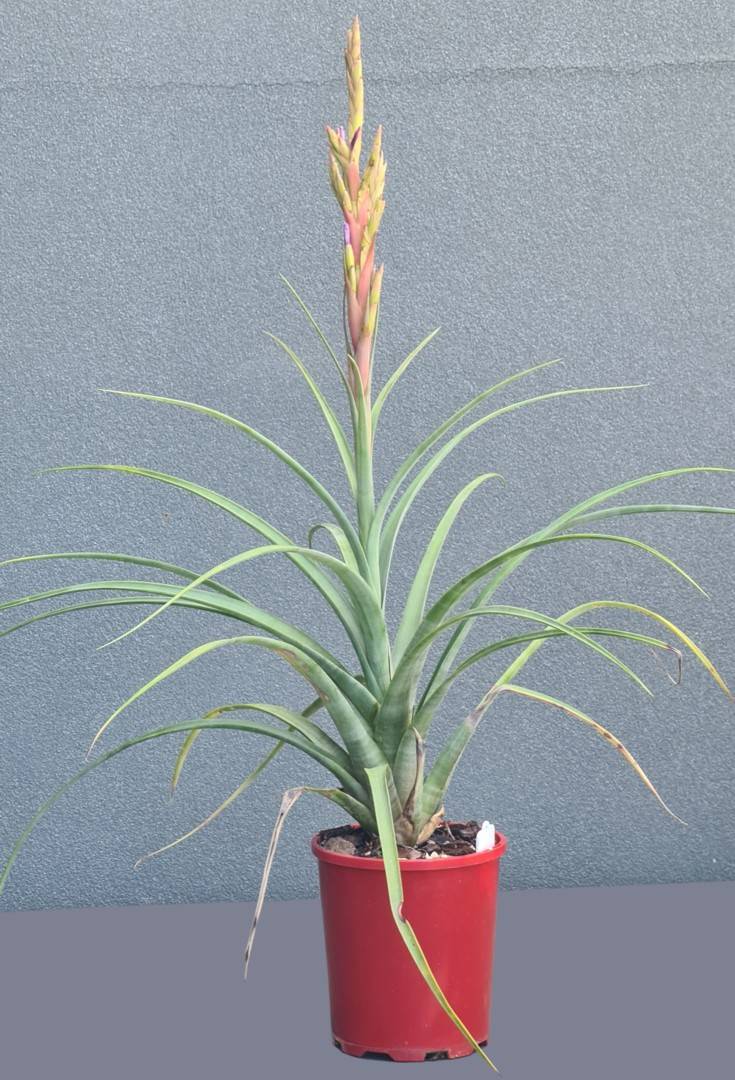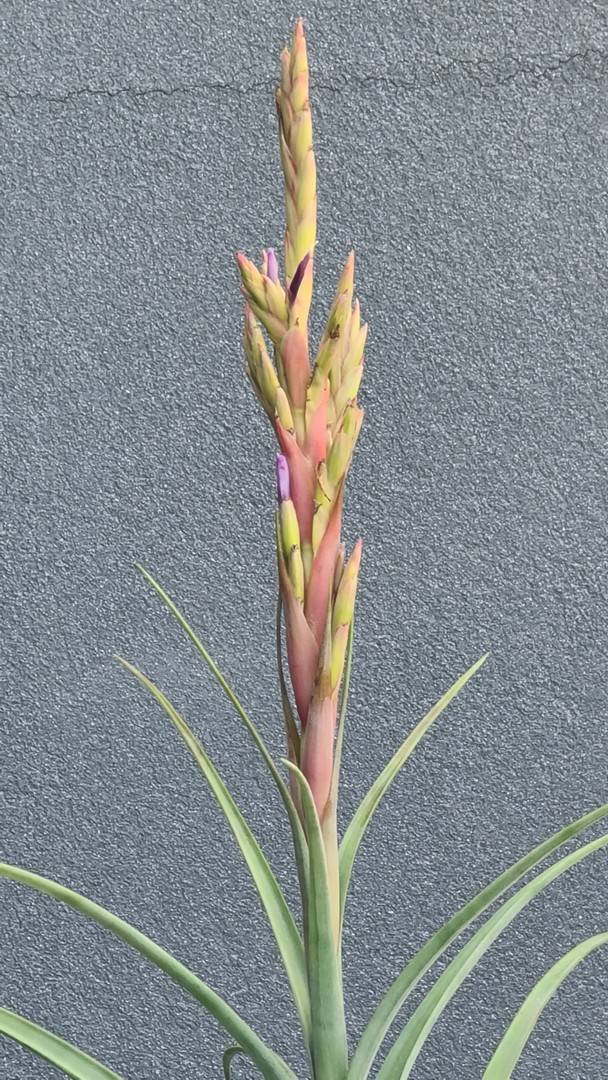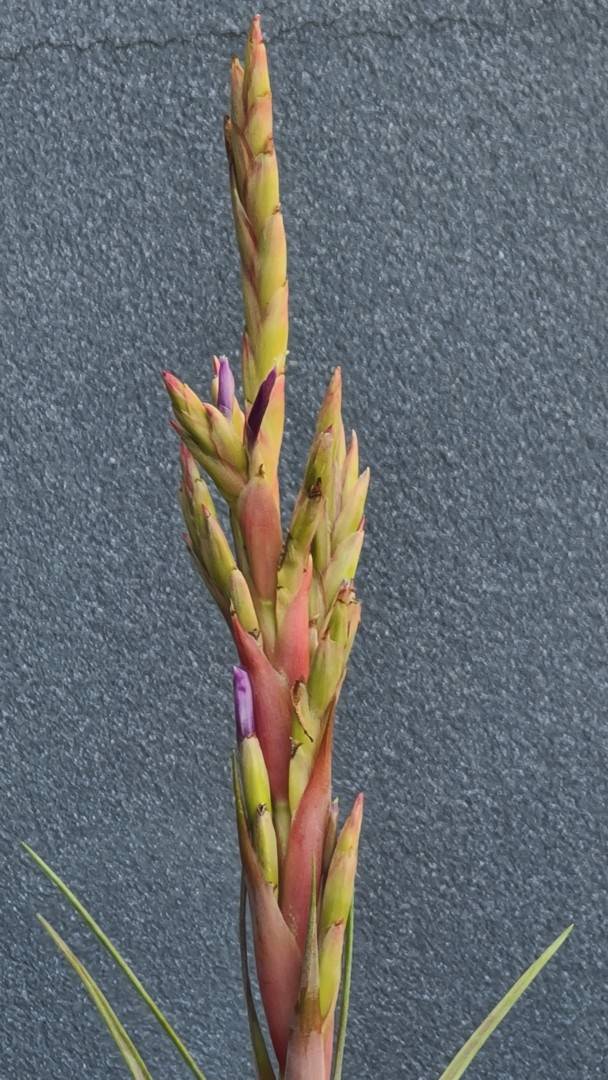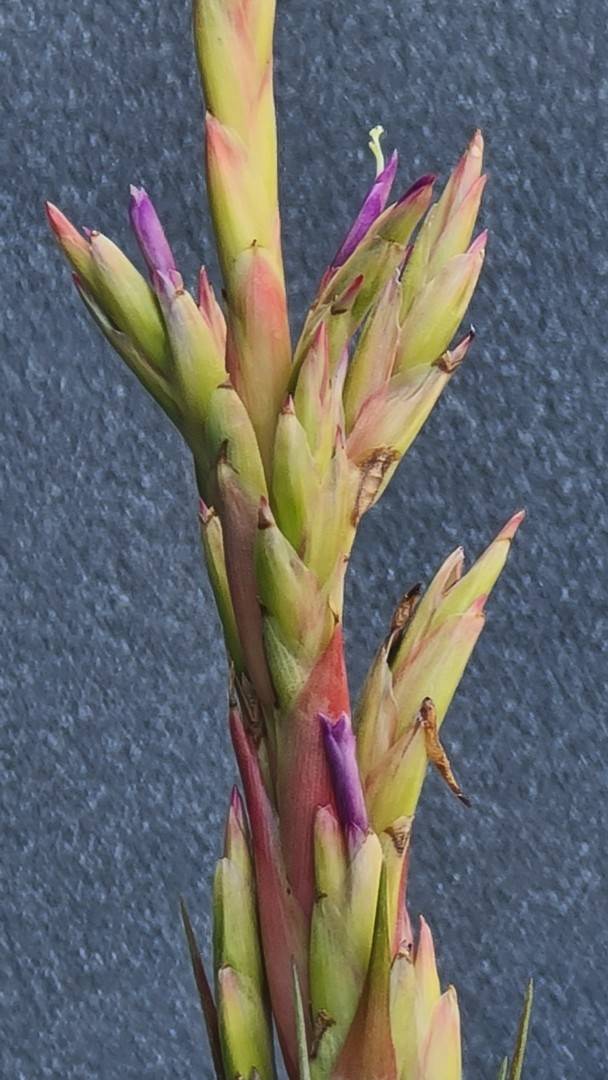 ---

Tillandsia mazatlanensis W Rauh, Trop. Subtrop. Pflanz33: 7-9. 1981
Planta acaulis, gregaria, florens usque ad 50 cm alta; folia parum numerosa, anguste triangula, usque ad 50 cm longa, rosulam infundibuliformem gracilem formantia; vagina indistincte limitata, usque ad 10 cm longa, 4 cm lata, supra pallide alutacea, subtus cano-lepidota, laminae concolor; lamina anguste triangula, usque ad 40 cm longa in apicem longum se angustans, supra vaginam usque ad 3 cm lata, involuta inflorescentiam plus minusve 20 cm superans, utrimque metallice cano-argentea, minute appresso-lepidota; scapus inflorescentiae erectus, usque ad 25 cm longus, tenuis, rufescens; phylla scap: subfoliata lamina longa involuta angusta et vagina rufescenti, dense lepidota, basalia inflorescentiae fere aequilonga, superiora breviter apiculata vagina pallide carminea, lepidota; inflorescentia simpliciter spicata (rarius ramosa), 5-5.5 cm longa, 1 cm lata, complanata, plus minusve 8 flora; bracteae florales distichae, rhachis sub anthesi visibilis, ecarinatae, obtusae, carmineae, fere glabrae, 20 mm longae; sepala fere tam longa quam bracteae florales, 18-20 mm longa, posteriora carinata, usque ad medium connata, apice carminea, basim versus viridia glabra; petala anguste linguiformia, usque ad 4.2 cm longa, sepala ad 2,2 cm superantia, tubum angustum formantia, apice non recurvata; stamina et stylus tam longa quam tubus floralis, sed eum non superantia.
Habitat et distributio : Mexico, in sylva sicca prope Mazatlan, unacum Tillandsia ferrisiana, T. caput-medusae; prope littora apud 50 m. s. m.
Holotypus: Rauh Nr. 50 441, in (HEID).

Plant forming groups, stemless, flowering to 50cm high, leaves numerous, narrow triangular, to 50cm long, making a narrow funnel rosette.
Leaf sheath indistinct, to 10cm long, 4cm wide, top side pale leathery brown, underneath grey scaled, same colour as blade.
Leaf blade narrow triangular, to 40cm long, narrowing to a long reflexed tip, 3cm wide next to sheath, rolled inwards, exceeding the inflorescence, both sides with metallic silver grey, small appressed scales, occasionally banded.
Scape erect, to 25cm long, thin, reddish
Scape bracts leaflike, with long rolled inwards, narrow blade, and a reddish sheath, dense lepidote, the bottom ones almost as long as the inflorescence, the upper ones short tipped, and with carmine red, scaled blade.
Inflorescence simple (rarely with a second smaller spike).
Spike 5–5.5cm long, 1cm wide, complanate, ca. 8 flowered, at anthesis rhachis a little visible.
Flower bracts distichous, not keeled, blunt, carmine red, almost naked, 20mm long.
Sepals as long as the flower bracts, 18–20mm long, the posterior pair keeled, joined for 10mm, the tips carmine red, towards the base green, naked.
Petals narrow tongue like, to 4.2cm long, overhang the sepals by 2.2cm, making a tube with the tips NOT reflexed.
Stamens & Style as long as the flower tube but not overhanging.
Type locality Epiphytic, in dry areas near Mazatlan, Sinaloa, Mexico, together with T. ferrisiana and T. caput-medusae near the coast at about 50m
Holotype Rauh No. 50441, (HEID)

The new species shows a certain vegetative likeness, that is not decided by reference to the key by L B Smith, with T. fasciculata Swarz and T. polystachya L. but differs considerably in the flowering state from both. The plant is known only from the Type locality at the moment.
---
Updated 29/03/23
---