Tillandsia marconae
Click thumbnails for full size, scaled to a new window.
---
Tillandsia marconae
Derek Butcher ... "There is possibly two forms of marconae in Australia. The first imported from Walter Till by Len Colgan appears to clump prolifically but never(?) flower. The second, more recent import, flowered more reliably. It is not known if the pictured plant is derived from the first import or second."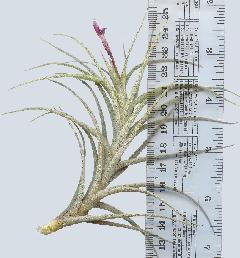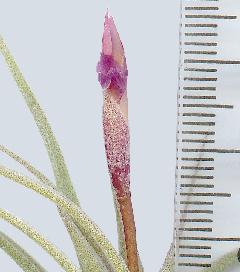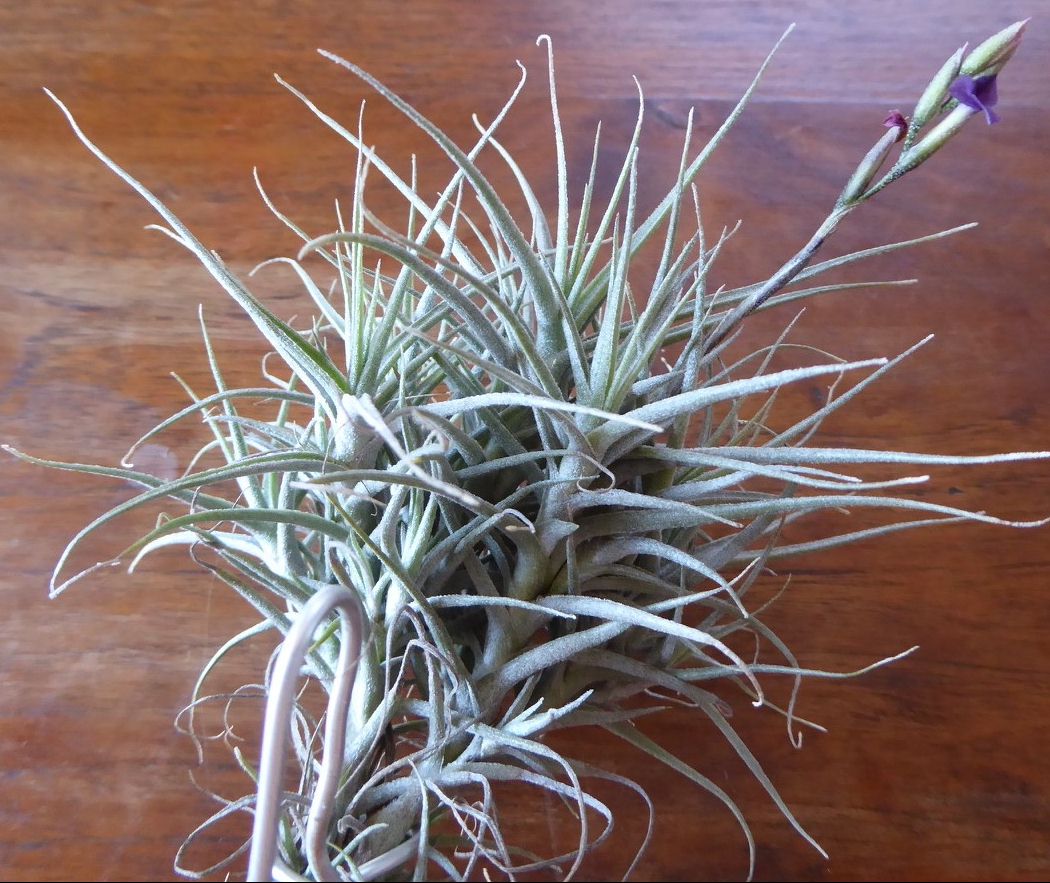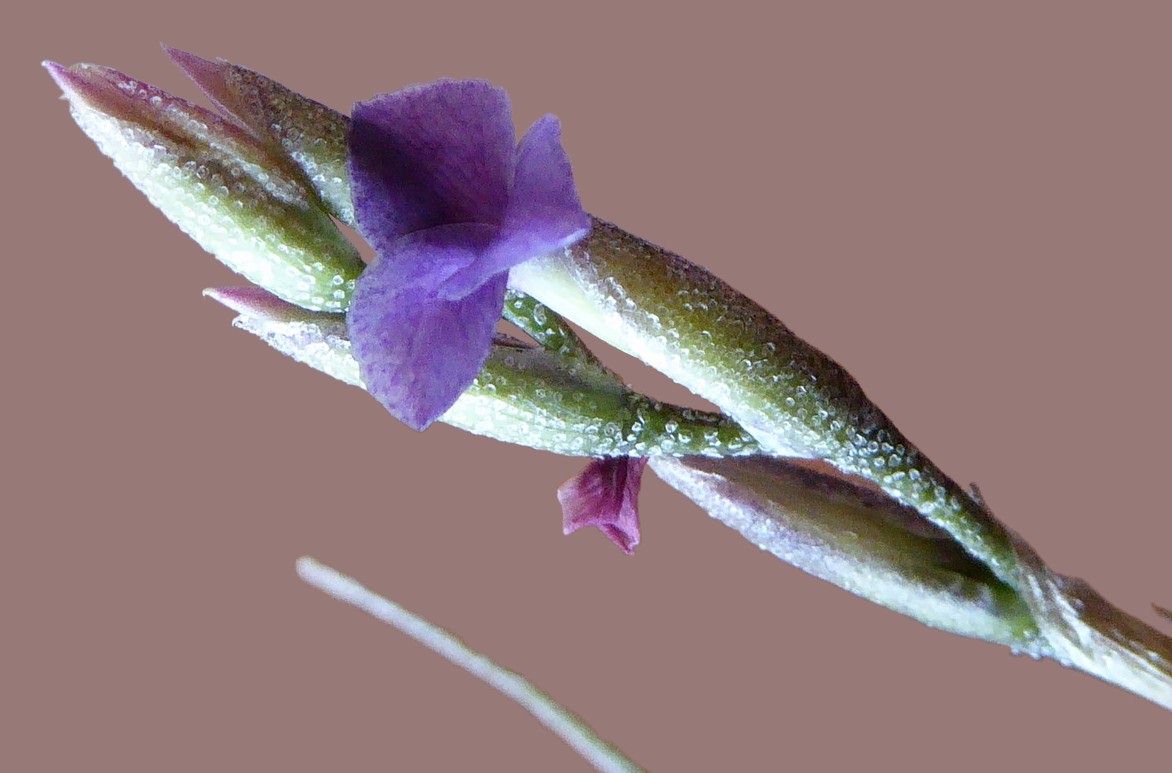 | | |
| --- | --- |
| Derek Butcher 01/07 | Bruce Dunstan 10/18 |
Bruce Dunstan ... "First flowering for me. Lovely fragrance and what is a very tough plant. Morning sun till lunchtime then shade although I'm sure it would be just as happy in all day full sun."
Derek Butcher ... "To think I had to use the apple in the bag trick to nudge my plant."
Pam Butler ... "Are there 2 different forms? I was told there are and the second one I bought flowered easily and the first large clump is yet to flower."
Peter Tristram ... "Yes, 2 clones to my knowledge, the one that rarely if ever blooms that most collectors have and the more recently introduced clone from Walter Till that blooms quite regularly. I obtained the reluctant clone, which clumps like crazy, from Len Colgan and haven't parted with much of the Vienna BG clone to date. I'm not sure which clone Bruce's is or where he obtained it. Maybe there are more clones in Australia than I'm aware of."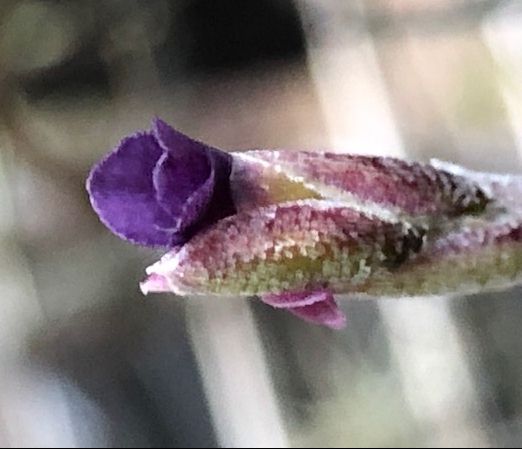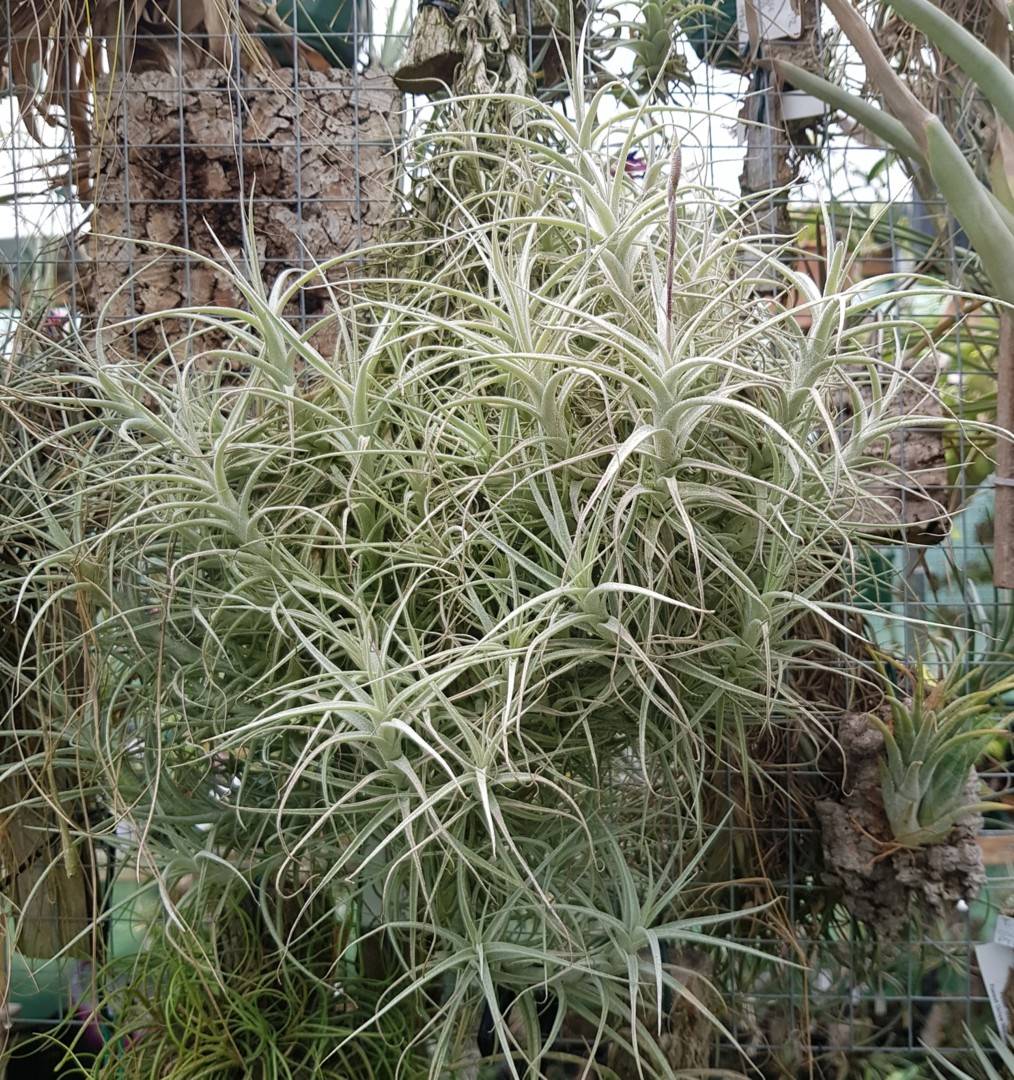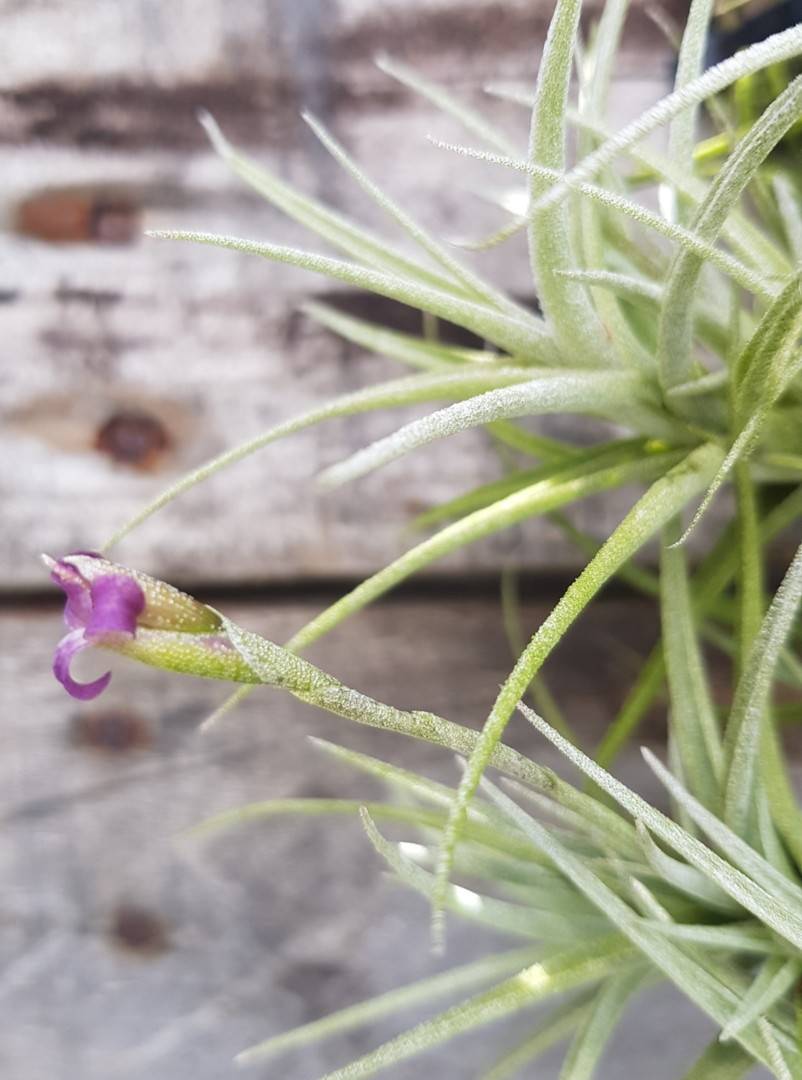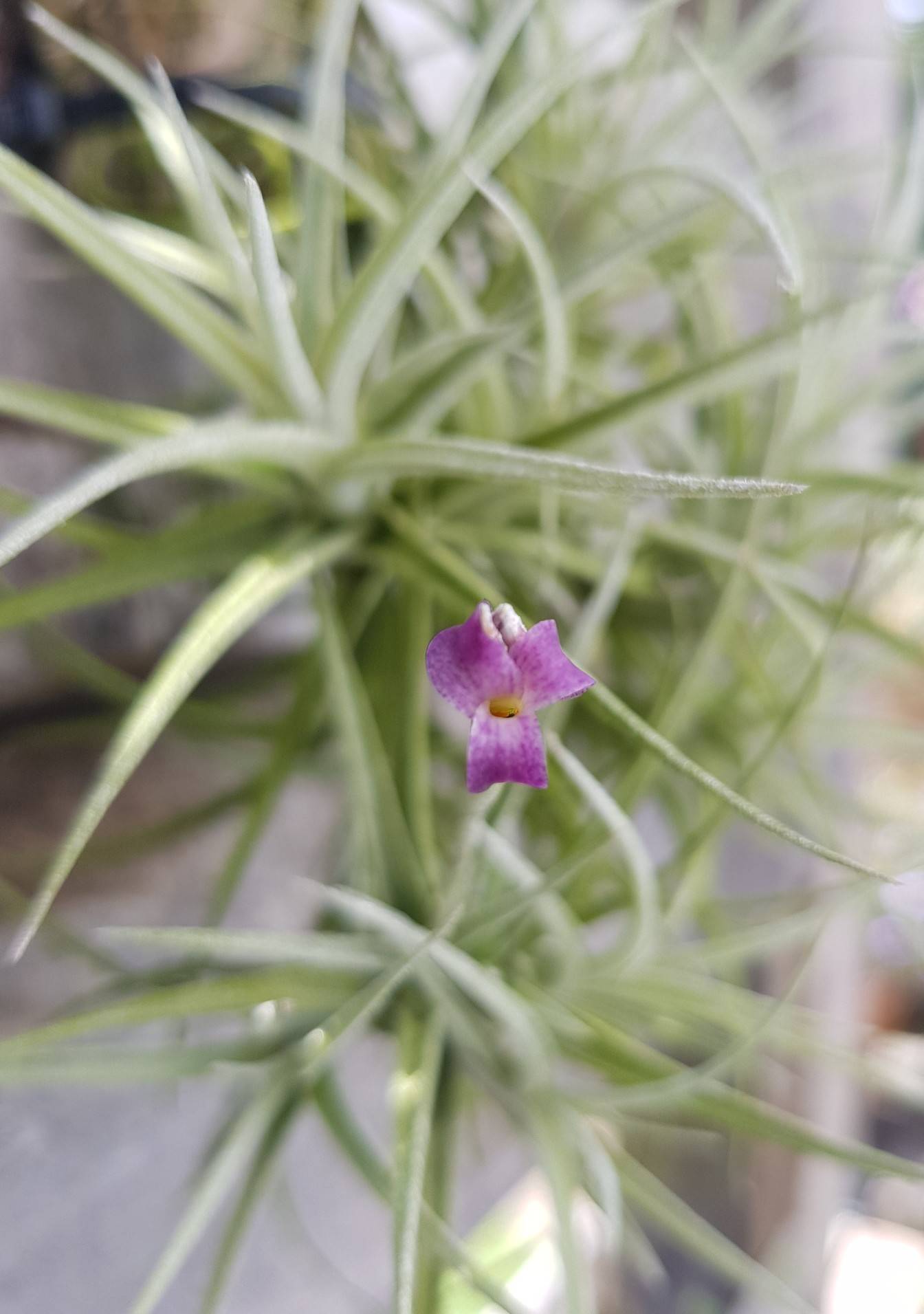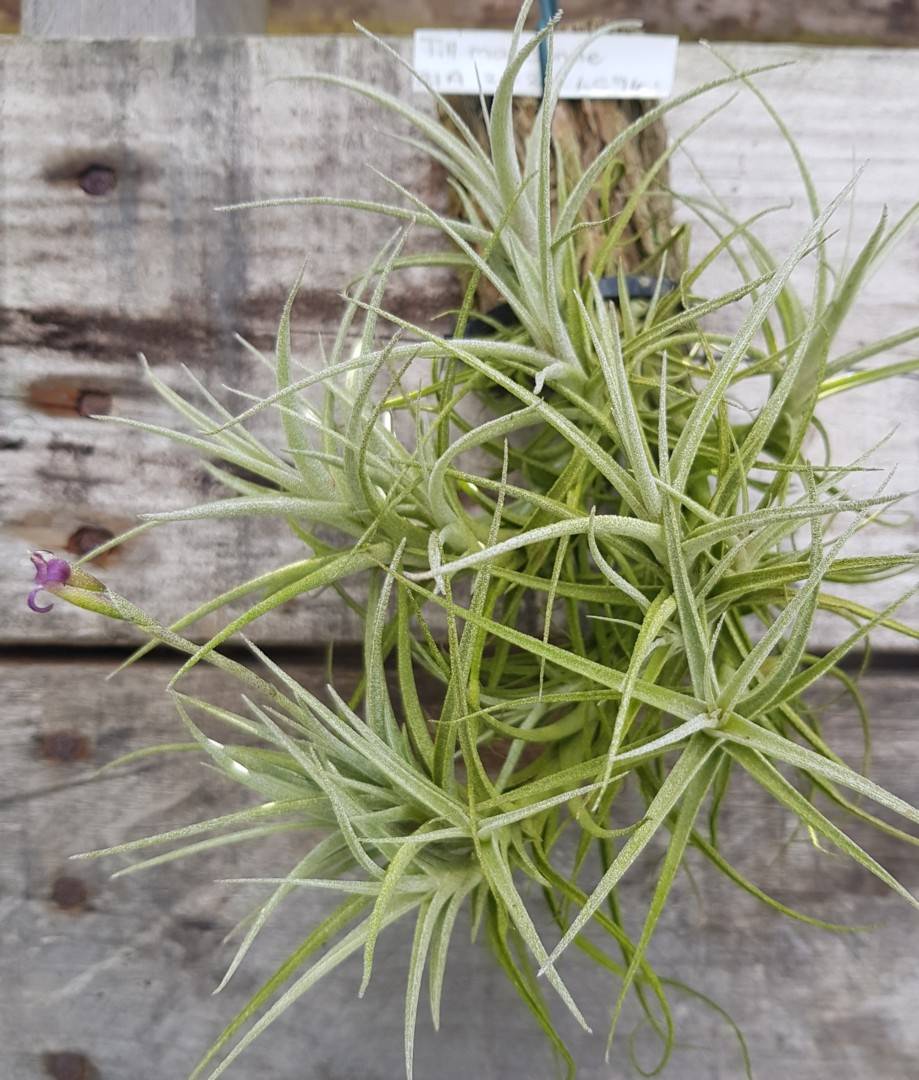 Brenton Cadd 11/21. Flowering after 27 years !

Brenton Cadd ... "I purchased a small clump of T. marconae from Len Colgan in April 1994, at that years TPE. It has grown and clumped up over the years. A small piece fell of the main clump which I mounted and put outside last year, and now it has rewarded me with its very first flower in 27 years. Even the main clump has one flower spike now.
We must be patient."

---
Tillandsia marconae Till & Vitek Pl. Syst. Evol. 149, 143-147 (1985)
and JBS 1993 69-72
Plant caulescent, more or less erect, (10-) 12 – 15cm high, roots few, leaves polystichous.
Leaf sheath ca 13mm long, upper part (where not covered by the next leaf) dense ca. appressed lepidote, broad oval, ca. 12mm wide, covered at the edges.
Leaf blade narrow triangular, awllike, long and acuminate, dense ca. appressed lepidote, 65 – 77mm long, 4mm wide above the sheath, cross section shows upper face convex, lower face concave, erect, without diverging from the stem, not furrowed.
Scape ca. 1.5mm diam, 40 – 45mm long, ca. exceeds the leaves or as long,
Scape bracts 4 – 6, lower ones with short blade, upper ones similar to floral bracts.
Inflorescence always simple, sword shaped,
Flowers distichous, touching, (3-) 4, 20 – 22mm long, lying along the rhachis, scented.
Rhachis not totally hidden by the floral bracts, erect, roundish, lepidote.
Flower bracts 8 – 11mm long, acute, ovate, indistinct, dense lepidote, 17 – 19 nerved, not keeled.
End axis sterile, acute, narrow lancelike, 7 – 8mm long.
Sepal 9 – 11mm long, naked, equally free, posterior pair a little keeled, somewhat blunt, ovate lancelike, ca. 3.5mm wide, 9 – 11 nerved.
Petal 10 – 12mm long, ca. spoonlike, claw 6.5mm long, 1.3mm wide, white, blade 4.5mm long, 3.3mm wide, somewhat acute, ovate round, violet.
Style and Stigma deeply enclosed, Anther orange, 1mm long, narrow, Filament filiform, white, 3 – 4mm long, Anther attached at base, Style white, 1.5mm long, 0.5mm wide, touching the lower end of the anther.
Ovary green, ovate, 2mm long, 1.5mm diam,
Habitat terrestrial in extended populations on desert shores associated with T. purpurea, T. aff. landbeckii ( forma sterilis) and T latifolia.
Type locality Peru, Dept. Ica, rov. Nazca, Lomas de Marcona, on the road to Campamento de Belvedere, 600 – 800 m. 25/8/1982 , W Till & E Vitek, 820825/137 ( WT 234) Holotype WU. Isotype in B, K, Herb. W Till
Paratype Peru, Ica, Nazca, Lomas de Marcona 900m, 22/9/1958 R Ferreyra 13372 (USM)
Differs from T. paleacea in
1. Bracts more lepidote
2. Sepals shorter
3. Petals narrower
4. Inflorescence less flowered
5. Leaves narrower, more pointed, not furrowed.
Differs from T. purpurea in
1. Bracts dense lepidote, not keeled
2. Sepals shorter
3. Inflorescence simple, few flowered
Tillandsia paleacea vs. T. marconae by Walter Till in J. Brom. Soc. 43(2): 69-72. 1993
Only a few tillandsias are able to live in the coastal desert of Peru and Chile. These species are listed in the following note:
When the author published Tillandsia marconae as a new species in 1985, that taxon had been collected by R. Ferreyra in the same locality in 1958, it was known to L.B. Smith and cited by him in his monograph as T. paleacea. His opinion was followed recently by that of Harry Luther. The purpose of this communication is to demonstrate that while these species are related, they can be differentiated by several characteristics.
In the vegetative state, Tillandsia marconae is of more slender habit than T. paleacea; in cultivation, the leaves are more erect, narrow, and greenish (fig.10). Those characteristics have proved to be stable after ten years of cultivation. In nature, however, the plants have a more bluish grey appearance and can be distinguished easily from the sympatric T. purpurea with its brownish grey leaves.
Tillandsia paleacea has not been found in the type locality of T. marconae, nor in its vicinity. The inflorescence of T. marconae is borne on a shorter scape, it is smaller than that of T. paleacea and is composed of 2-4 flowers only (fig. 11).
Figure 12 shows the floral details of T. paleacea (upper row: a-g) and T. marconae (lower row: h-n). The sepals of T. marconae are ovate, broadly acute, shorter but broader than those of T. paleacea, which has lanceolate sepals with round apex. The petals of T. marconae are much shorter and narrower, the blade is only half as long as the claw, the latter being rather stout. In T. paleacea the petal blade is as long as and much broader than the claw. Differences can be found even in stamens and pistils: the anthers of T. marconae are shorter and more slender, the style is slender but distinct. In both cases the throat of the corolla is very narrow and the stamens are deeply included, the anthers are located a very short distance above the stigmas and form hood, more or less. We may assume that self-pollination is possible and advantageous under desert climate conditions.
The distribution map (fig. 13) exhibits the known area of T. paleacea subsp. paleacea (black squares) and subsp. apurimacensis W Till (black dots). The isolated position of the locality of T. marconae (reversed triangle) is striking: The locality of T. kirschnekii Rauh & W Till has been added (upright triangle) as it is a narrowly endemic species evidently related to T. paleacea. Smith and Downs (1977) give further citations for T. paleacea for Colombia and Bolivia. The specimens for Colombia have been reviewed by the author in the herbaria of the British Natural History Museum and of Kew Gardens and have been found to be T. streptocarpa Baker. No exact locality is given for Bolivia. The citation represents an old collection, which could have been made in modern Peru. For these reasons, the area of distribution has been restricted to Peru in this paper. The citation for Moyobamba in northern Peru is questionable and more probably also represents T. streptocarpa. The remaining area is rather uniform with the only exception of the isolated point in coastal southern Peru.
NOTES: Tillandsias in the coastal desert of Peru and Chile
Subgenus Allardtia:
- T. latifolia Meyen
- T. tragophoba Dillon
- T. werdermannii Harms
Subgenus Anoplophytum:
- T. geissei Philippi.
Subgenus Phytarrhiza:
- T. marconae W Till & E. Vitek
- T. paleacea Presl
- T. purpurea Ruiz Lopez & Pavon y Jimenez.
Subgenus Diaphoranthema:
- T. capillaris R. & P
- T. landbeckii Philippi subsp. landbeckii
- T. recurvata (L.) L. (the latter cited with reservation.)
---
Updated 01/12/21
---