Tillandsia makoyana
Click thumbnails for full size, scaled to a new window.
---
Tillandsia makoyana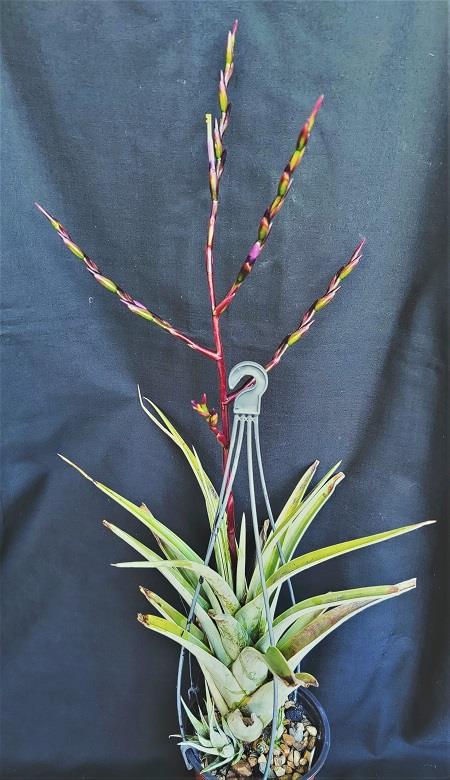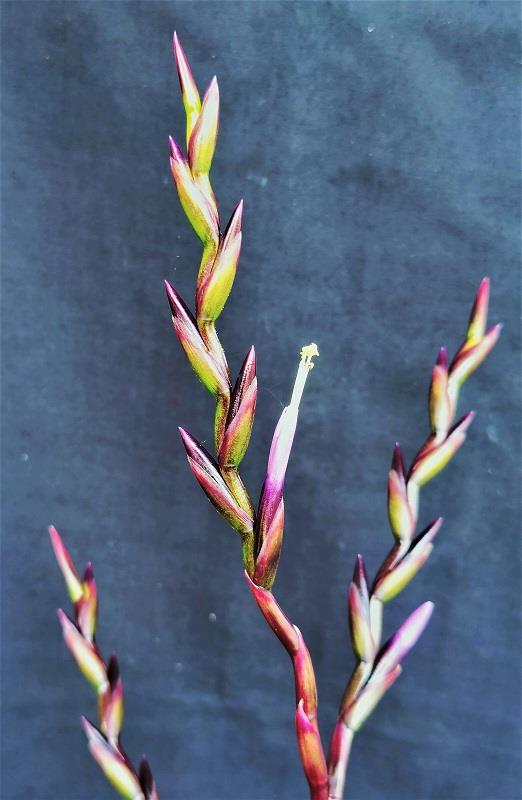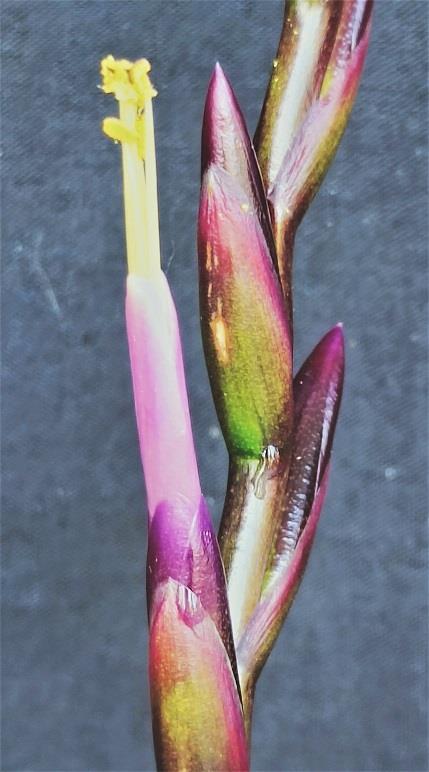 Steve Molnar ... "I got thins one from Bob Hudson when I was just starting on this crazy addiction. I got it as a small pup and came close to loosing it a few times, until I found it's happy place. It has been growing well for a while now and is rewarding me with it flowering and producing a good amount of pups already.
Thankyou Bob it has come from good healthy stock, and will keep going strong into the future."
Bob Hudson ... "I only had seedlings, my form is monocarpic."
Steve Molnar ... "This one has plenty of pups on it so not sure about it being monocarpic?? It's certainly one of yours as I still have the original laminate tag with your writing on it."
Bruce Dunstan ... "I grew one of Bob's plants and left it on the mount. No pups. I'm guessing Steve's pot culture and fertiliser has helped with the pup production. Seed seems very easy to grow as even I haven't killed it with all the rain mine have been through lately."
Pam Butler ... "Just to confuse, I got one from Bob which has been very slow but has been mounted. It has not flowered but has produced pups. Maybe I need to pot mine too."

---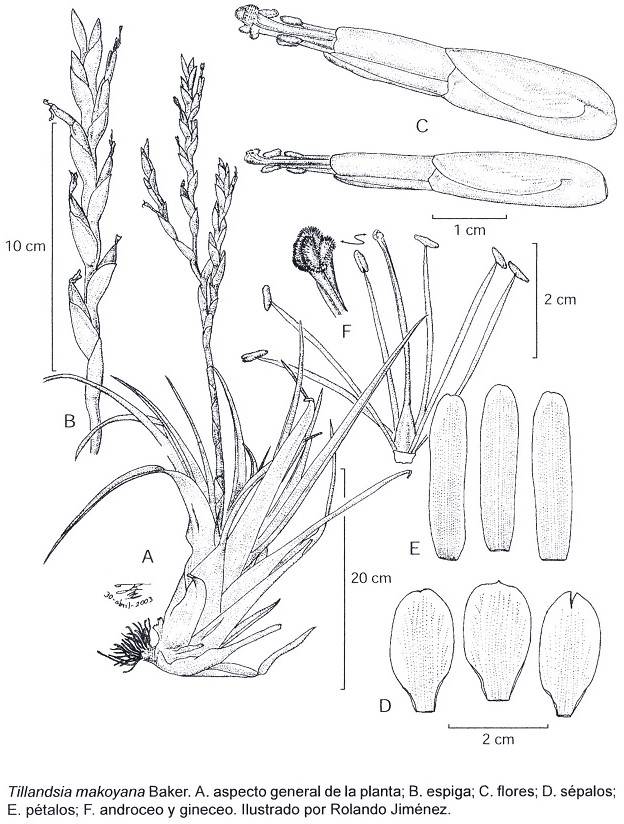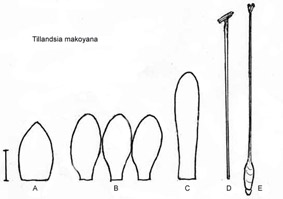 Tillandsia makoyana Baker, Hand. Bromel. p. 189. 1889. by Espejo, Lopez, & Ramirez in Flora Del Bajio 165: 101-4. 2010.
Translated by Butcher Plant epiphytic, rosette, stemless, flowering 53 to 110 cm high, rosette in the form of a tank, up to 40 cm diam. at the widest part, solitary; Leaves numerous,
Sheath brown to light brown on both sides, oblong-elliptic, 5 to 11 cm long, 4 to 6.5 cm wide, inconspicuously and densely punctulate-lepidote on both sides,
Blades green, long triangular, 17 to 50 cm long, 2 to 3 cm wide at the base, long attenuate, erect, sharp at the tip, inconspicuous and densely punctulate-lepidote on both sides;
Inflorescence terminal, erect, compound, sometimes divided, with up to 7 spikes,
Peduncle green to scarlet red, cylindric, robust, 25 to 40 cm long, 8 to 11 mm diam., covered partially or totally by the sheaths of the bracts,
Peduncle bracts leaf like, diminishing gradually to the upper part of the peduncle, sheaths ovate-triangular, 3 to 6 cm long, the blades narrow triangular to filiform, involute, 5.5 to 20 cm long,
Spikes lax, long, ascending to adpressed, flexuous, 11 to 25 cm long, 1.7 to 2 cm wide, pedunculate,
Pedunculate bracts, 2.5 to 6 cm long,
Primary bracts sheathlike, cymbiform, 2.5 to 3.5 cm long, 1.4 to 1.6 cm wide,
Floral bracts green to scarlet, ovate to amply elliptic, 2 to 2.3 cm long, 1.3 to 1.5 cm wide when unfolded and flattened, as long or longer than the internodes, not imbricate, smooth or barely nerved towards the top, ecarinate, slightly erose at the edges, rounded at the tip, glabrous, lustrous on the outside, densely punctulate-lepidote on the inside,
Flowers distichous, erect to adpressed, 6 to 16 per spike, actinomorphic, tubiform, sessile, Sepals free, green, obovate to elliptic, 2.3 to 2.6 cm long, 8 to 9.5 mm wide, rounded at the tip, ecarinate, nerved, glabrous on the inside,
Petals free, pale violet in the apical half, white in the bottom half, oblong, 3.4 to 3.9 cm long, 6 to 8 mm wide, constricted in the bottom quarter, rounded, unequal, much longer than the sepals,
Stamens white, filaments filiform, 3.9 to 4.6 cm long, anthers black, oblong, ca. 4 mm long,
Ovary green, ellipsoid, ca. 9 mm long, ca. 4 mm diameter, style white, ellipsoid, 3.9 to 4.6 cm long, Stigma green;
Capsules green, oblong-fusiform, mucronate to rostrate, 5.5 to 6.3 cm long, 4 to 6 mm diameter;
Seeds reddish brown, fusiform, ca. 3 mm long, with a whitish feathery appendix 2.6 to 3 cm long.
Plants very scarce in this Flora area where it grows in tropical deciduous forests to the south of Guanajuato. Alt. ca. 1800 m. It flowers in the month of May.
It is distributed exclusively in the centre-southern region of Mexico. Gto., Jal., Mich., Mex., Mor., Pue., Gro., Oax. (The type is based on Professor Morren's drawing from a plant cultivated in Europe (K)).
Given the scarce representation of the species in the area, it could present conservation problems.
Guanajuato: 4 km to the eastof Yuriria, on the highway to Salvatierra, municipality of Yuriria, J. Rzedowski 39678 (IEB).
This species is frequently identified, mainly in herbarium material, as T. limbata, however it is distinguished by the presence of the scarlet red coloured bracts of the inflorescence and the violet to pale violet petals, compared with T. limbata which has magenta to pink bracts and white petals.
Tillandsia makoyana Baker. Handb.Bromel 189. 1889
Tillandsia simplexa Matuda, Cact. Succ. Mex. 17(4)4:113. 1972 treated as a synonym of T. makoyana in Checklist of Mexican Bromeliaceae in Selbyana 25(1): 33-86. 2004
Desc from Baker
Leaves densely rosulate, lanceolate-acuminate, 1½ ft. long, 2 in. broad low down, tapering gradually to a long point, channelled down the face.
Peduncle a foot long;
Bract-leaves many, small, adpressed.
Inflorescence a lax simple spike 5-6 in. long with the flowers adpressed to the flexuose rachis;
Flower-bracts ovate, green, an inch long.
Calyx 1 in. longer than the bract;
Sepals obtuse.
Corolla violet, ⅓ in. longer than the calyx, shorter than the stamens.
Habitat. Mexico. Described from a drawing of Professor Morren's made from a plant flowered by M. Jacob-Makoy & Co., at Liege, in 1879.
From Mez 1935
12. T. Makoyana Bak. Bromel. (1889) 189. – Semimetralis. Folia usque ad 0,55 m longa et fere 50 mm lata, apicem versus perlonge acute, dense lepidibus obtecta glauco--canescentia. Scapus erectus, vaginis quam intemodia paullo brevioribus, ex ovato triangulatim acutis. Inflorescentia (speciminis debilis) simplex, dense pinnatim spicata, ad 0,15 m longa et 13 mm lata, tota laete viridis; bracteis stricte erectis, apice ut videtur rotundatis alutaceo-marginatis, quam sepala manifesto brevioribus. Flores stricte erecti, rhachidis geniculis appressi, ad 50 mm longi; sepalis summo apice violaceo-brunnescentibus; petalis sepala viz duplo superantibus, tubulose conniventibus, violaceis, quam stamina optime brevioribus; stylo antheras superante.
Heimat unbekannt, wahrscheinlich Mexico. Es existiert nur eine sehr rohe Abbildung der Art in der Kew-Bibliothek. Zweifelhaft, ob von n. 13 verschieden.
Translation
Plant to 50cm high
Leaves up to 55cm long and almost 50mm wide, very long acute towards the tip, covered with dense glaucous-grey lepidote.
Scape erect,
Scape bracts a little shorter than the internodes, from ovate acute triangular,
Inflorescence (specimen weak) simple,
Spike dense pinnate, to 15cm long and 13mm wide, totally light green.
Bracts strictly erect, tip appears to be rounded with pale brown edges, clearly shorter than the sepals.
Flowers strictly erect, appressed to a geniculate rhachis, to 50mm long
Sepals uppermost tip violet brown
Petals barely twice as long as the sepals, converging into a tube, violet, much shorter than the stamens.
Style exceeds the anthers
Habitat unknown, probably Mexico.
Described from a drawing held in Kew. Doubtfully different to T. pulvinata
Tillandsia simplexa Matuda, sp. nov. Cact. Succ. Mex. 17(4)4:113. 1972
Planta epiphita, acaulis. Foliis paucis, subbulbose, 8-9 rosulatis. Laminis folirum longe triangularis, apicem longe caudatis, 5 cm latis in basi, 40 cm longis, coriaceis, densissime minuteque lepidotis. Inflorescentia folia multi superans, simplicia, laxe bipinnata, elongata, rhachi apicem flexuosa; bracteis caulinais imbricatis amplexicaulis, longe caudatis, nudiis superantis; bracteis florigeris amplexicaulis, apice mucronatis, 20 mm longis 17 mm latis. Floribus suberectis sessilibus; sepalis oblongis symmetricis, aecualibus, libris, coriaceis, imbricatis, 20 mm longis; 8 mm latis; petalis linearibus pur¬pureis, anthesis exsertis.
Mexico: Guerrero, cerca de San Francisco, Acuitlapan; camino a "Las Grana¬das"; 1,500 m. s. n. m. Colecto Carlos Beutelspacher el 15 de marzo de 1971. Tipo depositado en el Herbario Nacional del Instituto de Biologia de la UNAM.
Planta epifita, acaule, hojas pocas 8-9, rosetadas; laminas coriaceas, largamente triangulares, apice largamente acaudado, 40 cm de largo por 5 cm de ancho en la base, coriaceas, finamente blanco escamosas, extendidas, asentadas. Inflorescencia que sobresale mucho sobre las hojas, de 70 cm incluyendo el escapo, simple, solamente en la parte basal tiene 4-5 espigas pinadas con 1-2 flores, el eje superior marcadamente flexuoso, geniculado en los nudos y cada nudo, o entre 2 nudos, una flor sesil con bractea abrazadora. Bracteas caulinas amplexicaules, largamente caudadas, sobresaliendo de los nudos; bracteas floriferas, tambien amplexicaules, coriaceas, glabras, mucronadas, 20 mm de largo por 17 mm de ancho; flores sesiles y erectas; sepalos oblongos, subiguales, libres, coriaeeos, imbricados, 20 mm de largo por 8 mm de ancho; petalos angostos, purpureos, sobresalen en la antesis.
Esta Tillandsia se caracteriza por su inflorescencia muy simple como no hay igual en otras en nuestra flora. Unica coleccion la tipica; esperamos colectar mas material en la region para observar su fruto.
Plant epiphytic, stemless,
Leaves few 8-9, forming a sub-bulbose rosette
Blades leathery, long triangular, long caudate tip, 40 cm long 5 cm wide at the base, fine very dense lepidote, extending.
Inflorescence much exceeding the leaves, 70 cm long including the scape, simple, solely at the base it has 4-5 spikes with 1-2 flowers, the rhachis flexuous towards the top, geniculate in the nodes and each node, or between 2 nodes, one sessile flower with a clasping bract.
Scape bracts clasping, long caudate, spreading from the nodes;
Floral bracts also clasping the stem, leathery, glabrous, mucronate, 20 mm long, 17 mm wide;
Flowers sessile and erect;
Sepals oblong, subequal, free, leathery, imbricate, 20 mm long, 8 mm wide;
Petals narrow, purple, spreading at anthesis.
Anthers exserted
This Tillandsia is characterized by its very simple inflorescence as there are no equal in our flora. Only one collection for the type; we hope to collect more material in the region to observe their fruit.
Detail from S&D
Tillandsia makoyana Baker, Handb. Bromel. 189. 1889.
Tillandsia cucaensis Wittmack, Bot. Jahrb. 14(Beibl. 32): 7. 1891.
Type. Ocos to Costa Cuca, Quezaltenango, Guatemala, Bernoulli & Cario 694 (GOET, US photo).
This is now treated as a species in its own right which means the description is a misleading combination. Hence the decision to revert to the protologue of Baker.
Plant stemless, 5-15 dm high.
Leaves many in a dense rosette, to 65 cm long, densely and finely appressed-cinereous-lepidote throughout;
Sheaths elliptic-ovate, 12 cm long, castaneous;
Blades linear-triangular, caudate-attenuate, 3-5 cm wide.
Scape erect, stout, from slightly shorter than to exceeding the leaves;
Scape-bracts erect, the lower ones lanceolate, linear-laminate, imbricate, the upper ones ovate-lanceolate, acute, sometimes remote.
Inflorescence simple to amply bipinnate, to 4 dm long;
Primary bracts like the upper scape-bracts, scarcely larger than the floral bracts, enfolding the lower half of the sterile base of the axillary branch; spiciform racemes to 24 cm long, laxly flowered;
Rhachis strongly undulate, stout, flattened next the flowers, glabrous.
Floral bracts broadly ovate, obtuse, shorter than the sepals, about equaling the internodes, coriaceous with a hyaline margin, prominently nerved, ecarinate;
Flowers erect and closely appressed to the rhachis; pedicels up to 5 mm long.
Sepals narrowly elliptic or obovate, obtuse, 25-30 mm long, very short-connate, coriaceous, even except near the margin, glabrous outside, brown-punctulate-lepidote inside;
Petals tubular-erect, 5 cm long, violet or green;
Stamens and pistil exserted.
Capsule slenderly cylindric, acute, 6-8 cm long.
Type. E. Morren Icon (holotype K, "from a plant flowered by M. Jacob-Makoy & Co., at Liege, in 1879.").
DISTRIBUTION. Epiphytic in oak and pine forest, 50-1950 m alt, southern Mexico to Costa Rica.
MEXICO. GUERRERO: Zihuatanejo. 6 Aug 1898, Langlasse 274 (US). CHIAPAS: Sumid¬ero, 4 Apr 1957, Foster & Van Hyning 2968 (US); Teopisca, 1959, Van Hyning 5926 (US). GUATEMALA.. HUEHUETENANGO: Puente de Xinaxo, west of Huehuetenango, 30 Dec 1940, Standley 81522-A (F); 81555 (F); Malacatancito, 4Jan 1941, Standley 82177 (F);82181 (F). BAJA VERAPAZ: Santa Rosa, 30 Mar 1939, Standley 69789 (F); 4 Apr 1941, 91259 (F). ZACAPA: Santa Rosalia de Marmol to Vegas, 19 Jan 1942, Steyermark 42906 (F). WITHOUT EXACT LOCALITY: Jun 1884, Rodriguez s. n. (LG, possibly isotypic). HONDURAS. MORAZAN: Tegucigalpa to Zamorano, 4 Jul 1964,Gilmartin 943 (US). PARAISO: Escuela Agricola Panamericana to Guinope, 8 Ju11964, Gilmartin 1003 (US). SALVADOR. CHALATENANGO: Rio Sumpul, 23 Nov 1950, Rohweder 267 (HBG). SAN VICENTE: San Marcos Lempa, 29 Dec 1950, Rohweder 268 (B); 269 (B, K); 270-271 (HBG). SAN MIGUEL: Borbollon, 12 Feb 1951, Rohweder 272-274 (HBG). COSTA RICA. GUANACASTE: Nicoya, Dec 1899, Tonduz 13647 (US). PUNTARENAS: Cascajal to Pigres, 6 Jul l949, Holm & Iltis 271 (US).
---
Updated 18/04/21
---