Tillandsia lindenii
Click thumbnails for full size, scaled to a new window.
---
Tillandsia lindenii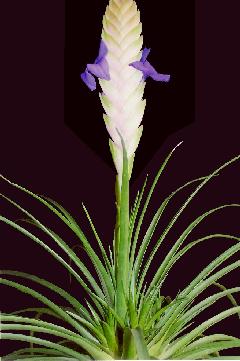 | | | |
| --- | --- | --- |
| Ken Woods, multi-spiked plant. | Ken Woods. | Ian Hook 02/05. |
| | |
| --- | --- |
| Ian Hook 02/08. | Wallisia cyanea as Morren's T. lindenii |
Derek Butcher ... With reference to the new taxonomy names:
Yes, the Taxon list contains 26 references to Tillandsia lindenii, including variants. This just means that there are 26 references to botanists who have given THEIR interpretation of lindenii.
By the new classification, many will become Wallisia cyanea, some Wallisia lindenii, some become W. pretiosa, duvalii x, and some dropped altogether.
In other words just because you have lindenii on the label does not mean you can change it to Wallisia cyanea. See above for E.Morrens interpretation of lindenii which becomes W. cyanea. Most of what we have as T. lindenii on the label have a substantial stem below the paddle and are probably the hybrid Wallisia 'Duvalii'.
Tillandsia lindeniana Regel => Wallisia lindeniana
Tillandsia lindeniana sensu Mez (in part) => Wallisia cyanea
Tillandsia lindenii K. Koch => Wallisia cyanea
Tillandsia lindenii Hasack, Möllers => Wallisia cyanea
Tillandsia lindenii E.Morren => Wallisia cyanea
Tillandsia lindenii H.Laurentius => Wallisia cyanea
Tillandsia lindenii Regel => Wallisia lindeniana
Tillandsia lindenii superba rosea Dauthenay => Wallisia cyanea
Tillandsia lindenii var. abundans L.B.Sm. => Wallisia cyanea
Tillandsia lindenii var. caeca x D. Barry => Tillandsia EXCLUDED TAXA
Tillandsia lindenii var. duvalii Duval ex André => Wallisia duvalii x
Tillandsia lindenii var. genuina E. Morren => Wallisia cyanea
Tillandsia lindenii var. intermedia E.Morren ex Carrière => Wallisia cyanea
Tillandsia lindenii var. koutsinskyana (E.Morren) L.B.Sm. => Wallisia cyanea
Tillandsia lindenii var. luxurians (E.Morren) L.B.Sm. => Wallisia cyanea
Tillandsia lindenii var. luxurians E.Morren => Wallisia cyanea
Tillandsia lindenii var. major Dombrain => Wallisia cyanea
Tillandsia lindenii var. regeliana E.Morren => Wallisia cyanea
Tillandsia lindenii var. regeliana sensu André => Wallisia cyanea
Tillandsia lindenii var. rutilans Linden ex Houllet => Wallisia cyanea
Tillandsia lindenii var. splendida Carrière => Wallisia cyanea
Tillandsia lindenii var. tricolor E. Morren, André => Wallisia pretiosa
Tillandsia lindenii var. vera Dombrain => Wallisia cyanea
Tillandsia lindenii var. vera major Duval => Wallisia cyanea
Tillandsia lindenii var. vera superba Duval => Wallisia cyanea
Tillandsia lindenii var. violacea hort. ex André => Wallisia cyanea

---
Updated 30/10/16
---