Tillandsia lautneri
Click thumbnails for full size, scaled to a new window.
---
Tillandsia lautneri
Formerly T.capitata var guzmanoides ("though Renate may be still working on it, or possibly revising/resurrecting it.")
Guatemala, Cunen, Sierra de Cuchumatanes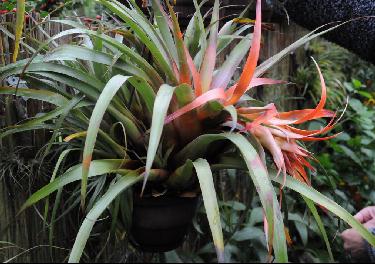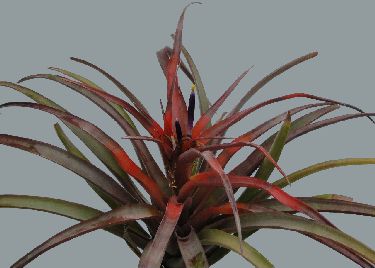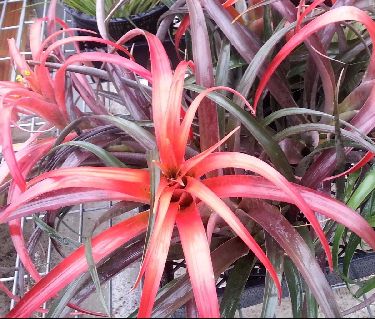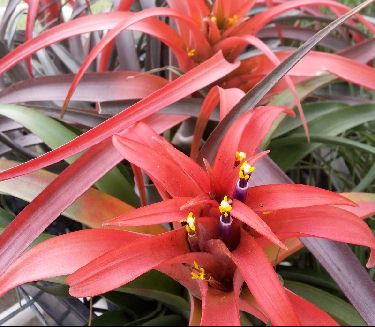 | | | |
| --- | --- | --- |
| Peter Tristram 07/09. | Chris Larson 12/12. As T. capitata var guzmanoides | Chris Larson 10/14. As T. capitata var guzmanoides |
Chris Larson 12/12..."Another capitata. Plant is ex-Feldhoff in Guatemala via Germany this year.
This one I think is supposed to be the true T.capitata var guzmanoides though Renate may be still working on it, or possibly revising/resurrecting it.
Note that the 2012 Bi-nomials does not list a T.capitata var guzmanoides which was reclassified as T.lautneri quite some time ago.
Derek Butcher 12/12...."Chris - The good old DVD tells us that T. lautneri has stamens that do not exsert and the plant is bulbose. There are no doubt other differences in a closer look at the flower. Therefore it is closer to the very variable T. capitata."

Chris Larson 10/14..."I just thought I'd post these photos as some who trawl eBay will have seen them but others haven't.
The story started with Peter Tristram & I importing some plants of Guatemalan origin out of Europe. We both got a couple of T. capitata var guzmanoides which were a nice darker clone with scarlet bracts – and definitely not var guzmanoides. These flowered at a smaller size, at least mine did, at around 12" tall. It also self set seed.
Then I got offered some more expensive Guatemalan plants (than our usual lines) as a one off – which included this var guzmanoides again. I only got a few. Some flowered at around 45cm tall with scarlet bracts – and are just starting to pup. Monster capitatas – as those that have seen them will attest. A few nutters have them now. I thought I'd better put this info out as these plants will be appearing around.
I'm still not sure whether to register it as T. capitata 'Scarlet' as I'm not sure that the 2 clones I have are not the same or what will happen with the pups."

Derek Butcher 11/14...."The only ones really interested in blatant wrong names seems to be we Antipodeans! Bromeliads in Australia has the problem partly solved because the right detail are under T. lautneri. Feldhoff started off this misnaming. The use of Scarlet is a nurseryman's solution but is frowned upon by Registrars. Why not call this 'Feldhoff'? It identifies the source AND that it is different."

---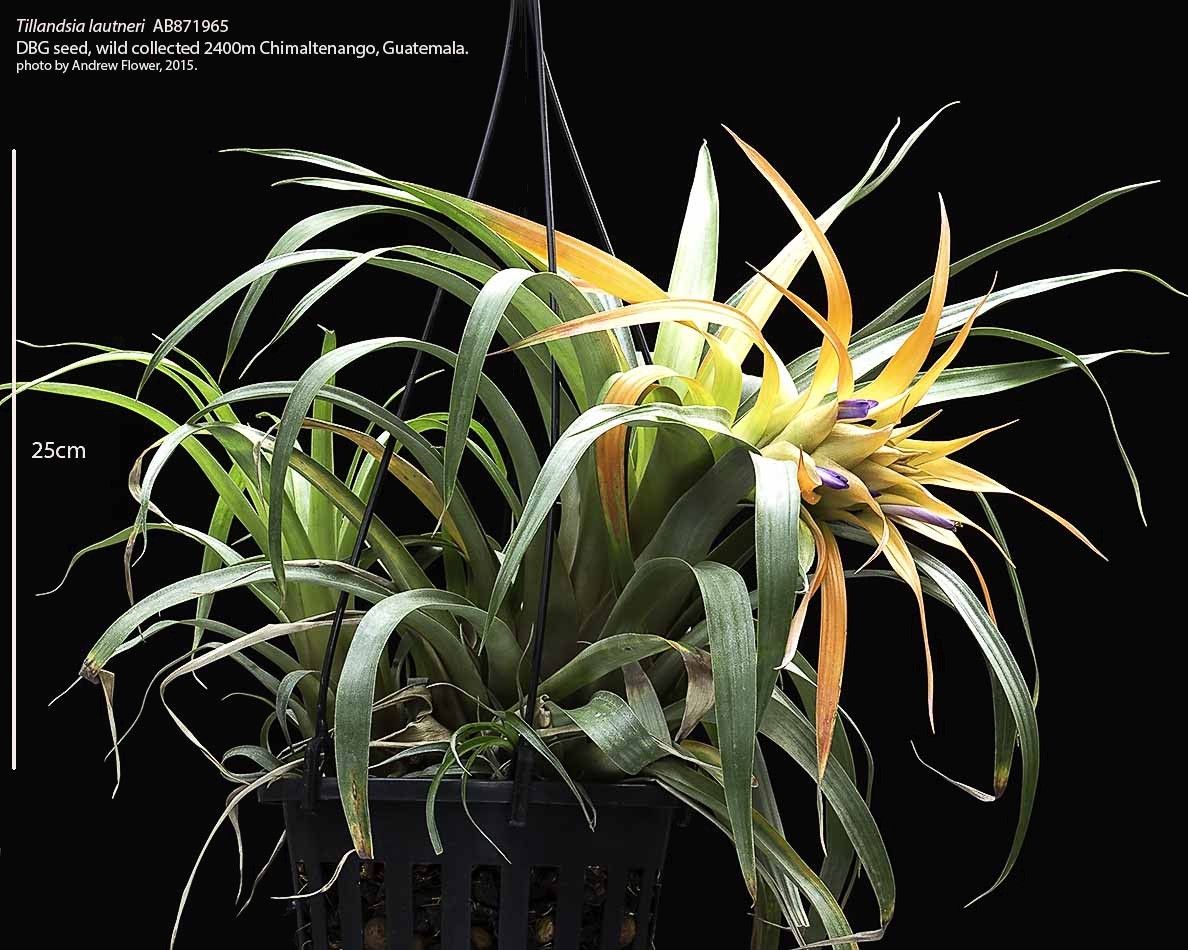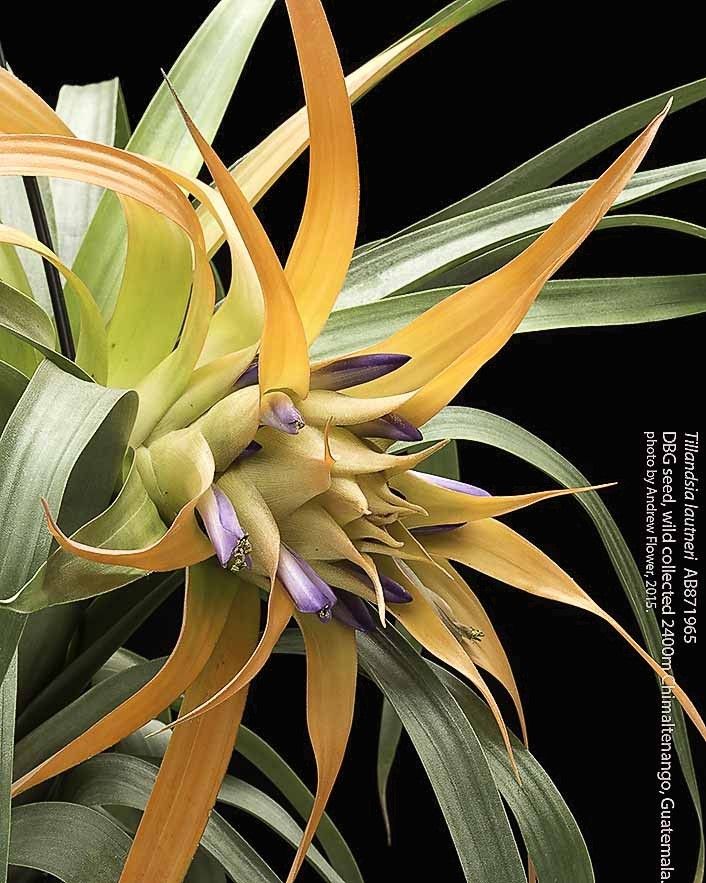 Andrew Flower ... "Plant grown from seed 2001 ex German Bromeliad Society, labelled " T. lautneri. Grosse form, Guatemala 1997. Chimaltenango, 2400 m, L97/13 kuhl, ziemilch feucht." (note how long they had the seed in storage before I got it). Temperature graph is from Chimaltenango city, which is 1800 m. up. I take the German to translate roughly: large form.... cool, reasonably humid.
This taxon was known for a long time as Tillandsia capitata var. guzmanoides (L.B. Smith, 1939 and Matuda), however in 1993 Renate Ehlers pointed out that it had basically no resemblance to T. capitata, rather it was close to the T. sierra-juaraensis/violaea community.
Only one seed germinated for me, and I very nearly killed it off one winter (all its pups rotted off before I saw it and shifted it to a warmer area with better air circulation) but luckily it survived.
Species named for Jurgen Lautner, who collected the seed my plant was grown from."

---
Updated 21/08/16
---