Tillandsia latifolia
Click thumbnails for full size, scaled to a new window.
---
Tillandsia latifolia
Ecuador, Peru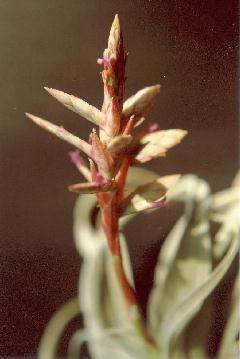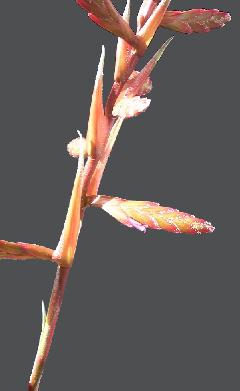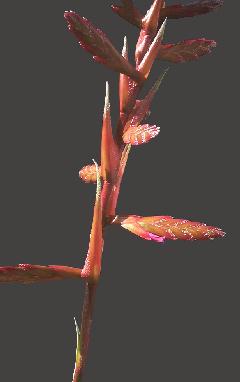 | | |
| --- | --- |
| Ken Woods 07/06. | Ian Hook 06/06, large form, owned by Neville Ryan, Qld. |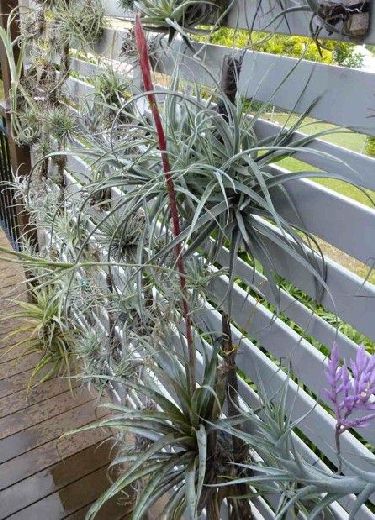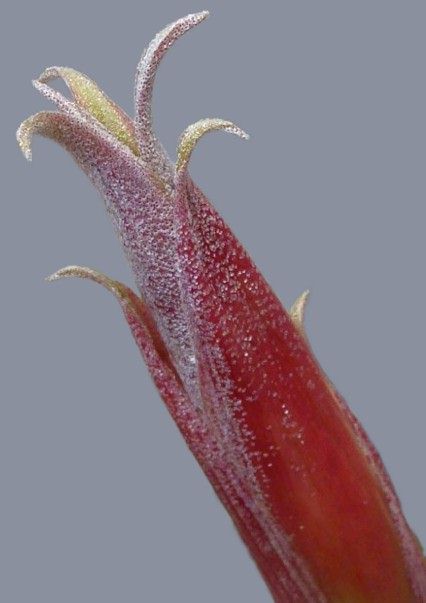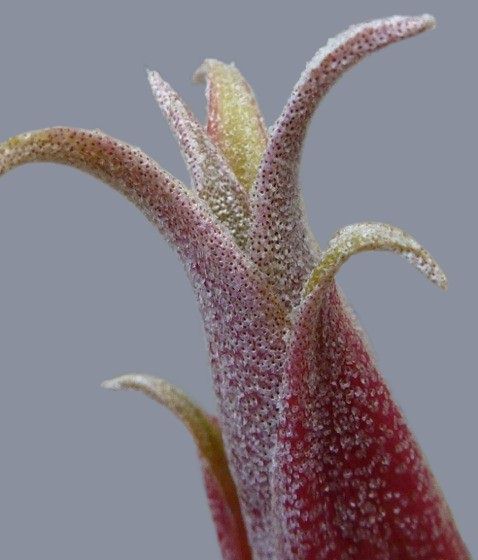 Bruce Dunstan 03/12. 70cm spike.
---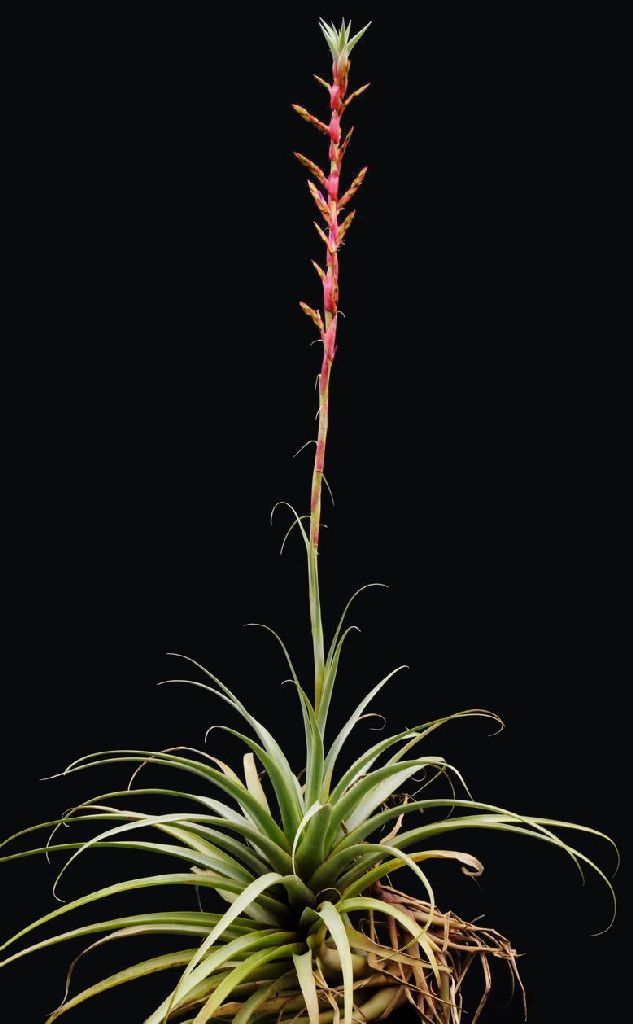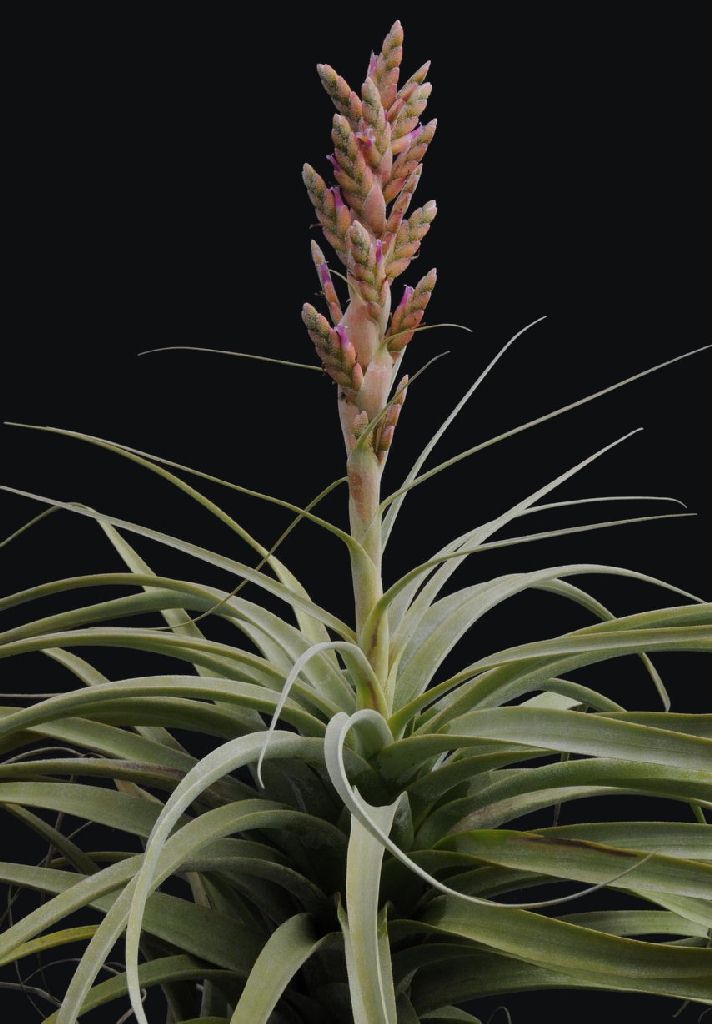 | | |
| --- | --- |
| Peter Tristram 06/13. (BRT) | Peter Tristram 06/13. (Large KK) |
---

Tillandsia latifolia var. divaricata
Ecuador, Peru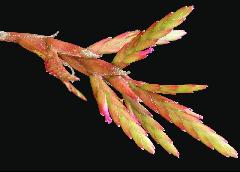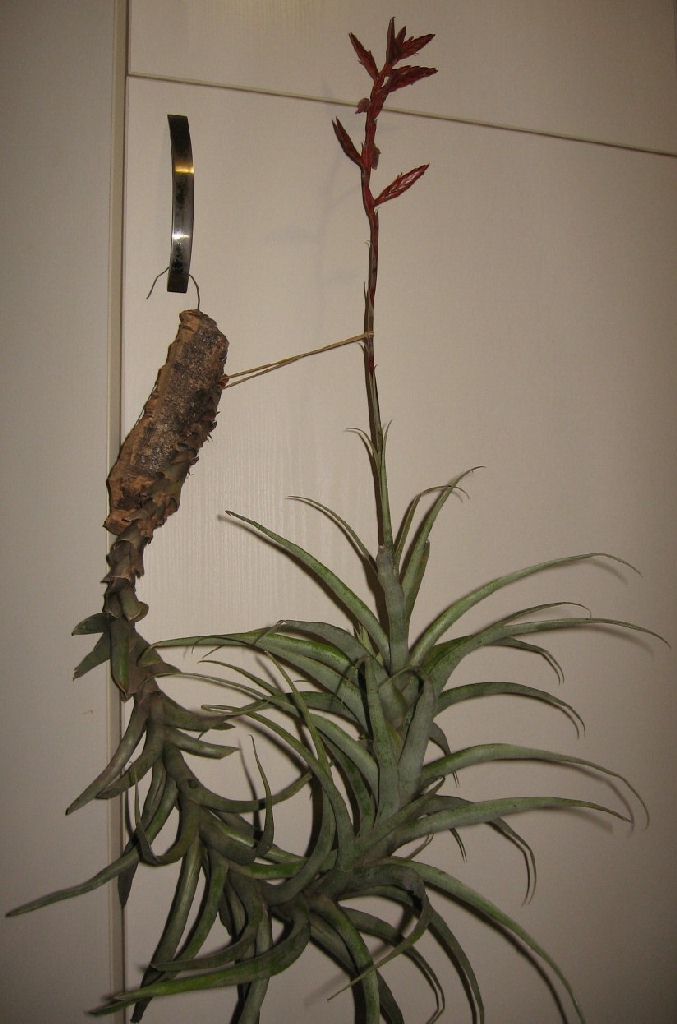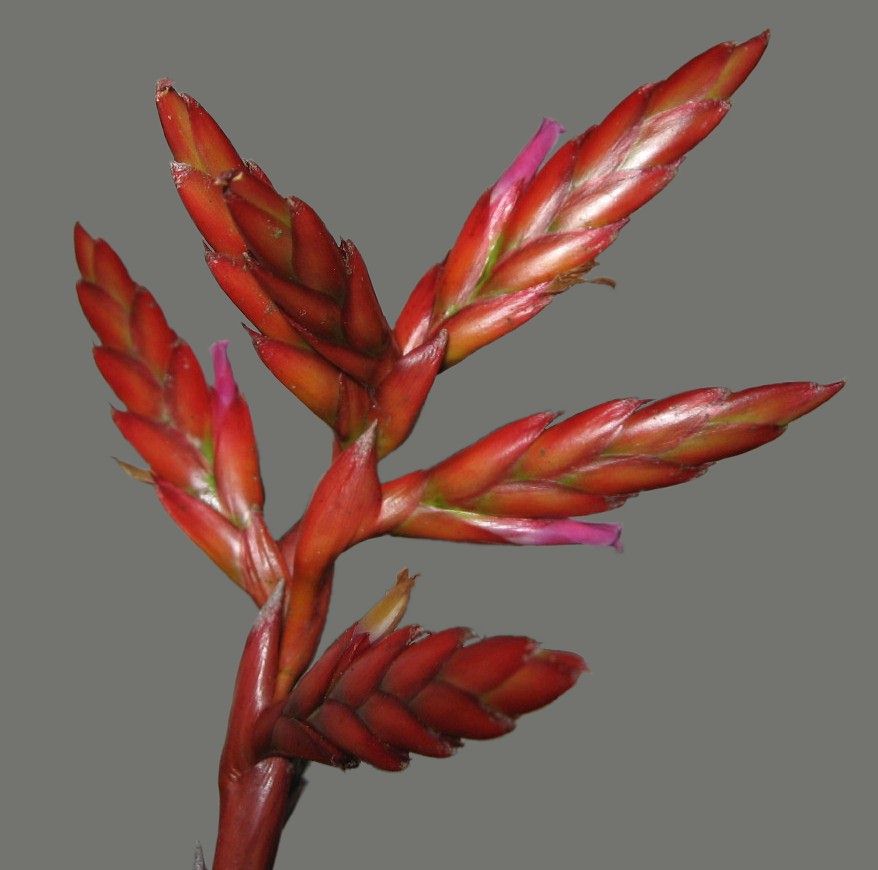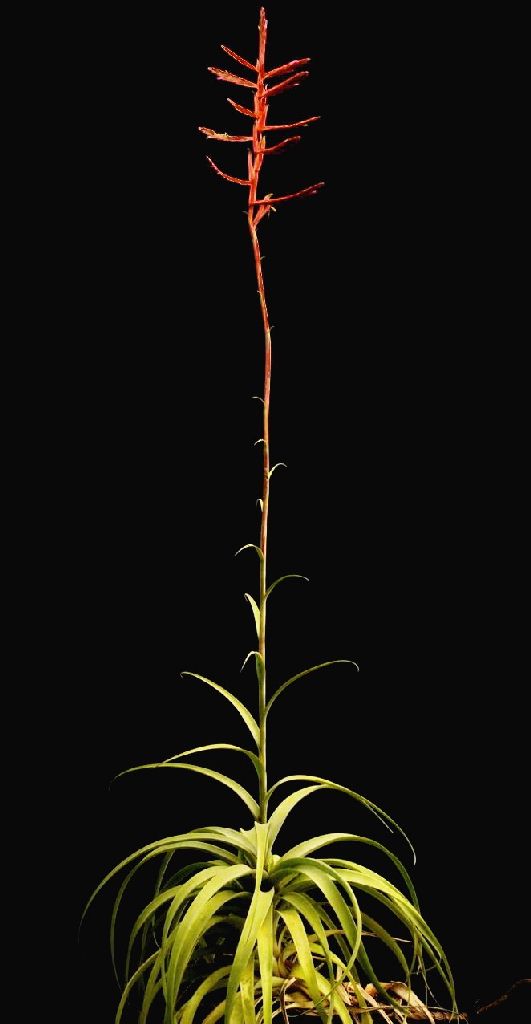 | | | |
| --- | --- | --- |
| Ken Woods 07/06. | Debbie & Howard Martin 08/11. | Peter Tristram 06/13. var. divaricata, giant form, KK. |
From Debbie & Howard Martin - "Took over 6 months + from first sight of initiation to flowering. A very caulescent plant. 40cm of old stem removed when remounted in October 2009."
From Peter Tristram - "I have so many others from KK from short stems to long, shortish peduncles to long, red to orange to coppery bracts, close to sparse scurfing, white to grey to geenish leaves, short, long, soft, hard, straight, recurved, dense, sparse. Even when most plants died after a good gassing (typical), many latifolias would live, even if they weren't ordered!"
---

Tillandsia latifolia var. leucophylla
Ecuador, Peru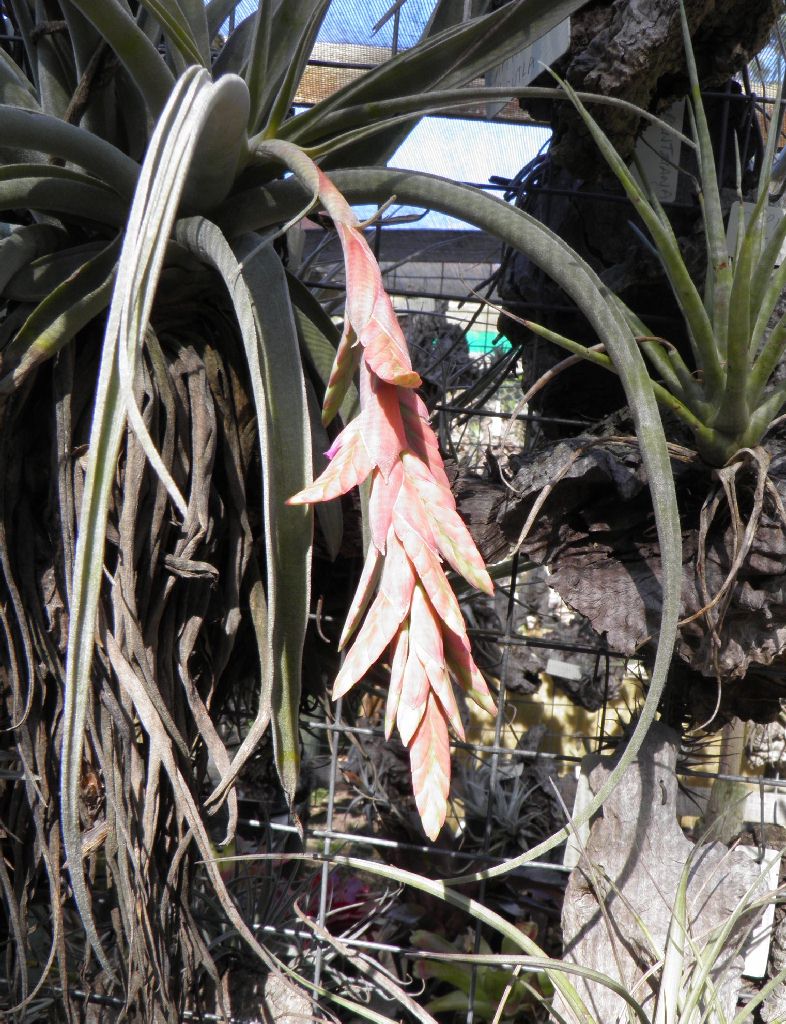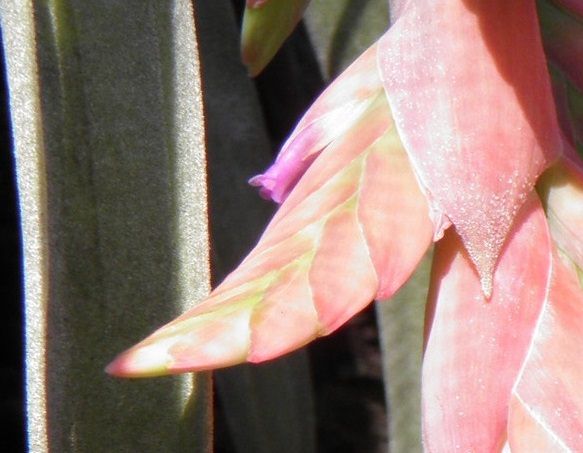 Derek Butcher - "Some like it HOT and dry and still perform. Adelaide is such at the moment. Anyway, this is my favourite variety of T. latifolia."
---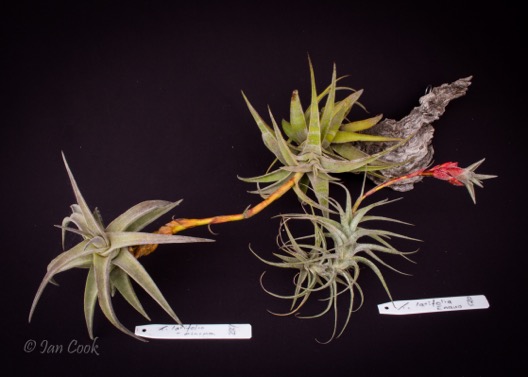 Ray Clark ... "This image of two different latifolias is sure to get some grey matter working amongst some?
The larger plant mounted on wood and leaning to the left is minima, you will find this one on the DVD in the alphabetical listing for species. The smaller of the two is 'Enano' and is not munted on wood, leaning to the right, this one is a registered cultivar.
Both have a similar trait in that offsets are in the first instance stoloniferous and then late also form the base of the original flower spike.
Size wise and leaf colour, they are both discernibly different to my eye. Worth a read to find out why one is considered species and the other not."
Derek Butcher ... "Yes, you could have a large collection just of the many forms of T. latifolia. From the botanists point of view there are only 4 different sorts but lots of synonyms. From the collectors point of view and a splitter rather than a lumper there are lots recorded in the BCR as cultivars. Minima latifolia is but one. With the DVD where do you file photos? Under the species or under the Cultivar name? The same problem arises with the many forms of T. ionantha. Therefore when checking names the first place to check is the species data base http://botu07.bio.uu.nl/bcg/taxonList.php and then the BCR. 'Enano' is an odd name. Is it Spanish or Latin? Exciting detail on the BCR.
Yes, they both have pseudoviviparous growth which they acquired by living in sand dunes in Peru. The things plants do to survive!
See descriptions and discussions below...."

---

Tillandsia latifolia Meyen, Reise 2: 45. 1835.
Desc from S&D p786-90
Plant usually caulescent, very variable, flowering to 6 dm high, mostly rootless; stem prostrate, often branched.
Leaves to 2 dm long, covered with appressed cinereous scales;
Sheaths scarcely distinct;
Blades narrowly triangular, filiform-attenuate, 30 mm wide, usually spreading or recurved.
Scape erect shorter or longer than the leaves but always distinct, stout;
Scape-bracts imbricate, cinereous-lepidote, bearing long slender spreading or recurved blades.
Inflorescence bipinnate or rarely simple, dense with erect spikes or lax with spreading spikes, sometimes viviparous;
Primary bracts like the scape-bracts but merely acute or apiculate, usually shorter than the spikes;
Spikes subsessile, lanceolate, 6-12-flowered.
Floral bracts densely imbricate, broadly ovate, acute, 15-23 mm long, equaling or exceeding the sepals, carinate, coriaceous, even or nearly so, cinereous-lepidote generally becoming glabrous with age;
Flowers subsessile.
Sepals 12-20 mm long, nearly even, sparsely lepidote, connate for 8 mm and carinate posteriorly;
Petal-blades to 7 mm longer than the sepal (see Mez!), narrow, acute;
Stamens included; filaments plicate; anthers linear, obtuse.
Capsule prismatic, acute.

As at 2006 there are 4 varieties
var. latifolia
var. major
var. divaricata
var. leucophylla
It is very difficult to do a key now that T. gayii is treated as a synonym of T. latifolia var. divaricata because the rhachis is said to be slightly visible for T. gayii but not for T. latifolia. Clearly var. major with floral bracts to 23mm long should be easily identified because of its large size. There also the comment made by Gilmartin in 1972 that many plants have spreading spikes at anthesis and yet had suberect erect spikes prior to anthesis. One wonders when the various specimens quoted were collected! In cultivation the dazzling white leaves of var. leucophylla are not as prominent making it difficult to differentiate from var. divaricata.

Tillandsia latifolia var latifolia
Tillandsia kunthiana Gaudichaud, Atl. Voy. Bonite pl. 53. 1842; L. B. Smith, Phytologia 7: 108. 1960; 13: 141. 1966. Type. Paita, Piura, Peru, Gaudichaud s n (P, GH photo, US), Jul1836.
Platystachys kunthiana (Gaudichaud) Beer, Bromel. 90. lS57.
Platystachys latifolia (Meyen) K. Koch, Ind. Sem. Hort. Berol. "1873"(App. 4): 5. l874.
Tillandsia grisea Baker, Jour. Bot. London 25: 245. l887. Type. Near Lima, Peru, Cuming 981 e p (K, K photo 7433).
Tillandsia oxysepala Baker, Jour. Bot. London 26: 141. l888. Type. Quebrade de Guerreros, Islay, Arequipa, Peru, Bridges s n (K, K photo 7432).
Tillandsia murorum Mez, Repert. Sp. Nov. 12: 420. 1913. Type. Rio Rimac, Santa Clara, Lima Peru, Seler 253 (B, B photo 1250/1).

Plants often viviparous.
Spikes erect.
Floral bracts not over 15 mm long, dull.
Sepals to 12 mm long.
Type. Meyen s n (holotype B), Islay, Arequipa, Peru.
DISTRIBUTION. Common on rocks and sand, chiefly near the coast, from near sea level to 2900 m alt, Peru.
PERU. PIURA: Ayabaca, 7 Aug 1954, Soukup 4317 (US). LIBERTAD, Trujillo: La Golinda, Eyerdam 9010 (GH); Cerro Campana, 30 Aug 1961, Lopez, Sagastegui & Stinchez 3649 (TRP, US); Otuzco: Otuzco to Usquil, 26 Jun 1962, Lopez, Sagastegui & Aldave 3972 (TRP, US). ANCACHS, Santa: Casma to Huarmey, 18 Sep 1938, Stork, Horton & Vargas 9233 (GH); 2 Jun 1957, Ferreyra 12409 (US, USM). LIMA: Lima, 1839, Wilkes Expedition (GH, US); Callao, 1845-47, Didrichsen 4386 (C); 16 Mar 1852, Andersson s n (US); Isla San Lorenzo, Hombron s n (P); 7 Sep 1952, Ferreyra 8637 (US, USM); Santa Clara, 18 Jul 1914, Rose 18745 (US); Matucana to San Bartolome, 20 Jul 1914, Rose 18747 (US); Lurin, Macbride 5929 (F, GH); Cerro San Cristobal, Lima, 13 Oct 1935, West 3606 (UC); San Antonio, Canete, 25 Sep 1938, Vargas 9322 (GH); San Agustin, 27 Sep 1940, Asplund 3778 (S, US); Cerro Chosica, 13 Apr 1946, Ferreyra 757 (US, USM); Ruins of Cajamarquilla, Lima, 27 Nov 1947, Ferreyra 2861 (US, USM); 2862-A (US, USM); Boza, 11 Dec 1951, Cabrera 10862 (US); San Bartolome, Huarochiri, 29 May 1954, Ferreyra 9702 (US, USM); Zarate, Rimac Valley, Soukup 2122 (GH); 30 May 1954, Ferreyra 2122 (GH); Churin, Cajatambo, 23 Jul 1954, Rauh & Hirsch P-1932 (US); Lachay, Chancay, 23 Ju1 1957, Ferreyra 12419 (US, USM); Pachacamac Ruins, Lima, 9 Dec 1962, Iltis & Ugent 368 (US, WIS);369 (US, WIS). ICA: Isla de San Gallan, 27 Nov 1919, Murphy 3482 (BKL, GH); Nasca, 15 Nov 1956, Angulo 2422 (US); 17 Aug 1957, Ellenberg 2638 (U). AREQUIPA: Mollendo, Stafford 284 (K); 15 Sep 1937, 875 (K); Pescadores to Atico, 23 Feb 1946, Seibert 2398 (US); Los Cerrillos, Caraveli, 23 Sep 1958, Ferreyra 13444 (US, USM); Quebrada de Guerreros, Islay, Nicholson s n (US).

Tillandsia latifolia var major Mez, DC. Monogr. Phan. 9: 790. 1896; L. B. Smith, Phytologia 13: 141. 1966.
Tillandsia kunthiana var. major (Mez) L. B. Smith, Phytologia 7: 109. 1960.
Plant robust.
Leaves equaling the scape;
Blades wholly involute.
Spikes large with the apical flowers often viviparous.
Floral bracts to 23 mm long, dull.
Sepals to 20 mm long.
Type. Gaudichaud 64 (holotype B, isotypes BR, G, GH, LG, M, US), Paita, Piura, Peru, 1836.
DISTRIBUTION. Coastal Peru.
PERU. LIMA: Callao, 16 Mar 1852 Andersson s n (S). Possibly just a luxuriant form of the typical variety.

Tillandsia latifolia var divaricata (Bentham) Mez, DC. Monogr. Phan. 9: 789. 1896; L. B. Smith, Phytologia 13: 141. 1966.
Tillandsia divaricata Bentham, Bot. Sulph. 174. 1846.
Tillandsia gayi Baker, Handb. Bromel. 179. 1889 (desc see below)
Tillandsia minor Mez & Sodiro ex Mez, Bull. Herb. Boiss, 11. 4: 1136. 1904. Type. Pallatanga Valley, Chimborazo, Ecuador, Sodiro 171/28 (B, B photo 1250/2), Aug 1891. Tillandsia kunthiana var divaricata (Bentham) L. B. Smith, Phytologia 7: 108. 1960.

Spikes spreading.
Floral bracts to 15 mm long, lustrous.
Type. Sinclair s n (holotype K, GH photo), Guayaquil, Guayas, Ecuador, 1836-39. DISTRIBUTION. Saxicolous and epiphytic in dry areas, 50-2850 m alt, subcoastal Ecuador and northern Peru.
ECUADOR. MANABI: Jipijapa, 10 Oct 1952, Fagerlind & Wibom 557 (S); 618 (S). GUAYAS: Guayaquil, Grisar s n (P); Santa Elena, 19 Sep 1952, Fagerlind & Wibom 224 (S); 224-B (S); Ayangiie, 24 Mar 1962, Gilmartin 646 (US); Manglaralto, 24 Mar 1962, Gilmartin 649 (US); km 80, Guayaquil to Quevedo, 2 Aug 1965, Gilmartin 1051 (US). ORO; Pasaje, Rauh & Hirsch E-371 (US); E-372 (US). CHIMBORAZO: Alausi, Jan 1904, Rivet 559 (P); 8 Aug 1965, Gilmartin 1104 (US); 1105 (US); 1106 (US); Huigra, 6 Sep 1918, Rose 22554 (US); Ju11923, Hitchcock 20347 (US); Rio Sibambe to Rio Chanchan, 28 Jan 1945, Fosberg & Giler 22585 (US); Palmira, Aug 1965, Gilmartin 1184 (US). CANAR: km 72, Cuenca to Guayaquil, 13 Aug 1965, Gilmartin 1162 (US). AZUAY; Paute to Cuenca, 26 Apr 1945, Camp E-2303 (NY, US); km 101, Cuenca to Loja, 9 Aug 1965, Gilmartin 1117 (US); km 13, Cuenca to Guayaquil, 13 Aug 1965, Gilmartin 1160 (US); km 71, Cuenca to Loja, Gilmartin 1155 (US). Loja,: La Toma to Loja, 4 Sep 1923, Hitchcock 21412 (GH, US); 20 Ju11959, Harling 5988 (S, US); Porto Velo, 29 Nov 1948, Foster 2589 (US); km 110-140, Ona to Zaraguro, Foster 2623 (US); San Pedro, 27 Ju11959, Harling 6099 (S, US); Ona, 20 Feb 1963, Gilmartin 845 (US); Catamayo, 10 Aug 1965, Gilmartin 1127 (US); 1129 (US). PERU. TUMBES: Zarumilla to Pocitos, 25 Apr 1955, Ferreyra 10623 (US, USM). PIURA: Negritos, Haught 128 (GH); Cerro Prieto, Cabo Parinas, 11 Sep 1927, Haught 190 (GH, US); Huancabamba, Aug 1956, Rauh P-304 (US). CAJAMARCA: San Miguel to Asuncion, 10 Apr 1950, Ferreyra 7081 (US, USM); Cantange to Celendin, Rio Maranon, 4 Jun 1960, Lopez & Sagastegui 3368 (TRP, US); Cerro Huacaris, Cajamarca, 28 May 1965, Sanchez 68 (US); 6 Jun 1966, 230 (US). AMAZONAS, Chachapoyas: Rio Sonche, Sonche, 26 Jul 1962, Wurdack 1529 (US); Utcubamba Valley, 7 Aug 1962, Soukup 4964 (US). LIBERTAD: Cerro Cabezon, Trujillo, 28 Oct 1953, Angulo 2014 (TRP, US); Hacienda Yanazara, Huamachuco, 25 Jun 1958, Lopez & Sagastegui 3392 (TRP, US); 26 Mar 1961, Montoya 3653 (TRP, US); Chaullacocha, Samne to Otuzco, 28 May 1960, Ferreyra 14102 (US, USM); Huaylillas, Pataz, 24 May 1961, Lopez & Sagastegui 3550 (TRP, US). ANCACHS, Huaylas; Huallanca to Caraz, 3 Jun 1962, Ferreyra 14587 (US, USM); Callejon de Huaylas, 19 Apr 1970, C. E. Smith, Jr. & Blas 4929 (US). LIMA: Rio Rimac, Lima, 2 Mar 1958, Eyerdam 10736 (UC, US).
LOCAL NAME. Achupalla (Sanchez 68).

Tillandsia latifolia v. leucophylla W Rauh, Trop. Subtrop. Pflanzenwelt 13:21 – 6. 1974
Differs from T. latifolia v. divaricata in
Leaf rosette flattened.
Leaves a little succulent with the tips rolled inwards in a spiral, dense white lepidote.
Inflorescence very frequently pendulous, to 40cm long, densely bipinnate.
Scape bracts barely glabrous with a lepidote tip.
Floral bracts glabrous, pale reddish or yellowish grey waxy pruinose.

3. Tillandsia latifolia E. MEYEN var. leucophylla RAUH var. nov.

T. lymanii is in the valley of the Rio Chancay with another unnamed Tillandsia that populates in large masses the steep rocky area between 600 and 800 m in the high areas. We had already collected this plant in 1971 under the number 24213 in the more northern situated valley from Llama-Huambos together with T. teres, but we only found a few specimens. Even at this time, we considered this plant to be a clear variety of T. latifolia MEYEN, and close to the var. divaricata Mez. Our opinion was confirmed by our visit to the valley of the Rio Chancay where it appears in masses. On the basis of this new snow-white, densely scaled leaves, it should be described as follows

Tillandsia latifolia E. MEYEN var. leucophylla RAUH var. nov.

Tillandsiae latifoliae E. MEYEN var. divaricatae similis, sed ab ea differt rosulis foliorum explanatis, foliis paulum succulentis apice spiraliter involviltis, dense albo-lepidotis, inflorescentiis plerumquo pendulis, usque ad 40 em longis, dense bipinnatis, foliis scapi glabris tantum apice lepidotis et bracteis floralibus glabris, pallido rufescentibus vel lutescentibus cano-cereopruinosis.

Holotypus : Rauh 35340, Okt. 1973, in herb. inst. syst. bot. heidelbergensis (HEID).

Type locality, The valley of Rio Puncha, upper reaches near Masin (Prov. Huari, Dpt. Ancash) near 2000m growing on rocks, named from the type specimen No. 3742

This new variety is within the type T. latifolia E Meyen, which up to now is treated as having: var. latifolia, var. major Mez and var. divaricata Mez. The two first-named varieties have their habitat in the coastal area of Peru where kms are covered with large stretches of sand through which proliferates inflorescences and vegetation (See fig57 in Rauh "Bromelien" Book1, 1970). In the northern and central Peru they also mostly populate the precipitation-poor Andean cross-valleys, on naked rockwalls in high ground to 1000 m.
The habitat of var. divaricata (Benth) Mez, stretches from central-Ecuador to south Peru. Mez distinguishes var. divaricata from the type by the spikes being at right angles to the rhachis at anthesis. The floral bracts are less strongly scaled, even abundantly glabrous and shiny crimson; so never showing grey. Regarding its standing it seems var. divaricata is quite variable in its growing habits. It grows above all in southern Ecuador where it is terrestrial and forms large masses; but lives also epiphytically in North Peru, on trees and cactus, usually as single plants. It grows from 500 m high on the Pacific side of the Andes to about 2800 m and to the inner Andean drylands where the highlands are between 1,500 and 2800 m.
The var divaricata is also quite variable in how it grows. It can be stemless or form long stems (Shoots to 1.5m long), the leaves softer and thinner than the type, less densely scaled and clearly virtually glabrous. The inflorescences are mostly erect; its thinner scape is long and strong and sometimes can be 1 m long.
One in our opinion was a typical var. divaricata growing epiphytically (see Abb 11). In this form of growth, it is to be not often found in the valley of Rio Chancay and grows as an epiphyte on Bursera graveolens, a small deciduous tree with aromatic smelling wood. It grows in association with Andean xerophytic tillandsias like T. caerulea HBK, T. juncea (R. & P.) Le Conte, T. multiflora Benth. var. multiflora, a grey very strong scaled form of T. disticha HBK, T. capillaris R. & P. and T. usneoides L.
On the basis of its ± spreading spikes and glabrous floral bracts the new var. leucophylla is very close to var. divaricata, but differs in the following characteristics:
It grows exclusively on steep rocks; the leaf blades of the flat extended rosette are succulent, their tips usually rolled spirally, and very dense, erect white scaled; the 40-60 cm tall inflorescence hangs laxly downwards, only rarely are they erect; the scape bracts are almost glabrous and only scaled at the tip; the pale red to straw-yellow floral bracts are also almost glabrous, shiny and grey waxy, which is never the case with var. divaricata. In Abb. 11 both varieties are shown side by side in order to clarify the existing differences.
The var. leucophylla only seems to grow on high ground between 600 to 800 m. It is from the valley of Rio Chancay and a Peruvian endemic and very seldom forms large clumps, growing in association with T. heteromorpha Mez , that until now was only known from the type locality, the valley of Rio Puncha, above Masin (Prov). Huari, Dpt. Ancash, at 2000m growing on rocks.

Detail from Gilmartin 1972
NOTES: The degree of spreading of the spikes in this variety of divaricata, T. latifolia is partially dependent upon the time of collection. When in bud, the spikes are all erect, see illustration. At anthesis or thereafter, the spikes spread at nearly 90° to the main axis of the inflorescence. 'The indumentum is variable and from observations of the specimens collected to date, there seems to be a continuum from the coastal forms with densely gray, lepidote inflorescences, to the Andean forms with moderately lepidote or nearly glabrous inflorescences. The strongly lepidote form extends well up the Rio Chanchan valley and is also near Portovelo in the Rio Grande valley.
Extremely variable in this species is the relative length of the scape compared to the leaf-rosette. AJG 651, a mature specimen from ca. 14 km south of Manglaralto on the coast has its scape exposed about 20 cm beyond the leaf-rosette. Also from the coastal area, near Colonche is AJG 856, a mature specimen with its short scape nearly totally obscured by the leaf-rosette. The same variability of scape-length occurs in the Andean representatives of the variety; for example, AJG 1155 from the Province of Azuay, with a very long scape and AJG 1105 from the Province of Chimborazo with its scape much exceeded by the leaf-rosette.
In specimens from both the coast and the Andes the holdfasts are well developed and usually have round or elliptic nodules which are probably insect produced. They are similar to the nodules found on the holdfasts of T. disticha H. B. K. and are mentioned in the notes under that species.

OLD NAMES NOW UNDER SYNONYMY
Tillandsia gayi Baker, Handb. Bromel. 179. 1889. Treated as a synonym of Tillandsia latifolia var. divaricata in Binomials 5 1996
Desc from S&D p773
Plant stemless, flowering 4-7 dm high.
Leaves rosulate, suberect, 25 cm long, covered with subappressed cinereous scales; Sheaths narrowly ovate, scarcely distinct;
Blades very narrowly triangular, 1-2 cm wide.
Scape erect, slender, glabrous;
Scape-bracts imbricate, elliptic, red, lepidote, the lower slenderly laminate.
Inflorescence bipinnate or subtripin¬nate, dense toward apex, lax below, 17-25 cm long, 5-10 cm in diameter; axis nearly straight, slender, glabrous;
Primary bracts like the upper scape-bracts, much shorter than the simple or digitately divided branches;
Spikes erect or suberect, stipitate with imbricate sterile bracts, linear-lanceolate, acuminate, 55-65 mm long, 8-13 mm wide, complanate, subdensely 8-12-flowered; Rhachis flexuous, slender, sulcate, subalate.
Floral bracts erect and laxly imbricate but exposing much of the rhachis, ovate- elliptic, obtuse, 16 mm long, equaling the sepals, ecarinate, thin, strongly nerved, glabrous; Flowers subsessile.
Sepals lanceolate, obtuse, 14 mm long, nerved, glabrous, the posterior carinate and connate 3-4 mm.
Petals 20 mm long, red to violet, spreading at apex, the blades narrow;
Stamens and pistil included.
Type. Gay s n (holotype P, GH photo), without exact locality, Peru.
DISTRIBUTION. Epiphytic on shrubs and cacti in sunny habitats, 1700-2850 m alt, Ecuador, Peru.
ECUADOR. AZUAY: Cuenca, Teuscher 1834-56 cult. Montreal (US). PERU. HUANCAVELICA: km 15, La Mejorada to Ayacucho. 20 Jan 1950, Ochoa 750 (F); Uchuymarca, Mejorada to Anco, 30 Apr 1961, Tovar 3323 (US, USM). AYACUCHO: km 15, Ayacucho to Mejorada, 20Jan 1950, Ochoa 749 (F). APURIMAC: Curahuas, Abancay,Jun 1938, Vargas 1076 (GH); Mollepata, 22 May 1954, Rauh P-1386 (US); Casinchihua, 9 Aug 1954, Ferreyra 9949 (US, USM); 21 Dec 1962, Iltis & Ugent 828 (US, WIS). Cuzco: Limatambo, Rio Apurimac Valley, Rauh P-1386 (US photo).

Protologue
Tillandsia gayi Baker, Handb. Bromel. 179. 1889
92. T. Gayi Baker.
Leaves densely rosulate, ensiform-subulate, a foot long, ½ in. broad low down, very rigid, thinly lepidote. Peduncle as long as the leaves. Panicle ½ ft. long; spikes 10-12, dense, sessile, erecto-patent, 1 ½ -2 in. long, 1/3 in. broad. Flower-bracts oblong-lanceolate, bright red, ½ in. long. Calyx as long as the bract. Petal-blade oblong, ¼ in. long.

Hab. Andes of Southern Peru, C. Gay (Herb. Mus. Par.) Gathered in 1839—1840.

Key from Mez 1935 showing how Mez treated them as being related (Shown in bold)
:: Sepala posterior high connate.
:: Bract floral not at all carinate.
Spikes to 55 mm long, up to 8-flowered => 234. T. Gayi.
Spikes to 35 mm long, up to 6 flowered => 235. T. oroyensis.
Bract floral strongly carinate. Leaves clearly banded, subglabrous => 236. T. Roezlii.
Leaves not at all banded, clearly lepidote. I Scape bracts leaflike.
Sepals equalling the bracts => 297. T.murorum.
Sepals longer than the bracts.
Spikes sessile.
* Sheaths of the leaves inconspicuous => 238. T. latifolia.
** Sheaths of the leaves large => 239. T. Archeri.
Spikes lower ones stipitate => 240. T. minor.

From Mez 1935 now T. latifolia v. latifolia
231. T. murorum Mez in Fedde, Repert. XII. (1913) 420. - Usque ad 0,25 m alta. Folia nullo modo bulbose rosulata, ad 0,17 m longa, e basi usque ad 20 mm lata, haud distincte vaginata in apicem subuliformi-acutum sensim angustata, rigida, tota lepidoto-grisea. Scapus erectus, brevissimus foliis perlonge superatus, vaginis summis quoque laminas parvas recurvas gerentibus, dorso dense lepidotis involutus. Inflorescentia densissima, subcapitata, 2-pinnatim panniculata, submultiflora, foliis superata, compacta, e spicis valde approximate pinnatim axi insertis omnibus aequalibus composita, usque ad 75 mm longa et 70 mm diam. metiens mihi visa; spicis dense flabellatis, 8-12-floris, omnibus suberectis sibique appressis, sessilibus, ad 40 mm longis et 13 mm latis, lanceolatis, utraque facie convexiusculis, bracteae primarias longe superantibus; bracteis florigeris rigidulis, dorso dense lepidoto-griseis, dense imbricatis, prominulo-venosis, obtuse carinatis, ad 12 mm longis, sepala subaequantibus. Flores erecti, 15 mm longi; sepalis posticis binis medium usque connatis, glabris, apicem anguste rotundatum usque carinatis, 10 mm longis.
Peru: Tal des Flusses Rimac bei Sta. Clara, aut den Mauern der Ruinen von Caja-marquilla (Seler n. 253).
Obs. Till. Latifoliae Meyen accedit, nec non ad T. Gayi Bak. vergit, ab illa statura omnino minore, sepalis bracteas aequantibus, ab hac bracteis dorso dense lepidotis satis bene distincta.
translation by Butcher
Plant up to 25cm high.
Leaves in no way forming a bulbose rosette, to 17cm long, to 2cm wide at base, not at all distinct from the sheath, tapering gradually to a subulate acute tip, rigid, totally grey lepidote.
Scape erect, exceeding by a very long way the very short leaves, enveloped by the top of the sheath of the scape bracts which has a blade that is slightly recurved, dense lepidote on the back.
Inflorescence very dense, subcapitate, bipinnate panicle, almost many flowered, exceeding the leaves, compact, comprising strong spikes more or less pinnate, all equally inserted on the axis, up to 7.5cm long, 7.0cm diam., that I saw,
Spikes dense fan-shaped; 8-12 flowered, all suberect sometimes appressed, sessile, to 4cm long, 1.3cm wide, lanceolate, outer face becoming convex
Primary bracts well exceeded by the spike
Floral bracts rigid, on the back dense grey lepidote, densely imbricate, prominently veined, obtuse carinate, to 1.2cm long, about equakking the sepals.
Flowers erect, 1.5 cm long
Sepals posterior pair connate to the middle, glabrous, the narrow tip rounded all the way carinate, 1cm long
Peru: Rimac river valley, near Santa Clara, by the Mayan ruins of Cajamarquilla ( Seler no. 253)

From Mez 1935 now T. latifolia v. divaricata
240. T. minor Mez et Sodiro in Bull. Herb. Boiss. 2. ser. IV. (1904) 1136. - Vix ultra 0,3 m alta. Folia haud bulbose rosulata, ad 0,2 m longa, 15 mm lata, in apicem subuliformem sed mollem recurvum persensim angustata, dense lepidibus cinereis pruinosa. Scapus erectus, gracilis, folia longe superans, dense vaginis chartaceis, appresse densiuscule lepidotis, in laminas crasse filiformes insigniter arcuatim recurvas productis involutus. Inflorescentia submultiflora, laxa, e spicis ad 9 aequalibus vel superioribus paullo minutis, pinnatim axi insertia composita 2-pinnatim panniculata, ad 0,12 m longa et 90 mm diam. metiens; bracteis primariis erectis, dorso lepidotis, omnibus laminigeris, quam spicae permulto brevioribus; spicis flabellatis, ad 12-floris, inferioribus saltem optime stipitatis, patentibus, lanceolatis, utrinque breviter acutis, ad 45 mm longis et 11 mm latis, utraque facie paullo convexis; bracteis florigeris densissime imbricatis, rigidulis, dorso laevibus et griseo-lepidotis, glabratis nitidulis, satis carinatis, summis ad apicem minute incurvas, breviter acutis, ad 35 mm longis, sepala longe superantibus. Flores erecti, ad 17 mm longi; sepalis posticis binis alte inter sese connatis, dorso perparce lepidotis, coriaceis, laevibus, trlangulo-lanceolatis, sensim acutis, ad 11 mm longis. Petala albida, quam sepala ad 5 mm longiora, stamina superantia.
Ecuador: Tal Pallatanga (Sodiro n. 171/28).

Plant to 30cm high.
Leaves not at all forming a bulbose rosette, to 20cm long, 1.5 cm wide, gradually tapering to a subulate but softly recurved tip, dense grey pruinose lepidote,
Scape erect, graceful, much exceeding the leaves, covered by scape bracts
Scape bracts sheaths, dense, chartaceous, becoming dense appressed lepidote, the blades thick filiform clearly bow recurved
Inflorescence, almost many flowered, lax, with to 9 equal or the upper ones a little smaller spikes, pinnately inserted making a bipinnate panicle, to12cm long, 9cm diam
Primary bracts erect, lepidote on the back, all bladelike, much shorter than the spikes,
Spikes fan like, to 12 flowered, at least the lower ones clearly pedunculate, spreading, lanceolate, both sides short acute, to 4.5cm long, 1.1cm wide, outer face a little convex
Floral bracts very densely imbricate, rigid, the back lightly and grey lepidote, shiny glabrous, sufficiently carinate, the top towards the tip a little incurved, short acute, to 1.5cm long, much exceeding the sepals.
Flowers erect, to1.7cm long,
Sepals posterior pair high connate, on the back very sparsely lepidote, leathery, smooth, triangular-lanceolate, becoming acute, to 1.1cm long
Petals white, up to 5mm longer than the sepals, exceeding the stamens
Ecuador: Pallatanga valley (Sodiro no. 171/28)

From Baker 1889 treated as a synonym of T. latifolia v. latifolia in Mez 1935
810. T. OXYSEPALA Baker in Journ. Bot. 1888, 141.
Leaves about a dozen in a rosette, lanceolate-acurninate from an ovate base an inch broad, 8-9 in. long, ½ in. broad at the middle, subcoriaceous, thinly lepidote. Peduncle as long as the leaves; bract-leaves with long linear-setaceous free tips. Inflorescence a dense oblong multifarious capitulum 2-3 in. long; flower-bracts ovate acuminate, subcoriaceous, 2-2½ in. long. Calyx ¾ in. long; sepals acute. Petals not seen.
Hab. Andes of Southern Peru, Bridges ! Gathered about 1830.

Protologue
Tillandsia grisea Baker, Jour. Bot. London 25: 245. l887. Type. Near Lima, Peru, Cuming 981 e p (K, K photo 7433).
62. T. grisea n. sp.
Root-leaves not seen. Peduncle 6-8 in. long; bract-leaves few, with large ovnte-clasping bases and linear-setaceous rigidly coriaceous densely lepidote free points convolute down to the base. Inflorescence a panicle 3-6 in. long; spikes 3-8, simple, dense, erecto-patent, 1-2 in. long, ½ in. broad; lower bracts with large ovate clasping bases and long setaceous free points; flower-bracts oblong, naked, acutely keeled, ½ in. long. Calyx reaching to the top of the bract. Petals narrow, ¼ in. long.
Hab. Peru, near Lima, Cuming 981! Near T. polystachya L.
---
Updated 28/02/17
---