Tillandsia kretzii
Click thumbnails for full size, scaled to a new window.
---
Tillandsia kretzii
Species, Guatemala.
See Bromeliad Society of South Australia, newsletter May/June 2005.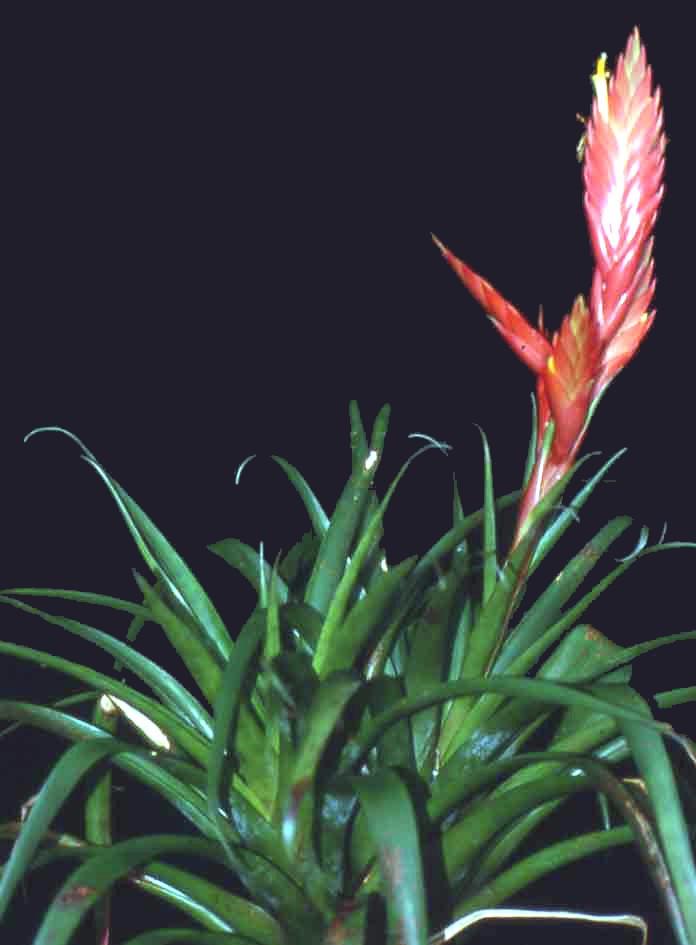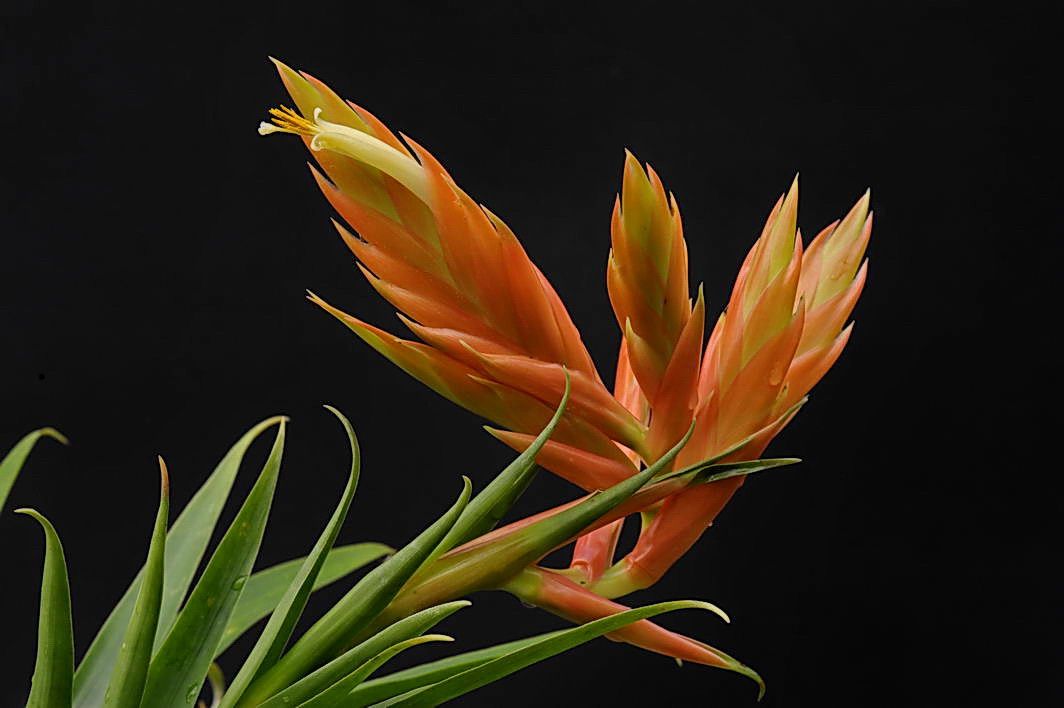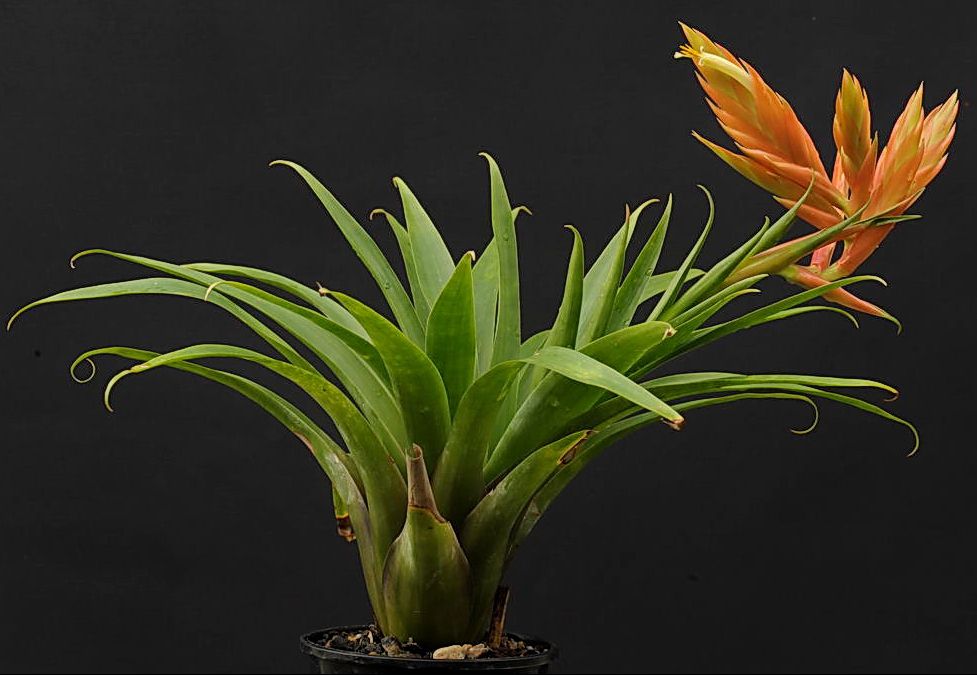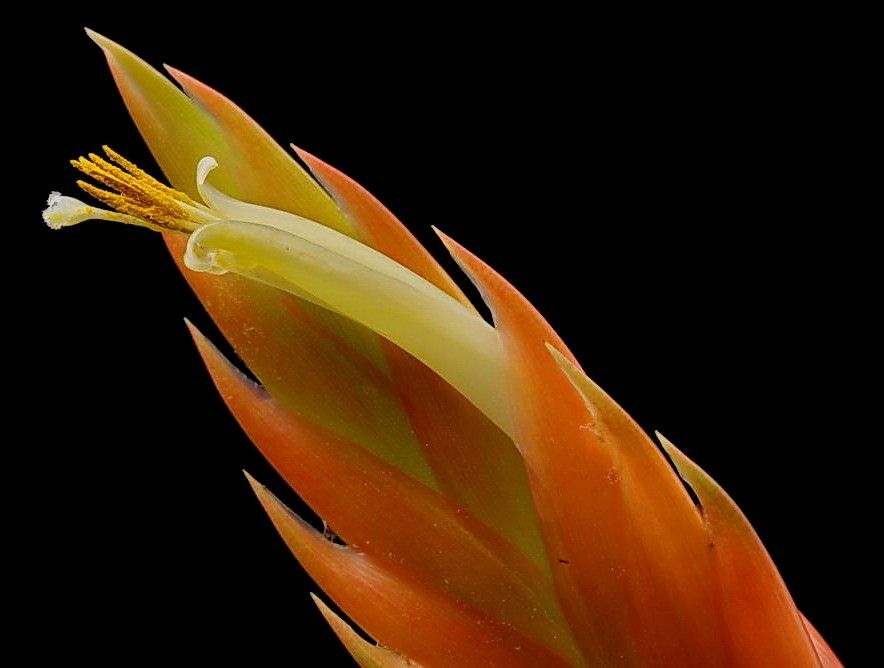 | | |
| --- | --- |
| Juergen Brinckmann, Manfred Kretz, Derek Butcher. Described by R.Ehlers. 2005 | Peter Tristram 10/12. |
Peter Tristram ... "I got this from Guat, from Manfred himself. Interesting beast! The inflorescent would normally be erect I imagine but those Repton conditions again – so big it flopped! Flowered in winter too and I wasn't game to turf it out into the cold BUT I think, like yunckeri, imperialis, candelifera, 'Werner's Wonder' and others, it would love the outdoor experience."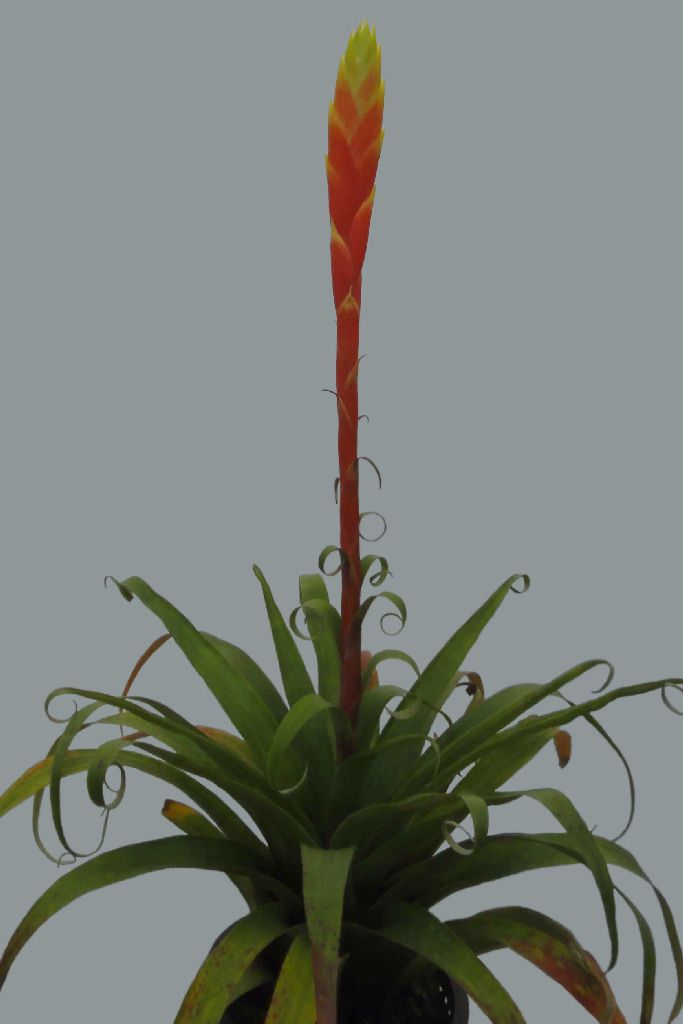 | | |
| --- | --- |
| Chris Larson 11/12. Probably same source as P. Tristram. | Geoff Beech 10/21 |
Geoff Beech ... "A couple of kretzii both off the same mother grown side by side but different spikes, go figure!"
Peter Tristram ... "Beautiful! These higher altitude species sure do well in cooler climates though I still have a few that survived those heatwaves a few years ago. I obtained T. kretzii from Kretz which is pictured on 'Bromeliads in Australia' (and still have it) and Chris got some similar stuff from Guatemala that were like a sliding scale of nervata/verapazana/kretzii. Funny thing is I got nervata from the Palmengarted with a branched spike so it was disputed as a hybrid, though with collection data. In nature, hybrids abound. As Harry Luther used to say to me, 'they're all hybrid swarms, Peter', in his droll, American accent."

---

Tillandsia kretzii Ehlers & Lautner, Die Bromelie 2/2004: 36-8. 2004.
A Tillandsia nervata L. B. Sm. vaginis foliorum adaxialiter brunneis non laminis aequicoloribus, inflorescentia spicis plurimis cum bracteis primariis longis composita non simplice, bracteis florigeris longioribus (usque ad 65 mm longis versus usque ad 45 mm longis) solo apicem versus carinatis, non lepidotis, in vivo non (vel solo adaxialiter paulo) nervatis et sepalis non alatis solo paulo carinatis differt.
Typus Guatemala, prope limitem rei publicae Mexico, inter urbes San Marcos et San Pablo, 2200 m s. m., leg. Manfred Kretz s. n., / Jiirgen Lautner L 21.02.1999 / (Holotypus: USCG).

Type: Guatemala, near the border with Mexico, San Marcos-San Pablo 2200 m s. m. leg. Manfred Kretz s. n. /Jurgen Lautner L 21.02.1999 Holotype USCG

Translated by Derek Butcher
Plant: epiphytic, forming an upright, somewhat extended rosette from 20–35 leaves, 30–35 cm high, blooming to 60 cm high, to 50cm diam.
Leaves to 25 cm long, thin-leathery, dark-green on both sides with densely minute appressed scales, appears bright green.
Sheaths 8 to 10 cm long, 4.5 - 6 cm wide, elliptic, somewhat curved, indistinct from the blade, adaxial dark brown densely finely appressed scaled, abaxial brown green, same color as the blade.
Blade 30 to 40 cm long, 3–4 cm wide next to sheath, triangular long – filiform acuminate, the edges bent, bent outwards or bent back.
Scape erect, as long as the rosette. to 18 cm long, 8 - 12 mm wide, including a few polystichous scape bracts, erect, the basal ones subfoliate with to 20 cm long blade, the upper blades becoming shorter and only 6 cm long, the scape not visible.
Inflorescence to 30 cm long, 18 cm wide, with several (5) spikes spreading at an angle of 45 - 80 degree, internodes 1 - 3 cm.
Primary bracts sheaths of the lower spikes approximately half as long as the spikes, elliptical, shiny red with to 3 cm long filiform green blade that becomes shorter for the upper ones and are only acute.
Spikes 10 - 20 cm long, 3–4.5 cm wide, lanceolate, acuminate, complanate, with to 1 cm long, strong stem, with 9 - 17 sessile distichous imbricate flowers, in addition at the base to 4 sterile bracts, Rhachis not visible, internodes 5 -7 mm.
Floral bracts 5–6.5 cm long, 2.4–2.7 cm wide, elliptical acuminate, keeled at the top, glabrous, leathery, when dried adaxial is somewhat nerved, abaxial not nerved, brilliant red with a yellow somewhat chopped tip, firmly enclosing the sepal, filled with a slimy liquid.
Sepals 2.9–3.3 cm long, 6 - 7 mm wide, lanceolate acute, thin leahery, glabrous, free (ca. 2 mm joined to the ovary), the posterior pair somewhat keeled, yellow-green.
Petals to 8 cm long, 6–6.6 mm wide, linear, forming an erect tube with the obtuse tip rolled outwards, shiny yellow, the basal 4 cm whitish. Stamens protruding from the flower, Filaments 7–7.2 mm long, 0.8 mm wide, straight, white.
Anthers 11 -12 mm long, 1 mm wide, linear, joined 2 mm from the base,
Pollen yolk yellow.
Style 7.5 mm long, thin, white, stigma 3 mm long, 2 mm wide, lobes erect, hardly spreading, some papilllose.
Ovary 10 mm high, at the base 4 mm wide, conic, bright-green.

From Tillandsia nervata L. B. Smith the plant differs in the following characters:
Leaf sheath adaxial brown, not same color as the blade,
Inflorescence bipinnate from several spikes with long primary bracts, not simple,
Spikes longer and with more flowers,
Floral bracts longer, to 65 instead of to 45 mm long, only keeled at the top, not lepidote, in fresh condition not nerved, only somewhat adaxially,
Sepals not alate distinguished by being somewhat keeled.

From T. lampropoda L. B. Smith:
Sheaths abaxial brownish green, same colour as the blade, not bright purple,
Blades not appressed-cinereous-lepidote, appearing bright green,
Floral bracts not broadly ovate but elliptic, only 2.4 – 2.7 cm, not 4 cm wide, not strongly, but only at the top keeled, glabrous, not obscurely punctulate, not cinereous-lepidote towards apex, not narrowly dark-margined,
Sepals less carinate,
Petals longer, 8 cm not 5 cm.

From T. lampropoda L. B. Smith var. major L. B. Smith:
Leaves to 35 cm long not 80 cm,
Scape-bracts not subinflated, longer, the sheath half as long as the spike, not only 5 cm long,
Petals yellow not white.

The plant is an especially beautiful finding by the group of Manfred Kretz, Jurgen Brinckmann & Jurgen Lautner, that traveled in Guatemala in 1999. With its shiny red spikes it compares favourably with most of the beautiful Vriesea hybrids. According to its discoverer Manfred Kretz the plant came into flower in his collection in the Spring of 2003 to bloom, and is named T. kretzii after him.

A new Tillandsia from Guatemala by Jurgen Lautner pages 39-40
In February and March 1999 we three, Jurgen Brinckmann, Manfred Kretz and I, again met as a group and visited the country Guatemala - Central America. As always over the years I try to visit the Tillandsia Nursery, Clavella Del Aire. Its nice and hospitable owners Mimi and Uwe Feldhoff together with Uwe Sito and bodyguard picked up us at the Airport of Guatemala city as always.
They had reserved us a room in the Posada de los Reyes S. A., a German run hotel. This is in Zone 11 not far from another suburb of Guatemala city, where Feldhoffs still had their actual business to the time. After we had viewed in the first few days the two other branches of Clavella Del Aire in Sac Javillar and El Hato, we could then seek our own goals with a rented Mazda 626.
We visited a beautiful world on the road after Chilasco in the Department of Baja Verapaz where up to now you were always in a fabulous world, and it had large areas of the beautiful Tillandsia standleyi, often with abundant T. punctulata crosses and beautiful hybrids. The trees were often fully grown over with T. lucida, T. welzii, T. multicaulis, different Catopsis species and orchids, but this time I was worried, because almost everything had been burned down, fences were erected, some huts built and we saw plants of paprika and tomatoes.
Again, beautiful tillandsias that had existed and now vanished, as well as in a similar Department many hectares of mountain rainforest had been cleared, where the so named leather-fern used to be found that is now produced by tissue culture in Europe and USA and found in almost each flower bouquet as greenery.
On another day, we had the luck to collect, first since 1905, the epiphytic cactus Disocactus eichlamii (Weingt.) Britt. & Rose in the Dept. Santa Rosa on a foothill of the Volcan de Pacaya in two clones, we had in our way kilometre wide knee-high lava to clamber through, because this volcano had only erupted not so long ago and covered the surroundings miles around with lava masses and had also destroyed many areas. We found more epiphytic cactus like Disocactus quetzaltecus (Standl. & Steyerm.) Kimn. in the Dept. Quetzaltenango and Disocactus biformis (Lindl.) Lindl. at the Atitlan lake in the Dept. Solala.
My diary shows for 21.02.1999 next recording:
L 99 / 17: 2400 m San Marcos
At the Carretera 1 after San Marcos near km 266 in a mountain rain forest large areas of a Gunnera spec. (Plants with rhubarb like leaves of the family of Haloragaceae,) in a livestock pasture area on remaining trees Tillandsia tricolor and a beautiful Vriesea spec. with a red sword.
We found two smaller plants at that time, which Manfred and Jurgen took home to Germany and a very large plant with several offsets, that we collected for Uwe Feldhoff.
Unfortunately we found no further small plants, therefore I went empty.
Since drove the about 1 from San Marcos to the Mexican border crossing at El Carmen, we had the doubtful pleasure by being halted by two Guatemalan customs officers in order to have our car checked for drugs and guns. Naturally they found nothing, but our own sort of drugs - Bromeliads – did not interest them.
On a trip to the Lago Izabal, we saw also the dreadful detritus, that the tornado Mitch in November 1998 had caused, where gigantic mud avalanches had moved giant trees and rolled them into field and roads like barrels and destroyed many bridges.
The three weeks in Guatemala had passed all too quickly, we had an unfortunate accident with our rented car in running over a small dog, that ended with us finding a new location of Tillandsia salmonea that is known normally only from Chiapas in Mexico.
The luck we experienced with the Disocactus eichlamii continued as I was later able to get confirmation from Ralf Bauer, Offenburg, Germany, the expert in the area; and that with the new Tillandsia species, that flowered with Manfred in 2003 and named by Renate Ehlers as Tillandsia kretzii - that we had collected as Vriesea spec.
It is unfortunate that the company Clavella Del Aire, of which I have such memories, exists no longer and the well beloved host and friend Uwe Feldhoff and his wife have my blessing.
---
Updated 11/11/21
---