Tillandsia karwinskyana
Click thumbnails for full size, scaled to a new window.
---
Tillandsia karwinskyana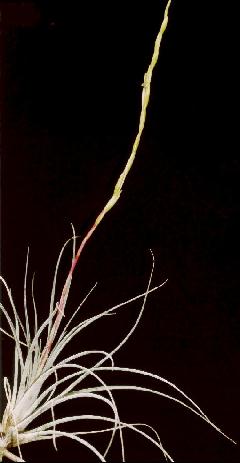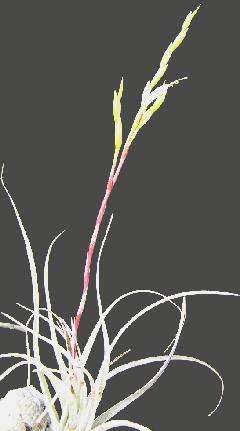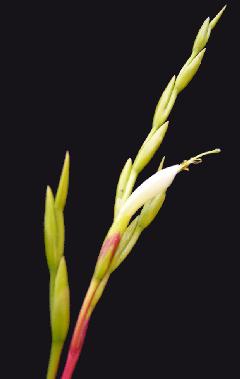 | | |
| --- | --- |
| Ken Woods 12/04 | Ken Woods 01/07 |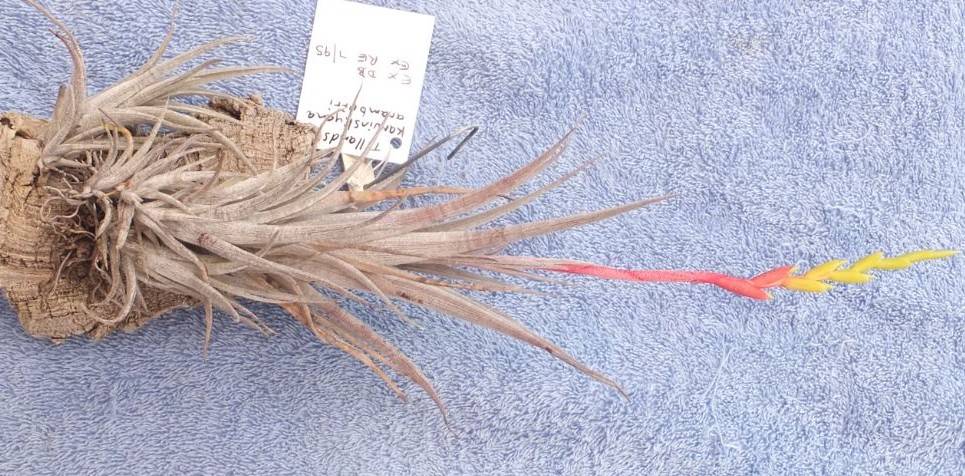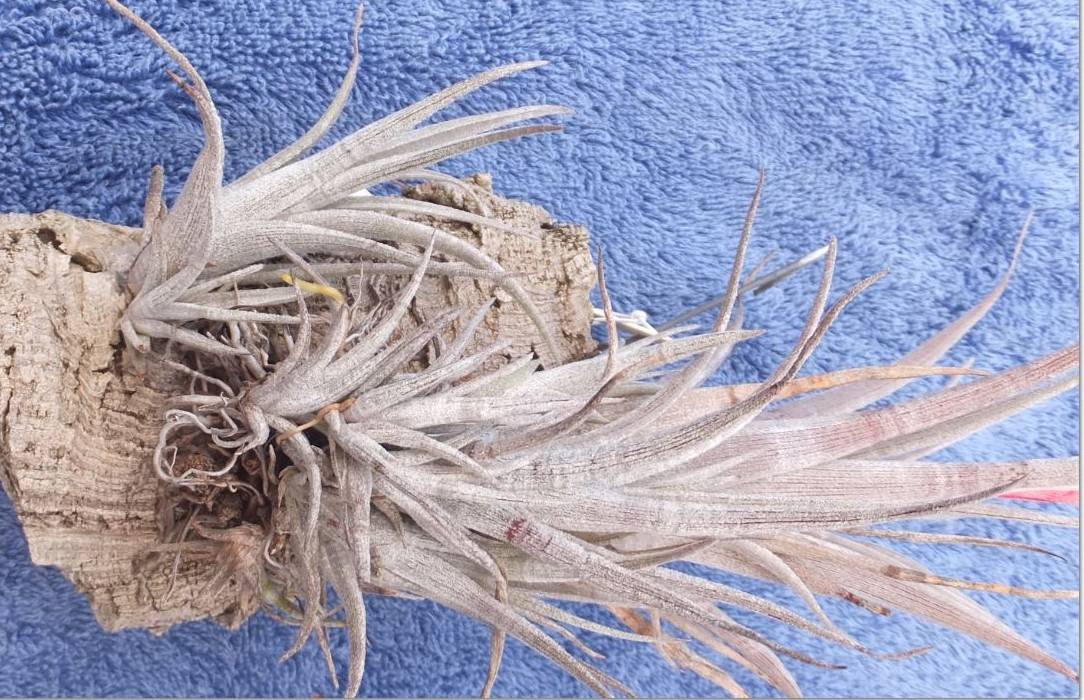 Adam Bodzioch 12/20 as karwinskyana "Aramberri"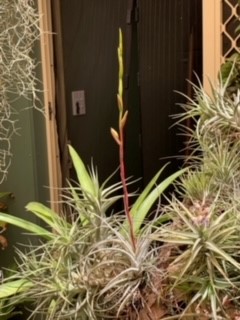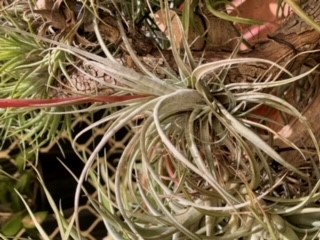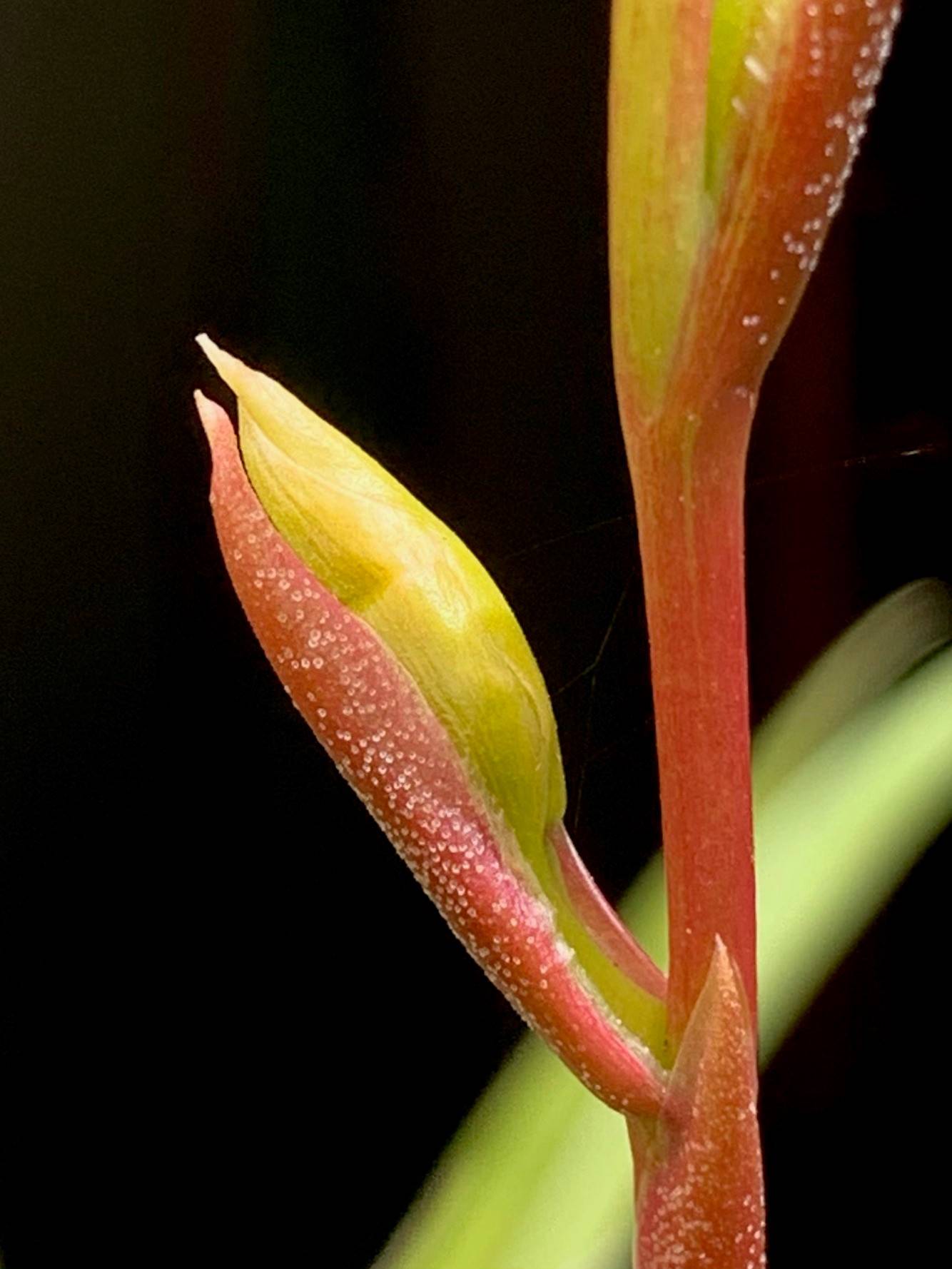 Adam Bodzioch ... "Here is one that that I got from Derek Butcher some years ago. Derek got it from Renate Ehlers in 1995. I don't know for sure whether she collected it herself but that is probably the case.
I love the contrast of the flower spike with the light grey leaves which have transverse markings in addition to a striated look."
Ray Clark ... "Nice work Adam, I have an example here from you that I got many years ago and I am waiting somewhat patiently for flowering. I am intrigued though, I cannot find any reference to Aramberri anywhere, can you enlighten us please?"
Dale Dixon ex Wikipedia ... "Aramberri is a municipality in the northeastern Mexican state of Nuevo León, it is located at southeastern corner of the state. It was founded as Santa María de los Angeles de Río Blanco Mission in 1626 in the jurisdiction of Río Blanco, in the former New Kingdom of León. Its current name (which means "new valley" in Basque) honors Jose Silvestri Aramberri, a general involved in the Mexican war of reform. It borders the municipalities of Galeana and Iturbide to north, Doctor Arroyo to west and southwest, General Zaragoza to south and with state of Tamaulipas to east."
Ian Cook ... "My T. karwinskyana preparing to flower here also."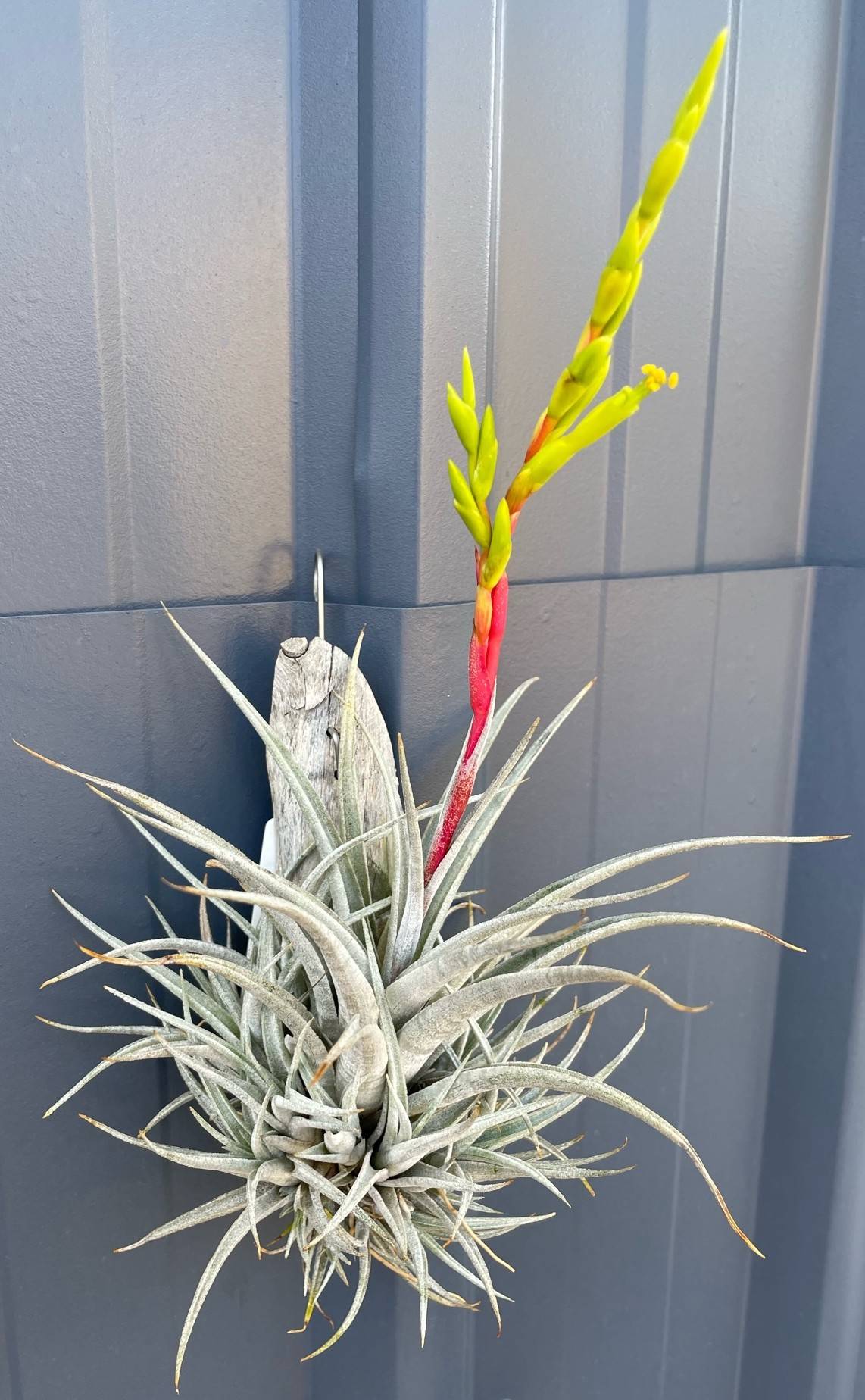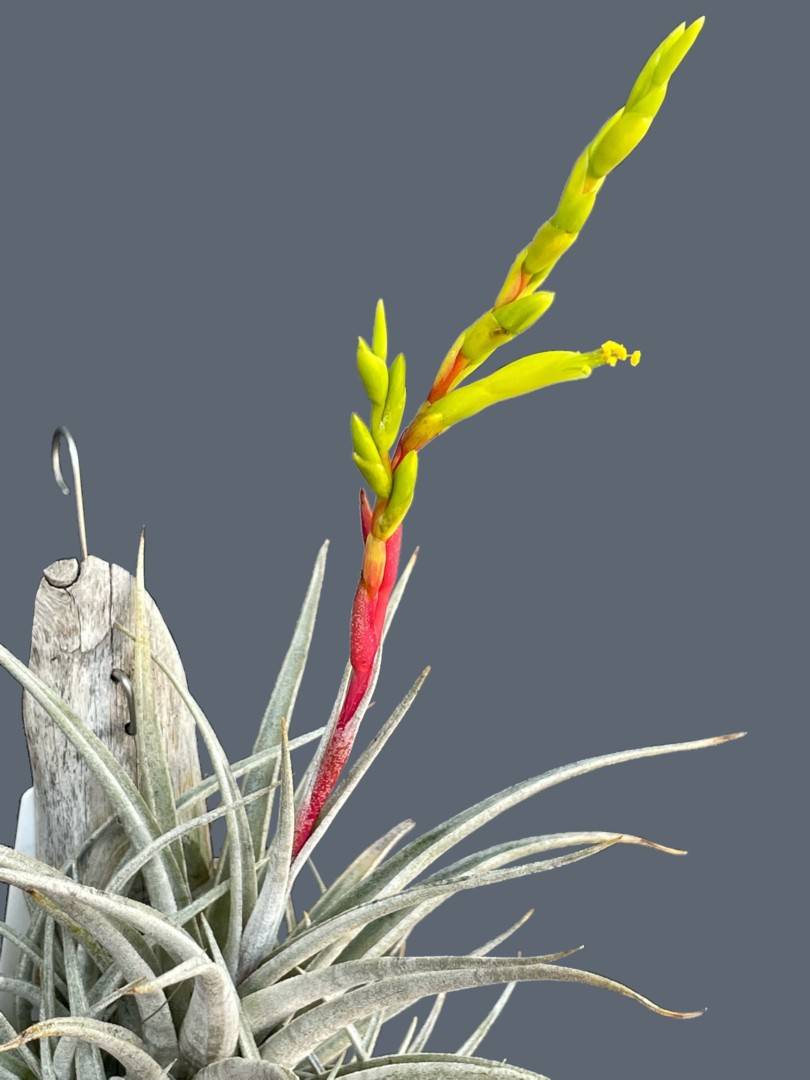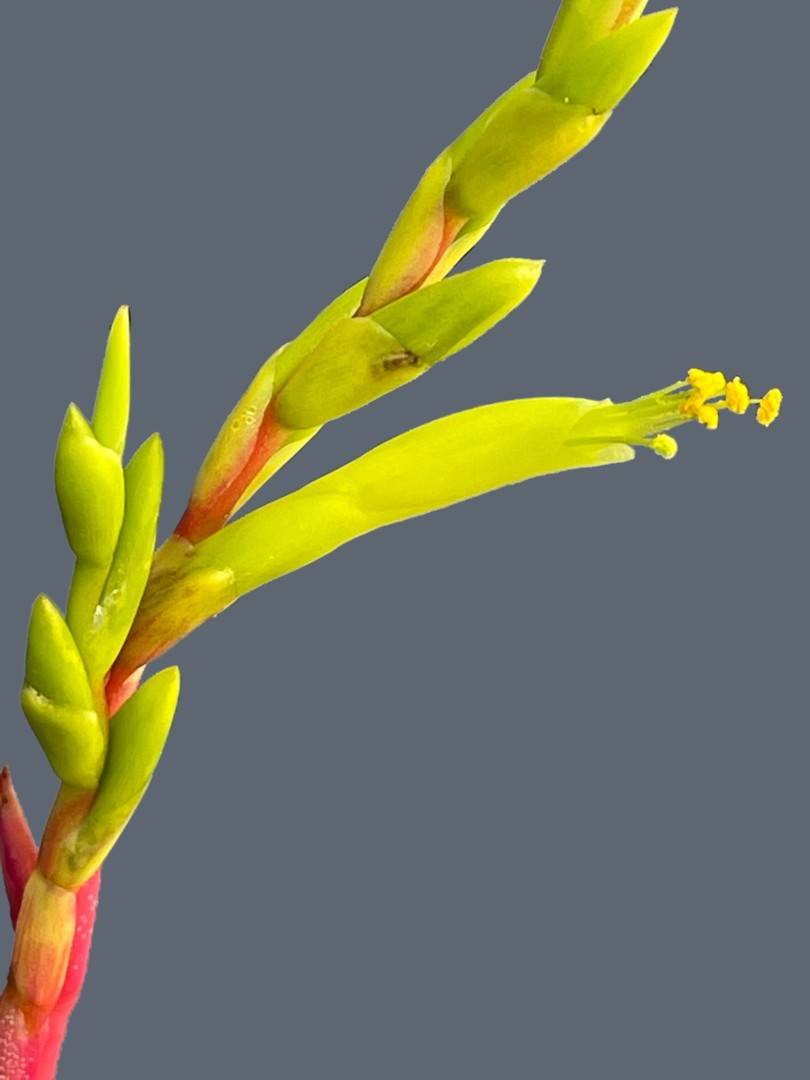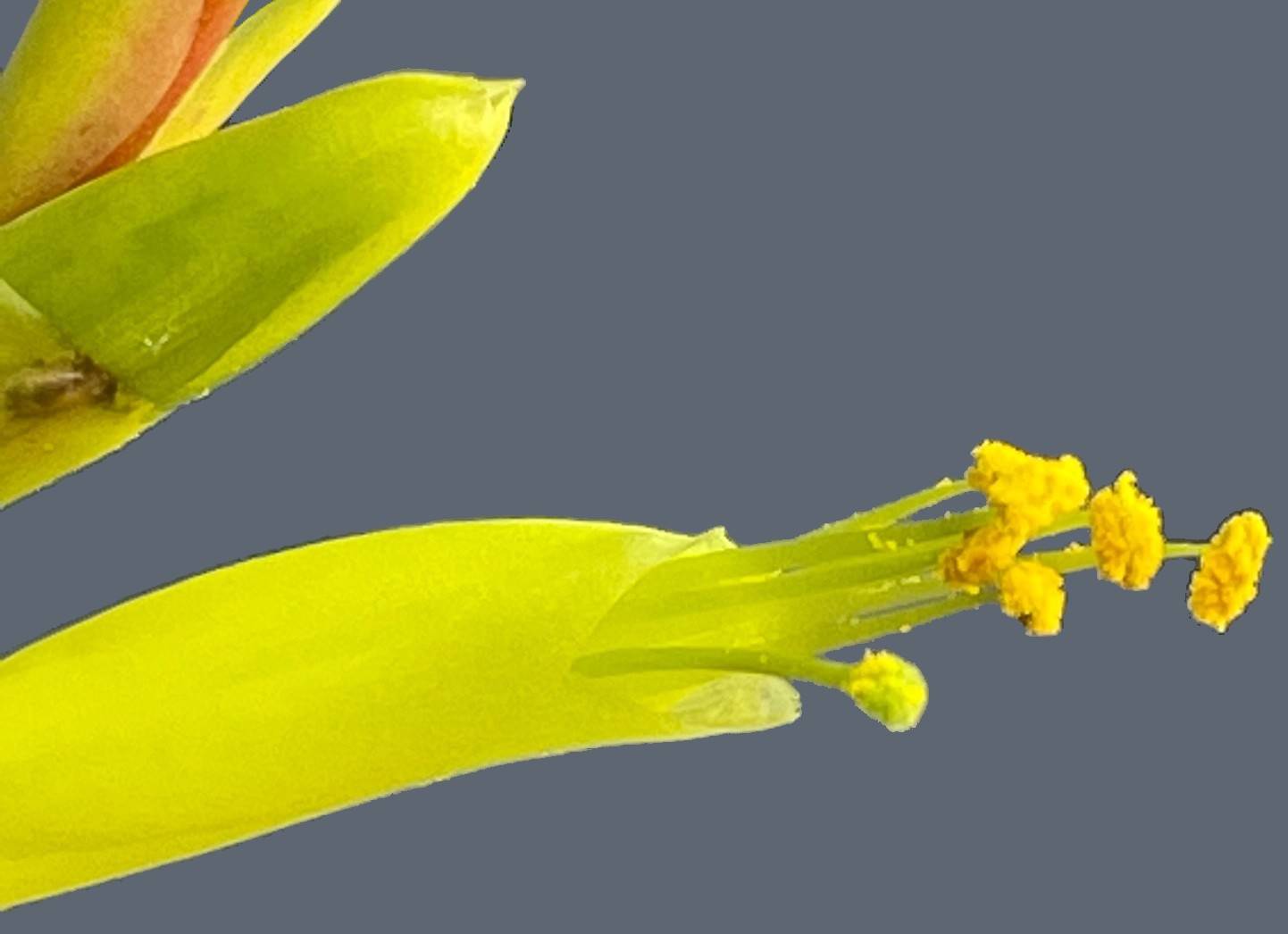 Ray Clark ... "I've been patiently waiting for this one."
Peter Tristram ... "It's a species that certainly looks fantastic grown hard, like SA conditions! My outdoor ones are mush here, such is the problem with back to back La Ninas."

---

Tillandsia karwinskyana Schultes filius in Roemer & Schultes, Syst. 7(2);1209, 1830
TYPE; Karwinsky s.n. (holotype M, photo F, US), Mexico without exact locality.
Description from Gardner 1982 because S&D included T. pringlei as a synonym

ROSETTE; Strict to slightly spreading, leaves often secund in large clumps, 15 to 20 leaves, scant impoundment.
Plant size varies considerably but the average is much smaller than the average T. utriculata
LEAF: 25 cm long.
BLADE; 15 mm wide, thick, succulent, densely cinereous tomentose.
SHEATH; 3 cm long, 15 mm wide, adaxial surface pale brown, abaxial concolorous with blade.
SCAPE; Elongate, slightly shorter than leaves to longer than leaves, arching erect to flexuose.
SCAPE BRACTS: Remote, lepidote, bladeless,
PRIMARY BRACTS; Like upper scape bracts, much shorter than branches, flushed #26 red.
INFLORESCENCE: Typically simple, occasionally to four branched, flowers spreading, distichous, rachis flexuose.
FLORAL BRACTS; Broadly ovate, remote, thin, #81 char¬treuse with flush or small lines of #26 red on lowest few, 24 mm long, 15 mm wide.
SEPALS; Spatulate, free, ecarinate, thin but firm and thick¬ened proximally, chartreuse, 21 mm long, 8 mm wide.
PETALS; Spatulate, erect but twisted at union of blade and claw, #81 chartreuse, 36 mm long, 9 mm wide.
FILAMENTS: #81 chartreuse, 37 and 39 mm long.
ANTHERS. 3 mm long, attachment 1/3 to 1/2 from base, versatile, Pollen dark yellow, endothelium brown.
STYLE; Green, 37 mm long.
STIGMA: Green, lobes loosely twisted and slightly divergent.
FLOWERING; April - June, hours unknown.
HABITAT; Saxicole on boulders and rock walls (rarely epiphytic), in arid regions of central Mexico, offsets freely.
ELEVATION; 1,200 to 1,900 meters.

Detail from Baker 1889
186. T. Karwinskyana Roem. et Schultes Syst. Veg. vii. 1209.
Leaves 20-80, densely rosulate, ensiform -subulate from an ovate base 1½ in. diam., a foot long, an inch broad low down, moderately firm in texture, nearly naked on the face, thinly lepidote on the back.
Peduncle ½ ft. long ; lower bract-leaves with long, free points.
Inflorescence a lax simple spike, 3-4 in. long;
flowers 8-12, adpressed to the rachis;
flower-bracts oblong -lanceolate, naked, ¾-1 in. long.
Calyx shorter than the bract.
Petal-blade violet, as long as the calyx, shorter than the stamens.
Hab. Mexico, Karwinsky. Described from a plant that flowered at Kew, Dec., 1877. Sent by Mr. C. S. Sargent.
Note because it was described from a flowering plant the colour of the petals would probably be correct which makes it a suspect identification.

Detail from Mez 1935
10. T. Karwinskyana Schult. fil. in Roem. et Schult. Syst. VII. (1830) 1209. –
Acaulis, ad 0,4 m alta. Folia ad 0,3 m longa, super vaginam ad 25 mm lata, inde in apicem subulatum persensim angustata elongate triangularia, utrinque densissime lepidibus magnis tomentosa pulchre micantia. Scapus erectus, folia subaequans vel paullo superans, dense vaginis dorso lepidotis, internodia superantibus involutus. Inflorescentia simplicissima, pinnata, subpauci- vel submultiflora, ad 0,17 m longa et 15 mm lata; rhachi valde angulosa, recta vel undulata; bracteis margine late membranaceo excepto coriaceis, ovato-ovalibus, nec imbricatis nec axem obtegentibus, dorso glabria et valde prominenti-venosis, ad 17 mm longis quam sepala permulto brevioribus. Flores erecti vel suberecti, certe 40 mm vel ultra longi; sepalis antico libero posticis inter sese breviter connatis, glabris et venosis, obovato-ellipticis, rotundatis, ad 18 mm longis. Petala. sepalis duplo longiora, tubulose erecta, quam stamina bene breviora.
Mexico: bei La Escondida (Karwinsky)

Plant stemless, to 0,4 m high.
Leaves to 0,3 m long, above the sheath to 25 mm wide, then from narrow elongate triangular gradually tapering to a subulate tip, both sides with very dense large lepidote, a shiny beautiful tomentose.
Scape erect, about equalling the leaves or a little exceeding, dense lepidote on the back of the sheaths, rolled inwards and exceeding the internodes.
Inflorescence simple, pinnate, few to almost many flowered, to 0,17 m long and 15 mm wide;
rhachis clearly angled, erect or undulate;
Floral bracts margins wide membranaceous otherwise coriaceous, ovate-oval, not at all imbricate not at all enclosing the axis, on the back glabrous and clearly prominent veined, to 17 mm long very much shorter than the sepals.
Flowers erect or suberect, certainly 40 mm or much longer;
Sepals anterior free, posterior pair short connate, glabrous and veined, obovate-elliptic, rounded, to 18 mm long.
Petals twice as long as the sepals, tubular erect, much shorter than the stamens.
Mexico: near La Escondida (Karwinsky)
---
Updated 12/03/22
---