Tillandsia kalmbacheri
Click thumbnails for full size, scaled to a new window.
---
Tillandsia kalmbacheri
Refer to "Detective Derek" article DD0809 for more details.

Ian Hook 06/06, owned by Neville Ryan Qld.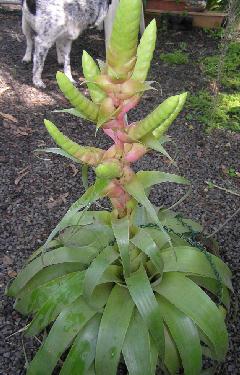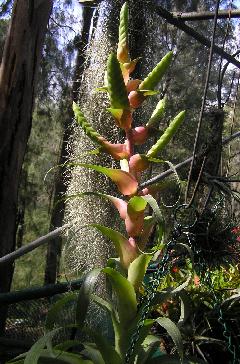 Photo Ken Woods, owned by David Sheumack.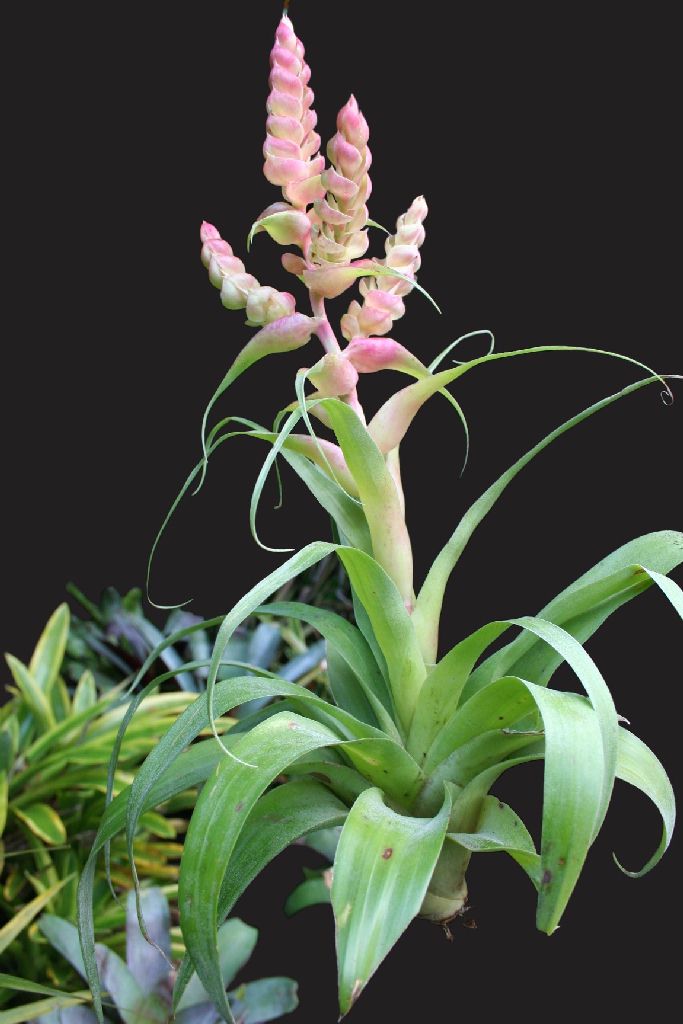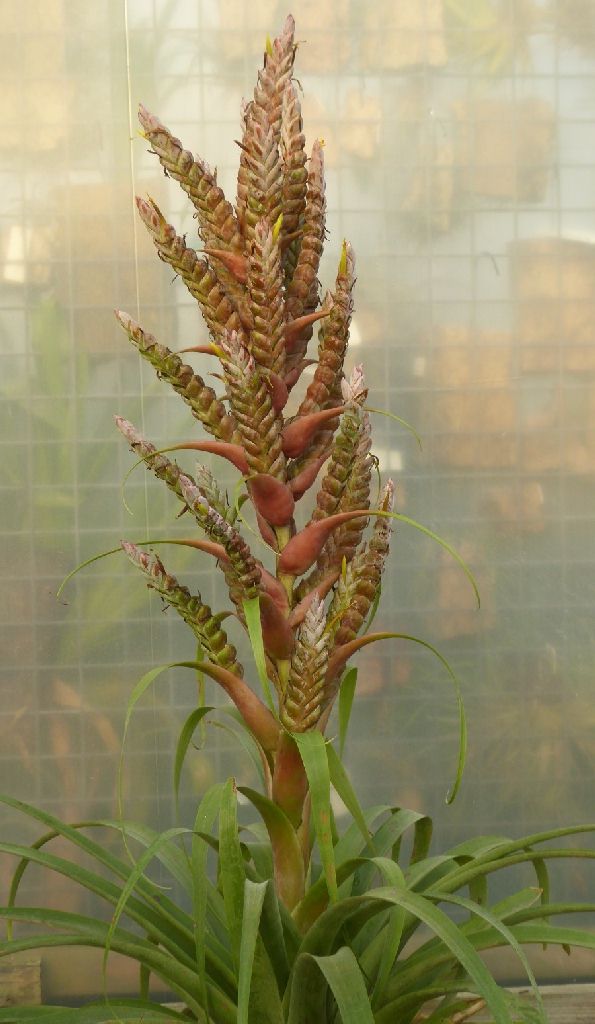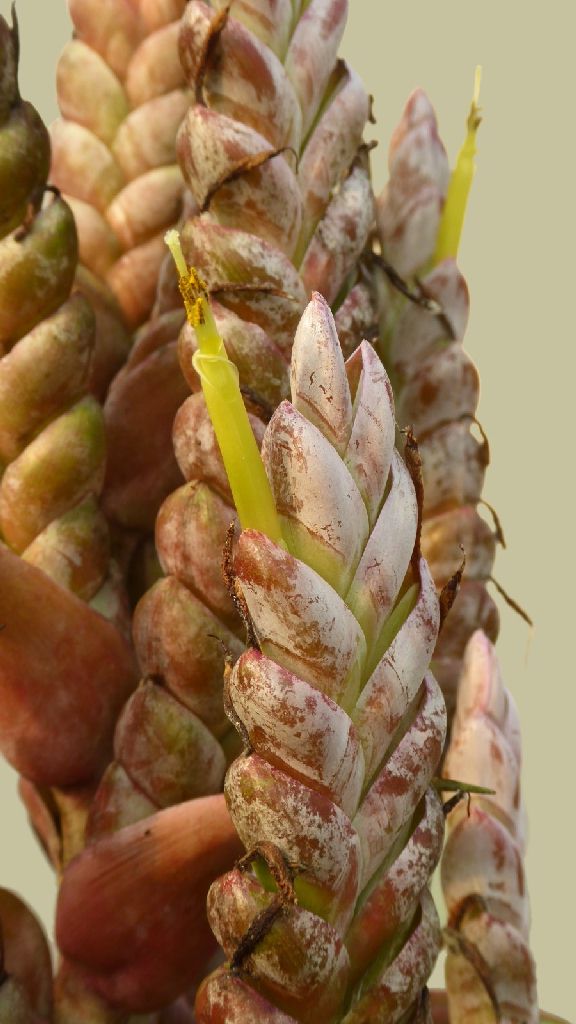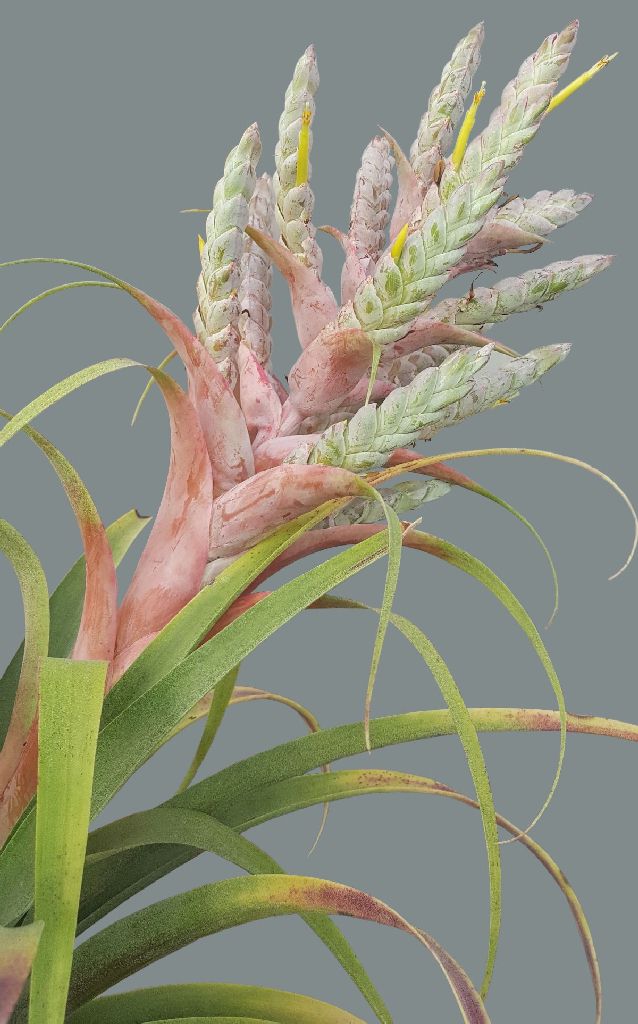 | | | |
| --- | --- | --- |
| Steve & Edwina Caruana ex. Larson, 06/15 | Chris Larson 08/15 | Chris Larson 07/18 |
Chris Larson 08/15 ... "Steve posted his plant he got from me as T. kalambacheri. This plant is one I got from Peter Tristram back in the 80s or early 90s – it is nearly finished. It was quite green when the flowers opened & got darker 1/3 the way through."
Chris Larson 07/18 ... "This one is one I got from PT back in '87. It was growing/struggling under shadecloth for many years. I've flowered it a few times. It is a lot happier at work."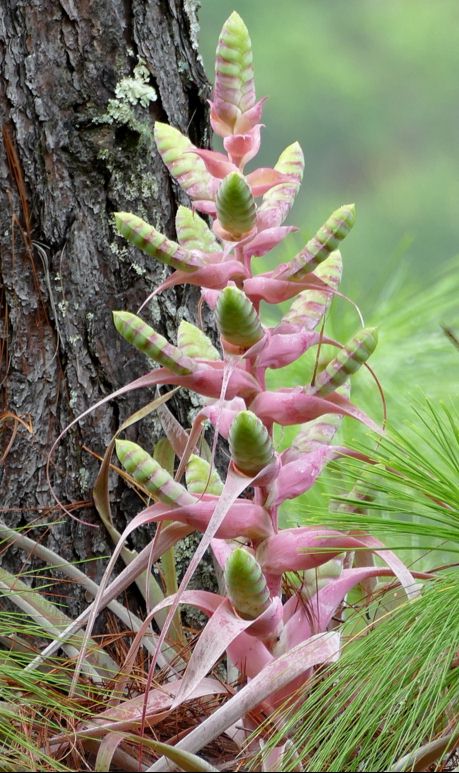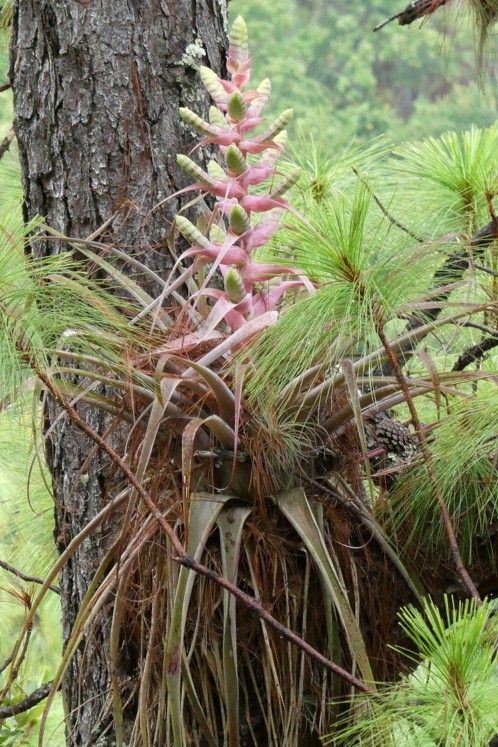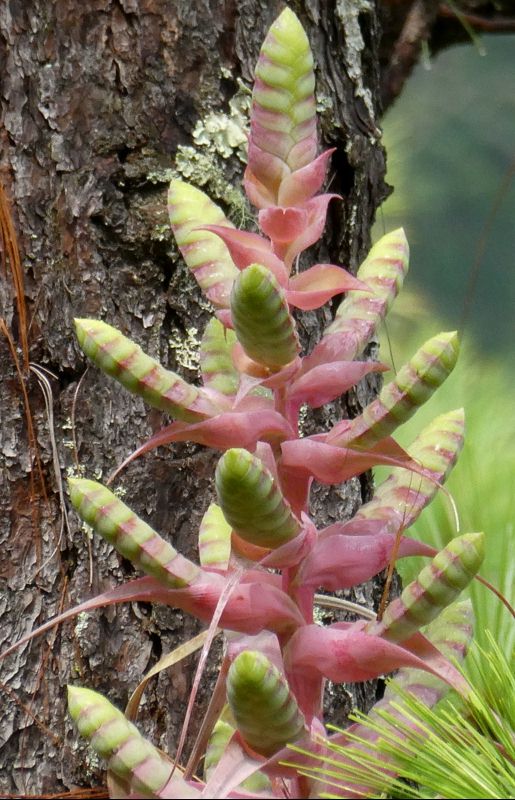 Lesley Baylis 07/18 in location.

Derek Butcher 07/18 ... "Interesting. The floral bracts seem more glaucous than I expected."
Chris Larson ... "And this is after the silver has rubbed off a bit. Does this make you query it? A little bit confusing – but I remember the kalmbacheri/ mooreana talk that Richard did all those years ago. These are so variable.."
Peter Tristram ... "Before the '90s we used to be able to import wild collected kalmbacheri and mooreana (and who knows what else in that group) from the US but without provenance. BRT later sold plants with provenance. Very few pups from those early imports have survived but at least you have one, Chris! Well done! The group has various known habitats I gather and maybe overlapping. Harry Luther often did the ids. To me, from memory, Chris's plant looks typical of what I'd call kalmbacheri and the indument goes with them but washes off over time. mooreana has bracts that are more flared and glabrous and usually has purple flowers. They both pup... sometimes. cretacea, trauneri and similar are different only giving adventitious pups as they grow. On my visits to Germany I saw and purchased many different forms of both species from various habitats. Many have bloomed and died and some have pupped and some collectors will have the odd spare pup. Then there are Maurice's seedlings from seed from before the '80s that key to kalmbacheri, from memory. The only real hope of preserving some forms of these confusing species is to set and propagate seed - easier said than done, but worth the effort. Nigel has propagated mooreana, though I haven't checked the keys. Stunning species and easily grown with some microclimating." Derek Butcher ... "Yes, glaucous, silver, floury, call it what you will is not in any description of T. kalmbacheri but is there for T. mooreana. Talk about a complex complex. To think I have a special folder which I set up to help me understand and all it did was confuse. Dare I suggest that when Renate Ehlers was investigating plants found in the wild in Mexico she linked many with T. mooreana but did not publish. As with T. capitata, if you don't know collection data you have problems."
Lesley Baylis ... "Thought of our recent trip to Mexico where we saw this beautiful plant at about 1500 metres. Wish I had one...!!!"
Pamela Koide-Hyatt ... "The plant attached, similar to the images that Lesley sent, are from Oaxaca, between Miahuatlan and Pochutla. They have yellow/green petals. This I know from previous collections in the same area and I did see petals on this trip, but cannot locate images confirming this. It was raining when we took these images and the plants were wet so they may not appear as glaucous as when dry.
Many years ago Renate and I had several discussions about mooreana/kalmbacheri complex - and believe that this one is T. kalmbacheri. It is my understanding that T. mooreana has blue petals and T. kalmbacheri has yellow/green.
As for Chris's image, is this one that came from me? If so, it is possible that it is one that I grew from seed, and therefore possible that it is a hybrid."
Chris Larson ... "My plant was a pup sourced from Peter T back in 87 (so my tag says) – so it would have been likely to have been seed a fair few years before that. Would it be likely your seedlings mature at that time?"
Cheryl Basic ... "Lesley's photo and now Chris's seem to put some doubt on the real i.d. of this plant. Pam seemed to think it was kalambacheri."
Peter Tristram ... "I think indument can be ephemeral, varying through the life of an inflorescence as well as being influenced by local factors. It can certainly be washed, grazed or rubbed off. I prefer to bog down on other floral components. If flower colour can be variable, though how much so is surely a debatable factor with this little group, then other factors are also definitive. With our Aussie plants, I think flower colour is mostly good enough, as mentioned and a quick look at floral bracts will give another hint. If the rachis is exposed due to flaring fb combined with purple petals, think mooreana, if yellow/green petals and more imbricate fb, think kalmbacheri. kalmbacheri is usually more robust too and the leaves often more linear whereas mooreana often seems to have recurving leaves. Lesley's fabulous pics show T. kalmbacheri to me, though I'd sure like to see flower colour! It also looks a lot like Maurice's inflata and I'll look into this again when I get home. Post floral, the fb all tend to flare anyway so stage of inflorescence development must be taken into account too. As for pamelae, cretacea, trauneri, the lithophytes, at least we have better provenance and more definitive descriptions."
Chris Larson ... "Cheryl, now you can see why I was so tentative in the naming and not really concerned that Lesley's great photos were named such (thanks very much Lesley) didn't have me swayed. It seems like these two species overlap."
Derek Butcher ... "Harry Luther also considered that T. mooreana has blue petals and T. kalmbacheri has yellow/green but Renate found problems with that, as the notes below shows. I also did a chart to try to help me understand the complexities and got no where!
The problem seems to stem from when flowering occurs and whether different pollinators apply to the different coloured petals."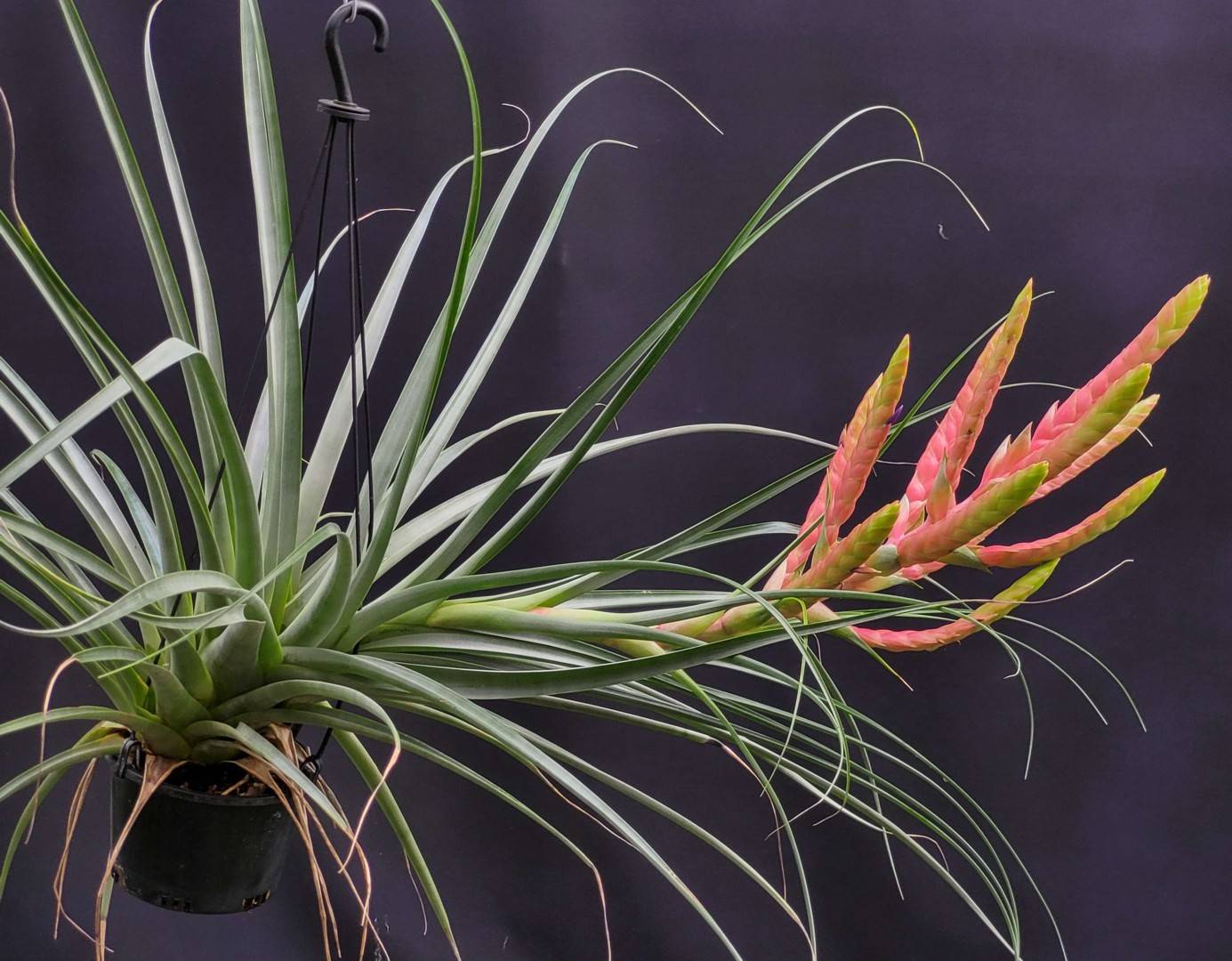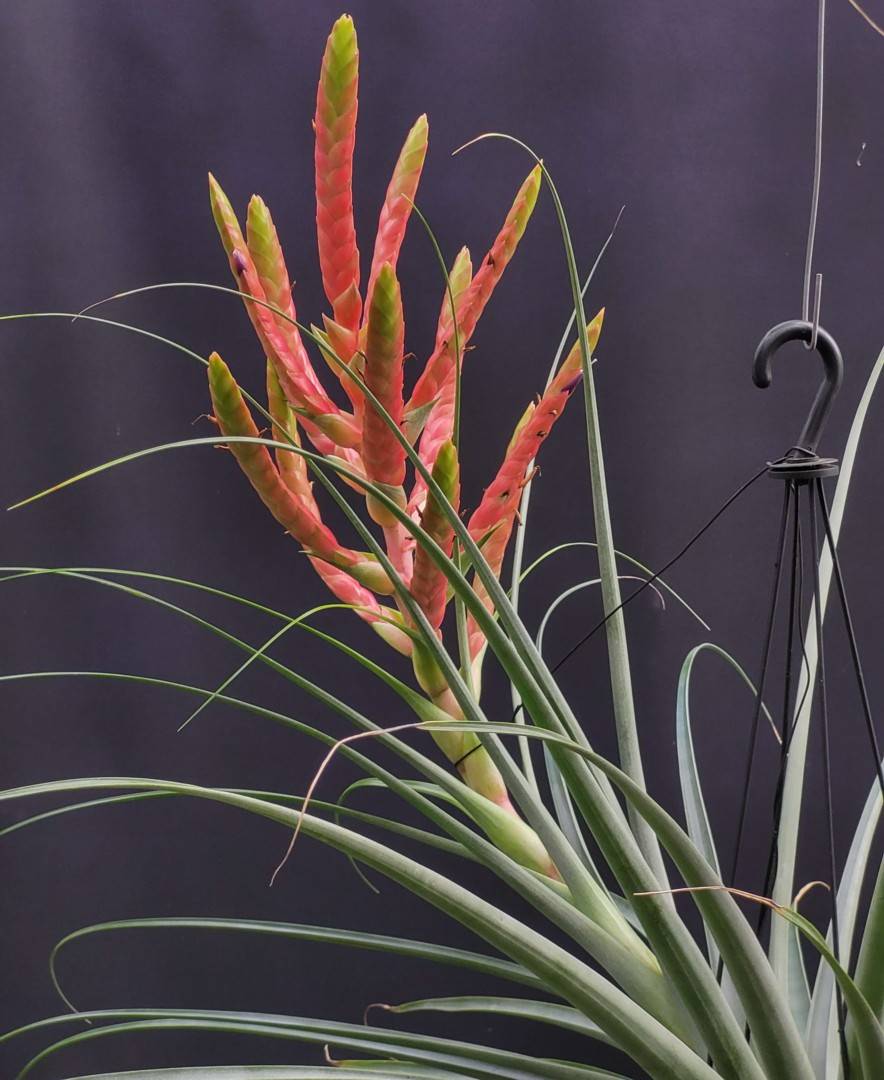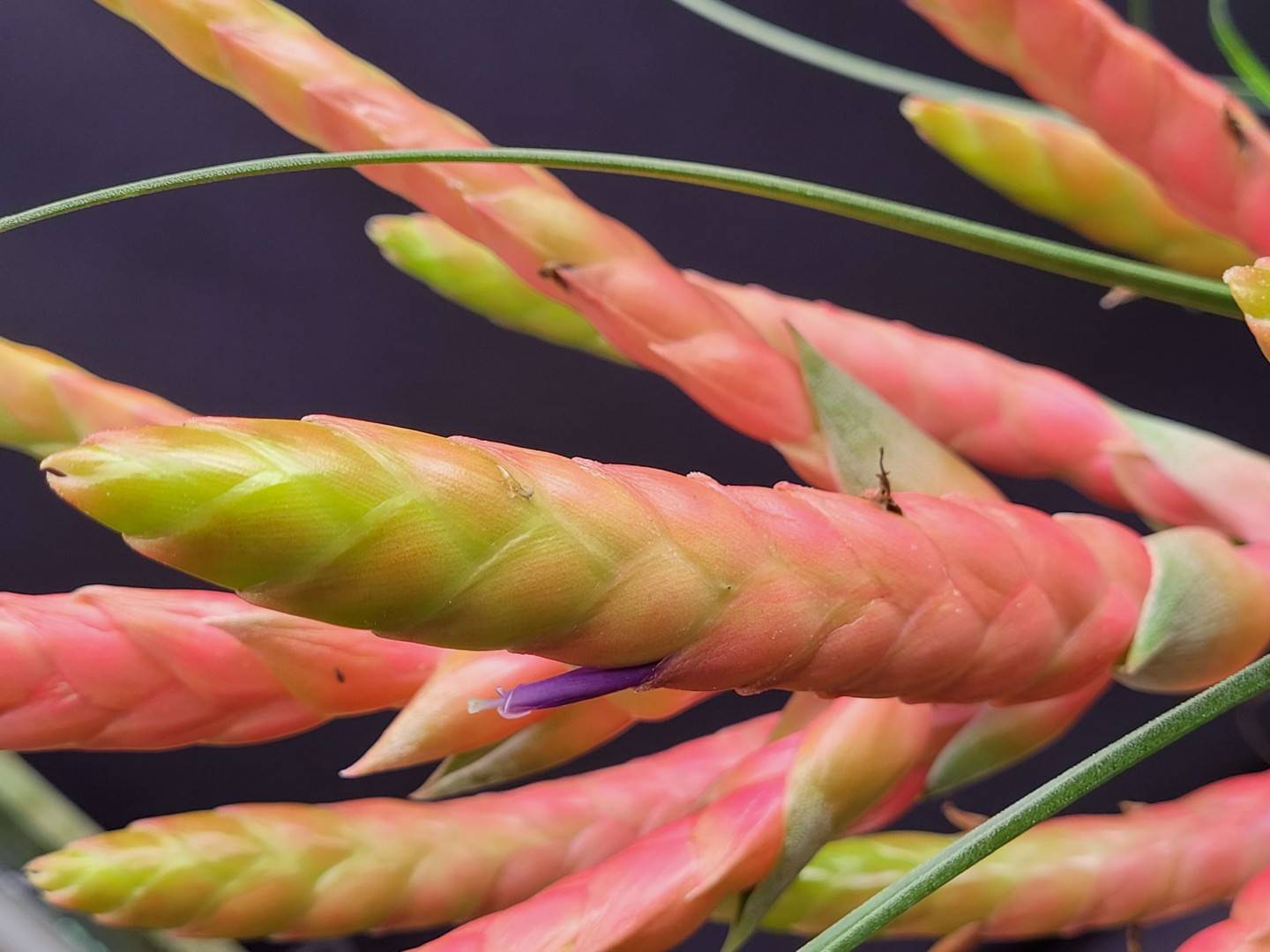 Peter Tristram 04/21 kalmbacheri Hybrid#2

Peter Tristram ... "As mentioned previously, seed from a beautiful large form of T. kalmbacheri ex Lydia has only produced a handful of hybrid seedlings. This one is damned nice too even though it's been grown under plastic. Unfortunately, on one of my grandparenting trips, it decided to hang upside down during spike formation too, affecting the growth and symmetry. Any guesses as to the pollen donor? Maybe a fasciculata sort?? It'd be great to get some real kalmbacheri seed going as it can be a temperamental species especially regarding pup production!"

---

Tillandsia mooreana notes by R. Ehlers
Nov 1992. So far this year I have been kept busy with this plant.
In 1983 we made a special trip to find this species near Maria Ecatepec in Oaxaca. We followed an out-of-the- way road where robbery gives a bad name to this small town in the hills. The road was very bad and we stopped by a bridge over a deep stream. Unfortunately we only found a T. bourgaei and T. calothyrsus.
T. mooreana has totally unkeeled sepals (refer also Subkey VII in S&D) and is supposed to have violet flowers and while I believe that T. mooreana and T. kalmbacheri are two distinct plants, Sue Gardner in her dissertation could not find any distinction when examining various herbarium specimens.
Lotte Hromadnik collected a plant which she believes is T. aff. mooreana in Guerrero in the stretch between Salitrera and Altimirano in March 1991. In autumn 1992 I collected 3 plants on the road to Altamirano and they flowered in my garden and all seem different to the collection made a year before.
EM911310 Salitrera-Altamirano, Guerrero. This plant had 14 spikes in a compound inflorescence. The flower in the early part of the day was a shiny yellow, the next day greenish yellow then becoming brown. The sepals were keeled.
EM871705 Tecalitlan (near Tuxpan) road to Jilotlan de lo Dolores, Jalisco. Plant has spikes in a compound inflorescence, flower colour and keeled sepals like EM911310. The plant that I collected is different to T. hintoniana. It grows in a tree with flowering T. hintoniana (the type that grows in the area has green leaves and shiny pink floral bracts, in most other areas such as near Uruapam the plant grows in masses with leaves red and floral bracts greenish yellow). The specimen from Tecalitlan is near to Smith's T. mooreana. McVaugh = " determinations confirmed by J Utley 1985" McVaugh in Flora Novo Galiciana p61-2 reported by Smith as 'purple' but in ours (collected near Tecalitlan yellow or lemon.
EM8311 Acahuizotla, Guerrero. The plant has spikes in a compound inflorescence, flower colour and keeled sepals as in EM911310 & EM871705.

In June 1983 we travelled from El Rincon de la Via where we collected T. kruseana on a piece of highway in the direction of Chilpancingo and on a bend in a side road near Acahuizotla we found an interesting hybrid between T. fasciculata and T. capitata. This area will always be remembered because I had a dog attack me through an open window! Here we collected a green funnel shaped Tillandsia which I could not name and with some misgiving I treated it as T. mooreana. The type locality for T. kalmbacheri is Rincon de la Via, Guerrero. It makes you wonder, when you see the collection area for T. mooreana is Acahuizotla to Agua de Obispo is only a few km away. We have 2 similar but different plants growing in the same neighbourhood. But with different flower colour, floral bract colour and sepal detail must make these two different species. The fact that plants from 2 collection areas each having yellow flowers and keeled sepals decreases the chance of an error having been made in the description. The only difference remaining is that T. kalmbacheri has green bracts and T. mooreana red or red-green. The colouring of the floral bracts varies according to the strength of the light intensity. The much wider leaves of T. kalmbacheri Matuda is not a valid characteristic because all large plants vary strongly.
The only real difference is the distinct and strong keeled sepal (in T. kalmbacheri). Neither Gardner, nor McVaugh, nor Utley refers to this characteristic and yet Smith writes explicitly "posterior and anterior sepals ecarinate, alike. Nowadays we preserve fresh material but I can however, barely demonstrate that the sepal keel is lost when dry. (1.10. 1993 – the sepal stays keeled in a dry state)"

Result – And yet T. kalmbacheri is considered a synonym of T. mooreana.

A plant from Oaxaca from the stretch Pochutla – Miahuatlan is coming into flower. The plant is very large and has leathery, strongly lepidote leaves. I am of the opinion that on the basis of the green-yellow flower and keeled sepals it is not T. mooreana. It remains to be established whether there is sufficient difference between my plant and what one would expect for T. mooreana. Plants similar to the type come from the stretch Oaxaca to Puerto Escondito at a height of 1000-1500m in very large numbers and certainly between San Gabriel on the ascent to the Pass and on the descent towards Sola de Vega.
5. 10. 1993. EM912102. Pochutla – Miahuatlan flowered in May-June 1993. The inflorescence has 20 compound spikes and 50cm high. There is barely any difference to the other type of T. mooreana, a plant from Oaxaca that is often larger and has a larger inflorescence with more tha 20 side spikes. The leaves are stronger scaled, often grey-red or grey-pink while the plant from Guerrero is greener, often the leaves are green with large red blotches.
Plant collected in Chiapas in a coffee plantation near Motosindla by R Wulfinghoff shows in a varying habitat the spikes are very long and the internodes of the flower bracts very small. However, I cannot establish any vital difference from T. mooreana.
A variation from T. mooreana is, in any case, the plant from Sierra El Tuito, South of Puerto Vallarta. The leaves are thinner, dark green with red blotches and not lepidote or a few appressed lepidote so weak that it seems glabrous. The flower is very laxly arranged, the rhachis at anthesis strongly visible, the petals are violet with white edges. Perhaps this is the reason why Smith may have one plant from the types being collected near Rio Mayo, Sonora (H S Gentry 2032 in his Rio Mayo plants 1942.)
A similar variation is a plant that has been collected in Zacatecas on Mount Escobedo –Schucht and in the Sierra de Cora (stretch Valpairaiso to Jesus Maria behind Jesus Maria) which is dark green, shows unscaled leaves, sprouting at the base, dense internodes, light green chalky bracts and violet petals. Rhachis not visible at anthesis. Also we must wait patiently for a plant to flower for us.
A plant discovered by L & H Hromadnik growing on rocks on the stretch from Altamirano to the Pacific coast we have heard is another regional form. The plant is green and very large. Here again we must wait.
In between times a plant has been described as T. trauneri (SW of Altamirano, 1100m on rocks). I believe this is closer to T. cretacea. Photos and plant material from Pam Koide of T. cretacea show similar size, the spike is practically the same, besides which the floral bracts are cretaceous. T. cretacea and T. trauneri are terrestrial and T. mooreana epiphytic.
| | | | | | |
| --- | --- | --- | --- | --- | --- |
| photo/herb/draw | Place | State | Coll. No. | Petal | Puffy fb |
| Drawing | . | . | Kohres 1985 | . | No |
| Photo | . | . | EM001901 | Blue | . |
| Photo | Compostela-Tepic | Nayarit | EM001801 | Blue | . |
| . | Motosindla | Chiapas | Wulfinghoff | Blue | Yes |
| . | . | Chihuahua | Knobloch 564 (cretacea) | Blue | No |
| herb | La Palmita | Durango | Koide | . | Yes |
| . | Acahuizotla | Guerrero | . | . | . |
| Photo | Altimirano | Guerrero | (trauneri) | . | No |
| Photo | Chilpancingo | Guerrero | EM002901 | Green | Yes |
| Photo | Filo de Caballo | Guerrero | EM992001 | Green | . |
| herb | Rincon de la Via | Guerrero | Kruse 3319 kalmbacheri> | Green | Yes |
| Photo | Salitrero-Altimirano | Guerrero | EM911310 | Green | Yes |
| Photo | El Tuito | Jalisco | EM81317 | Blue | Yes |
| Photo | Tecaltitlan | Jalisco | EM871705 | Green | . |
| herb | . | Mexico | Roezl 1873 (inflata) | ? | No |
| Photo | Zihuatenejo | Michoacan | LH15069 | Green | Yes |
| Photo | Poculta-Miahuatlan | Oaxaca | EM912102 | Green | . |
| Photo | San Gabriel | Oaxaca | EM011903 | Green | Yes |
| herb | Sierra Charuco | Sonora | Gentry | Blue | No |
| Photo | Monte Escobedo | Zacatecas | Lau | Blue | . |
| Photo | Sierra de Cora | Zacatecas | EM001302 | Blue | Yes |
---
Updated 06/05/21
---