Tillandsia humilis
Click thumbnails for full size, scaled to a new window.
---
Tillandsia humilis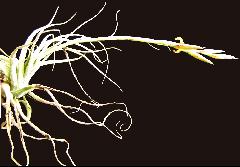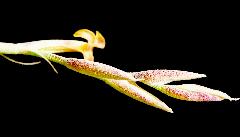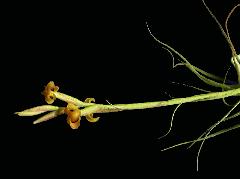 | | |
| --- | --- |
| Ken Woods. | Ken Woods 07/05. |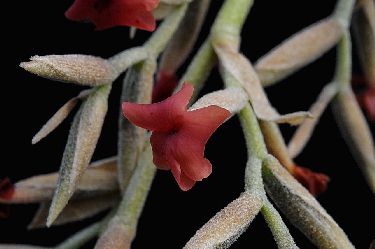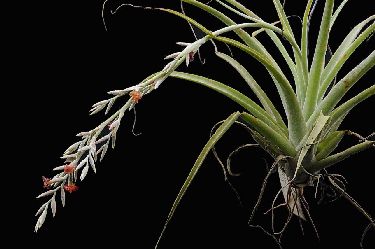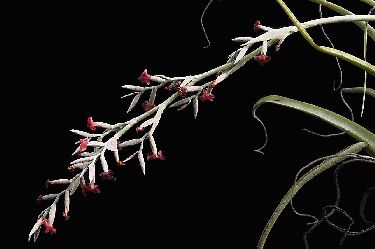 Peter Tristram... "T. humilis surprises me by surviving and doing pretty well. I have a yellow flowering form too, supposedly. It began blooming about 2 months ago and is still going – the lovely fragrance is very strong. This is a different looking form to the other one I posted last year, which unfortunately appears to be dying, so I hope this form is a good pupper.
I imagine T. humilis would grow well down south so I wonder what experiences are with Queenslanders? Like most Tills, there are many forms too - this is a very large form I purchased in Germany a few years ago."

Len Colgan... "That giant form of T. humilis is interesting. I do not know if your petal colours are true, but my similar plants have petals combining a lot of brown with some yellow. They are the most strongly scented tillandsias in my collection. When I imported the original plant in the mid 1980s, it was known as T. aureobrunnea, but became synonymous with T. humilis. I think that is a shame, because to my mind, T. humilis is a small plant with yellow flowers, and less fragrant. I suspect this ex- T. aureobrunnea form is quite rare and very desirable."

Peter Tristram.... "Len, The humilis flowers are as you see them, changing a bit over a week or two from a lighter orange-brown to a reddish-brown. I have a supposed giant yellow form as well as some others from a few different sources so eventually I'll find out flower colours, if they survive. Usually the smaller plants I have seen in Europe have still been referred to as aurea-brunnea despite the name change, then there is aurea - now they are hard for me to grow."

Derek Butcher... "Len: As with T. duratii you cannot go on petal colour or size alone. The following explains why the name T. aureo-brunnea has been widely used.
From Rauh- Bromeliads for Home, Garden etc 1970. Note that T. humilis is not mentioned in this book. Note also that Smith in Phytologia 20(3): 159, 165. 1970 kept the two species separate as per Maz 1935. It was only in 1977 that S&D placed T. aureo-brunnea as a synonym of T. humilis. Even so, Rauh treated T. aureo-brunnea as a small plant.
Tillandsia aureobrunnea Mez, l906 (Ill. 75)
(aureobrunnea(us) aureus golrden yellow , brunneus deep brown; refers to the yellow-brown coloration of the petals)
Plant stemless or with a short stem, up to 40 cm high including the inflorescence, forming thick clumps
Foliage pliant. thick and coarse. Covered with almost frost-like scales, up to 30 cm long and 2.5 cm wide
Leaf sheath hardly delineated from the blade
Leaf blades narrowly triangular, long-tapered, with edges bent sharply upward
Scape slender, shorter than the leaves, heavily scaled
Scape bracts upright, similar to the leaves, with a long, heavily scaled blade and edges curved upward
Inflorescence simple or composed of few spikes
Primary bracts elliptical, pointed, heavily scaled, green, shorter than the loose spikes of 7 flowers, spikes up to 6 cm long
Floral bracts elliptical, pointed, much shorter than the sepals, no keel on the back, heavily scaled, green
Flower up to 2.5cm long, short-stemmed, strongly fragrant; the 6 mm long, open plates of the petals are yellow and spotted with dark brown, or they are pale yellow
Sepals separate, elliptical, pointed, up to 1.8 cm long, scaled
Stamens enveloped in the flower
Habitat northern and central Peru (vicinity of Cajamarca, Huanuco and Lima) between 2,000 and 2,500 m; epiphytic on trees, but also frequently on cliffs
Cultivation Bright, sunny, little watering. Decorative, small species.
---
Updated 22/01/12
---