Tillandsia geminiflora
Click thumbnails for full size, scaled to a new window.
---
Tillandsia geminiflora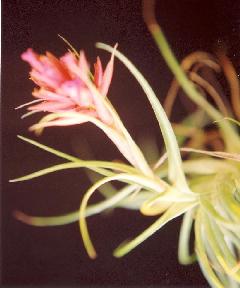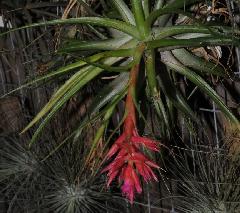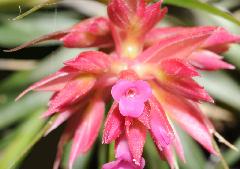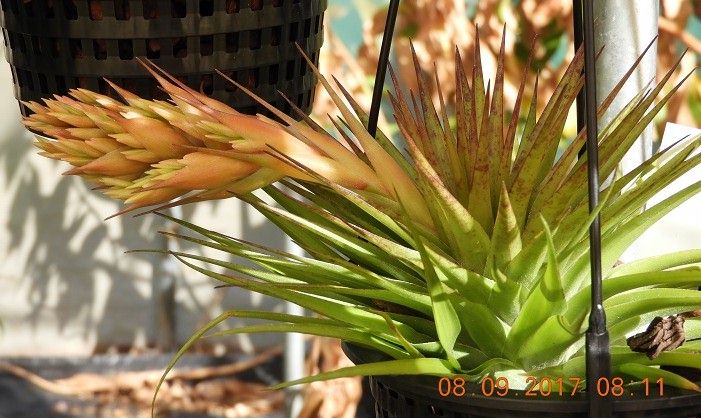 | | | |
| --- | --- | --- |
| Ken Woods 06/04 | Terry Davis 04/10 | Greg Jones 09/17 |
Greg Jones ... "This is a form of geminiflora that, if I remember correctly, came from Bob Hudson. Not much colour but quite large and grows and flowers well on the Sunshine Coast."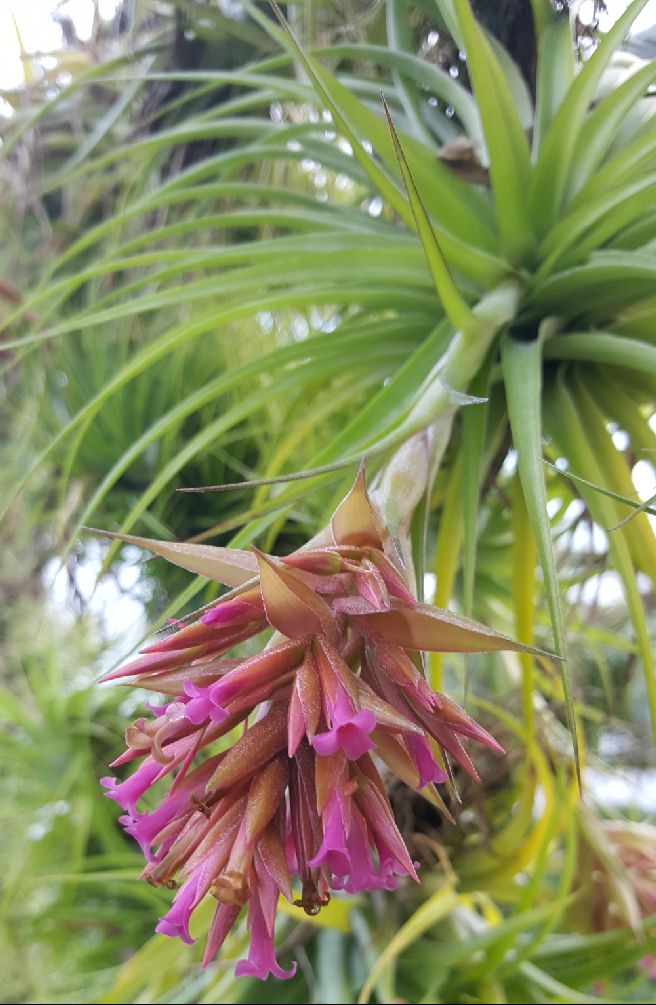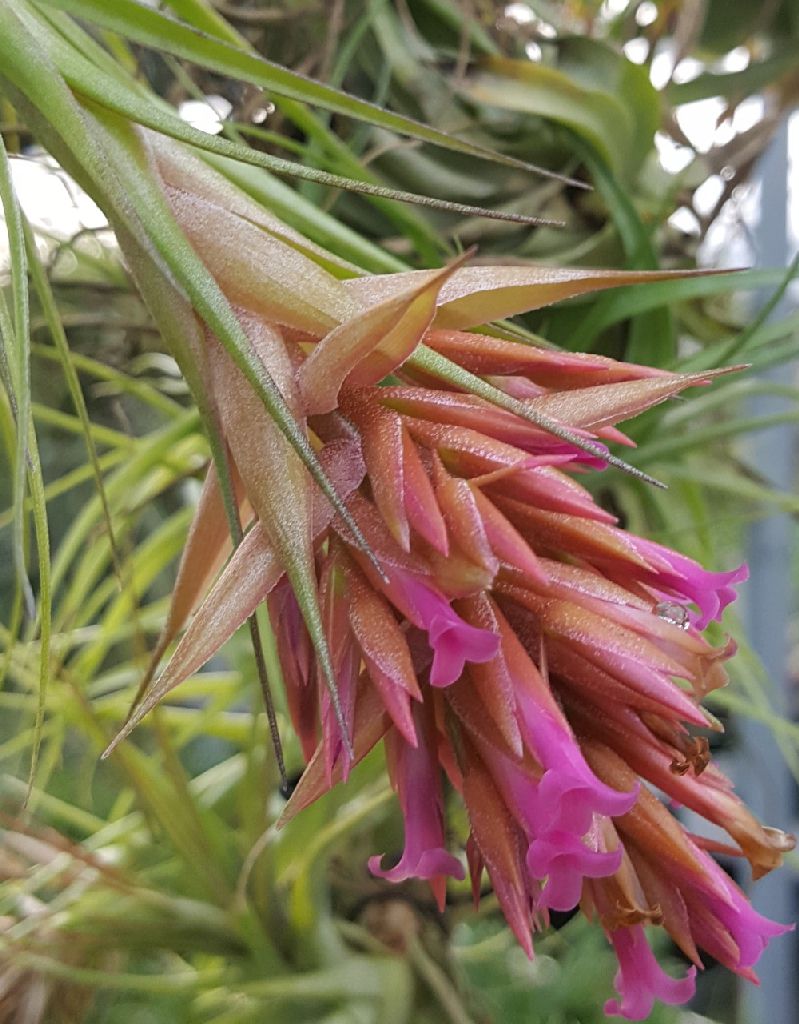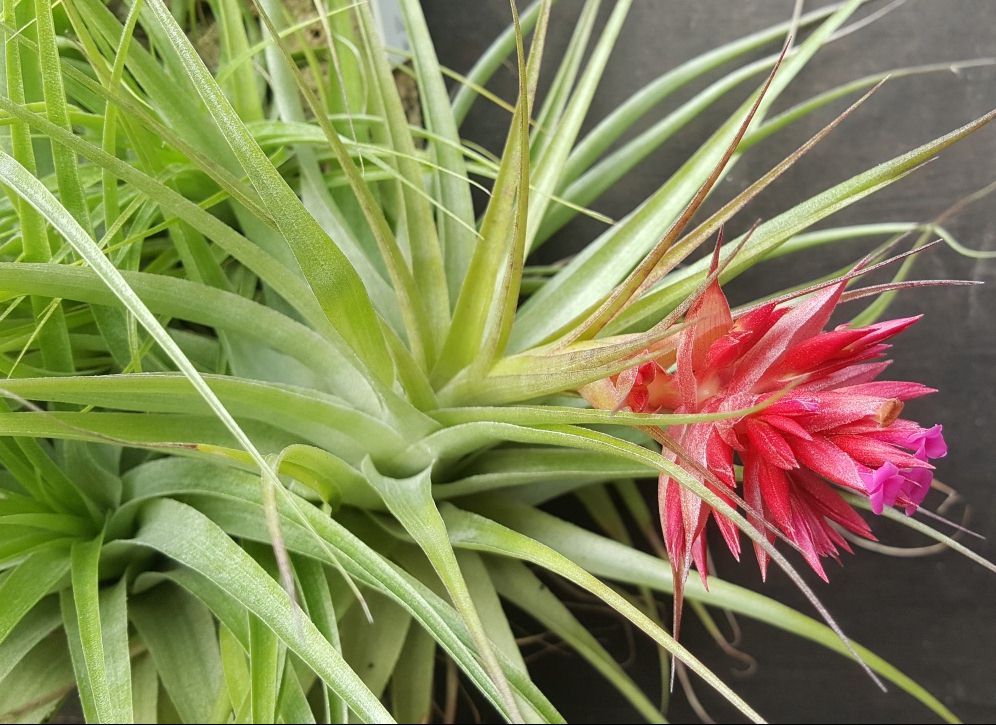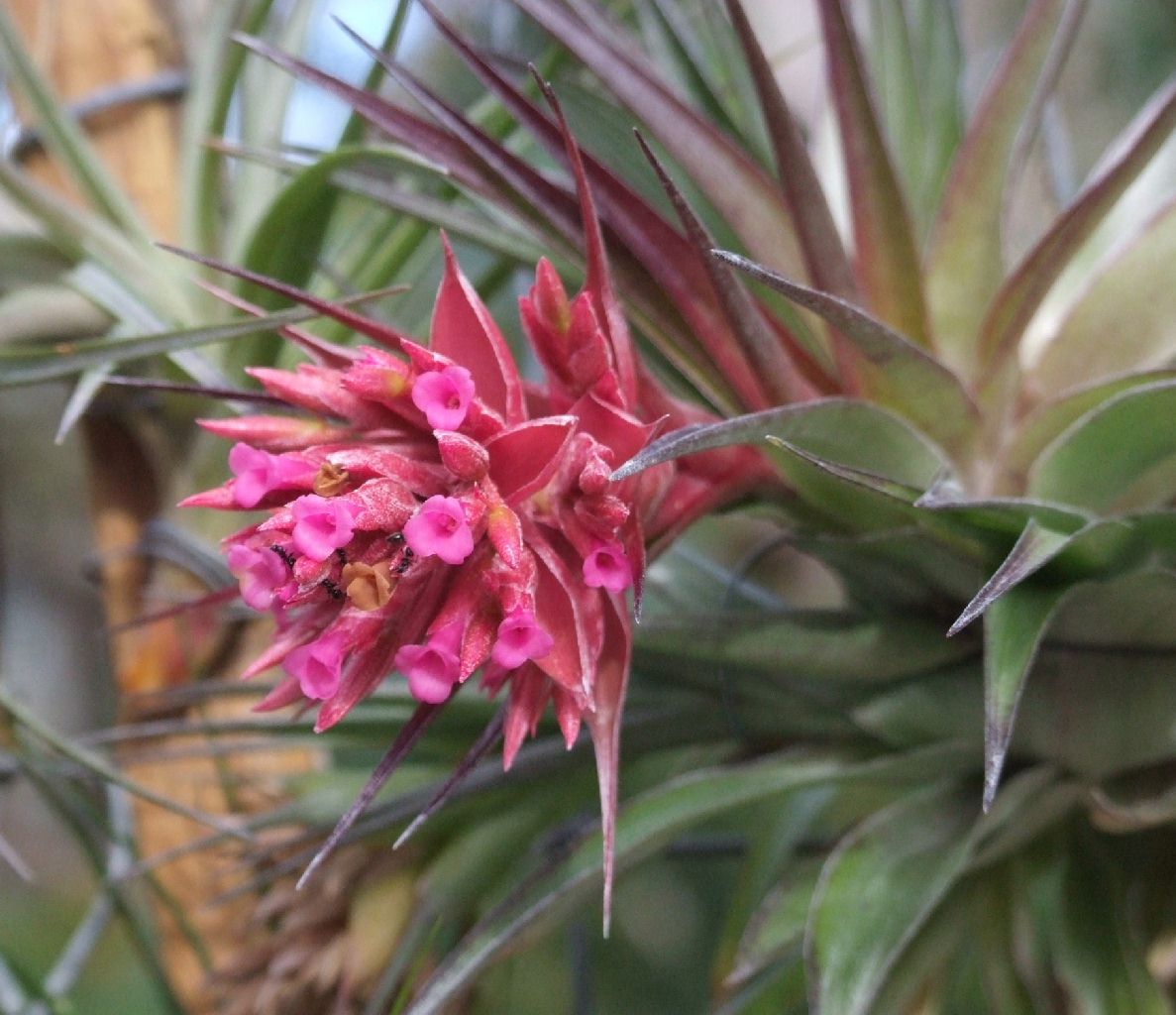 Chris Larson 08/17
Isley - - Isley - - Brazil seed

Rob Bower 09/17
Chris Larson ... "Back a number of years ago I got some seed from another Till nut who came back from Brazil with the seed of a T. geminiflora which was supposed to be huge – he collected it personally. This is the first flowering for the seedlings this year. It is hard to know whether the size is related to culture, or if it takes the second generation to reach full potential – which is the case in some tillandsias.
Also another T. geminiflora ex-Isley. Usually I have 2 different forms amongst these plants, but this year it is only one form."
Rob Bower ... "A pretty standard version but lovely. If you look closely you can see that the ants like it too."
| | |
| --- | --- |
| Peter Tristram 10/18 | Peter Tristram 10/19 "Red MP" |
Peter Tristram 10/18 ... "This is a very red form of T. geminiflora that was grown from seed collected in Minas Gerais, Brazil by a Sydney-sider. He said it was distinctive and I agree. Like most bromeliad species, variety is..."
Peter Tristram 10/19 ... "This is pretty-well an all red form, seed of which was collected by Mark Paul in Minas Gerais (somewhere but he knows) which Chris and I both grew on. Most of my others, from many sources, are various shades of pink, flowers often included and are much more frosted. They all vary in size considerably too. I decided to cross a few of these red ones to get seed which is all directly from that locality in M.G. One thing, geminiflora is quite a fast grower for a Till."
So many forms!"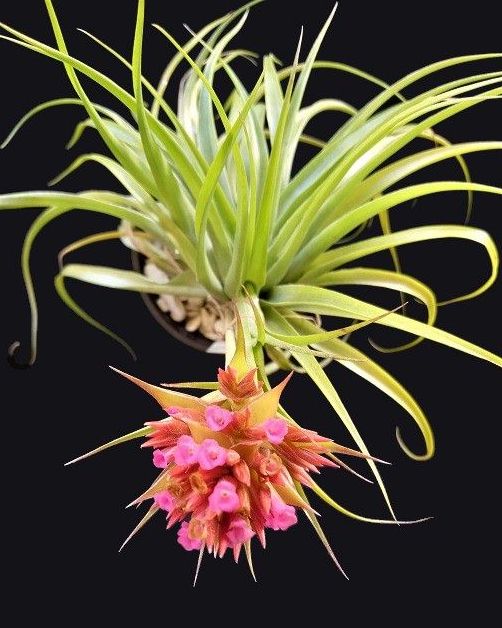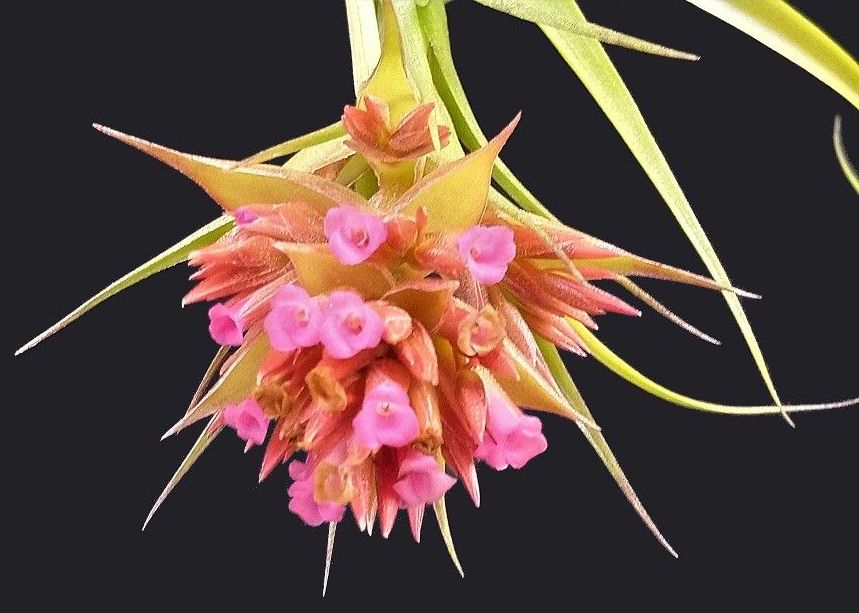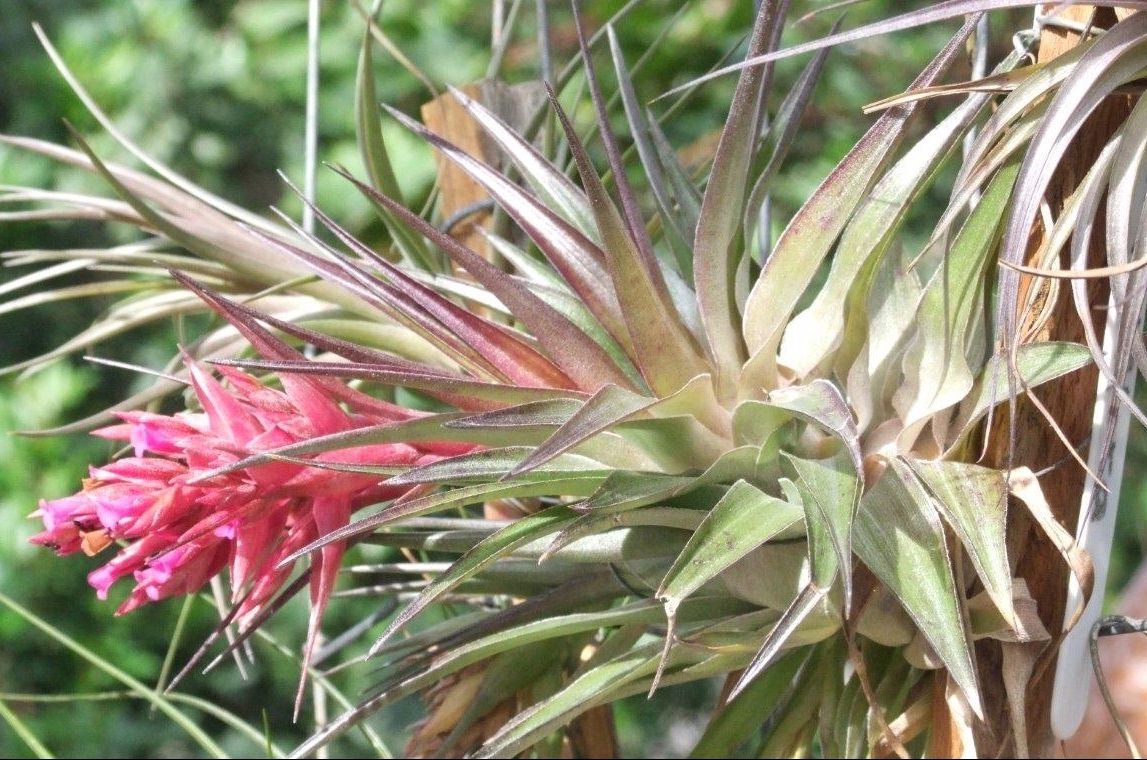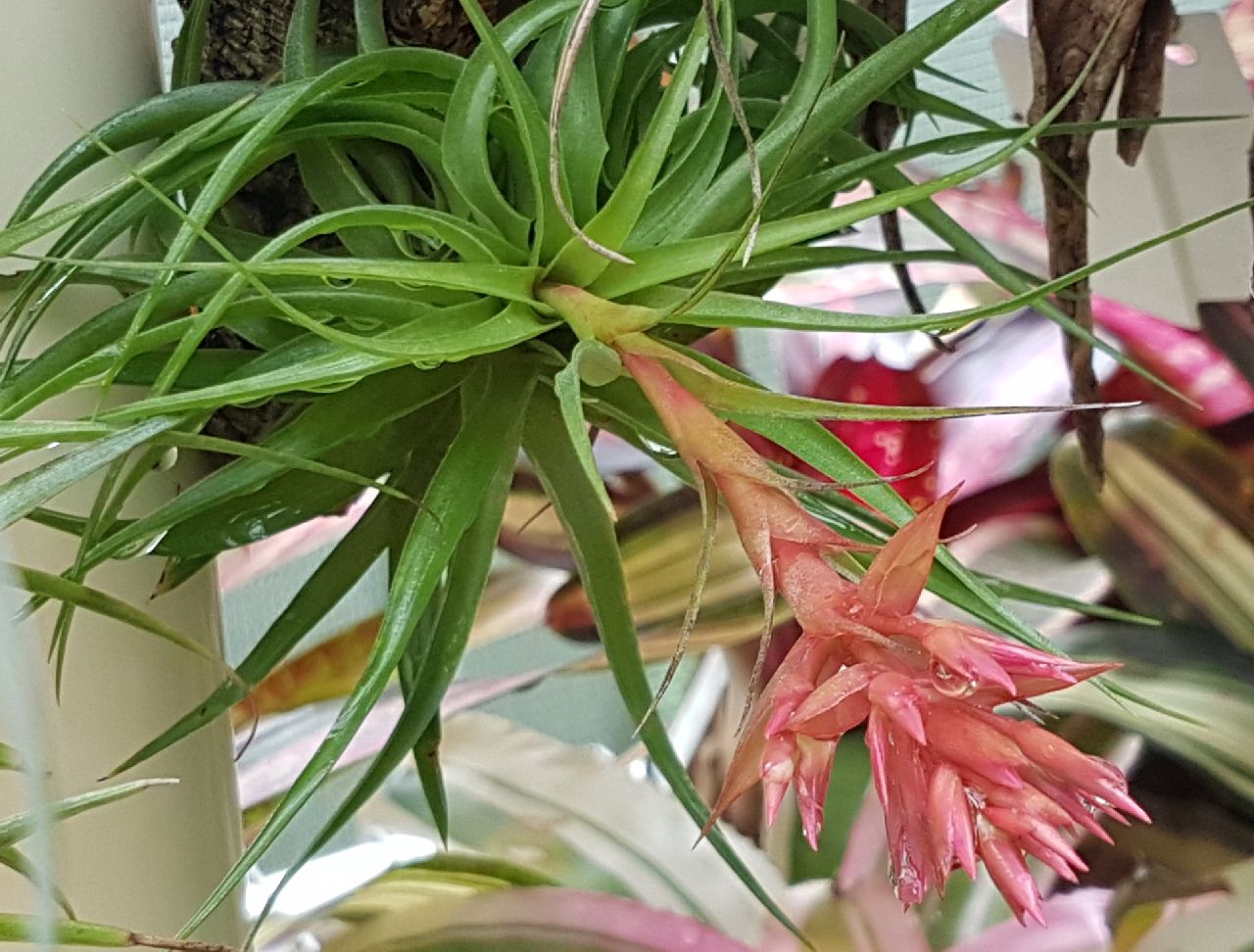 | | |
| --- | --- |
| Steve Molnar 08/19 | Rob Bower 10/19 |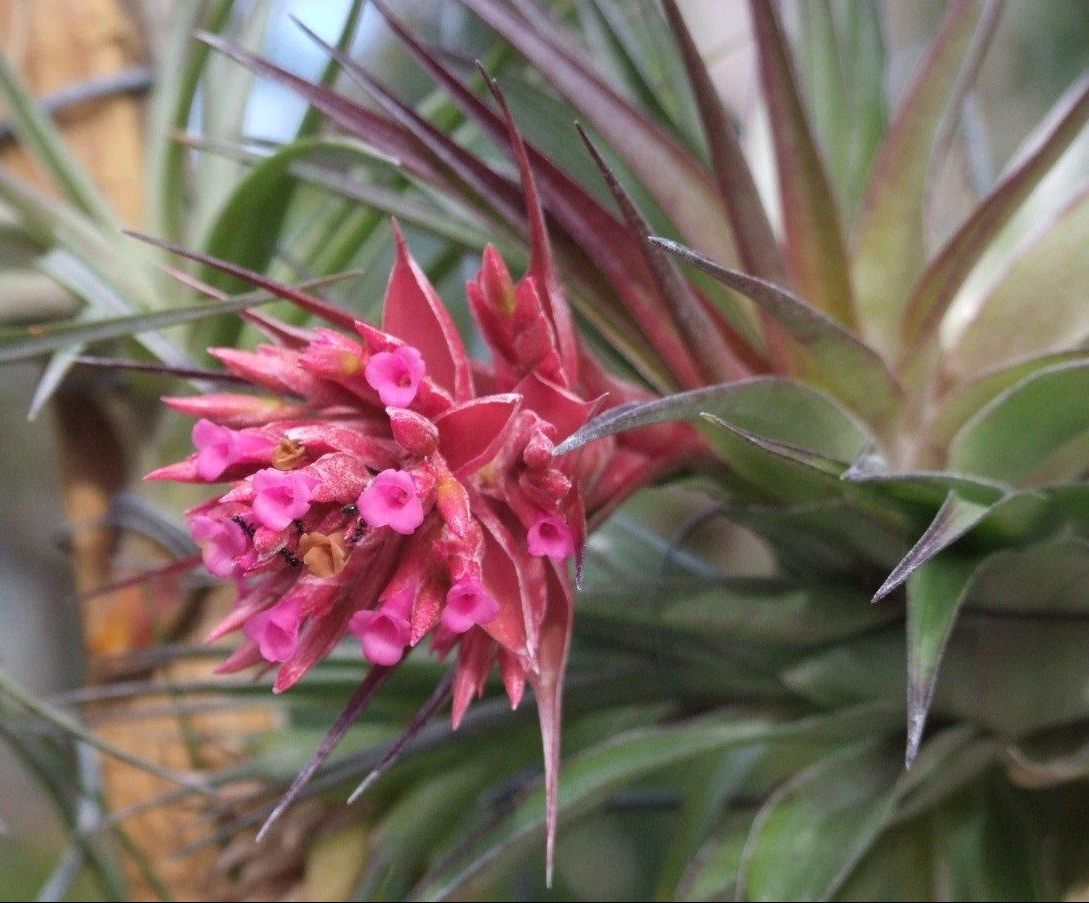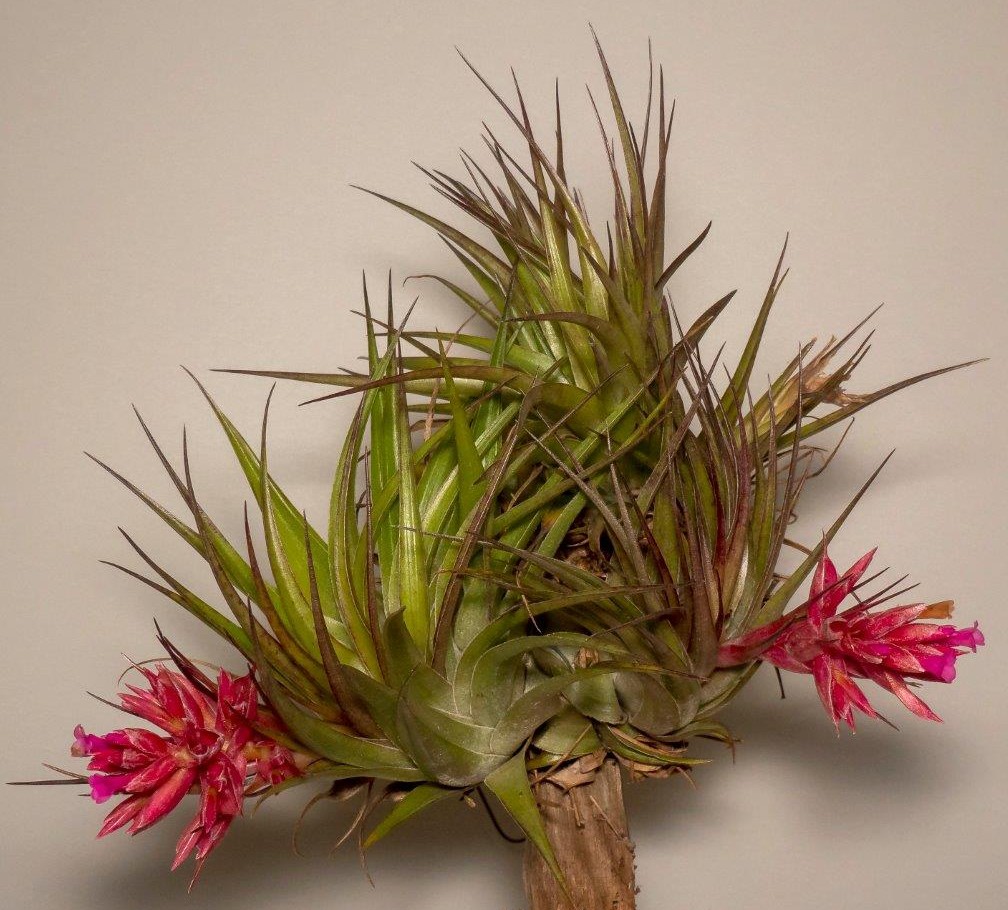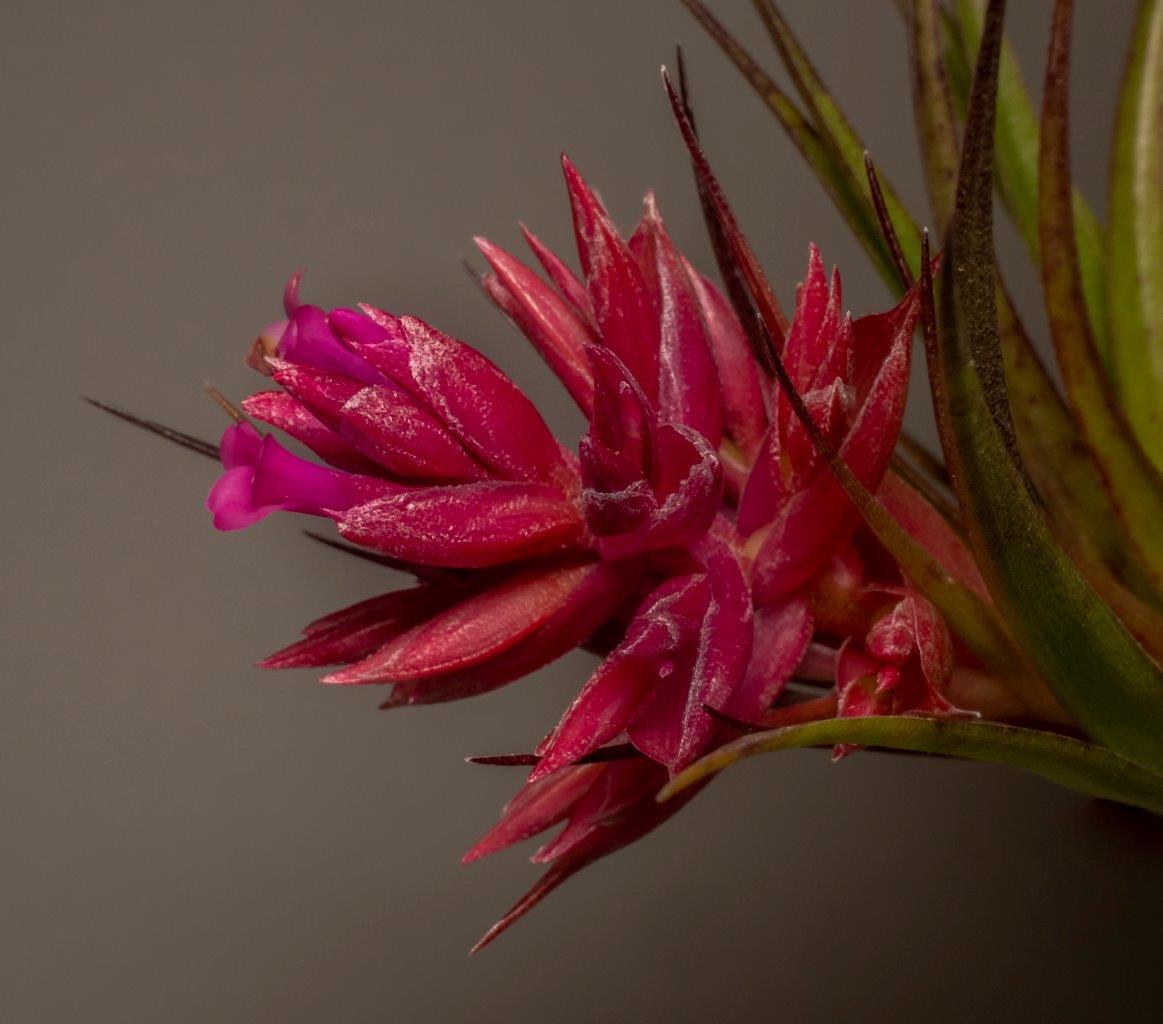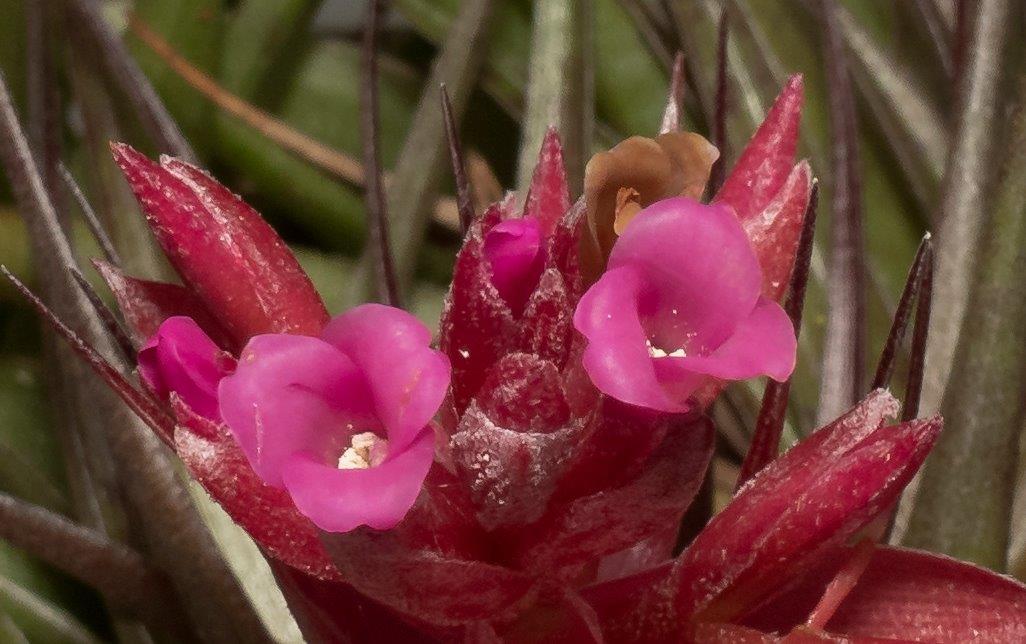 | | |
| --- | --- |
| Mark Supple 10/19 | Rob Bower 09/20 |
---
Tillandsia geminiflora Brongniart in Duperrey. Voy. Coquille 186. 1829.
Desc from S&D p804 -7
Plant stemless, flowering 11-19 cm high.
Leaves very many in a dense rosette, about equaling the inflorescence, without distinction between sheath and blade, narrowly trian¬gular, filiform-attenuate, 7-17 mm wide, nearly flat, covered with cinereous scales.
Scape erect or curved, slender, red, lepidote;
Scape-bracts imbricate and covering the scape, ovate, filiform-acuminate, red with green apex, subinflated, lepidote.
Inflorescence densely bipinnate, globose or short-subpyramidal, 3-8 cm long, 3-6 cm in diameter, more or less densely cinereous-lepidote, reddish;
Primary bracts like the scape-bracts, exceeding the lower spikes;
Spikes laxly 2-4-flowered, the lower ones with long naked sterile bases;
Rhachis geniculate, slender.
Floral bracts ovate, acute, shorter than the sepals, carinate;
Flowers subsessile.
Sepals lanceolate, acute, 12-14 mm long, short-connate especially post¬eriorly;
Petals ligulate, obtuse, 15-18 mm long, the blades spreading, rose;
Stamens in¬cluded; filaments plicate; ovary stoutly obovoid.
Capsule slenderly cylindric, to 35 mm long.

Tillandsia geminiflora var geminiflora.
TiIIandsia rubida Lindley, Bot. Reg. 28: pl. 63. 1842. Type. Without exact locality, Brazil, Loddiges Hortus s n (CGE ? n v).
AnopIophytum rubidum (Lindley) Beer, Bromel. 40. 1857.
AnopIophytum rollissonii E. Morren, The Garden 13: 39. 1878; in part, nomen.
Anoplophytum geminiflorum (Brongniart) E. Morren, Belg. Hortic. 30: 191, pl. 11. 1880.
Tillandsia coccinea Platzmann ex E. Morren, Belg. Hortic. 30: 191. 1880; nomen.
Tillandsia caldasiana Baker, Handb. Bromel. 199. 1889. Type. Galdas, Minas Geraes, Brazil, Regnell 282 (K).
Anoplophytum paniculatum Baker, Handb. Bromel. 200. 1889; nomen. Based on Morren Icon.

Scales of the leaves closely appressed.
Type. D'Urville s n (holotype P, GH photo), Ilha de Santa Catarina, Florianopolis, Santa Catarina, Brazil, 4 Oct 1822.

DISTRIBUTION. Epiphytic in forest, from near sea level to 1400 m, central Brazil to northeastern Argentina.
BRAZIL. MINAS GERAIS: Caldas, 1 Sep 1854, Regnell I-282-A (S, US); 23 Sep 1861, I-282-B e p (S, US); 15 Jun 1874, Mosen 1945 (S); 1 Feb 1876, 4438 (S); Caraca, Santa Barbara, 1885, Vainio 33938 (TUR); 22 Jul 1940, Foster 717 (GH); Sao Miguel, 29 Oct 1930, Mexia 5239-A (GH, US); Vaccaria, Serra do Cipo, Conceicao, 13 Ju11940, Foster 6I6 (GH). GOIAS: Anapolis, 16 Oct 1956, L. B. Smith & Macedo 4753 (US); Jatai to Goiania, 1 Oct 1963, Maguire et al 56990 (NY); Caiaponia to Goiania, 23 Oct 1964, Prance & Silva 59592 (NY, US); 29 Oct 1964, Irwin & Soderstrom 7563 (NY, US); Chapada dos Veadeiros, 19 Oct 1965, Irwin, Souza & Santo, 9299 (NY, US); 21 Mar 1969, Irwin et al 24829 (NY, US). DISTRITO FEDERAL: Brasilia to Anapolis, 6 Sep 1964, Irwin & Soderstrom 6041 (NY, US); Fercal, 5 Mar 1965, L. B. Smith I5024 (US); Brasilia, 1 Oct 1965, Irwin, Souza & Santo, 8844 (NY, US); 14 Dec 1965, Irwin et al 11285 (NY). MATO GROSSO: Cupim, Palmeiras, 20 Dec 1893, Lindman A-2605 (S); Rio Jauru, Dec 1908, Hoehne in Rondon 889 (R); 928 (R); 929 (R); 930 (R). RIO DE JANEIRO: Serra dos Orgaos, Teresopolis, 15 Feb 1826, Burchell 2353 (K); 8 Dec 1948, A. P. Duarte & Pereira s n (RB); Nov 1956, Abendroth I4 (US); Petropolis to Raiz da Serra, 23 Nov 1928, L. B. Smith I328 (GH); Nova Friburgo, B. Lutz IOI5 (R); Petropolis, 22 May 1939, Foster 38 (GH); Morro da Bandeira de Sao Antonio Mirim, Serra dos Orgaos, 29 Sep 1952, Markgraf 10011 (Z); Lidice, Trinta 897 & Fromm 1973 (HB); without exact locality, Sellow P-86 (P). GUANABARA: Vista Chineza, 30 Sep 1883, Saldanha et al s n (R); Corcovado, 15 Aug 1892, Lindman A-41 (S); 17 Nov 1928; L. B. Smith I262 (B, BA, BM, F, GH, K, S, US); 13 Sep 1966, E. Pereira 10492 (HB, US); Tijuca, 21 Aug 1892, Lindman A-47 (S); 12 Oct 1927 , Zernys n (W); Jacarepagua, Sep 1910, Hoehne s n (SP 5763); Represa de Gamorim, 1937 , Peckolt, Freire & Sampaio s n (R); Morro do Archer, 28 Aug 1946, Brade & Duarte 18577 (RB); Pico de Papagaio, 26 Sep 1945, Mello Filho & Dansereau 375 (R); Quinta da Boa Vista, s d, Glaziou 16454 (G, P). SAO PAULO: Santos to Cubatao, 24 Sep 1826, Burchell 3146 (BR); Serra de Caracol, 5 Apr 1874, Mosen 1732 (S); Sororocaba, Santos, 5 Dec 1874, 2984 (S); 15 May 1875, 3804 (S); Apiai, Oct 1888, Puiggary s n (P); Itu, 10 Nov 1897, Russel s n (SP); Campinas, Oct 1900, Campos Novaes 1203 (US); 6 Nov 1938, Viegas in Inst. Agron. 2864 (SP); Ipiranga, Feb 1907, Lueder¬waldt s n (SP); Atibaia, Sep 1910,C. Duarte s n (SP); Butanta, 24 Oct 1917, Hoehnesn (SP); Pirajussara, 29 Sep 1921, A. Gehrt s n (SP); Alto da Serra, 5 Oct 1922, A. Gehrt s n (SP); Campos do Jordao, 15 Sep 1923, Hoehne s n (SP); Cidade Jardim, Sao Paulo, 3 Feb 1929, L. B. Smith & Kuhlmann I813 (GH); 24 Oct 1940, Krug s n (SP); Jardim Botanico, Sao Paulo, 28 Sep 1933, Handro 364 (SP); 25 Oct 1951, 273 (SP, US); Socorro, 20 Sep 1939, A. P. Viegas & Zagato s n (IAG); Santo Amaro, Sao Paulo, 24 Sep 1942, Krieger 175 (SP). PARANA: Porto de Cima, 28 Sep 1909, Dusen 8447 (S); Jaguariaiva, 2 Nov 1910, Dusen 10787 (S); 22 Oct 1911, I3243 (S); 21 Sep 1914, I5528 (GH, S, US); Curitiba, 1 Sep 1939, Foster 437-F (GH); Vila Velha, Ponta Grossa, 28 Aug 1939, Foster 424 (GH); Saquarema, 16 Nov 1950, Stellfeld 426I (US); Guaratuba, 3 Feb 1952, Reitz 4240 (HBR); 10 Oct 1957, Hatschbach 4170 (US); Jaguatirica, Campina Grande do Sui, 28 Oct 1962, Hatschbach 9423 (US); Antonina, 11 Oct 1964, Saito 279 (US). SANTA CATARINA: Serra de Jaragua, 31 Aug 1897, Schwacke I3358 (RB); Meleiro, 20 Oct 1943, Reitz C-57 (HBR); C-59 (GH, HBR); Sombrio, 30 Sep 1944, Reitz C-750 (GH, HBR, US); 7 Oct 1944, C-760 (HBR, US); I509 (R); Praia Braba, Itajai, 3 Nov 1949, Reitz 2306 (HBR); Azambuja, Brusque, 29 Sep
,949, Reitz 3028 (HBR, US); 3653 (HBR); 3683 (HBR); 3684 (HBR); Serra do Mirador, Taio, 16 Nov 1951, Reitz 3965 (HBR); Dionisio Cerqueira, 23 Jan 1952, Reitz 4285 (HBR); Corupa, 25 Apr 1951, A. Seidel 35 (HBR); Brusque, 23 Feb 1952, L. B. Smith & Reitz 5765 (US); Itapiranga, 18 Oct 1964, L. B. Smith & Reitz I2704 (HBR, R, US); Morro do Ribeirao, Florianopolis, 15 Oct 1968, Klein & Bresolin 787I (FLOR, HBR); Morro do Rio Vermelho, Florianopolis, 17 Oct 1968, Klein 7935 (FLOR, HBR). RIO GRANDE DO SUL: Porto Alegre, 4 Nov 1892, Lindman A-593 (S); 16 Oct 1933, Rambo s n (LIL, PAGA); 1945, s n (LIL, PAGA); 16 Oct 1948, s n (LIL, PAGA); Sao Leopoldo, 1941, Eugenio I19 (R); 1940, I895 (GH); 17 Sep 1946, Heinz s n (PAGA, S); Pareci Novo, 15 Oct 1945, Sehnem I448 (LIL); Gampo Bonito, Torres, 26 Feb 1952, Reitz 44I5 (HBR). PARAGUAY. GUAIRA: Colonia Independencia, 8 Oct 1967, Lourteig I976 (P). URUGUAY. Mouth of Rio Corrales, Minas, Feb 1921, Schroeder in Osten I6358 (MVM); Rio Cebollati, cult. Nov 1937, Gonzalez in Legrand 855 (MVM); Treinta y Tres, cult. 15 Nov 1947, Gonzalez in Legrand 2762 (MVM). ARGENTINA. MISIONES: Bonpland, 27 Oct 1909, Jorgensen s n (BAB); To¬buna, 30 Jul 1937, Perez Moreau s n (BA).

Detail from Baker 1889
181. T. CALDASIANA Baker. - Acaulescent. Leaves 30-40, densely rosulate, lanceolate-acuminate, 6-8 in. long, ½ in. broad above the dilated base, finely lepidote over both surfaces. Peduncle as long as the leaves; bract-leaves with long lanceolate points. Inflorescence a dense panicle 2-3 in. long; branch-bracts ovate¬acuminate, 1-1½ in. long; lower spikes an inch long; flower-bracts oblong- lanceolate, ½ in. long. Calyx ½ in. long. Petal-blade red, lingulate, ¼ in. long.
Hab. Central Brazil; Caldas, Regnell 282! Near Gardneri, but much more finely lepidote.

Tillandsia geminiflora var incana (Wawra) Mez in Martius, FI. Bras. 3 (3): 595. 1894.
Anoplophytum rollissoni E. Morren, The Garden 13: 39. 1878; in part, nomen.
Tillandsia incana Wawra, Osterr. Bot. Zeitschr. 30: 223. 1880.
Desc from S&D
Scales spreading, especially those of the leaves.
Type. Wawra 11-508 (holotype W, lost), ltatiaia, Rio de Janeiro, Brazil. DISTRIBUTION. Epiphytic in forest, eastern Brazil. Uruguay (Pflanzenreich p. 56-9). BRAZIL. GUANABARA: Praia Vermelha, Miers 3788 (BM); Quinta da Boa Vista, 10 Nov 1885, Glaziou 16453 (P).

Tillandsia incana n. sp. Wawra, Osterr. Bot. Zeitschr. 30: 223. 1880
Planta (nostra juvenilis) simplex nec caespitosa, caule dense et ad basin rosulatim folioso, a medio florigero; foliis (basilaribus) reclinatis, cum caule assurgentibus sensimque abbreviatis, e basi latiuscula gradatim attenuatis acutissimis herbaceis indumento floccoso argenteo-sericeis; spiculis in foliorum - sum¬mis in bractearum rubentium axillis solitariis minutis 4—5 floris; floribus confertis in rhachi tenera distichis, bracteola cal. lon¬giore manifeste carinata suffultis; calycis foliolis omnino liberis marginibus imbricatis acutis; petalis .., rotundatis esquamosis, antheris angustis sagittatis, ovario ovoideo in stylum tri-fidum angustato.
Itatiaia (Tiefregion) Wwr. coll. 508.
Leider nur eine noch wenig entwickelte Pflanze vorhanden; verwandt mit der vorigen, aber dadurch ausgezeichnet, dass der Stamm schon von der Mitte an in den Blattachseln Aehren tragt, wahrend bei der fruheren Art die Aehrchen zu einer kugelformigen Rispe zusammengedrangt sind.
Im Jugendzustande hat sie die Tracht von T. recurvifolia (Hook. v. Bot. mag. 5246). Ferner fand ich in den k. k. Hofgarten eine noch sehr jugendliche als T. Rolissonii bezeichnete Pflanze, deren Blatter jenen der unserigen nahezu vollkommon gleichen; von dieser T. Rolissonii finde ich weiter keine Beschreibung. Morren (Belg. hort. XXIX, 575) bemerkt nur, dass sie mit T. tectorum, verwandt sein soll; diese weicht aber bezuglich der Bluthenvertheilung durchaus von unserer Pflanze ab.

From Gouda in Flora of the Guianas 1987
Tillandsia geminiflora Brongniart in Duperrey, Voy. Coquille 186. 1829.
- Anoplophytum geminiflora (Brongniart) E. Morren, Belg. Hortic. ,30:. 191, pl. 11. 1880. Type: Brazil, Santa Catarina, Florianopolis, Ilha de Santa Catarina, D'Urville s. n. (holotype P, FH photo).
Tillandsia coccinea Platzmann ex E. Morren, Belg. Hortic. 30: 191. 1880; nom. nud.
Anoplophytum paniculatum Baker, Handb. Bromel. 200. 1889; nom. nud. based on Morren Icon.
Plant acaulescent or very short caulescent, 12-24 cm tall, with a small but dense rosette of many bright-green leaves, the lower ones often reflexed.
Leaves thin. (soft), 11-18 cm long, mostly about equaling the mflorescence, sometimes much shorter, somewhat silvery green;
Sheaths very small and inconspicuous, merging into the blades, with broad mem-branaceous margins, soon glabrous toward the base, pale;
Blades arching, very narrowly triangular, 10-18.4 x 0.7-1.5 cm, (filiform-) at¬tenuate, very densely subappressed-lepidote, but soon partly less so at the upper side.
Inflorescence (sub-) pendent, bipinnate of 4-16 polystlchously arranged spikes (apical spikes reduced to one-flowered spikes), 11-20 cm long, dense or subdense at least toward the apex, fertile part ovoid;
scape curving downward, flaccid, 7-13 cm long, ca. 2-3 mm in diam., densely covered by bracts;
Scape bracts erect, imbricate, linear, the upper ones more ovate-lanceolate and filiform-caudate, densely appressed-lepidote, pale silvery green often tinged with rose; axis partly exposed at the base, nearly straight, angled to subterete at the base;
Primary bracts as the upper scape bracts, (sub-)spreading with the spikes, the lower ones mostly exceeding the spikes, the upper ones becoming much smaller, more ovate-oblong and attenuately subacute;
Peduncle of the lower spikes to 1.8 cm long, the upper ones much shorter, sharply angled when dry, naked, lepidote or glabrous;
Spikes oblong or irregular, complanate, 1.6-2.6 cm long and ca. 1 cm wide, (sub-)densely and distichously 2-3-flowered, with one much reduced sterile bract at the apex (or rachis with a sort appendix); Rachis exposed, slightly to strongly flexuous, angled, lepidote or glabrous;
Floral bracts subspreading with the flowers, subchartaceous, with veined surface only when dry, ovate (-oblong), 0.8-1.9 cm long, about twice as long as the internodes, much exceeded by the sepals (except for the flowers on the main axis), acuminate, carinate (sharply when dry), appressed-lepidote, pale-green with red toward the apex.
Flowers contiguous to each other and the rachis (often not so when dry), narrowly funnelform, sessile;
Sepals thin-coriaceous, with even surface, lanceolate, ca. 1.3 cm long, membranaceous at the margins, attenuately subacute, anteriorly short ¬connate, posterior ones about 1/4 connate and carinate (bluntly when fresh), nearly straight except near the apex, sparsely appressed-lepidote, tinged with rose at the apex;
Petals lingulate, ca. 1.8 cm long, the blade spreading, rose;
Stamens included, all equal in length, exceeded by the full mature pistil (protandrous), filaments flat, membranaceous, plicate in upper part, anthers dorsifixed (at 1/5), ca. 2-3 mm long;
ovary subglobose, abruptly contracted into the slender style,
stigmas linear, to 1 mm long.
Capsule slenderly cylindric, ca. 2 cm long and much ex¬ceeding the floral bracts, abruptly rounded and short-beaked.
Distribution : Surinam, C. Brazil to NE. Argentina. Epiphytic in forest, from near sea level to 1400 m alt. 7 Collection studied. Surinam: Mapane creek area, L. B. B. 9891 (V).
Culture and use : A decorative species and very beautiful at bloom time (April-May); easily grown like an epiphyte in window or in greenhouse and can be propagated by seed, on vertical wire gauze.

TiIIandsia rubida Lindley, Edwards Bot. Reg. 28: pl. 63. 1842. Type. Without exact locality, Brazil, Loddiges Hortus s n (CGE ? n v).
Tab 63
TILLANDSIA rubida.
Madder-coloured Tillandsia.
HEXANDRIA MONOGYNIA.
Nat. ord. BROMELIACEAE
TILLANDSIA. Botanical Register, vol. 2. fol. 105.
T. rubida; undique lepidota, foliis ovato-lanceolatis canaliculatis acuminatis exterioribus recurvo-patentibus, scapi vaginis acuminatis erectis, spica oblonga subcomposita, bracteis lanceolatis mucronatis calycibus paulo longioribus petalis brevioribus, sepalis petalis brevioribus, filamentis versus apicem sigmoideis, ovario obovato.

A dry-stove epiphyte, imported from Brazil by Messrs. Loddiges, with whom it flowered in February last. It is a very pretty plant, gay with madder-coloured flowers for many weeks.
It is nearly related to T. stricta, already figured at fol. 2338 of this work, but its bracts are scurfy, not smooth, and are terminated by a long stiff point; the flowers are red not violet-coloured, and much longer than any of the bracts except the lowermost. It is also not improbable that in T. rubida the spike may become very decidedly branched, of which there are plain indications in the specimen figured; in T. stricta there is no tendency whatever to branch.
It will grow well if placed in a basket, and hung from the rafters of the stove. The back or end-wall of a pine stove would suit it very well, and the general treatment should be the same as is applied to those plants.
It is to be suspected that this and other species may lurk in herbaria under the name of T. stricta; of one instance at least we have evidence in the case of the plant distributed by Professor Gardner under the number 134, and since published by him as T. stricta in the London Journal of Botany.
That plant is much larger than the genuine species, has the leaves ending in a fine thread, covered all over with a coarse shagginess which breaks up into a kind of chaffy fringe at the edges; the bracts are protected in the same manner, and with the flowers form a hemispherical head quite overtopped by the slender points of the leaves. To this the name of T. Gardneri may be applied, with the following diagnosis.
T. Gardneri; undique ramentaceo-lepidota, foliis lanceolatis in acumen filiforme productis exterioribus patentibus interioribus spica longioribus, scapi vaginis filiformi-acuminatis erectis, spica simplici hemisphaerica, bracteis oblongis superioribus obtusis calycibusque mollibus aequilongis.
---
Key to Brazilian Tillandsias, with red or pink petals from Die Bromelie, Sonderheft 3 1996
1. Stamens - exceeding the flower tube => paraensis
- included in the flower tube => 2
2. Leaf blade - filiform and grasslike => globosa
- triangular => 3
3. Plant - 4 - 8 cm in diameter => 8
- 10 - 25 cm in diameter, forming a more or less spreading rosette, stemless => 4
4. Floral bracts - lepidote => 5
- glabrous or nearly so: Plant 6 - 15 cm diameter, inflorescence elliptic or globose, spikes elliptic, sublax with 1 - 3 (- 5) flowers, floral bracts carinate, glabrous or punctulate lepidote, sepals glabrous => roseiflora
5. Inflorescence - elliptic or subglobose => 6
- elongate => 7
6. Leaves - soft, green or reddish, appressed lepidote, spike lax, 2 - 4 flowered, floral bracts shorter than sepals, petals red - violet => geminiflora
- soft, grey, densely lepidote with spreading trichomes, spikes dense, 3 - 12 flowered, floral bracts densely lepidote, exceeding the lepidote sepals => gardneri
7. Leaves - subsucculent, stiff, inflorescence with 4 - 6 spikes => chapeuensis
- Plant only 11 - 13 cm in diameter, an open silvery star-shaped rosette, leaves appressed lepidote, inflorescence with 5 - 7 spikes => grazielae
8. Plant - short - caulescent => 9
- stemless, forming an erect, often subbulbose rosette, leaves often somewhat secund, inflorescence elliptic or subglobose, flowers red or violet, filament not plicate => 10
9. Plant - 3 to 5 cm in diameter, pine cone shaped, dorsiventral, pendant, leaves green, silvery appressed lepidote, inflorescence simple, distichous => reclinata
- 4 to 8 cm in diameter, an erect-secund rosette, the basal leaves recurved, leaves cinereous-lepidote, inflorescence compound, spikes lax, floral bracts carinate, shorter than the lepidote sepals, the posterior ones carinate and 4 mm connate => sucrei
10. Floral bracts - glabrous or nearly so => 14
- lepidote => 11
11. Inflorescence - simple => 12
- bipinnate: Leaves channelled, regularly lepidote with coarse cinereous scales, inflorescence with up to 8 spikes which are laxly 3 - 4 flowered, the posterior sepals carinate, 1/3 to 1/2 connate, lithophytic growing at sea level => brachyphylla
12. Inflorescence - with polystichous flowers => 13
- with distichous flowers: Plant ca. 4 cm in diameter, short caulescent, small pine cone shaped, pendant, leaves grey appressed lepidote => reclinata
13. Leaves - secund, thin and soft, grey with appressed trichomes, looking like grey velvet, scape densely lepidote, inflorescence simple, sometimes compound of up to 3-flowered spikes, floral bracts carmine-red, sepals slightly lepidote, free, posterior ones carinate, petals violet-rose => heubergeri
- Leaves not secund, subsucculent, green, covered with coarse grey scales, plant pendant, floral bracts rose, sepals more lepidote, petals pink => thiekenii
14. Posterior sepals - not carinate => 15
- carinate => 16
15. Leaves many, green-grey, densely lepidote with irregular cumulated coarse trichomes, appearing rough pruinose, epiphytic at sea level => sprengeliana
- Leaves many, narrow triangular, with appressed trichomes, appearing metallic, epiphytic 700 - 1000 m => kautskyi
16. Plant - 2.5 to 5 cm in diameter, rosette of broadly triangular leaves with shorter blade, very densely and regularly silvery subpruinose lepidote, appearing like silvery velvet, sepals carinate and short connate, lithophytic 1800 - 2200 m => organensis
- Plant bigger, up to 15 cm in diameter, rosette often bulbose, leaves grey - green appressed grey lepidote, appearing like grey velvet, bipinnate with 1 - 3 (-5 ) flowered spikes, floral bracts conspicuously carinate, posterior sepals carinate, epiphytic => roseiflora
---
Updated 18/10/20
---