Tillandsia friesii
Click thumbnails for full size, scaled to a new window.
---
Tillandsia friesii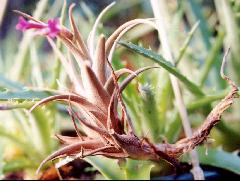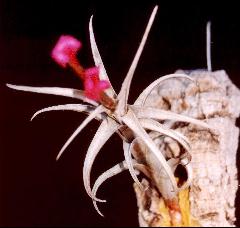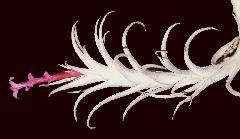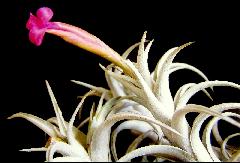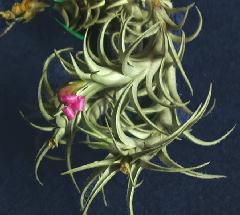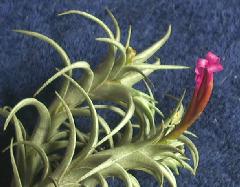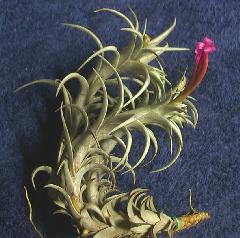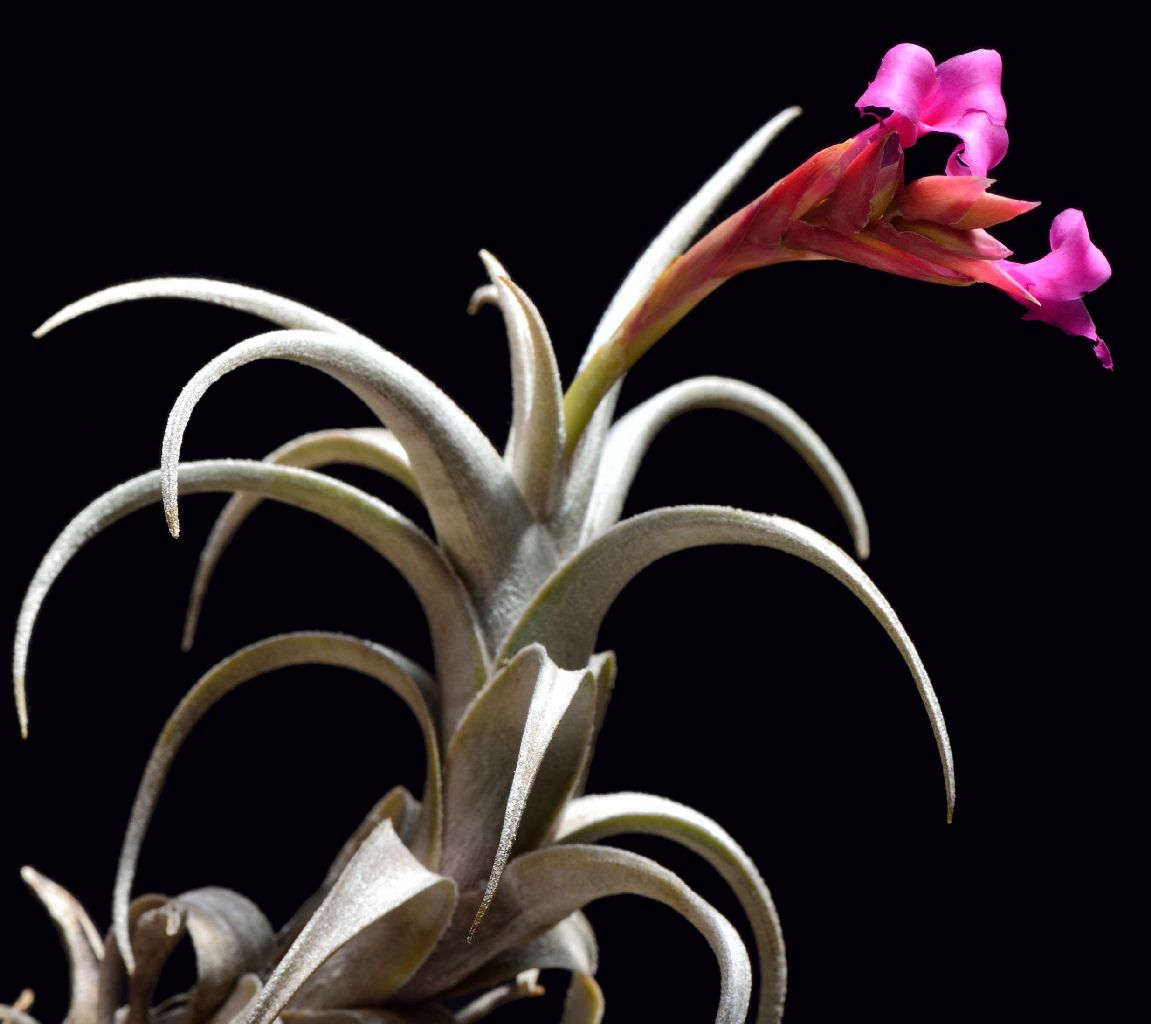 | | |
| --- | --- |
| Ian Hook 07/05. | George Nieuwenhoven 10/14 |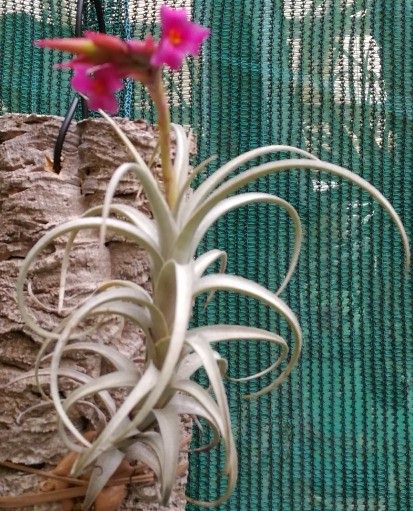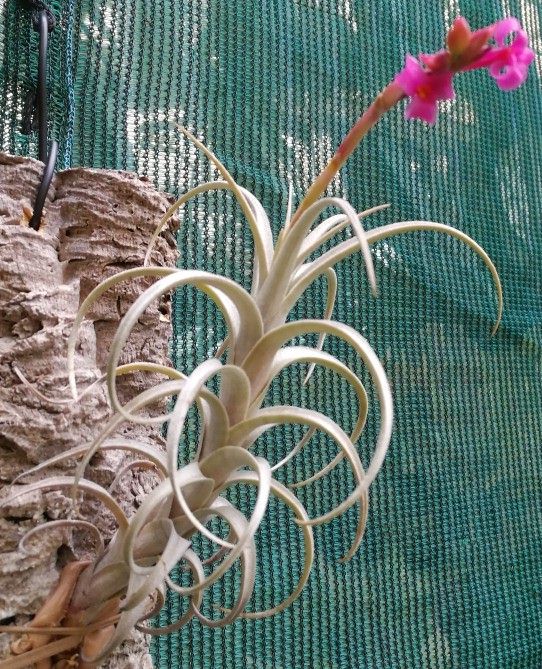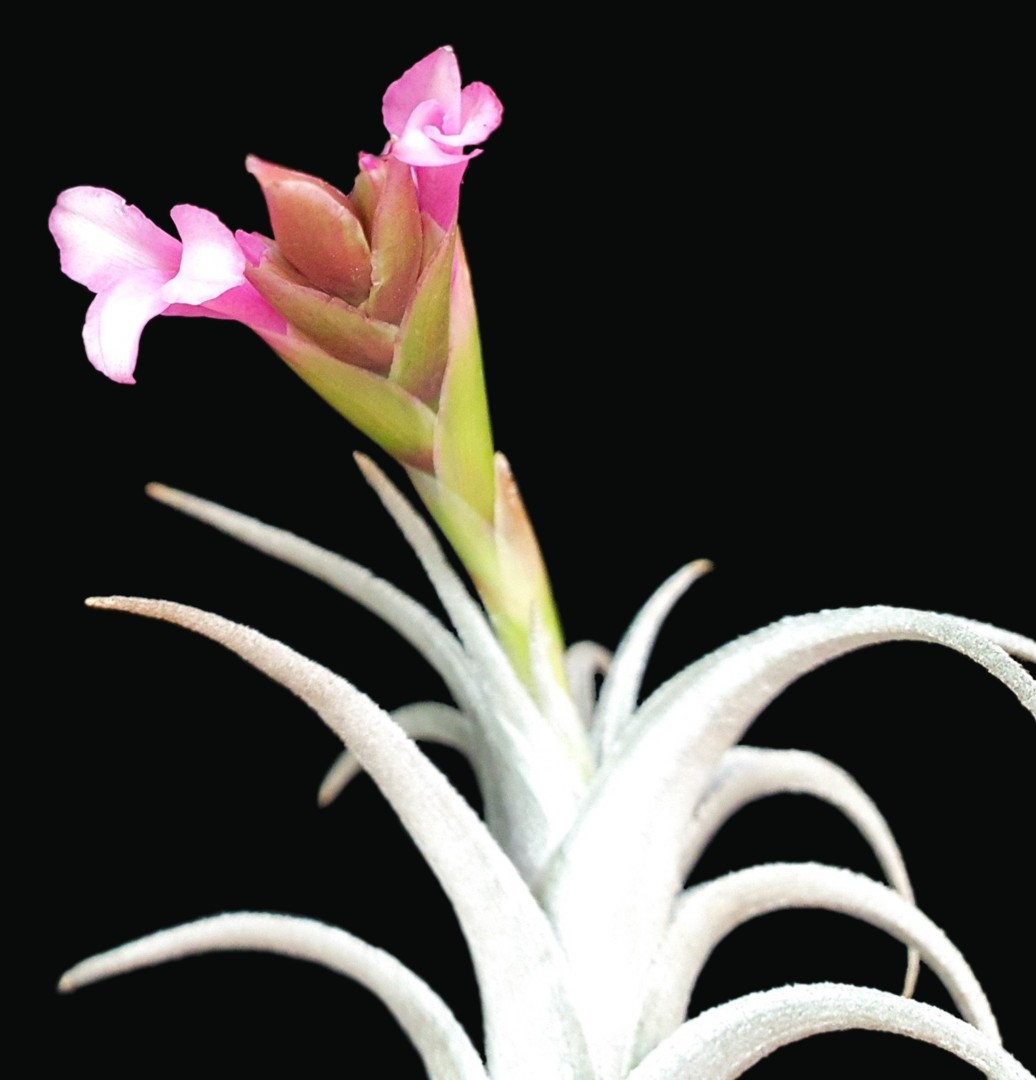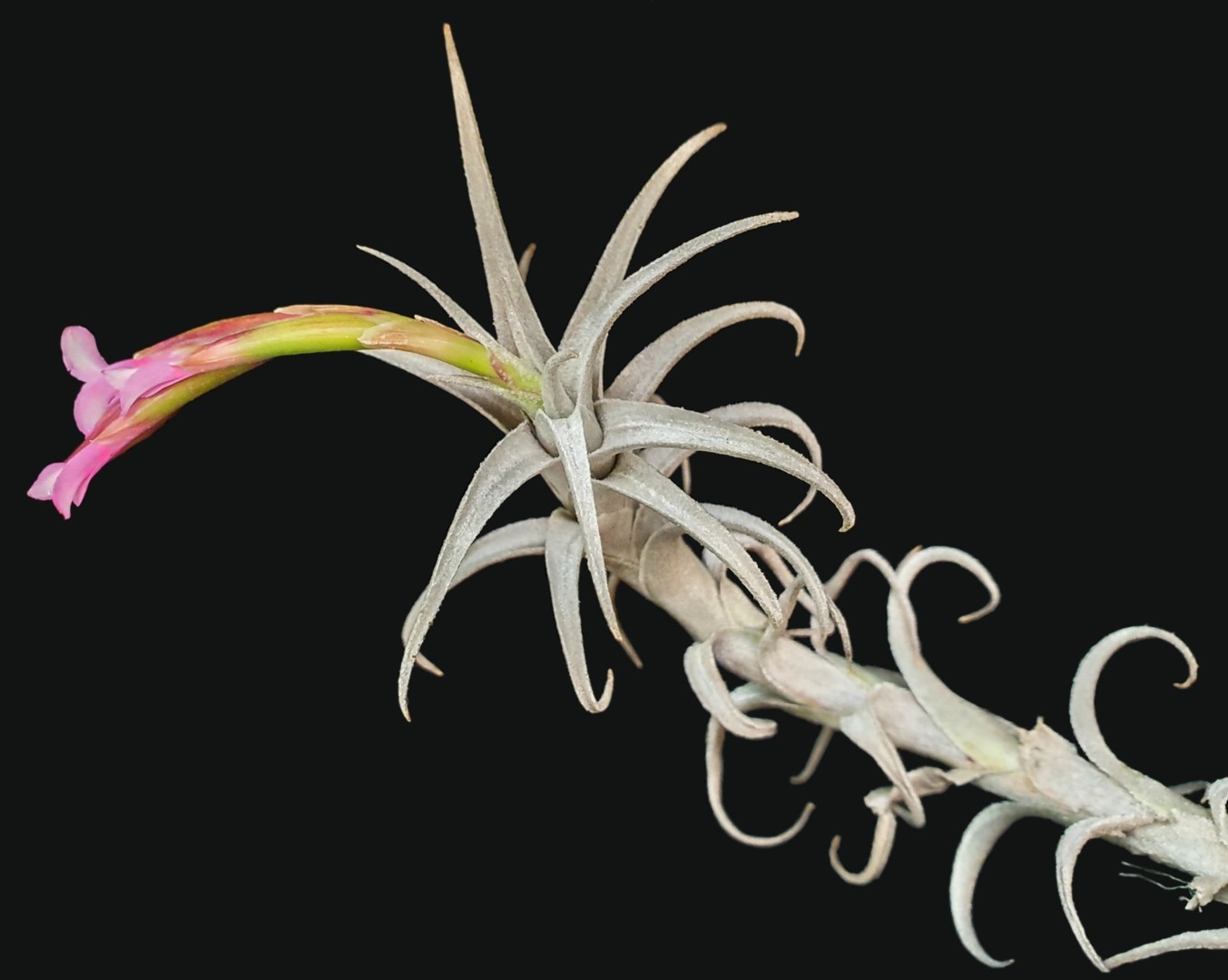 | | |
| --- | --- |
| Justin Lee 10/19 | Geoff Beech 10/20 |
George Nieuwenhoven ... "It's been a long time between flowering for this lovely species, a painfully slow grower at least here in Adelaide, but on the upside it puts up with our hot summers without complaint, it is the tank tillandsia's we have to nurse along, still it is a challenge worth meeting if you are a proper Tillnut."
Chris Larson ... "The thing with T. friesii – it came from one of the most inhospitable habitats where I've seen tilllandsias. 16 years ago I climbed up on moving stones to the cliff face where it grew – the stones were pretty much like climbing on tailings around a mine. It looked like the cliff in the picture on the front cover of the BSI journal from the 90's. When I pulled it from the cliff – the dirt came away with it. The cliff was made of mainly 3-4" diameter stones in dirt – so it had obviously not rained there in recent times or the cliff would have washed away. Hot & dry – just like Adelaide."

---
Tillandsia friesii – a farewell to Marj MacNamara by Chris Larson in Brom Soc of Vic Newsletter27(4): 11-13. 2010.
My friend Marj
Many years ago now, 1996 to be exact, I went travelling through South America with a lady from the Entrance, just north of Sydney named Marj Mac. I'd got to know Marj at some conferences in the early 90's, and learnt of her experiences collecting in various countries including Brazil & Argentina. She was interested in my experiences travelling through the Americas, at this time totalling more than a year – though I had collected nothing more than seed, and my travelling consisted more of tourist type activities, encountering the plants along the way, than researching where plants were and seeking them out. I also became a regular visitor, staying with Marj and Harold and enjoying their marvellous collection while enjoying their company.
Over the years, Marj & I proposed a trip to Argentina, where there was a diverse range of Tillandsia, which as most know is my main interest. Though Marj's main interest was Aechmea I could not see the interest she had in this area. At this stage I did not understand the special relationship one has with seeing plants which you are responsible for entering horticulture. Most of the seed I collected on previous trips was still very small and being grown by others who had sown it while I was away, and only now am I beginning to see the signifance of the seed I sent back. A simple look around Marj's collection showed the number of plants she imported, and in many cases collected, introducing them into Australia – and which we are currently enjoying.
I think one of the unspoken things about collecting trips is the personal trials of living every moment, every day, with someone you may not know so well. Many of the more enjoyable parts of the trip are not plant related, but enjoying the shared experiences along the trip – as well as sharing the discovery of either a plant you have been looking for, or encountering something marvellous which you didn't expect. There is certainly a bond shared between people that have spent such an intense experience together in such foreign lands.
One of the big trials of collecting, which was personally quite intense was the last plant we went searching for. This was in the days before you could research locations on Google, and GPS machines were not as affordable, or accurate, as on the trip I did 2 years later – had this been the case it would have saved a day looking for the type locality of T. xiphioides var tafiensis – it was not on maps at the time or known to locals – but you can Google it!! Our last day collecting was in search of Tillandsia friesii – a plant Marj had not collected before. We drove opposite to the direction home, going up the mountain "towards 3000m" – though we didn't have any idea what altitude we were at. The usual arguments were encountered from the driver who didn't want to arrive back too late – and the longer we drove, the further we had to come back. The car was also playing up. Marj and I were in "discussion" over whether it was worth it to go so far for this plant, or spend more time by the roadside exploring on the way back. It was stressful – but I won, and we found T. friesii, looking exactly like the location on the BSI Journal cover.
To get to the plants it was necessary to climb up on a steep slope of shale-like tailings. Every time I moved, the stone at my feet would give way underneath me. When I was standing in front of the plant, seeing the flower so that I was positive of what we had found there was joy. Marj started to climb up the tailings. At this point I panicked as it was difficult to be there on my own safely. I may have survived being buried under the loose rock, but Marj, at the age she was at the time, would probably come off worse. I offered to collect Marj's plants for her but she wanted to collect them for herself – a sentiment I can now relate to.
The second last time I saw Marj, she could only roughly work out who I was – suffering the effects of too many birthdays. I could see she was struggling. All of a sudden I recalled a plant that I had with me. I showed her a flowering T.friesii from that collection. Immediately she began laughing. Faces and names had become too difficult for her – but oh those memories – how they become part of us.
In May this year I learnt of Marj's passing. A wonderful plant collector, and a wonderful personality of the brom world.


---

Tillandsia friesii Mez. Repert. Sp. Nov. 3: 37. 1906.
Desc from S&D p812 Extra detail from Palaci 1991 in brackets
Plant caulescent; stem ca 15 cm long, decumbent-ascending.
Leaves densely polys¬tichous, not at all secund, to 7 cm long;
Sheaths oblong-elliptic, glabrous and enfolding the stem only at the extreme base;
Blades narrowly triangular, attenuate, 7-9 mm broad, stiff, complicate toward apex, coarsely cinereous-lepidote throughout, subpruinose, sometimes blackish.
Scape lacking.
Inflorescence terminal or axillary, simple, dense, not more than 6-flowered, sessile and about equaling the leaves, sublanceolate, complanate, to 5 cm long, 1 cm broad, glabrous throughout;
Rhachis slightly flexuous, angled.
Floral bracts erect, imbricate but so narrow as to expose the rhachis, ovate, broadly acute, ca 17 mm long (30mm), exceeding the sepals, somewhat rigid, even and slightly lustrous, ecarinate, bright red;
Flowers subsessile, ca 20 mm long.(not fragrant)
Sepals lanceolate, acute, 13 mm long, chartaceous, even or faintly nerved, free, the posterior carinate;
Petals purple, bright red when dry, obtuse, forming a slightly flaring tube;(ligulate, to 33mm long, entire margins)
Stamens included, shorter than the pistil.(Filament strongly plicate at anthesis)
Type. Fries 828 (holotype S, GH photo), Tambo in Quebrada del Toro, 3000 m alt, Salta, Argentina, 30 Nov 1901.
DISTRIBUTION. Known from the type collection only.
CP#1164 Quebrada del Toro km67 Salta 2500m.
CP#1165 Tambo in Quebrada del Toro km97 Salta 2950m
CP#1166 " - 2900m
CP#1170 Seclantas – between Seclantas and Brealito 2500m
CP# 1174 Brealito - 2800m

Detail in Mez 1935
291. T. Friesii Mez in Fedde, Repert. III. (1906) 37; Castellanos in Anal. Mus. Argent. Ci. Nat. XXXVII. (1933) 501, t. I. - Caulis perconspicuus, ad 0,15 m longus. Folia haud secunda, super vaginas parvas quam laminae vix latiores 8-9 mm lata, inde in apicem acutum sensim angustata triangularia, usque ad 70 mm longa, in parte superiore compli-cata, rigidula, lepidibus magnis densissime obtecta tota argentea. Scapus nullus. Inflorescentia simplicissima, optime disticha. subflabellata, inter folia intima sessilis, vix ultra 6-flora, folia subaequans vel paullo superans, complanata, sublanceolata, usque ad 50 mm longa et 8 mm lata, glaberrima; axe recto, angulato; bracteis erectis, paullo rigi¬dulis, laevibus, minute nitidulis, haud carinatis, ex ovato late acutis, ad 17mm longis. sepala permanifeste superantibus. Flores stricte erecti, glabri, ad 20 mm longi; sepalis 13 mm longis, liberis, fere aequilongis, subtriangularibus, sensim acutis. cbartaceis, laevibus. petala fulgide rubra, vel potius ex cl. Castellanos violacea, apice rotundata, in tubum perfectum superne paullo dilatatum conniventia. Stamina inclusa, quam stylus breviora. Argentina: Prov. Salta, Tambo, in Quebrada del Toro (Rob. E. Fries n. 828); Prov. Tucuman, Dept. Tafi, Colalao del Valle (Schreiter n. 7176).
---
Updated 31/10/20
---