Tillandsia fresnilloensis
Click thumbnails for full size, scaled to a new window.
---
Tillandsia fresnilloensis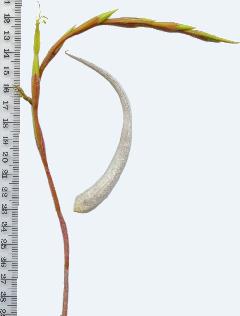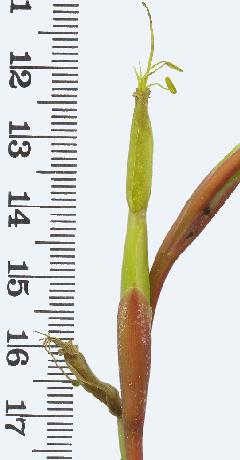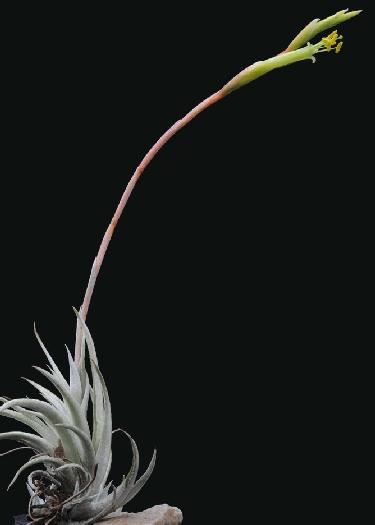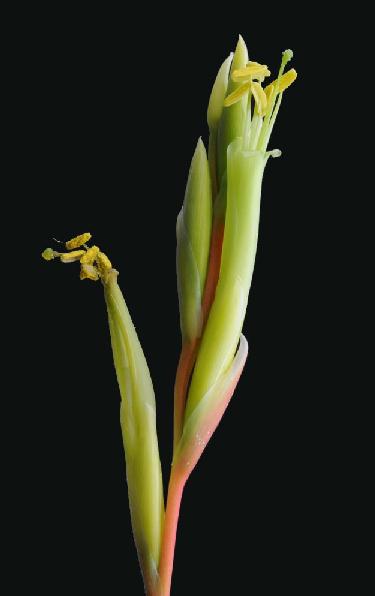 | | |
| --- | --- |
| Stan Olejnik, WA, 11/06. | Peter Tristram 11/10. |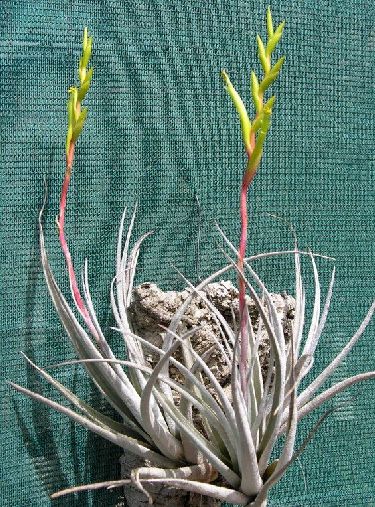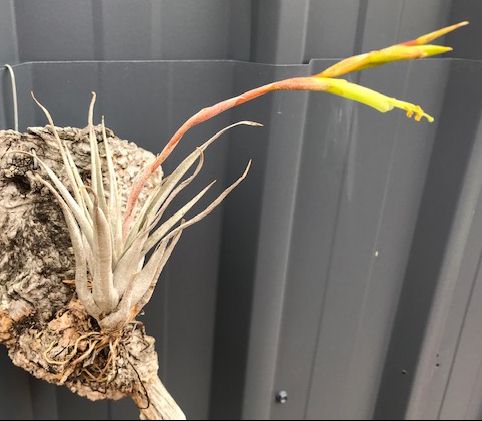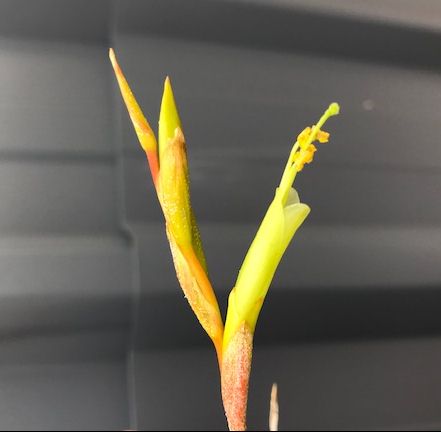 | | |
| --- | --- |
| Len Colgan 01/14 | Ray Clark 12/18 |
Len Colgan ... "T. fresnilloensis is clearly in the group that includes T. karwinskyana.
I like the contrast of the orange (closer to orange than red, despite the image) in the stem with the green flowers.
It is very scurfy. It is probably rarer, but again I have distributed a few."

Derek Butcher ... "Ray Clark: Congratulations. I suppose you would have noticed the subtle difference between it and karwinskyana.
- 5. Floral bracts abaxially glabrous, with a rounded tip; flowers adpressed to the rachis. Nuevo Leon, San Luis Potosi => karwinskyana.
- 5. Floral bracts sparsely lepidote abaxially, with an acute or obtuse tip; the flowers are slightly separated from the rachis. Zacatecas, Jalisco => fresnilloensis
It must be 10 years ago when I got involved with translating Juan Pinzon's work on the T. utriculata complex. You may be interested that I am one of the listed authors of a 69 page paper which went to the publisher 3 months ago. Perhaps the New Year wil see some action."
Ray Clark ... " to be honest, I have not flowered T. karwinskyana yet and more pertinently I didnít give it much thought until after I posted.
Reading the word document from the DVD, I note that Renate had many karwinskiyana and had trouble differentiating between them and fresnillinoensis. She also went on to say that Sue Gardner raised the issue as well and a few others have tried to clarify the problem but it sounds as if nothing concrete has come of it.
Does the published article that you mention address this? That would be nice to see and it may validate Renateís thoughts as she went on to say that even though it was difficult, there were a lot of differences. I am not sure how unusual it is but I havenít seen any soft grey Tillandsias in my collection flower with a green / yellow combination."
Derek Butcher ... "The T. utriculata group is an interesting one that Renate was keenly interested in and published new species. Juan Pinzon in 2012 did his Doctorate but only published new species. He asked me to hang on to his views on all the other species and I have had itchy fingers ever since. Juan then went to work with Walter Till on that monumental Tillandsioideae project. He is now back in Mexico keen to get his T. utriculata group published. This discussion group was involved in the early stages especially Mark Supple so it is not just me that is anxiously waiting publication."
Mark Supple ... " I wish I still had the original I recieved from Derek, but dropbox deleted it unfortunately, I'd love to see it again, even in Spanish you could still read parts of it. Good to see it will be published and everyone can see."
Derek Butcher ... "Sure is a tangled web. I still don't know how you got the plant or lost it. I have a feeling it may have been linked to Renate's interpretation as to T. cucaensis. I also enclose a photo of T. izabalensis to remind you of the past."
Mark Supple ... "The plant is still in Newcastle at Gordon Slack's place, he imported it in the 80's from a now long gone nursery in Guatemala, I did send all those details to Juan way back then, funny I pulled the plant apart at Gordon Slack's and Len Colgan was there, he couldn't agree with me that it was different in many ways from everything that was described at the time. I should pull my finger out and start pulling more plants apart that don't look right with the attached label. I still have pictures of the flower etc I pulled apart on file."
Derek Butcher ... "Interesting that your photo gets in but not a mention in paratypes. Perhaps collection data in Guatemala was too vague. If you have a couple of photos of T. izabalensis you would like to be on the DVD please send them."

---
Updated 13/04/19
---