Tillandsia foliosa
Click thumbnails for full size, scaled to a new window.
---
Tillandsia foliosa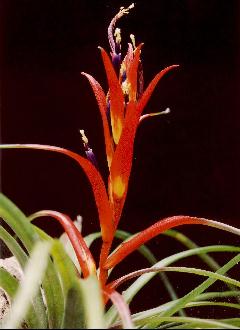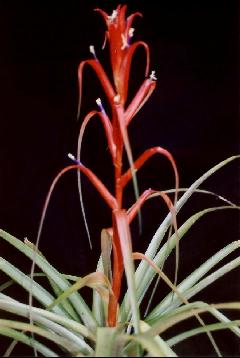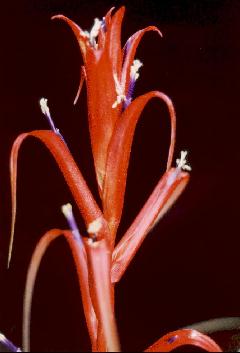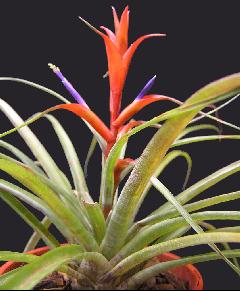 | | |
| --- | --- |
| Ken Woods, Sydney 11/04. | Ken Woods, 12/09. |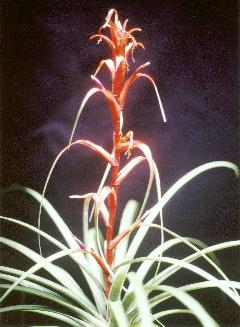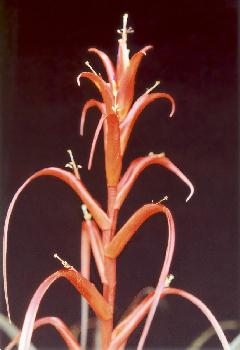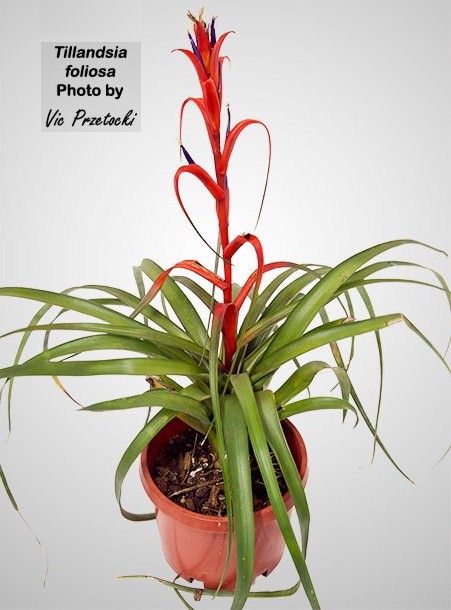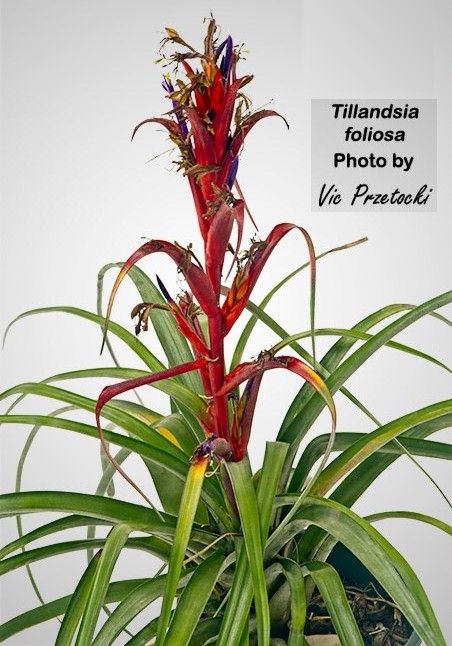 | | |
| --- | --- |
| Ken Woods 08/04 - originally listed as chlorophylla | Vic Przetocki 05/19 |
*In 1990's foliosa in Australia was wrongly labelled as chlorophylla. Check your collection.
The main difference is the length of scape bracts.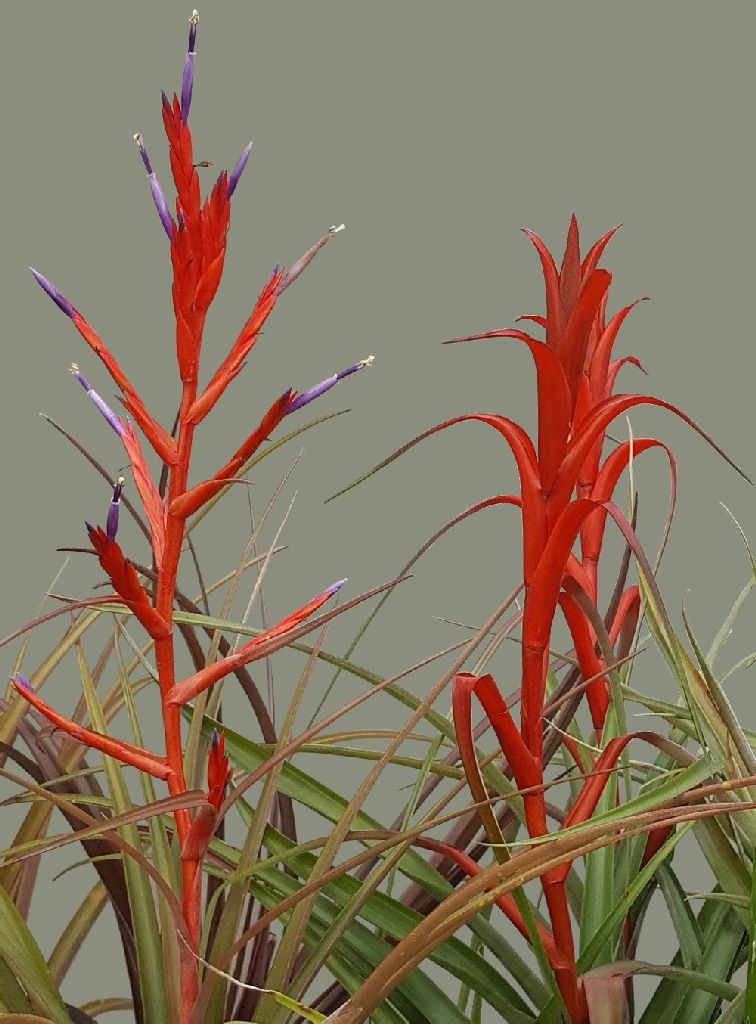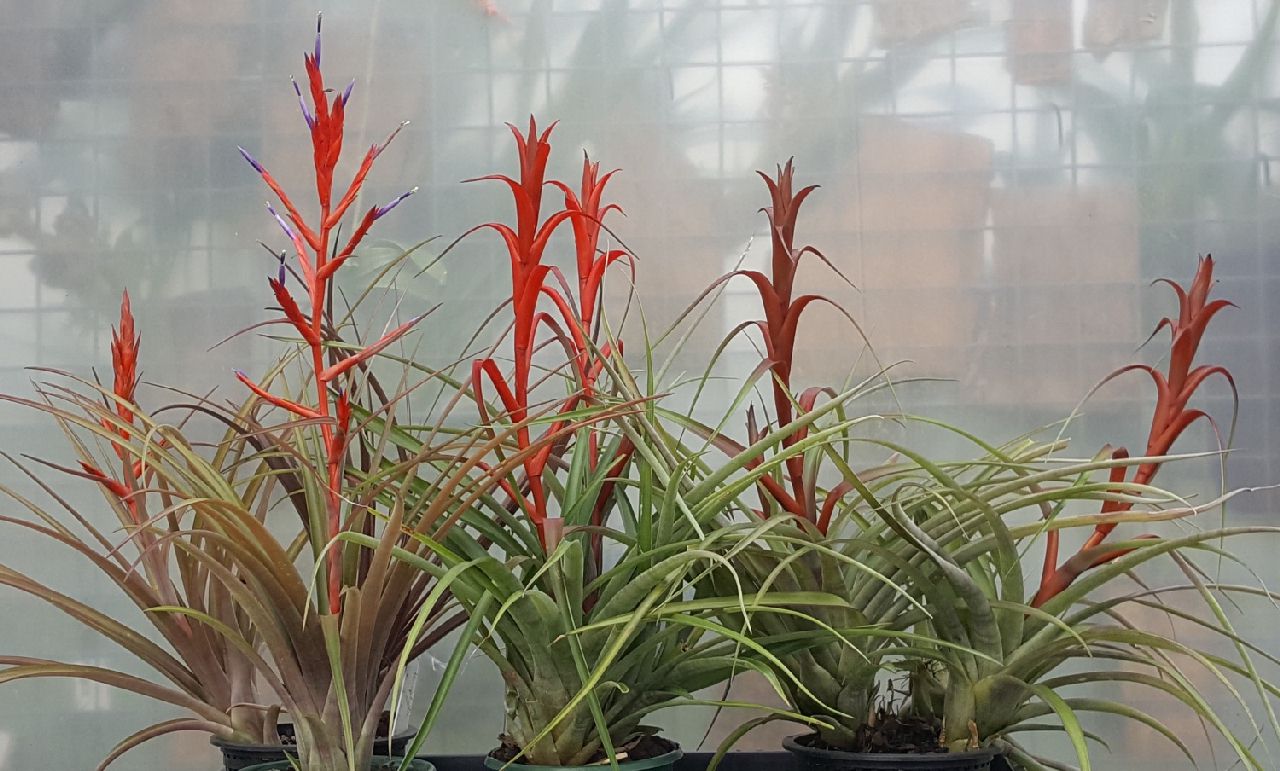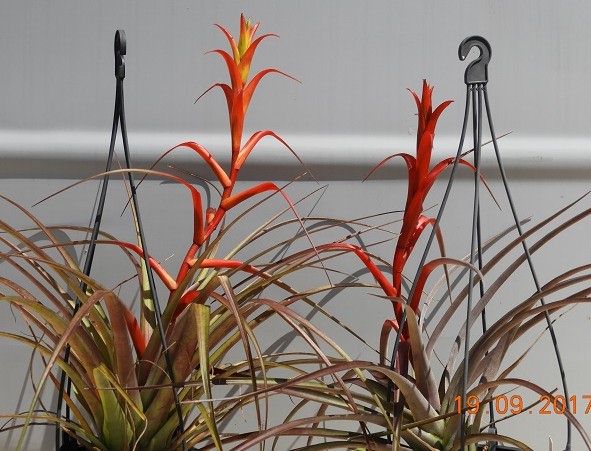 | | |
| --- | --- |
| Chris Larson 09/17 Left=chlorophylla Right=foliosa (2 forms) | Greg Jones 09/17 |
Chris Larson ... "T. chlorophylla on the left. A nice red leaved form recently imported from Guatemala. Any plants with T. chlorophylla on the tag should be checked against foliosa.
You will note that ken Woods' photo on Bromeliads in Australia was originally listed as foliosa – in fact mine were all mis-labelled as such many years ago.
2nd picture - T. chlorophylla on the left and 2 different forms of T. foliosa with varying bract colour on right. There are also other colours, and one with red leaves.
The difference between these 2 species is easy to tell with the length of the floral bracts."
Greg Jones ... "My T.foliosa's are flowering also. the red one on the right came from Chris and the other colour form came from Wardell many years ago."
Chris Larson ... "The one from me is ex-Peter Tristram with red in the foliage. Nice colour in the Wardell form – different as well."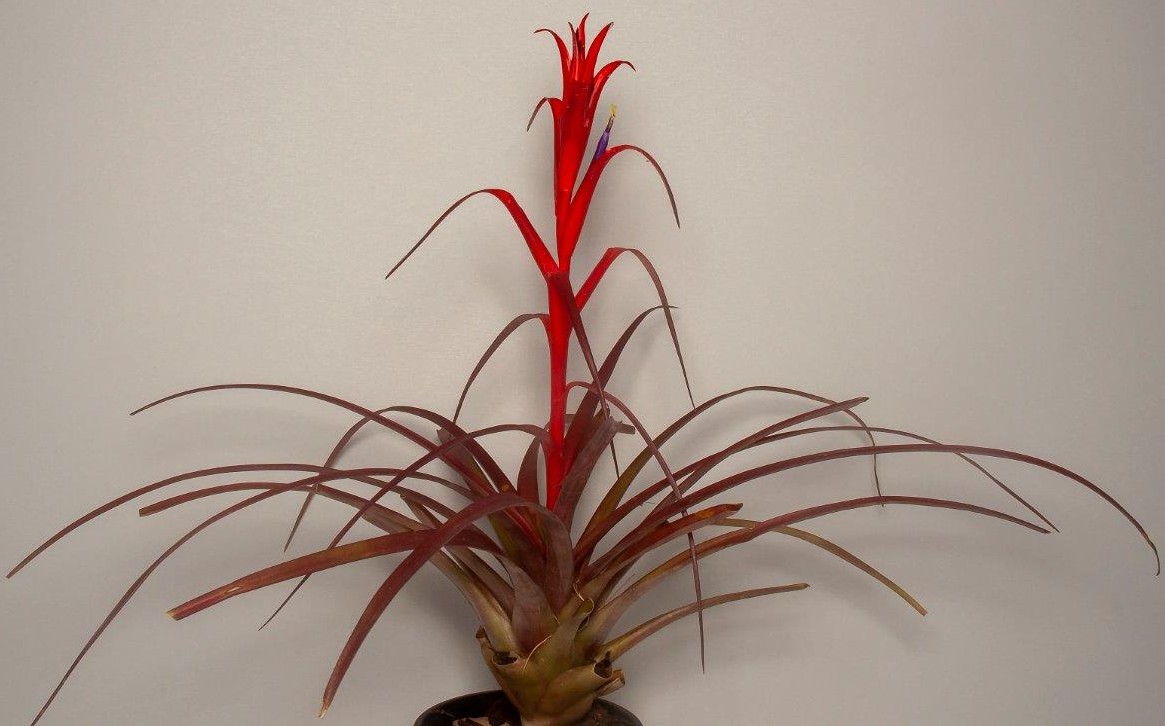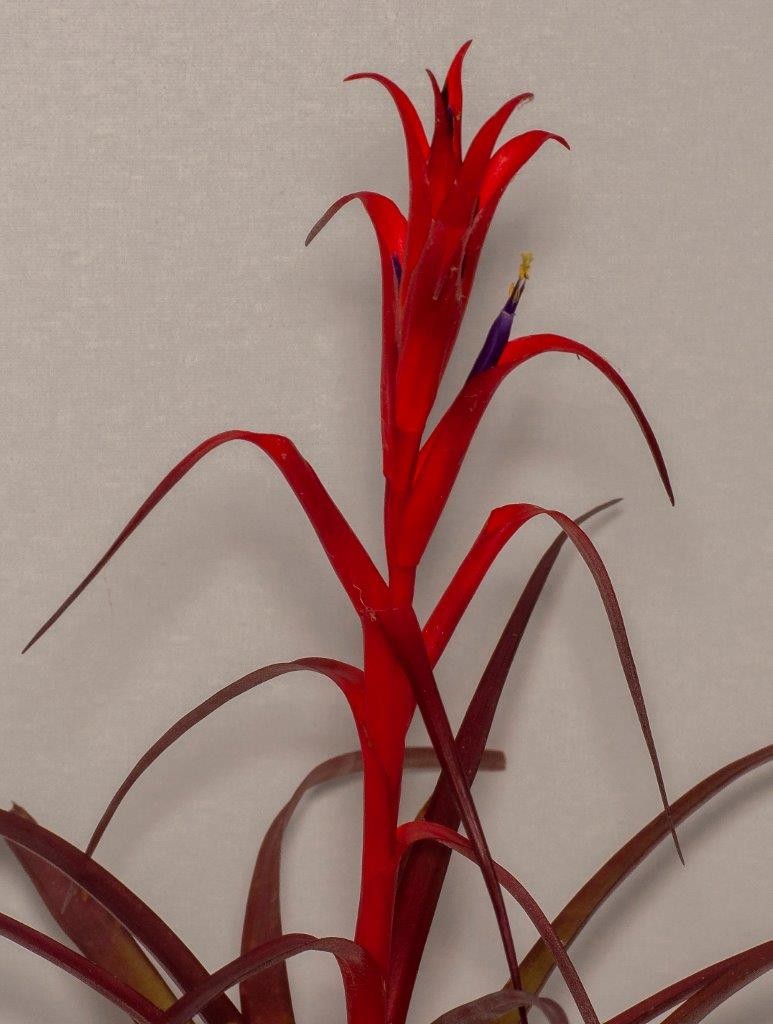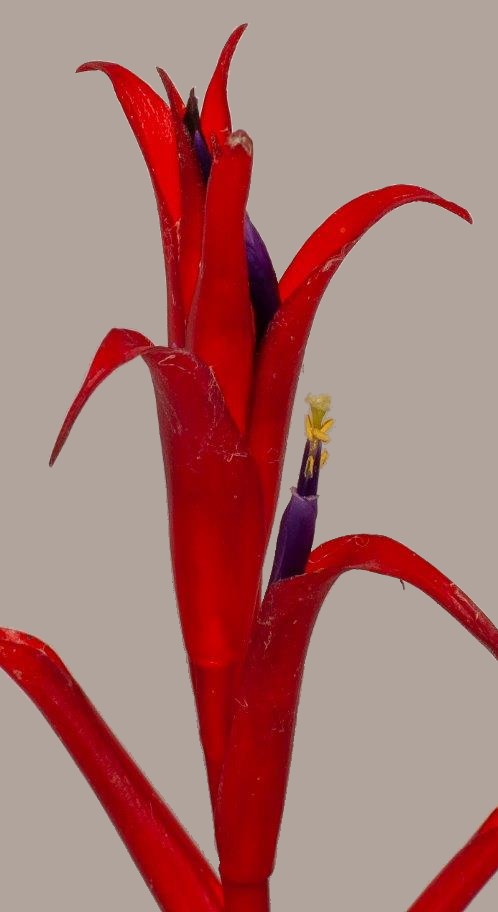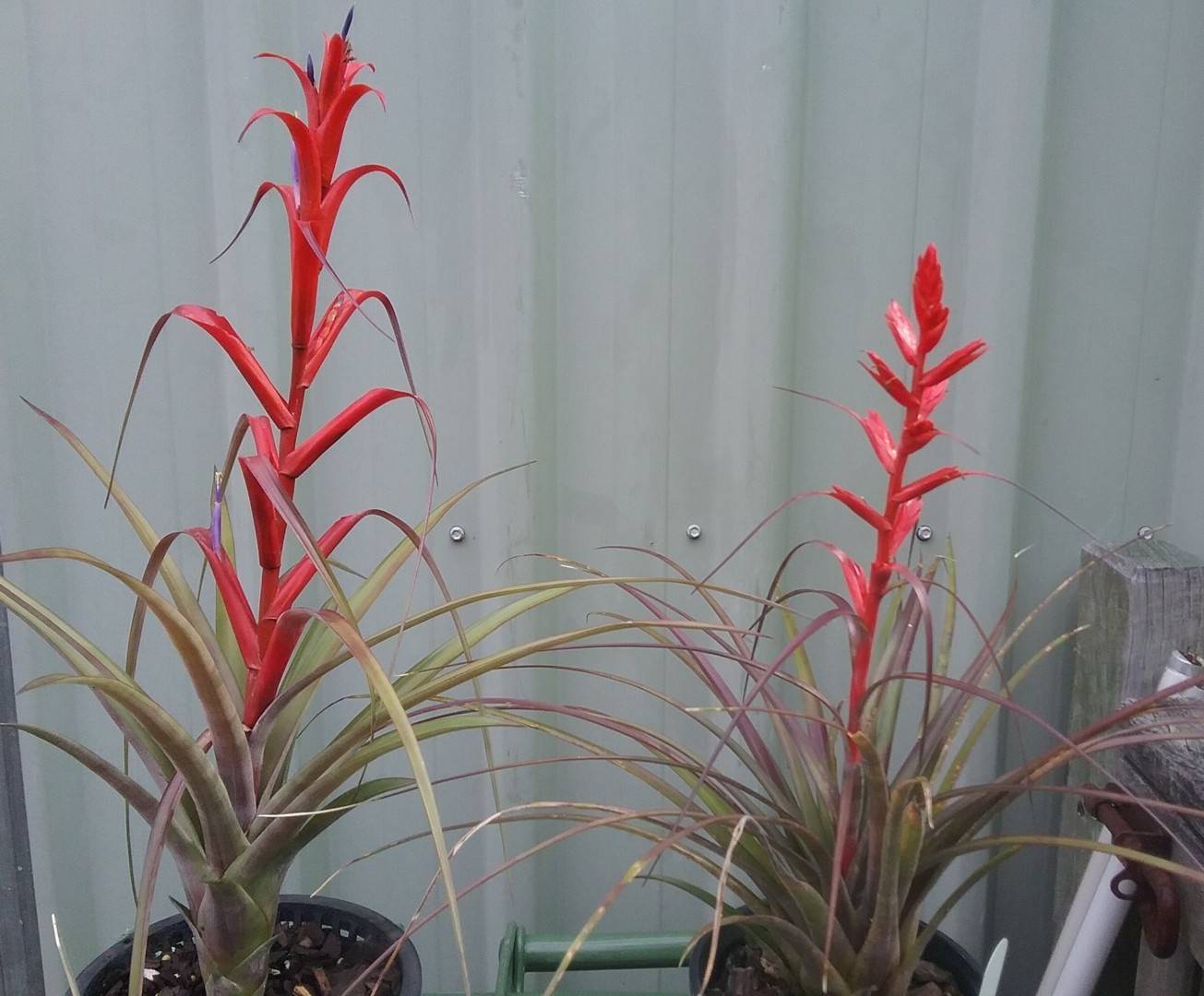 | | |
| --- | --- |
| Rob Bower 09/20 | 05/21 Comparison, Tony Tucker ex. Greg Aizlewood |
Tony Tucker 05/21 ... "I received a foliosa pup from Greg Aizlewood and wondered about a comparison image comparing thes two and GA gave permission to pass it on. There is a similar image from Chris Larson but nice to have more than one image on differences when there have been misnamed species."

---
Tillandsia foliosa Martens & Galeotti, Bull. Acad. Brux. 10(1): 119. 1843.
?Tillandsia flagellifera E. Morren ex Baker, Handb. Bromel. 185. 1889: nomen.
Tillandsia hahnii Mez, DC. Monogr. Phan. 9: 690. 1896. Type. Tlacotalpan, Vera Cruz, Mexico, Hahn s n (P, GH photo), 1866.
Tillandsia kirchhoffiana sensu Mez, DC. Monogr. Phan. 9: 693. 1896; non Wittmack 1889. Based on Kienast .s n (LG), Mexico. see below
Tillandsia polystachia sensu Mez, DC. Monogr . Phan. 9: 707. 1896; in part, as to Tillandsia foliosa Martens & Galoetti, non Linnaeus 1762. Basis unknown because type of T. foliosa not cited.
Tillandsia modesta Mez, Pflanzenreich IV. Fam. 32: 481. 1935. Type. Mexico, Makoy Hortus s n (B, B photo 1192/27). see below
Desc from S&D p1010
Plant stemless, flowering 4 dm high.
Leaves many in a dense utriculate rosette, 4-5 dm long;
Sheaths broadly ovate or elliptic, 1 dm long, brown, densely and .finely appressed-brown-lepidote;
Blades linear-triangular, subfiliform-attenuate, 15 mm wide at the base, glabrous above, densely pale-appressed-lepidote beneath.
Scape erect or ascend¬ing, slender, glabrous;
Scape-bracts erect, imbricate, elliptic with elongate divergent to reflexed foliaceous blades, chartaceous, lepidote, red.
Inflorescence compound with sim¬ple branches, sub cylindric, 15-30 cm long, dense toward the apex, interrupted toward the base;
Primary bracts enfolding and concealing the axillary spikes, submembranaceous, the lower ones like the scape-bracts, the upper merely acute;
Spikes subsessile with a sterile bract at base, narrowly lanceolate in outline, acute, 2-5 cm long, complanate, 4-6-flowered.
Floral bracts erect, densely imbricate, elliptic, broadly acute or obtuse, 16-19 mm long, about equaling the sepals, carinate, subcoriaceous, even, glabrous;
Flowers subsessile.
Sepals lanceolate, obtuse, coriaceous, even, glabrous, much connate pos¬teriorly;
Petals tubular-erect, narrow, 4 cm long, violet;
Stamens and pistil exserted.
Type. Martens & Galeotti 4909 (holotype BR n v), Jalapa, Vera Cruz, Mexico. DISTRIBUTION. Saxicolous and epiphyttc, rocks and forest, central Mexico.
MEXICO. VERA CRUZ: Zacuapan, Apr 1913, Purpus 6347 (UC); 1913, 6421 (UC); May 1919, 8219 (GH, MO, NY, UC, US); 8227 (GH, MO, NY, UC, US); Canon Teocelo, Jalapa, Apr 1952, O'Gorman s n (US); Barranca de Texolo, Coatepec to Teocelo, 16 Apr 1952, Moore 6280 (BH, US); 20 Apr 1959, Van Hyning 5973 (US); Coatepec, 11 Apr 1957, Foster & Van Hyning 3001 (US). OAXACA: Cerroz Nariz, Usila, Tuxtepec, 19 Apr 1939, Schultes & Reko 664 (GH). WITHOUT LOCALITY: Purpus 8879 (GH, F, MO, NY, UC, US).

Detail from Mez 1935
61. T. Hahnii Mez in DC. Monogr. Phaner. IX. (1896) 690. –
Vix 0,4 m alta. Folia utriculatim rosulata, sublinearia, apicem recurvum versus sensim acuta, ad 0,4 m longa et medio 8 mm lata, minute pallide lepidota. Scapus gracilis, ascendens, foliis permulto brevior, laxe vaginis longe laminigeris, internodia permulto superantibus praeditus. In¬florescentia pauciflora abbreviataque, nullo modo cyathidiiformis, 2-pinnatim panniculata, basi interrupta apice densissima, foliis subduplo superata; bracteis primariis vaginis scapalibus isomorphis sed superioribus brevius nunc brevissime tantum laminatis apiceque recurvis, spicas axillares omnino celantibus; spicis flabellatis, 4-5-floris, vix ultra 30 mm longis, glabris, lanceolatis, acutis; bracteis florigeris dense imbricatis, subglabris, laevibus vel minute venosis, haud carinatis, subcoriaceis, ad 19 mm longis, sepala subaequantibus. Flores erecti, fere 45 mm longi; sepalis antico libero posticis ad 5 mm connatis, mem¬branaceis, glabris, obtusis, vix ultra 15 mm longis. Petala sepalis ad 25 mm longiora, tubulose erecta, quam stamina optime breviora.
Mexico: ohne Standortsangabe (Hahn).

65. T. modesta Mez nov. spec. –
T. Kirchhoffiana Mez (non Wittm.) in DC. Monogr. Phaner. IX. (1896) 693.
T. foliosa Hort. (non alior.) ex Mez, l. c. –
Ad 0,4 m alta, e gracilioribus. Folia vix 0,5 m longa, ad 12 mm lata, anguste linearia, apicem peracutum subfiliformem versus longe angustata, supra subglabra subtus dense appresse lepidota incana. Scapus ascendens, gracilis, foliis perelongatis linearibus, iis rosulae similibus praeditus. Inflorescentia submultiflora, foliis manifeste brevior, basi paullo interrupta apicem versus densiuscule 2-pinnatim panniculata, nullo modo strobiliformis, ad 70 mm longa et 20 mm diam. metiens; bracteis primariis maximis, e vaginis late ellipticis, sub¬inflatis, spicas omnino celantibus in laminas normales, supremis minutas inferioribus perconspicuas productis; spicis 3-6-floris, stricte erectis, ad 30 mm longis, anguste ellipticis, subflabellatis; bracteis florigeris erectis, laxe imbricatis, ad 18 mm longis, ellipticis, late acutis, coriaceis, concavis nec manifestius carinatis, apice haud incurvis, sepala aequantibus. Flores stricte erecti, 40 mm longi; sepalis antico libero, posticis ad 10 mm connatis, coriaceis, lanceolatis, acutis, ad 16 mm longis. Petala sepalis ad 22 mm longiora, violacea, quam stamina breviora.
Mexico: ohne Standortsangabe ( Kienast). - War bei Makoy in Kultur.
---
Updated 03/06/21
---