Tillandsia flexuosa
Click thumbnails for full size, scaled to a new window.
---
Tillandsia flexuosa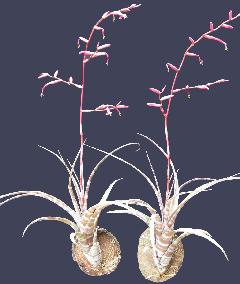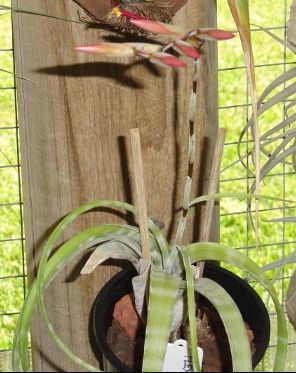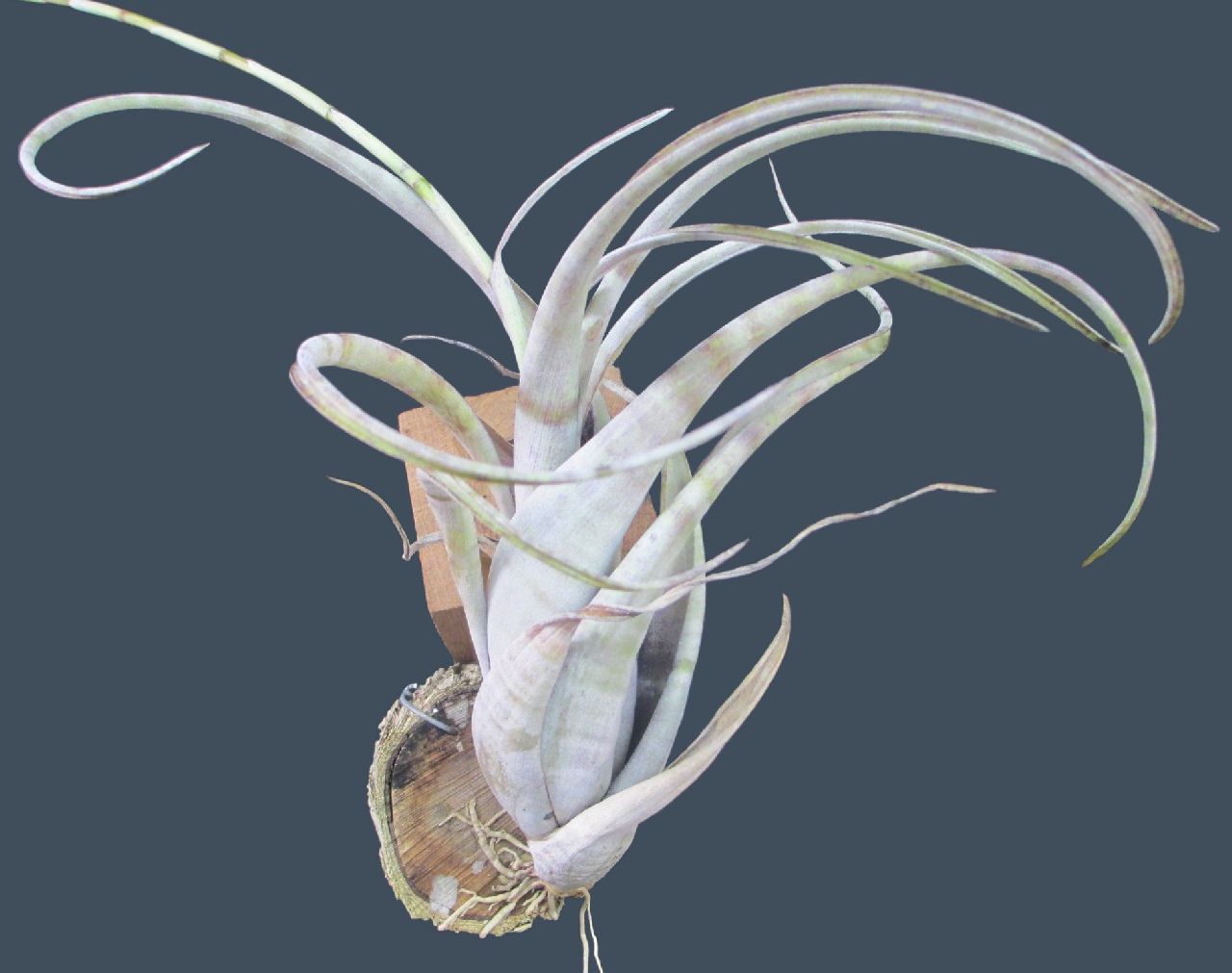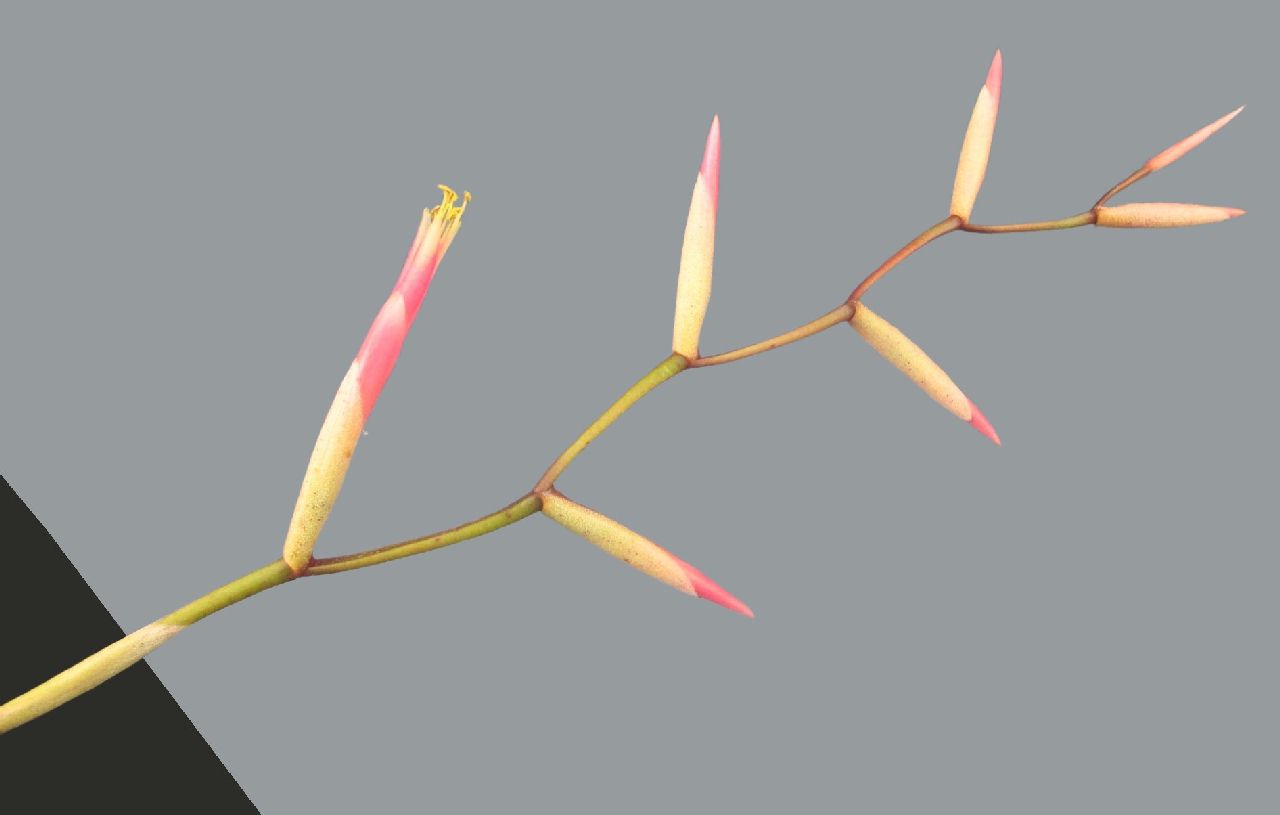 | | | |
| --- | --- | --- |
| Bob Hudson, Cairns 01/10 | Stephen Haines 08/13 | Bob Hudson 01/17 |
Bob Hudson 01/17 ... "A pale color compared with the normal one from The Bahamas. I collected this one out of Florida."

---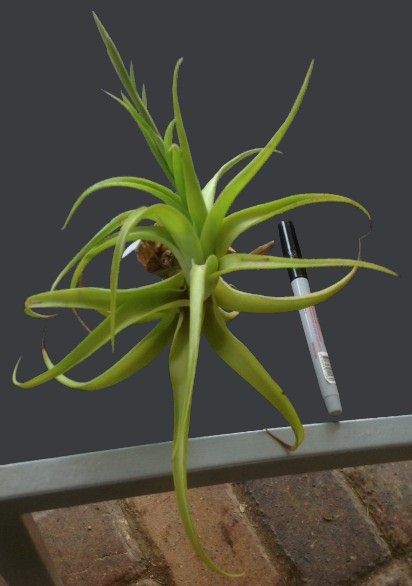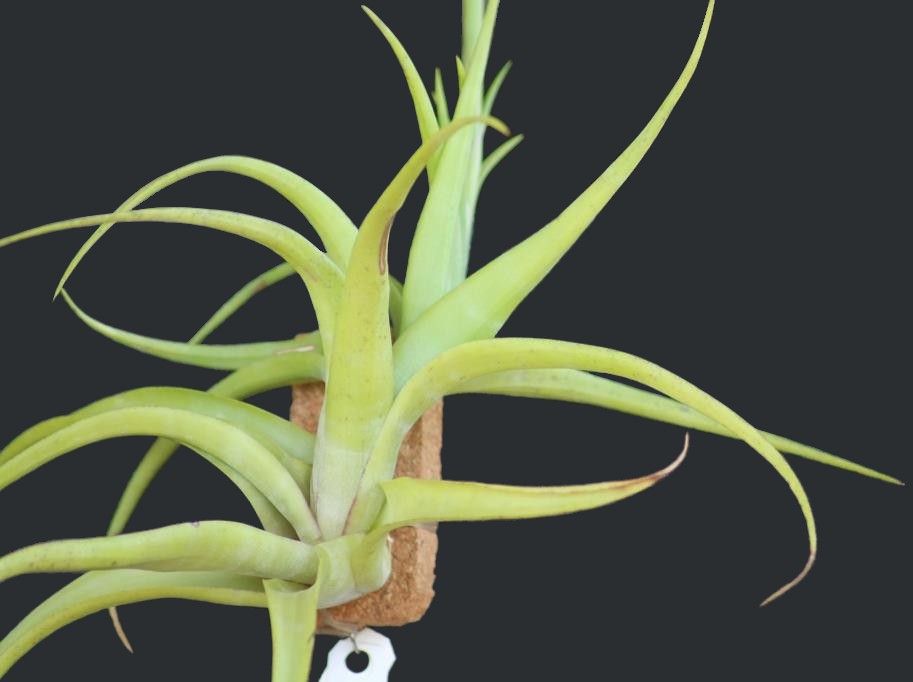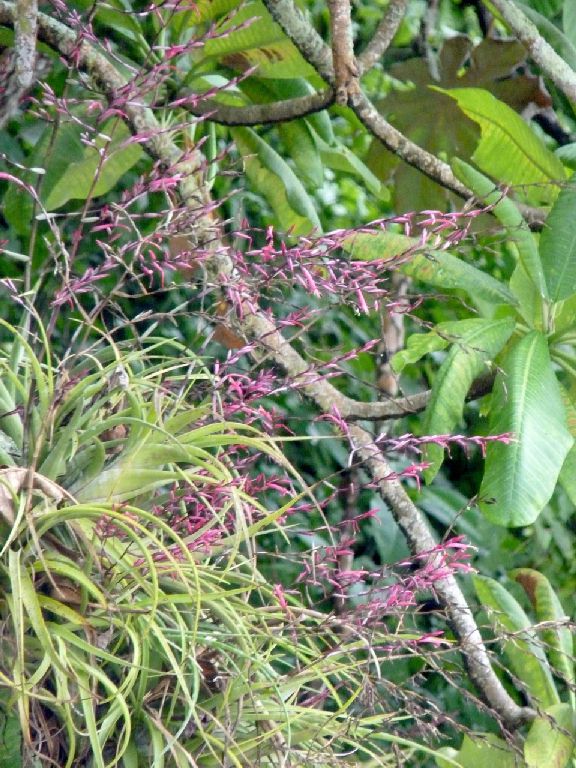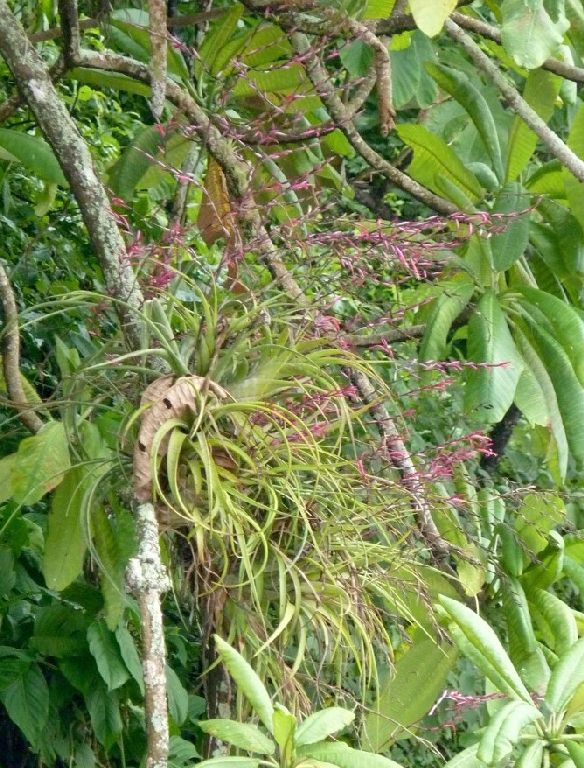 | | |
| --- | --- |
| Jenny & Steve Brittain 14/11/15 | Bruce Dunstan , in wild. |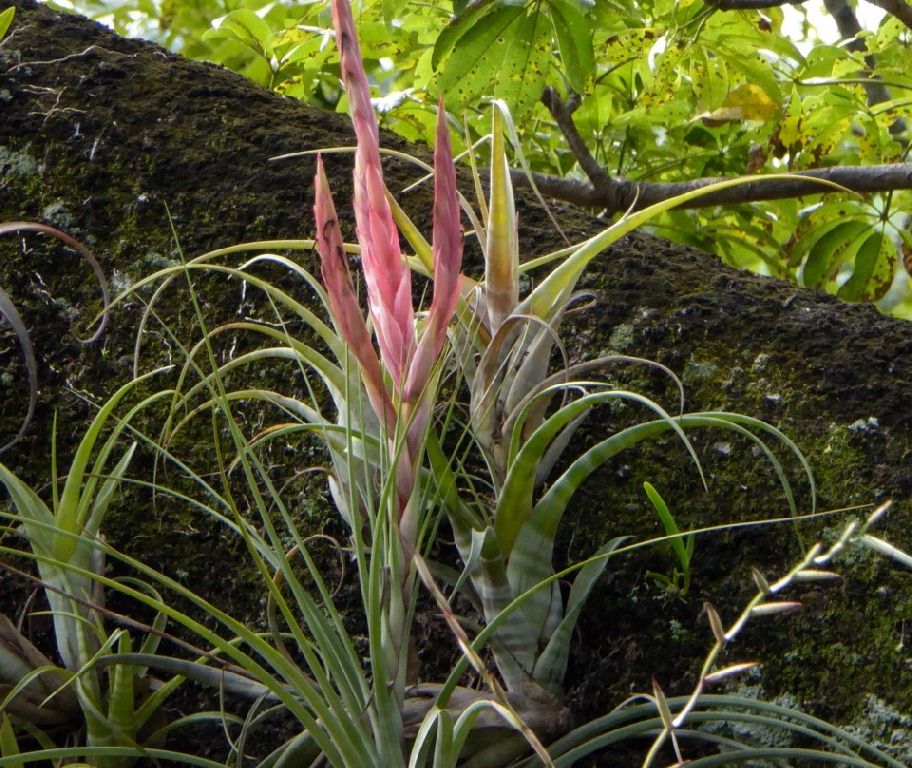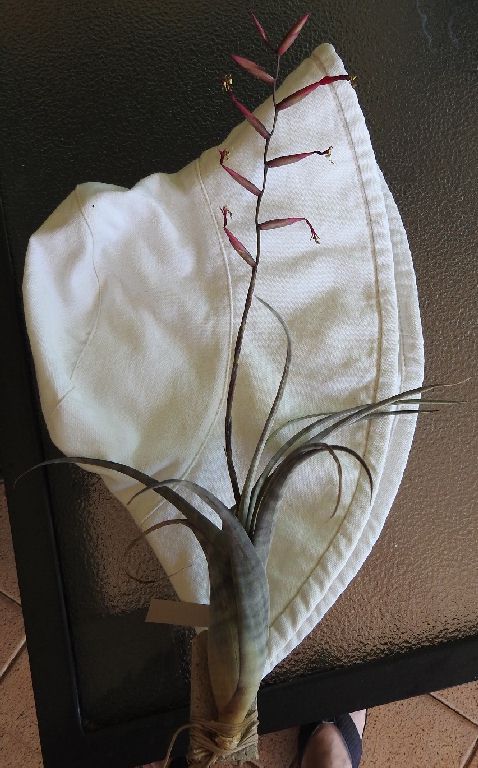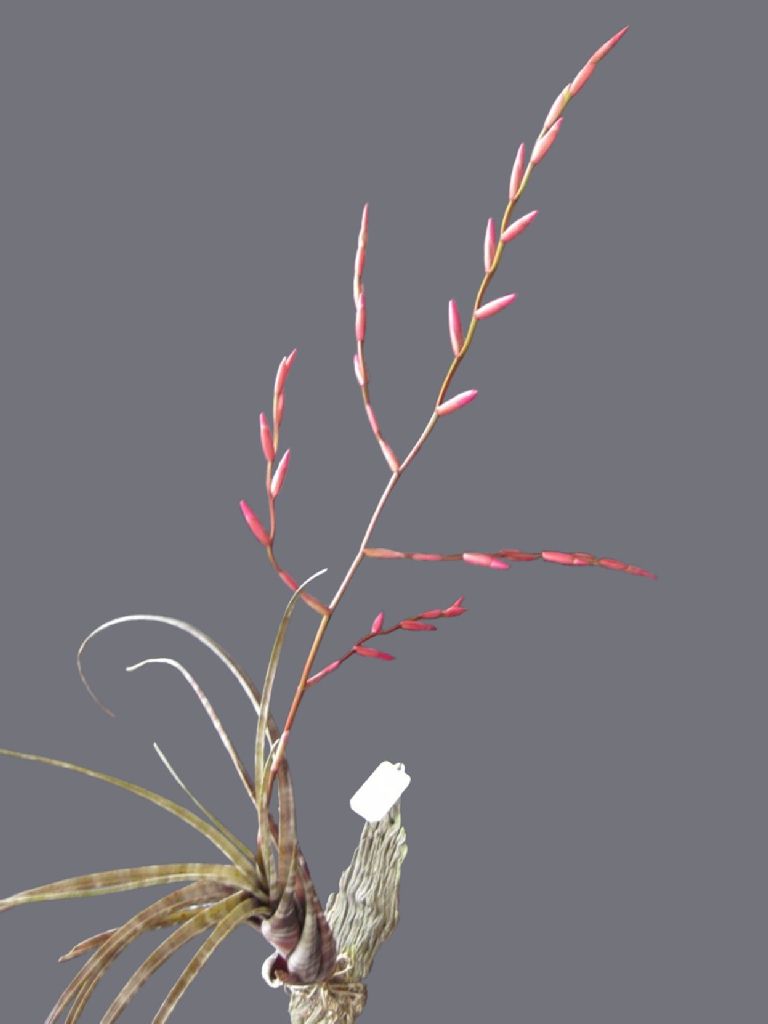 | | | | |
| --- | --- | --- | --- |
| Bruce Dunstan , in wild. | Bruce Dunstan 4/11/17 | Jenny & Steve Brittain 07/10/15 | Bob Hudson 07/11/17 |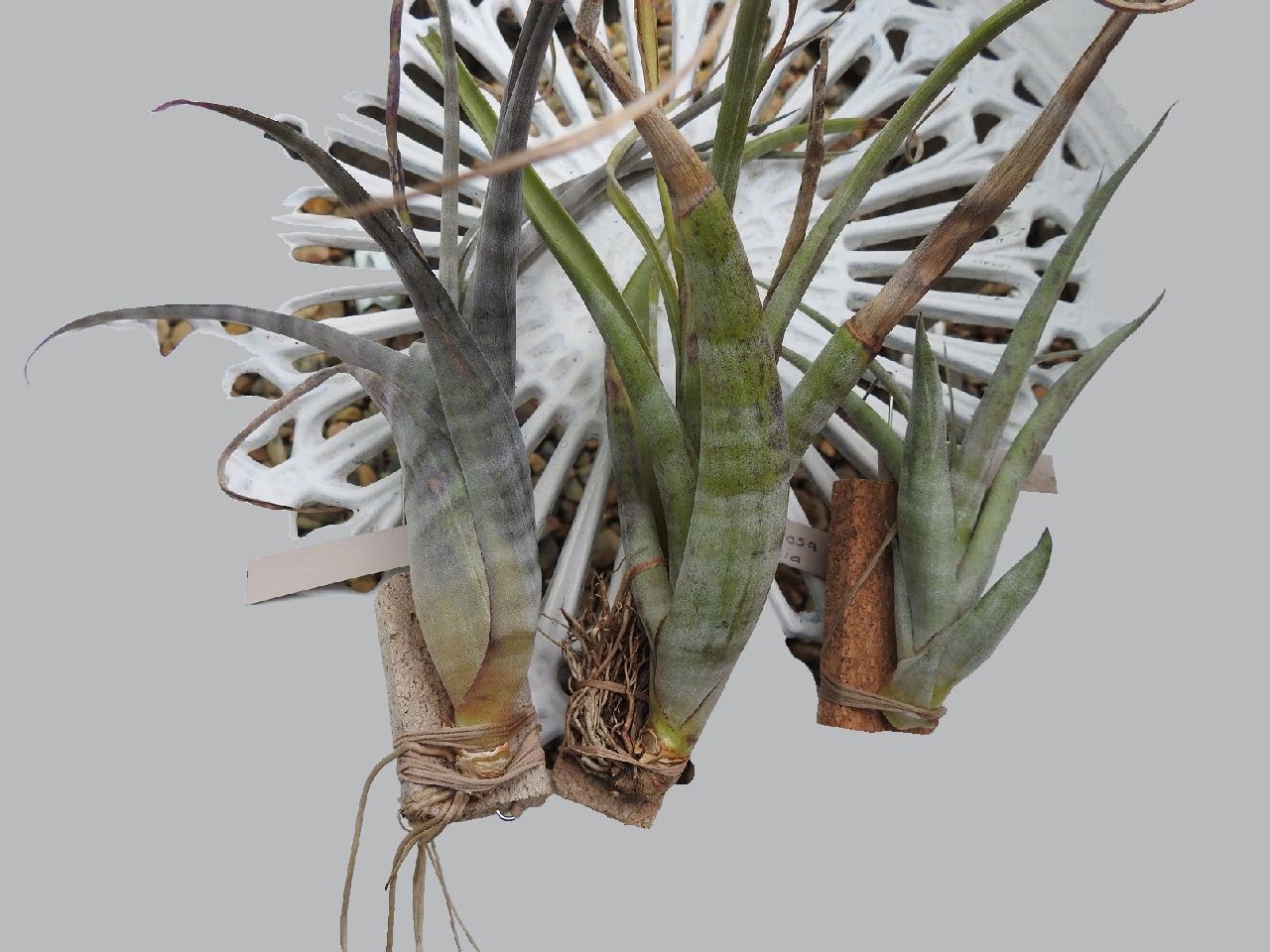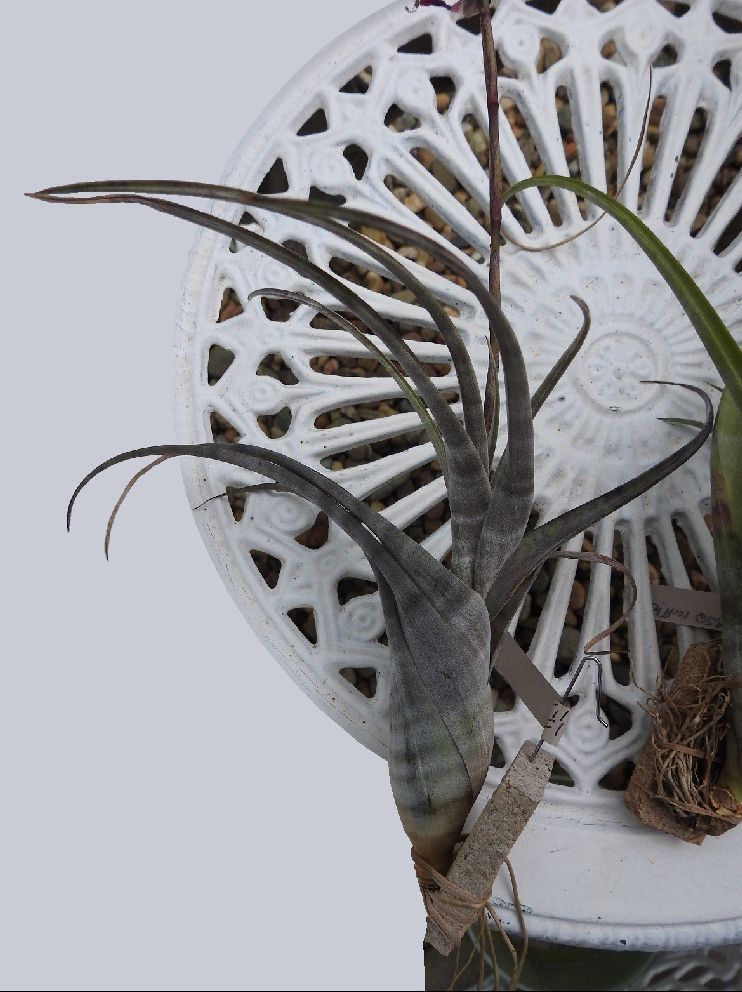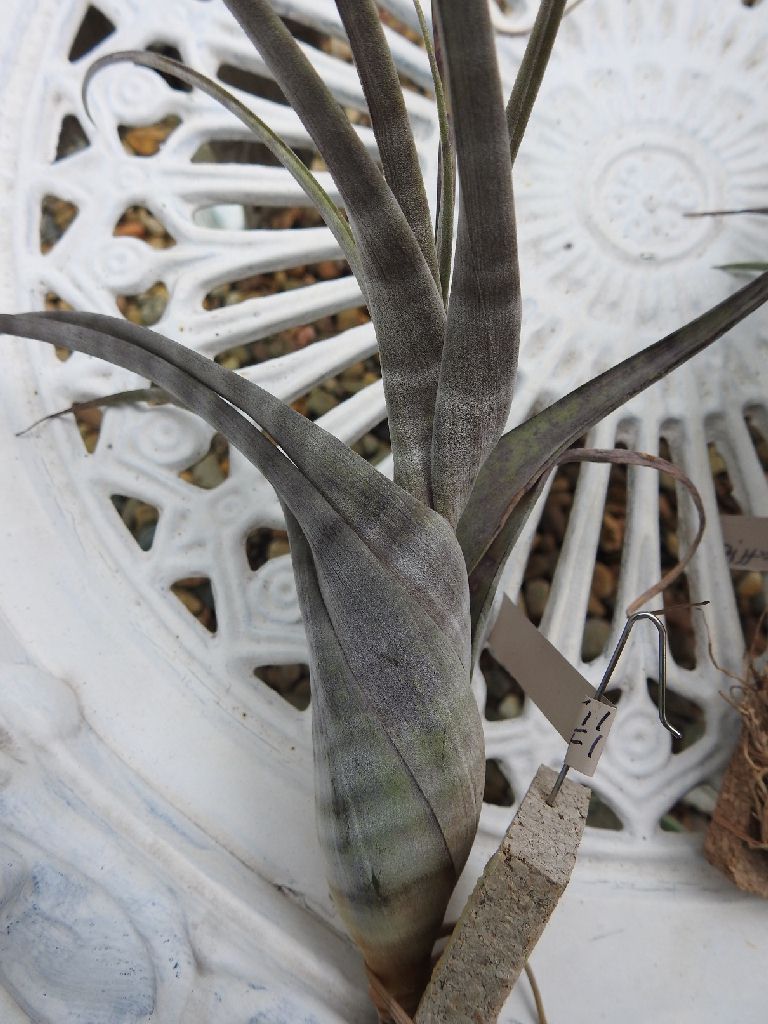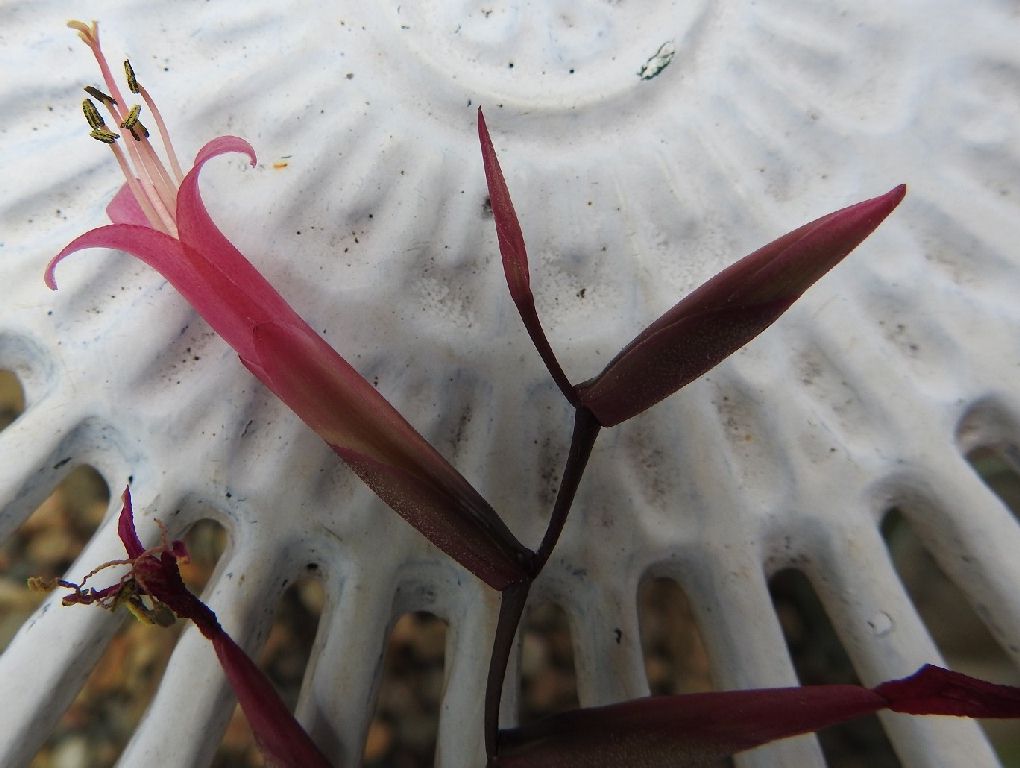 Jenny & Steve Brittain 09/11/15

Jenny & Steve Brittain 14/11/15 flexuosa_e
T. flexuosa - I purchased last year due to it's interesting twisting appearance. It has doubled in size and we just noticed a flower spike this afternoon! Woohoo ??. This plant has dark spots on the underside of the leaves, not stripes?? We look forward to seeing the flowers.

Jenny & Steve Brittain 15/11/15 flexuosa_f
Here is a clearer photo taken with a camera. Hopefully will help a little more.

Mark Supple 15/11/15
Very nice plant, looks very green for a T. flexuosa unless I have never seen this one before. The one I had growing for many years was a lot greyer.

Bob Hudson 15/11/15
This one is Tillandsia flexuosa Vivipara

Derek Butcher 15/11/15
The name vivipara for this species should have disappeared 38 years ago with Smith & Downs work but it is interesting it has persisted for so long. When T. flexuosa var vivipara was described in 1889 it was said to have whiter and more scalier leaves than the type.
We know viviparous offsets, (or is the modern term pseudoviviparous better) can crop up anywhere as we recently saw in Tillandsia tectorum.
T. flexuosa started out in 1788 and can be found in southern Florida, West Indies, Panama, northern South America. It would therefore come in various shapes, sizes and markings. Some would be easier to grow depending on where it was originally collected.

Bob Hudson 15/11/15
Good afternoon Derek. SOOO what is the correct name????? I have 4 different forms. I have seen these Tillandsias growing in Cuba/Panama. This form always pups on the spike and base.
The other twisted one I have also seen in Florida and collected it. This I have grown for years and never had pups on the spike.
What is the answer is it the same as all the Tillandsia ionantha.

Derek Butcher 15/11/15
I can only suggest you wear your 'Botanical' hat and call it T. flexuosa just as you would with T. usneoides. You could informally use a name that denotes where it comes from etc even though it would be treated as a NN. T. ionantha cultivars are not a good example of defining differences. Nobody has yet written a key.

Derek Butcher 15/11/15
Jenny. Patience. Wait until it flowers, Some 80% of the diagnostic information is in the inflorescence.

Bruce Dunstan 15/11/15 flexuosa_g & _h
These were growing on a plumeria sp on a rocky headland on the Pacific Coast of Panama down in Darien Province when we were doing a 4 hour boat ride to get to Cerro Sapo. Images from the boat.

Bruce Dunstan 15/11/15 flexuosa_i
this one was growing with what looks like T. fasiculata in Santander, Colombia in a pretty dry region.

Derek Butcher 15/11/15
Bruce. WOW. You certainly see how Mez in 1935 confused it with T. utriculata and Smith in 1977 with T. limbata. History is fun when you remember that botanists had to rely heavily on dried arrangements.

Bruce Dunstan 15/11/15
Yes, and as Chris has pointed out to me, 'plants in the bush don't have labels on them'. At the time I thought he was joking but as I get older and perhaps wiser it was sage advice. Thanks Chris.
For those interested, also growing on the rocky headland was Pitcairnia halophila. I didn't take an image thinking I'd seem more elsewhere but as usual missed the opportunity. Chester tells me he also saw it growing along the Pacific coast in Western Panama close to the Costa Rican border.

Chris Larson 15/11/15
Great to see the shots in the wild – thanks Bruce.
Jen – if I've got it right your plant is the green viviparous plant from Tropiflora – at least I'm pretty sure that is where it is from – I grow them at work as they die here at home so I can't check. This form never gets the banding of the silver ones. I usually have them marked as T. flexuosa "green viviparous" Ex-Tropiflora – though sometimes I get in a hurry and the labelling is shortened. As you may notice I use descriptive terms on my tags more than UD likes – but we all have our styles – and I'm terrible with cv names, and the registering bit.
Interesting comment from UD about some of the old silver T. flexuosas being the " var vivipara" once upon a time, but not recognized anymore. The viviparous ones in the 80s were all nice and silver from memory & a larger form – though the memory can be tricky – but then they were only annuals here. So I better not use the name "var vivipara" anymore.

Peter Tristram 15/11/15
Just saw this thread. The green flexuosa v vivipara came from Vienna BG. I can't remember parting with any so must be from Chris. The plant looks like one of these. Flowers will tell. Not much point in asking id without actual flowers most of the time.

Bruce Dunstan 4/11/17 flexuosa_j
One sourced from up north from the VB Bob Stable doing its thing.

Jenny & Steve Brittain 07/11/17 flexuosa_k
Thought this one looks similar to yours and sure does grow well in Brisbane!

Bob Hudson 7/11/17 flexuosa_l
Hi Jenny. This is the same T. flexuosa in Cairns.

Jenny & Steve Brittain 09/11/17 flexuosa_m,n,o,p
Here's a few photo's of a greener flexuosa with her offset beside her, (won at last BSQ Christmas Raffle from Peter Tristram), and a darker looking flexuosa from North Qld. All with banding. What are you thinking Chris?

Chris Larson 9/11/17
From what I understand:
The bright green (under my conditions) viviparous form doesn't appear similar to the greener one in your photo – I've never had spots or banding. Peter & I got them from Tropiflora I think. I don't think that this is that form.
The foliage does have strong similarities to the form floating around (available) from Collectors Corner, though I would expect that one to be up to double the size of any of the silver forms I have seen. A friend has grown the CC form outside in Melbourne in a tree over this past winter – though he is in the middle of the city, only 1-2 kms as the crow flies from the beach. It dies at mine.
---
Updated 24/11/17
---