Tillandsia flavobracteata & grossispicata
Click thumbnails for full size, scaled to a new window.
---
Tillandsia flavobracteata & grossispicata
Mexico.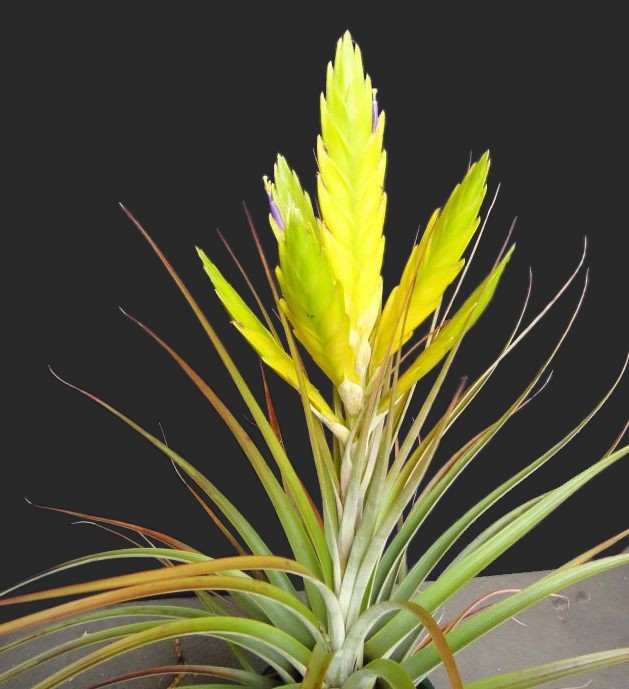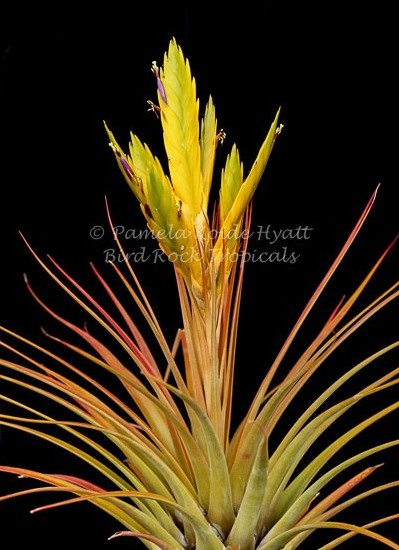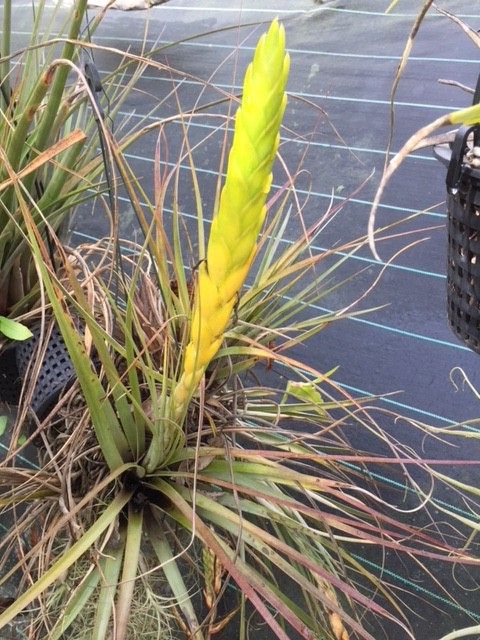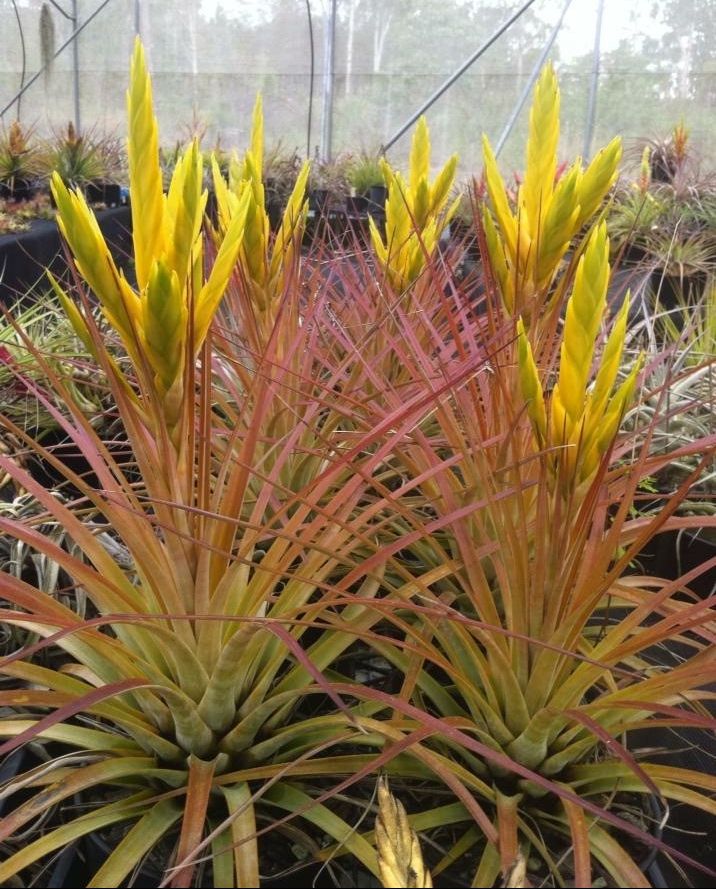 | | | | |
| --- | --- | --- | --- |
| Chris Larson 01/12. (as flavobracteata now grossispicata see notes below) | Pamela Koide-Hyatt 15/02/18 - grossispicata_a | Peter Tristram 15/02/18 - flavobracteata_b | Chris Larson 16/02/18 - grossispicata_b |
Chris Larson 01/12 ... "From Pam Koide-Hyatt – her T393 – as T. flavobracteata. This is in a 14cm pot. Height 43cm from pot to flower tip. Grown at work until recently (high light, well fed), then bought home & left in a dry environment – hence the dry leaf tips.
Interesting to compare with the simple spiked flavobracteatas on Derek's disc. Though the description says simple or compound.
There is no real difference visually between this and the plant I have as fasciculata "Lau's yellow" - I'll look for a picture later. When you look at the distribution map included on the DVD you will see that it grows from around the Lau's place (not far from Vera Cruz – but closer to Orizaba, which you can just make out on the map on the disc) & spreads along the Caribbean coast to the north and south. Seeing as there have been a number of imports from Alfredo Lau, it is not surprising that they are so similar. Peter also has a similar plant that he imported many years ago."

---

Derek Butcher 13/2/18
... Here is the newly described T. nayeliana (See this website). Trouble is that it looks like a branched flavobracteata and similar to the photo on the DVD from Chris Larson

Chris Larson 13/2/18
... My small T. flavobracteata is the same plant from Bird Rock that George Stamatis has also spread around in Qld. Pam would have collection data I think.
Pam also told me (pers comment) that a lot of the plants called T. flavobracteata, just because they have a yellow spike, are not that species. I tried to get further detail from her but the conversation went in a different direction.

Derek Butcher 14/02/18 - (See also T. flavobracteata document below.)
... By 'small' so you mean yours with a single spike or branched inflorescence. If single I think of T. flavobracteata.
... The enclosed shows how varied comments from different botanists have been and have gone to print. We do not know Pam's views. So I follow the Mexicans (at the moment!)

Chris Larson 14/02/18 - flavobracteata_a.jpg
... The photo on the disc is of a plant that both George Stamatis & I (separately) imported from Pam Koide. It is smaller than a lot of the single spike forms with yellow spikes I've had for years - though these single spike forms do have some degree of branching if well fert'ed, but never as nice as Pam's one above.

Pamela Koide-Hyatt 15/02/18 - grossispicata_a.jpg
... I do not think that Chris's plant is T. flavobracteata.
I think that the plant on the DVD with the shorter plant (referring to the shorter peduncle and spikes) is what we are calling T. grossispicata (published in 2008), see my image above.
There are many different things in cultivation labeled T. flavobracteata. For a period of time, anything that was yellow was called T. flavobracteata.
To me, T. flavobracteata usually has a single spike, occasionally two spikes, and the peduncle is longer. I do not believe that the true T. flavobracteata has more than 2 or 3 spikes.
The problems with T. flavobracteata relate to the following:
Matuda published T. flavobracteata 1975 in Cactus & Succulent Journal
Smith & Downs did not include it in 1977
Gardner treated it as a synonym of T. compressa in 1984 in Selbyana. (As did Harry, pers. comments)
DeRebus I, 1994, amends the definition of T. compressa, but leaves out this taxon
Espejo, included it in Flora de Veracruz, 2005
So, for 30 years, most of the yellow fasciculata types were named either fasiculata yellow, flavobracteata or compressa. There are many yellow ...fasciculata types in Mexico, which are geographically separated populations and probably new species. Hence, we now have T. grossispicata. I suspect that there will be many more in the future.

Peter Tristram 15/02/18 - flavobracteata_b.jpg
... I have what I regard as T. flavobracteata, ex Alfredo Lau, in bloom. Chris knows this plant- long peduncle and normally not branched. The others have always been dubious and without provenance I gave up trying to link to Espejo's recassifications, except for the obvious ones. T. grossispicata being one I've been looking to link to plants in cultivation for a while, so I'll revisit, Pam!
This is Alfredo's plant. Maybe I should give it a little TLC!

Chris Larson 16/02/18 - grossispicata_b.jpg
... It is all becoming logical. Justin, this is sort of what makes the question you had about taxonomy relevant. As Derek said to me a long time ago – it is a mutating conversation – nothing is set in stone.
I imported T. flavobracteata from Pam in 2008. George Stamatis imported it ages ago – he's not sure when. These were times before grossispicata was published (2008) – where this plant best fit was flavobracteata.
I've always thought that the one I imported from Pam was a superior form of T. flavobracteata, though I still like the Lau forms that CC has had around for years – which we sold for years as 'T. fasciculata yellow ex-Lau' up until around 10 years ago.
Many will have this form from George Stamatis & from me, and I think they should change the labels to T. grossispicata.
I hope this is right Pam??? I haven't got a BRT # on it. I cannot find my plant, but someone that I sold it to may have the number, which I usually include.

Derek Butcher 16/02/18
... Future DVD's will show the branched flavobracteata as grossispicata. To think this all started with the new T. nayeliana. They did a differential with T. concolor. The only reason I can see is that it is found in close proximity. Morphologically it could have been compared with T. grossispicata!

Greg Jones 16/02/18
... Hi Chris, I have two T. flavobracteata's from you, one labelled T. flavobracteata " Wide" and the other T. flavobracteata "Narrow". As they are not in flower currently I am not sure of their true identity.
I do know that one had what I considered at the time a very average single spike.

Chris Larson 16/02/18
... The wide and narrow ones are both forms of the Lau T. flavobracteata ones similar to Peter Tristram's pic. The wider one is more often branched – but still fits pretty close to Peter pic.

Andrew Flower 16/02/18
... I have Pam's T. flavobracteata BT393, and also (per attached pic) T. flavobracteata grown from seed I got from the Bromeliad Society of Australia Seed Bank in November 1996.

John Olsen 16/02/18
... I bought one from you in 2012. I think I may have offsets. I'll check next week when I get home. I also have fasciculata yellow from Peter in 2010.
... I also have seedlings. I recall the seed came from you maybe with a Lau note. That's from memory so I will check notes at home.

Chris Larson 16/02/18
... Hi John: Any seed from me was most likely from the Lau plants which regularly set seed – and I have sent a stack to Bob & the seed banks over the years. I can't remember Pams plant setting seed.

Ross Little 16/02/18
... Found this photo this evening taken within the last 12mths so I obviously still have T. flavobracteata Larson around somewhere with your name on it, I'll check tomorrow for pups for you.

Chris Larson 27/03/18
... Peter Tristram was keying these plants out a few days ago to see where they actually fit. Not sure if he has an answer yet. So I ccd him in this. We were not sure if Pam K had actually compared them to the desriptions.
Peter Tristram 27/03/18
... I began the work but need to get pics of flowers and do better dissections. Basically Pam's branched plant looks fairly good for grossispicata and the rest don't so much. Lots of grey. To be grossispicata the branch peduncles should be very short and the flowers long.
| | |
| --- | --- |
| Steve Molnar 12/18, as unknown | John Olsen 12/18 as flavobracteata |
Steve Molnar ... "I've been waiting a while for this one to flower, so I could maybe identify it. I originally thought it may be T. compressa, but now not so sure. Any other suggestions on it's name would be appreciated. It's a nice looking plant overall."
Pam Butler ... "T. magnispica ???"
Peter Tristram ... "It's what we imported as yellow fasciculata, now T. flavobracteata. Lots about it in archives and on BinA."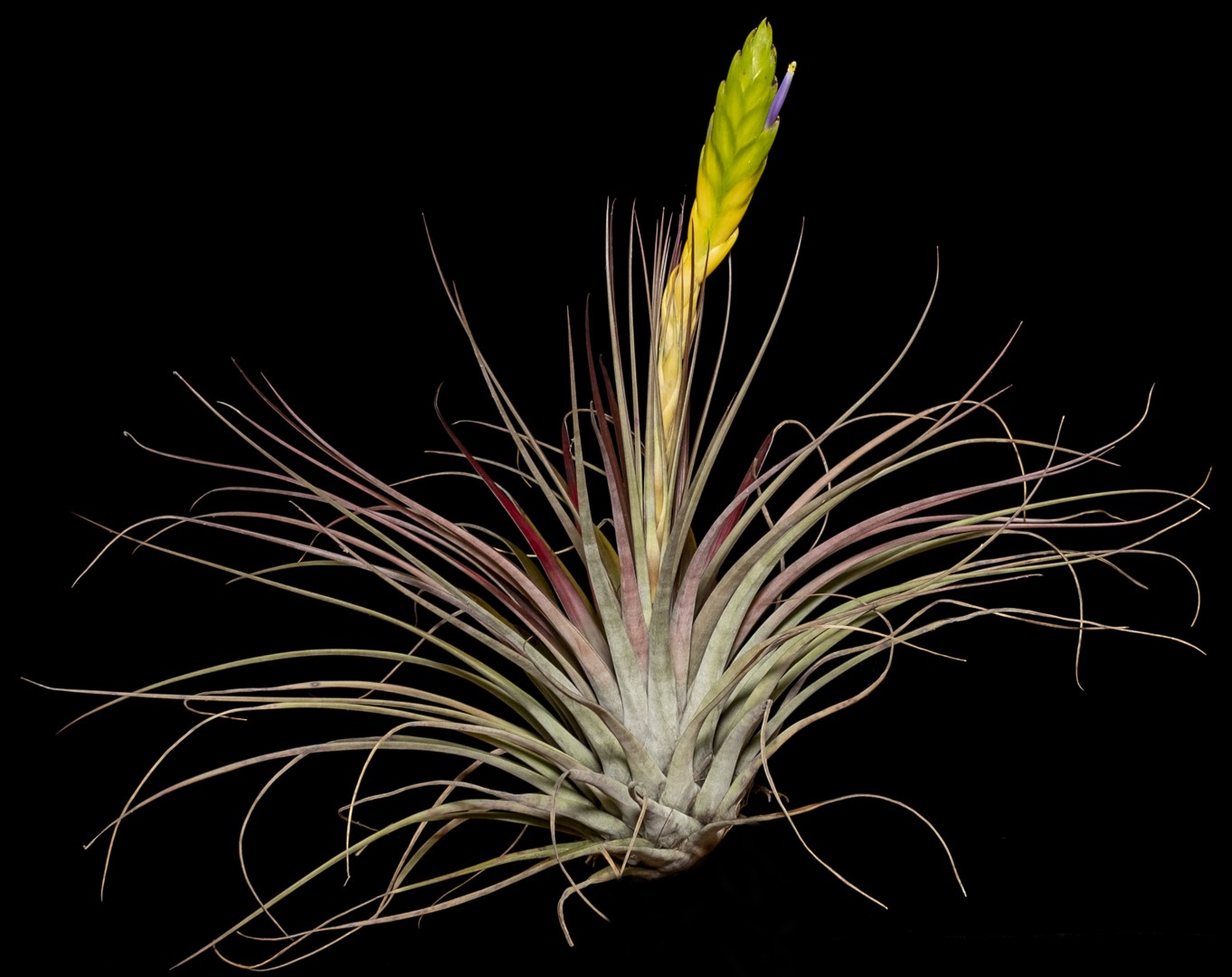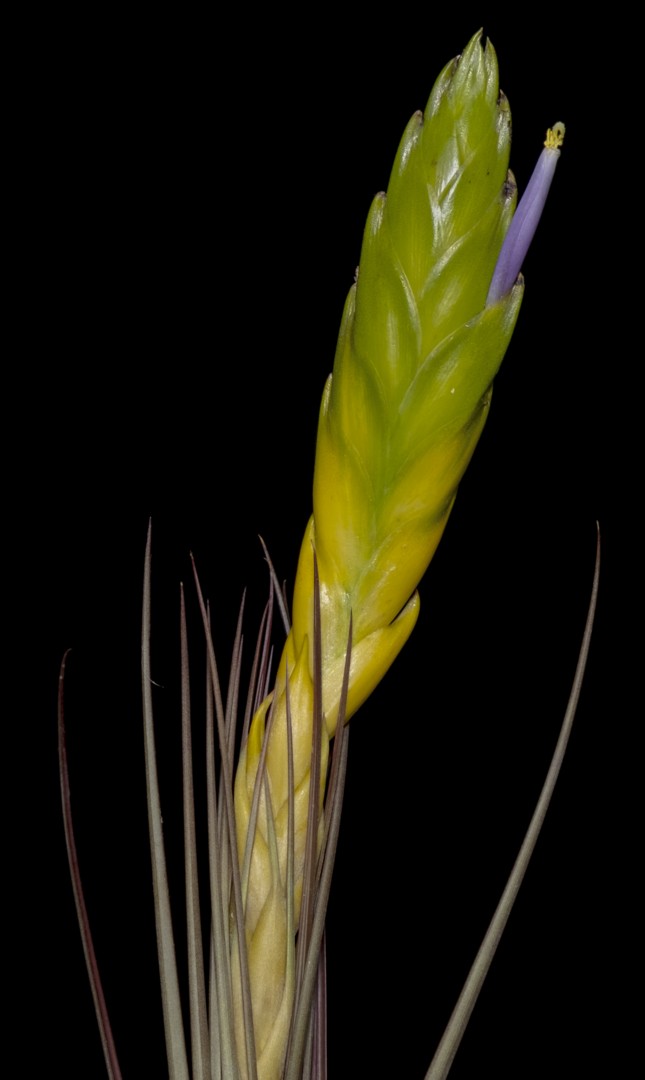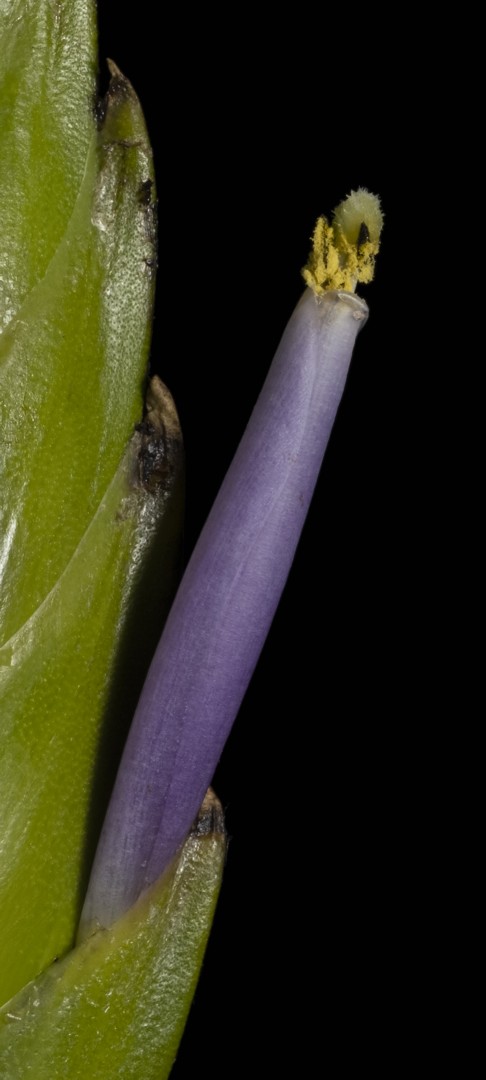 Rob Bower 01/23 T. flavobracteata
---

TILLANDSIA FLAVOBRACTEATA Matuda, Cact. Suc. Mex. 20: 97-99, fig. 49-50. 1975. See Espejo et al, Flora de Veracruz, Bromeliaceae: 182-4. 2005
Type: Mexico, Veracruz, Hidalgotitlan, a 1.6 km del campamento Hermanos Cedillo hacia La Escuadra, P. Valdivia 875 (Holotypeo: MEXU!; isotypes: ENCB!, XAL(2)!).

Plants a rosette, epiphytic, flowering 35-50 cm high, the rosettes of tank type, up to 45 cm diam., in parts wider, solitary, stemless.
Leaves numerous,
Sheaths dark brown on both surfaces, oblong or oblong-ovate, 3.5-6.5 cm long, 2.8-4 cm wide, densely punctulate-lepidote on both surfaces,
Blades green, long triangular, involute at least at the edges, 20-35 cm long, 0.9-1.7 cm wide at the base, densely punctulate-lepidote on both surfaces, attenuate, curved outwards at the apex.
Inflorescences terminal, erect, compound or sometimes simple, bipinnate, with l-2 erect spikes,
Scape cylindrical, 18-21 cm long, 4-5 mm diameter, covered totally by the sheaths of the bracts;
Scape bracts foliaceous, similar to the leaves in form and size, decreasing gradually toward the distal part of the inflorescence, 7-35 cm long,
Spikes strongly complanate, 10-18 cm long, 2.5-3 cm wide, short pedunculate,
Peduncles bracteate;
Primary bracts red to yellow, sheathlike, 3.5-4 cm long;
Floral bracts yellow, amply ovate to ovate, 4 - 4.5 cm long, 2.5-2.8 cm wide when unfolded and flattened, longer than the internodes, imbricate, flat, nerved toward the apex, lustrous, carinate, scattered lepidote toward the upper part, acuminate and incurved at the apex;
Flowers distichous, erect, 5-8 per spike, actinomorphic, tubular, subsessile;
Sepals green, long obovate, ca. 2.5 cm long, 7 8 mm wide, glabrous, flat, rounded, short apiculate at the apex, the posterior pair carinate, connate for one half;
Petals free, violet in the top half, white in the bottom part, oblong-spatulate, 3.8-4 cm long, ca. 4 mm wide, rounded at the apex;
Stamens almost equal, but longer than the petals, the filaments filiform, white in the bottom ¾, dark violet, flattened in the upper ¼, 4.5-4.7 cm long, anthers black, oblong, 3.5-5 mm long;
Ovary oblong-ovoid, ca. 5 mm long, ca. 1.5 mm diameter, style white, filiform in the bottom ¾, dark violet in the upper ¼, 3.5-4 cm long, stigma white.
Capsule green, fusiform, beaked, ca. 3.5 cm long, ca. 5 mm diameter;
Seeds light brown, fusiform, ca. 4 mm long, with a white feathery appendix, ca. 1.8 cm long.
Distribution. Endemic to Veracruz.
Examples examined. Mun. Cordova, vallee de Cordoba "Cordova", E. Bourgeau 1776 (P(2)); Mun. Amatlan, camino al cerro de la Cueva de Lourdes, I. Gomez Ponce de Leon & A. Velazquez 2 (MEXU); Mun. San Andres Tuxtla, camino de la estacion de biologia tropical Los Tuxtlas hacia Sontecomapan, T. Kromer et al. S. 1961(MEXU); Mun. Catemaco, Escaceba, M. Sousa & M. Pena de S 12 (MEXU); Mun. Hidalgotitlan, km 7 del campamento Hermanos Cedillo SW, localizado a mano izquierda, P. Valdivia 53 (XAL), Mun. Hidalgotitlan, a 1.6 km del campamento Hermanos Cedillo hacia La Escuadra, 875 (ENCB, MEXU, XAL(2)), 969 (XAL), 1057 (XAL), 1125 (ENCB, XAL), 1219 (XAL), Jesus Carranza, 10 km al S de Hermanos Cedillo, carretera a Rio Alegre, M. Vazquez et al. 723 (MEXU, XAL).
Altitude 100-150 m snm.
Types of vegetation. high evergreen Forest.
Flowering. March - June.

Tillandsia flavobracteata Matuda, Cact. Suc. Mex. 20: 4, figs. 49 7 50, 1975
Although described in 1975 it was not referred to in S&D 1977
Treated by Gardner (1984) in Selbyana as a synonym of T. compressa but DeRebus I 1994 amends the definition of T. compressa to leave this taxon in limbo.

A TILLANDSIA ACHYROSTACHYS Morr. cui affinis, sed omnibus multo mayoribus, foliis rigidis longe acaudato-subulatis, inflorescentia lutea, laxa imbricatis, bracteis floriferis, coriaceis, lutescensis, petala exserta violacea differt.
Acaulis, ad 45 cm alta; foliis multis substrictis, inflorescentiam brevioribus, subcyathiati-formi-rosulatis; vaginis oblongo-ovatis, 3.5 cm longis, 2.2 cm latis subcastaneis; laminis angustissime triangulo-linearibus, longe acuminato-caudato-subulatis, coriaceis, subrigidis, 25-30 cm longis, 2 cm latis in basi; scapo erecto, robusto, 15 cm longo; scapi bracteis, erectis, imbricatis, basi amplexicaulis, apice longe caudato subulatis; inflorescentia saepe simplicissima, longe elliptica, acuta, valde complanata, 10 cm longa, 2.5 cm lata, rarius 2 spicis subaequalibus composita,foliis superata; bracteis florigeris distichis, sparce imbricatis, late ovatis, acutis, 4 cm longis, 2.5 cm latis, valde carinatis, coriaceis, luteo-lucidis, albo-lepidotis; floribus solum, sessilibus; sepalis anguste lanceolatis, acutis, 3.5 cm longis, 8 mm latis, carinatis, coriaceis, glabris, liberis; petalis longe exsertis, sepala multo superatis, violaceis.

Plant stemless, to 45cm high.
Leaves many, almost upright, shorter than the inflorescence, making an almost cup-shaped rosette.
Sheath oblong-ovate, 3.5cm long, 2.2cm wide, almost chestnut brown.
Blade very narrowlinear triangular, long acuminate, caudate subulate, leathery, subrigid, 25-30cm long, 2cm wide at base.
Scape erect, sturdy, 15cm long.
Scape bracts erect, imbricate, the base clasping the stem, the top long caudate subulate.
Inflorescence often simple, long elliptic, acute, decidedly complanate, 10cm long, 2.5cm wide, rarely with 2 almost equal spikes, exceeding the leaves.
Floral bracts distichous, sparsely imbricate, wide ovate, acute, 4cm long, 2.5cm wide, decidedly keeled, leathery, transparent yellow, white lepidote.
Flowers solitary, sessile.
Sepals narrow-lanceolate, acute, 3.5cm long, 8mm wide, carinate, leathery, glabrous, free.
Petals long exserted, much exceeding the sepals, violet.
Type Hidalgotitlan, SE of Venustiano Carranza, State of Vera Cruz, Mexico, at 160m. alt. Valdivia Quijano 875 (MEXU)

The new Tillandsia is similar to T. achyrostachys Morr. but is easily distinguished from it not only due to its much bigger size, but because its leaves are rigid and longly subulate-caudate. It has a loosely imbricated, bright yellow inflorescence with coriaceous, yellow flower bracts and long exserted violet petals.
Pablo Valdivia, member of the staff of the Veracruz Flora project of the Department of Botany of the Institute of Biology of the University of Mexico, at Hidalgotitlan, to the south east of Venustiano Carranza, State of Veracruz, and at an elevation of 160 m, collected a very interesting Tillandsia that proved to be a new species which is above described as Tillandsia flavobracteata Matuda, sp. nov.

Note. R Ehlers collected a plant at type locality which had posterior sepals connate linking it closer to T. fasciculata
---
Updated 24/01/23
---